Want something different in the house? Updating the old bathroom into a steampunk bathroom might worth considering. With several other contemporary popular interior designs, this steampunk style is also much loved, particularly for the lover of retro stuff.
As an interior style, this steampunk is relatively a new comer. The term itself came out in 1987, coined by the novelist K.W. Jeter in response to the other popular term, cyberpunk.
In term of interior design, a steampunk design refers to the retro-looking designs; but here you have the much retro style, you dive back into the 19 century retro, where the steam technology and elaborate stylings were still in rage.
The steampunk, in short, is a combination of modern aesthetic vibes with the Steam Age elaborate visual elements. Now if you're looking to update the bathroom into this steampunk style, we picked you some of the most awesome.
1. Copper Bath for an Elegant Steampunk Bathroom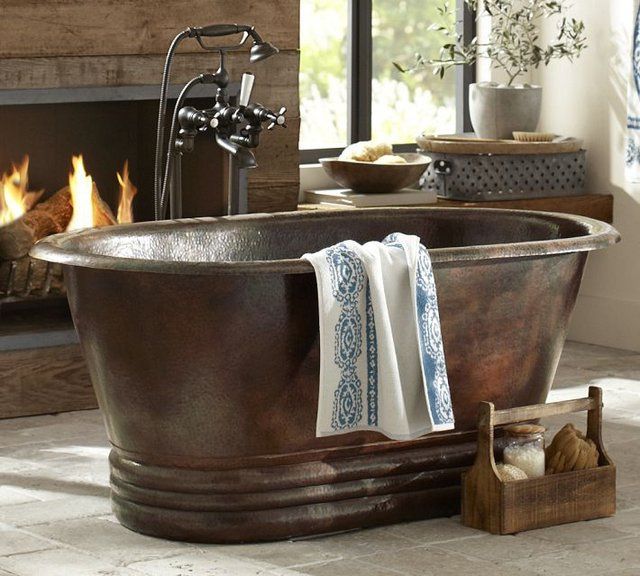 Copper is a handy materials when you want to go steampunk. You almost always meet this material in any retro or vintage ideas, including in your steampunk bathroom.
The rust-free character of the material, the elegant looking appearance, and the malleability, making copper a source steampunk material for bathroom features like sinks, mirrors, faucets, showers, taps and more.
Here you have another use of copper: as a bathtub. And this's no ordinary bathtub. For your steampunk bathroom, the best choice is this hand-hammered copper bathtub.
2. Bathroom Accessories: Steampunk Victorian Mirror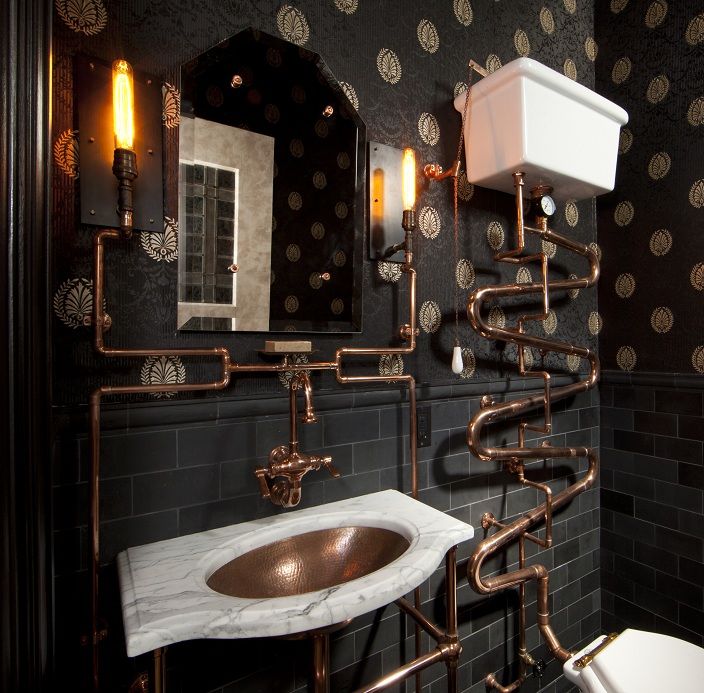 Among the most used materials for steampunk decor, you've met one –the copper. The other materials are wood, glass, iron, and brass. For the steampunk, they're processed into passive or working mechanical machinery items or accessories.
A mirror in the bathroom is a must, and so in your steampunk-themed bathroom. For the purposes, find a frameless mirror. It'll be better if you can find the beveled one, as the type looks elegant and classic on the wall.
To complete the setup, add some brass or copper taps under it. A pair of lamp fixtures of similar materials flanking the mirrors is also a better idea.
3. Edison Lamps for Steampunk-themed Bathroom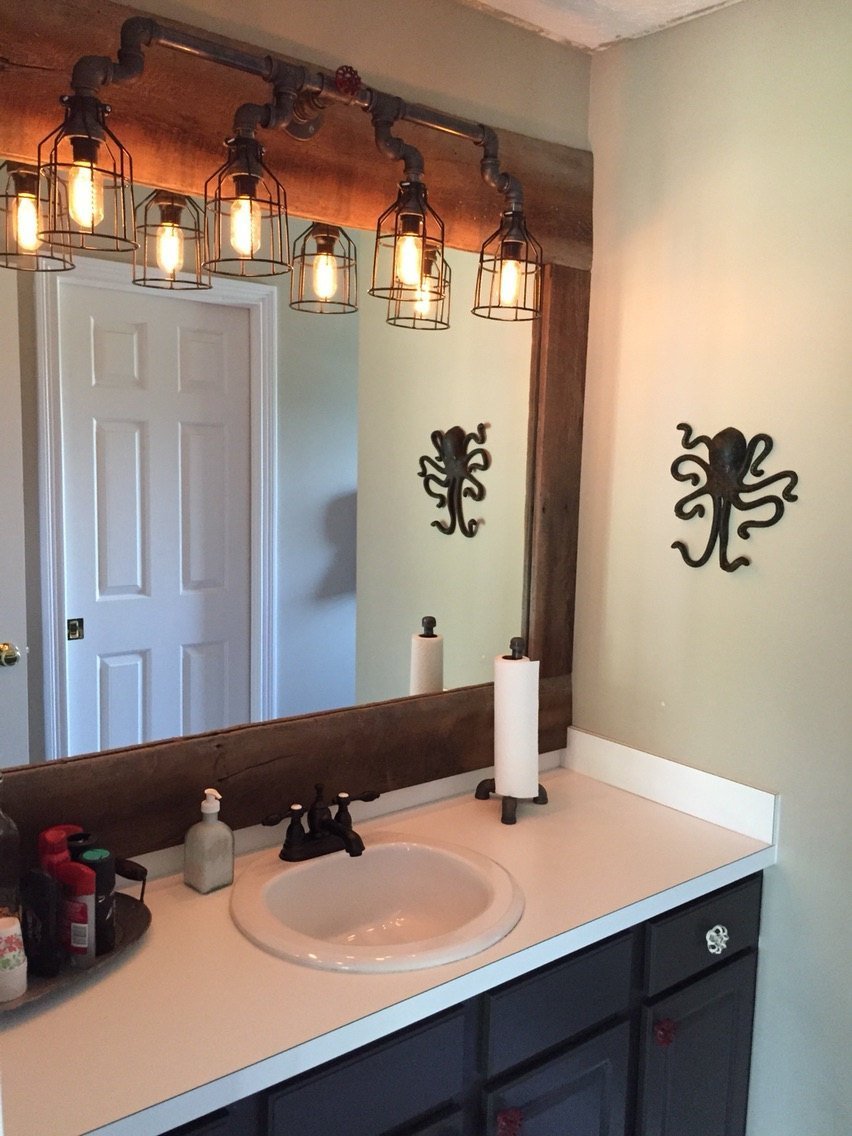 For your steampunk-styled bathroom, you also need to consider the choice of its lighting. You need to match the theme with its lighting style.
As it's a steampunk-themed bathroom, then you should put aside your contemporary LED or neon lighting. Instead, try to find and fix Edison lamps and their antiquated industrial fixture accessories.
The yellowish light of the vintage Edison light bulbs reminds you to the gas or kerosene lamps of the bygone eras, which is irreplaceable by any of modern lighting systems. Just try Edison lamps for your steampunk rooms or bathrooms. They're awesome.
4. Vintage Steampunk Vanity for Your bathroom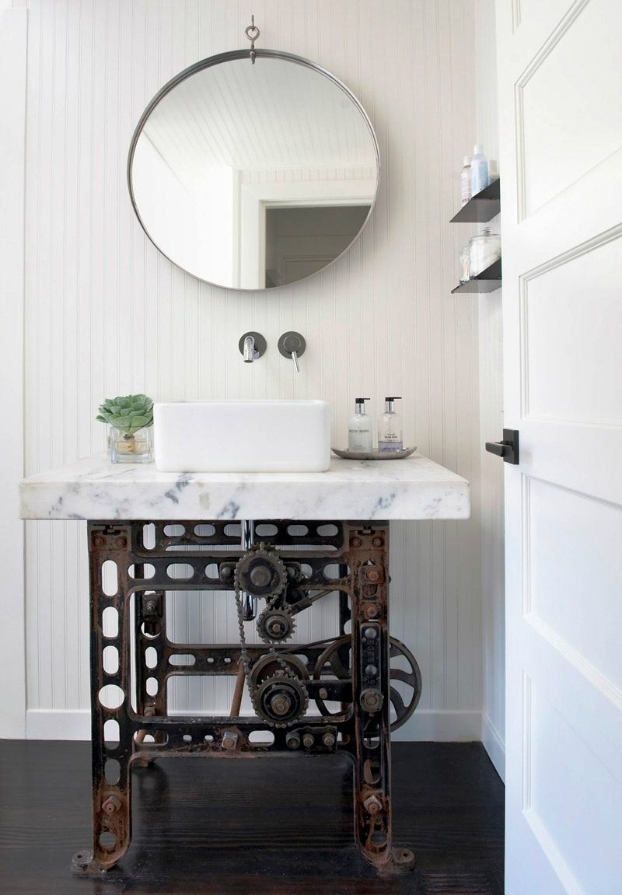 You have had the mirror, now you need to complete the steampunk bathroom setup with its sink and vanity.
A vanity hold your bathroom sink, that's its main purpose. Sometimes you can add drawers into the structure, for additional storage system.
But here you find an awesome marble vanity with steampunk supports to charm your bathroom. The raw industrial supports gives stark but contrast to the elegant surroundings. Here you also find that the retro industrial style also works well with classic modern design.
5. A Gorgeous Steampunk Sink for Your Bathroom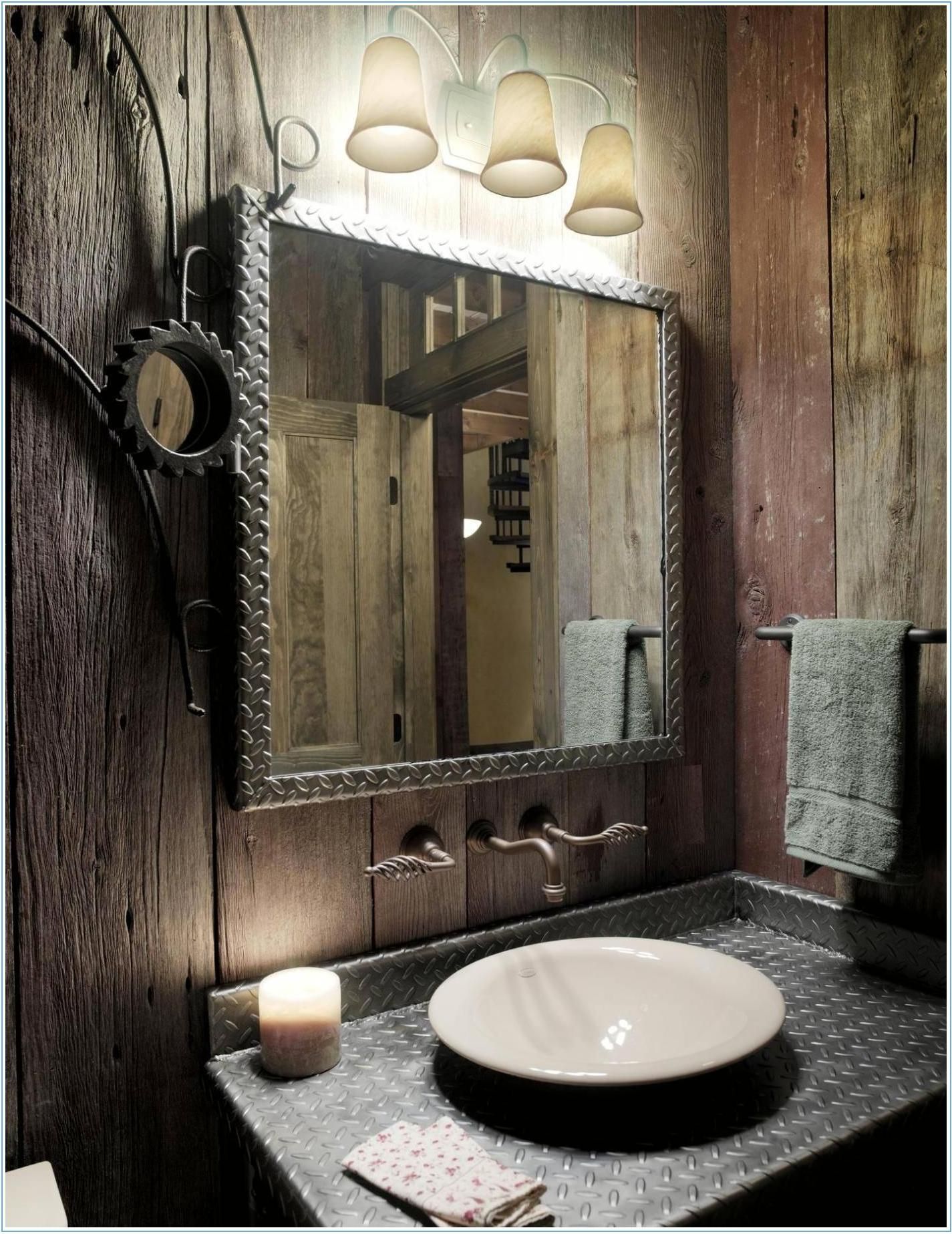 You've had the mirror and the vanity, not its time to find the right sink. The steampunk often offers you ceramic or copper sink for the purpose.
For the model of installation, you may have it as they are, on the countertop; or you may have it as undermount sink. Either way, they'll look great for your bathroom.
In this example you have a ceramic sink sits on an industrial platform metal, surrounded by wooden structures and masculine mirror. It inspires a cool Spartan look.
6. Steampunk-styled Bathroom, Edwardian Style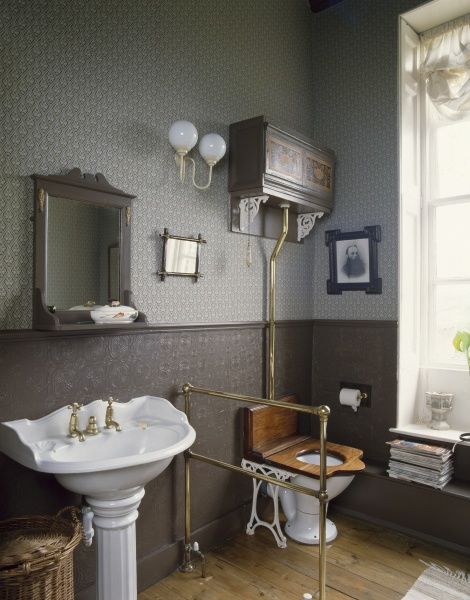 You have several sources for a steampunk inspirations, but most of them came from the Victorian days. The era lasted almost a century long, with the long-aged Queen Victoria.
The era is abundant with steampunk ideas, but you also can the ideas in the succession era, the Edwardian era. Though short, only a fraction of early 20 century, the era also is a great source for your love of steampunk items.
The following example is a typical Edwardian bathroom. You can see how the room is full of steampunk accessories. For example, see the elegant lamp fixtures, brass pipes, and the antic wood closet tank cover.
7. Cool Nautical Steampunk Bathroom with Gauges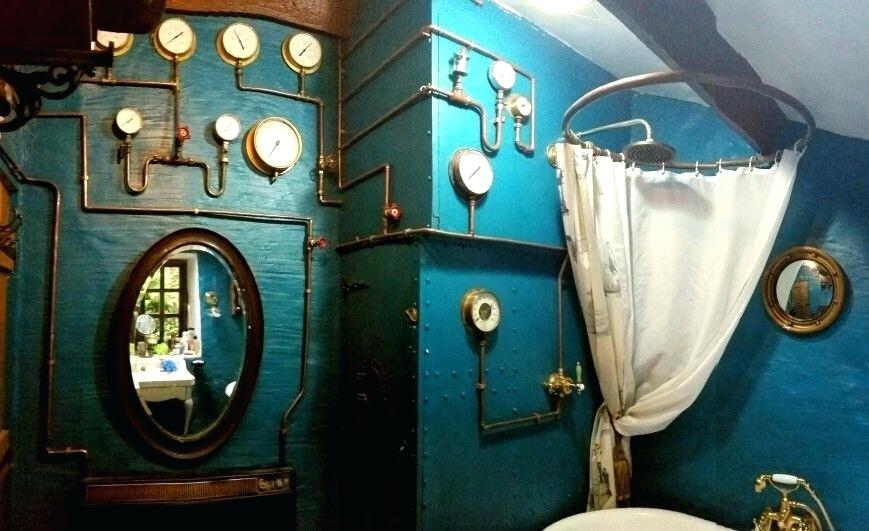 Steampunk style might remind you of Jules Verne's story 20.000 Leagues under the Sea, captain Nemo sails with his advanced Victorian submarine.
The submarine alone will spark your imagination with myriad of steampunk ideas just like what you might have seen on the movie.
The old school nautical items of an old submarine indeed is a good place to start, if you want to find other sources other than Victorian or Edwardian era, when you want to have the coolest steampunk items.
8. Repurposed Pipes as Steampunk Accessories in Your Bathroom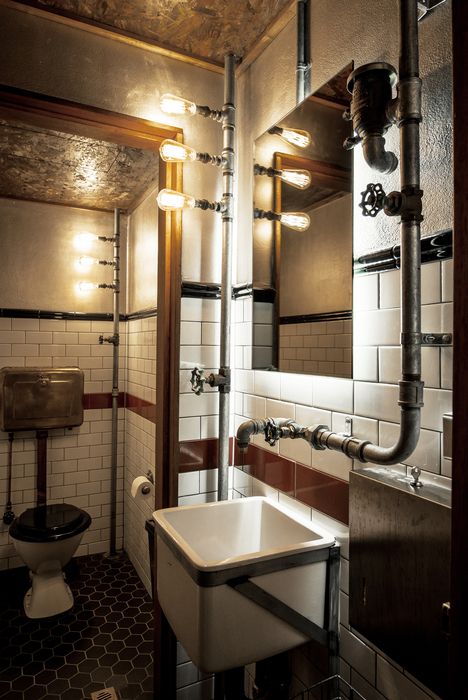 You've had several sources to find some cool steampunk ideas. Here you have another source: unused items.
Old grandpa clocks, unused workshop benches, old machineries, are only a fraction of stuff you might want to turn into steampunk ideas. Even item as simple as unused metal pipes also provides you rooms for your steampunk experiments.
Here you see metal pipes, metal pipes, are repurposes as cable conduits and for lamp stands. Couple the pipes with industrial taps, joints, and Edison lamps. Your bathroom will looks cool in its old school steampunk industrial flair.
9. Solid Wood Vanity for Your Minimalist Steampunk Sink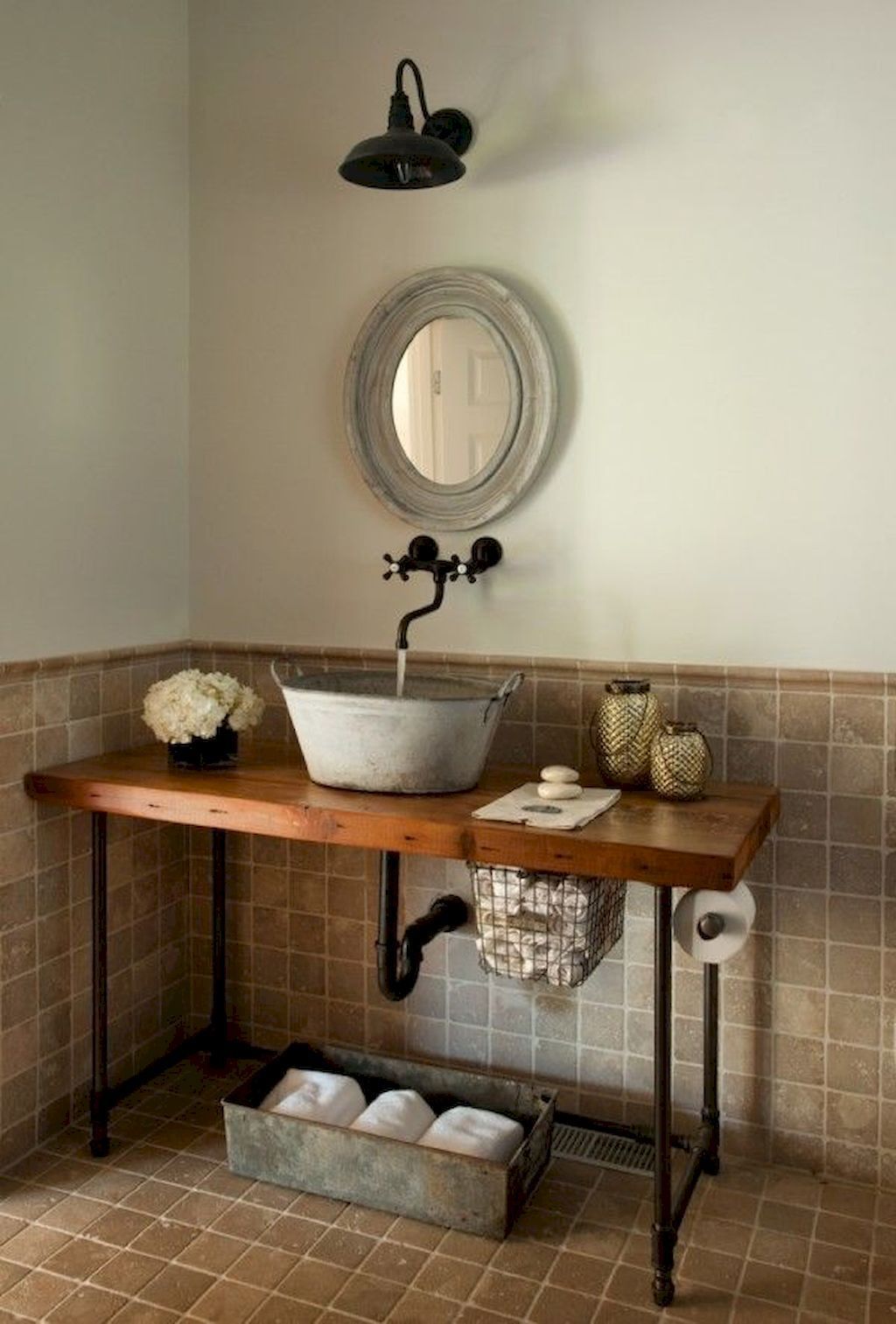 You might often see steampunk themes in complex and elaborate layouts. But, just like any other interior themes, you still can see the minimalist sides of the style.
In the steampunk case, you can see the sides in its industrial layouts. Due to the efficiency and safety, industrial designs are always in minimalist –whether it's in modern or Victorian styles.
Here an example of steampunk industrial vanity that might inspire you: a solid wood vanity with repurposed metal pipes as the stands. The slab of woods matches perfectly with its Victorian black stands.
10. Steampunk Tap for the Steampunk Sink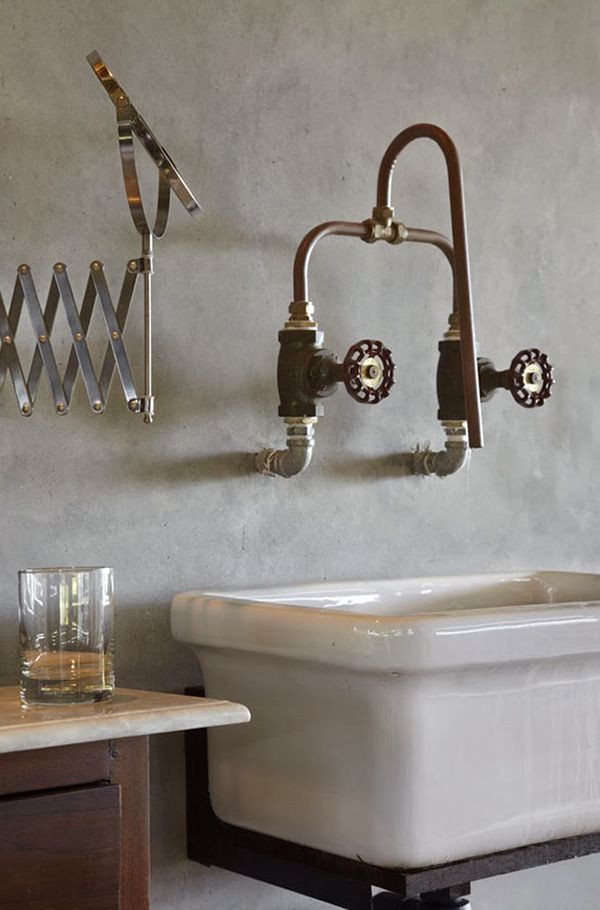 When you're in need of a steampunk decor for the bathroom, a right tap/faucet is worth your consideration.
For the materials, you have copper, iron, bronze, or brass. All the materials has their own characteristic. Aside of being utilitarian features, the taps also works nicely as your bathroom decor.
For example, vintage copper taps works well with ceramic sinks on a solid wood vanity. Bronze looks fabulous if you want a real vintage steampunk. If you want to show a masculine factor of the bathroom, all the tap materials are more than enough.
11. Modern Minimalist Bathroom Sink in Steampunk Vibes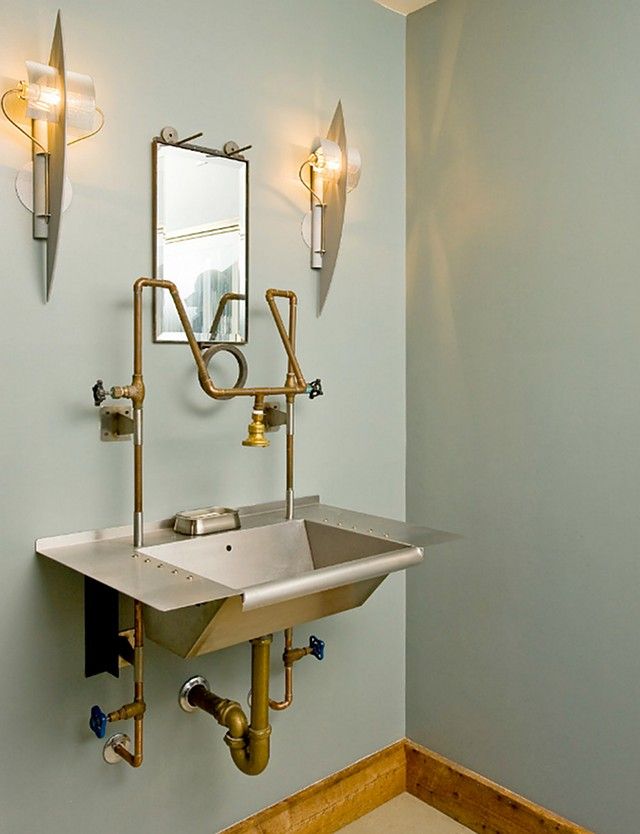 An easy way to have a steampunk point of interest in the bathroom is by redoing the sink area. You update the mirror, sink, lighting fixtures, or the sink itself.
As a steampunk style always wants you to have a vintage look with the modern flair, you always find the style combines old (often Victorian) style with the convenience of modern style.
This sink isn't an exception. Here you have a floating sink with modern lines, coupled with all the steampunk decor like the water piping system and its tap.
12. Round Mirror for Elegant Steampunk-themed Bathroom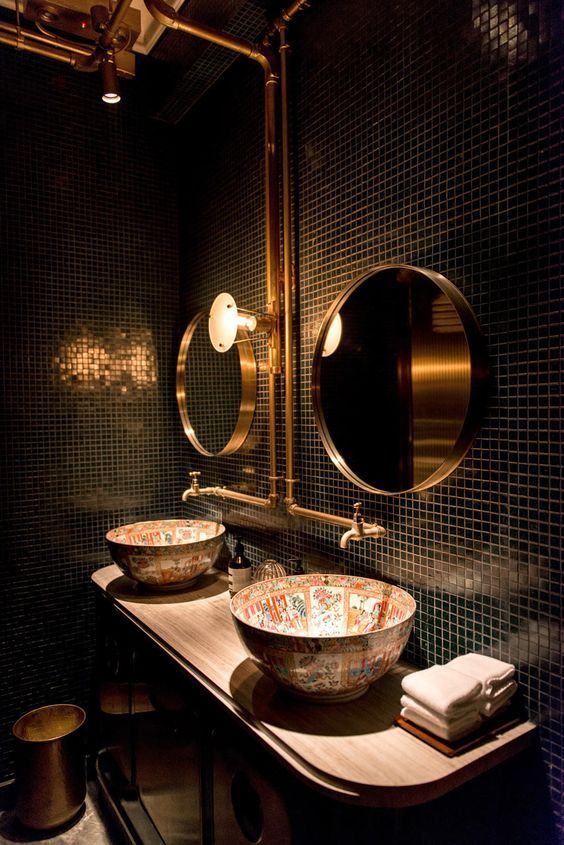 Back to the mirror in your bathroom, there're no rigid rules about hoe the mirror should look like. It has fluid definition about its form factors.
But you should notice that a steampunk style wants you to look at the peak of old steam technologies from the modern perspective. For the reason, you might need to be careful on choosing the materials and the era where you want to draw your inspiration.
For a general rule, the Victorian era always is a better era to start with. Then you might want to move ahead to Edwardian or early modern themes.
13. Elegant Copper Bathtub steampunk bathroom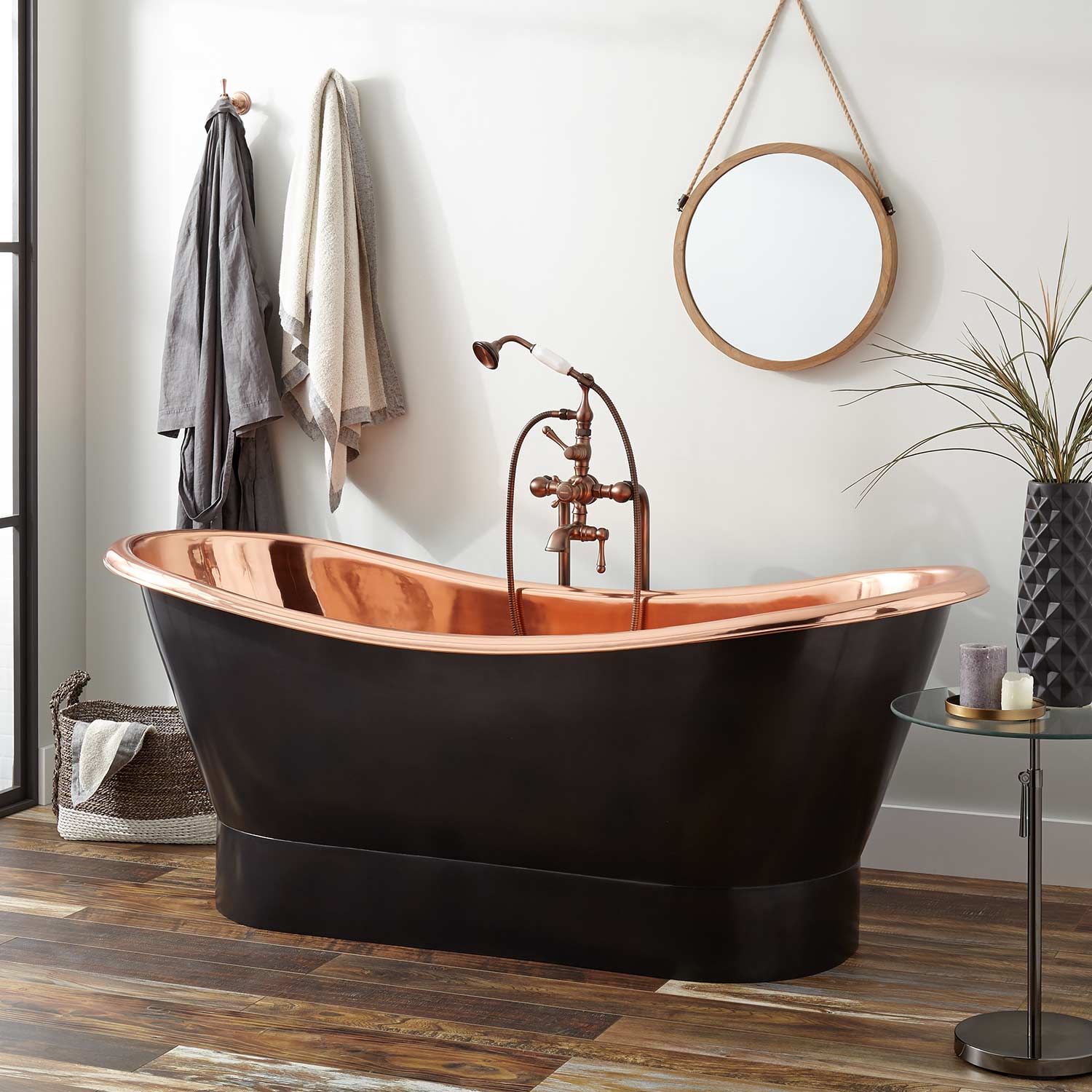 A copper bathtub is a good feature in a bathroom with steampunk theme, whether it's an industrial bathtub or a hand-made bathtub.
With the hand-made bathtub you'll have the exclusivity of an elegant high class vintage bathroom. If you want the modern touches, but still in great Victorian atmosphere, then you may combine an industrial bathroom with brass steampunk taps.
Here you have an example of the setup. A highly polished copper bathtub, coated in classic Victorian black, works elegantly with the also shining brass tap and small shower.
14. Submarine Steampunk-styled Bathroom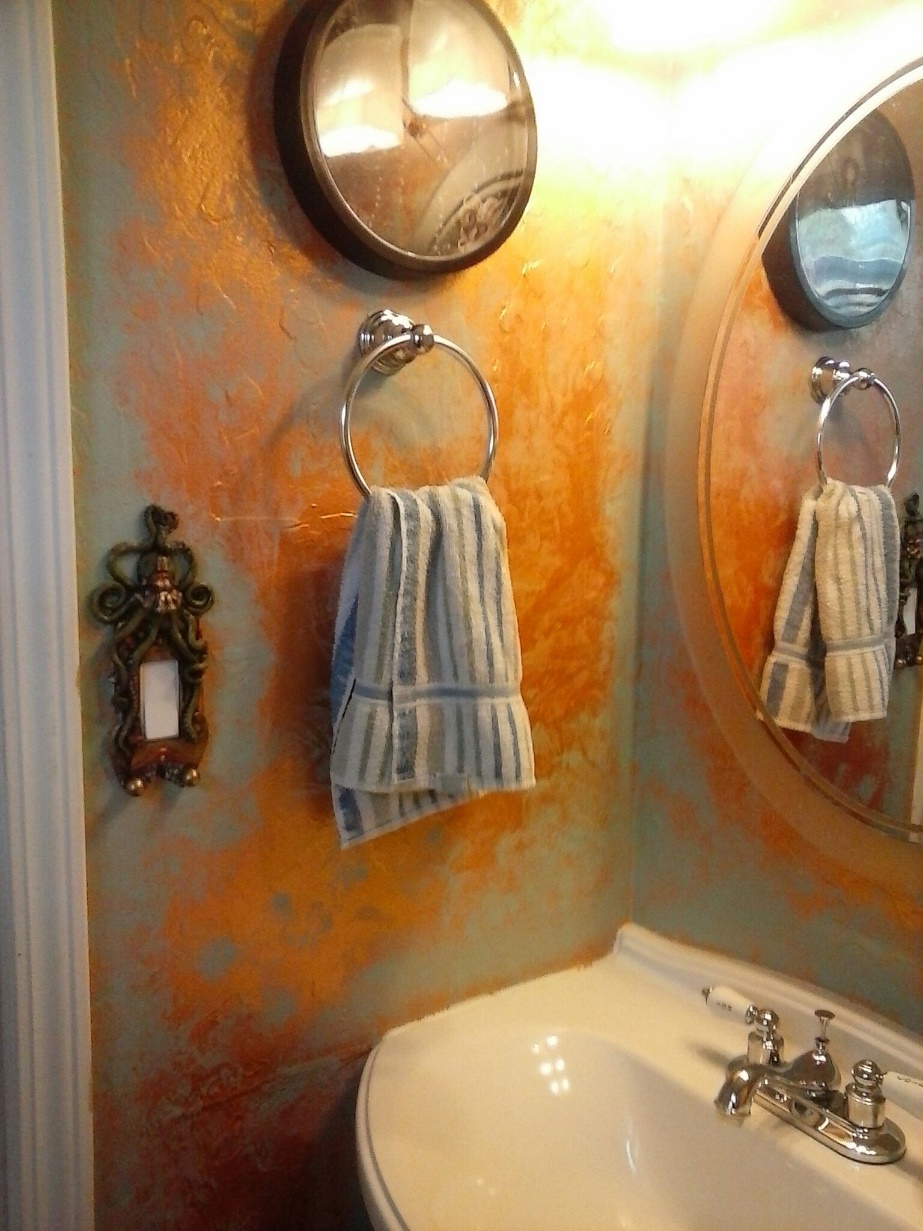 Among the highest tech advancement in 19 century, the submarine technology probably is the most intriguing. It's still unachievable yet, but the people have given strong hints of the undersea adventure, at least on their novels.
The submarine depictions were full mechanical stuff, a complex array of gears, levers, gauges, steam engines, and portholes windows. The pictures stuck to our imaginations up till now and we use the themes to charm our bathroom.
This bathroom tries to emulate the nautical themes of the old era, though not in its full swing. It only wants to get the rusty wall colors and in using porthole as the mirror theme. But those are more than enough to make your bathroom steampunk enough.
15. Copper Pipes and Shower for Your Steampunk-themed Bathroom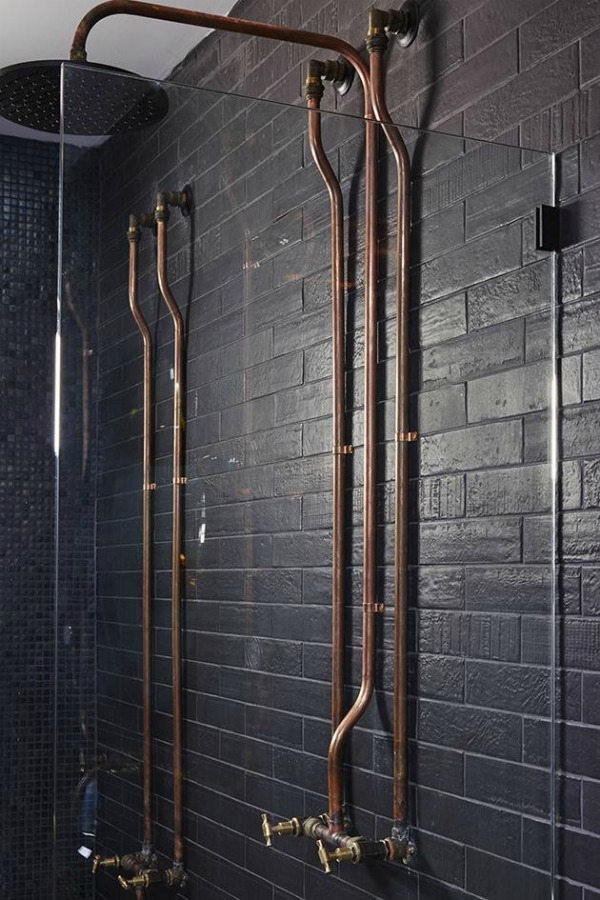 A lover of steampunk stuff won't leave copper pipes alone. Copper pipes, along with other items with copper finishes are staple of steampunk styles.
Aside of its classic look, copper also has anti-bacterial property. It means that if you use as copper as water pipes or water showers, it'll protect you from the harmful bacteria.
In this steampunk-themed bathroom, copper pipes are used extensively as water pipes for your shower head. It looks cool on the dark wall.
16. Steampunk Towel Rack for Easy Bathroom Update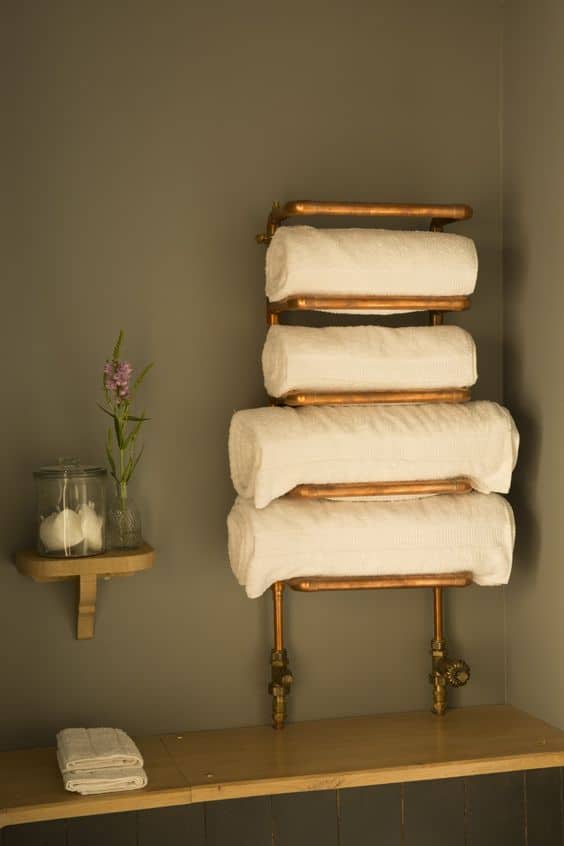 Finding steampunk accessories for the bathroom is easier than you think, mainly if you have fertile mind full of old techs imagination.
For a towel rack, as an example, you always can depend on the metal pipes. If metal pipes are available, try to use PVC pipes and paint them black or copper finishes to have the old steampunk look.
Setting up a steampunk towel rack also an affordable and easy way to update your bathroom. Like to try this easy setup? You even can do it in a DIY project on your free time.
17. Steampunk Copper Basin and Vanity for Bathroom Décor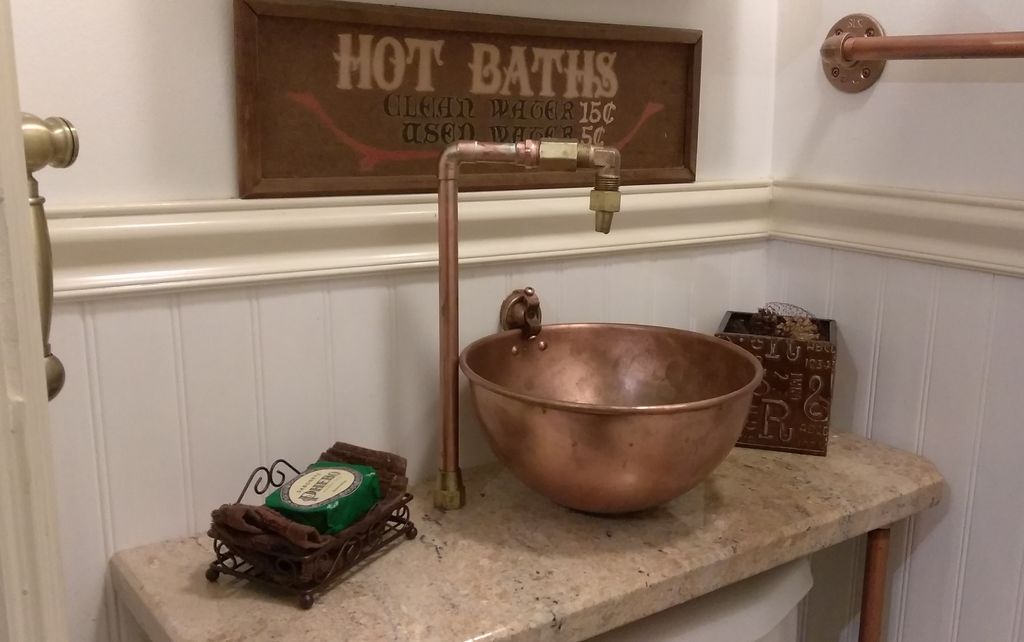 Again, this steampunk bathroom idea offers you simple wash basin and vanity setup. The basin-vanity setup is an easy way to grab anyone attention when they come into a bathroom. That's why we often repeat the idea here.
Some of them are of intricate designs and setups. Some with premium materials, the other setups even with repurposes materials.
Here is an idea of how to add steampunk vibes into your classic bathroom just with a copper wash basin, copper pipes and tap, plus a slab of granite for vanity. The simple setups goes well with the elegant classic surrounding.
18. Steampunk Mason Jars Lamp Fixtures for a Cool Bathroom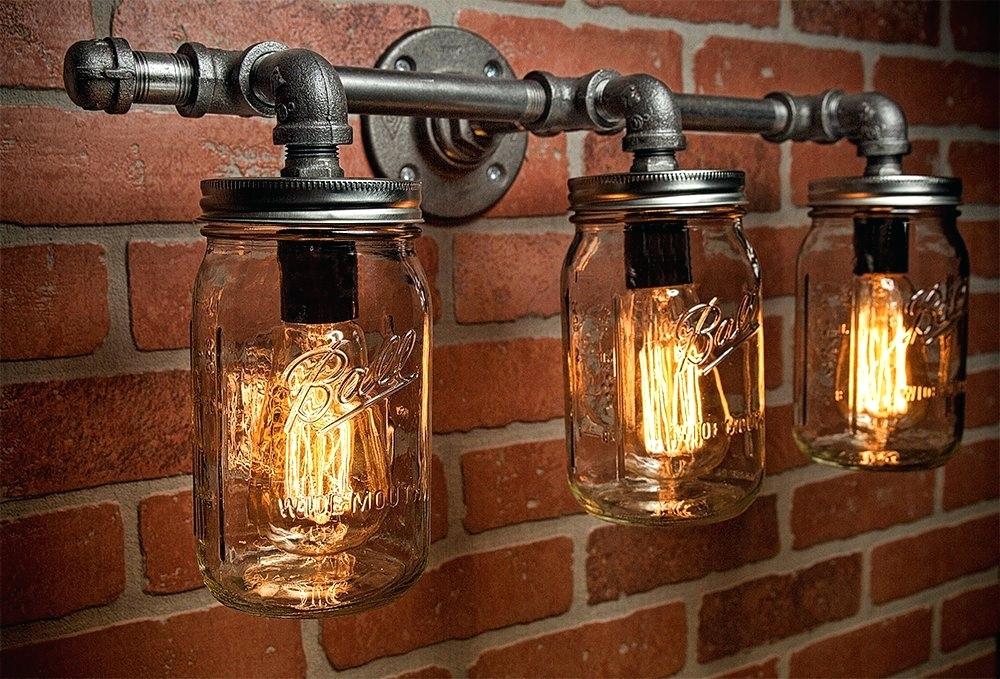 After the invention of electrical lighting systems at the end of 19 century, the industrial sectors snapped the new tech into their benefits. The new lighting systems proved to be so efficient and dependable.
From then on, you find lots lamp fixtures to accommodate almost limitless purposes of the world industries, though all have the similar characteristics: simple, rugged, utilitarian –and looked different that the steampunk lovers of today find them awesome.
Here you have an example of DIY steampunk lamp fixtures. They're made of iron pipes and mason jars. Plug in some Edison lamps and your steampunk lighting system for the bathroom mirror is ready.
19. Steampunk Victorian Rib Shower as Point Of Interest and for Your Healthy Body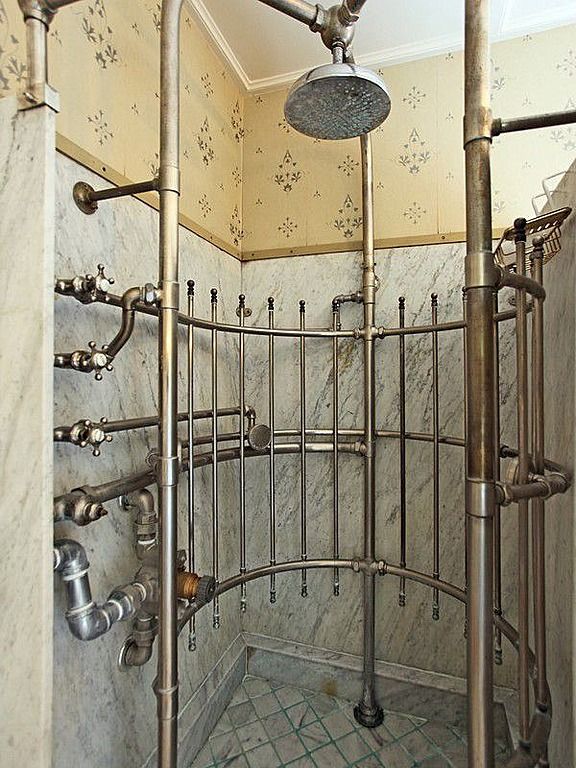 Victorian era was full of middle class people. In fact, this era saw the first rise of the generation –thanks to the first industrial boom in England.
In other words, you'll see the rise of new rich generations. Previously only the privilege of the noble elite and bug merchants, now almost all people has the chance to get rich.
With the phenomenon, then came all new techs to make living more convenience, including this rib shower with its therapeutic benefits for the owners. Now you can have this cage shower idea to get the updated look of your bathroom.
20. Victorian Curtained Shower Steampunk Bathroom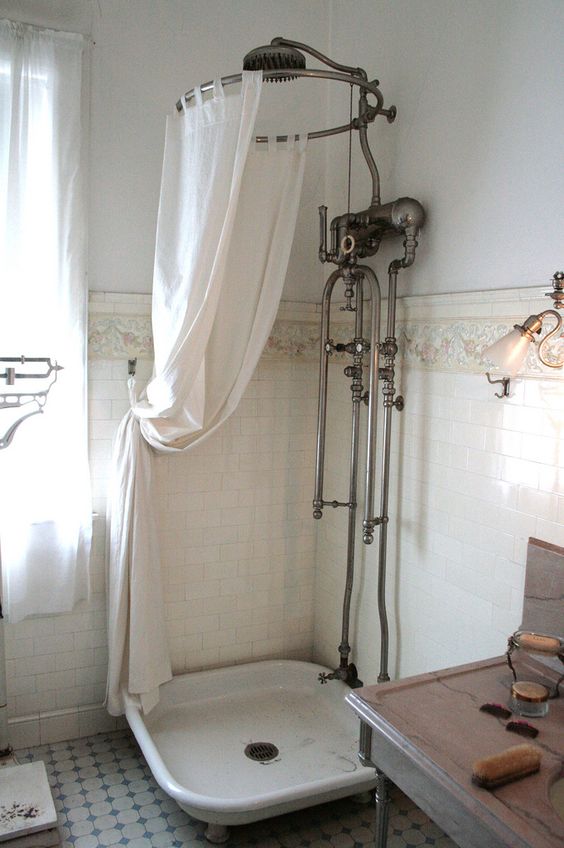 The increasing awareness of physical hygiene in the 19 century had risen the need to hygienic products. This led to the boom of soap, shampoo, and even toothbrushes. Napoleon said to have the habit to brush his teeth with a horse hair toothbrush.
Along with the personal hygienic products, update also happen in the bathroom. Shower were introduced, though firstly only to the top elite of the society.
For a steampunk inspiration, the 19 century curtained Victorian bathroom is worth considering like this one in the example.
21. A Unique Steampunk Washbasin Idea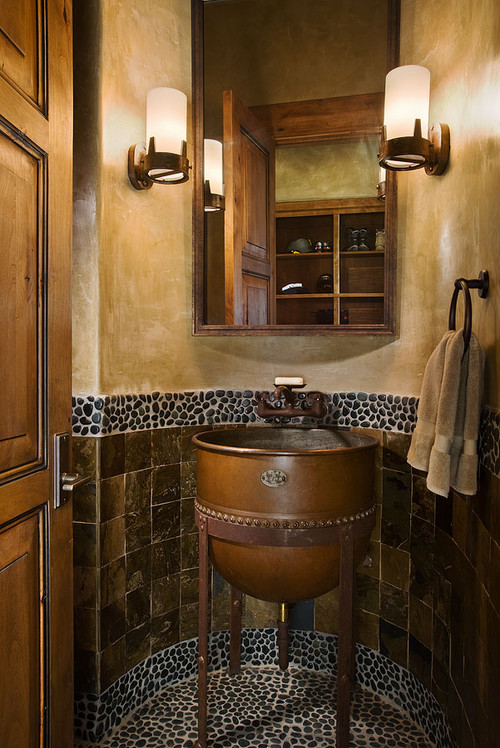 As we've said before, you always can play with the mirror and sinks or wash basins to get cool steampunk look in your bathroom.
As there're no standard rules as to how a mirror or wash basin should look in a steampunk-themed bathroom, you can freely make an experiment on that parts.
Here you have a unique wash basin coupled with antique tap and mirror. To optimize to steampunk effect, the wall and doors are colored in the same tones.
22. Toilet paper holder for Steampunk-styled Bathroom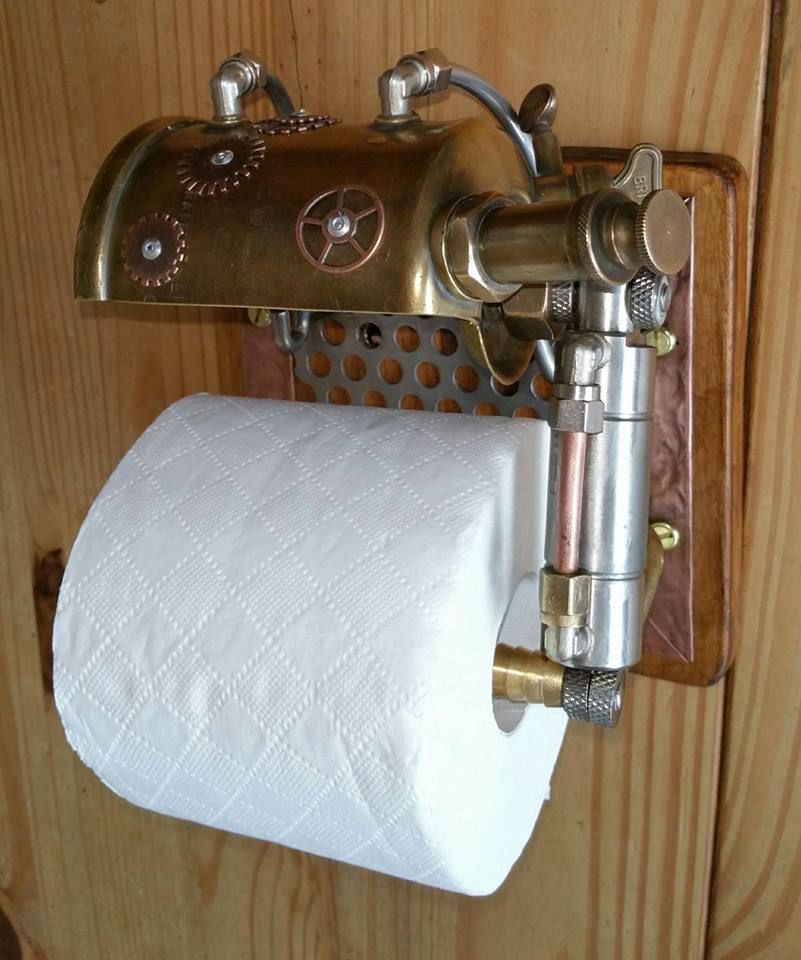 An important yet mostly unknown modern revolution happened in 1871 when an American named Seth Wheeler inventing rolled toilet paper. From then on, the business of relieving oneself will be much easier than before.
From then on, you also witnessed bathroom accessories called toilet paper holders. Once they looks heavy with elaborative patterns and engravings, no they look minimalist and utilitarian.
If you want to add a steampunk vibes for the bathroom, try this steampunk bathroom toilet holder. It looks tough and masculine, a good balance for a roll of soft toilet paper.
23. Old Steampunk Cabinets for Bathroom Decor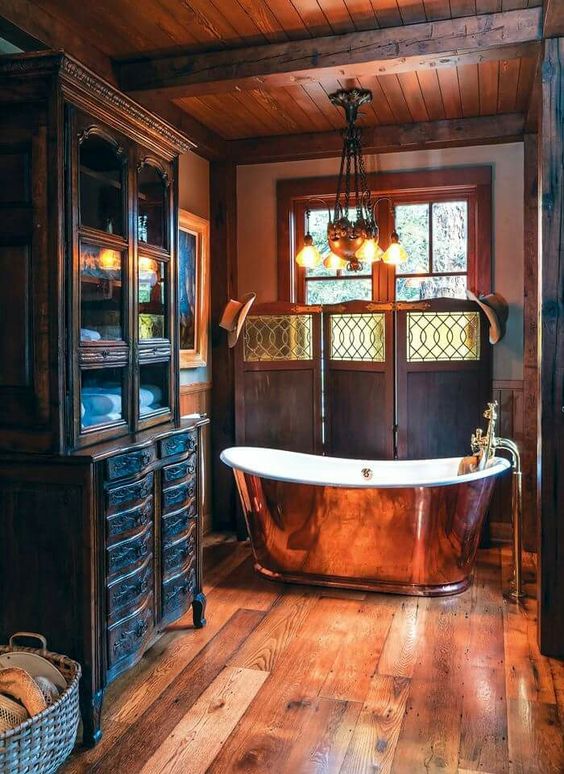 Having an old vintage furniture can be a benefit for you in a steampunk setup of the bathroom. All you need to do is to match the furniture with other steampunk-styled bathroom features.
The old furniture, such as this one, coupled with golden theme of the bathtub, offers a peaceful atmosphere to the bathroom.
The feeling further enhanced by the overall bathroom setup which is dominated by solid wood panels. Awesome.
24. Steampunk Wallpaper for an Awesome Bathroom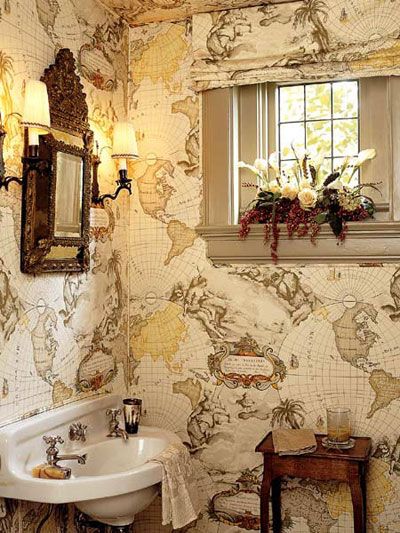 Hanging a steampunk-themed wallpaper on your bathroom walls is another simple and affordable way to revamp your bathroom.
The Victorian offer a store of iconic images for your purposes, from the natural themes up to the techy stuff.
In this example, you have a classic old map being used as bathroom wallpaper. The result is an awesome bathroom with an impressive steampunk-ish vibes. Old maps are only a fraction of great wallpaper inspiration from the Victorian era, but they are the most iconic theme.
25. Elegant Bathtub Stand for Steampunk Bathroom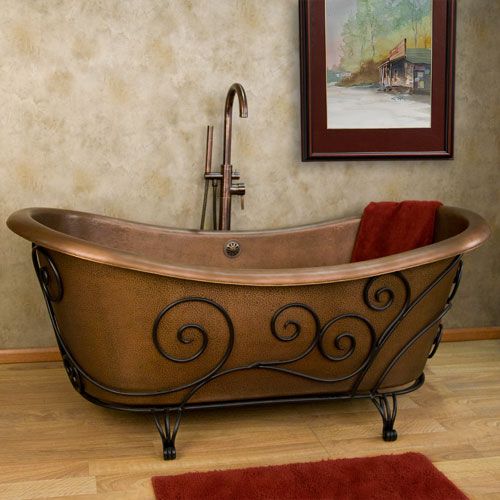 Finding steampunk accessories for the bathroom sometimes present challenge for some of us. The problem is not about the lack of the choices, but finding the right one for your own taste.
Some people probably want to have the most intricate bathroom accessories available, but the other people like the simple but elegant one.
If you're of the latter types, you might love this bathtub stand. The metal stand has elegant curvy patterns which should satisfy your simple classic taste.
26. Futuristic Steampunk-themed Bathroom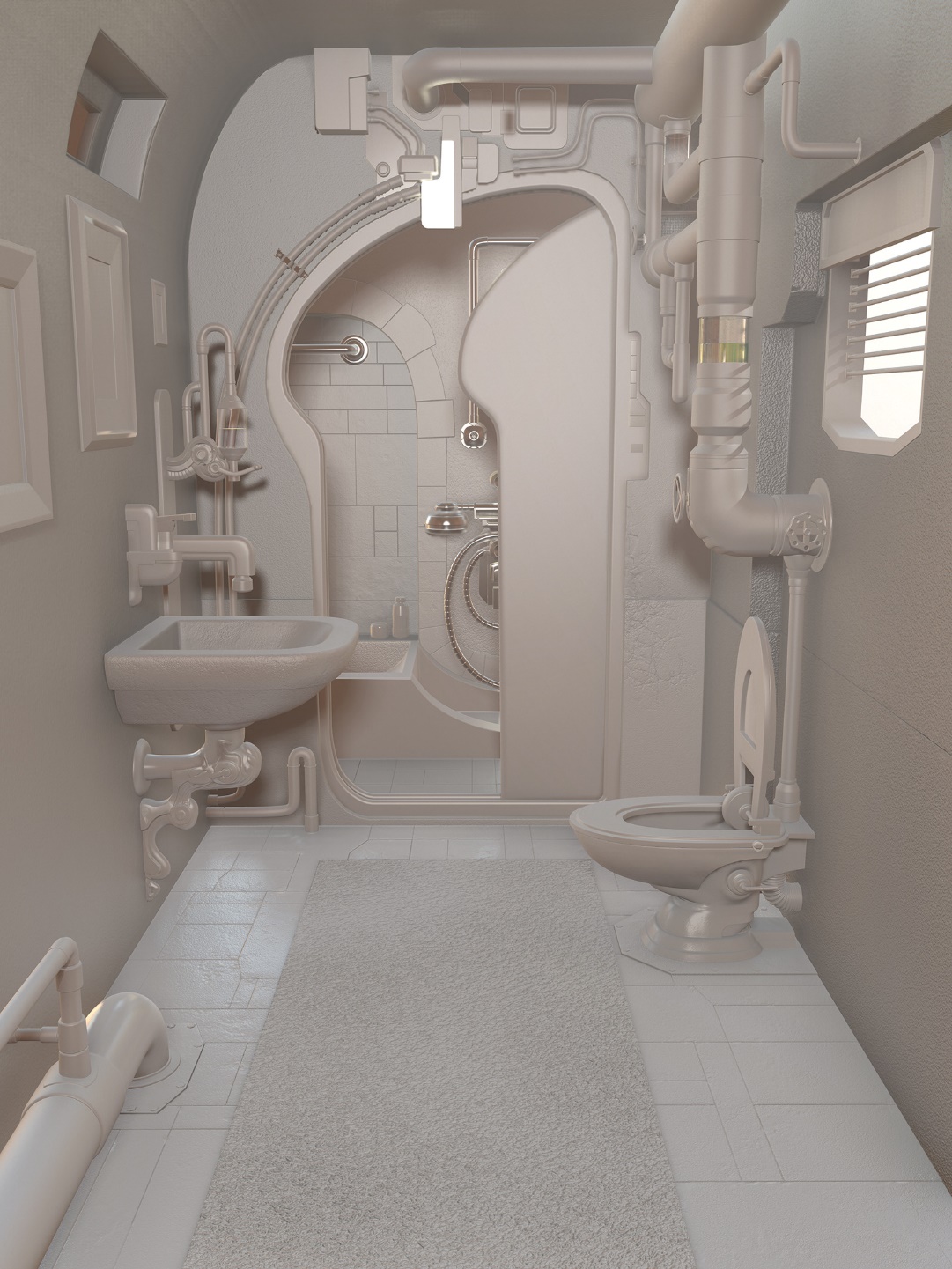 Being a fusion style, a steampunk theme always able to accommodate any room for experiments. Not only you can have fun with steam tech features in a modern setting, you even can go beyond it.
You even may turn the old tech into a futuristic theme: a Victorian styles but in the Star Wars liveries.
Like to try? Here's an example for a start. Instead of black, white and light grey colors dominate the room, making it look futuristic.
27. Insect-themed Wallpaper for a Cool Steampunk Bathroom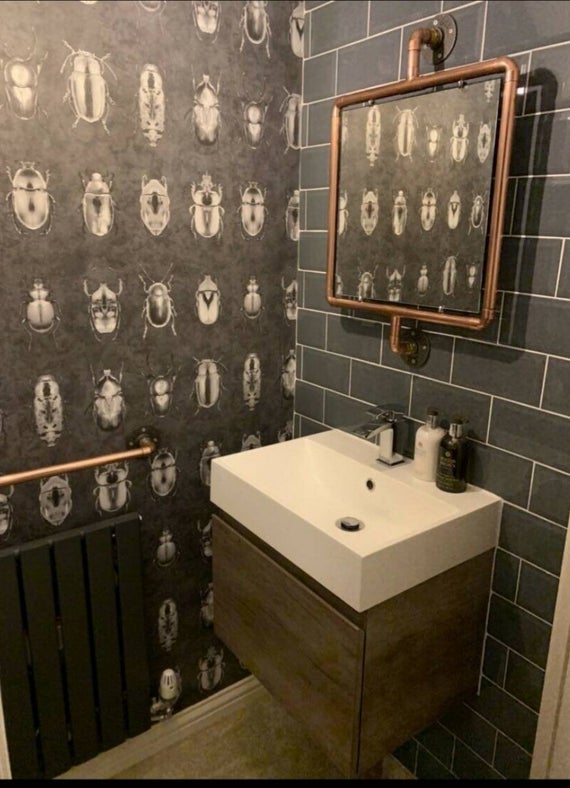 For the last list of this listicle, we'd like to offer you again the wallpaper them that we hope can spark a steampunk inspiration in your mind.
If previously you have a Victorian map for the wallpaper, here we offer you the other iconic theme of Victorian era: insect images.
The prolific insect hunters are prevalent in Victorian era and had brought us the most comprehensive insect lists in biology history –complete with the hand drawn illustrations. Some went to the natural science, the other became inspiration for steampunk decor like the following example.
That's it. That's all the steampunk bathroom ideas we picked for you, and now we hope you have the clue as to the steampunk features you love to include in your updated bathroom.
Whether it'll be the decor, accessories, or vanities features, we sure the end result of your bathroom will be astonishing and uniquely different.