If you want to expand the home without having to build conventional additional structure, then you need these small deck ideas. Yes, this time we try to offer you some deck ideas for limited space areas, as not every one of us need large decks for our homes.
A deck is a perfect place to enjoy your time outdoors. Any outdoor activities like family gathering, barbequing, family dinner, would be wonderful if you held them on the deck on a clear day.
As alternative, you might install an open deck or the covered deck. If you want sheltered outdoor activities, then the covered porch is yours. In the other hand, an open porch offers you a more direct experience with the natural surroundings.
Now if you need a little more inspiration on small decks, here we have 25+ inspiring small deck ideas to start with.
1. A pair of Chairs for a Simple Tropical Small Deck Idea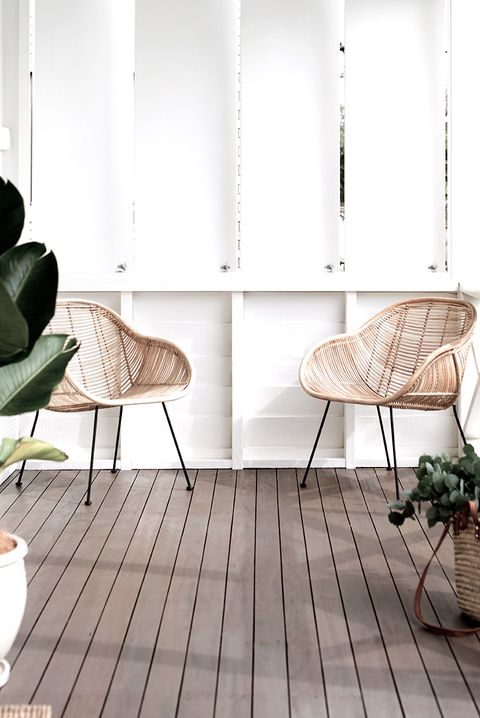 As an additional structure to a house, a deck is worth considering. If, for example, you need weeks to build additional home structures with conventional materials, you only need a fraction of the time to install the deck.
If you're in an on a budget mode, this deck also is far more affordable. You also can count on deck if you don't want an intrusive structure around the house.
Once set, don't forget to add other features to make it cozy and comfortable. A pair of modern rattan chairs might worth your consideration of you love tropical theme, like this one.
2. A Rustic Industrial Deck for Small Backyard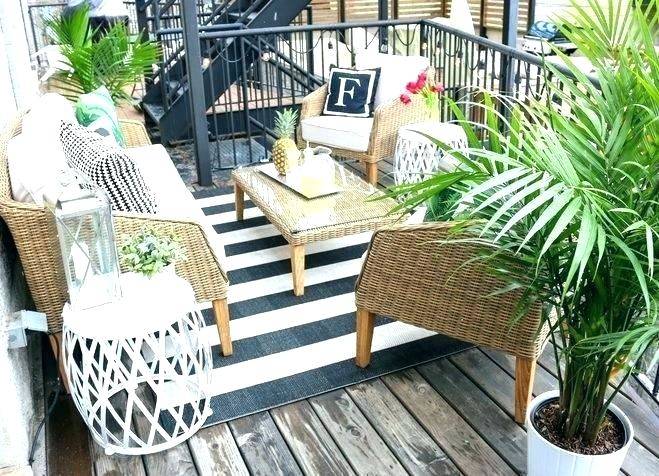 Having a new deck means that you have a new useful area for your family members or friends to enjoy their time outside. They have a focused area close to the house and at the same time they can enjoy the view of your garden.
A small deck won't eat much of your garden, but it gives awesome effects into it. It frees your garden to be as it used to be by replacing it as your outdoor point of activities.
This industrial deck for small backyard is an example of the case. It serves well as your point of activities.
3. Simple Cottage Style Small Deck with Pergola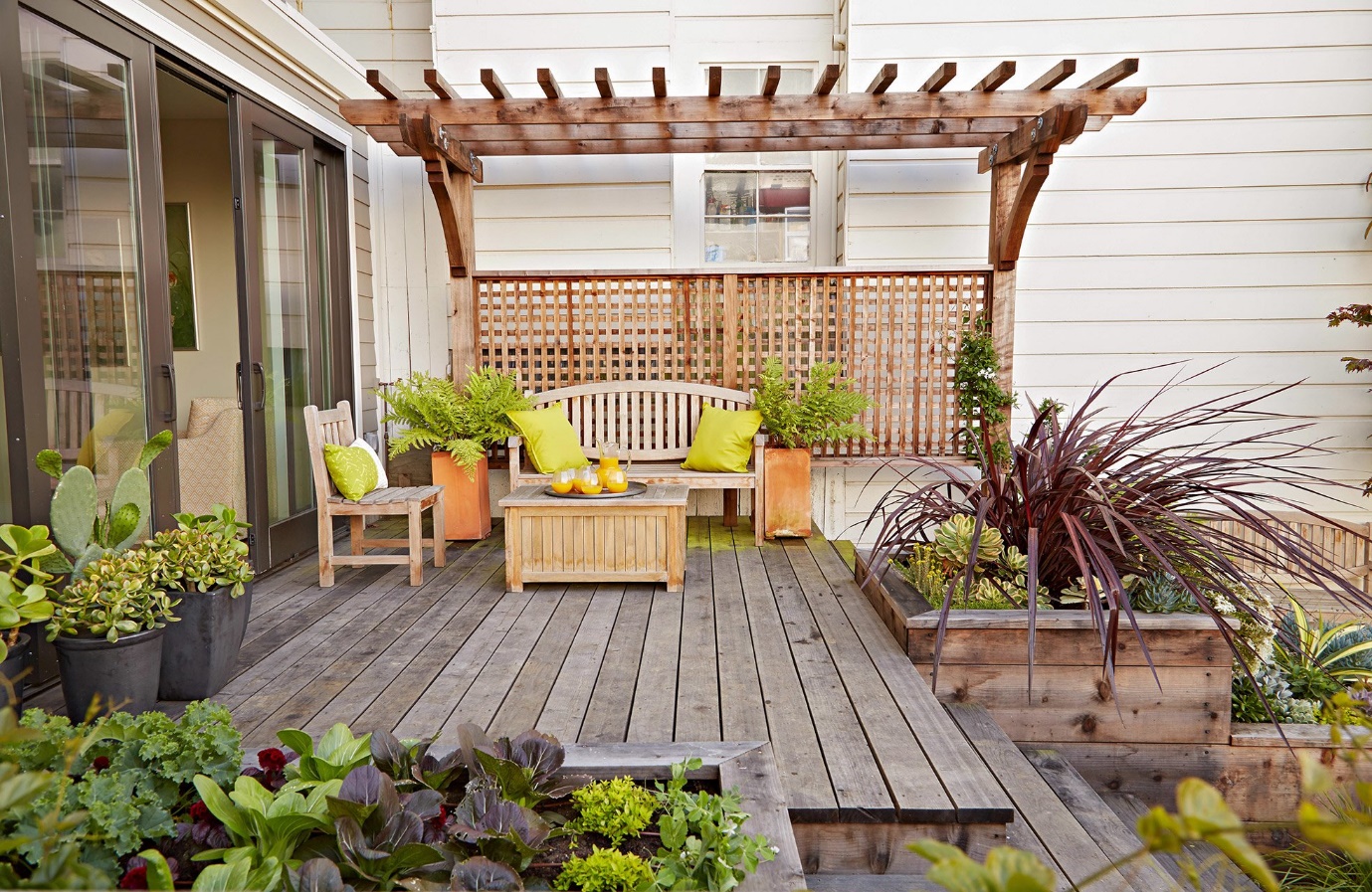 A small space often presents a more challenging plan when you want to install a deck. You have to have an efficient deck layout or your home will look terrible.
With the right plan and design, your home will look charming with the new deck, which neither too big nor too small for it.
In this photo, you find an example of it. Here you have a small cottage style wooden deck with pergola on it. It looks comfortable you always want to sit on the chairs.
4. A Classic Small Deck with Wooden Lattice Fence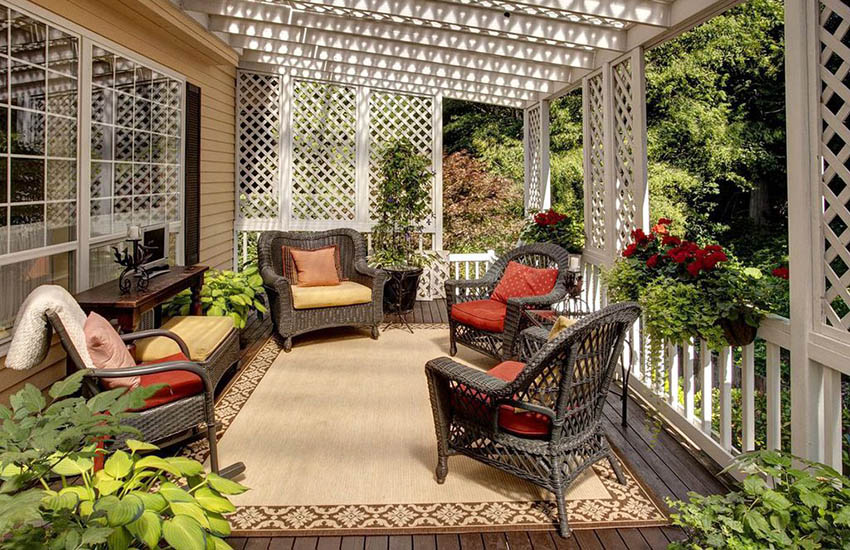 Decorating processes should not a problem if you know the basic style of the deck you'd love to have. One you grasp the idea, the decoration processes should an easy task.
If, for an example, you have minimalist small deck idea, then for the decoration you should find stuff, color, materials which match with your basic style, the minimalist.
In this example you have a deck with classic theme. So, for the decoration you might want to put classic lattice fence around it for the more enchanting classic vibes.
5. Small Deck with Minimalist Railing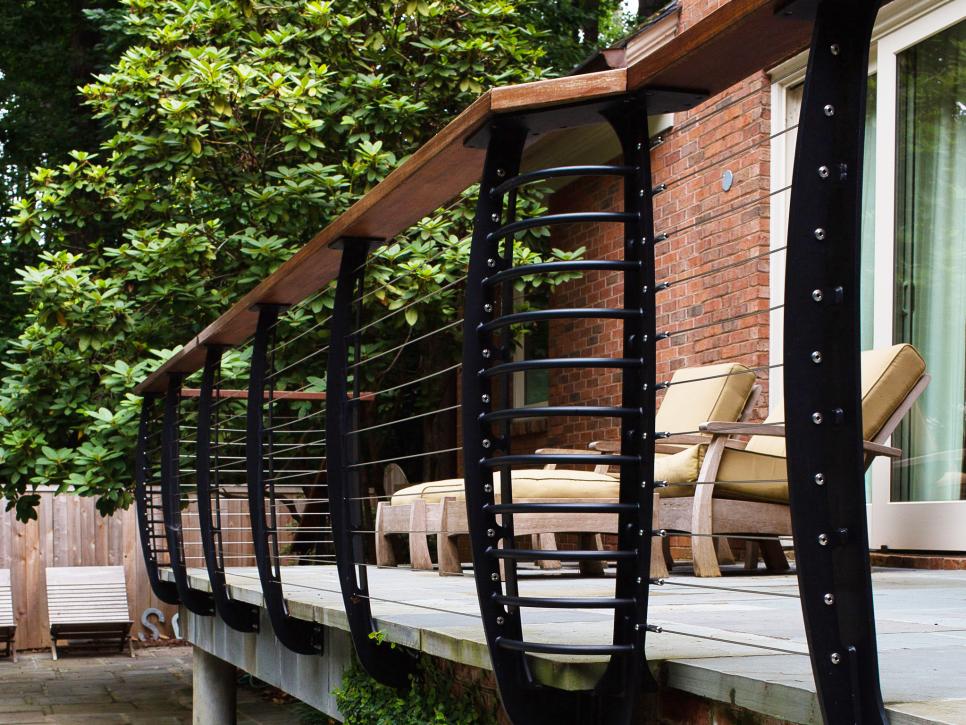 You your deck is set higher above the ground, you should consider the safety system for it. You need to include railings around the deck.
As for the materials, now you have several materials for it –depends on your deck main theme. So you might choose woods, metals, stones, concrete, or combination of the materials.
This picture shows you an example of railings for a minimalist deck. It made of metal and wood. The iconic minimalist color, black and wood colors, emphasis your overall minimalist theme.
6. An Inviting Deck with Swing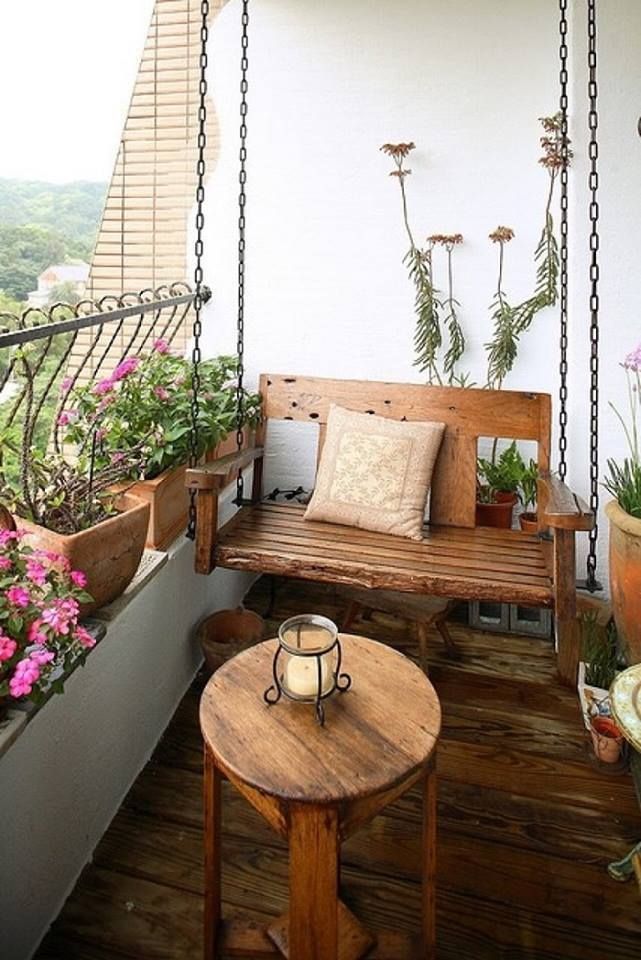 The often overlooked benefit of a deck is that it also increase the curb value of your houses. As the curb value increases, so the overall value of your houses.
For the reason, you plan to sell the house, adding a deck won't hurt your home, instead it'll make your account thicker when you have the suitable buyer.
Not only the layout of the deck itself adding a value to your home, the features on it also have visual impact to your prospective buyers. To add a wow factors, try to add a unique swing bench on it. It's easy to set and surely impressed anyone who see.
7. A DIY Small Deck Idea with Wood Benches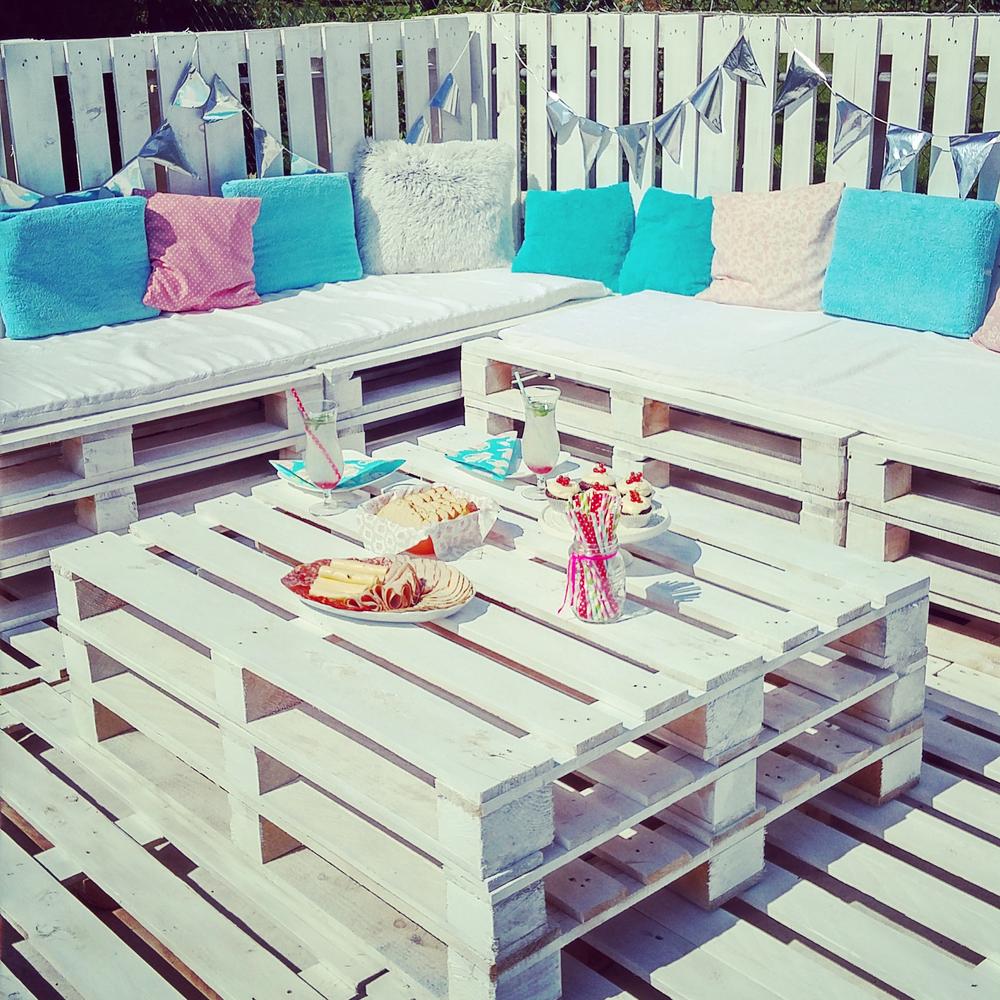 There's no reason for you to not having a deck in your home if you have a fertile mind and crafty hands. You always can use any unused materials around the house for it.
If you're on a budget and wood pallets are abundant around you, then you can turn them into a gorgeous small deck like the following idea.
As about the designs, it's up to you. For example, the following image shows you simple pallet wood deck which should easy to follow if you want to have one for your homes.
8. A Cozy Boho Small Deck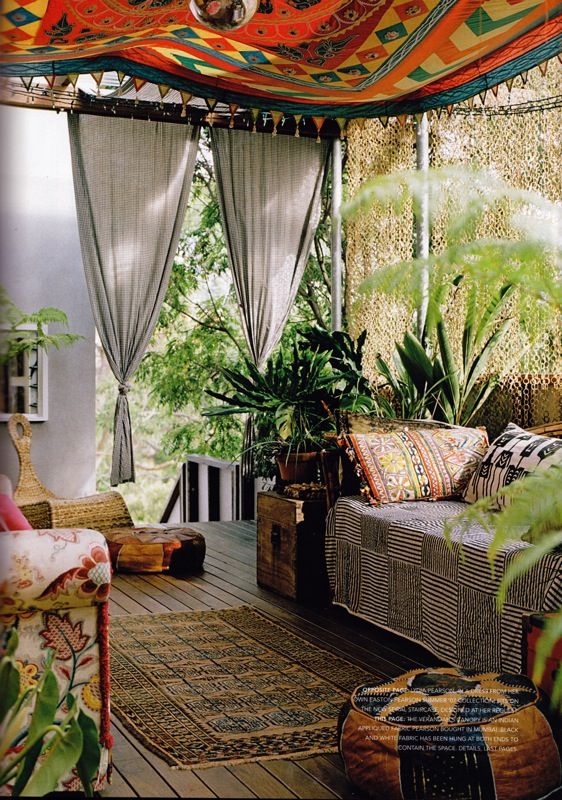 Though small, a deck is always a sweet spot to have a tea or enjoying leisure time in a pleasant morning or evening.
For the utmost enjoinment, try to find additional features for the deck. You might need to find the right chairs, benches, or else.
In this example, you meet one of the most enjoyable deck so far. It's in the Bohemian theme, complete with the typical colorful curtains, roofing, and pillows –all the ingredient of cozy atmosphere. Don't forget to hang string lights to complete the setup of this deck for small backyard.
9. A Pleasant Backyard Deck for a Minimalist Wood Cabin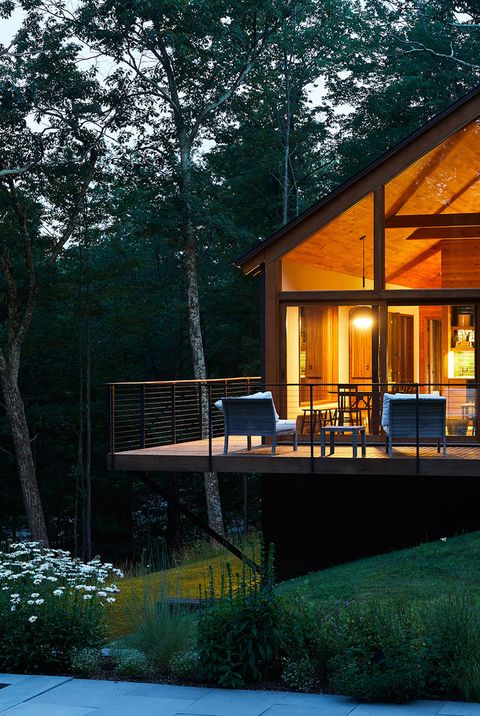 As we've said before, a deck helps to increase you home value. The trick works well whether you have it in a big or smaller houses.
If you happen to have a log wood cabin and want a more pleasant spot to enjoy the nature, you also need to consider a deck.
This small deck idea gives you a glimpse of a backyard deck of a pleasant wood cabin. The minimalist designs blend well with the overall cabin designs. Surrounded with railings, the deck looks seamlessly integrated to the cabin.
10. A Comfortable Deck with Tropical vibes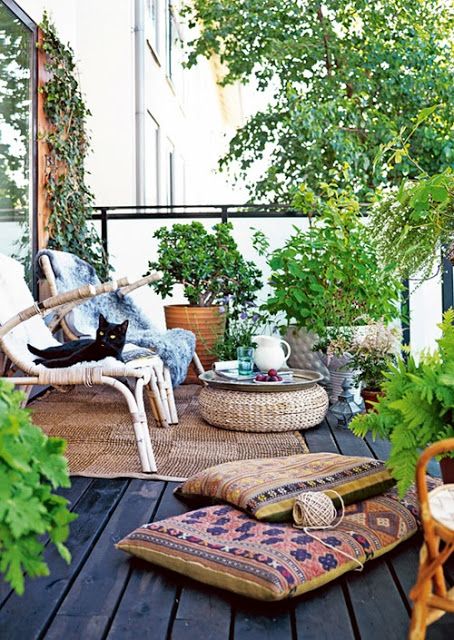 No matter how simple and small your deck is, if it always becomes one of your hangout place, your deck has served one of its purposes: as a cozy place for outdoor activities.
Along with the aesthetic aspects of a deck, the deck's comfortability also need your attention. It includes on giving the right features on it, mainly if you want it to be your unofficial living room.
For the purposes, you need to find the right chairs, pillows, coffee table, and the ottoman. Greenery also need to come along to freshen the atmosphere. For an idea, here a photo for you.
11. A Low Open Deck for Small Home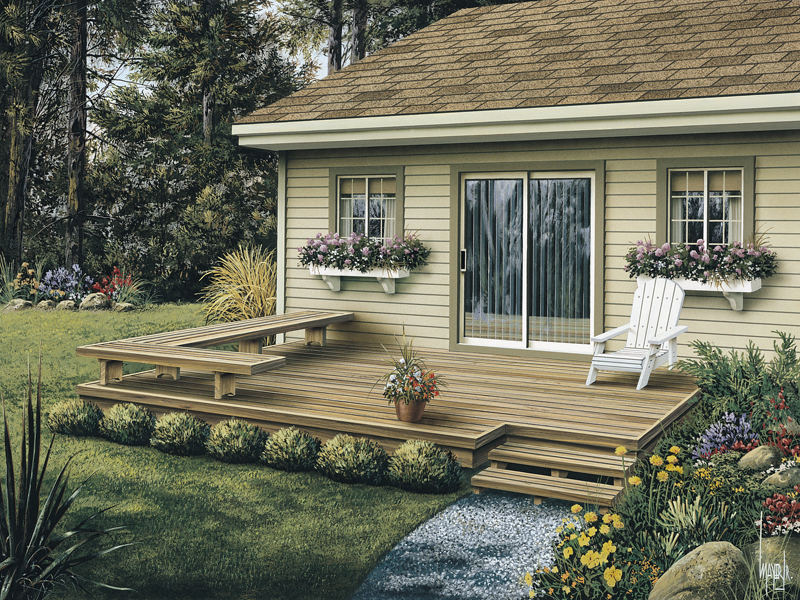 There're no rules on how tall a deck from the ground. You might have a deck from a second floor of a home, or you might have it close to the ground. All are great for your homes.
The taller deck might need railings, while the ground-huggers need no fence or railing whatsoever. If you prefer unhindered view to the garden, you'll probably love to have the latter type as well.
In this picture you have a small low deck for a small home. You don't need any railings. Instead, you may put wood benches on its place. They become a handy place to sit when you want to enjoy the weather outside.
12. A Small Deck Idea with Glass Wind Breaker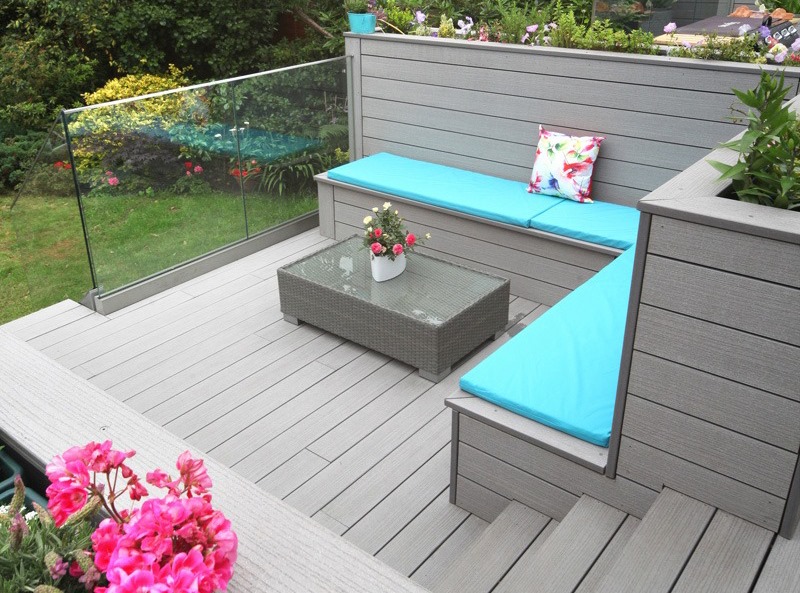 A good pleasant evening is a thing, but it would probably end up in a messy situation if then the wind get involves and joining your evening time.
To protect you from the wind, you have alternatives like lining the deck with potted greenery, installing lattice fences, wooden boards, up to setting up a deck railings.
If you don't want your view get obstructed by railing materials, you may install glass wind breaker like this unique glass railings. The transparent materials still enable you to enjoy the garden without you having to worry about the naughty wind.
13. A Light and Pleasant Small Deck with Polycarbonate Cover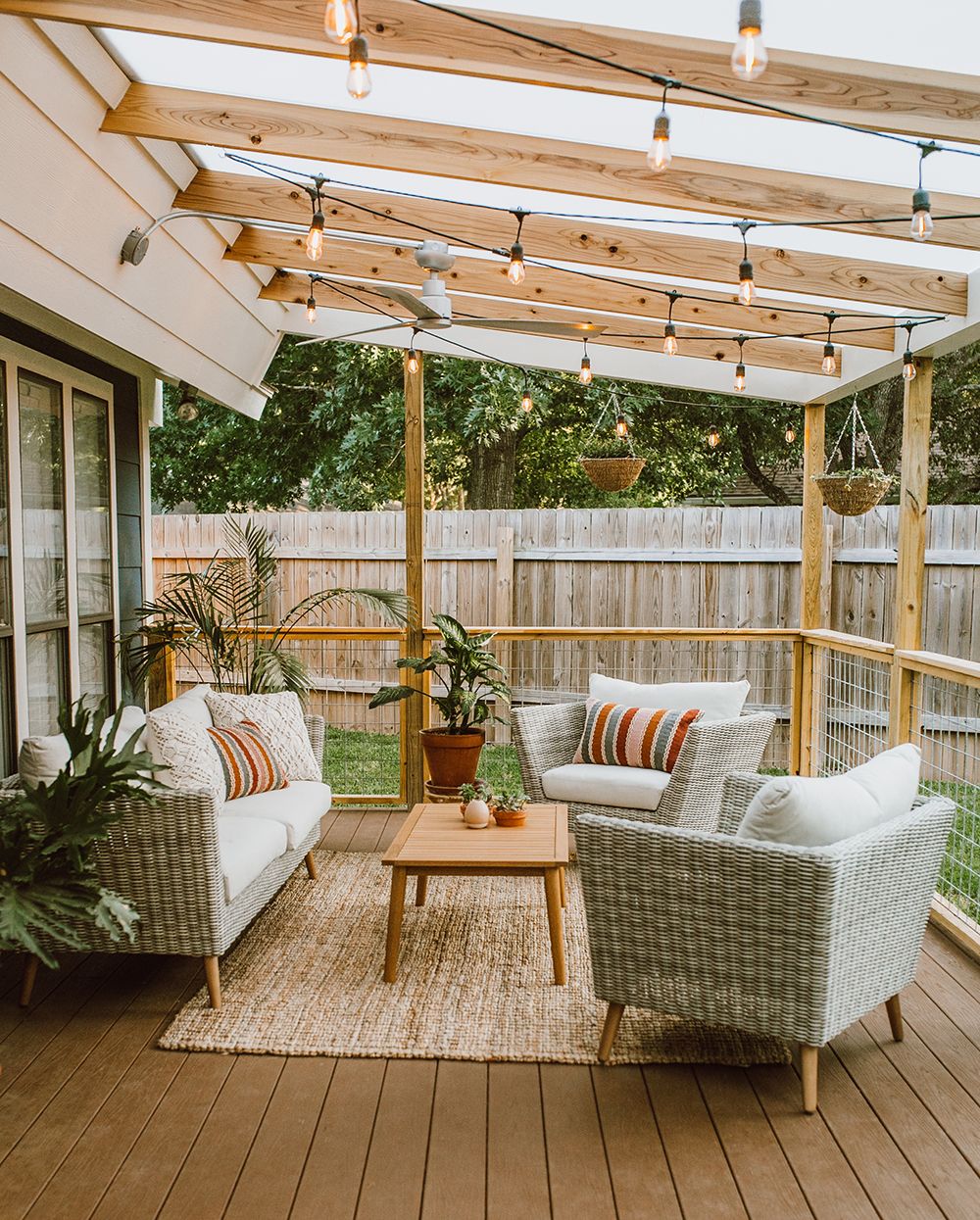 Once, up above in this article, we've outlined two types of deck: the open decks and the covered decks. For the covered decks you have various types of its coverings, including the pergola or gazebo.
The difference of both type of roofing is the covering materials. A pergola is consisted only with beams (for vines to grow), meanwhile a gazebo has the roof materials along with the beams.
If you're on a budget but still want to have your deck covered, you may choose polycarbonate for the roof materials. It's light and easy to install. It's also one of the most affordable roofing materials in the market.
14. Cool Modern Minimalist Deck for Small Backyard, with Pergola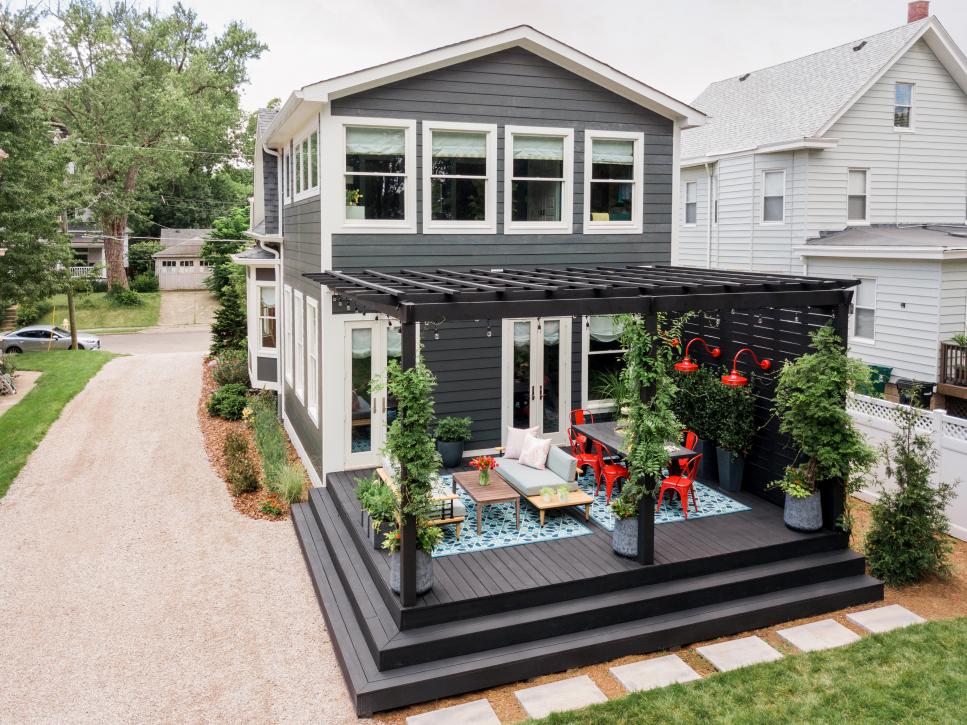 A way to enjoy the sun but still have the protected feelings is by installing a pergola on the deck. Along with its original function as vines supports and sun shade, a pergola also is effective to give dimension to your deck.
A deck and pergola are also perfect combination when you want a minimalist theme. The following picture is a perfect example for you.
The simple deck, splashed with dark minimalist color, looks cool and in line with the whole house theme. As the accents, bright red lamp fixtures and dining chairs are added. The warm wood color of the furniture and its rugs complete the scene.
15. Color Play with the Deck Features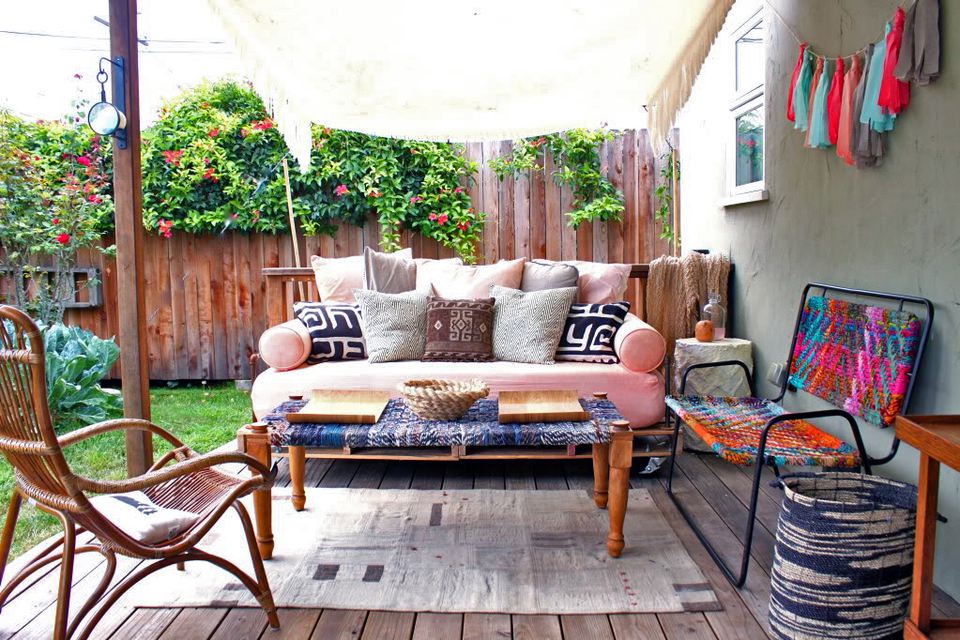 What should I do to make my deck looks vibrant and colorful? With a deck alone in the backyard you might feel it a little drab and boring.
An easy way to 'color' the deck is by adding colorful features the deck. There are several features you might use as the sources.
In this small deck idea, you have colorful chairs under a similarly colorful wall accents. On the couches you also see pillows with various patterns. On the roof support you find a unique blue lamp fixtures.
16. Tiered Double Small Deck for Dynamic View Experience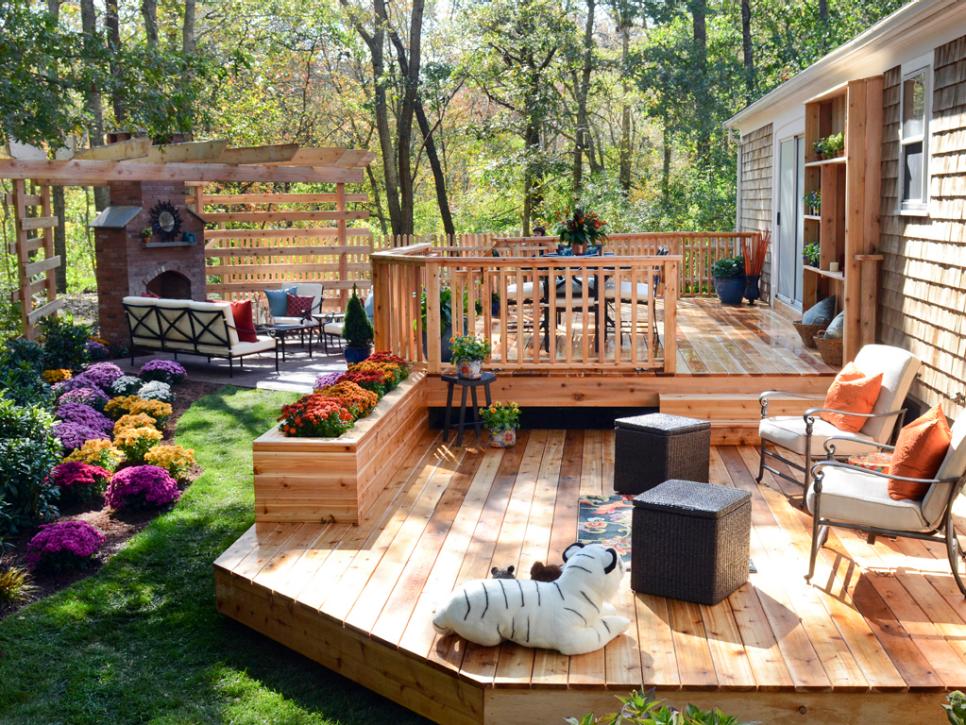 When a long narrow backyard deck seems unimposing to you, why not divide it into two smaller decks?
Two tiered small decks that sits next to each other will looks more dynamic than the existing long-narrow deck. Add small stairs to bridge the decks.
This example also shows you that you have an open deck and fenced upper deck. The open lower deck also serves a transition area between the garden and the upper deck.
17. A Picture of Simple Modern Backyard View Deck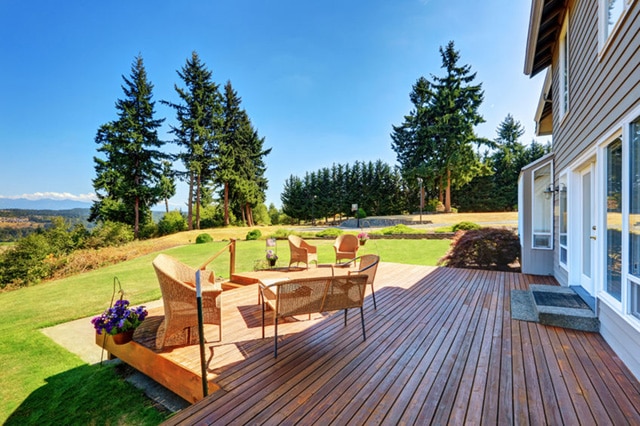 Living on a mountain gives you an incomparable benefit: you have a superb view of mountain and valleys all the time.
If you happen to have a backyard with that awesome advantages, it would even nicer if you install a deck on it.
Not the fancy and intricately designed deck, but the minimalist no-frill deck like the following photo. Add several tropical chairs on it and enjoy your summer time to the utmost.
18. A Green Touch to the Deck with Potted Plants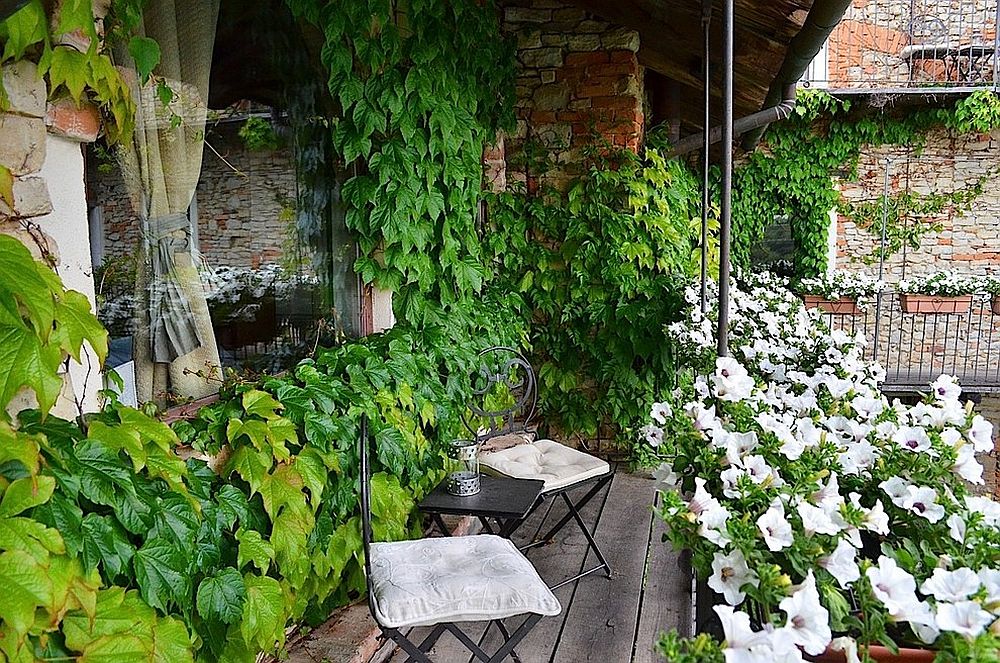 If you love nature and want to enjoy a touch it, then add the greenery to the deck. Find your favorite potted plants and set them all around the deck.
Don't like the mosquitos and bugs buzzing around during your time on the deck? You have several beautiful plants which also are efficient in repelling them.
Plants like citronella, catnip, basil, lavender, lemon balm, or marigolds are several plants you should consider when you want to stay out on deck without having to worry about mosquitos and insects.
19. Small Deck Idea with Deck Lighting System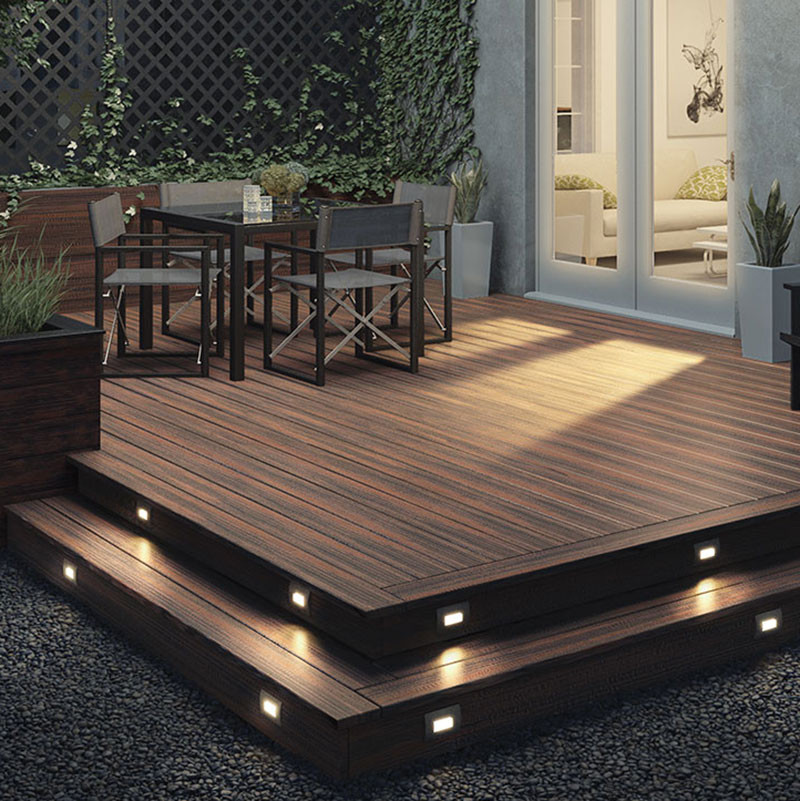 Having a pleasant deck a one thing, but get slipped because you missed the deck stairs is not a pleasant experience. Hence, the deck lighting system are invented.
The systems are mainly for deck with multi steps. They're usually embedded on the vertical side of the steps. Led lights now are the main choices, as the lights are highly efficient and dependable for the outdoor uses.
Though only has two steps, this deck also uses deck lighting systems. Alongside with the safety reasons, the lighting systems also gives ambient light when night comes.
20. Small Concrete Deck with Tub and Firepit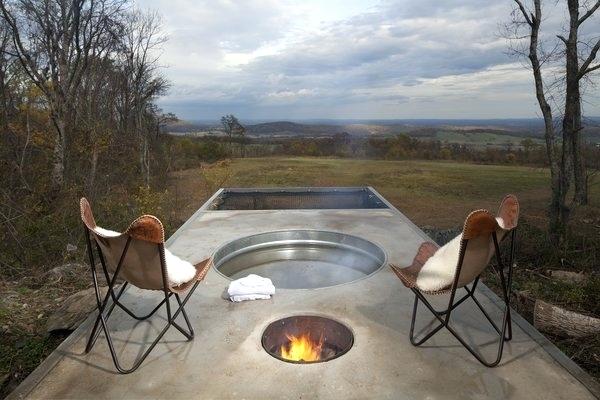 Almost all the decks presented are of wooden materials. In fact, you have several other choices than woods for decks. For example, you can use concrete for the deck.
A sense of brutalism presents with this kind of deck. But, though looks rugged, this deck also offers you certain strong characters, balancing the vast soft feminine green landscape before it.
To warm the chilly brutalism atmosphere, the designers add warm bathtub and firepits. A pair of modern chairs with the fluffy pillows complete the warmth ambience.
21. A Deck with Tiled Floors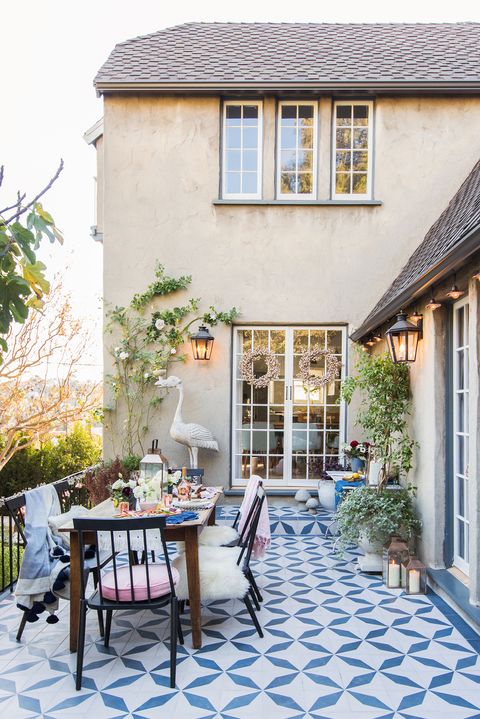 Just a while ago we talked about concrete decks as alternative of wooden decks. Now you also have another alternative of wooden decks. Here you have a tiled deck.
Like quality woods, the tiles are also dependable and weather-proof enough to withstand any trouble from the elements.
Tiles also offers you a much more varied colors and patterns, so you won't be afraid of lacking any themes for your decks. This photo shows you how a modern tile patterns works well with this classic home.
22. A Small Deck Idea with Small Swimming Pool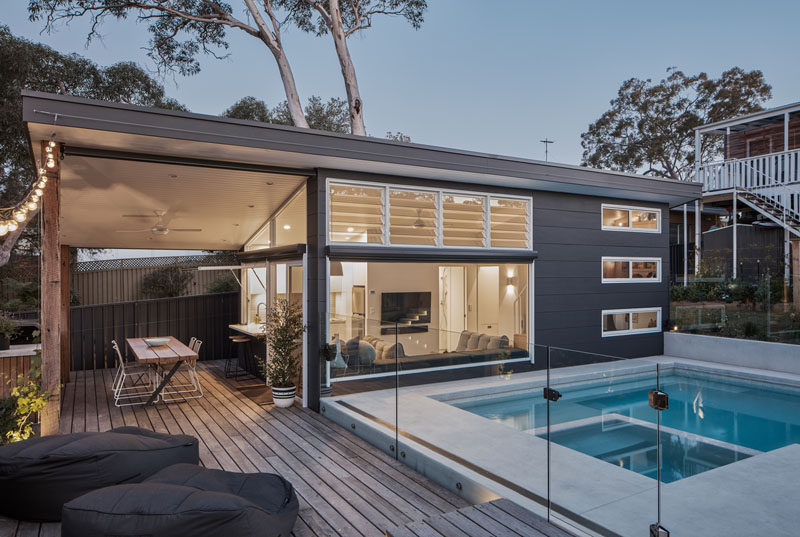 Not only for a lovely flower or vegetable gardens, a small backyard also has a potential to be your most refreshing swimming pool.
A combination of small wooden deck with (also) small swimming like this example would make your garden look impressive.
The minimalist wooden decks with bean bags and dining table on it is awesome, beyond the glass fence, is an also minimalist swimming pool promising you some refreshing moments in summer time. For the lovely night time, string lights decorating one of its corner.
23. Glass-enclosed Small Deck for a More Private Outdoor Time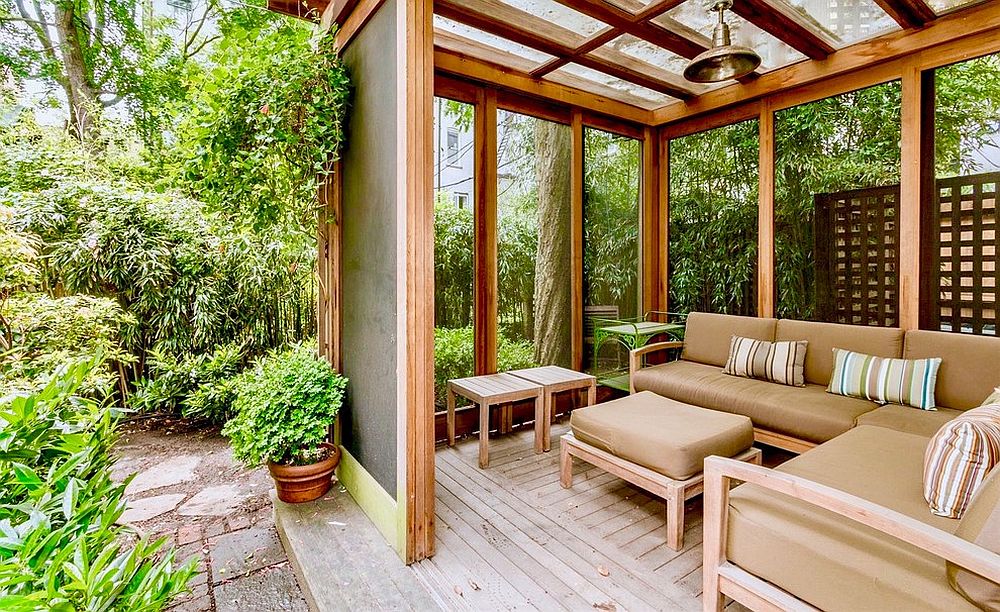 Sometimes a roof is not enough to shield you from the elements. Sometimes the rain water still splash your sitting area. If so, then you need a more protective cover like a structure which could enclose the deck.
Yes, you need the cover, but also don't want it to obstruct your view of the garden area. In this case, you need a glass cover for the purposes.
This picture an example you might want to know if you want an enclosed deck. The furniture on it is surrounded by wood-glass structures, guaranteeing you from any naughty wind, rain, or snow.
24. A Painted Deck Floor. Why Not?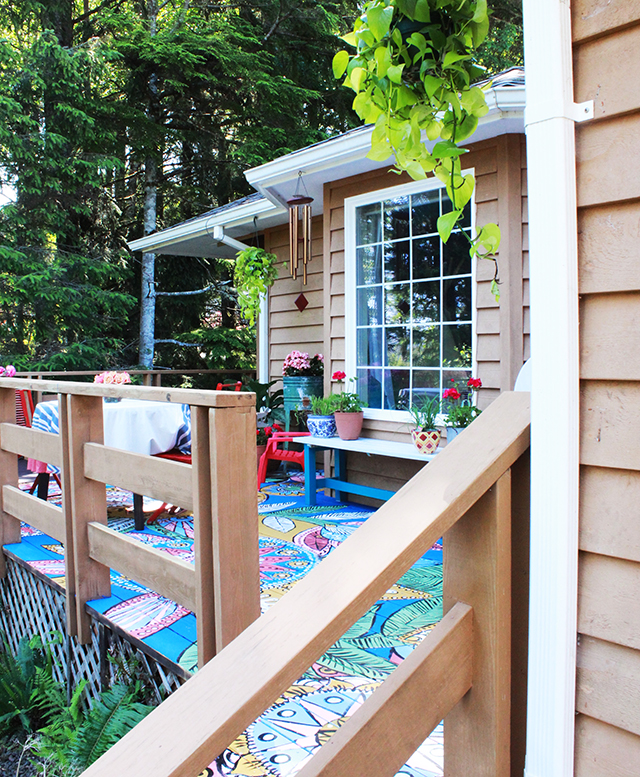 So far in this list you have limited alternative when it comes to the wood floor finishes of the deck. It's either natural finishes or with neutral colors like brown, white, or the other neutral colors.
But what about a painted floor? The one with patterns, like unique decorative or geometric patterns? Surely you can do it.
For example, this deck has it wood floor painted with colorful patterns. It injects a cheerful atmosphere into the house –and giving utmost joy to the kids.
25. A Shabby Chic Small Deck Idea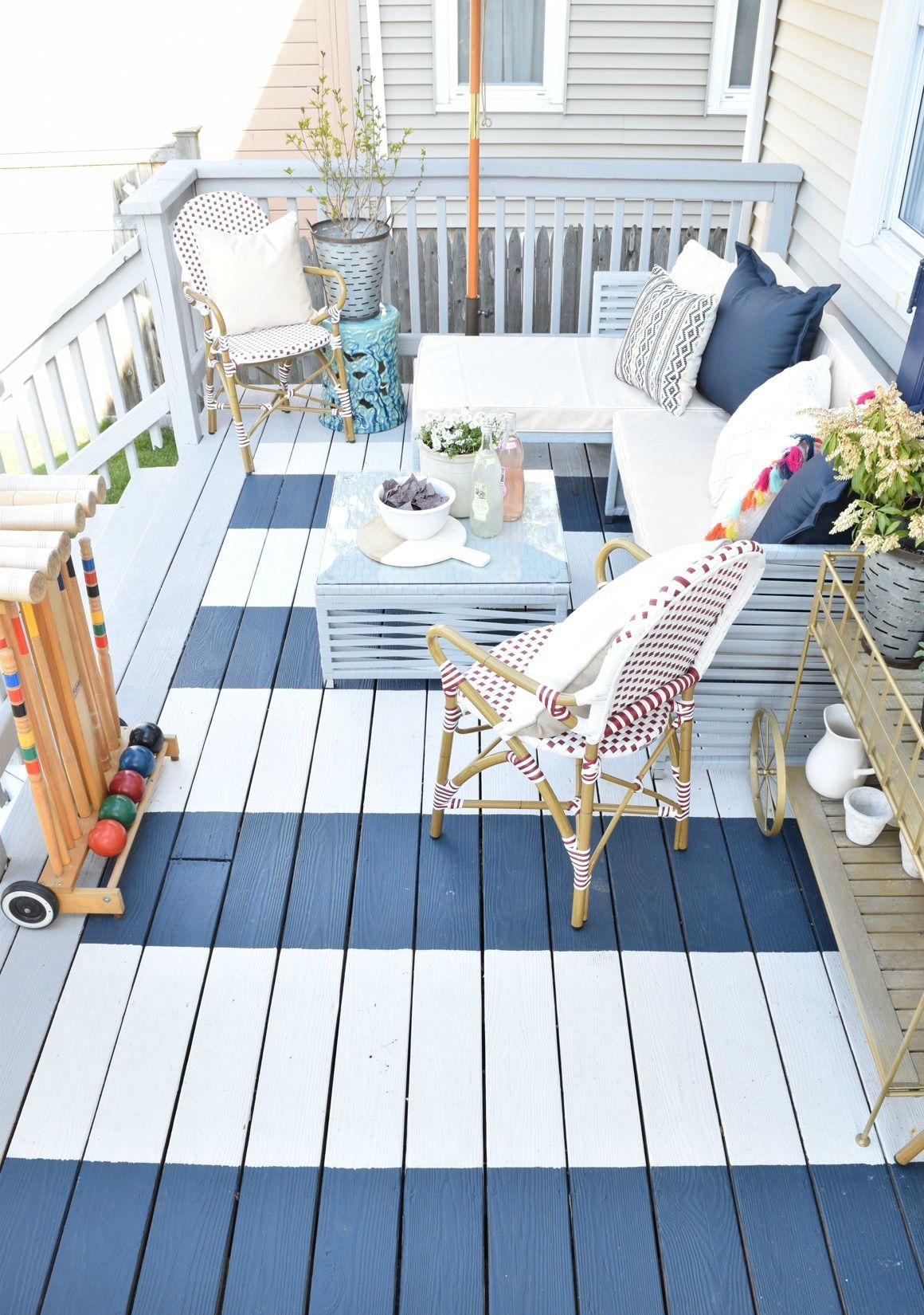 If still need inspiration for deck with painted floor, here we have another idea of it. This mainly is for you who think that the previous idea looks too vibrant and want the more calming one.
Here you meet a deck in shabby chic liveries. As you've known, a shabby chic always wants you to relax with its calm, soft, and pleasant vibes it builds.
The theme offers you a snug area to sits enjoying the moments. This theme also works well for an 'on a budget' deck. The floor here is painted in the similar color with the overall soft color of the railings. It's so calming and soothing.
26. Another Lighting System for Small Backyard Decks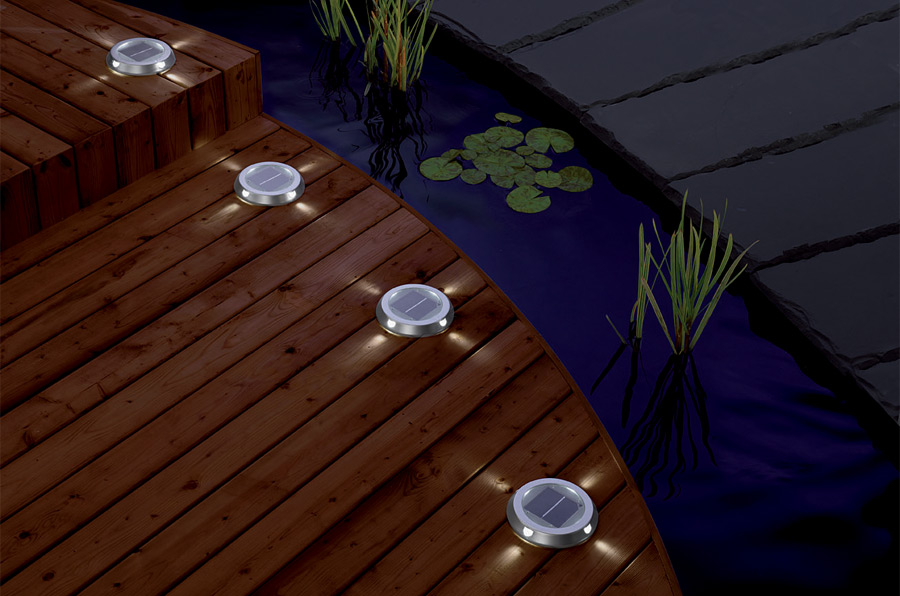 Once up above in the list you've meet a unique lighting system for the deck stairs. Now you have the other types, they won't light the stairs now.
This lighting system lights up the edge of your decks. They're not only illuminate your deck, but also gives a romantic ambience for your night time outside.
The unique design of these LED light systems enable you to just put them on any spot you like on the edge of the deck. They're solar powered and so you don't have to worry about its wiring.
27. Tropical Small Deck Idea with an Infinity Pool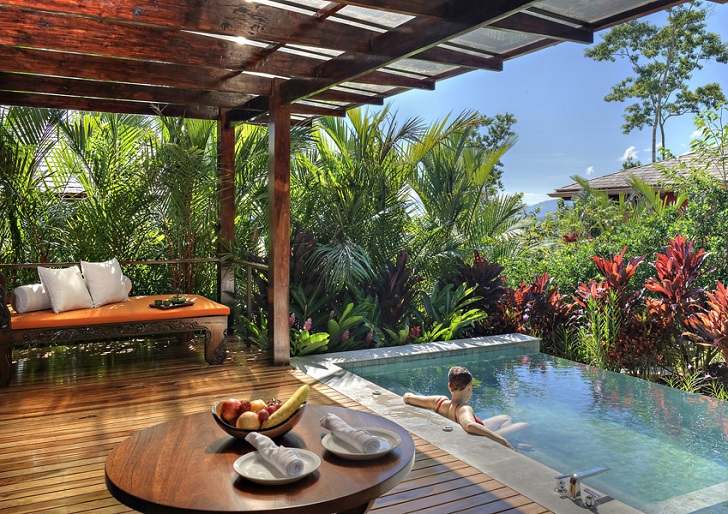 This last list will takes you to the tropical backyard, complete with the wood deck, infinity pool, and tropical greenery.
It won't eat much of your backyard. All you need to do is designing the planning carefully, so you might have deck and pool like this cool example.
A polycarbonate roof shades the deck to protect you from the direct sunlight after a dip in the infinity pool right in front of it. It's a perfect spot to enjoy the summer day.
Read More: 15++ Most Awesome Quonset Hut Homes to Own this 2020
So far you've met some 25+ small deck ideas, and so far we hope you happy with all the inspiration sparked here.
Not only works well for small backyards, those unique photos of the decks also work well for an 'on a budget' projects for your homes. Lastly, have a nice day.