If you want a kitchen island that goes well with almost any kitchen themes, you probably should install a rustic kitchen island.
A modern kitchen wouldn't complete with a kitchen island. Once it's a transition place where you put your kitchen stuff before storing them into the pantry or kitchen cabinet (or the fridges).
Once it also a handy place for meal preparation or a quick breakfast. But now we also consider a kitchen island as important point of interest in the kitchen.
It has become an attention grabber which would impress anyone in the kitchen. For the reason, now you have almost limitless kitchen island themes, from the most classic up to the most contemporary one.
Back to the rustic kitchen island, this style is one of the most versatile styles. You always can match it with any kitchen styles in your homes. Now if you want to find ideas of the kitchen island style, we've picked some for you.
1. Rustic Kitchen Island from Reclaimed Wood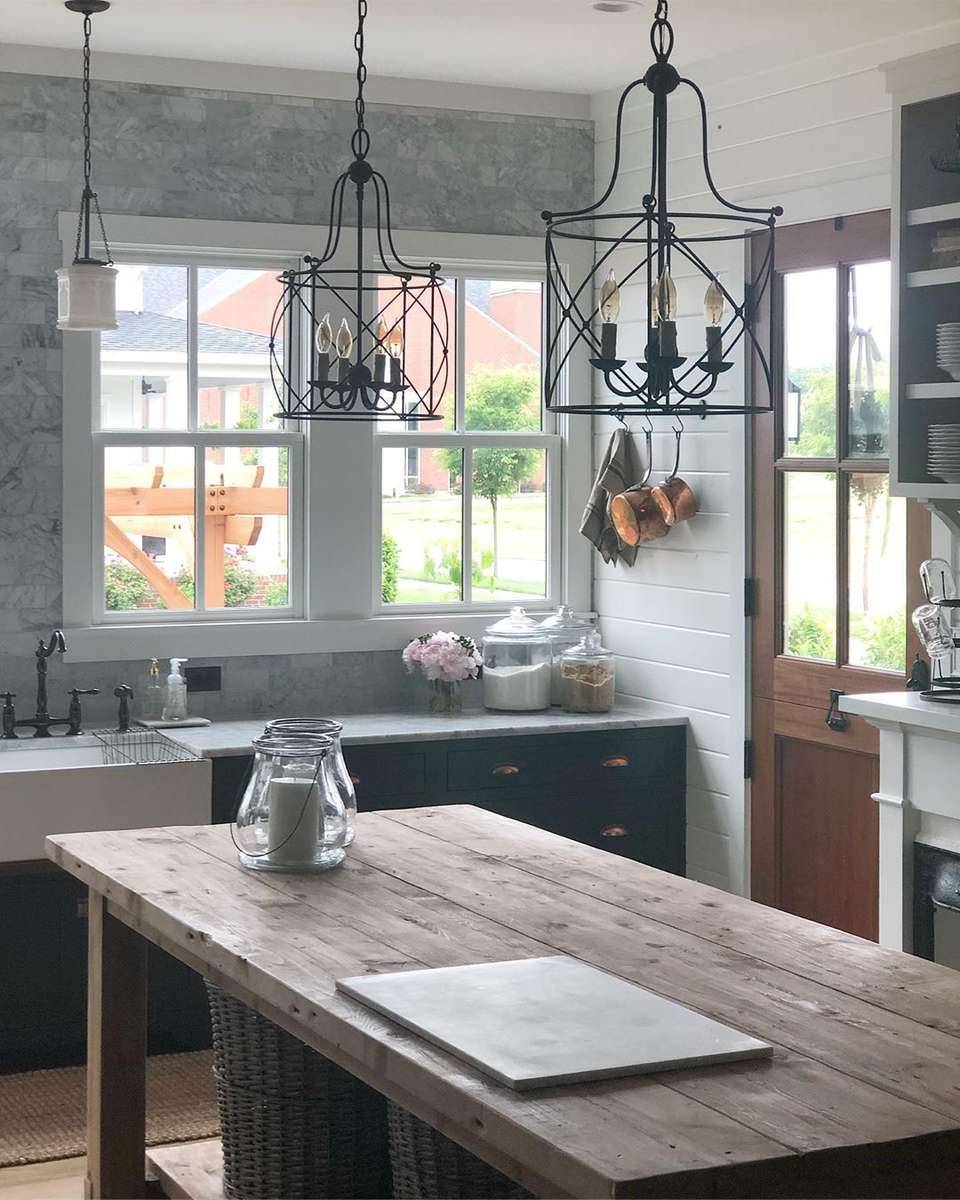 An open beams, stained metal structure, distressed paints are only a fraction of iconic rustic theme characters. Yet the bare and over-used look is the strength of the rustic look –it looks cute from the simple and raw appearances.
If you have broken furniture or tables, you even can use the salvaged woods for a rustic kitchen island.
The old and distressed look of the looks should enhance your kitchen island look. Add antique lighting fixtures to complete your rustic setup.
2. Classic Small Kitchen Island idea with Wooden Countertop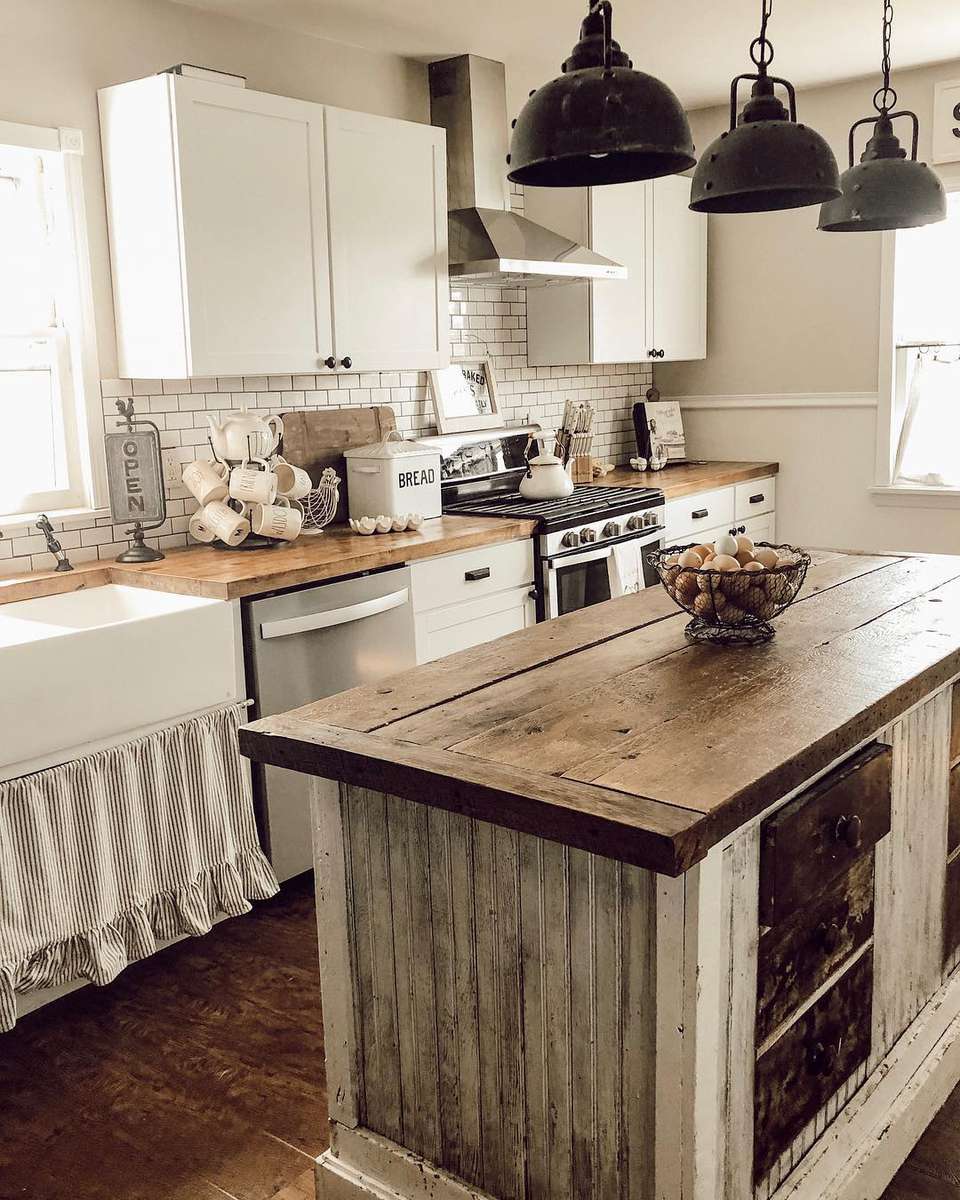 Still with the unused woods, along with the kitchen island itself, you can turn the woods into the countertop as well.
With the available aged and distressed wood, you should not worry if the result won't look rustic. It'll look rustic all around, from the materials, patterns or colors.
For this countertop, we sure you can make it yourself in your free time. As the design is simple and won't need any fancy tools to do this project.
3. A Rustic Island in Color – With seating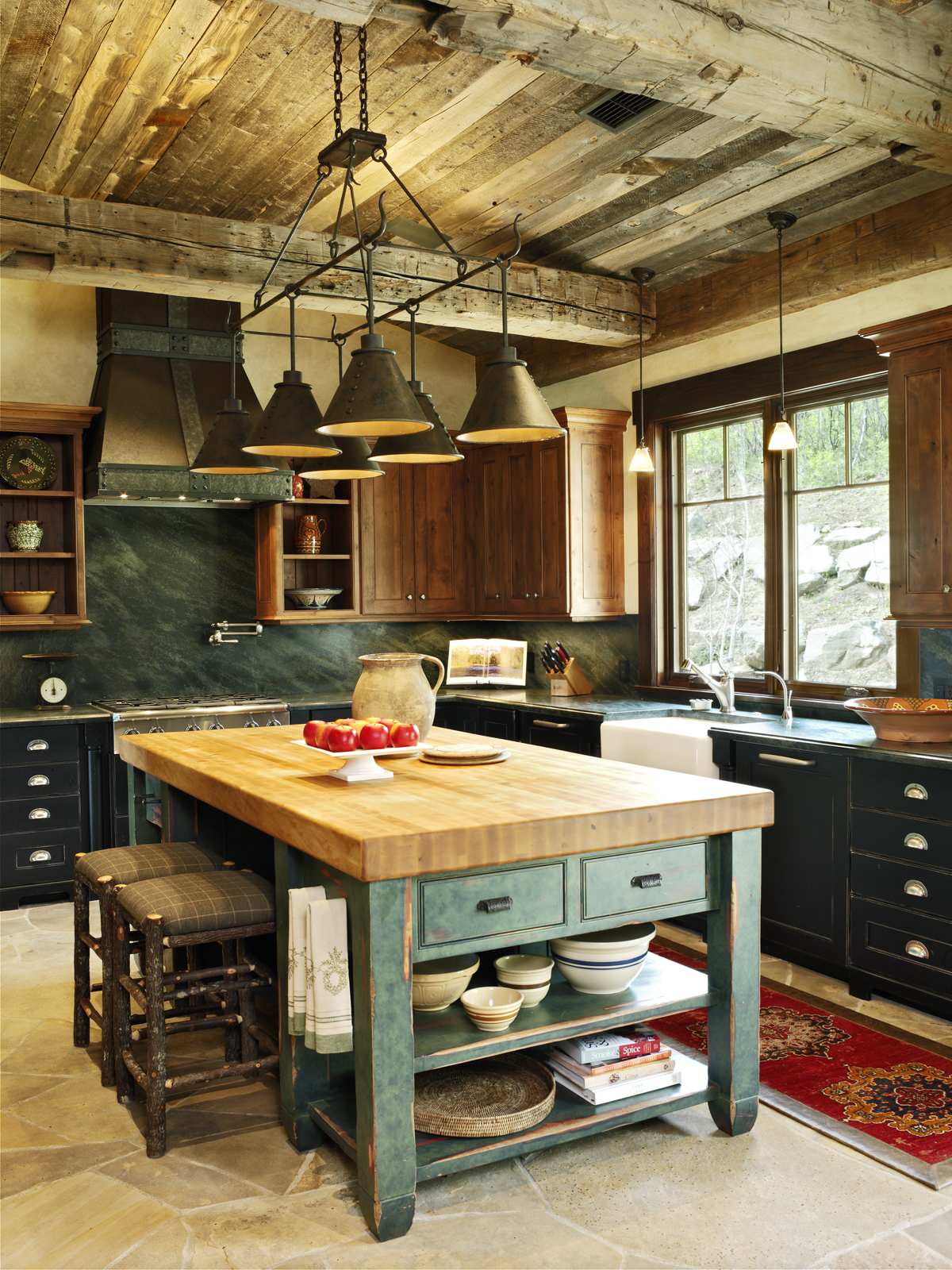 Having a rustic kitchen island doesn't mean that your kitchen should lack of colors. Your rustic island should not only have neutral or wood colors.
In fact, a rustic island has the potential to be your impressing kitchen's point of interests. That's if you add a dab of color on it.
Here the open kitchen island's body has old distressed blue color. It works perfectly with the wood colors and deep green colors of the cabinets. The dark chairs and rusty lamp fixtures balance the setup.
4. Small Rustic Island in a Modern Farmhouse Kitchen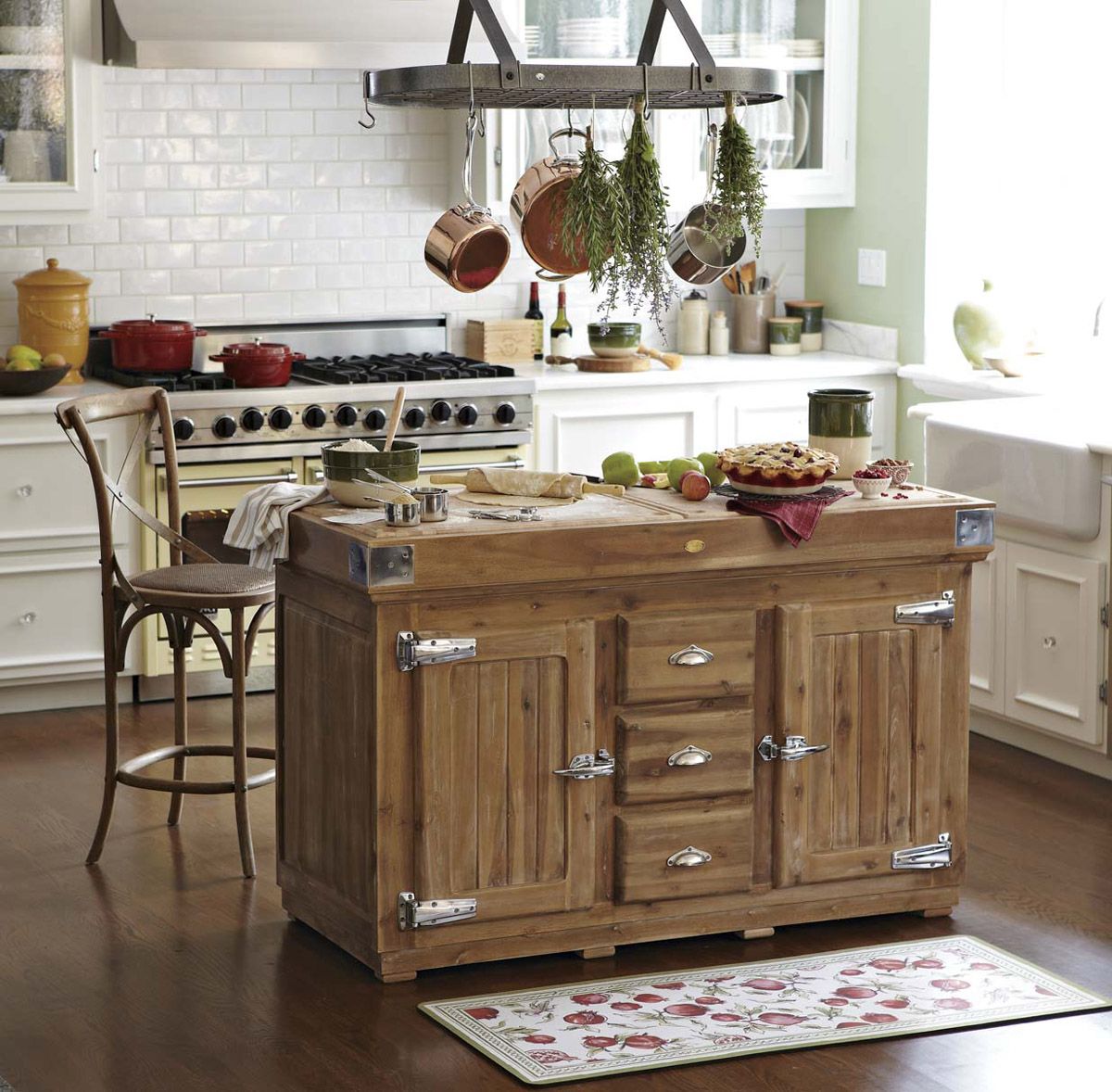 As we said in the introduction, a rustic kitchen island is one of the most versatile theme that it works well with any other styles.
In this example, a small rustic island is set amid a modern farmhouse kitchen. And you can see right away that it works perfectly well with the farmhouse kitchen.
You even don't need to paint the island to match the color with the white-dominated kitchen, as the natural color of the wood itself is enough to make it perfect pint of interest of the room.
5. Rustic Industrial Island with Marble Countertop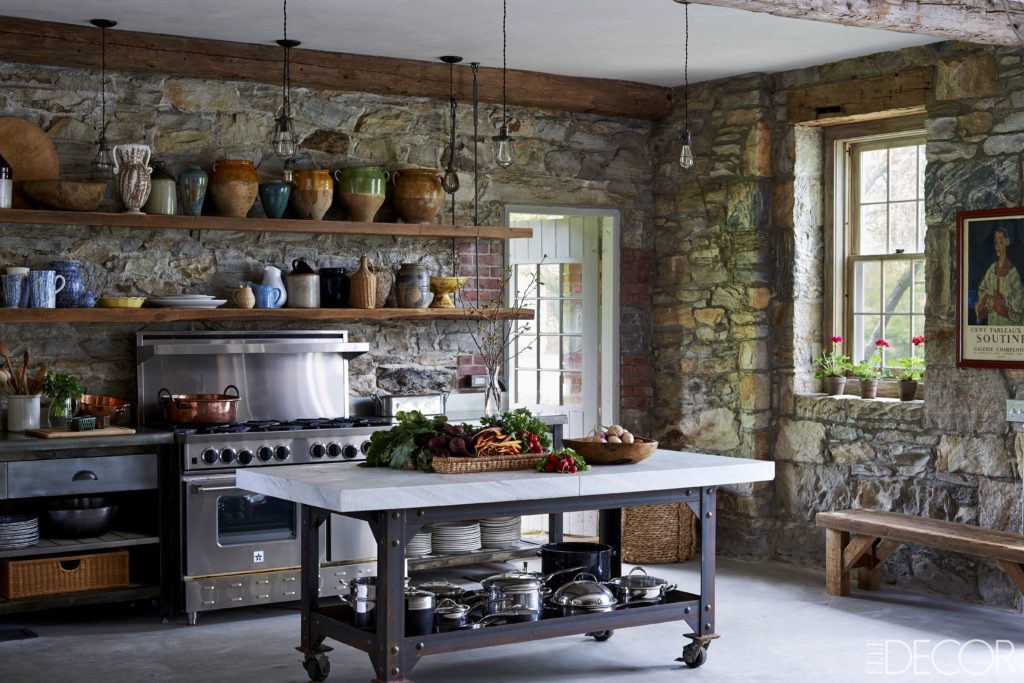 Along with now popular styles in interior designs is the industrial style. It has a minimalist and utilitarian approach. It also present raw beauty which makes urban people find the style attractive.
This kitchen island is an example of an industrial style. It made of rugged metal plates. For movability, it has wheels on each corner.
For the top, to match with the modern-traditional Spanish kitchen, you need to find the right materials. You might install wood slabs of your DIY project or, if you want something fancy, finding a slab of marble like this following example.
6. A Rustic Island Bar with Stools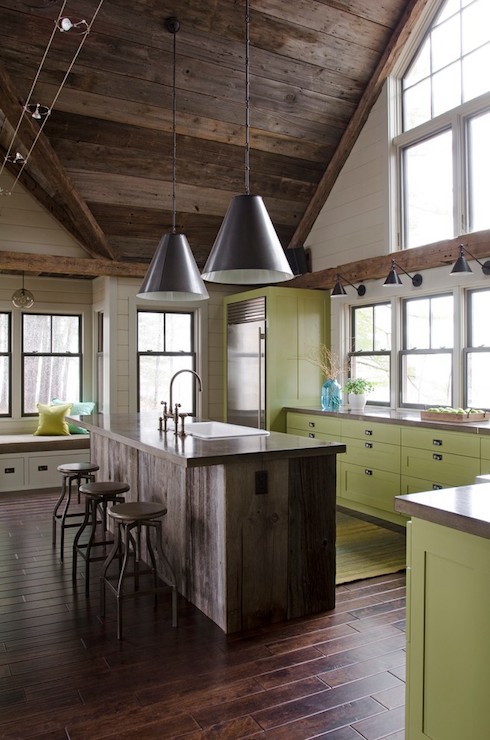 In modern home, a kitchen is not regarded as the additional feature anymore. It has become a new center of family activities.
For this reason, along with its function as a preps table, a kitchen island also serves as a bar counter where the members of the family hang around.
To complete the setup, industrial stools are added. Put a pair of Goodman hanging lamps and farmhouse sink above and on the island as the finishing, and you have a most impressing rustic kitchen.
7. A Rustic Kitchen Island for Wood Cabin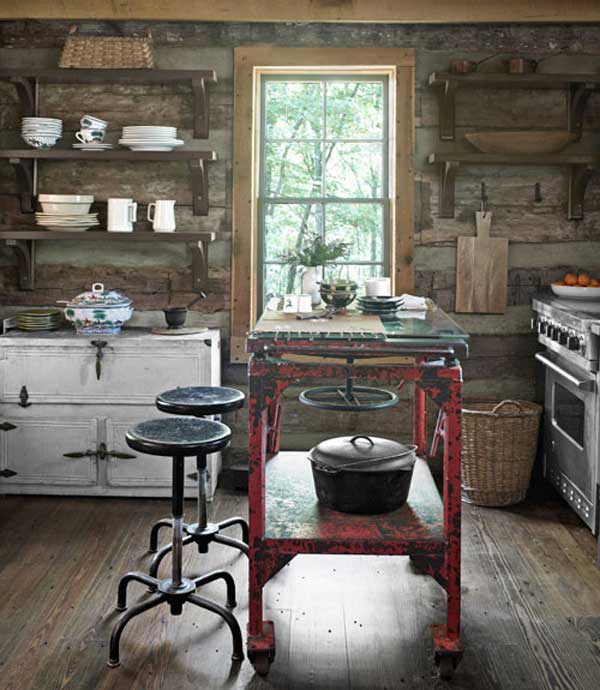 When you want to temporary out of modern living style, the woods is one of the most cherished alternative. In this case, having a wood cabin might be worth your hard working days.
A peaceful wood cabin is a thing, completed it with all the amenities and modern comfort is a joy. A wood cabin with fully functional kitchen is your ultimate getaway.
For the island, find the most functional dan durable stuff. An ex metal pushcart like this following example can serve as your island. Top it with wood slab as the countertop.
8. Shiplap Kitchen Island in a Rustic Kitchen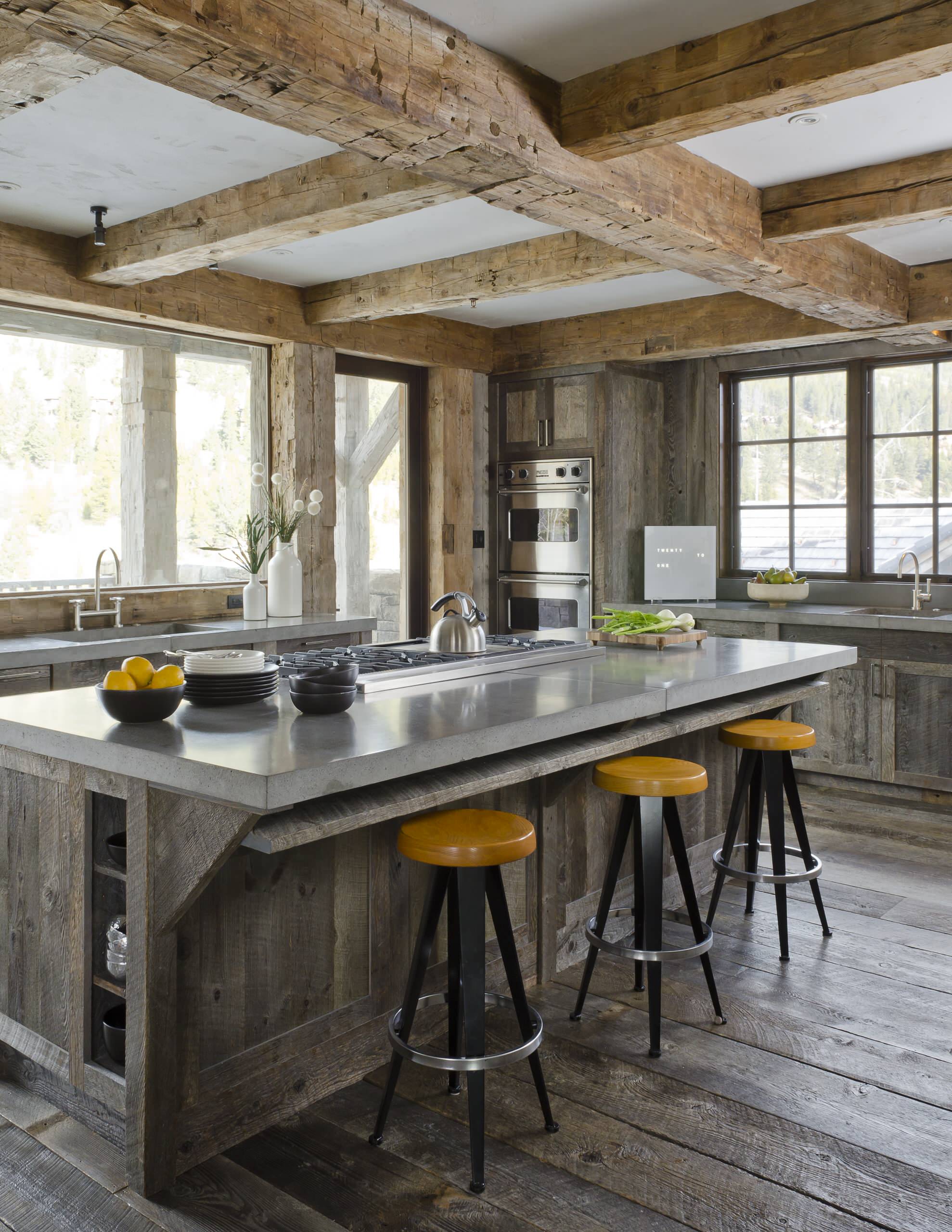 As a rustic material, you should not forget shiplaps from this list. Shiplaps guarantees you for a rustic look, for your island or else.
Once shiplap always present in any outdoor cladding of homes, barns, or sheds. This cladding system is simple and efficient to have, mainly in the area plenty of woods.
Shiplap constructions always inspire warmth vibes in its simplicity. That's why now some minimalist lovers love to blend their theme with this cladding systems, including in this kitchen island. You only need to add the lighting systems to make it looks the more awesome.
9. A Cool Rustic and Modern Island Idea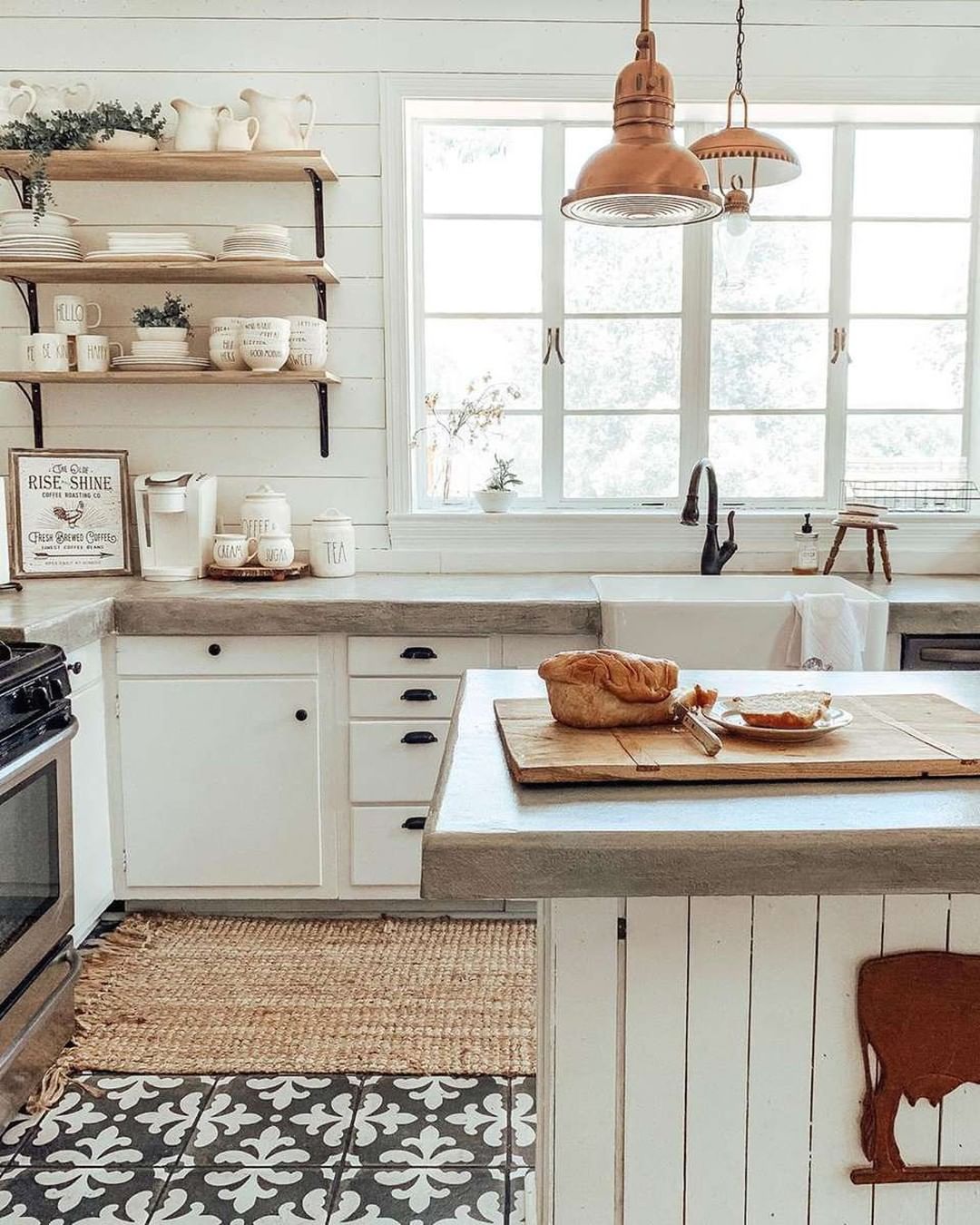 In its original purposes, a kitchen island helps you to preps your food stuff before cooking. It also a place where you sort out your food stuff before storing them into each respective storage places.
A complete island has built-in cabinet as well, so you have additional storage spaces for the foods. You might install the island as a temporal or a fixed feature of the kitchen.
In this setup, you meet a rustic island in classic modern farmhouse kitchen. If you want a warm and pleasant kitchen, you might consider this rustic kitchen theme.
10. Simple DIY Rustic Island with Brick Supports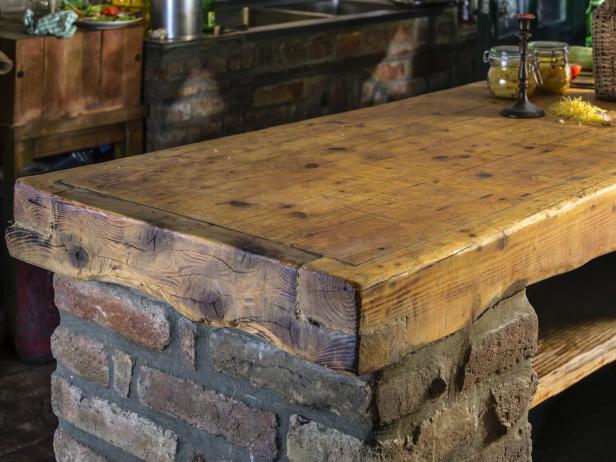 If you have an ample free time and you want to update the kitchen island, then probably you need to install this kitchen idea for your next DIY project.
One on the most daunting task to do the project maybe in building the supports, as the regular island requires you to have ample carpentry skills. But most of your project won't have anything to do with building a regular island.
For this project, you next only to build the supports, which are made of brick constructions. As for the countertop, you may out on it a slab of prefabricated concrete or just a slab of wood like this one in the example.
11. Small Rustic Island in Distressed Look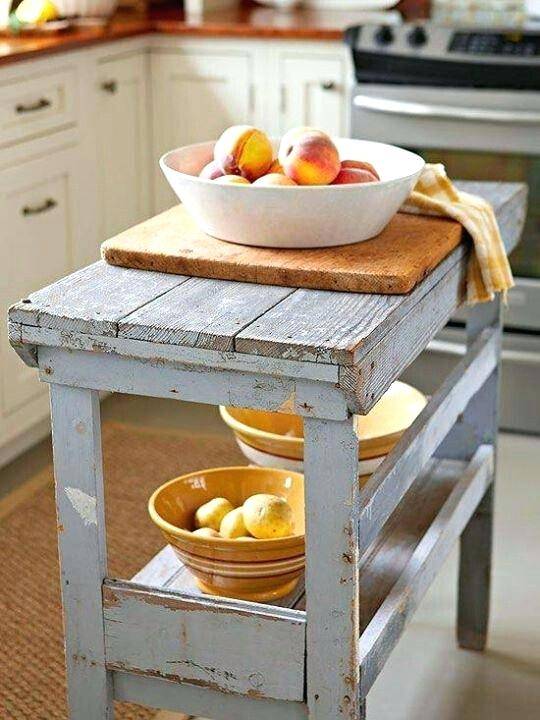 This island kitchen will be your other kitchen DIY project. Not like the previous version, it's even easier to do. You don't even need mortar or bricks. This time you need several wood boards.
If you want a strong rustic character, then you need to use reclaimed woods. They'll look rustic effortlessly, without any distressing processes on the finishing stages.
As shown in this small island example, you don't have to make neat cuts on the boards, as coarse edges and distressed or chipped paints are signature of a rustic style.
12. Mini Rustic Kitchen Island on Wheels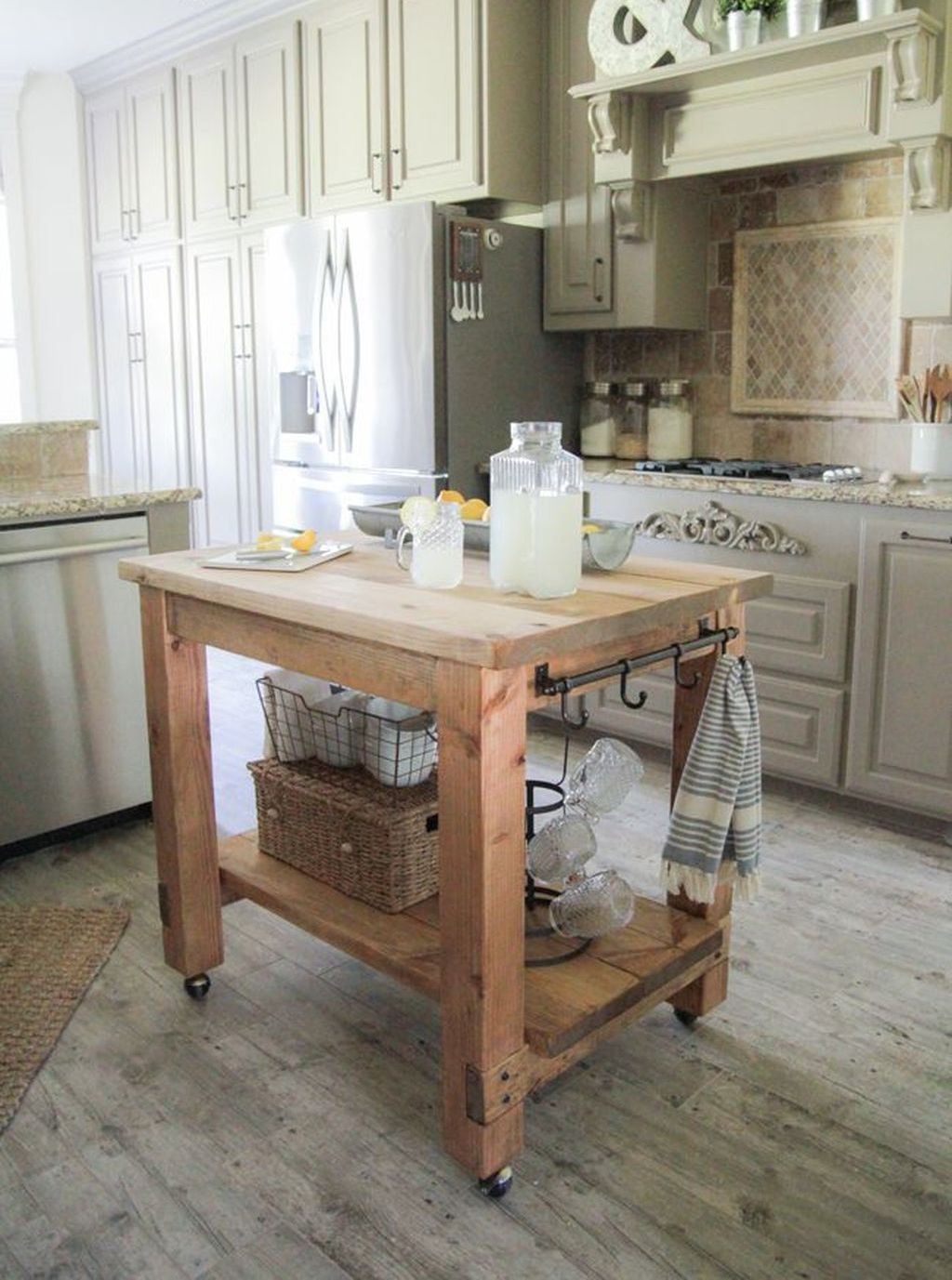 Now if you don't want a fixed island in the kitchen, this mini island should sit well with your needs. This island also works well for a small kitchen.
If you remember the metal island up in this list, this mini island also works in the same line, only this time you have a small sturdy wooden island.
Though small and you can move it easily, this island is also equipped with wheels. So that you also can use it as a kind of practical push cart around the house, not only the kitchen.
13. Eclectic Kitchen Island with Eastern Vibes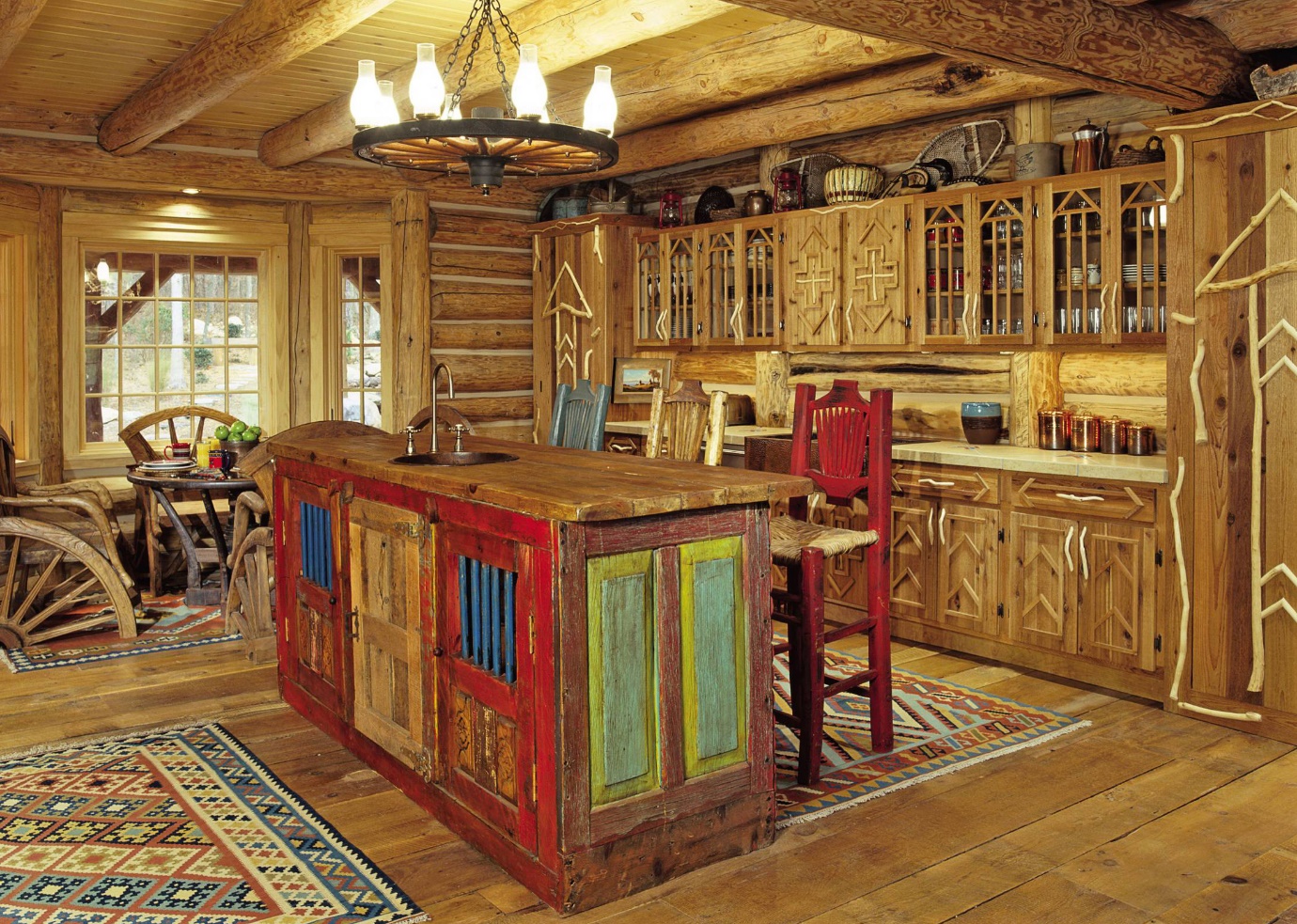 A kitchen island took off as a popular kitchen feature in 1950s, after the new entertainment and news media took hold the US attention, the TV programs. Several early TV celebrities introduced the island via their cooking programs.
From then on, kitchen island, slowly but surely, got the US people's attention. Now you may pick any island you like and match it with your kitchen's theme.
This bar kitchen island also one of the choices, mainly if you like an eclectic theme. It's made of reclaimed Eastern window covers, still in its original exotic colors.
14. Modern Kitchen in Rustic Vibes with Naked Wooden Structures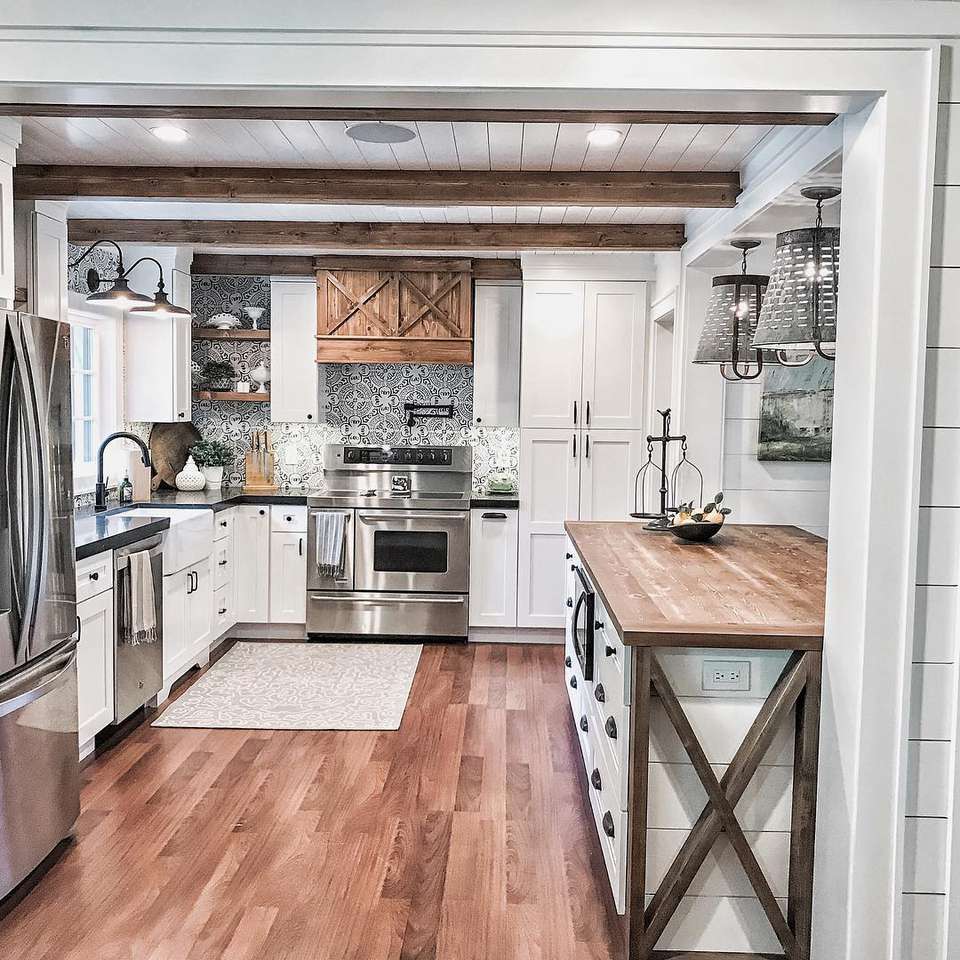 You don't have to rebuild the kitchen from scratch to get the rustic in your home. You only need to add the essential characters of the rustic styles.
For your purposes, you can experiment with rustic materials. And if you want to find the easiest and quickest way to get the rustic look, then try the wood materials.
This modern kitchen uses the similar trick, where several naked wood materials are inserted into the kitchen areas. The result is a kitchen with rustic theme, from the rustic elements on the kitchen cabinets, beams, floor, and the countertops.
15. The Right Light Fixtures for Your Rustic Island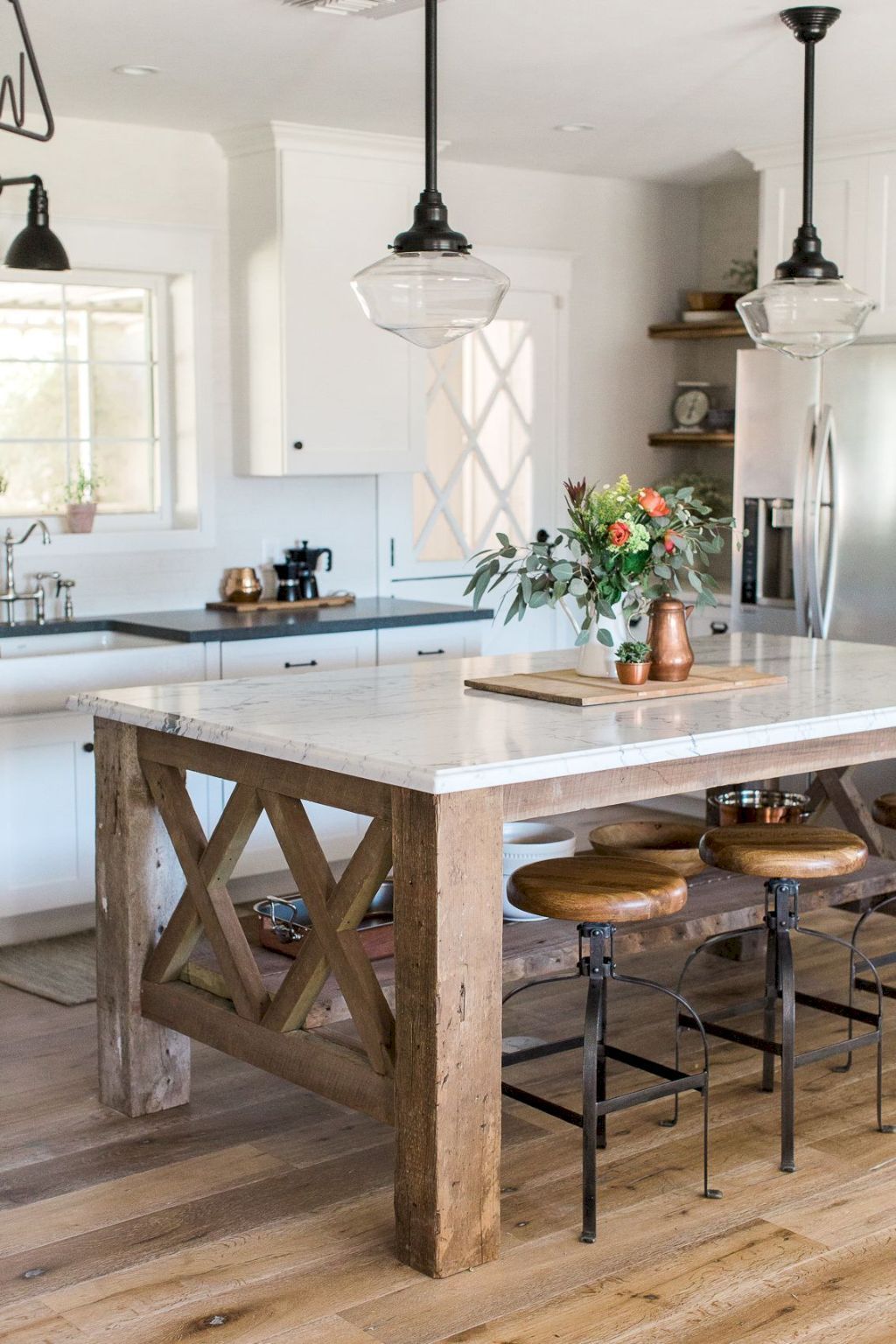 Finding the right lighting for a rustic kitchen shouldn't present problems for you, even if you don't have any experiences on this matter before.
For rule of thumb, you only need to follow the overall theme of the features under the lamps. So, for example, if you want to bring matching lighting systems to your new rustic kitchen island, you need to find the lamp fixtures with the similar vibes.
The most common lamps fixture to use in a rustic setting are of minimalist and industrial styles, such as the fixtures in this example.
16. Rustic Island with Reclaimed Woods and Corrugated Metals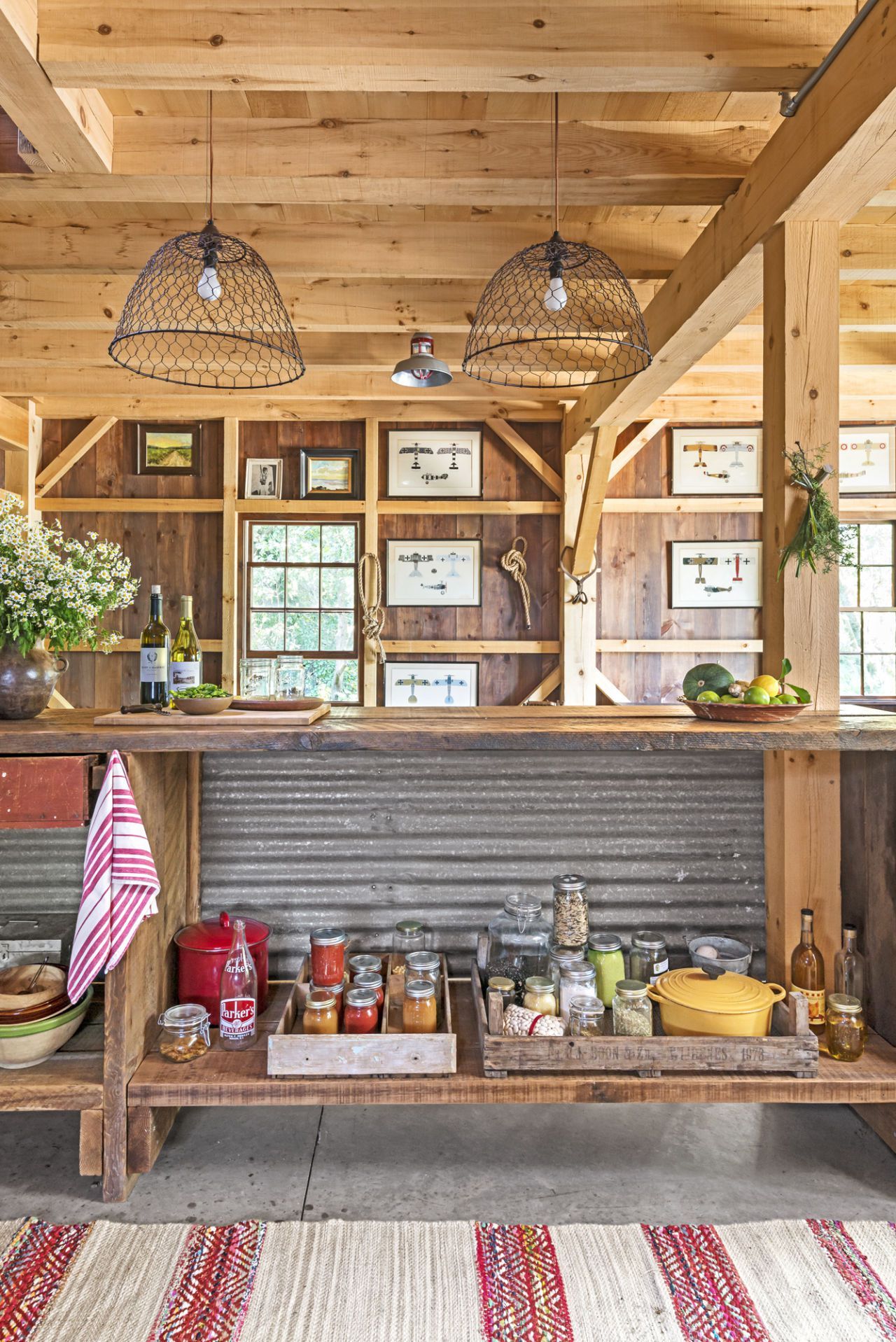 There're a variety of materials for a rustic island. If you want it easy and affordable, reclaimed woods and corrugated metal sheets are two 'ingredients' you should consider.
With reclaimed woods, you even don't have to make the materials look aged and distressed (two characters of rustic theme) as they're already that way.
This example shows you how easy it is to build a simple island that even you might want to try it in a DIY project. For accent and support, combine the structure with corrugated metal sheets. The chicken wire lighting fixtures are unique rustic addition.
17. Rustic Big Wooden for Island with Seating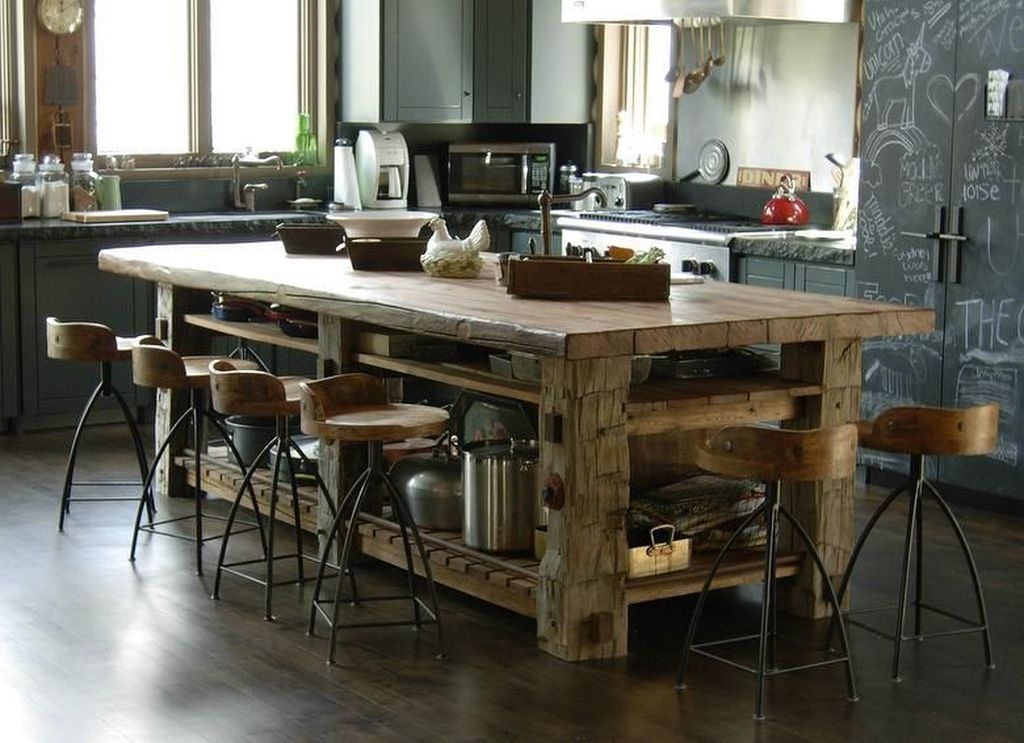 A kitchen island shouldn't have to look like regular kitchen island you often see on a flashy interior magazine or sites. If you don't want a regular covered island, for example, you may switch to the open kitchen island like this example.
As about the lower parts, you may choose the open table, means that you use a regular table for the island; or choosing an open island with shelves under it.
If you prefer the latter type, here's an example of it. Just like any other rustic island in this list, the raw appearance works well with the modern kitchen theme around it. Complete the island setup with seating.
18. Types of Rustic Kitchen Island?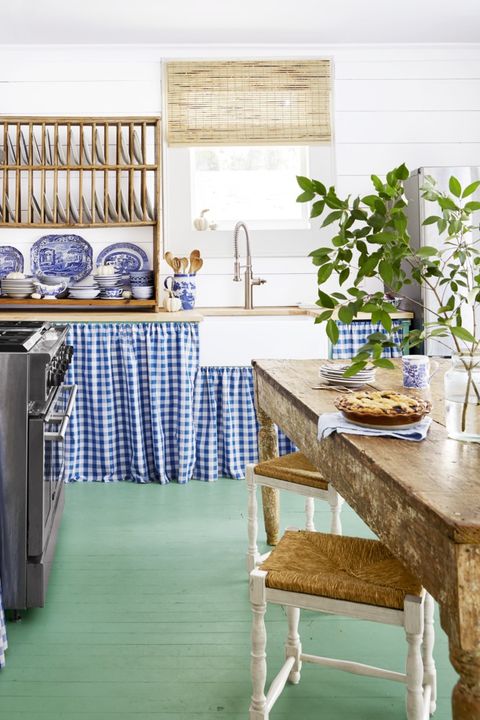 So far you've meet several types of rustic kitchen. To summarize, you have at least six types of kitchen island.
They are small kitchen island, Kitchen table, rolling kitchen island, cabinet kitchen island, full kitchen island, and tiered island.
The one in this illustration is an example of kitchen table island. The designs has no differences from regular tables, only now you use it on the kitchen as an island. If you're into rustic style, having an old table on the kitchen may inject the rustic vibes.
19. A Gorgeous Two-Tiered Rustic Kitchen Island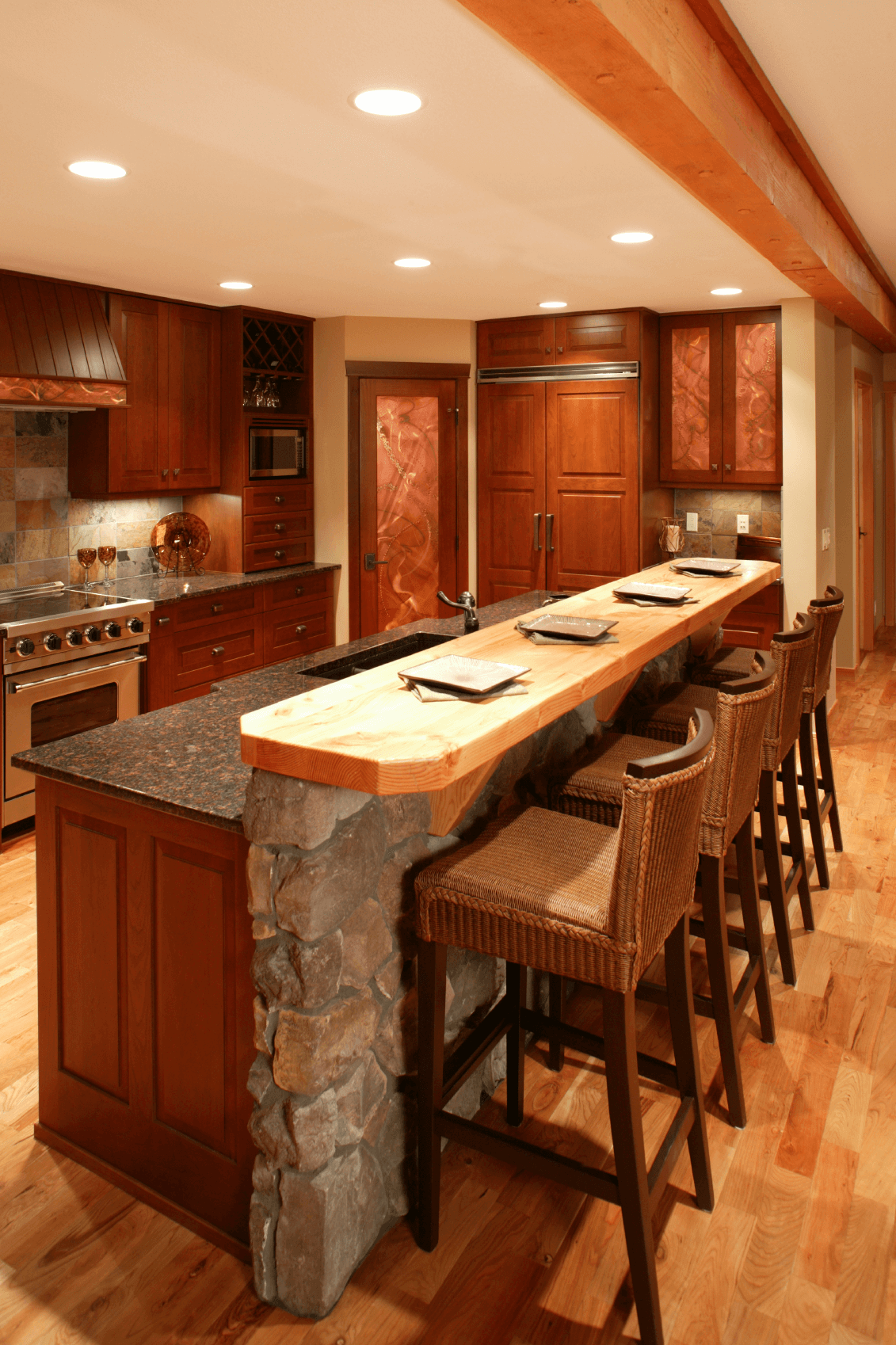 As the kitchen is your new social hub in the family, it would be even more comfortable if you install a two-tiered kitchen island with seating, in bar style.
You may choose a set of two-tiered island, where the tiered structures are integral parts of the island. Or you may find a regular island and add the tier later with other structures.
If you like the latter, this is an example of it. You have here a two-tiered island with the higher part being made of stone structures, topped with wood slab countertop, and lined with rustic rattan chairs.
20. Rustic Island with beadboard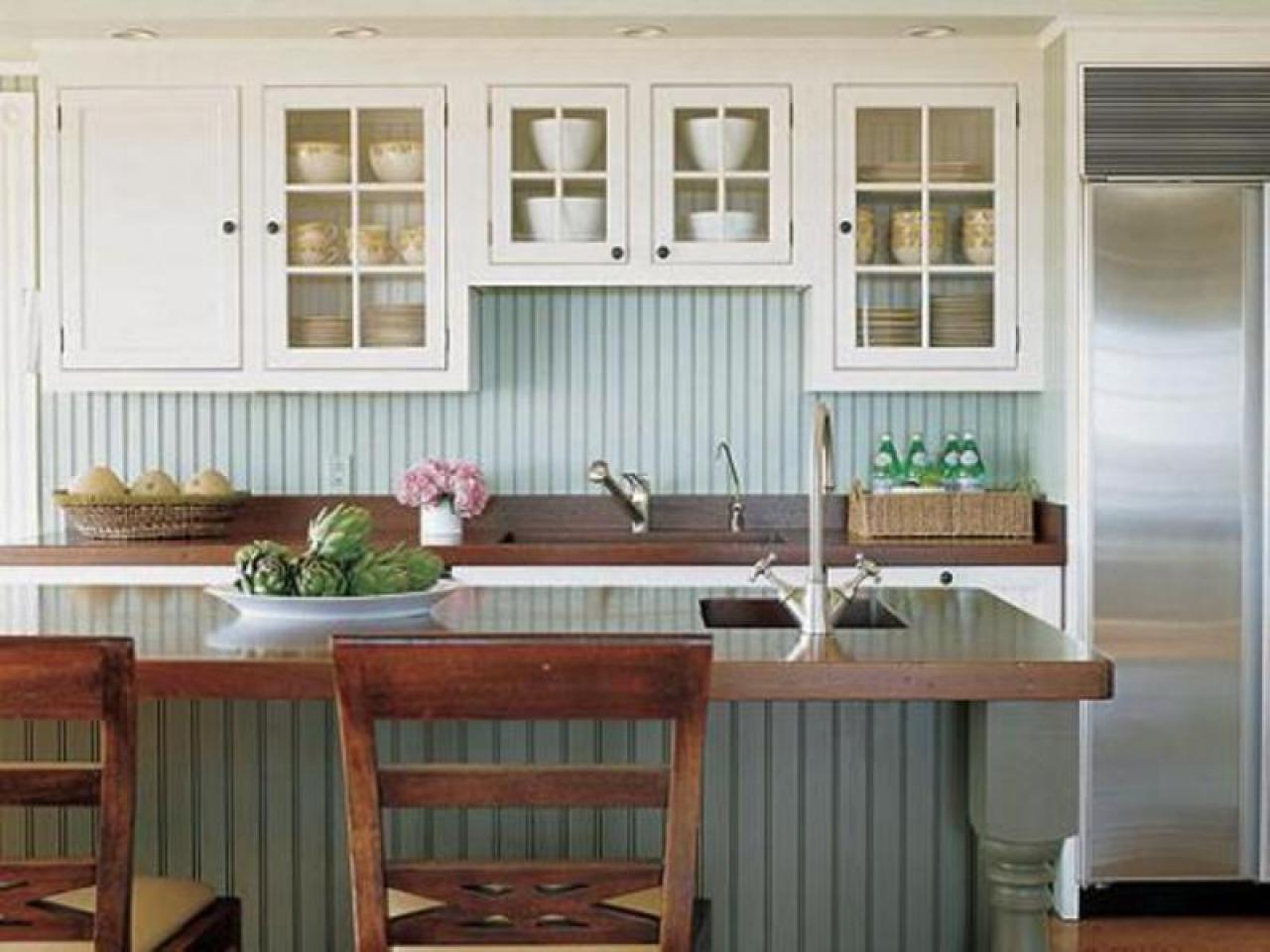 A rustic theme isn't about all-naked and distressed wood themes. You may find the characteristics in any vintage features.
So, how about installing beadboard? As one of the most iconic characters, the beadboard offers an affordable and quick way to make your kitchen island rustic.
For the rustic look, line the existing kitchen island with beadboard. Now you have rustic island in the kitchen –quick and easy.
21. Wood-dominated Modern Kitchen with Rustic Natural Stone Kitchen Island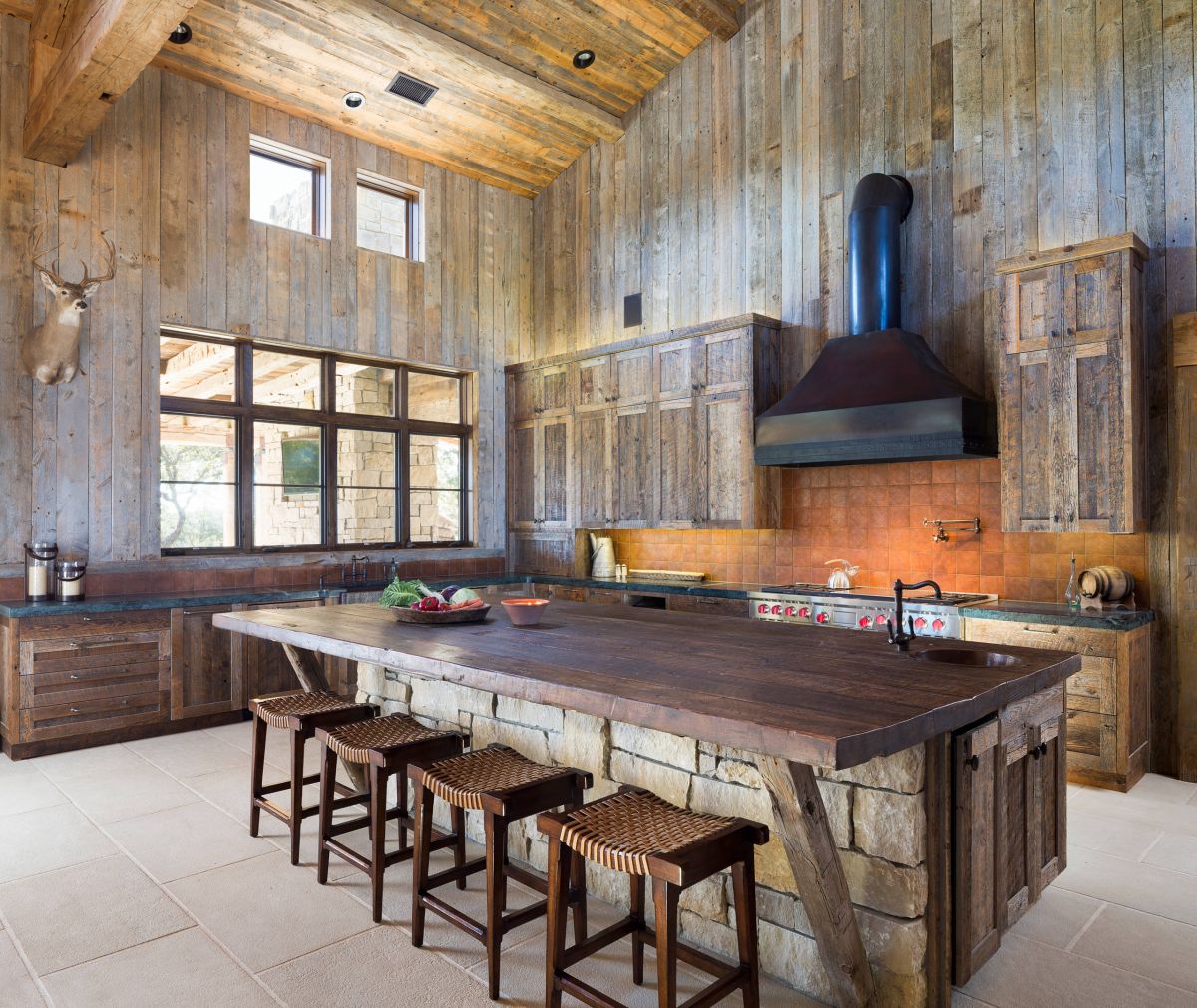 All the way up this list you've met kitchen island made of bricks structures. Now when you want to have another island form natural sources, here's an example for you.
This rustic kitchen island is made of materials' combination of natural stones and old reclaimed woods.
The stones inject pleasant accent to the all-wood kitchen, just like the black kitchen hood above the modern stove.
22. Modern Lighting for Modern Kitchen with Rustic Kitchen Island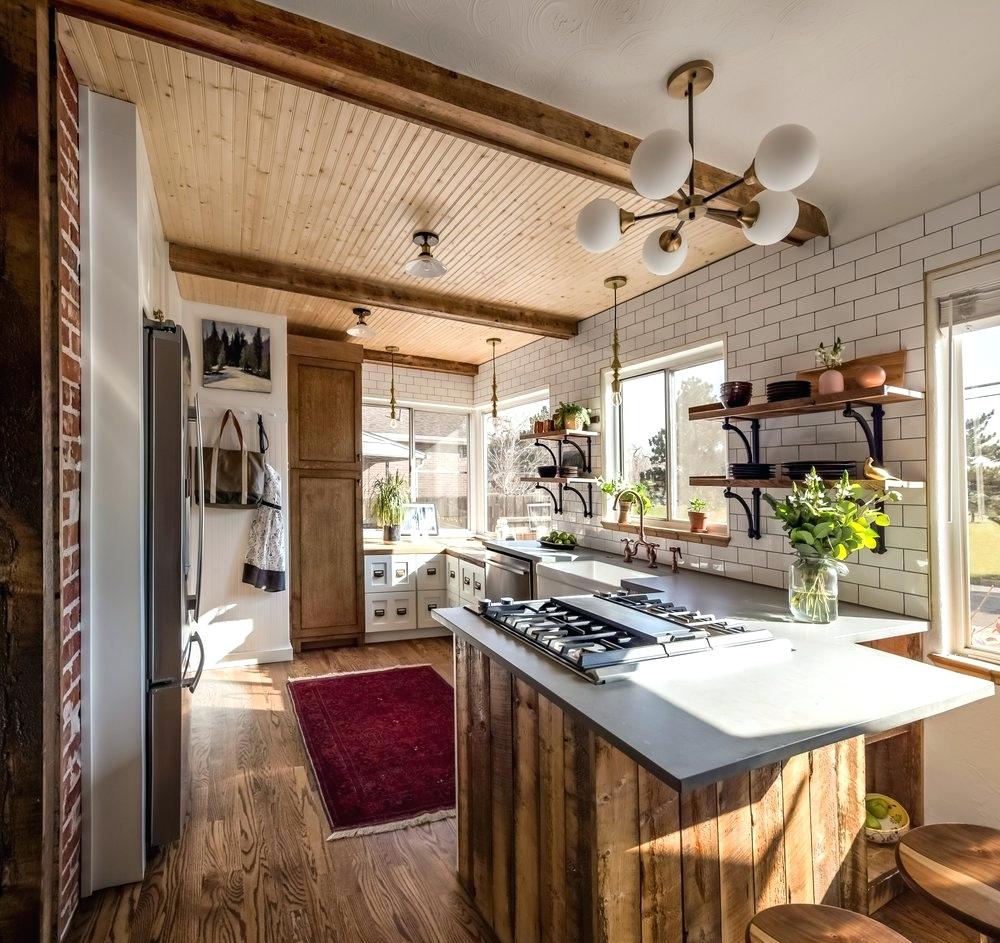 You might want to add warmth to your modern kitchen. And if you choose woods to inject the kitchen with rustic air, you're right.
Surround your kitchen island with wood boards to match with the ceiling, the floor, and the door. The big windows allow sunlight to flood the kitchen, adding the warmth.
As for the lighting , you have this beautiful minimalist modern balloon lamp fixtures.
23. A Rustic Kitchen Island Idea with Old Dining Table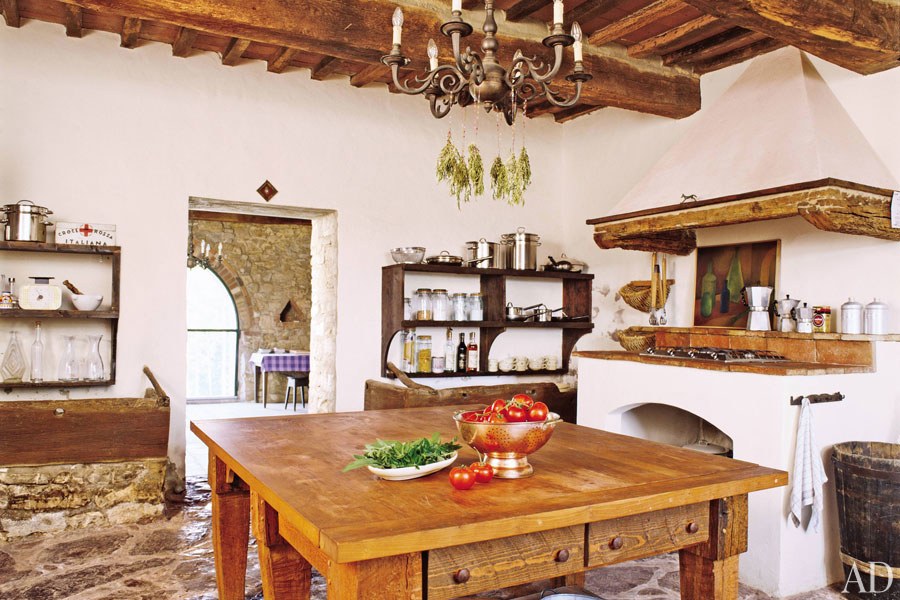 If you still remember the types of kitchen island, this following photo is an illustration of a table kitchen island.
If you don't want a bulky fixed regular island in the kitchen, then use this simple kitchen island table. A big old dining table will do well for your purposes, mainly if you want a rustic style.
This old table works equally well for a classic traditional kitchen or your modern kitchen.
24. Industrial Kitchen Island in Steampunk Vibes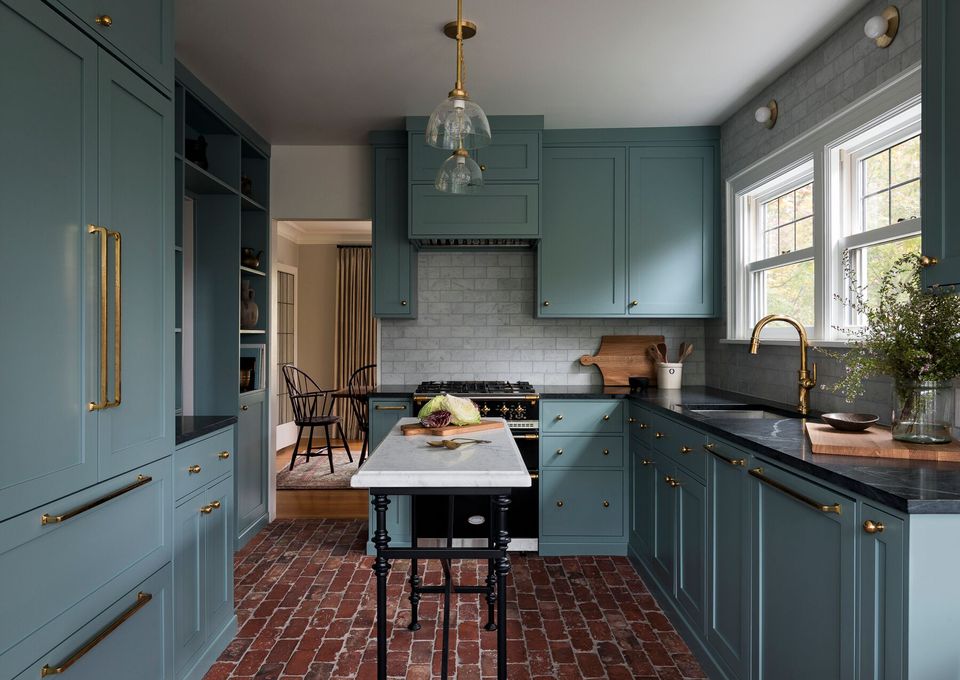 Talking about rustic won't complete without mentioning the steampunk style. Now the full steampunk in its elaborate patterns, but only a fraction of the style –that's enough.
For this modern kitchen setup, you only need a slightly steampunk-ed kitchen table for the kitchen island. Find the one with the nicest Victorian legs and paint them black like all iron works of the era.
As for the countertop, you need to soften the iron legs e bit with soft white marble slab. It gives luxurious look and feel to the kitchen.
25. Rustic Toscana Dining Table for Rustic Kitchen Island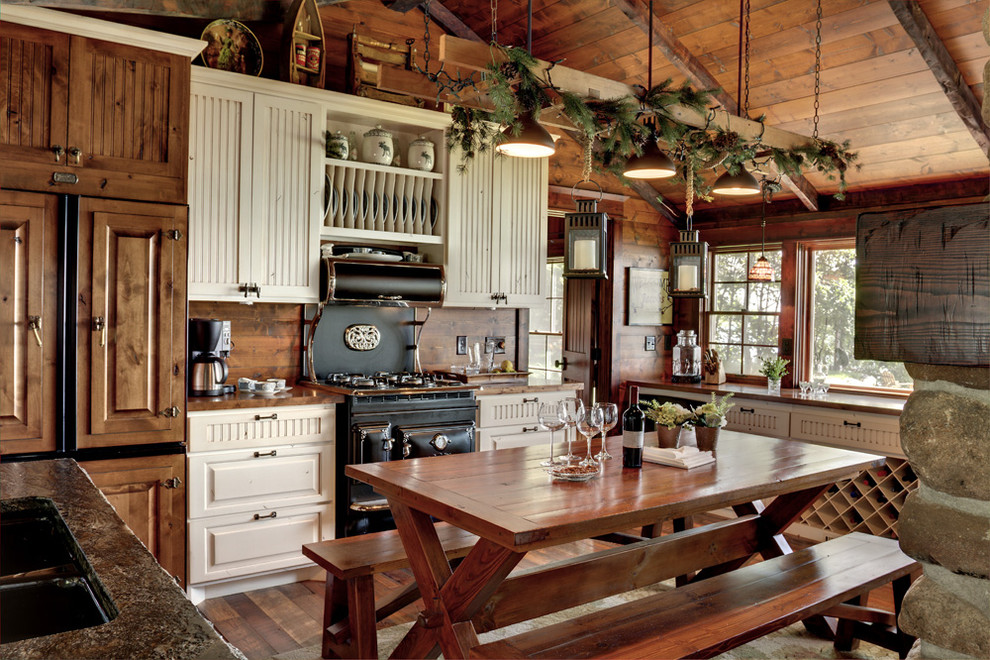 For this idea, you'll have a big Toscana dining table for kitchen island. Yes, if you want the pleasant and warmth air of old Italian kitchen style, try this Toscana dining table.
The table also works well as your rustic kitchen island setup. For this table you don't need to add anything to make it rustic.
The 19 century style of the table itself is already giving you the rustic look for your kitchen, a lot of it.
26. Butcher-block Countertop for a Rustic Island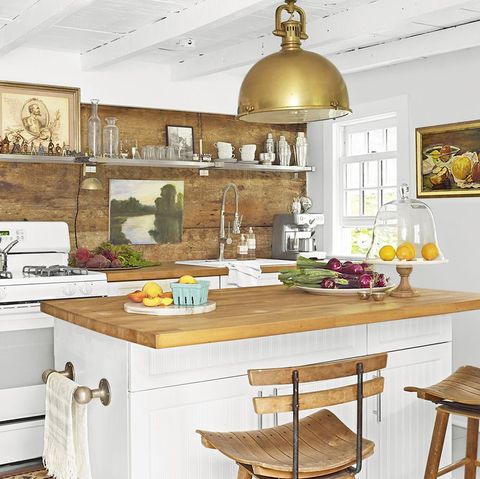 As you've already know, the most expensive of a kitchen island is the top, its countertop. If you choose a premium natural material like marble, the price even is exorbitant.
Now if you want something more affordable but also dependable, then you need to resort to butcher-block as the countertop.
As its name implied, butcher-block, once it's used as the butcher's meat cutting board. But now butcher blocks also serve as a rustic top of an island table.
27. Contemporary Minimalist Rustic Kitchen Island with a Cool Lamp Fixture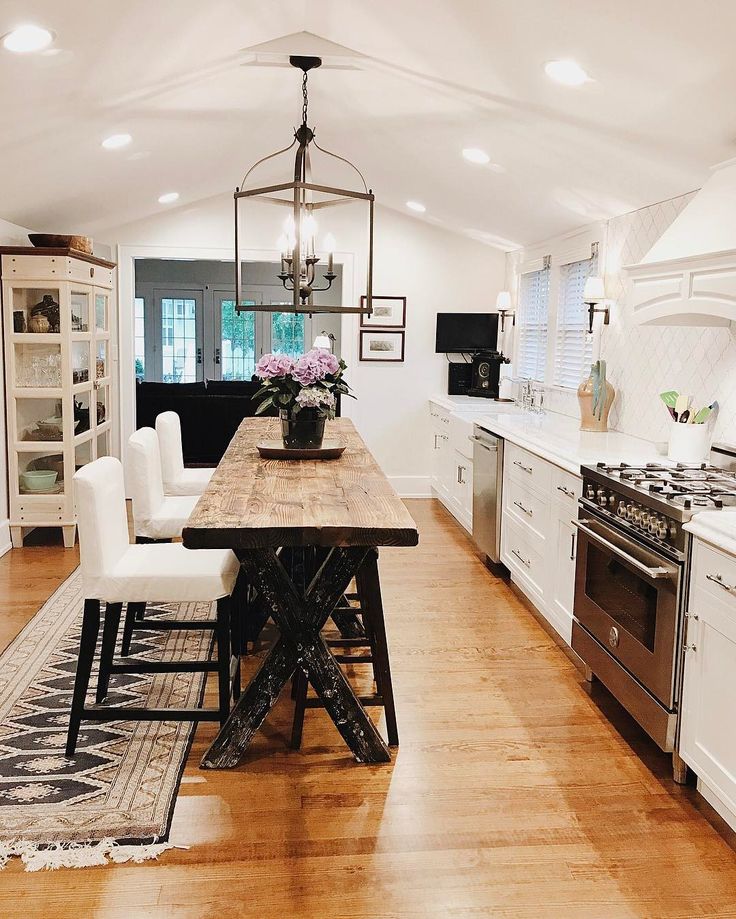 Again, you have a proof that a rustic styles blends well with any other styles. This time, a rustic island looks impressive in a contemporary kitchen.
This time an industrial Toscana dining table try to match up with the contemporary all-white kitchen –and it makes it.
A unique industrial lamp fixture works as balancer for the table, and it also makes it. Overall, you always can count on a rustic style when you want to add accent to your contemporary kitchens.
Read More:  25++Unique Steampunk Bathroom Ideas
That's all our picks of Rustic Kitchen Island ideas. Some come with seating and unique lighting. Meanwhile the others offer you modern bar ideas.
Some ideas even are so simple you can make it yourself in a DIY project. But, above of all, those kitchen island ideas listed here work well with any of your existing kitchens.