Still Haven't The Right Privacy Screen Ideas for The Yard? These 20++ Most Gorgeous Outdoor Privacy Screen is Yours
You have a nice spot on your backyard to have time or a little chat with friends. But you also feels that your spot lacks of privacy and privy to preying ears and snooping eyes. If you feel so, it's time to install outdoor privacy screens. Still haven't the right ideas for the yard? Here we have compiled some 20+ privacy screen ideas just for you.
1. A Rustic Wattle outdoor privacy screen idea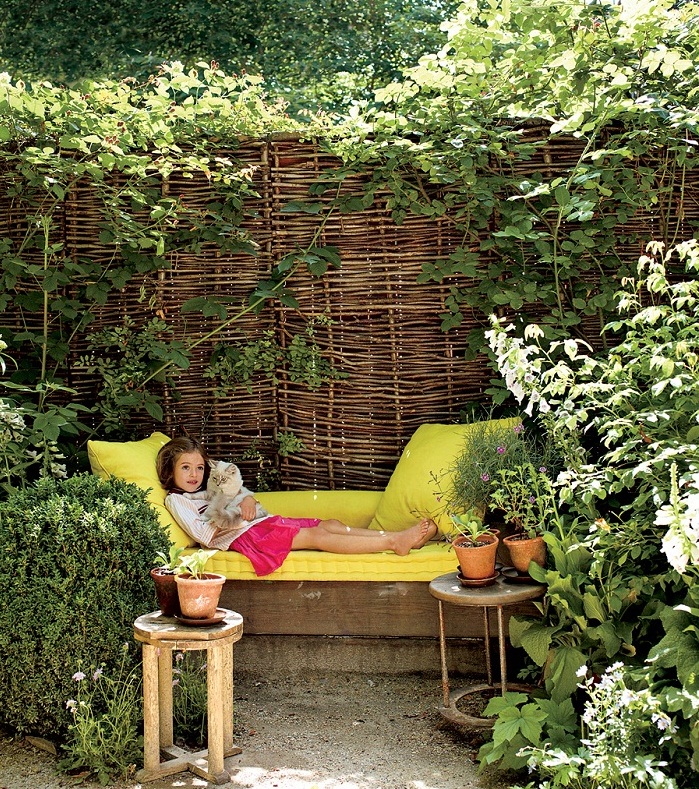 Don't want to dip deep into your pocket in making privacy fence? Just remember that wattle will always on your sides. It's cheap and easy to build, provided you have the time.
Wattle has been long known as affordable alternative of fences. You can have this natural materials cheaply (hazel, sweet chestnuts, willows, are only some of the examples). As privacy screen, wattle offers rustic and natural look. It also gives you light and pleasant atmosphere to the house.
2. Wood Lattice Screen for Privacy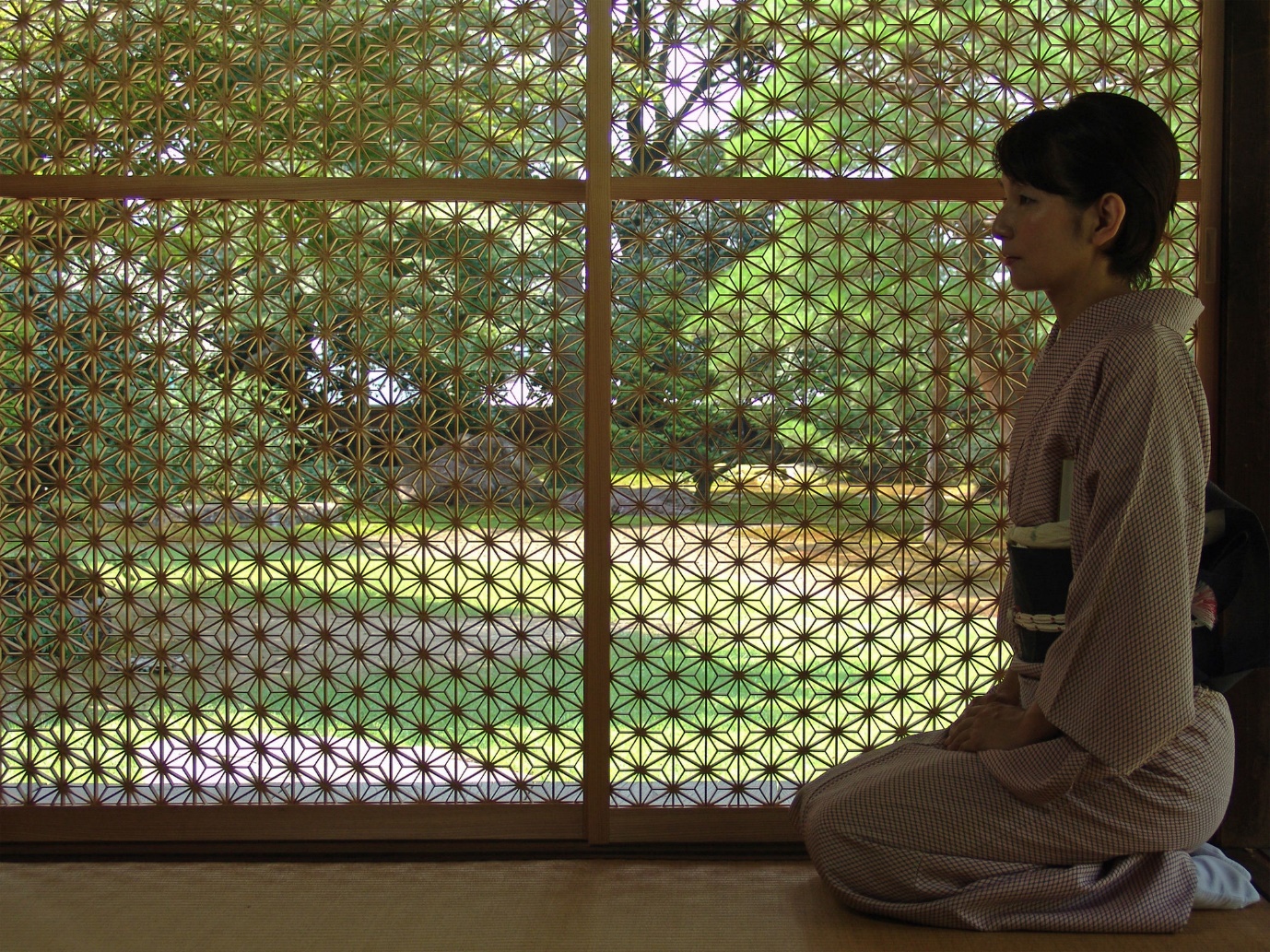 Being one of the most versatile materials, woods also are also great for privacy screen. You probably have already had Western wooden privacy screens in your patio, for privacy. Now how about a panel of Eastern wood screen?
Meet this exotic Japanese wood screen. It's made with a method called kumiko, where all the elements of this screen is assembled one by one. The coolest part is that it has no nails at all. The result is a light and peaceful geometric wood screen dividing the outdoor and indoor areas.
3. Outdoor Privacy Screen with Curtains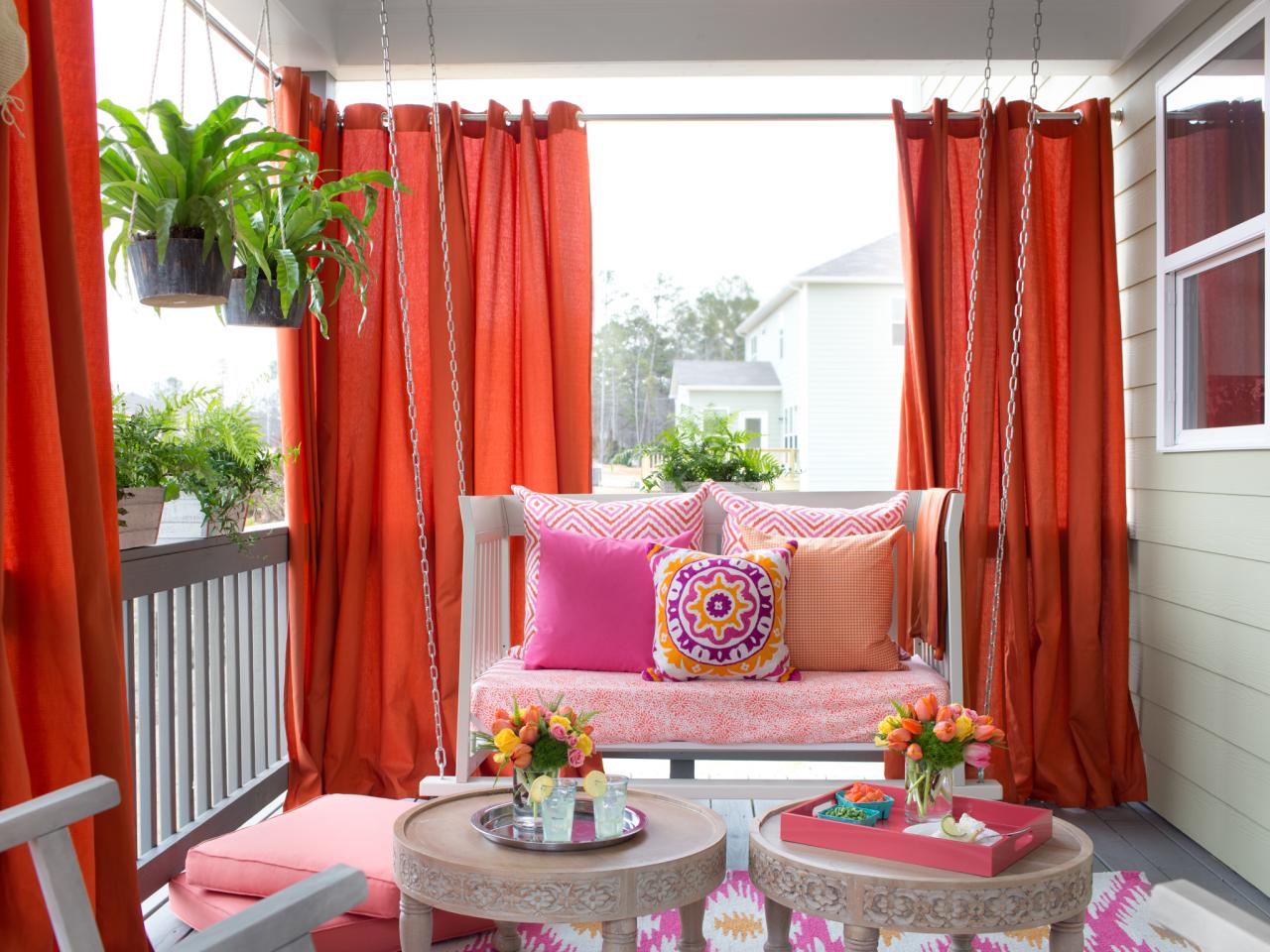 Want to go into DIY mode in building your privacy screen? This privacy screen idea surely worth to try. This project will be the easy one. Here you're going to make a privacy screen with curtains.
You'll need durable materials for this projects (It's for outdoor uses. And it's better if you find the ready-made materials, so you won't have to think about how to hang them) and some metal or aluminum supports. The rest is up to your creativities. The simplest example is as follow.
4. Laser-Cut Panels for Contemporary Privacy Fence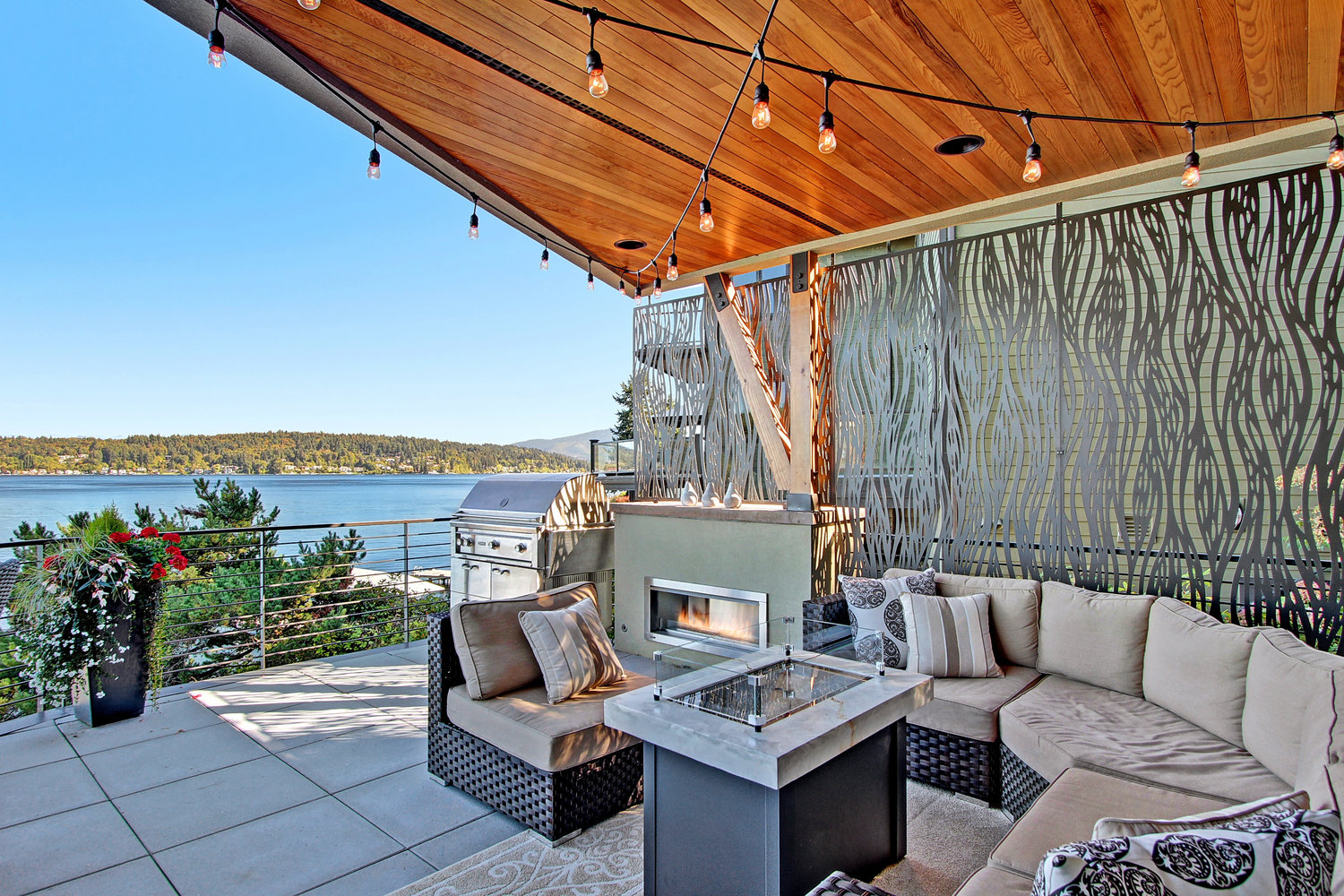 Laser also plays important roles in protecting your privacy. In this case, you'll meet this laser-cut outdoor privacy screen. A panel of metal, aluminum, or some composite boards, are cut with certain patterns by laser, and then you have this beautiful laser-cut panel.
This laser-cut panels is flexible enough for your uses. You put them inside as part of interior designs or, in this case, outdoor –for privacy screens. You can have almost limitless patterns (thanks to the modern graphic technology), from the traditional geographic patterns to the contemporary one.
5. Durable Corrugated Metals for Outdoor Privacy Screen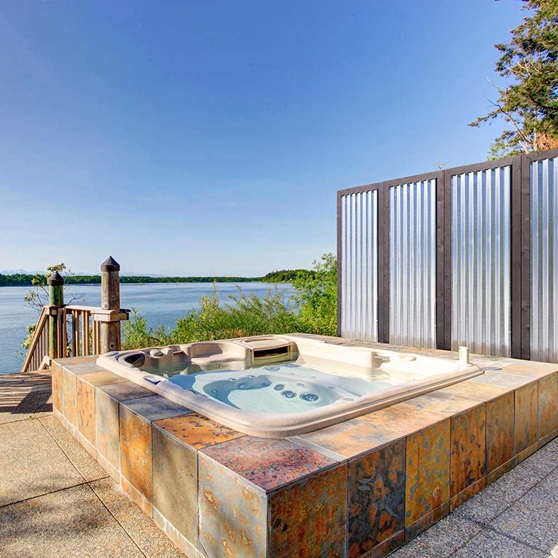 Modern buildings cannot be separated from corrugated metals. You even can say that they are one of only several icons of modern buildings. You often see them on the top of house or building structures.
But now you can see them on your yard, separating you from the outer world as privacy screen. The materials, strong and weather-proof, are good for screen materials. Furthermore, they're also affordable and easy to build.
6. Light Roll up Outdoor Privacy Screen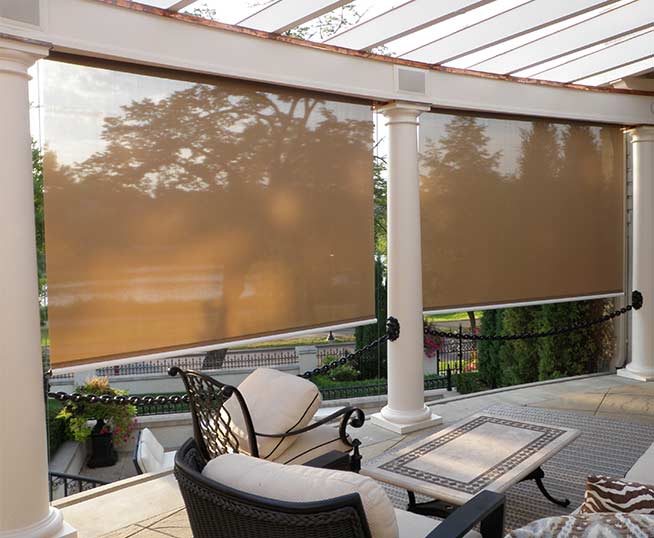 Having time on a patio is great, until you feel that the sun too hot or the wind too naughty. And if you think those two troublesome factors is too much for your leisure time, then probably it's time for you to install flexible outdoor privacy screens.
A roll up screen is worth a try. It's flexible and won't affect the overall look of your patios. If the sun or wind too strong, roll down the screen. When you want the sun again, roll up the screens.
7. DIY Vertical Planter Bags for Privacy Screen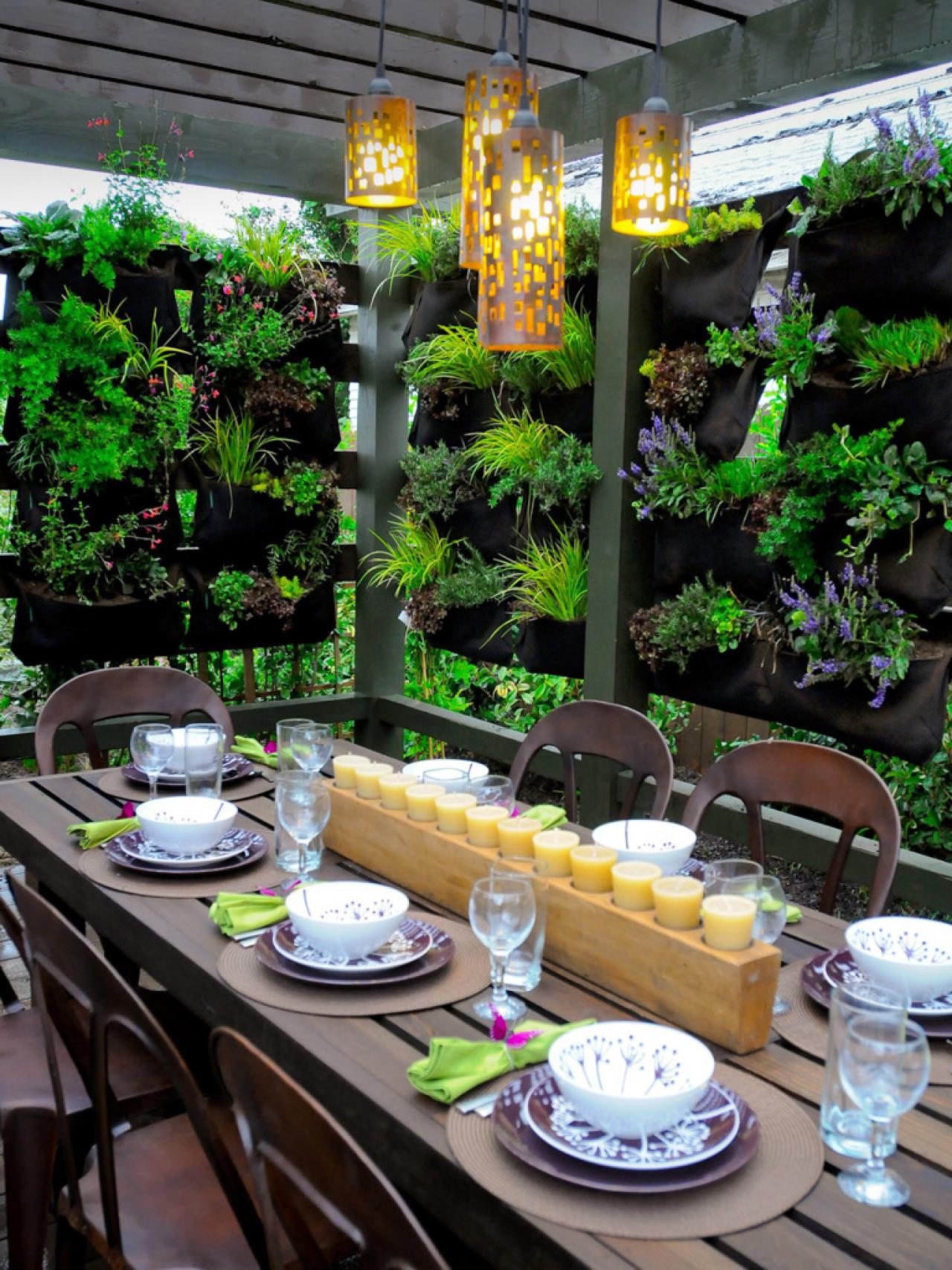 If you have the nature-loving minds, you need to try this privacy screen. It's green, and you can build it yourself in DIY style. It's a simple vertical garden. Only simple stuff you should have in hands for this vertical garden with planter bags, like basic gardening tools, plant's soil, and the supports.
The picture is your example. The planter bags, full of lush green flowers surrounds the deck dining room. A nice setting to have a wholesome dinner, right?
8. Cheap Privacy Screen from Repurposed Doors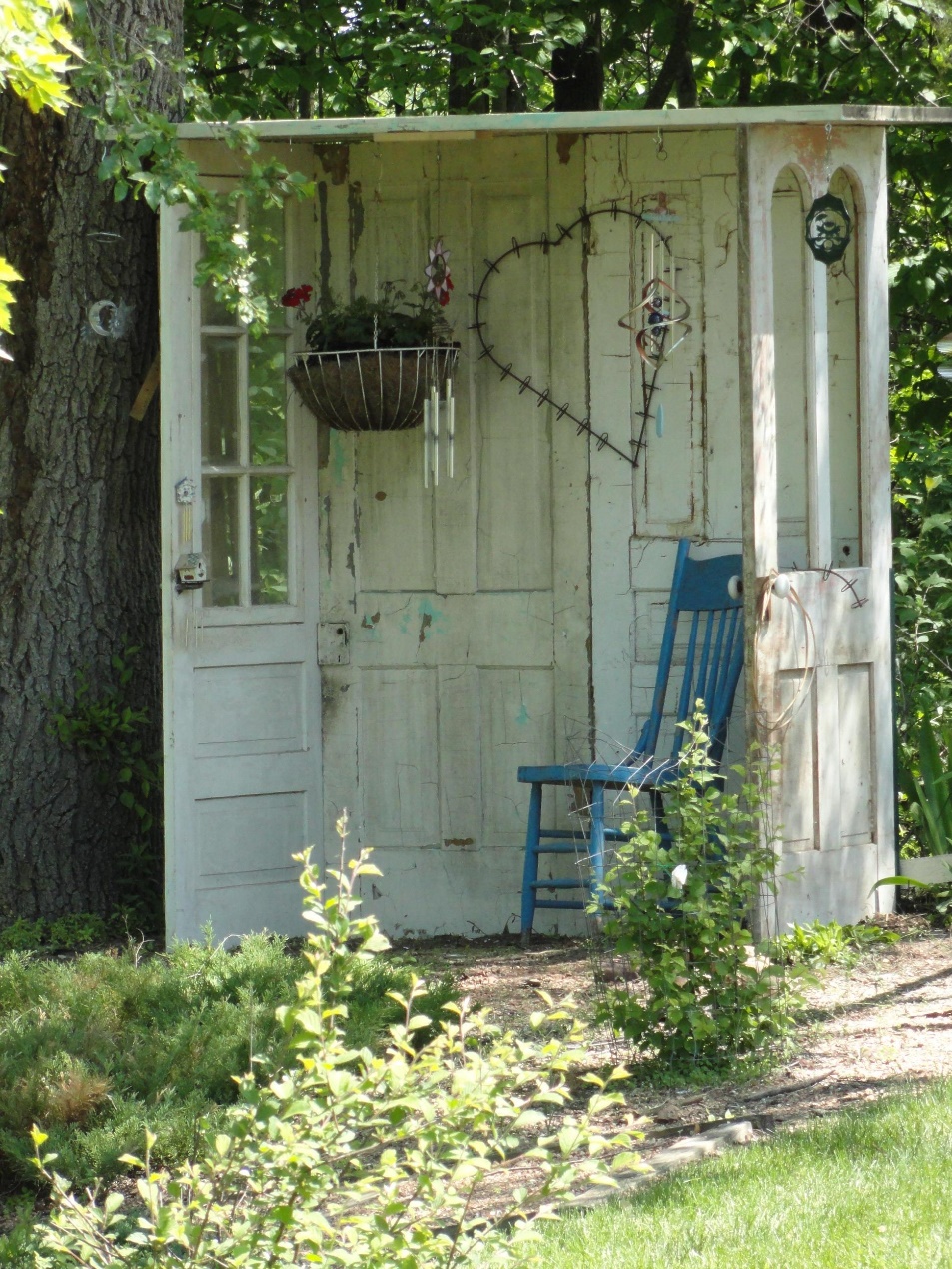 Outdoor privacy screen from repurposed doors? Yes. You can make privacy screens from recycled stuff, including used doors. Than just to let them rooting away in your barns, make them any good again by repurposing them as your cheap privacy screens.
This picture is just an alternative idea of using the used doors. It's a unique privacy screen structure which will shield you from the elements or snooping eyes during your leisure time.
9. Aluminum Geometric Privacy Screen for Industrial Look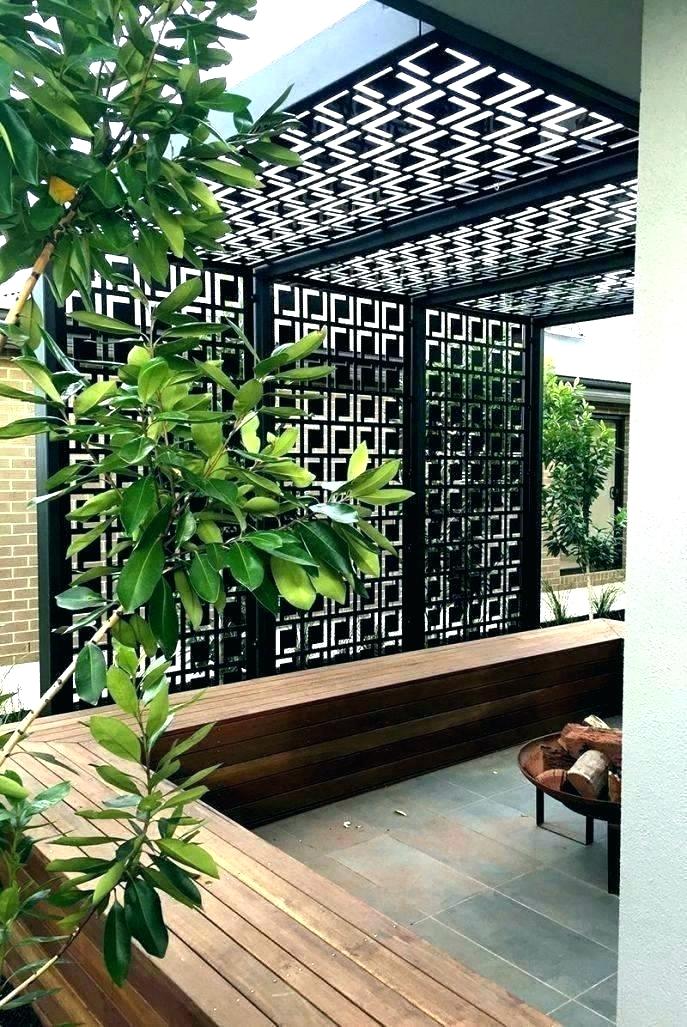 As the industrial look gets more interest these last years, its designs also get innovative. Not only includes home interiors, this style also expands its interest toward the exterior. One of the example is this geometric privacy screen.
This geometric aluminum screen blends nicely with the metal structures of the patio. Their black color also combines well with white planks on the roof' sides and its wooden fence.
10. Wood Outdoor Privacy Screen for decks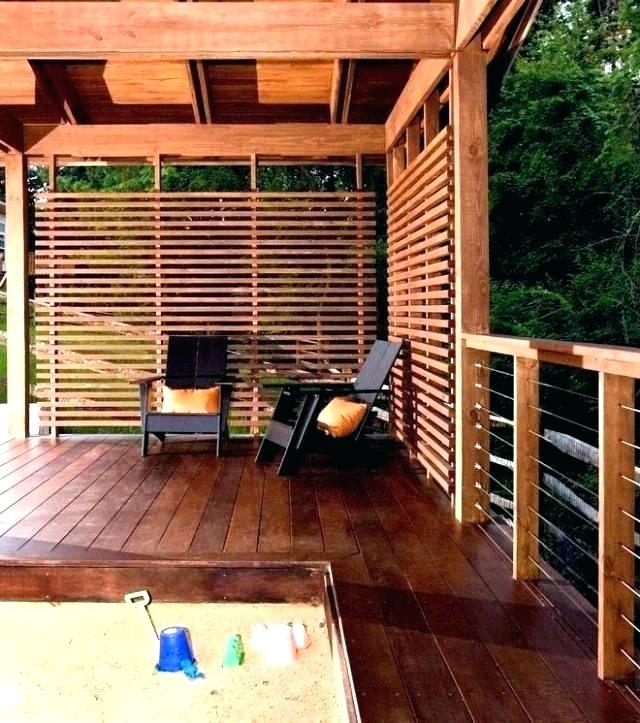 A deck is a nice extension of your back or your porches or even house interiors. With the spot, you enjoy the day without being entirely feel in the outdoor area, and still cozy enough to chat or dine with family or friends.
If you need an added privacy, this wood privacy screen for deck needs your consideration. It has minimalist look, with horizontal narrow planks spaced evenly. The effects is a contemporary but warm deck with nice natural privacy screens.
11. Hedges for Privacy Screen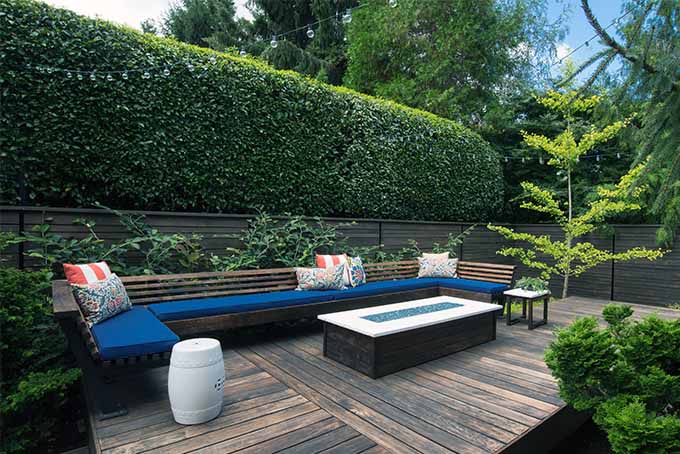 You also can use hedges for outdoor privacy screen. This green materials are also easy to setup and maintain. You have a variety of plants for hedges, like Forsythia (yellow and fresh), Weigela (white-red-green look), Dwarf English Boxwood (like the example), and more. They are ideal for decks or patios.
12. Simple Privacy Screen For porch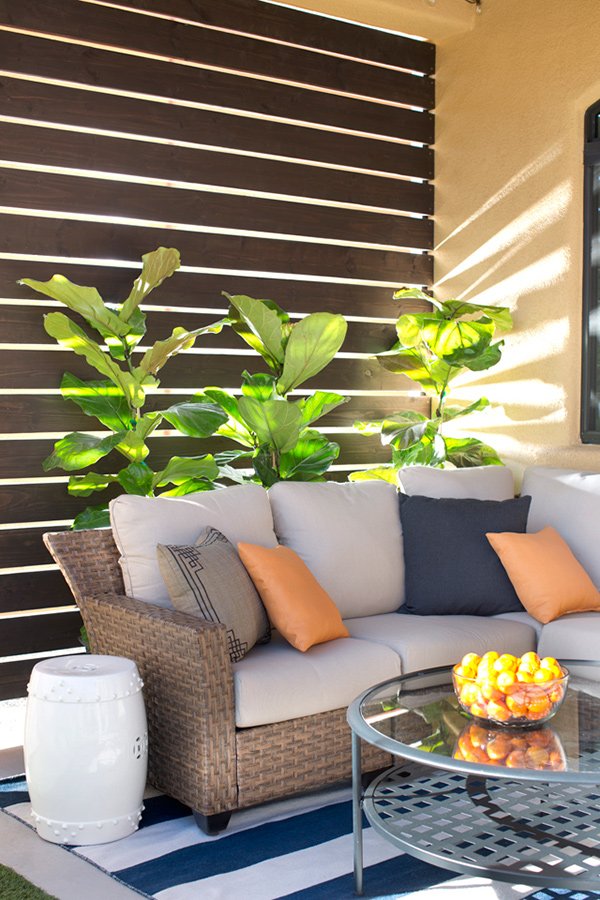 If you need a privacy screen for porch (the front or rear one), this simple screen is yours. You even can build it yourself in your next DIY project. It only needs wood slats, the supports, plus some basic carpentry tools. And you have here your privacy screen. It looks rustic and also contemporary.
13. Light Portable Privacy Screen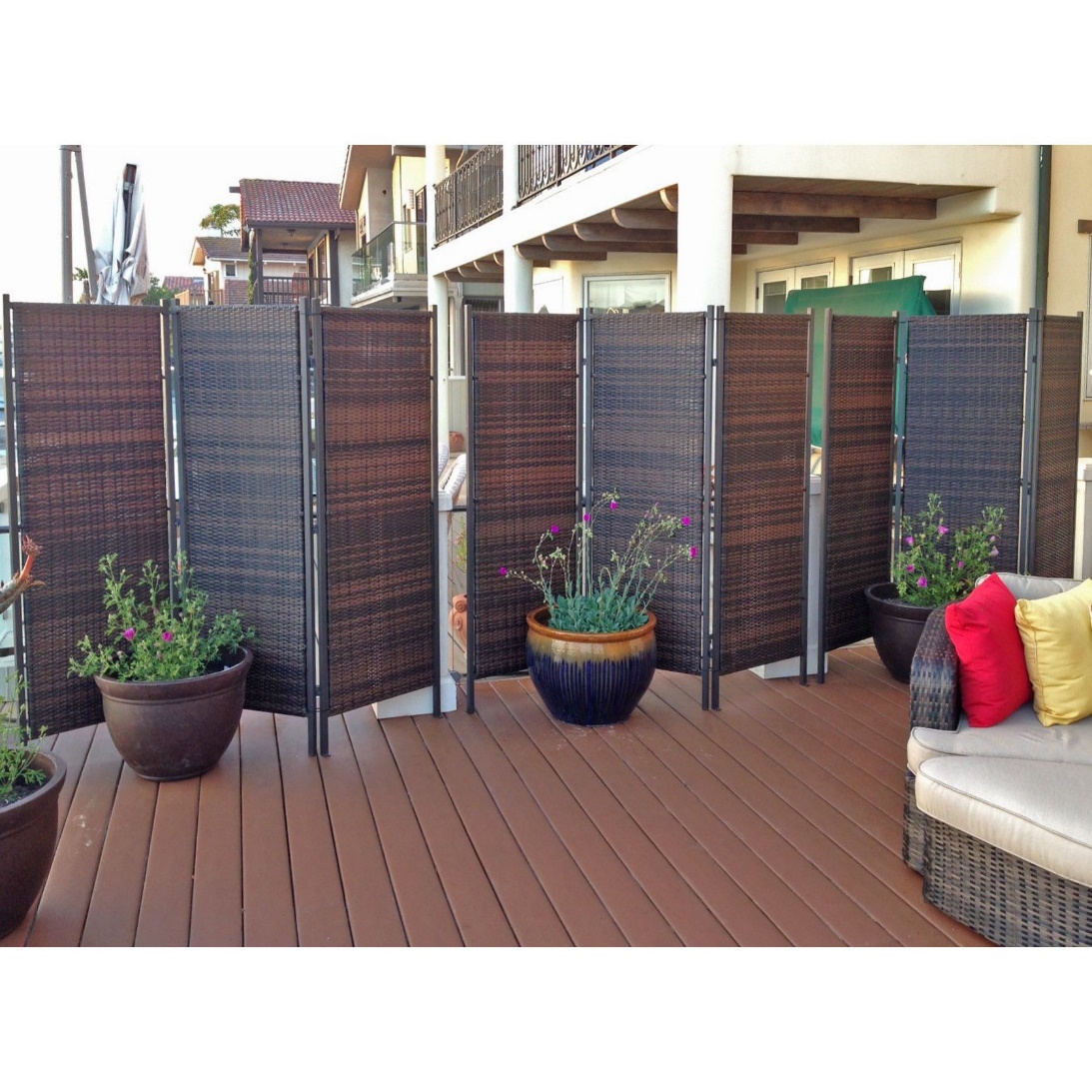 Your probably don't want to have any other structures, including the privacy screen, on your patios or decks. But if, for some reasons, you need to add additional privacy into it, this portable outdoor privacy screen is all you need.
The screen is light and consisted of several foldable panels of durable materials. So when you don't need it, you just fold it and store it away without have to eat away your storing places.
14. Gabion Wall Ideas for Better Privacy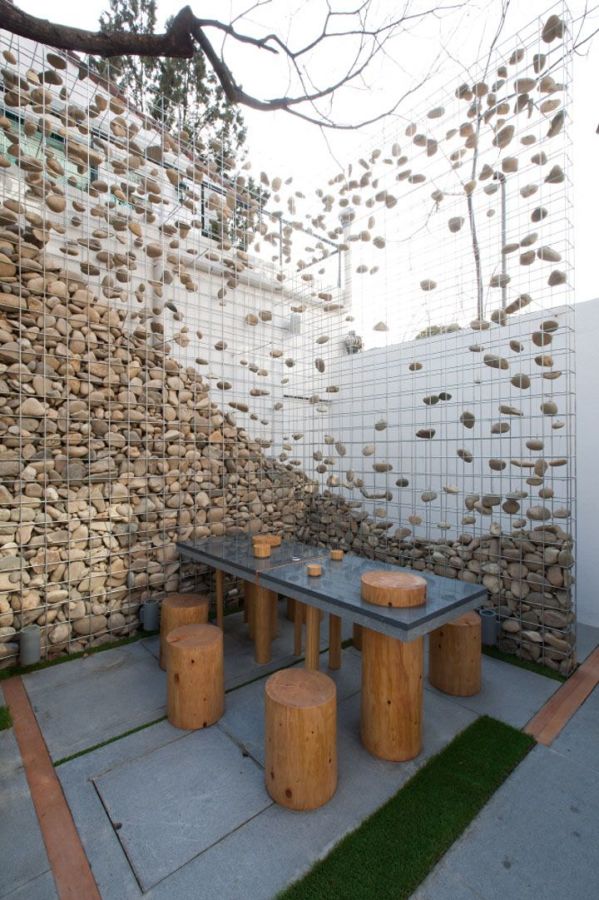 Now not only dams or flood walls use gabion for their construction. This old structure (since early 19 century) also has important roles in the modern outdoor landscaping. One of its roles, for example, is as this privacy screen.
This gabion screen helps you to have a better protected privacy with a unique appearance. Apart from the function, gabions also good as sound damper solutions, which will give you a plus factor for your leisure time.
15. Minimalist Wood-Aluminum Patio Privacy Screen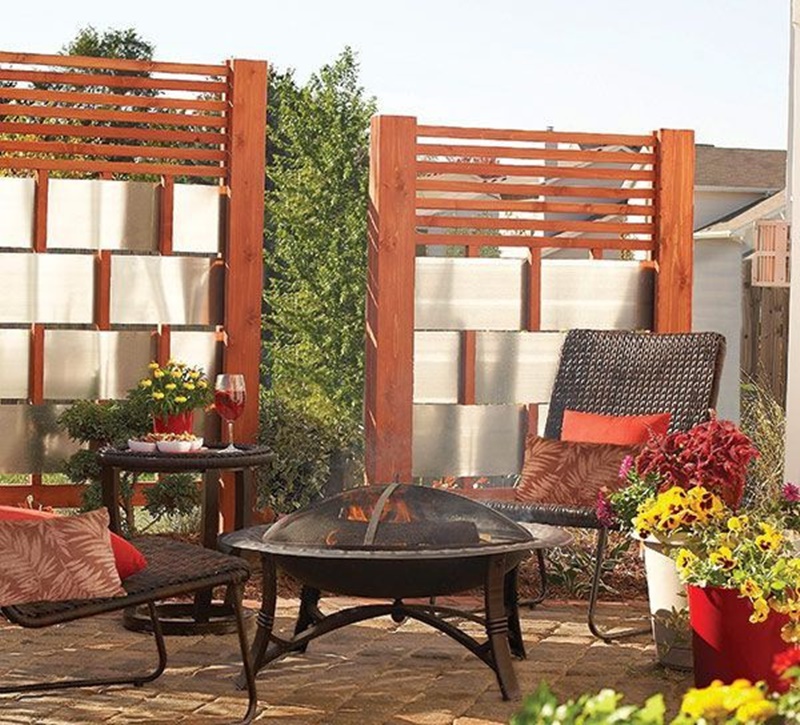 A combination of natural materials and man-made one is also good for your privacy screen. For example, take this aluminum and wood combination for a garden privacy screen.
The rustic unfinished wood structures provide warm and pleasant atmosphere to the sitting area. They balance well with the metallic aluminum sheets, which giving them their contemporary atmosphere.
16. Outdoor Privacy Screen with planter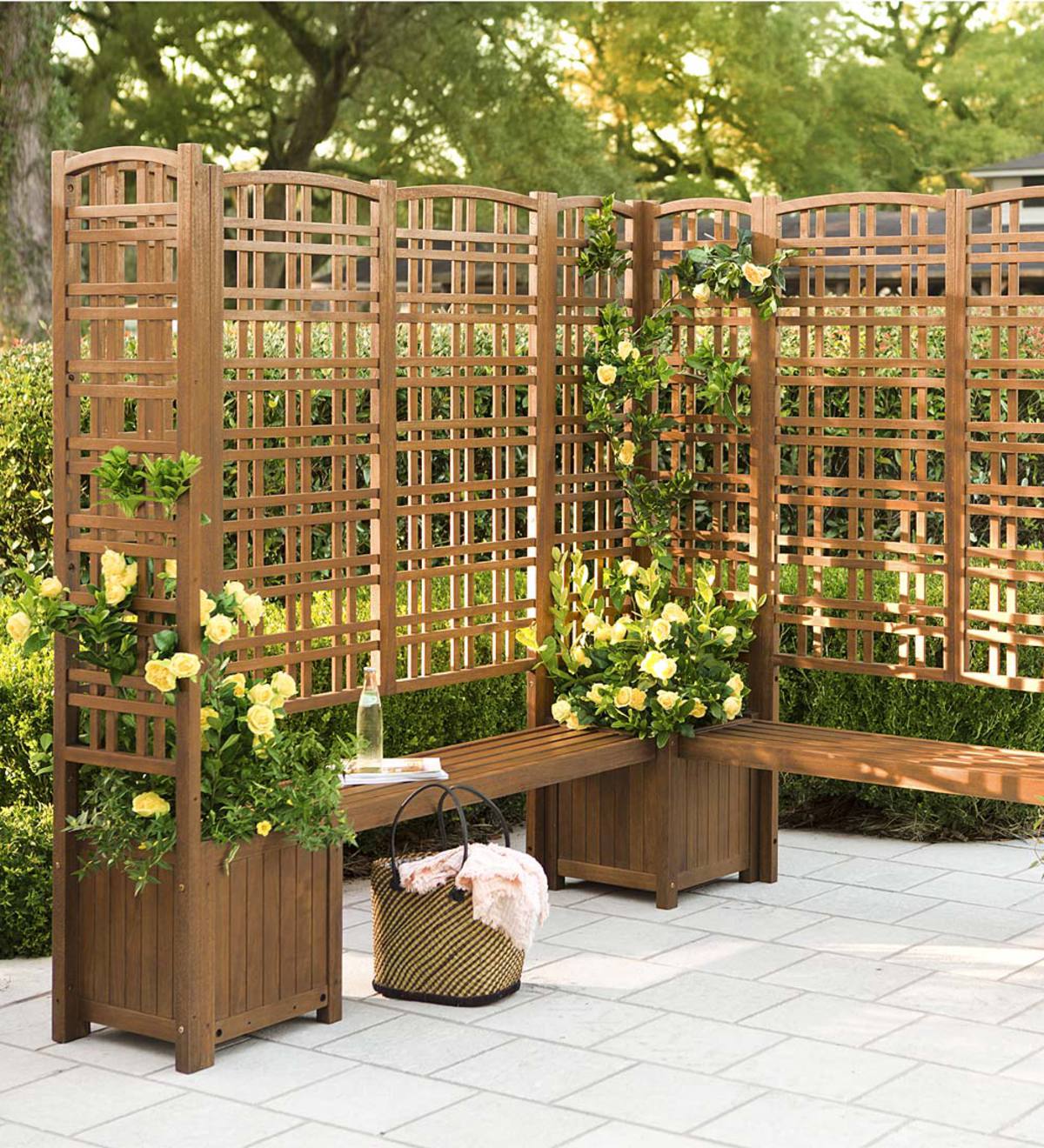 If you feel those previously privacy screen ideas mentioned here are to ordinary and even lack of traditional touches, try this screen idea. It's a combination of wooden benches, trellises (also of wooden materials), and wooden planter boxes. With this set of freestanding privacy screen in the garden, you add classic atmosphere into it.
17. Cacti for a Greener Privacy Screen Solution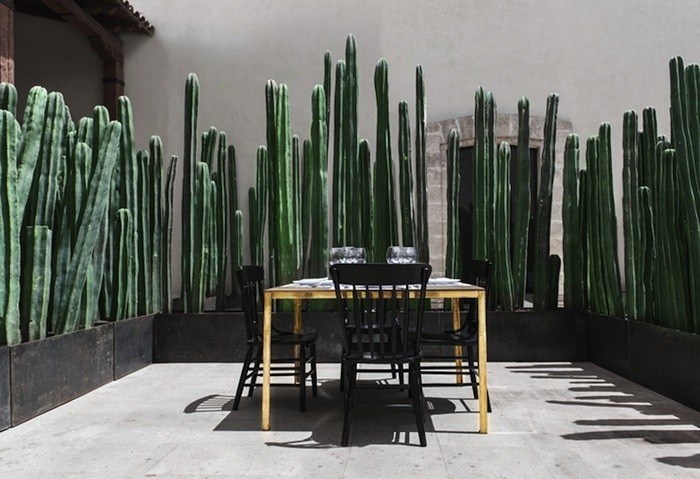 Cacti (plural for cactus) also need your consideration when you want to set a privacy screen for your patio, mainly if you live in hot areas. Cacti are cheap and available abundantly, even free for some.
Here is an example of cacti as a privacy screen solution. If you want to set it yourself, it's an easy DIY Project too. You need only tall cacti like the one on the picture and several planter boxes for a more contemporary and neat look.
18. White Tempered Glass Privacy Screen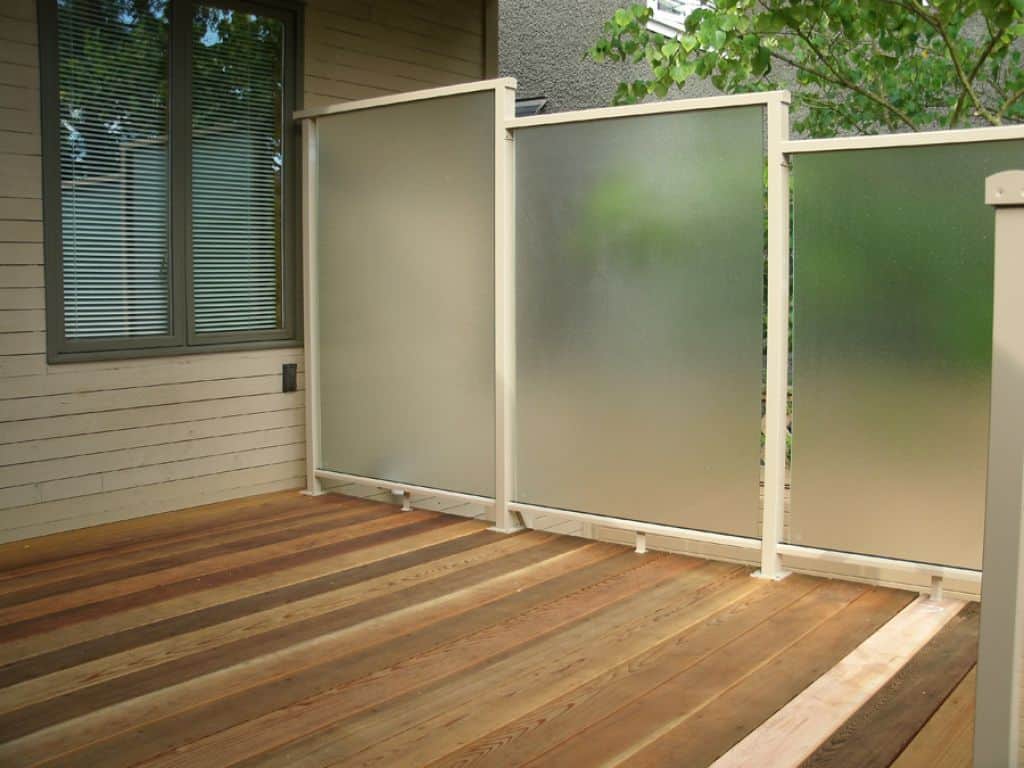 A simple alternative privacy screen for deck is a panel of tempered glass. The panel comes with its metal frames. The glass is of tempered glass type, so you can be sure of its durability. It's also comes in frosted type, so your privacy is guaranteed.
You can use this type of privacy screens also as a kind of standalone screen with a small modifications. This screen is suitable for decks or patios.
19. Wicker Freestanding Outdoor Privacy Screen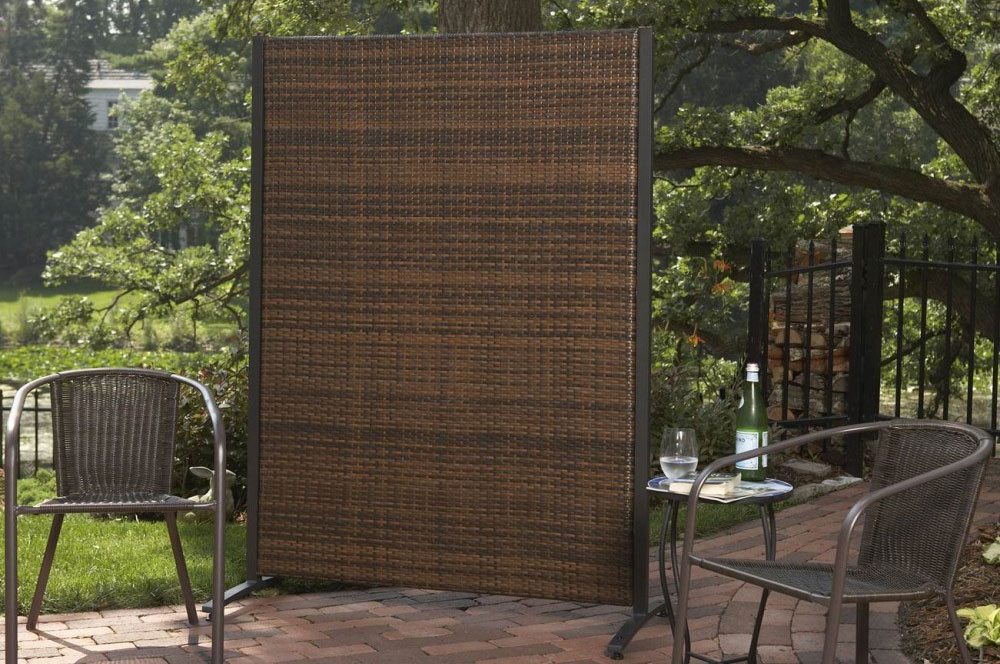 A portable privacy screen is the stuff you need when you want to enjoy time outdoor and, at the same time, want to keep the personal privacy intact. For the purpose, you need a screen light enough to carry and able enough to protect you from the snooping eyes.
A freestanding wicker privacy screen is good for the purposes. With the aluminum frame, it's still light enough to carry. Its texture also blends easily with the surrounding outdoor areas.
20. Vertical Garden Wall for Balcony Privacy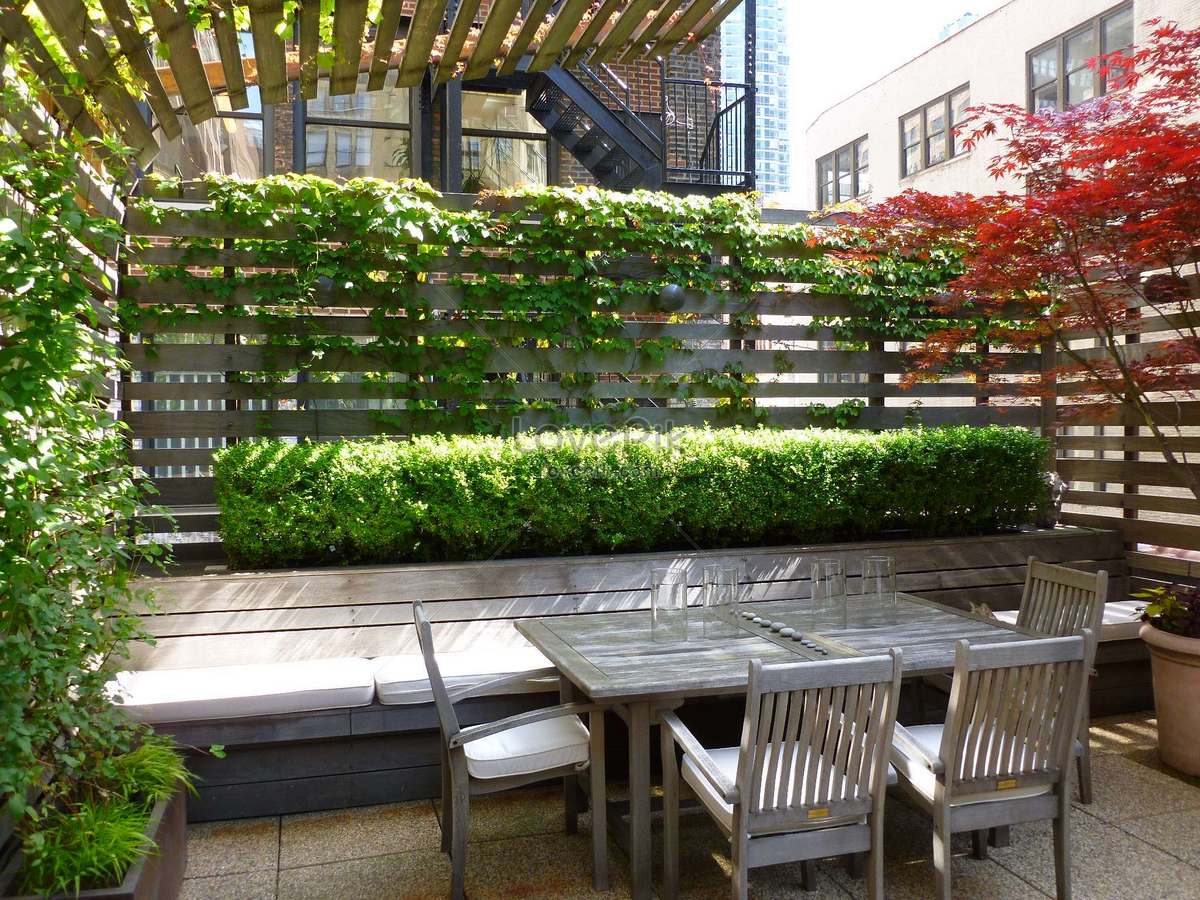 In these recent years, interior or exterior designers like to combine their minimalist designs with vertical garden, mainly when they want to add greener spots in an urban living areas.
Not only for the fresh air and visual interest, you can set this vertical garden as privacy screen for balcony. The minimalist wood screens make a lovely appearance with vines on it, adding privacy and beauty to the balcony.
21. Clematis as Elegant Privacy Screen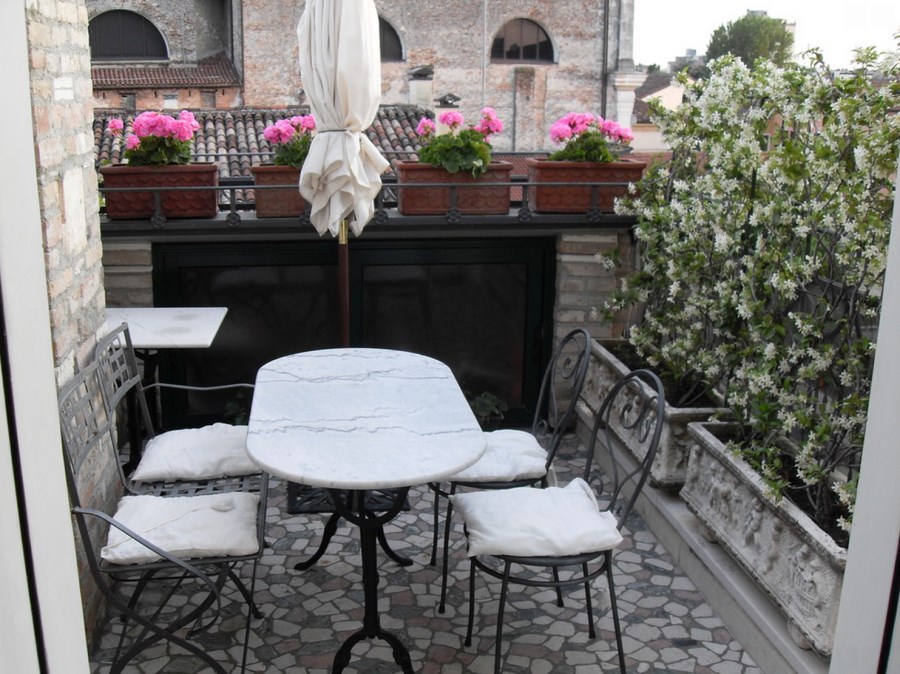 We have briefly spoken on vines as privacy screens. Now we'd like to introduce you again to a type of vine which is also good for privacy screen, the Clematis. This vine gives you elegant green-white accents to your patios, decks, or balconies. Apart from being living screens, the vine is also good for a natural wall idea.
22. Contemporary Cedar Slats Outdoor Privacy Screen
Play the slats and get the contemporary look you've always looked for. Cedar Slats will be most suitable for this projects. You don't need any helps to build this freestanding privacy screen. As you can see from the picture, the structures are easy to replicate.
Instead of setting the slats evenly spaced on its supports, you play the distant between slates for special warming and, of course, contemporary appearance.
23. DIY Ivy and Mesh Net for Privacy Screen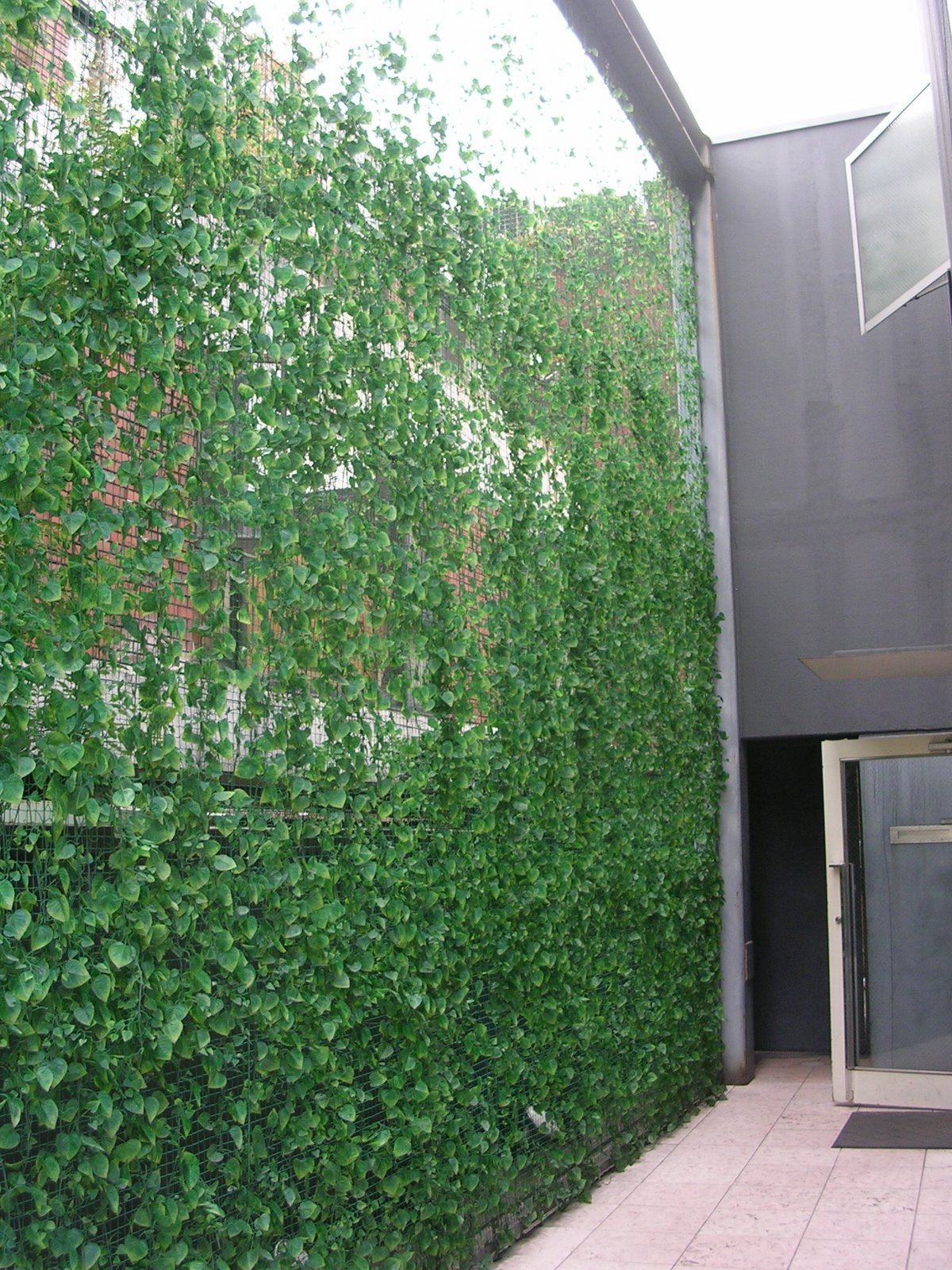 In this privacy screen idea, mesh nets and ivy are the main roles. Along with the easy DIY project outlined here, this one probably is your easiest project. You only need three stuff: the ivy, pots, and mesh nets as the climbing wall. Line the potted ivies under the nets (see the picture) and see them climb onto the mesh and make a cool natural privacy wall.
24. Minimalist Farmhouse Privacy Screen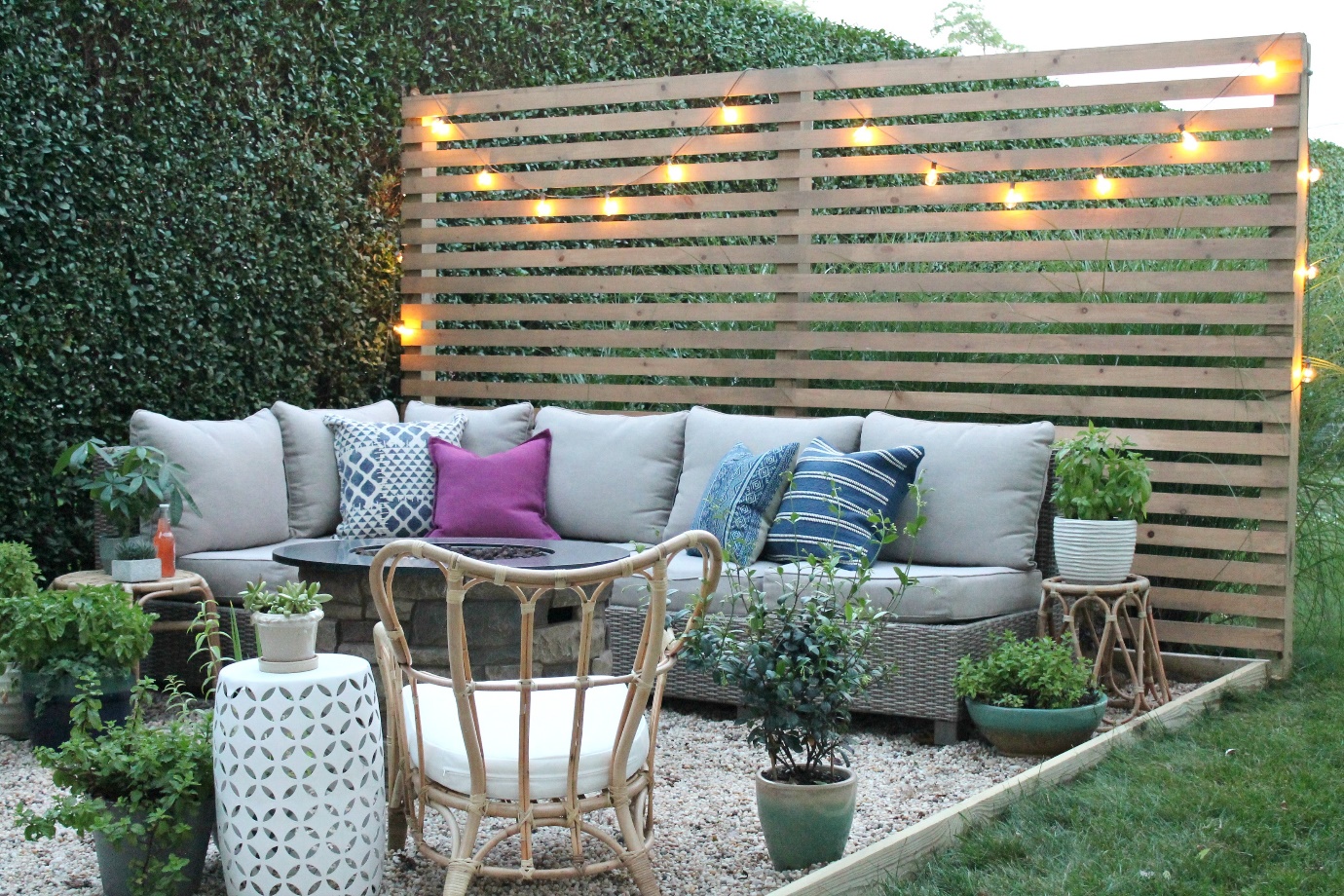 After a long hectic day, it's a real joy to sit in a calming outdoor with someone close or just with a cup of coffee. Still cannot decide which outdoor setting is best for your relaxing Time? Try this farmhouse outdoor setting. Add a privacy screen like this one to further guaranteeing your precious time.
25. Bamboos for Natural Outdoor Privacy Screen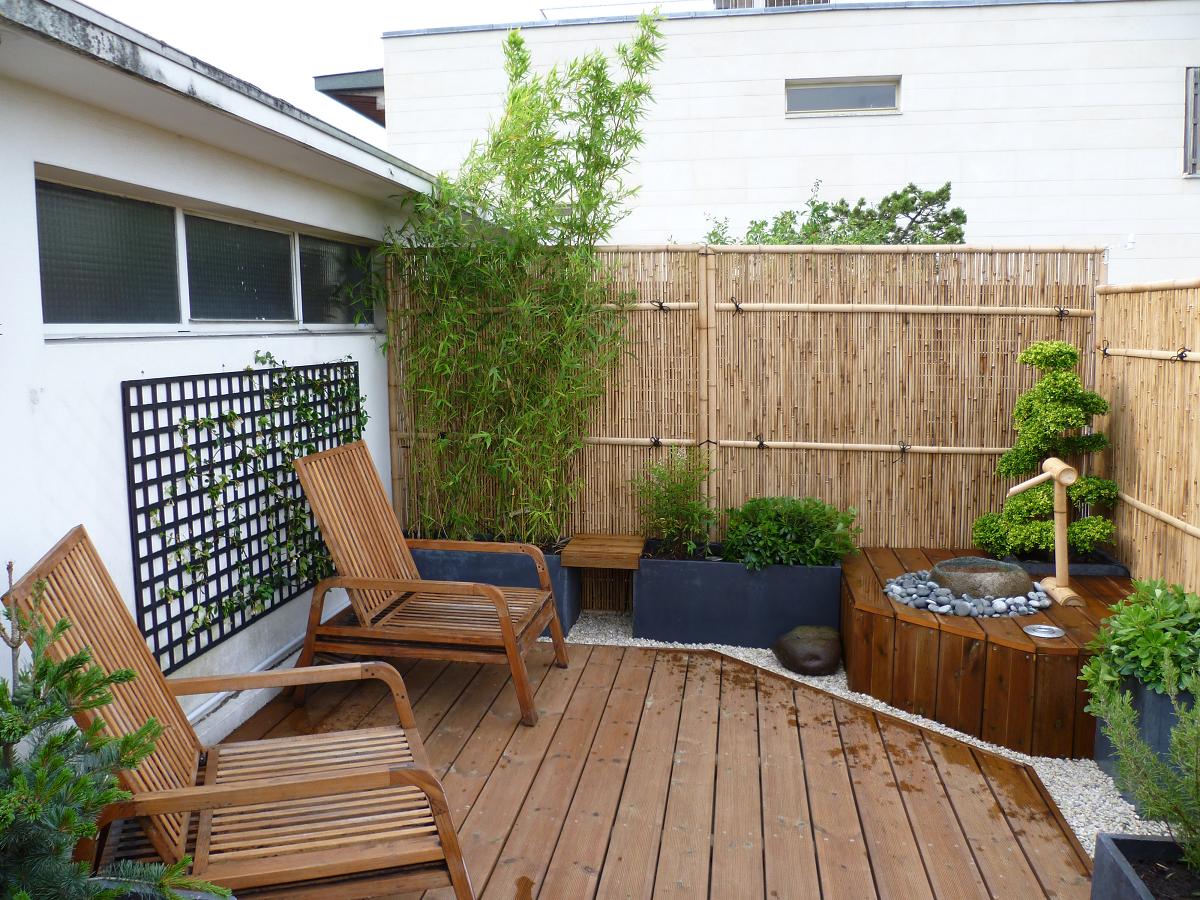 The Oriental people regarded bamboos as versatile materials. With the lanky plants, they built their houses, fences, and many more stuff. Its strength, durability, and flexibilities enable the plants to be crafted into that many products.
Now you also can have privacy screen from bamboos. This fusion West-East deck is one of the best example for you. The bamboos privacy fences mix well with its enclosed contemporary West-Japanese garden.
And that's all the 25 most impressive outdoor privacy screen ideas for you. Those ideas range from the more rustic privacy screen ideas to the contemporary one. Finally, though we know that this list is far from complete, we hope you enjoy it.