Having a deck gives you advantages, both for view or for outdoor activities. But you should protect the empty area beneath from wild grasses, any insects, or even wild animals. For these reasons, you need to find the right deck skirting ideas.
Along with its main purposes, deck skirts also offers aesthetic values to the deck. That's it, the lower parts of the deck now covered with charming structures which should impress anyone who sees them.
Though not for all types of decks, skirting is suggested for decks lower than 4 feet, deck skirts also increase the visual impact of your decks considerably.
In short, deck skirts can increase the curb values of you homes. Now if you're in finishing steps of deck-building processes and want to add skirting underneath the decks, here we offer you some of awesome deck skirting ideas to inspire.
1. Fence Boards Deck Skirting Ideas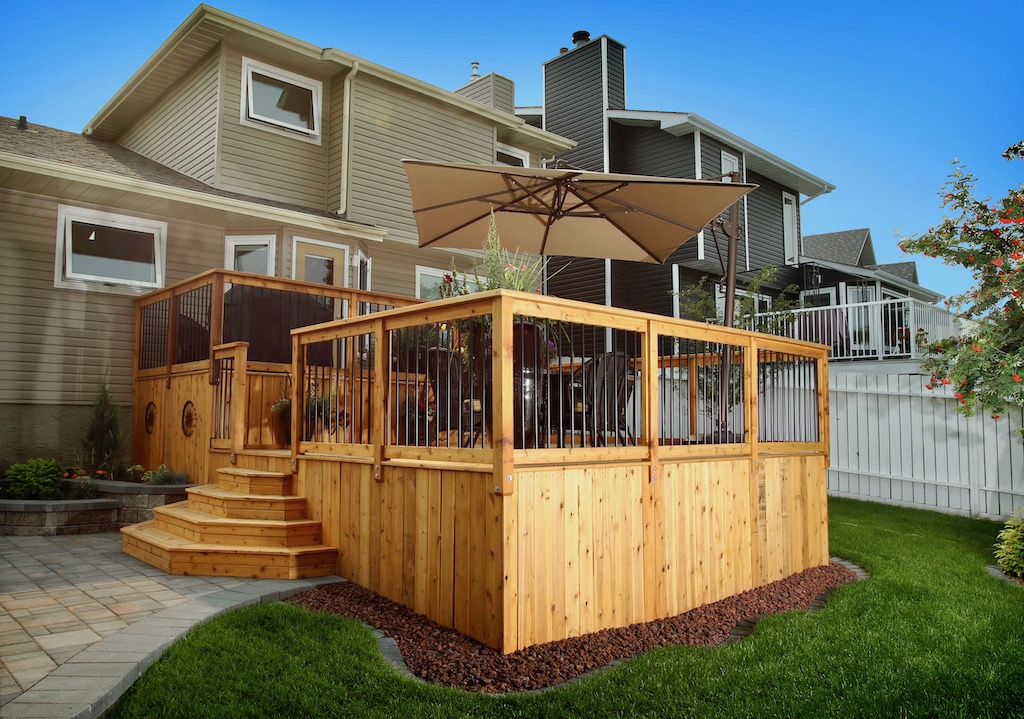 In general, you have two material options when you want to install deck skirts: natural sources and industrial/fabricated materials.
If you want to use natural sources, woods are the main choices. This category also includes natural stones and bricks. For the fabricated sources, you might use vinyl, metal sheets, and also faux stones.
Both of the source materials have their pluses and minuses. For this example, you see here a type of wood skirting materials under the deck. The wood, now in the form of fence boards, turns the deck into an inviting spot to enjoy the day.
2. Inexpensive Deck Skirt with Wood Lattice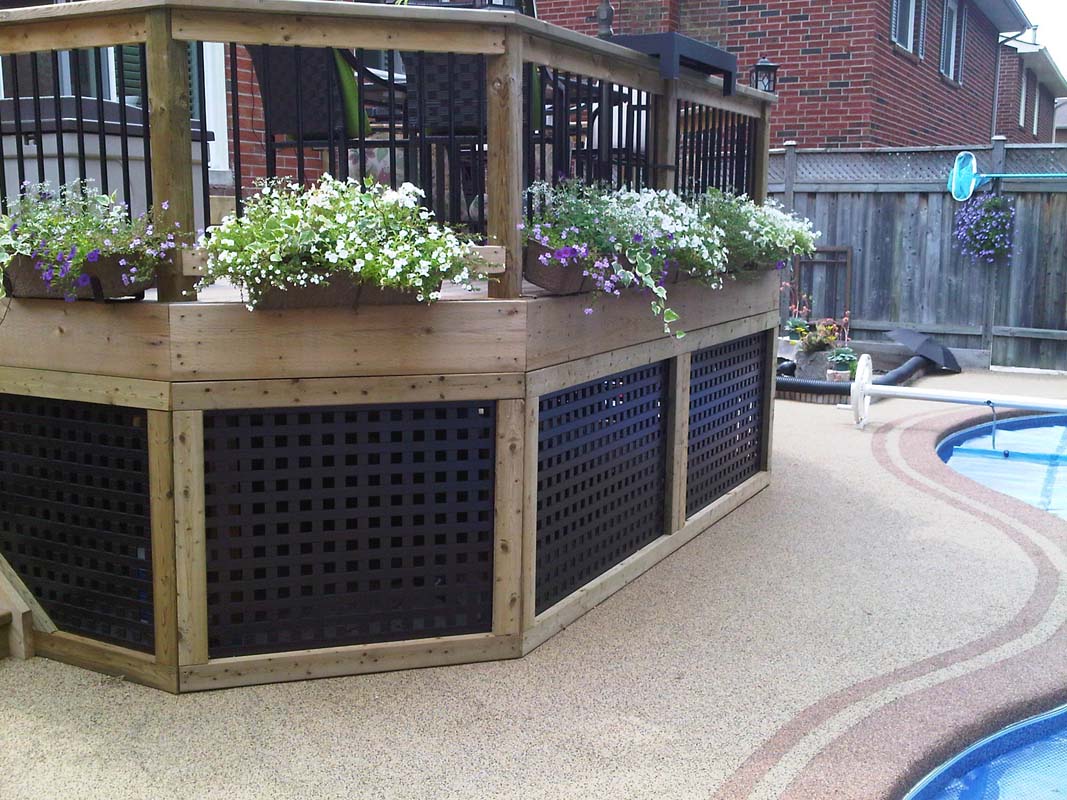 For all the deck skirting styles you'd like to employ in your skirting projects, you need to consider three things.
Firstly you need to give it ventilation, a passage or passages of air so that the stuff under the deck won't get stale or rot. Secondly, you need to make gates on it, so that if anything happen under the skirts, you can solve it easily by accessing the gates.
Thirdly, you need to keep at hands the spare parts of the skirts, in case you need to repair them. Wants something affordable for the skirts? Try wood lattices deck skirt like this one.
3. Horizontal Deck Skirts for a Contemporary Look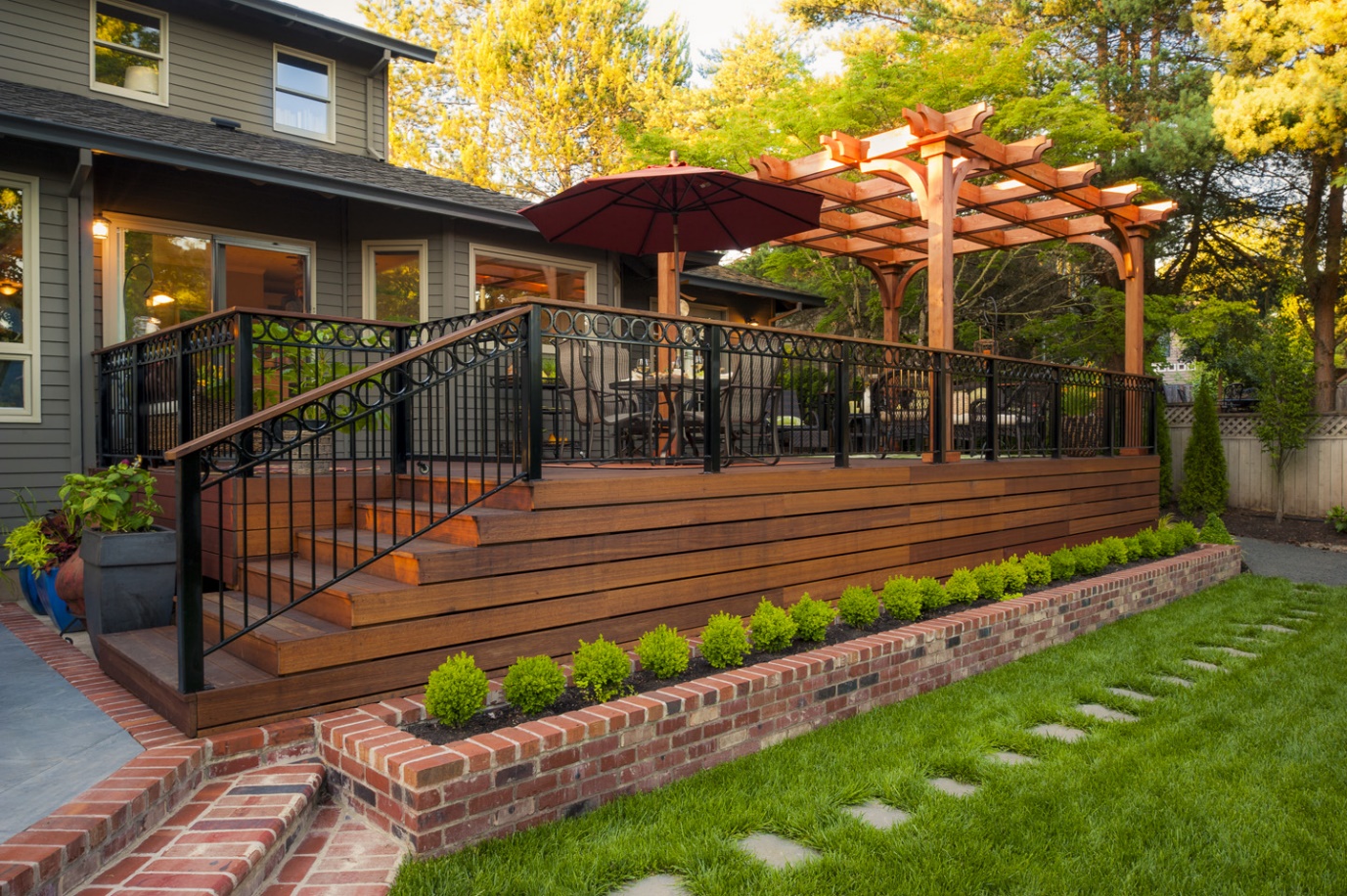 The simple approach of finding the right materials for the deck skirts is by matching the skirts 'materials with the deck materials.
So, if you use, say, cedar woods for the deck structures, then the easiest choice available for the skirts is also the cheddar boards –in vertical, horizontal, or lattices patterns.
This way you can have the seamless deck designs. If you like contemporary look, the horizontal board skirting might worth considering, in their finishes or unfinished look.
4. Midcentury Wood Deck Skirts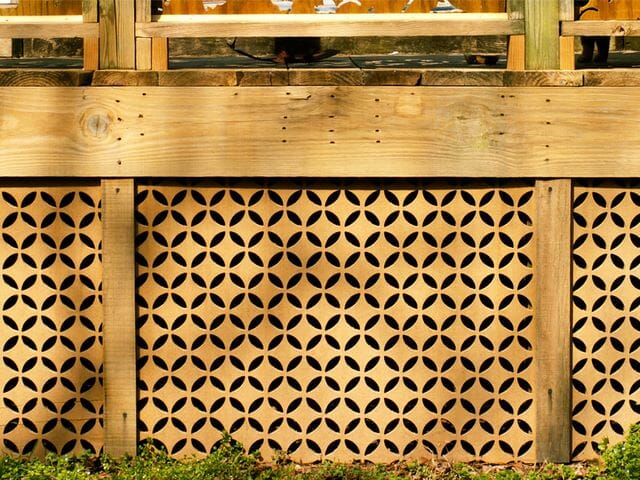 Finding the right deck skirting ideas can be a daunting task, mainly if you want to match it with overall existing home's themes.
If you have a Midcentury home, for example, you may need to match the skirting patterns with the home's theme, that's a Midcentury deck skirts.
In need a cool Midcentury deck skirt idea? Here we picked you one of them. The simple geometric patterns are thick with the 50s vibes. It'll work well with your Midcentury home and deck.
5. Small Lattices Deck Skirts for a Low Deck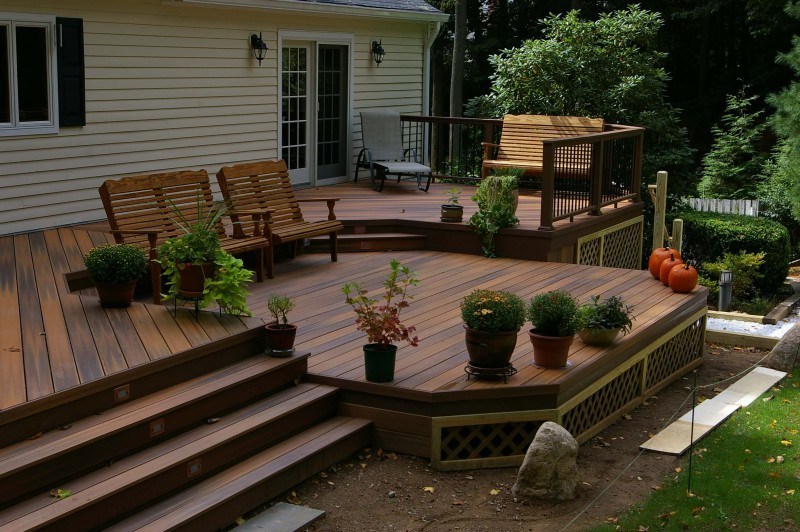 As we said before, if you want to an economical mode for the deck skirts, then you need to try the lattice deck skirt.
The reasons are that the lattice materials are inexpensive and you even can work it yourselves. As about the patterns, they are several types to follow.
The lattice skirts also works well with low deck like the one in the example. It also is flexible enough to follow the land contour, so that you can install them for deck on sloping areas.
6. Custom-Made Deck Skirts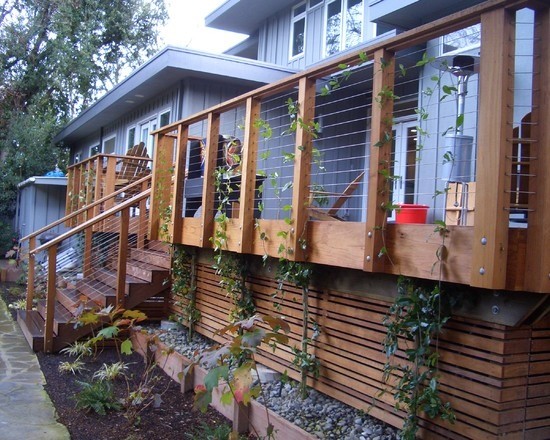 Installing the deck skirt in a DIY project? Sure you can do it. There're several types of deck skirting which are simple enough to do by yourselves, with only elementary carpentry tools.
Once your deck installed, you can start the DIY project right away. First, you need to find the right materials for the deck.
Then you may start the project. For a starter, lattice patterns would worth a try. Horizontal patterns also a good option for this DIY project.
7. Rustic Deck Skirting Ideas for Pleasant Decks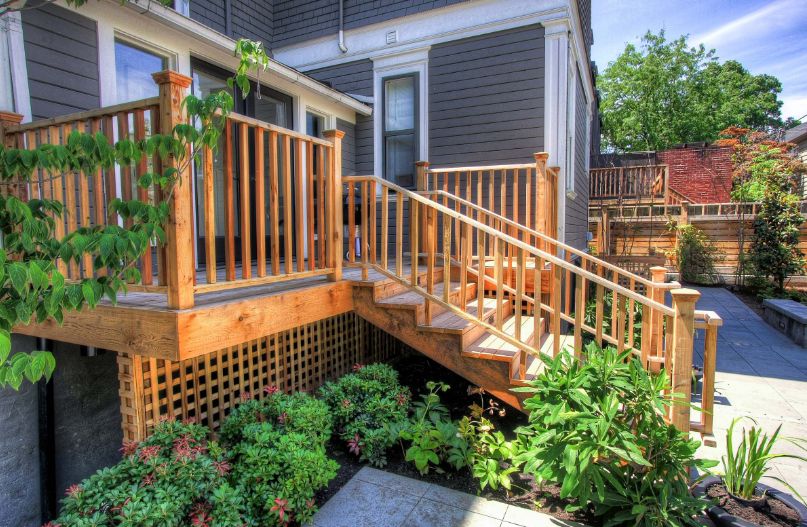 When you want a rustic touch to the deck, then you resort to the wood materials. Of all the materials, real woods are unbeatable in giving you the rustic feel.
The choices are varied, you might use cedar, redwood, teak, ipe, mahogany, or the more affordable and popular, the pressure-treated lumber.
Aside of their weather resistant characters, all the woods are resistant to insects or rotting. The downside is that all the genuine woods are expensive. But if you have enough budget, you can be sure that wood deck skirt will surely give you the most rustic atmosphere in the garden.
8. Natural Deck Skirt with Slate Stones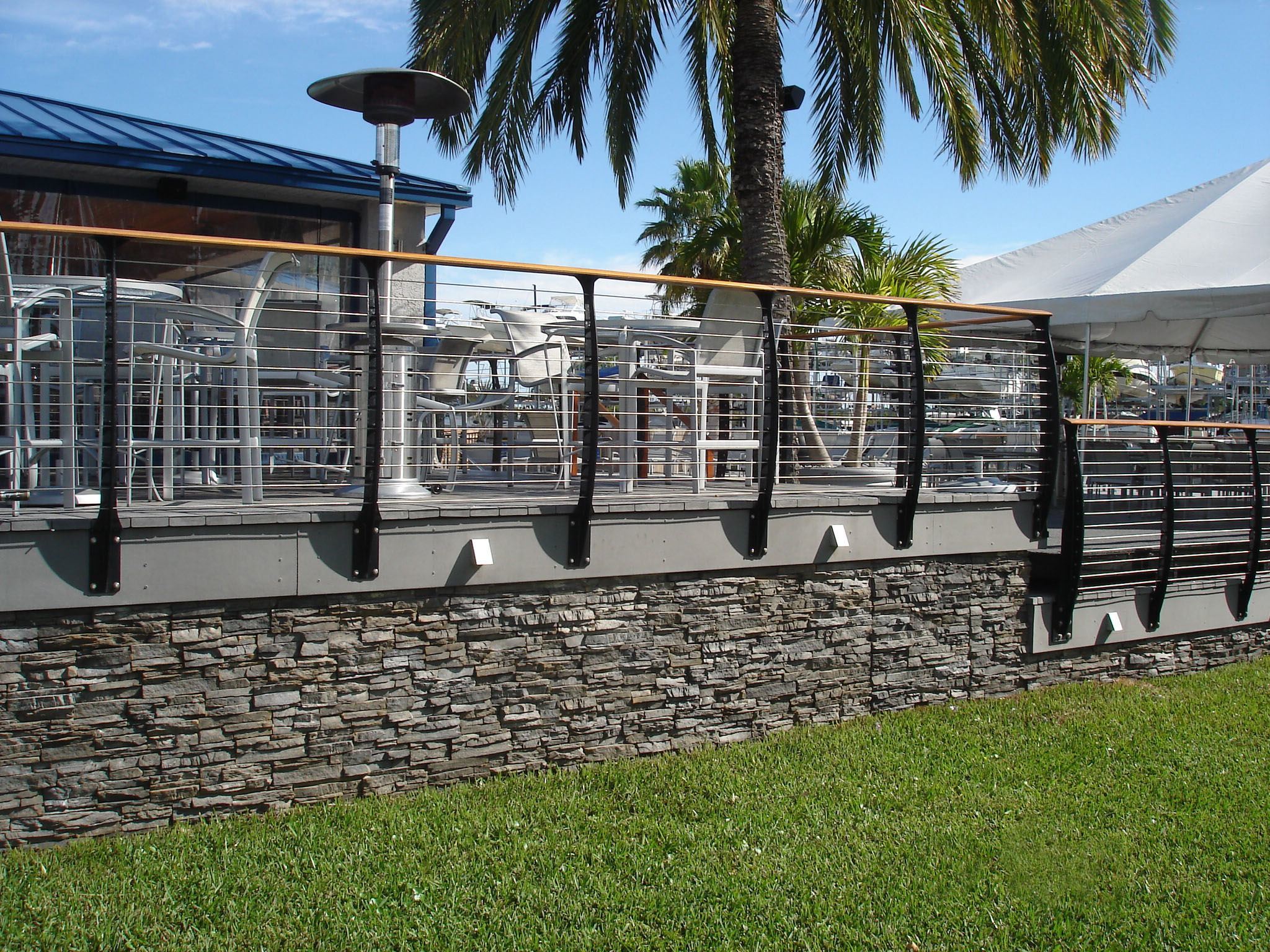 Not all the natural skirt decking are made of woods. Sometimes you can see deck skirting from bricks or stones.
Visually, stone skirts make the decks look solid and in one with nature. You have several choices of stones for the skirts, from the solid granite stones, colonial stonewall, up to the slate stones.
Use slate stones if you want your contemporary minimalist deck looks impressive and solid. A combination of unique patterns of the slate with the neat design of the minimalist deck should make you proud.
9. Laser-cut Panels for Deck Skirts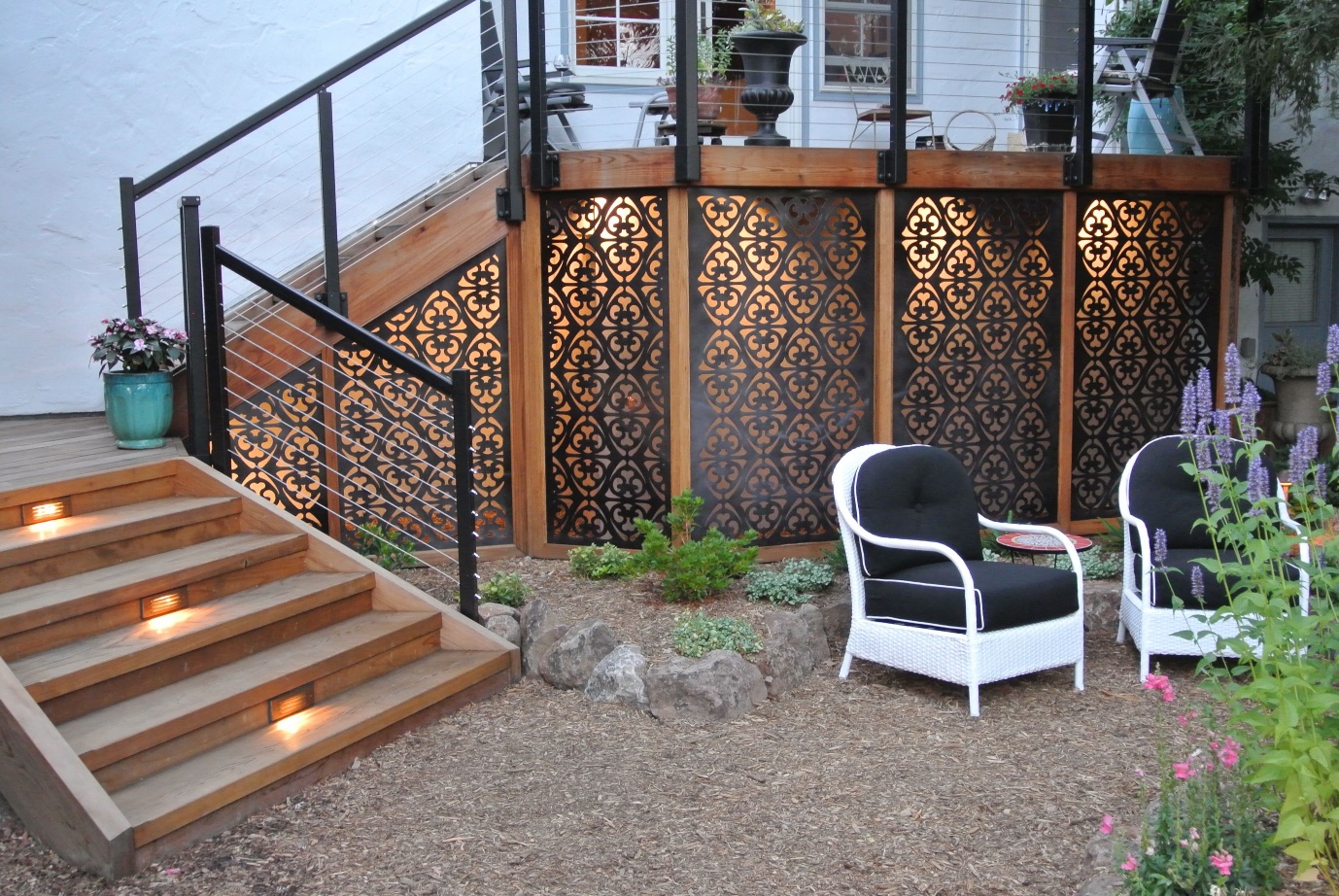 As alternative of wood boards or wood fences, you might try the newer materials for the deck skirt materials. Ever try laser-cut panels?
Just like name implies, you have a panel of materials (mainly aluminum, stainless steel, or mild steel) etched or perforated by laser, so that they have patterns on the surfaces.
For a deck skirting idea, you need to frame the panels before installing them under the deck. With this materials, you almost have limitless choices of patterns. The panels always makes your decks look modern and fresh.
10. Vertical Wooden Deck Skirt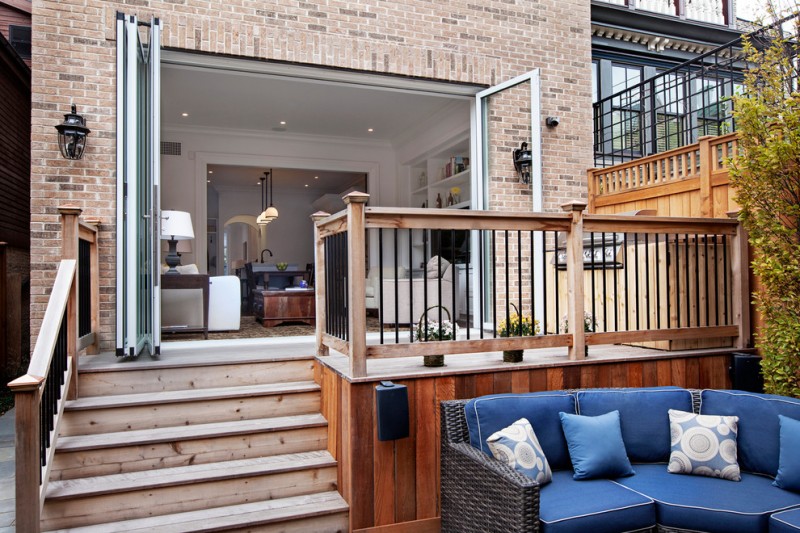 Along with the horizontal fencing, you also often see vertical boarding fencing for the deck skirts. The materials, the fencing boards, are of the same types –only the installation patterns are different.
The vertical deck skirt offers you a classic look, which are always in tune with your classic homes. The vertical lines of the fencing also inject the rustic air to the garden.
In this example, the deck skirt works as the transition features of the lower and upper decks. It helps to give dimension and depth to both of the decks.
11. Faux Stone Deck Skirt Ideas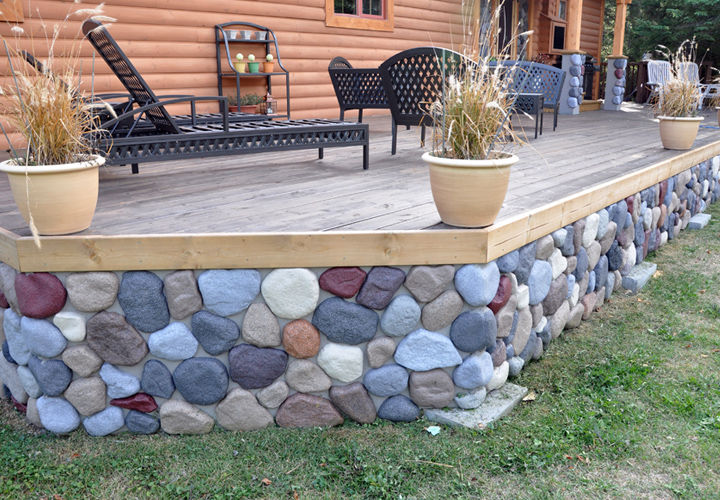 Faux means fake. So, faux stone means fake stone. But, for the uninformed, what is this faux stone? In short, faux stone is stone veneer and it's not made of stones at all.
Faux stone come in panels. And they're made of polyurethane foam which are molded to resemble stone walls. As the panels are made of foam, you can cut them easily. The installation are also easy.
For a deck skirting idea, the faux stone panels replace the woods panels. One of the sample of this faux stone deck skirt is the following picture.
12. Unique Deck Skirt Panels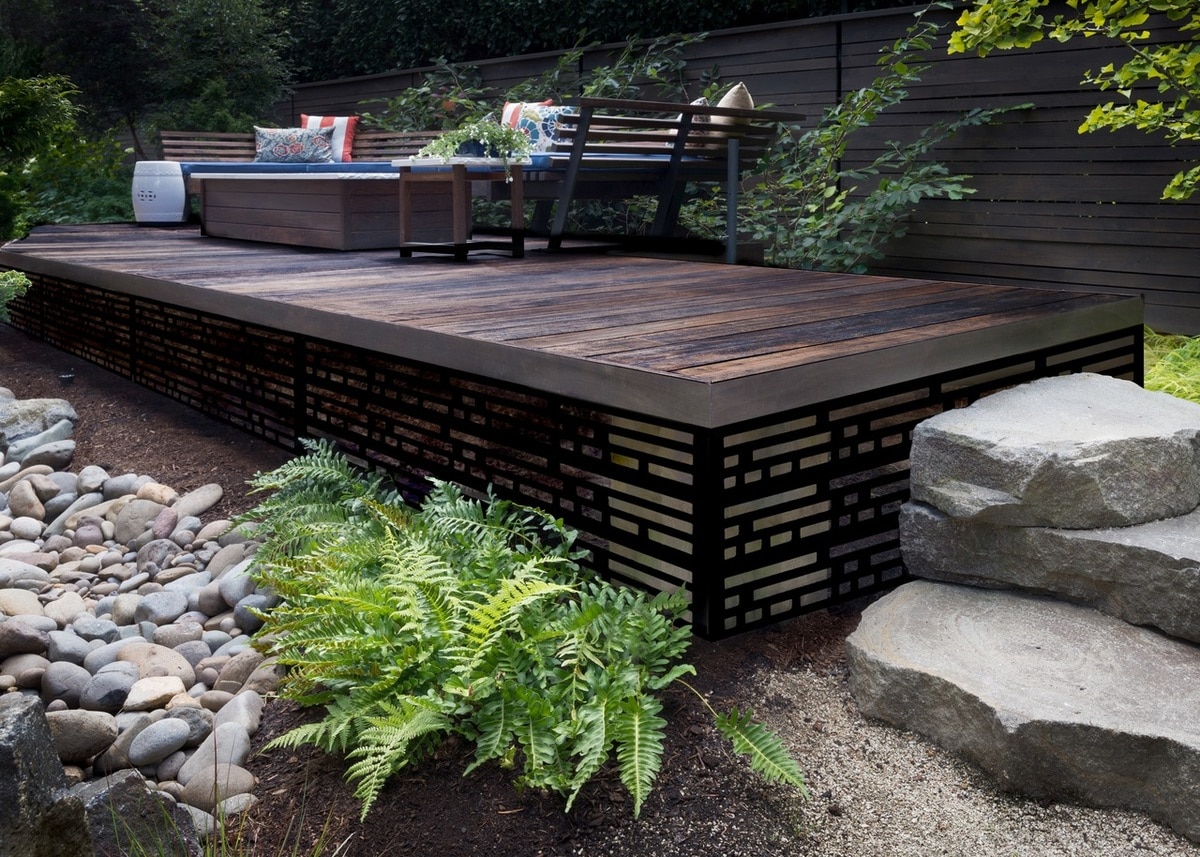 New materials present new artistic ideas. You've met deck skirt with faux stone and laser-cut panels, now you also are offered with deck skirt panels.
Unlike the laser-cut panels, your panels wouldn't come in perforated patterns. They're plain panels made of aluminum or other light metals that are ready to be layered with any patterns.
In this example, the panels are layered with geometric Morse code patterns which work perfectly for the minimalist deck setup.
13. Just how high is the deck so that a deck skirting looks cute?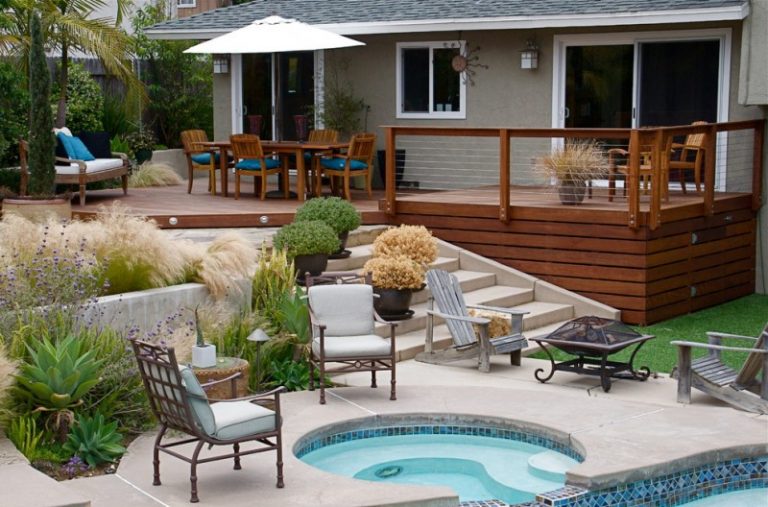 If your deck' height is between 1-4 feet, then it will be look cool if you put under it a deck skirt. It's okay if you install skirt deck for deck above the mentioned average height, but they'll look like a wall.
So, before you install the skirt, be sure with the height from the ground. The chosen materials are also play important roles as to how your deck skirt look like.
Wood materials and fabricated materials will offer different atmosphere when installed. Therefore, be wise in choosing the materials for skirting when you want to DIY your deck skirt.
14. The Purposes of Deck Skirting Ideas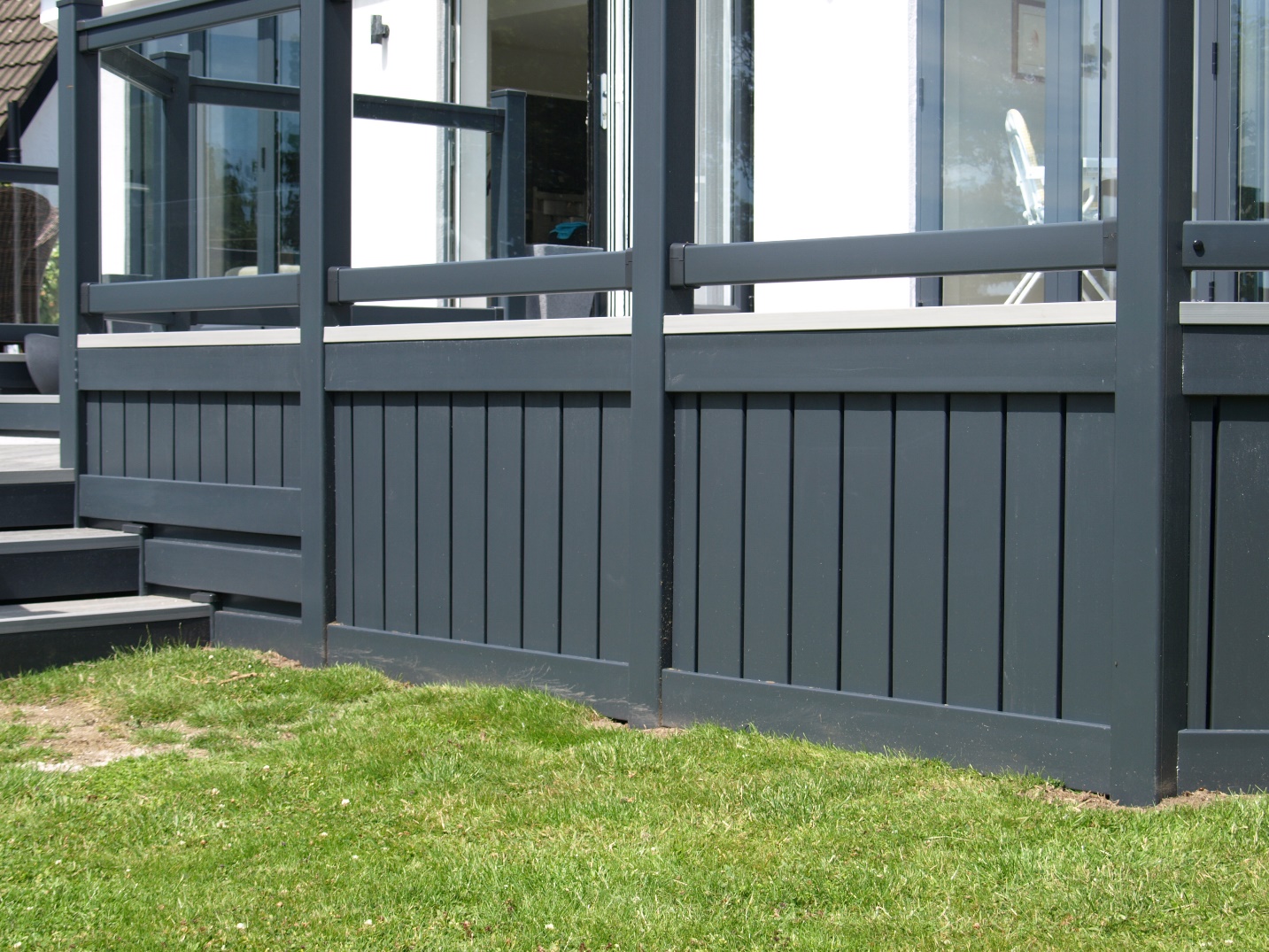 So far, we've talk far and wide on deck skirting, but we've not yet touched the basic purposes of the structures. For the curious one, here some basic purposes of deck skirting.
The decks serve as storage place for any outdoors tools, like ladder, flower pots, furniture, water hoses, and else. They keep them out of sight –so your garden will always looks neat.
The skirts is also an effective shield from any insect or wild animals from roaming or even living under the deck.
15. Planter Boxes as Deck Skirt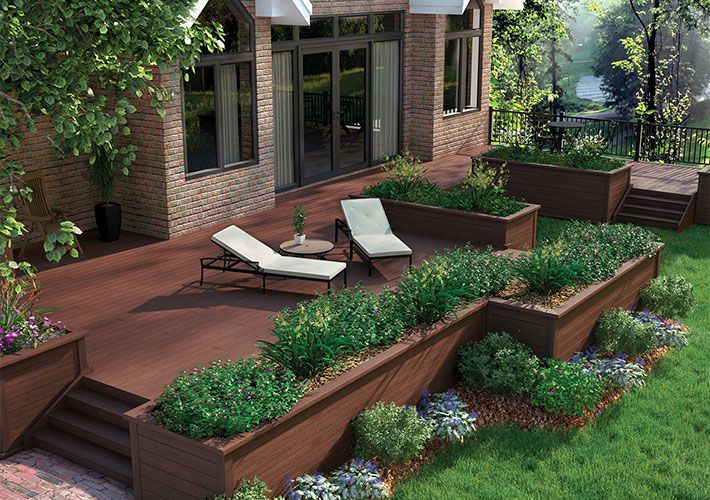 For some reasons, sometimes you just want something different as the substitute of deck skirts. For this, you need to try planter boxes.
With these planter boxes, you don't need any under deck structures, as the planter boxes stand next to the deck's edges. Along with its functions, the boxes also serve as deck' safety railings.
Choose any favorite plants or flowers for the boxes, and enjoy your green deck with family and friends.
16. Luxurious Deck Look with Wooden Lattice Skirt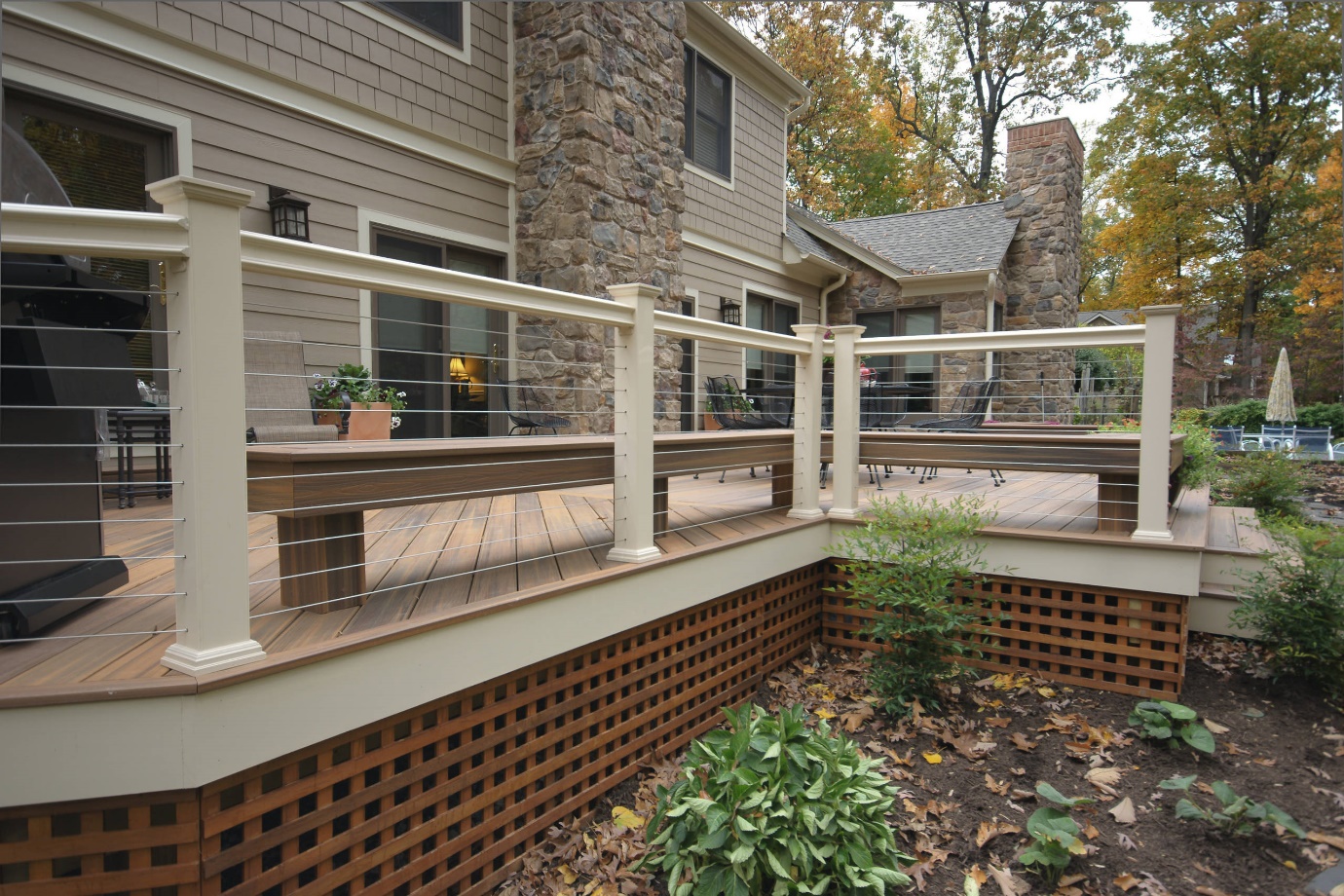 For the minimalist deck, you might need deck skirt which should highlight the theme. You need skirt that won't overwhelm the deck itself, but also serve as its accents.
An inexpensive deck skirting idea for the purpose should be the lattice types. The light and airy patterns work well with the minimalist deck.
Wooden lattices are also simple enough structure to be an interesting activity in your DIY project. You only need basic carpentry and basic tools to do this skirting project.
17. Corrugated Metal as Minimalist Deck Skirt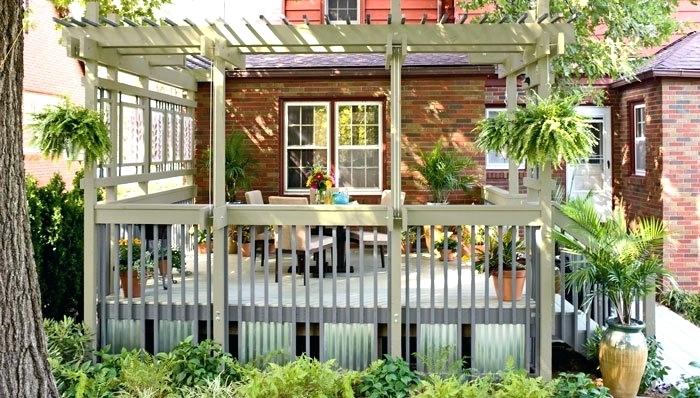 The wooden deck skirts are scattered along this list. They almost dominate the listicle, though we also mentioned other materials.
Here now we offer you another material which also works well as deck skirt, the corrugated metal. Yes, the stuff you often see as roofing materials.
Now you turn the materials into this unique deck skirt. Without doubt, this skirt is one of the easiest skirt to install of all skirts in this list. You only need to cut the metal in the right size and nail them onto the deck frames. Yes, this'll be your easiest DIY project.
18. Lattice Skirt for High Deck Structure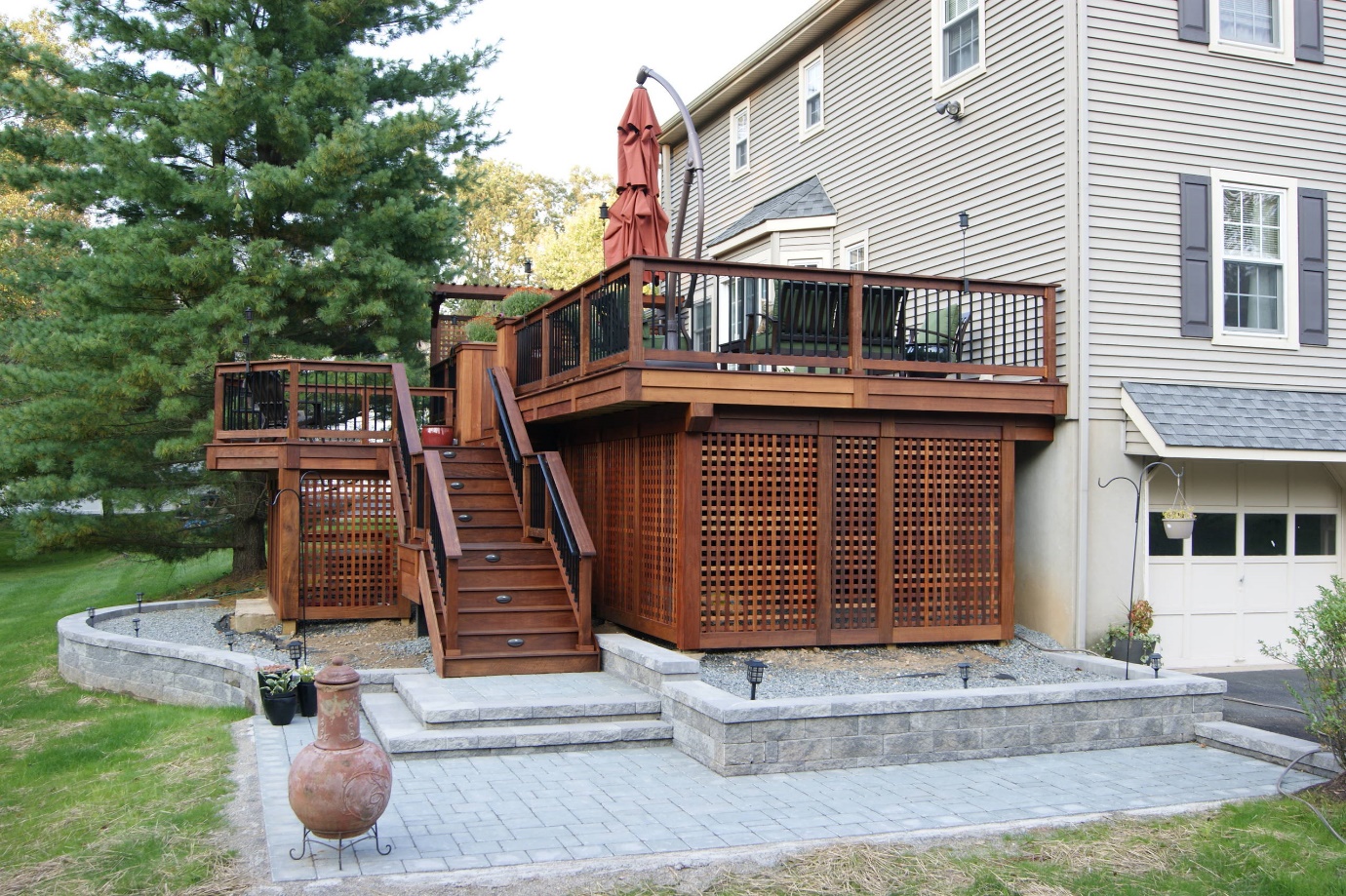 Having a high deck gives you at least two advantages. First, you always have superb scenery of the outdoor from the height. Secondly, you have ample room under deck for any purposes, including for an additional storage space.
For a storage space, you need to cover the under deck area with skirt, so any tools you store will be protected and your deck looks neat.
For higher deck, wooden lattice should be a good choice. It still gives you the skirt function without giving you the 'heavy' air of solid board skirting.
19. Unique Deck Skirting Ideas for Seamless Visual Experience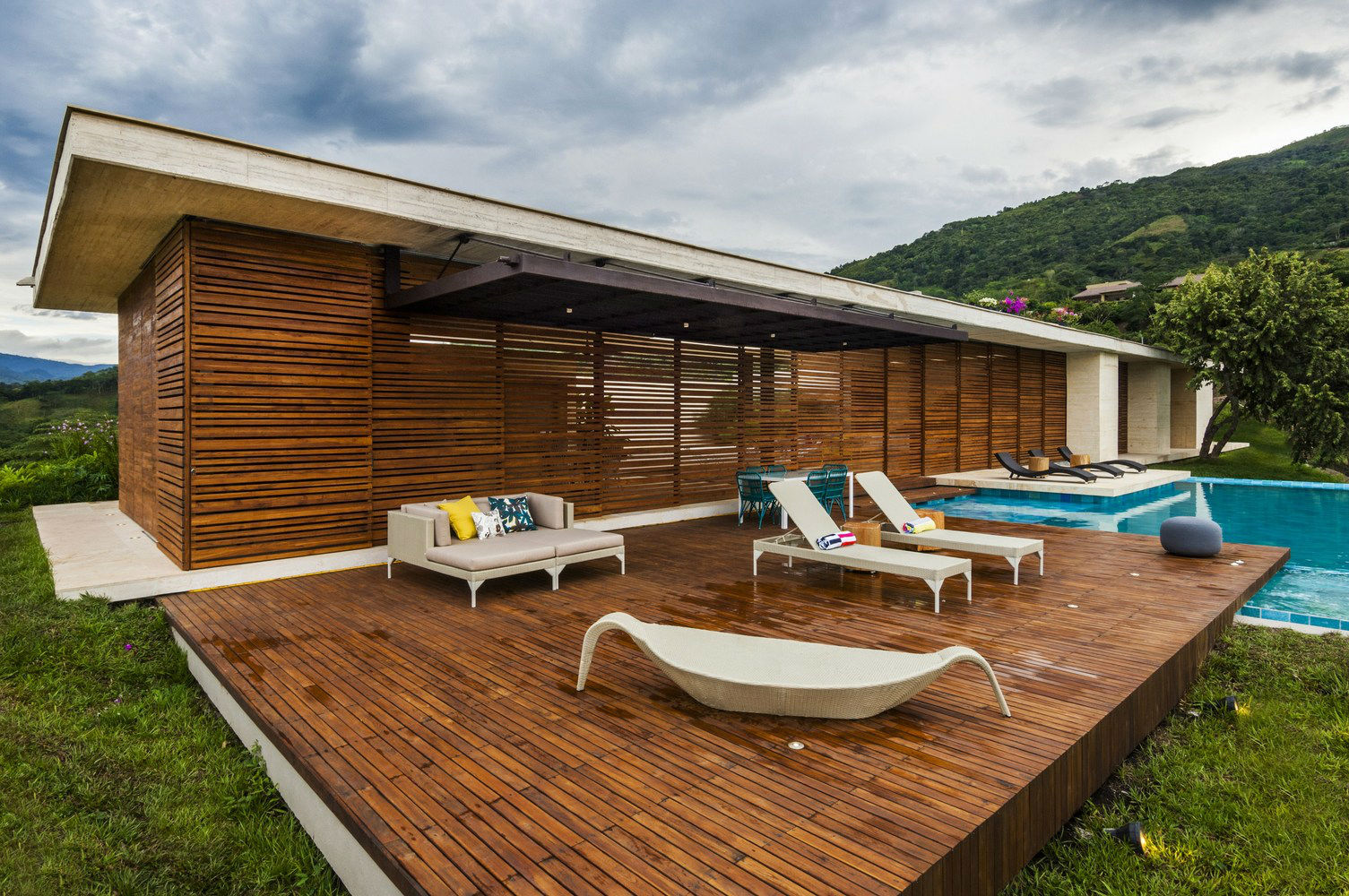 The choices of right skirting materials determine the overall look of the deck and, ultimately, home. For the reason, be wise in picking the skirting materials.
The easiest way to find the right materials, just as we've said before, is by picking the same materials of the deck itself.
This contemporary deck has a seamless and modern look by picking the same materials for its skirt.
20. Under Deck for Additional Storage Spaces? Don't forget to Install an Access Door for the Skirt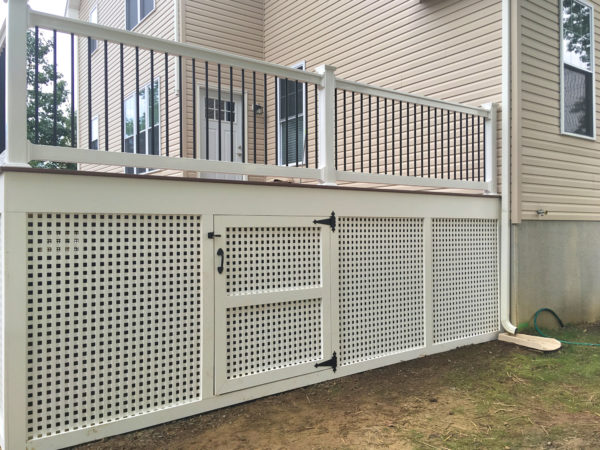 For skirts high enough for storage space, it'll be worth it if you use the space for the purposes. If so, you need to give it an access point.
One thing to remember when you want to install an access point is that you need to place the door on hidden place, like back or far sides of the deck, so that the overall deck appearance is still look intact.
You also need to make sure that the door's styles and patterns are the same with the skirts'.
21. Vinyl Deck Skirt as an Affordable Alternative of Wood Skirt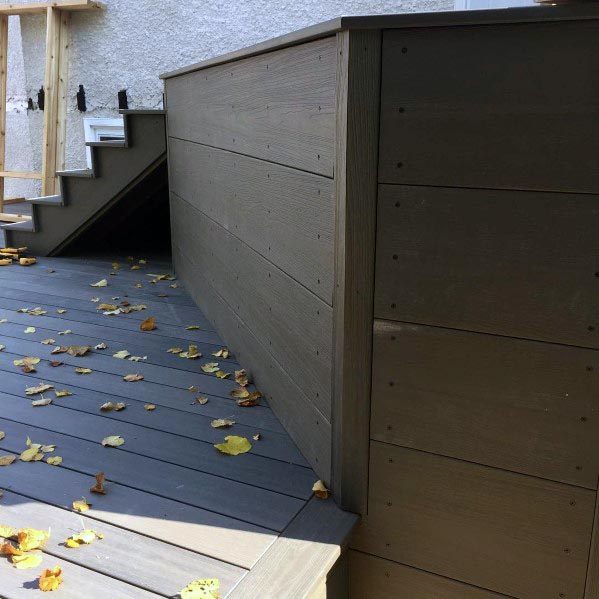 Though irreplaceable in term of their rustic and warmth, good wood materials are expensive. So, some affordable alternative are offered.
Then you find some fabricated or processed woods. For the more affordable prices, you also have a choice on vinyl materials.
Vinyl planks offers a variety of color and patterns, including the natural patterns of woods –with all the grain and colors, in only a fraction of the real woods' prices.
22. Deck Skirt and Landscaping for a cooler Deck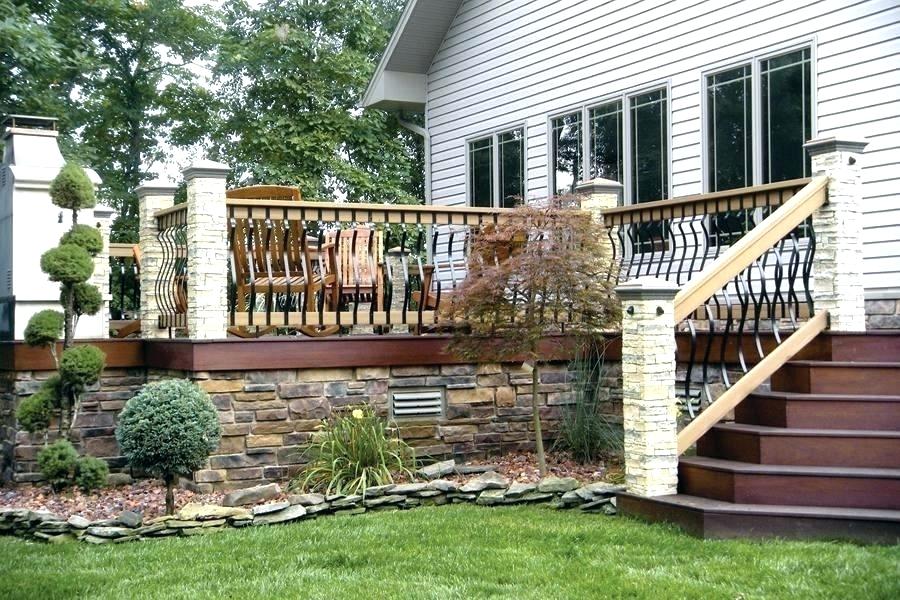 Sometimes smooth grasses or gravels won't enough to make the deck look cooler and greener. If you feel that way, try to make a little landscaping in front to the skirt.
Make a room between the skirt and the lawn, use the space to do the landscaping. Fill in the spaces with flowers, shrubs, or any plants you like.
If you want the deck mosquito-free, for example, you can fill the space with citronella, catnip, lavender, floss flower or the like.
23. Stone Deck Skirting Ideas for Modern Deck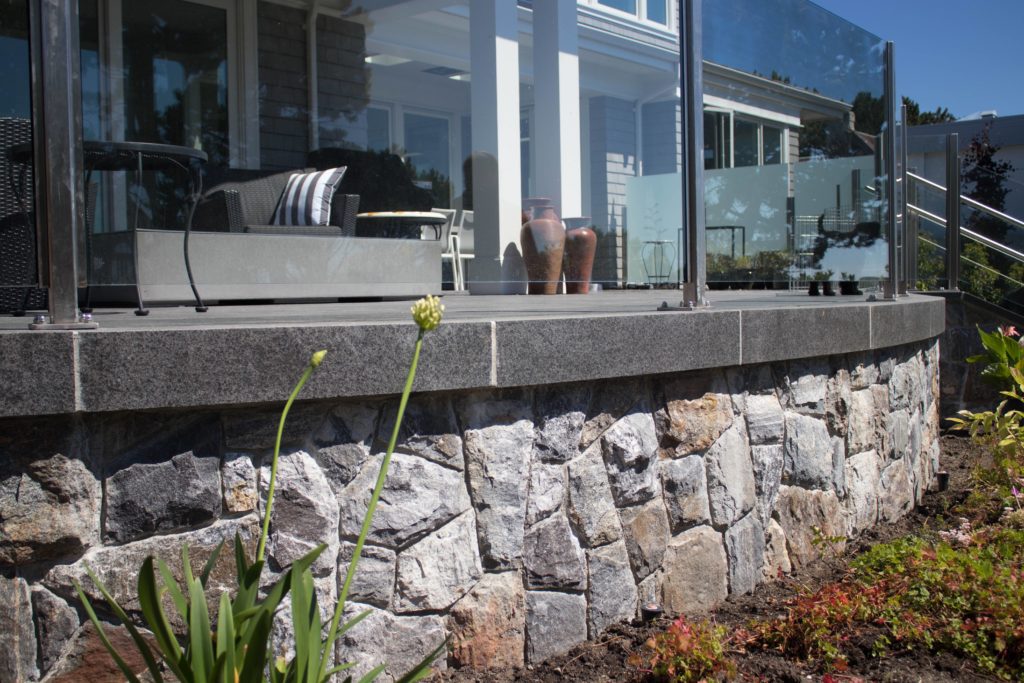 Up above this list you've offered with faux-stones for deck skirting. If you want the real thing, here you have stone deck skirt.
For the stones, you have several choices. You may pick granite, slate, fieldstone, sandstone, and even concrete. Each of the stones has its own characters and unique patterns which should works well with any of your decks' styles.
A contemporary deck, for example, will look great with tightly spaced stones like the following image. The random arrangement of the stones offers sweet balance to the neat minimalist deck above.
24. Gabion as Artistic and Durable Deck Skirt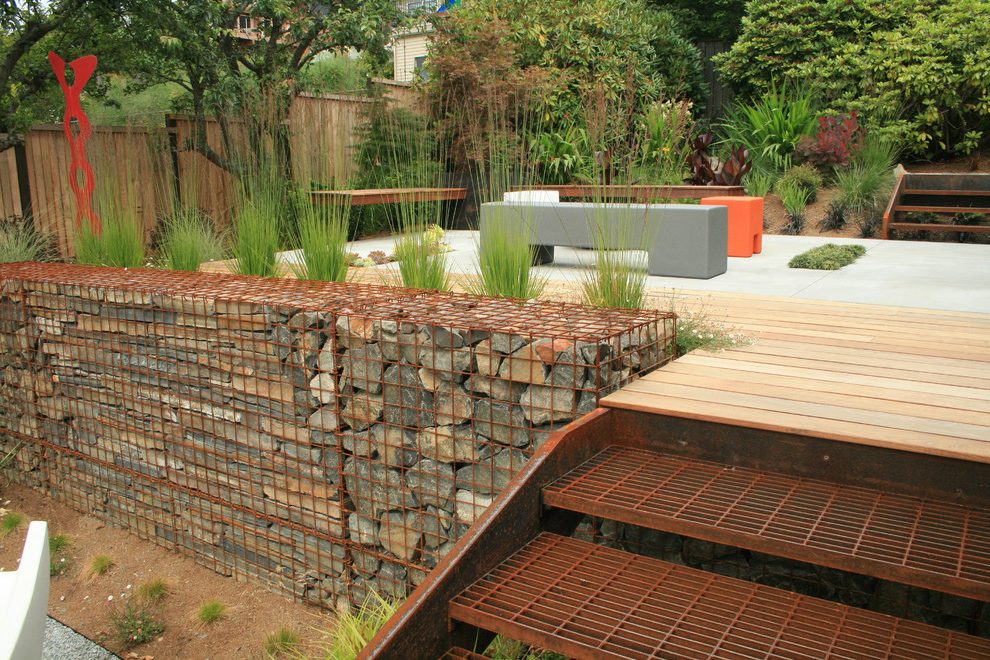 Finding ideas on skirting might feel limited when you only focus on a material, like woods. But you always can find a different skirting ideas when you open to other materials options.
In this example, the deck designer uses gabion as the skirting structure. Once a structure of river banks, now you may use it as garden walls or this deck skirt.
The gabion works well with any deck styles, but here it looks with minimalist deck with a touch industrial style on the deck steps.
25. Lattice and Vertical Boards Deck Skirting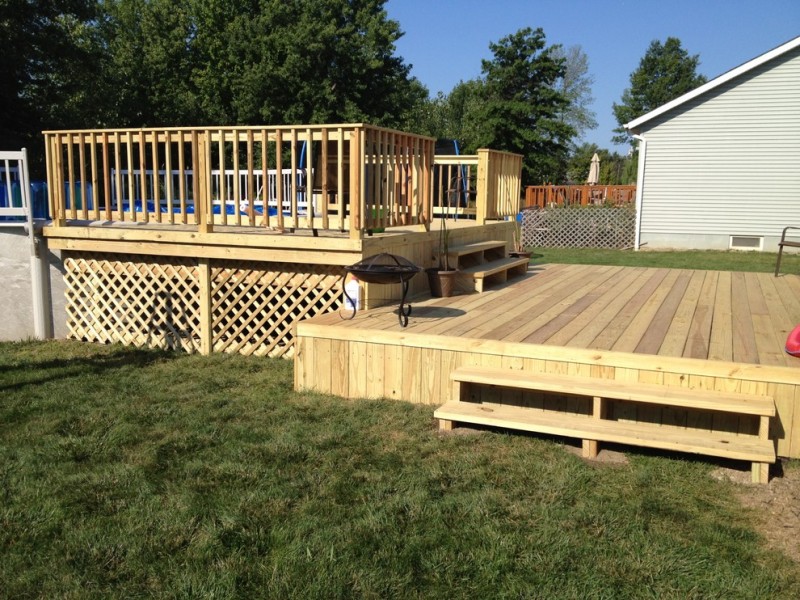 Up to the previous list, you have uniform deck skirting ideas. In other words, you have the same type of skirting all over a deck.
In fact, you can combine more than a skirting type for your deck to get a more pleasant deck's look.
For example, this deck has two deck types. On the pool side's deck, you have lattice deck skirt. Meanwhile, vertical boards deck skirting is under the open deck. Both of them combine well to make an overall deck system.
26. A Concrete Planter Box for Modern Deck Skirt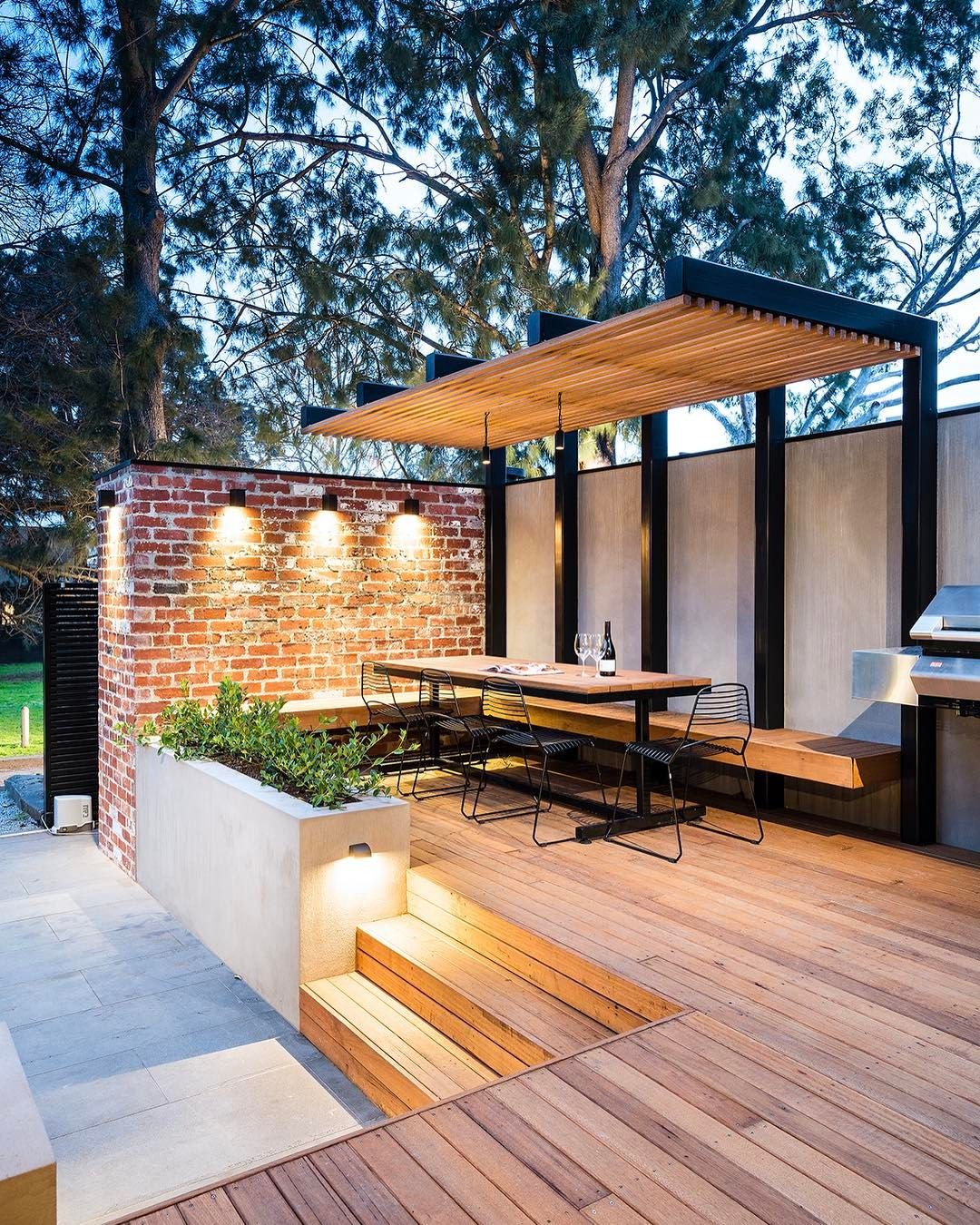 Just like woods, concrete also is a versatile materials. You can almost make any structure with this materials, including this unique deck skirt.
You may install a concrete box plant in place of deck skirt structures. It gives a strong and compact character to the deck.
If you like minimalist design, the simple design of this concrete skirting is also neat enough to satisfy your needs.
27. A Rustic Contemporary Deck Skirting Idea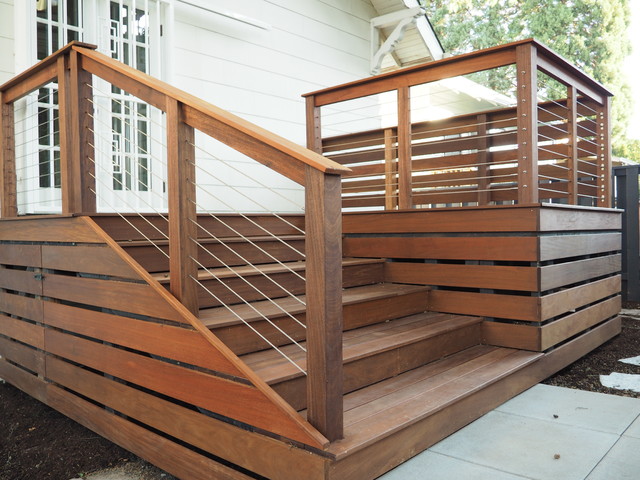 As the contemporary folks are increasingly in love with minimalist designs, so with their decking design preferences.
Unlike the previous eras' decks, the contemporary decks tend to look simple and efficient, both on the sides of deck's layout, railings, and their skirting.
They apply simpler designs for the skirts. Horizontal boards are often employed for the purposes. Some are tightly closed next each other, the others have gaps in between the boards.
Read More: 27 Awesome Baby Girl Bedrooms to Inspire You
Those deck skirting ideas are only a fraction of the almost limitless ideas out there. But, we hope, all that we've presented here can represent the myriad of unique under deck designs you might love to have.
Not only woods, we also picked other skirting materials for you. Lastly, have a nice day.