Want to Redo the Living Room? You Need to Consider this 25 Gorgeous Farmhouse Living Rooms
A living room is the hub of the social activities in the house. For the reason, you need to make sure that it always warm and pleasant. A farmhouse living room is one which could cope with the requirements. The designs are never fail to give the air of cozy, airy, and warm vibes to owners. Interested in this style? Here we offer you 25 awesome farmhouse living room ideas.
1. Retro Living Room in Farmhouse Style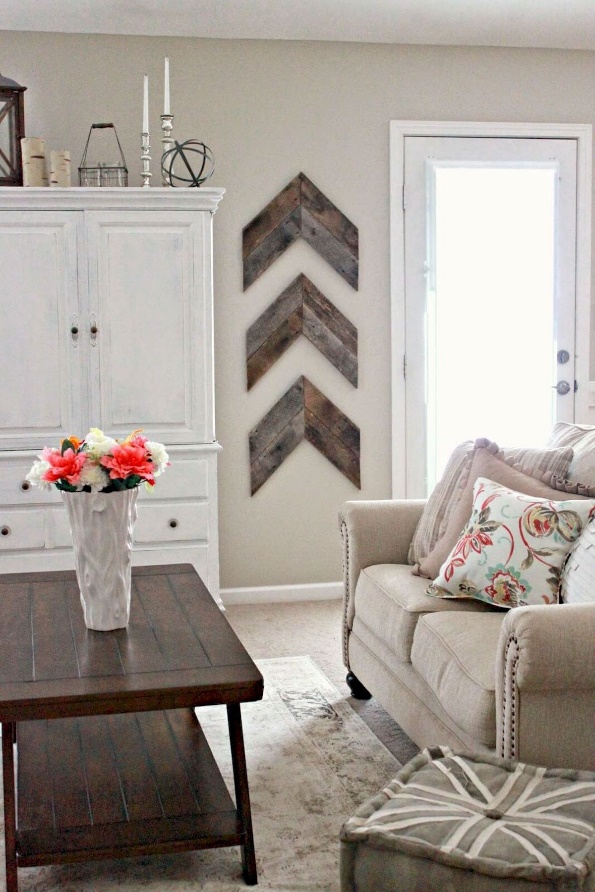 Farmhouse living room always offers cozy spot for you. In its contemporary or in retro versions, the effects are just the same. Here you have the retro one, with all its rustic charms and warmness.
The living area sits on a white and light grey room. Its furniture are of eclectic styles, a characters of retro style. You have the cabinet with classic lines, modern grey couch and Ottoman, plus its minimalist coffee table. A rustic touch comes from the flowers in the vase. And don't forget with chevron accents on the wall. Nice.
2. Shabby Chic Living Room for Simple Farmhouse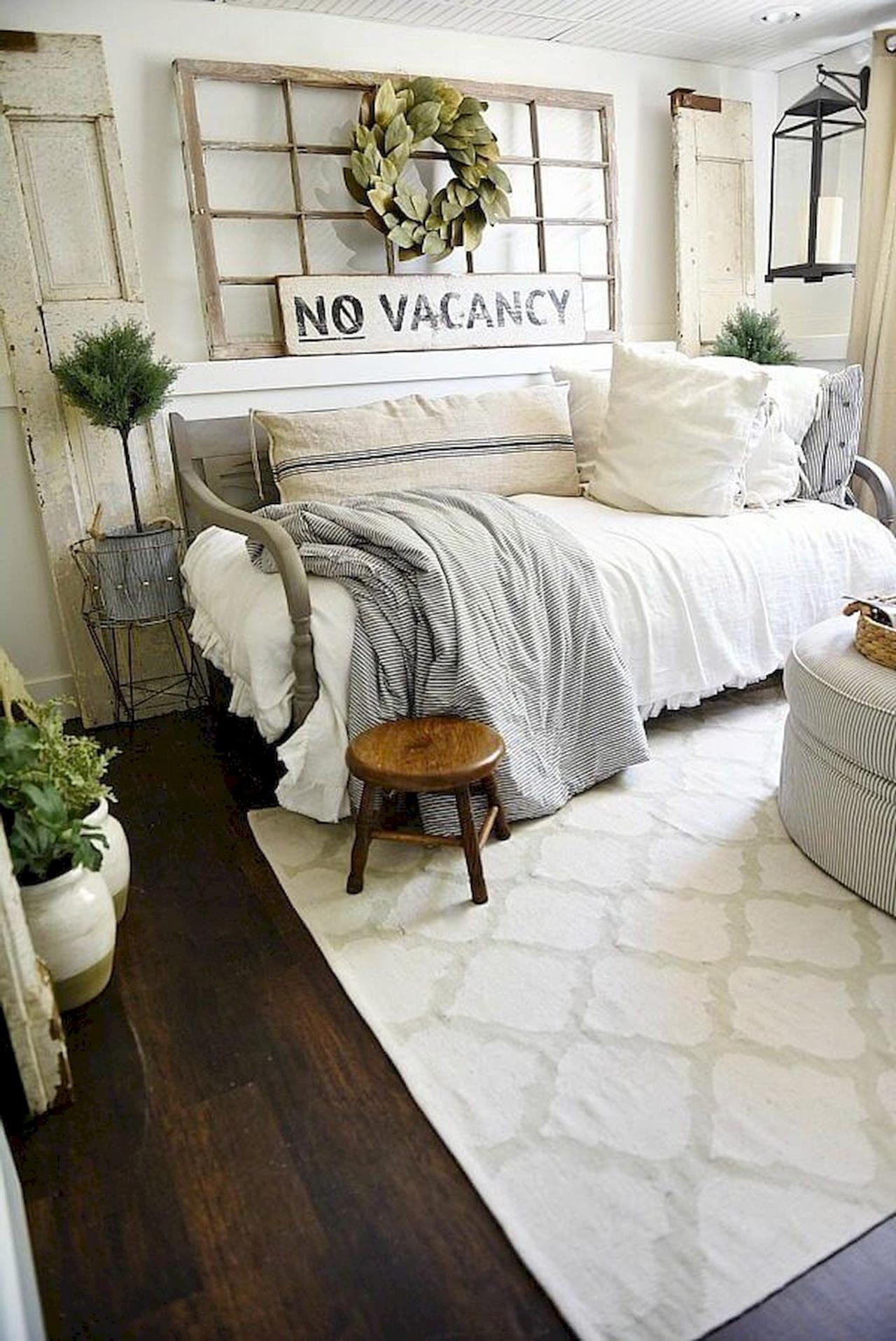 Still in the same spirit with the first idea, this farmhouse living room comes with the same retro feel. Only, here you can apply the style for small spaces. And it's way too cozy to be called retro style. This will be your shabby chic living room.
A shabby chic design loves vintage stuff arranged so that it feels comfortable and timeless, just like the feels you have in a nice cottage living room. Here the highlight a long old chair with comfortable padding materials and a pleasant rug. Surrounded it are old lovely stuff and greenery in vases.
3. Bright Farmhouse Living Room Design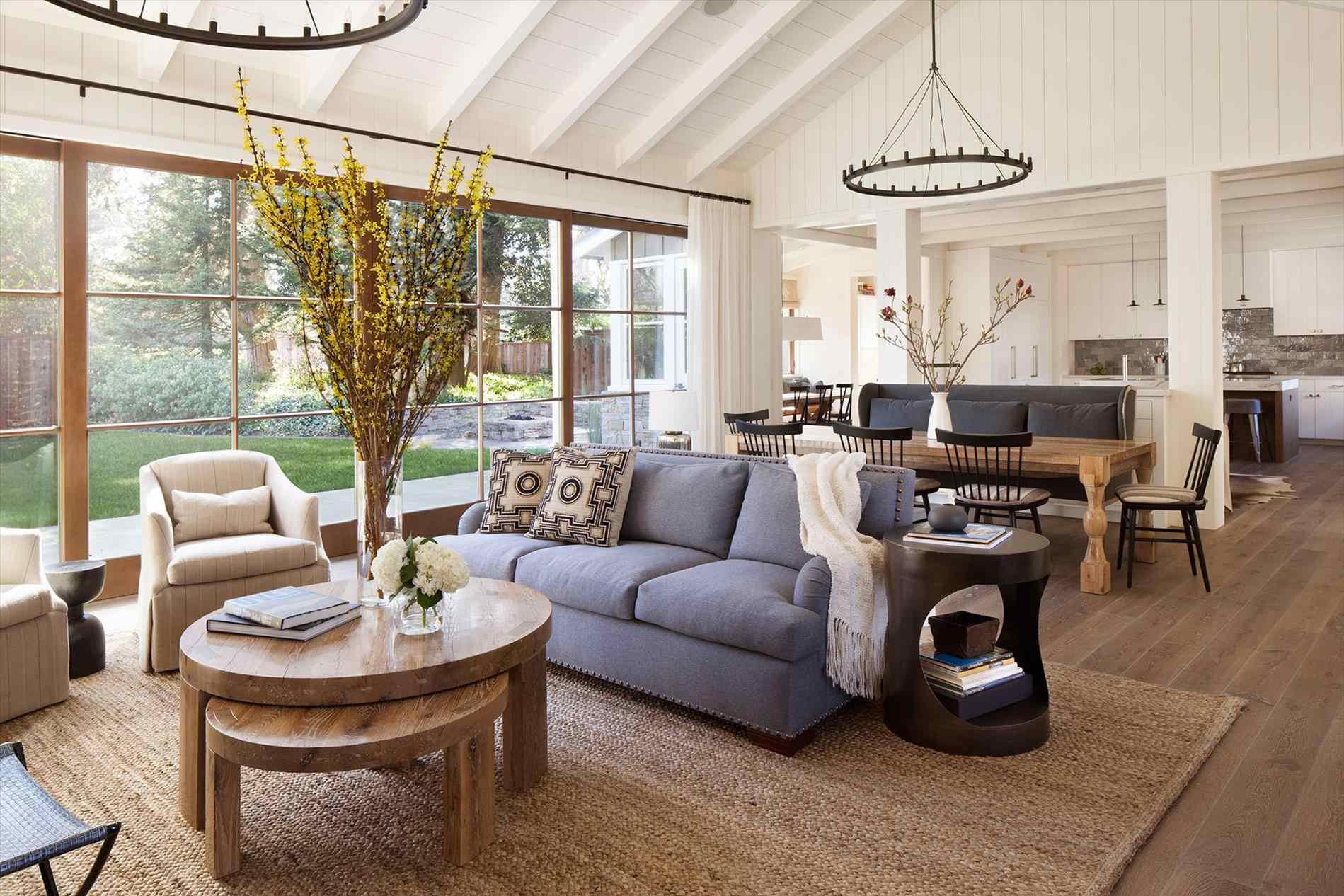 The closer to the nature, the better a living room. This living room in farmhouse style is one good example. It's large, airy, and has an open layout combines well with dining area and kitchen seamlessly.
The better part here is its approach in dealing with the nature. The living room has large windows (or shall we call them glass walls?) which enables much of natural light pouring into the room –making the room fresh and bright, increasing its pleasant vibes.
4. Open and Pleasant Living Room, Farmhouse Style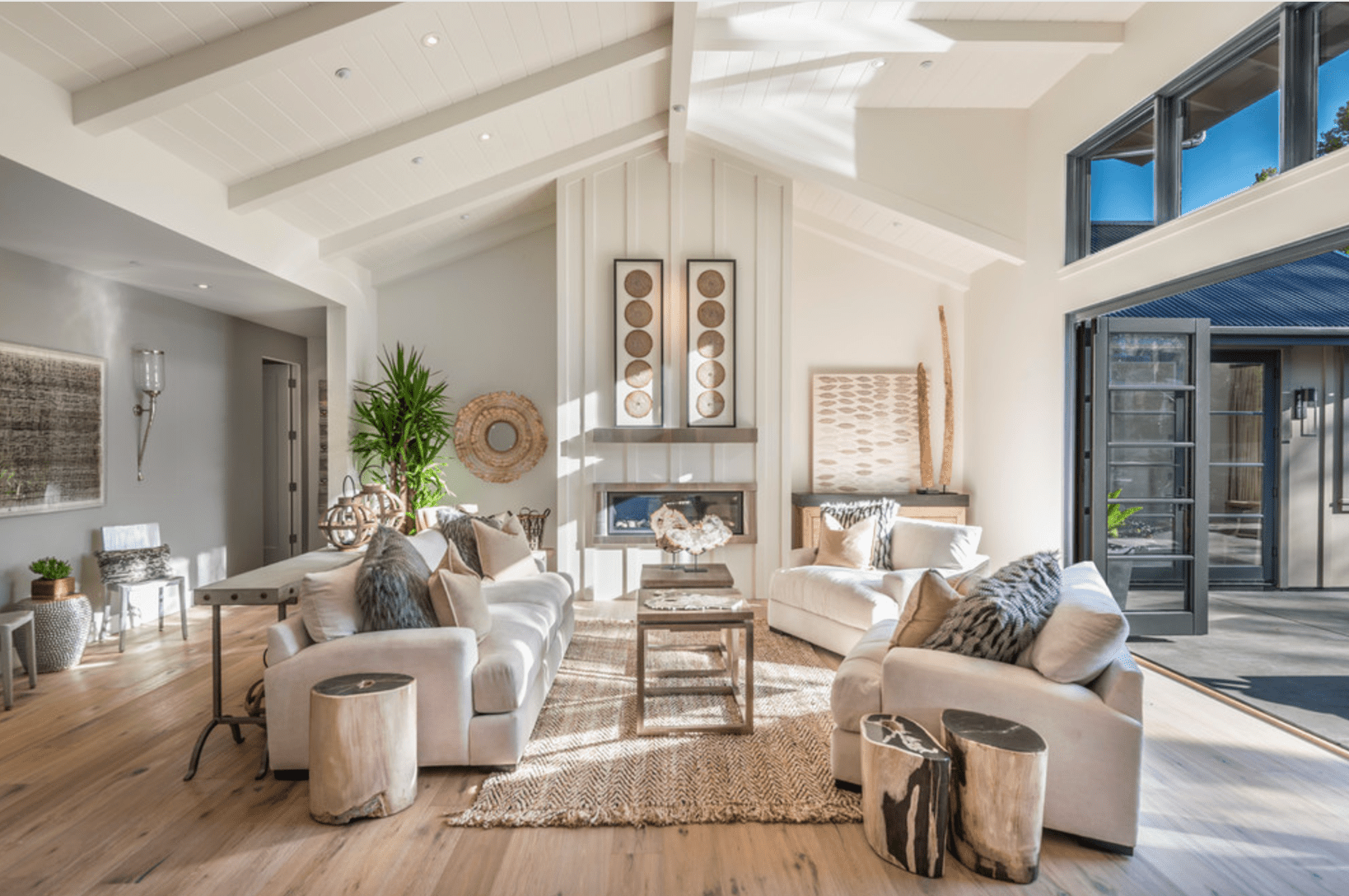 A Farmhouse living room is what you need if you have a demanding job to do daily. Coming home after those wearisome activities and greeted by the pleasant living room is pure joy.
Colorful or not, a living room in farmhouse style is always a pleasant spot to have your time with family or just with a can of cold beer. Here's a picture of what you need: a comfortable living room with open layout, it opens to the outer area of the house through the wide grey rolling door.
5. A Living Room with Eclectic Furniture in Farmhouse Style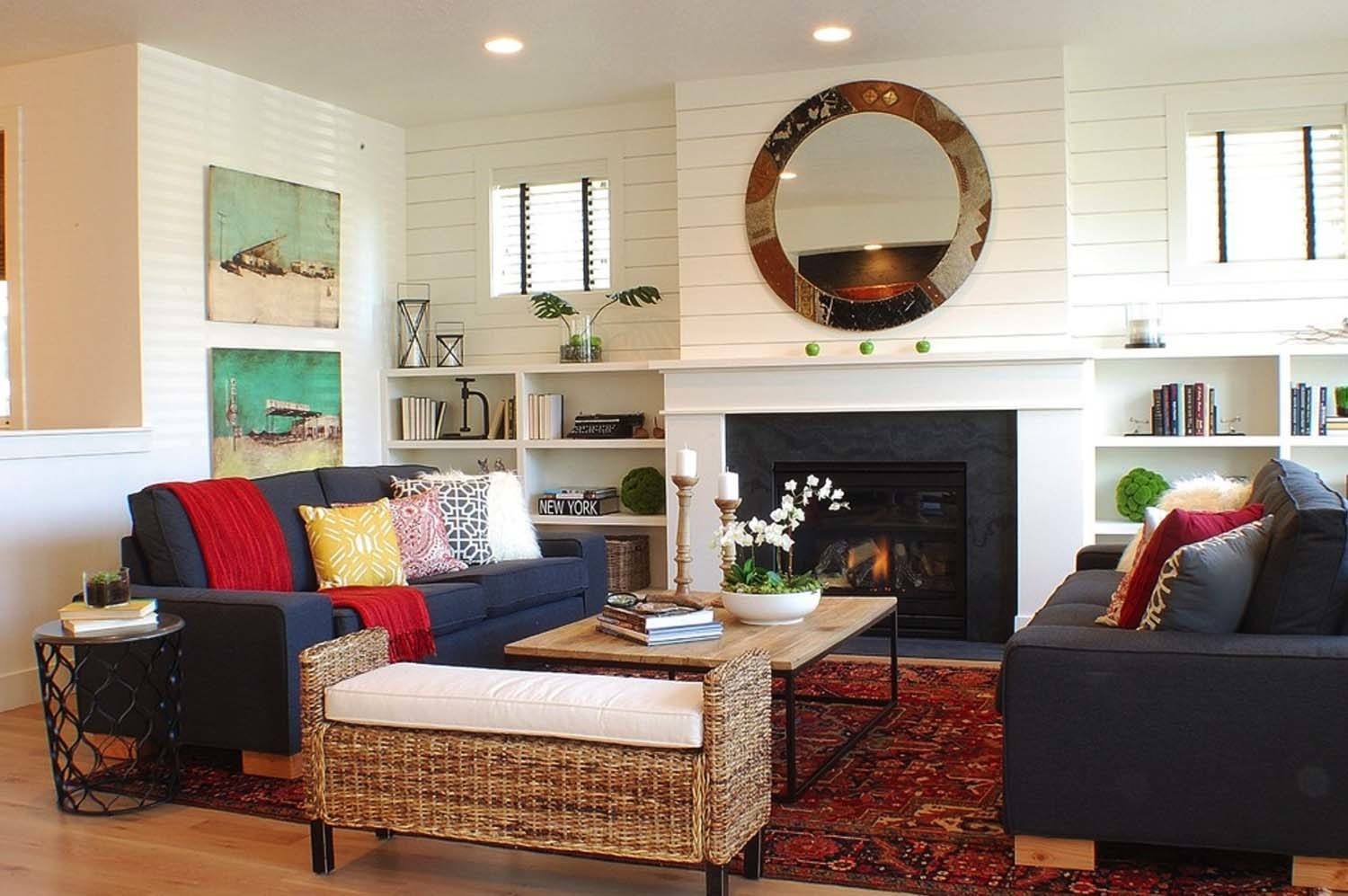 If you love to combines furniture and stuff, try a farmhouse style. This style is easily blend with other styles, from the old to contemporary styles. From the example here, you can see that a farmhouse living room can be as eclectic as you want and it's still awesome.
Here you have furniture and accessories from several eras: the circular Mid Century wall decor, a classic Persian rug, rustic rattan bench, a minimalist coffee table, and a pair of couches with colorful throw pillows. All are surrounded by classic shiplap walls.
6. Farmhouse Living Room in Mid Century Contemporary Style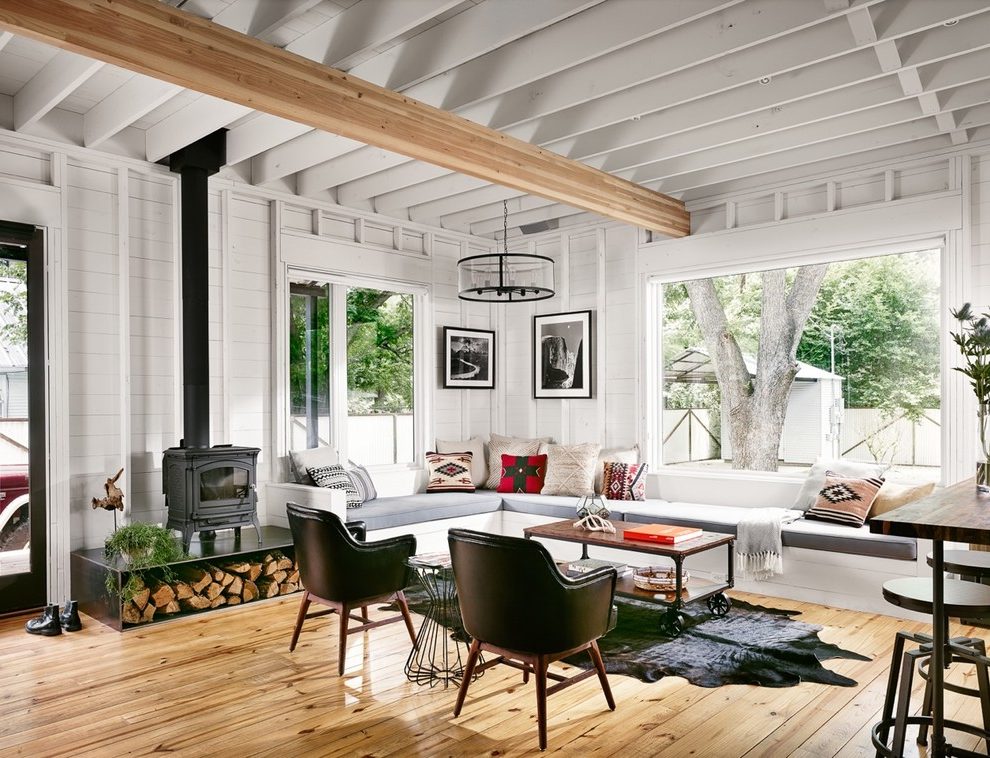 A set of Mid Century armchairs looks straight into a picture window is the nice practical accent feature here in this living room. For you with a love for 50s styles, here's a farmhouse Mid Century living room.
You have no full 50s style here. It blends some of the best features of 50s and contemporary style. Along with the iconic 50s chairs, you have touches of Scandinavian and minimalist style, resulting this airy and warm living room.
7. Small Farmhouse Style Living Room with Blackboard Accessories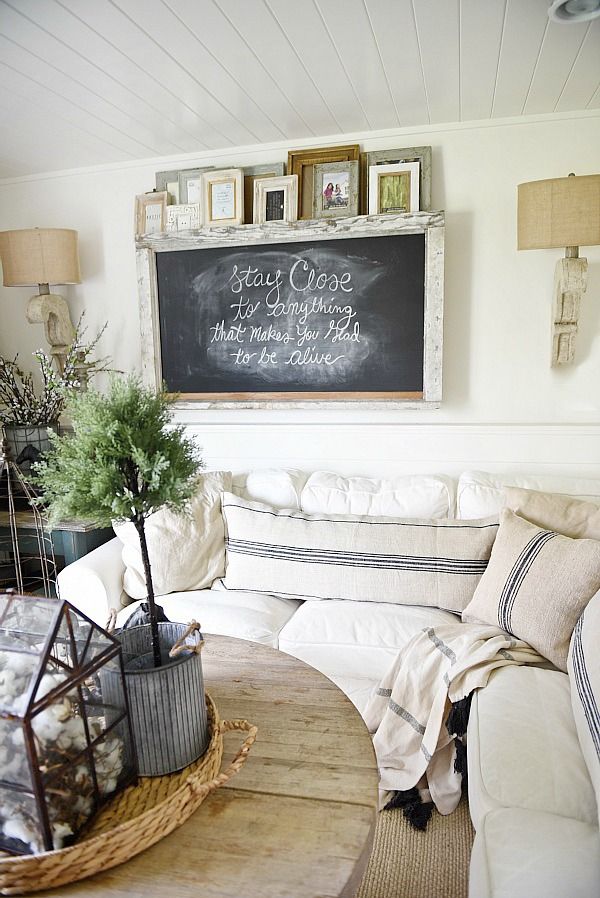 Here you have another small farmhouse living room. Still with its rustic charms, now you have it fuller with some nice accessories.
This small living room offers you utmost comfort with a stuffy corner couch (plus its snug throw pillow) and an old unfinished round coffee table. Below, you have another comfort booster in the form of sisal rug. To highlight the living room, an old blackboard hung on the wall, flanked by 2 vintage wall lamps, as a nice wall accessory.
8. Blue Living Room, Farm House Style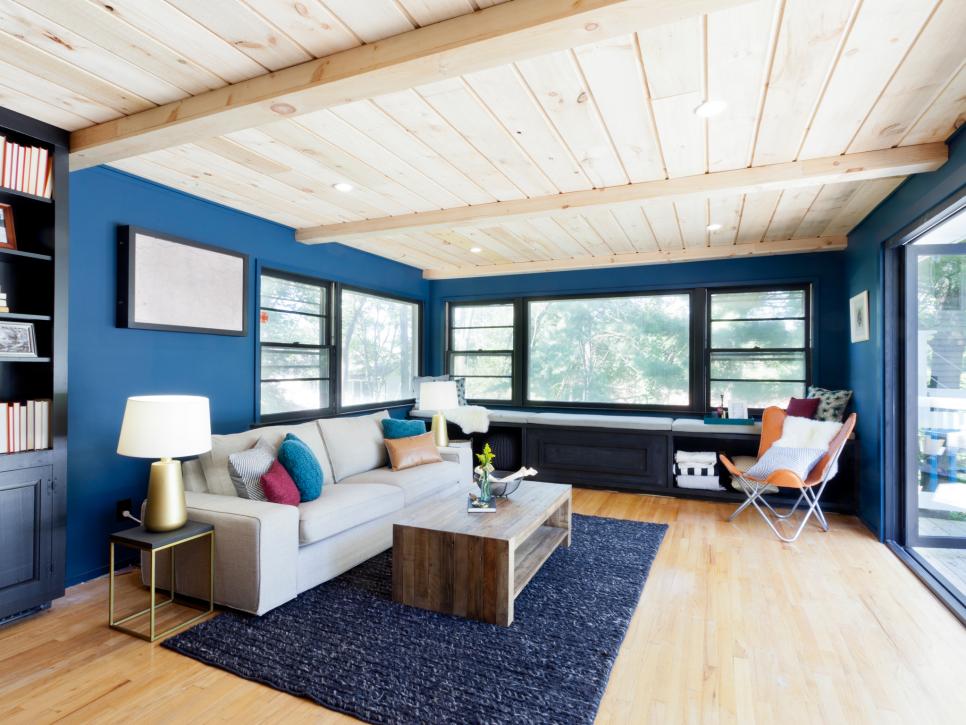 Some said that colors have inner meanings which could influence our mood. Blue, for instance, is said to have positive vibes to our life. The color is thought to represent stability, peace of mind, sincerity, and wisdom.
This psychological aspect of the blue is probably the main factors of why this color is so popular. And here's a simple example of it, a wood living room with blue wall all over. Combined with the wood floor and flat ceiling, the living room is cozy. Added with a modern couch, coffee table, and deep blue rug, it's inviting.
9. Farmhouse Living Room Decorating Ideas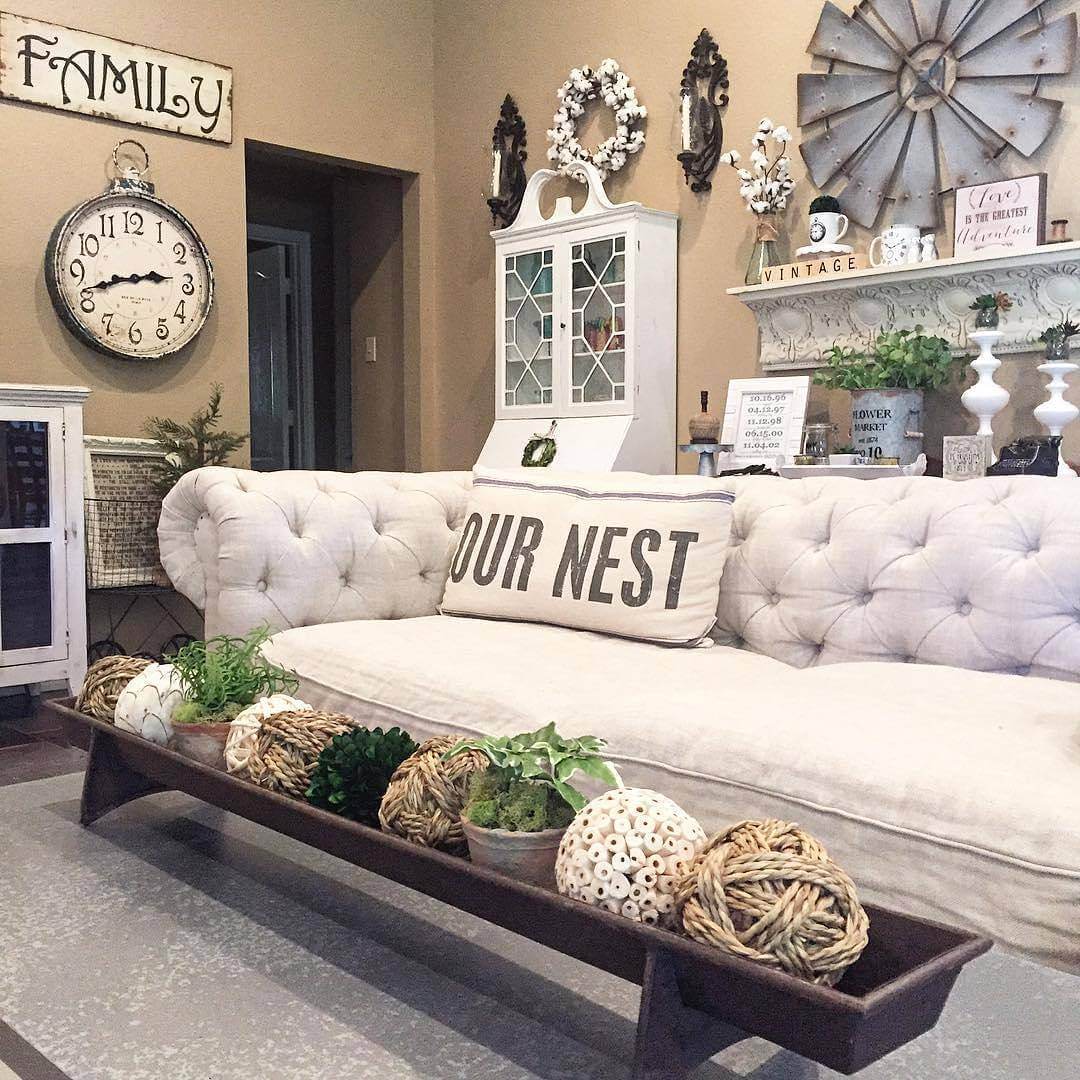 Without any decor, a farm living room is still warm and cozy. With the decor, it's even better. Fortunately, you won't lack any decorating ideas when you deal with a living room in farmhouse style.
Here's an example of farmhouse family room full of decor. In the foreground, on the coffee table, there you have a long rustic container full of twine balls and potted greens. The background is full of decorating ideas, from old wall clock, wreath, candle holders, and several more. And you have a charming living room.
10. Affordable Small Living Room in Farm style with Reclaimed Wood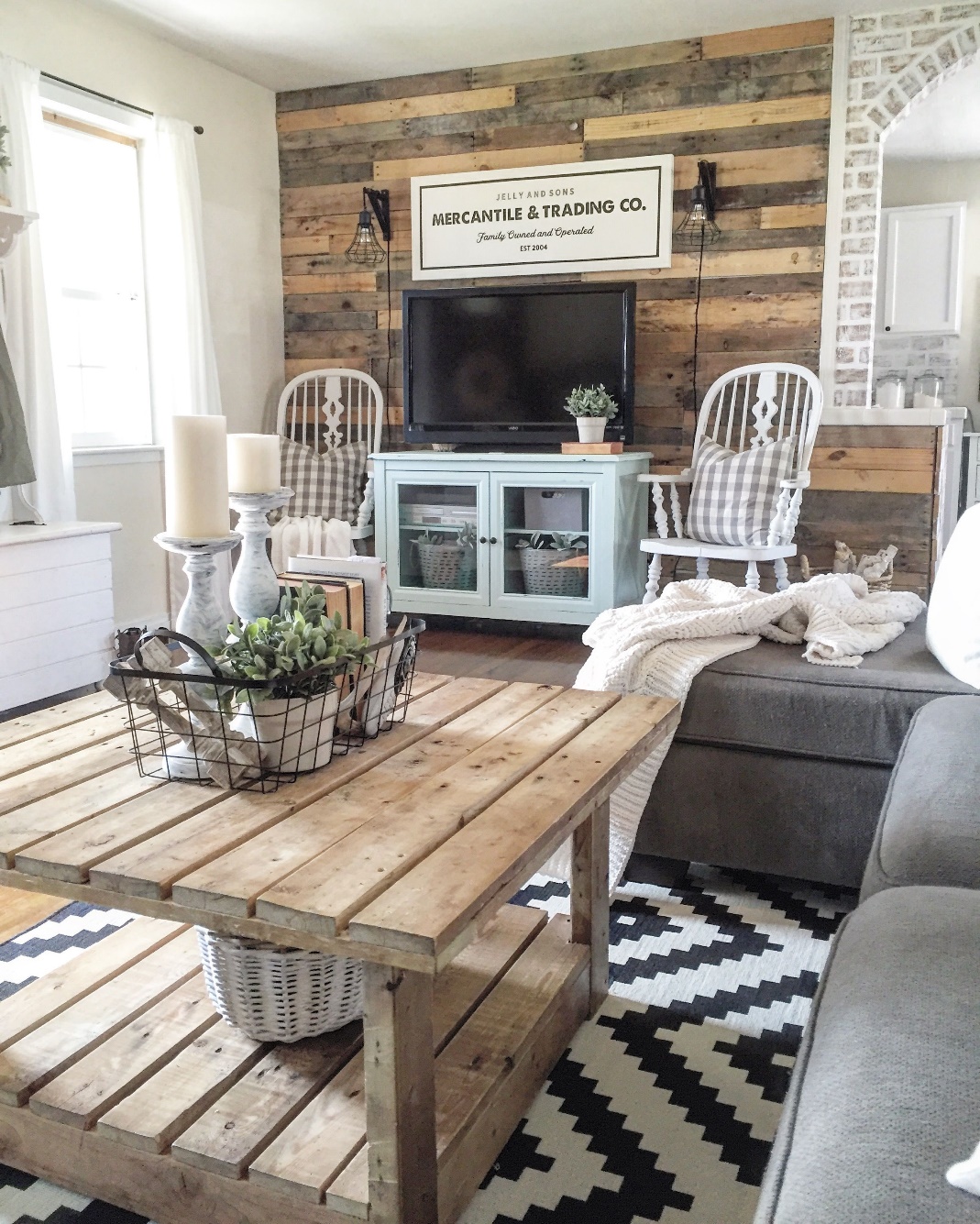 A limited budget needs a fertile mind and creativity. That's if you want your things right or suit well with your tastes. With your creativities (plus deft hands) you even can turn unimpressive living room into one with lots of wows.
Here's an example. Reclaimed woods (from salvaged old furniture, cabinets, boxes, etc.) turn a living room into a rustic small farm living room. Here the reclaimed woods play their roles as accent wall, floor and the coffee table. Warm and pleasant, right?
11. Urban Monochromatic Living Room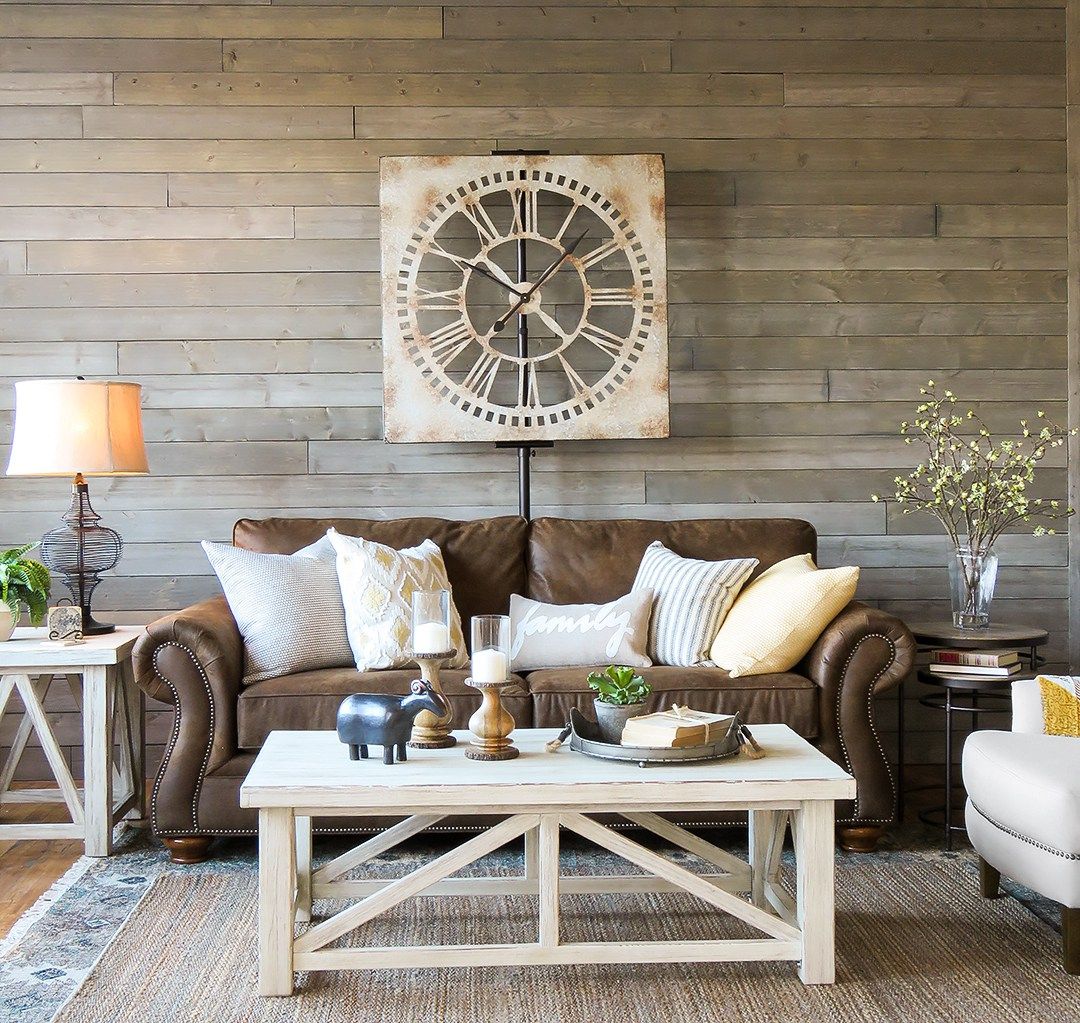 Having a farmhouse living room means that you have a basic living room. It doesn't mean that you have a limited comfort here. But, you only need what you love most and what make your life happier.
And these include in the living room's colors. A farm living room tends to use simple and calm color schemes, including monochromatic colors like this picture. The color scheme won't shout aloud, being from single variant. But this's the power, I helps to make this urban room warmer and uncomplicated.
12. A Neutral Living Room in Farmhouse Style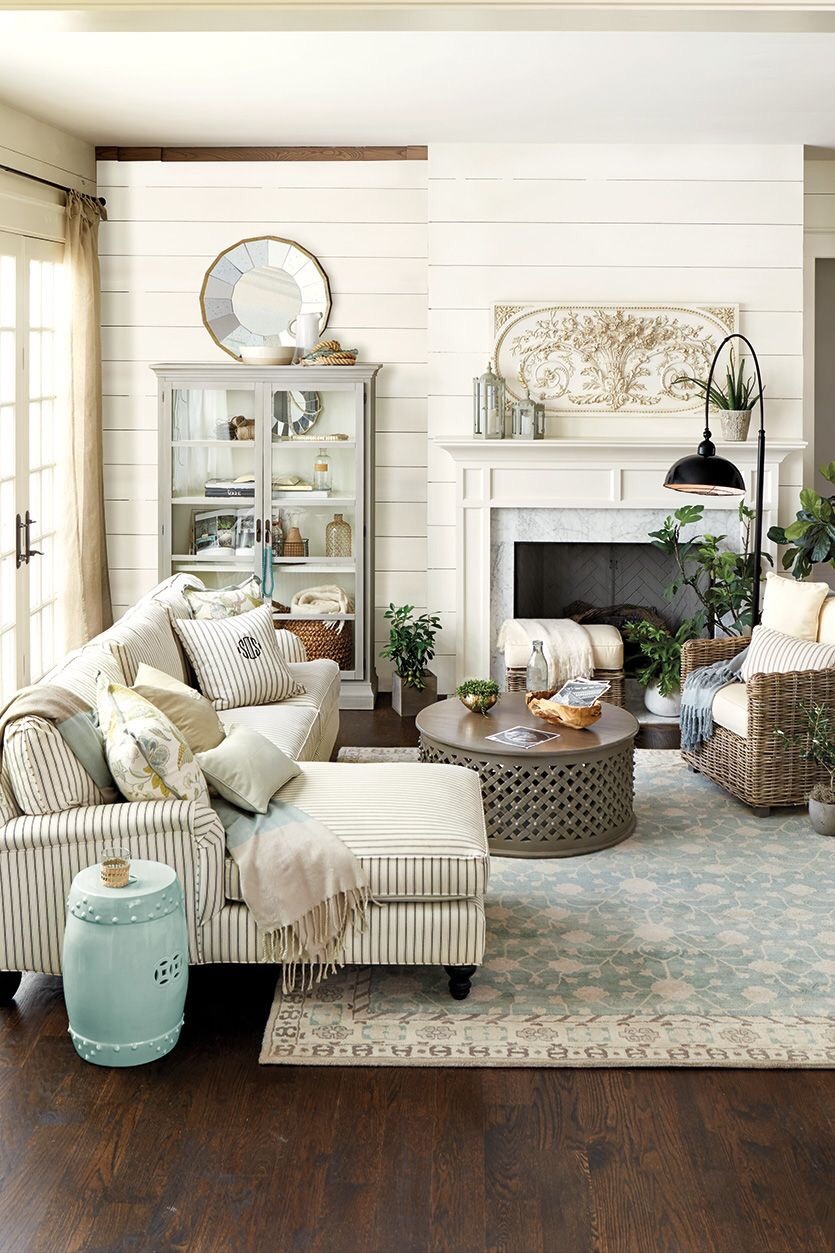 Neutral colors (like white, grey, black, or brown) are known for its soothing or calming effects. That's why the Scandinavian use almost always use them as their interior colors. The color, which also close to natural colors, also offers warmness.
This shiplap living room also use the neutral color schemes to build its warm and inviting atmosphere. Along with stripped couch, this living room also gives you rattan reading chair with the overhanging lamps. All are in neutral colors.
13. Farmhouse living room Decor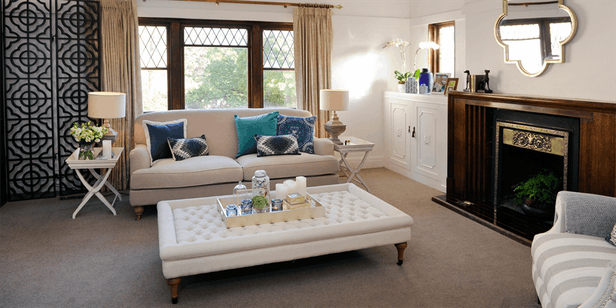 Now, if you want something warm and cozy again for your living room, then this provincial style. Originated from a southern French territory called Provence (hence the name provincial) some 2 centuries ago, this style is still going strong in the interior and exterior designs.
The style comes with its characteristic mirror, the fireplaces, and beautifully carved armoire. And it's full of light. Here the classis provincial style blends nicely with the modern couch and armchair.
14. A Gorgeous Farmhouse French Living Room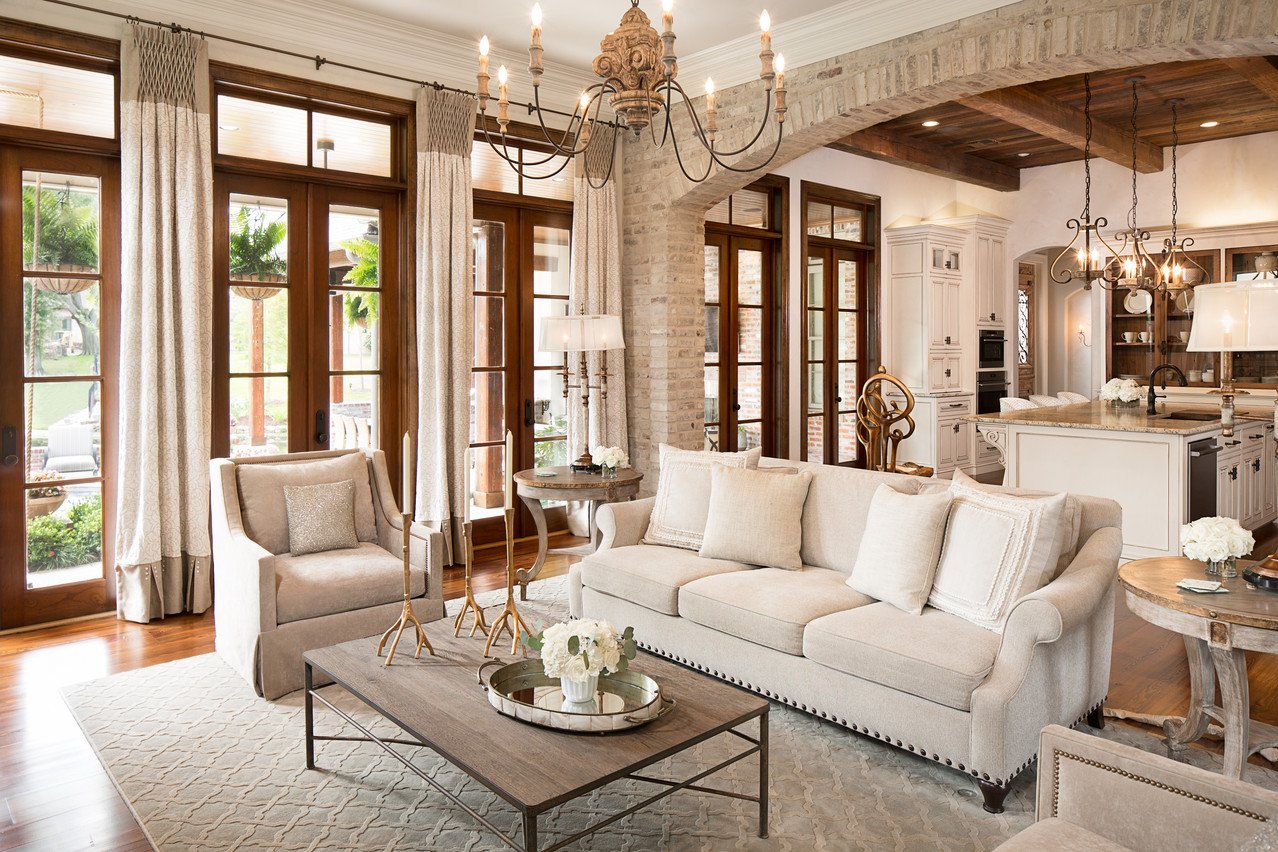 From the Continental, you have several living room design options, such as the English Style, Scandinavian style, Italian style, and more. But here you have French style for its quality-built and elegance.
This picture gives you a glimpse of a French style farm living room. It offers much comfort with the simple but gorgeous open layout. Here, classic French details blend nicely with modern amenities.
15. A Small Rustic farmhouse living room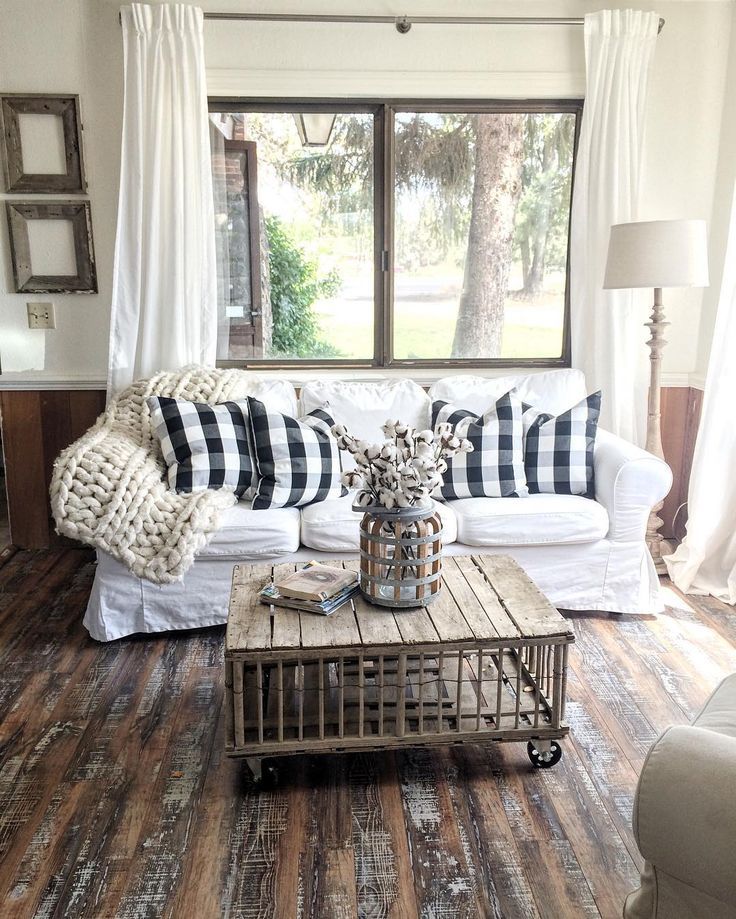 A rustic style reminds you of a spot with vintage but pleasant stuff, the one you see in an old beautiful cottage. Rustic style, along with barn style, is one of several styles loved by contemporary interior design enthusiasts.
No matter the sizes, a rustic style always is cool, like this farm style small living room. The point of interest is a cushy white couches and its chequered throw pillows. These features are in a rustic surroundings, like the pallet wood coffee table, and unfinished wood floor.
16. What are Better Paint Colors for Farmhouse Living rooms?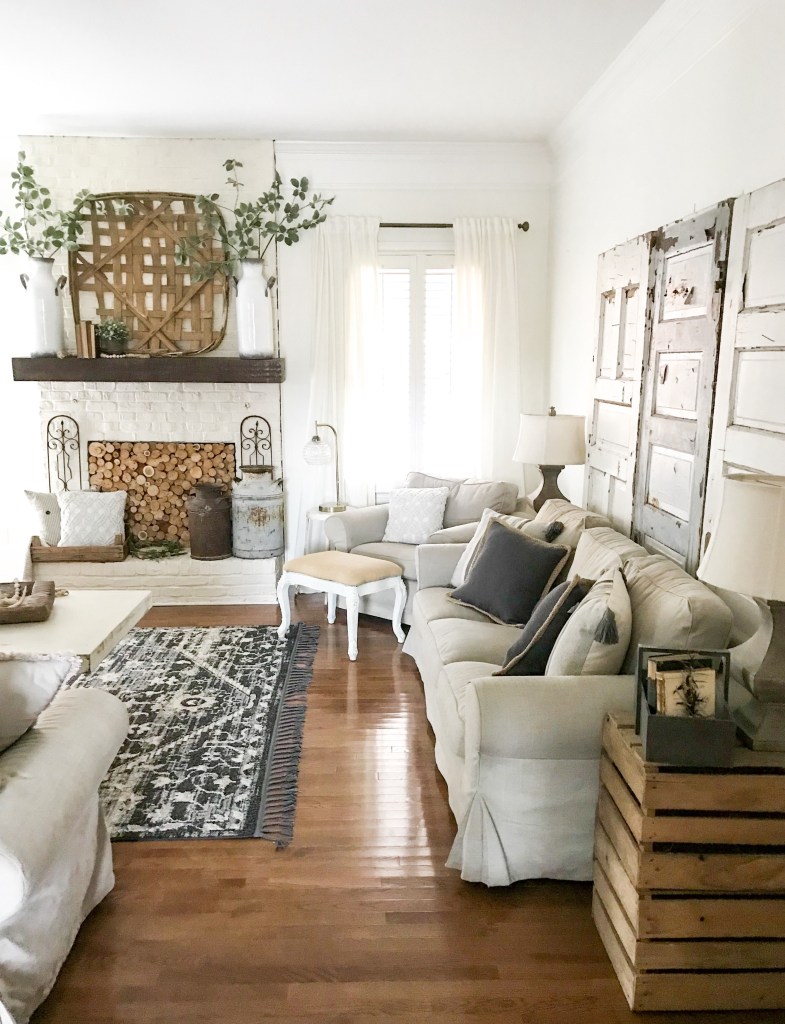 Your living room is completed. Now it's time to paint the walls. So, what's the right paint colors for your farmhouse living room? It's up to you. But. If you think you have no clues, try the neutral colors.
Neutral colors, as briefly mentioned previously, are good for starters. The colors blend nicely with almost any other colors. In this example, the owner paints the walls with alabaster white for not too bright white, but also not too subdued one. So, what's your favorite neutral color?
17. Country Living Room, Farmhouse Style living Room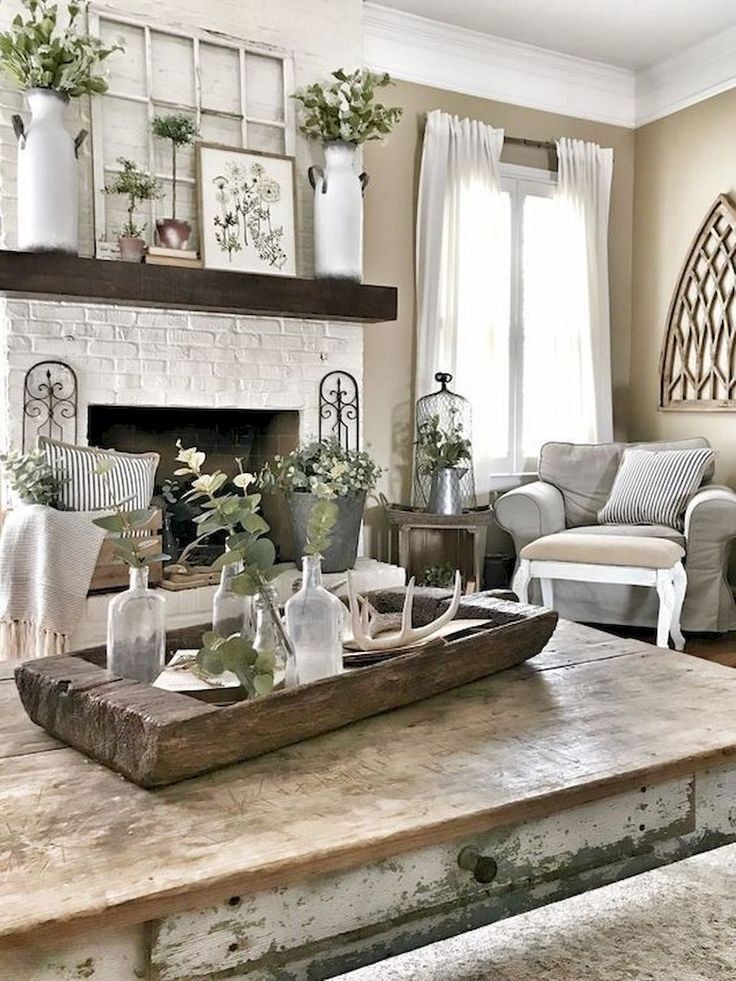 Country style and farmhouse style seems unseparated. A country style always has farmhouse touches. And so with the farmhouse style, vice versa. The difference is that the country style embraces a more rural farmhouse styles, the more rustic and raw styles.
The style also uses more natural elements, like the country living room in the picture. You have bright room full of comfort derived from old and natural stuff, like the flowers in the vases, trellises, and the raw wooden container on the coffee tables.
18. A Classic Farmhouse Living Room with Curtains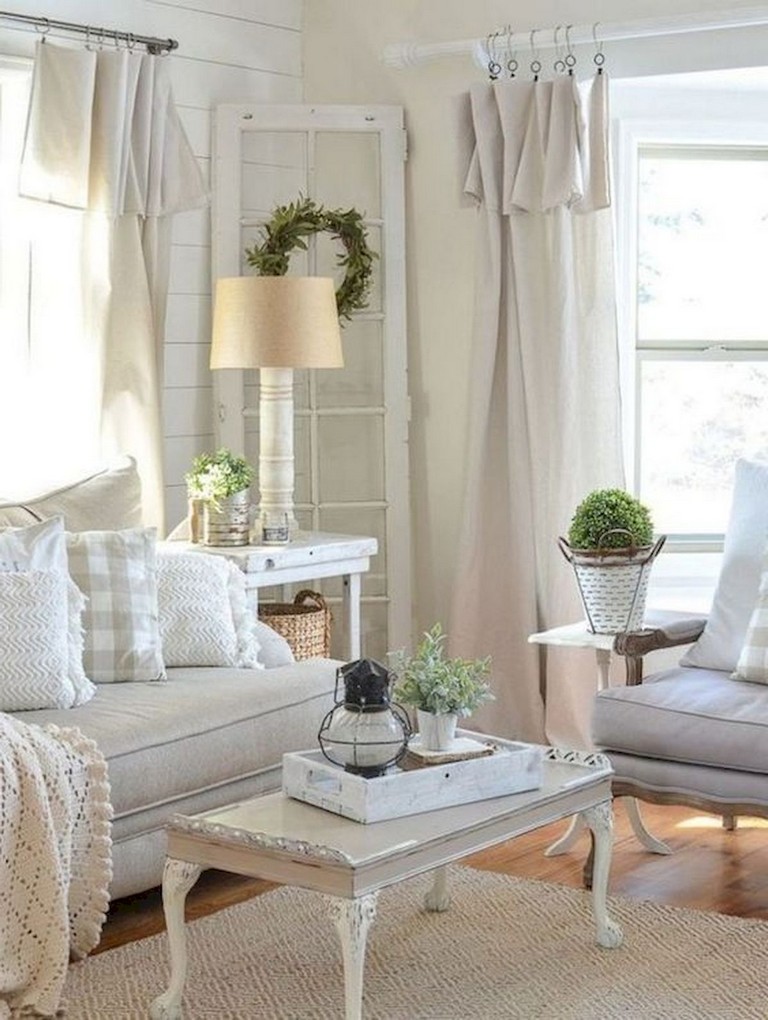 Curtains helps you to protect your interior home from prying eyes. In short, it helps you to keep your privacy intact. Almost all living room designs has its own curtain styles, and this includes your farm living room interior design.
A classic living room needs elegant curtains. For a farmhouse, you don't need the heavily patterned curtains. All you need is light curtains from light materials, like the one in the picture. They keep your living room private, but still light enough to not to overwhelm the overall living room layout.
19. Modern Living Room in Farmhouse Style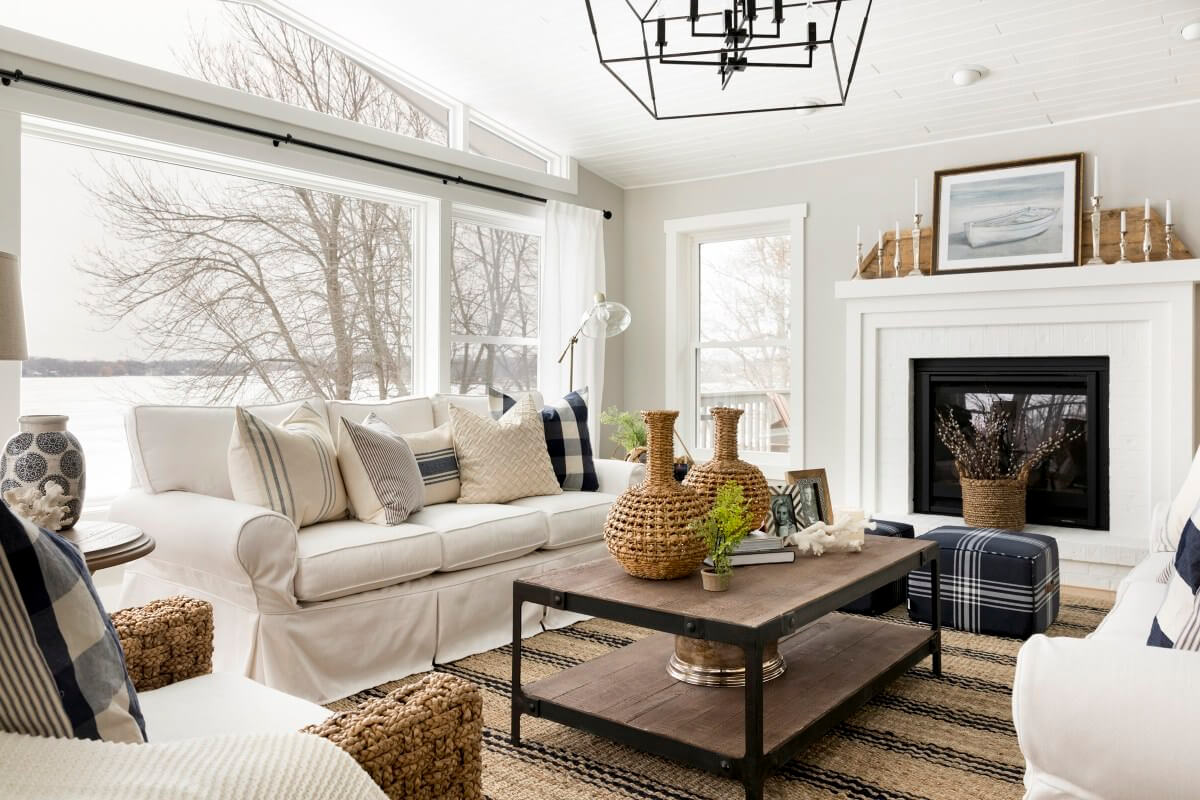 A farmhouse style is a versatile style. You can have your living room in classic style, but still have the farmhouse approaches. But you can also have it in a modern farm living room, just like this one in the following picture.
The living room has all the modern comfort in it, from its white couch, modern table, to its magnificent picture windows. The white sisal rug and wicker armchair add warmness to this living room.
20. Industrial Black and White Living room. Farmhouse Style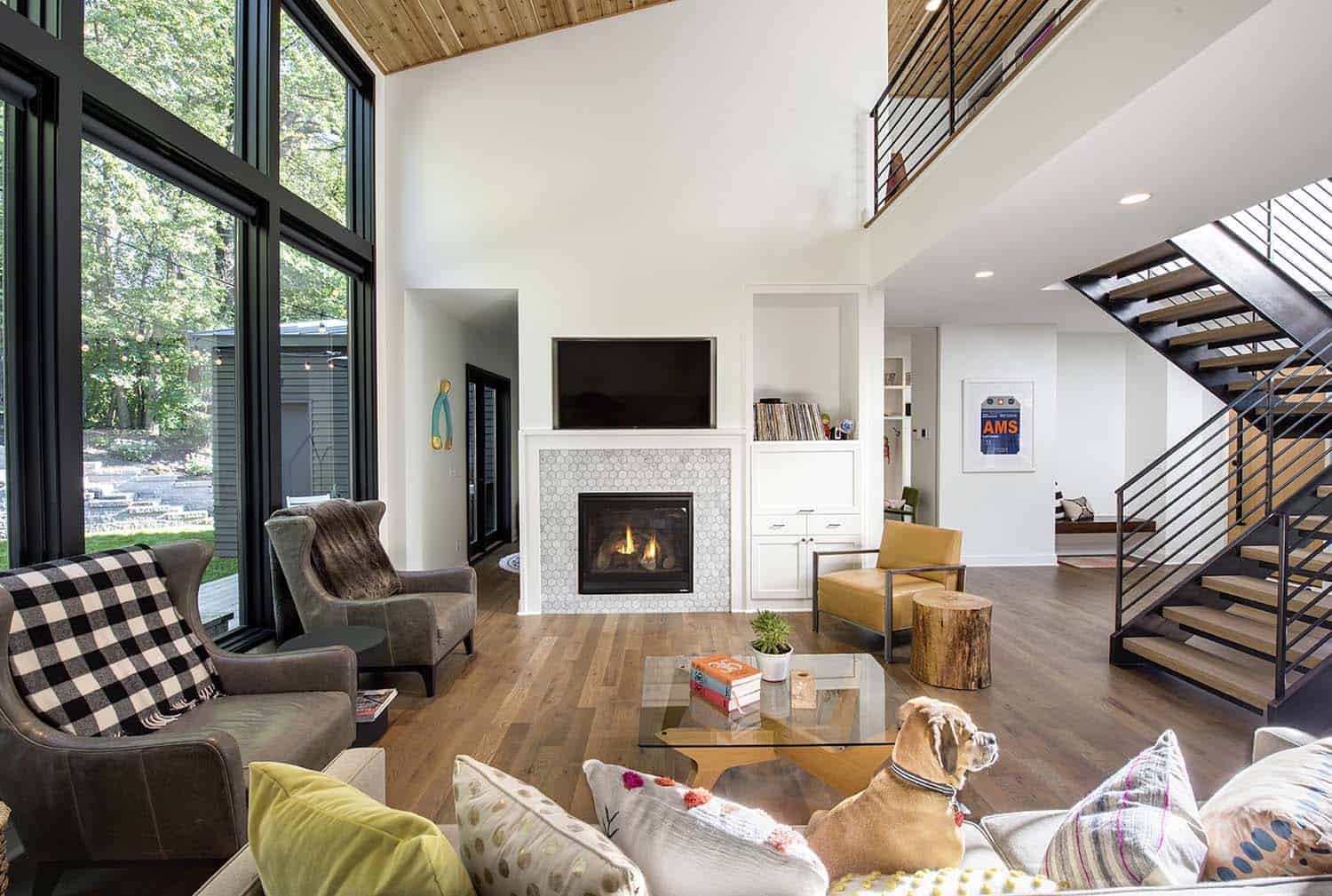 You don't have a complete list of farmhouse styled living rooms without this now popular design, the industrial style. If you love minimalist touches, consider this style. Based on industrial layouts and schemes, the style always strives to have the most basic and purposeful.
But here, in this farm living room, you also have the beauty and warmness, via the playing of wood, glass, and metal color combinations. The old furniture and several colorful throw pillows add the room with nice accents.
21. A Calming Coastal Farmhouse Living Room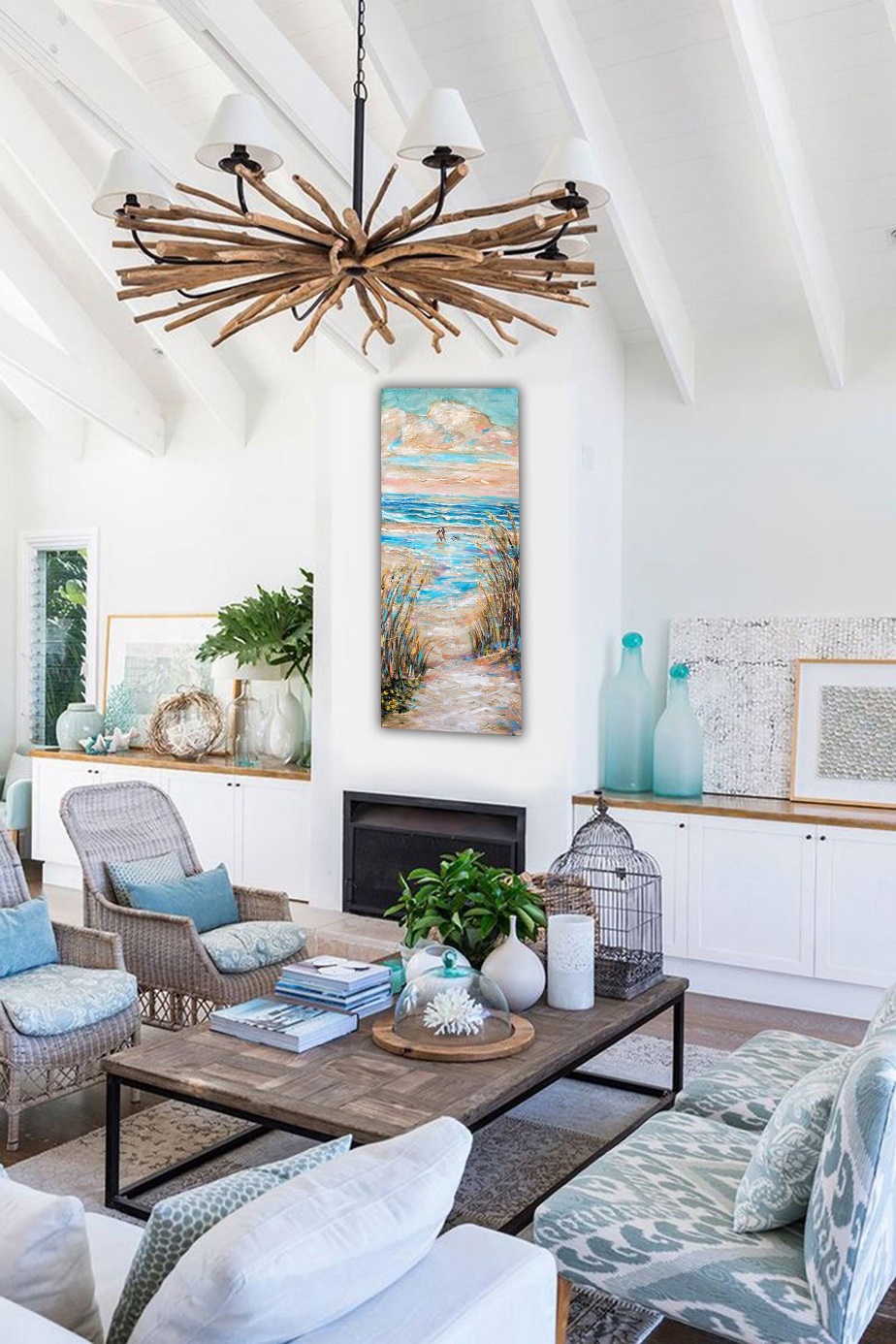 Coast offers you peace of mind. A farmhouse gives you warm touches of traditional and peaceful rustic living. You can have both in a coastal living room in a farmhouse style, just like this one.
The airy coastal cottage atmosphere of this living room combines well with the rustic furniture and all farmhouse style accessories like its unique hanging lamp' decor and potted greenery.
22. Sunny Living Room, Old Farmhouse Style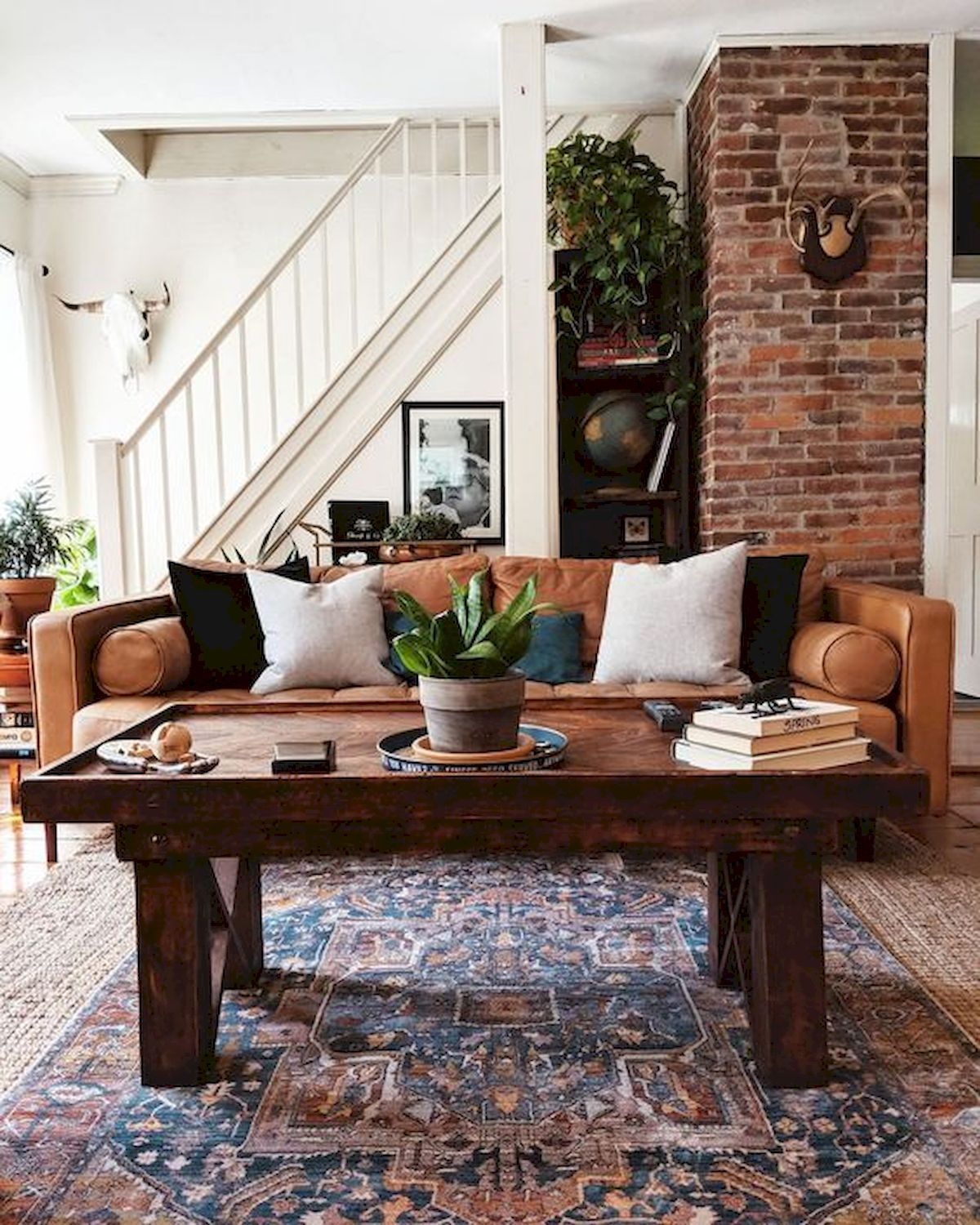 Good lighting is everything in a farmhouse style. Just like the Provincial or even Scandinavian styles, farmhouse style always wants light –much of it. Light is its soul, so an old or contemporary farmhouse always needs good lighting.
This old living room in farmhouse style is no exception. The stuffy coach won't feel heavy, and neither do its solid wood coffee table and brick walls. This because the lighting is ample from the side of the house, via big windows.
23. Scandinavian Living Room in Boho and Farmhouse style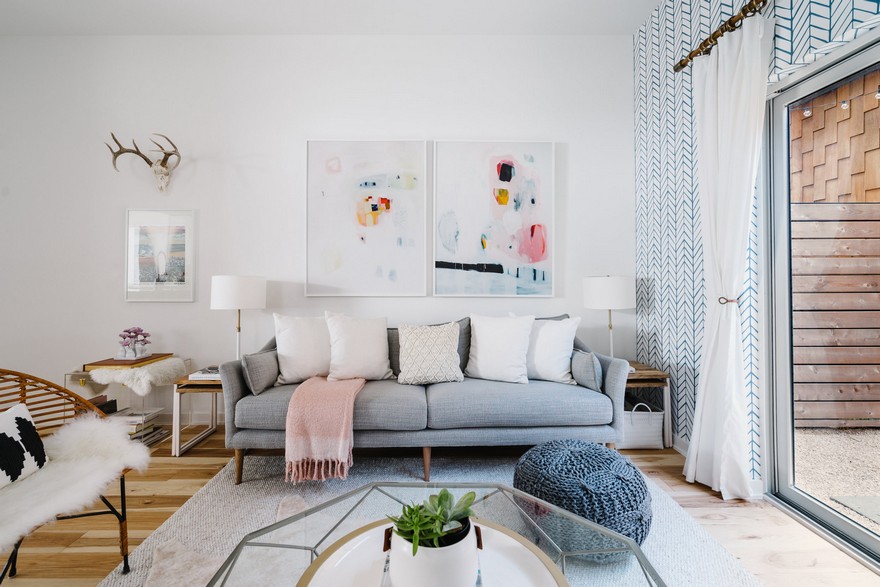 A Scandinavian living room with a dab of farmhouse style and splashes of Boho decoration ideas? Yes, you can have it in a living room. Here's the one to inspire you. The light design of Scandinavian style prepped with iconic features from farmland, like the antler head, and soft colorful knitted stuff from Boho style.
24. Open Contemporary Living Room in Chic Farmhouse Style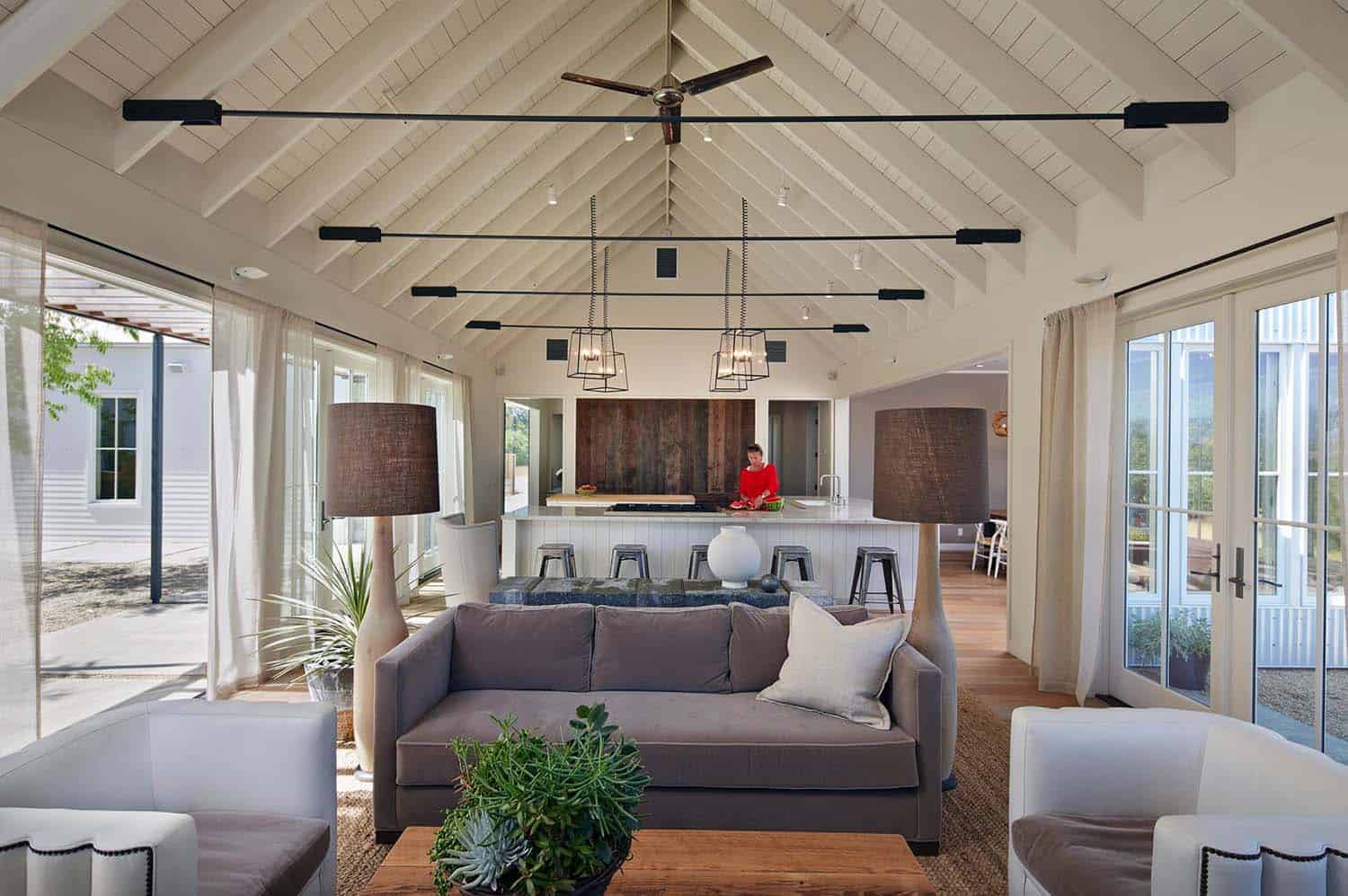 Contemporary style living rooms have so many facets, and this one is one of its best facet: a contemporary living room in a farmhouse style. This contemporary living room sits in an open room, one with the kitchen area, separated by a bar counter. It has high open ceiling, open wall on both sides, and grey comfortable contemporary furniture. All are in a purpose, giving the highest comfort.
25. A Cozy Farmhouse Styled Mid Century Living Room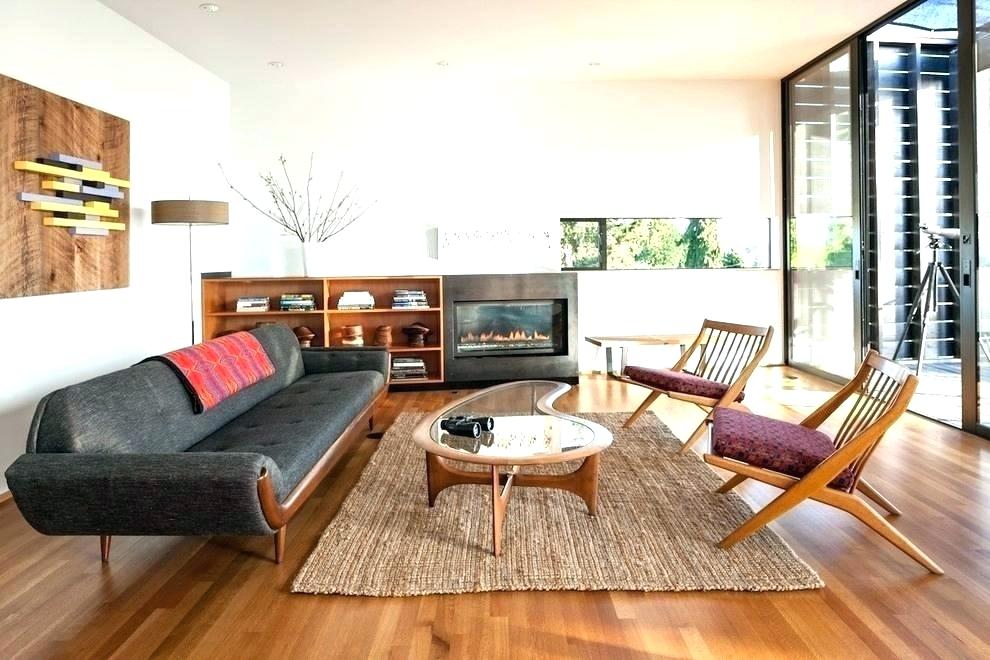 A blend of 50s furniture and the pleasant traditional atmosphere is this cozy farmhouse styled mid century Living Room. Here you meet the skinny-legged Mid Century chairs and sofas with the pleasantness of a country living with its airy and traditional air. If you want to have a neat, retro, and warm living room, you should consider this living room design.
Read More: 20+ Eye-catching Mid Century modern living room ideas for Your Inspiration
In compiling this ideas, we strive to cover the most popular living room ideas around –from the traditional to contemporary styles. Though so, we sure that this list is far for complete. But, even so, we hope you enjoy this all 25 gorgeous farmhouse living room ideas and can grasp some the ideas.