Bike enthusiasts know better that nothing can separate them from their beloved bikes. The bikes have become one with their living styles. And from the reasons, they even go far and length in finding the better bike storage ideas for the bikes.
A bike in modern senses came in the middle 19 century, invented by Ernest Michaux and his partner Pierre Lallement. The legendary bike with asymmetrical wheels Penny Farthing came a little later. It succeeded by modern bicycles, the safety bicycle, in 1885.
After the 1885 invention by John Kemp Starley, bikes practically had no important changes –both in designs or mechanisms. Even now you still can see the basic ideas, though they're liveried in modern designs and features.
Like to biking but still have no suitable place to keep your bikes? Here we've picked you some awesome 20 bike storage ideas to spark your ideas and finally executed them into gorgeous bike storages. Let's check them.
1. A Bike Wall Rack Bike Storage Idea for Efficient Bike Shelter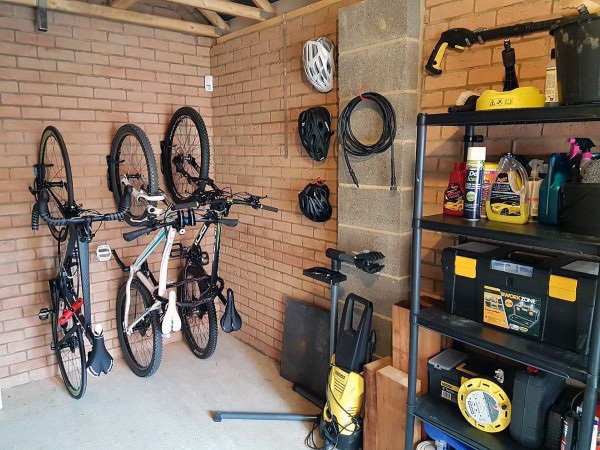 Your garage probably is the most versatile space in the house. Along with its main purpose as your cars' shelter, it also holds other things of yours, ranging from gardening tools up to the workshop tools.
If you need a place to shelter your bikes, a garage also is a handy place. You just need to find empty corner spot of the garage and fix some bike wall racks onto the walls. That's it, you have an efficient and space-saving bike shelter.
2. Simple Garden Bike Shelter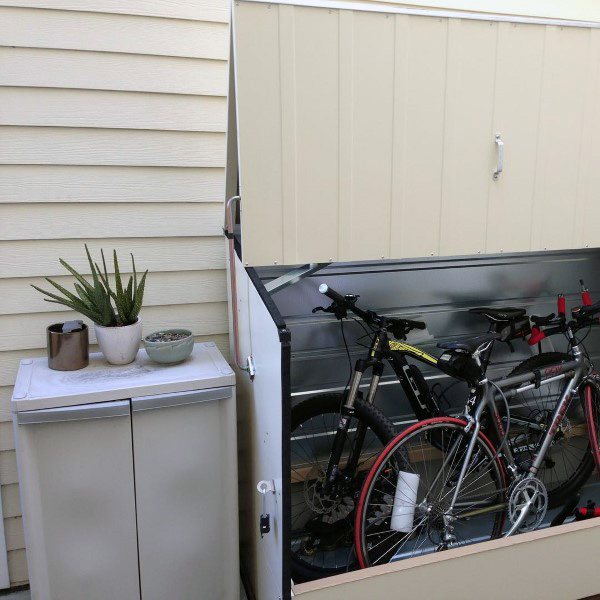 So what should you do if you don't have the garage to store your bikes? You have several options, as you can use almost all parts of the house as the bike shelters. If you don't want to store the bike in the house, try this outdoor garden bike shelter.
Being out of the house doesn't mean that your bike will be exposed to the elements. The trick is by installing this dumpster-like bike shelter. Put this covered shelter out in the garden or next to the house and your bike will be safe and covered from rain, sun, or snow.
3. A DIY Bike Storage Idea, Peg Style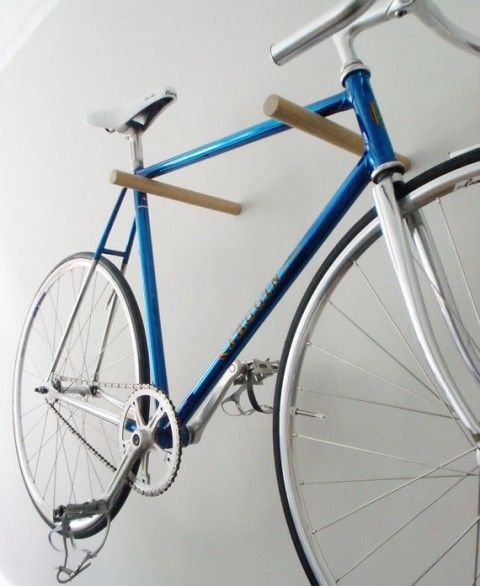 Finding a place for the most precious bike sometimes give you challenge, mainly if you have limited spaces. If you have the problem, then you should consider this simple but effective bike shelter idea, you even can make it yourself in a DIY project.
All you need is a couple durable wood pegs and strong wall. For the tool, you practically only need a hand drill. Then find the suitable wall, any free wall, and fix the pegs (after neatly drilling it) –and you have your neat space-saving bike storage.
4. Minimalist Wall Rack for the Kids' Bikes and Others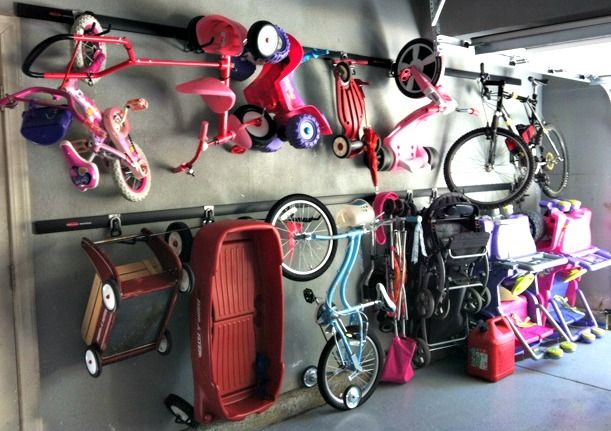 Having a growing kids in the house doesn't mean that you always see a messy house all the days. This simple bike storage idea helps you to sort out the mess and give you a clean and neat storage system for their bikes and other wheelies.
Here you have a pair of steel bar racks on the wall, they are spaced evenly on it. Along the bars are steel pegs where you may hang the kid' bikes. Not only bikes, as you can see in the picture, you also may hang several other of the kids' toys and stuff.
5. Outdoor Wood Bike Shelter, Sliding Style
Having a bike shelter in the garage is easy, but you often find it's hard to get the bikes out if the car still in it –mainly if you have small garage. For the obvious reason, you need an outdoor bike storage system which is handy enough to accommodate your needs.
This rustic storage system should enough for your needs. It's simple, its wood materials also look rustic and blend nicely to the surroundings. The Storage system uses railings for the storing/retrieving modes: just pull out the container if you want to pick the bike. It's that easy.
6. Pole Rack Bike Storage System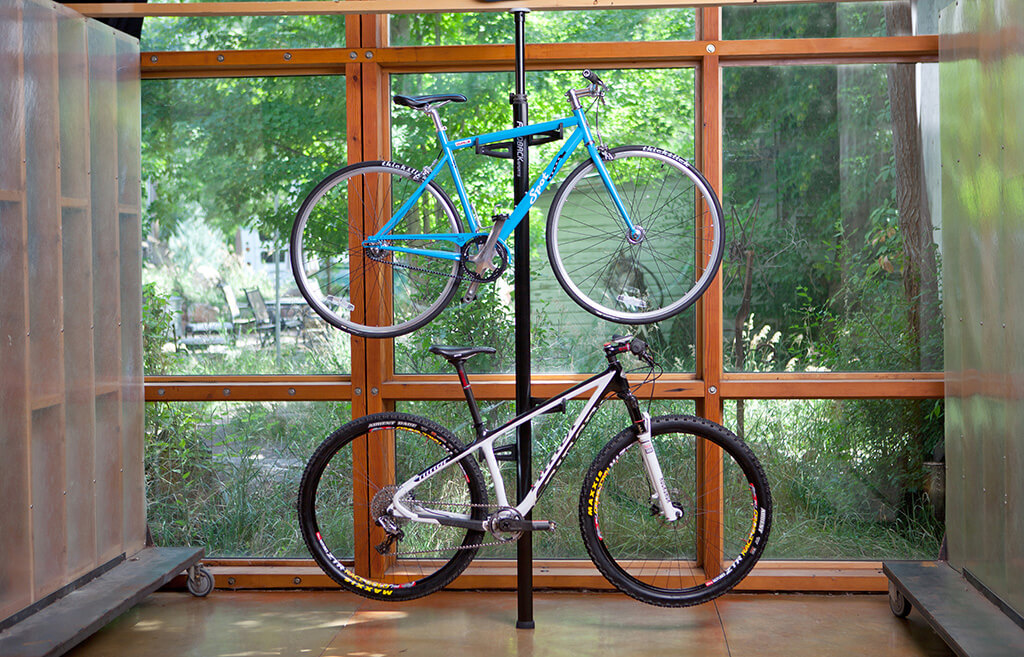 You surely don't want the premium bikes of your collection to rot outside, as you know that pieces of beauty should have their proper places. You may put it on a special places (for your pride), like this piece of idea.
This contemporary bike storage system won't eat much of your places, as it's so space-saving. It's only consisted of an industrial black pole racks with handy pegs along its body, where you may put the bikes on them, just like the example here.
7. A Chic Plywood Bikes Storage Idea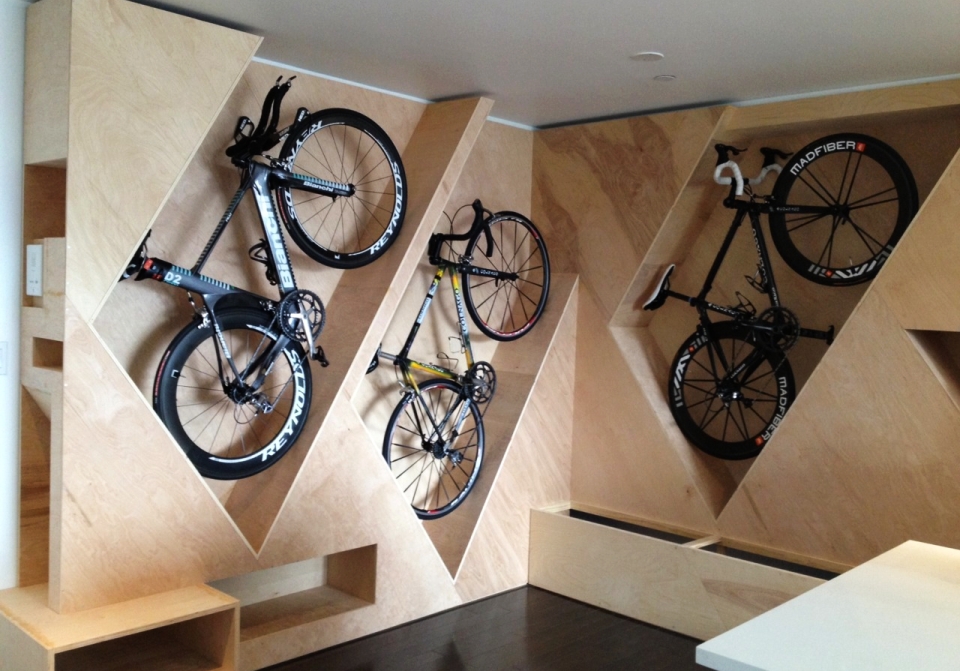 Having several favorite bikes often make you undecided when it comes to show which one is better to show off than the others. Then, if you have the problem, why not show them all at once in a bike storage which also serves as a bike display?
Need an inspiration? Try this indoor plywood bike storage system. This minimalist unconventional bike rack enables you to show your favorite bikes at once without having to make one of the bikes looks less gorgeous than the others.
8. Hanging Bike Storage with a Helmets Rack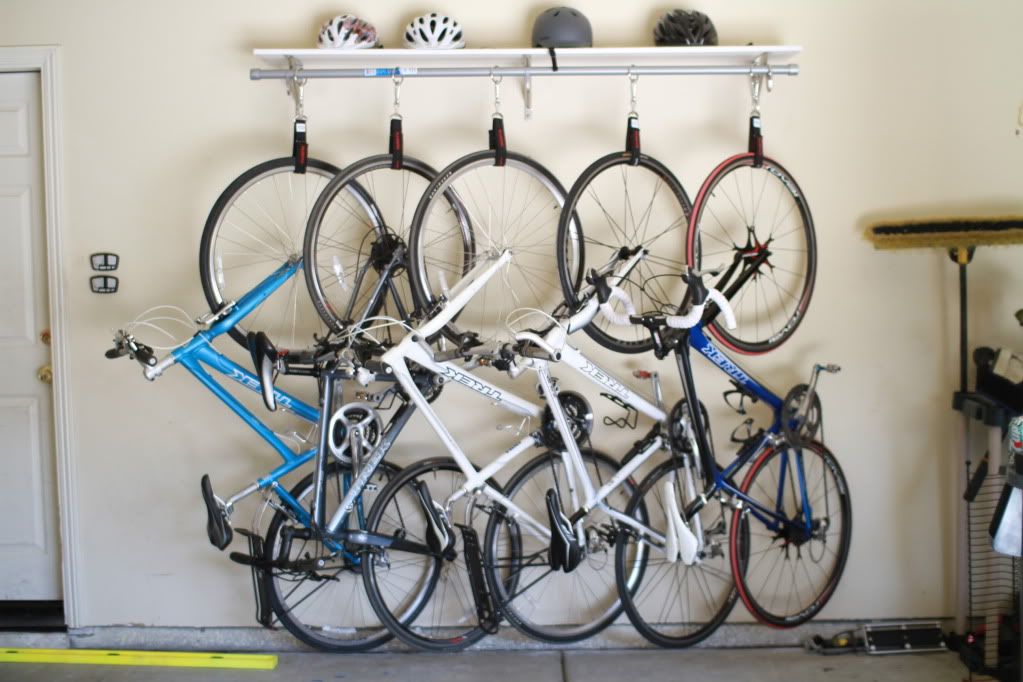 Finding a right bike storage system for a small space can give you a head ache, mainly if you still confined to the conventional bike storage designs. To avoid the problem, try to find the more contemporary bike shelter ideas, just like this one.
This hanging bike rack should satisfy your need to storage the bikes and still gives you ample space for other purposes. The design is just like the previous kids' bike storage, only this time it is also provided with an open shelve for your helmets.
9. A Multipurpose Outdoor Bike Storage System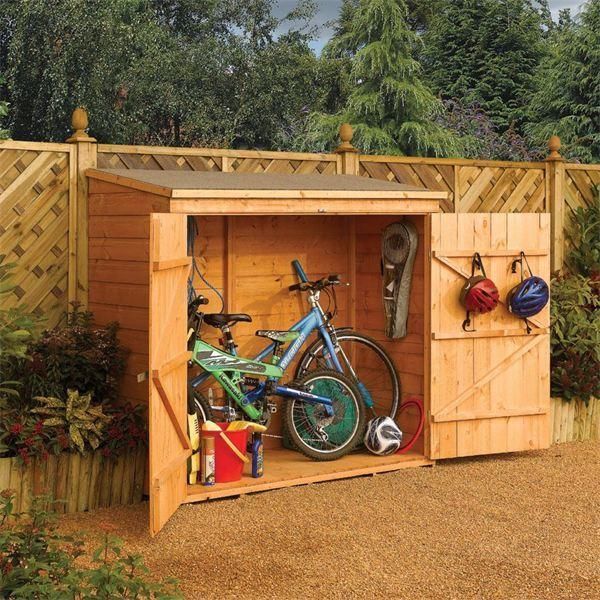 A garden shed makes your garden neater. All the garden tools, which often make the garden look messy, can be stored in the shed, which then hide them from eyes. Now you also turn the shed into a cool bike storing system.
Along with the other gardening tools, hoses, and else, store your bike in the shed, just like the picture here. You have a safe haven for the bikes (and helmets) in this multipurpose garden shed. Before placing the bike into it, just make sure that you have big enough shed for the bikes.
10. Contemporary Bike Rack for Small Apartment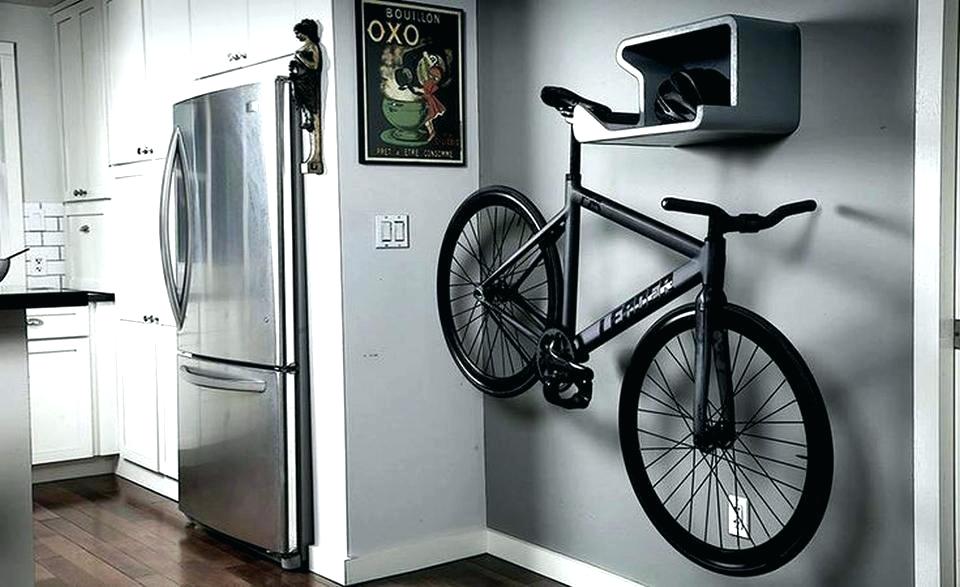 Living in a small apartment often presents you with space allocation's problems. You should be careful in planning the flooring layout or your apartment will feel cramped and even messy –and it even get messier if you have a bicycle in the house.
Need a handy and space-efficient bike storage idea? This small floating bike rack suits well for your apartment. It's contemporary and durable enough to hang the bike. It also serves as an open shelve for your helmet.
11. A Cheap Chain Bike Storage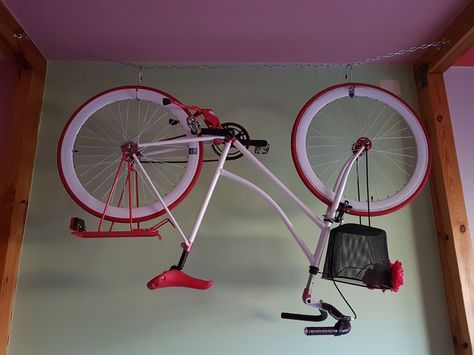 Along with the peg bike storage system, this idea probably is the cheap alternative of cheap ways of storing a bike. You even can DIY it in a matter of minutes. All you need is a strong steel chain and the bike hangers.
You also need two sturdy anchors to hook each ends of the chain, in this case you have two wood structures as the anchors. Once set, you only need to hang the bike hangers/hooks then flip your bike and hang it by its wheels. That's it.
12. Outdoor Metal Industrial Bike Storage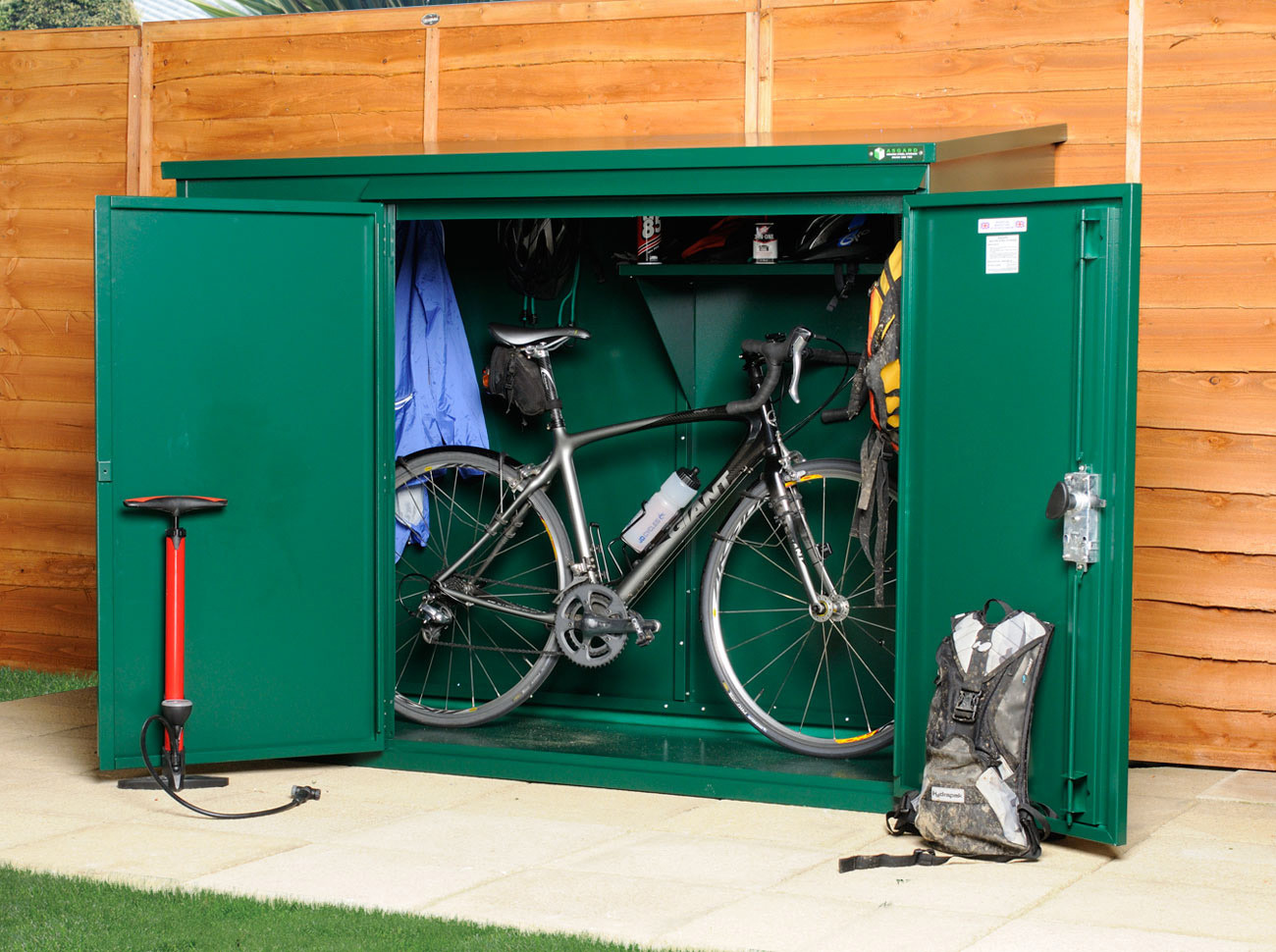 Sometimes wood shed just won't be enough for your living areas, due to harsh weather or for security reasons. For you with the similar problems, you need the more rugged shed like this tough industrial shed for bike and your biking tools.
This garden shed for bike is made of sturdy industrial grade metal which more than enough to handle the outside elements impacts. Its minimalist design and finishes ensure you that this shed suits well for outdoor and indoor uses.
13. A Multipurpose Knock-down Bikes Storage System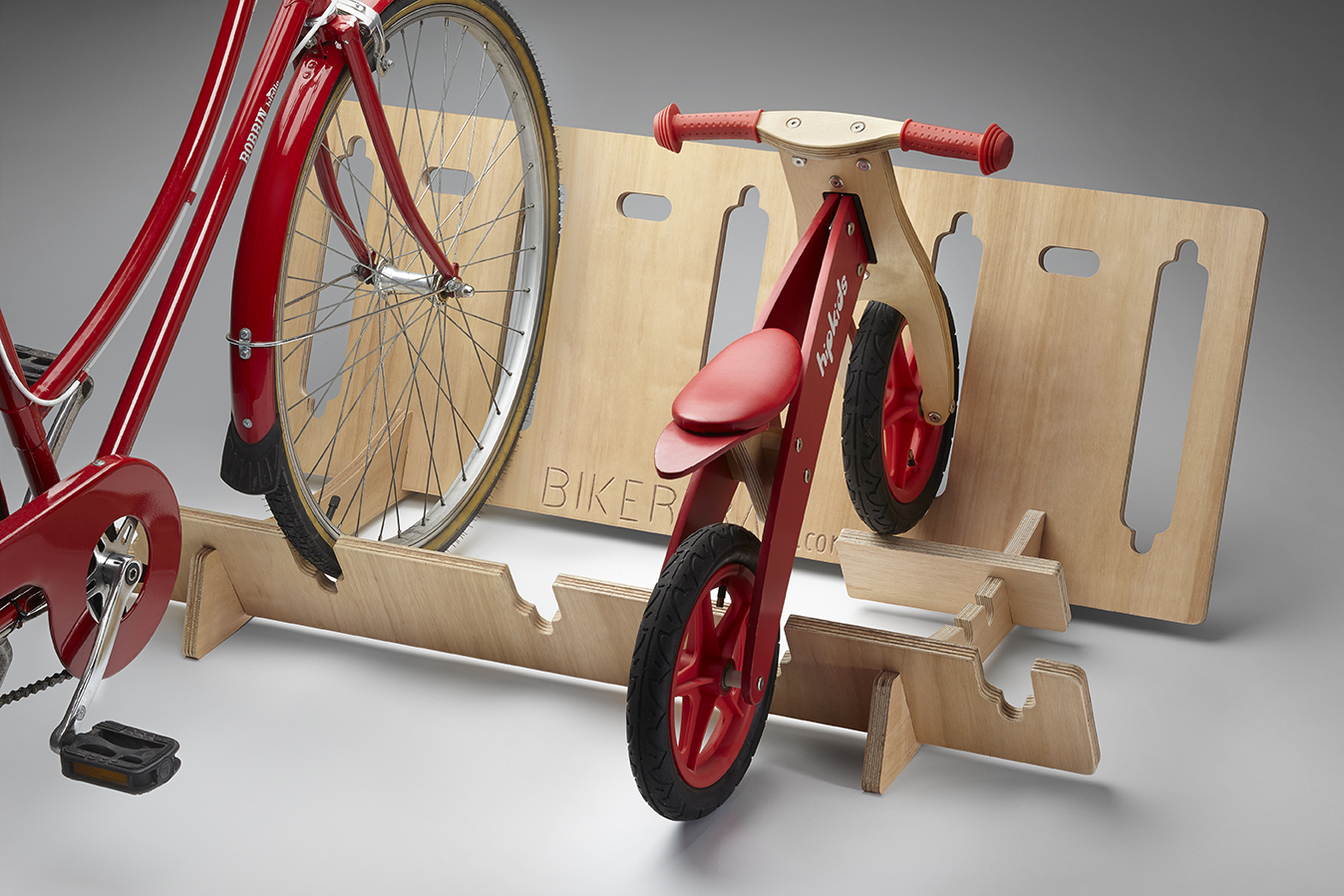 When you have no time for a DIY project to build simple bike storage structure, you still have the chance to have a contemporary-looking bike storage in an easy and quick way, try to find a knock-down bike storage like this one.
This plywood bike storage product is easy to assembly. All you need is a hammer, as to assembly the product you only need to joint its parts one-by-one. You need the hammer to tighten the joints. Once completed, you have a bike storage for adult or kid bikes.
14. Outdoor Bike Shed for the Garden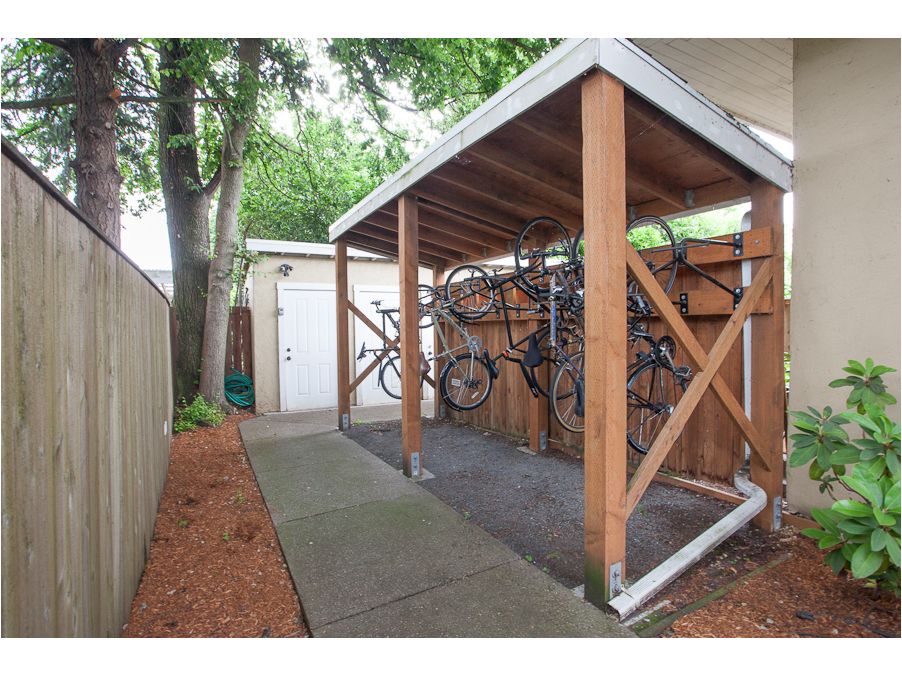 As a bike enthusiast you often need a handy but secure spot for your bike, a place where you can grab the bike easily and ready to roll. This outdoor bike shed might worth considering if you want to find the kind of spot.
It's a backyard open shed which will provide shelters for your family bikes. The robust structures also ensure that your bikes are securely sheltered. Lastly, if you also want a rustic look, the robust solid wood materials are incomparable.
15. A Stylish Wall-mounted Bike Rack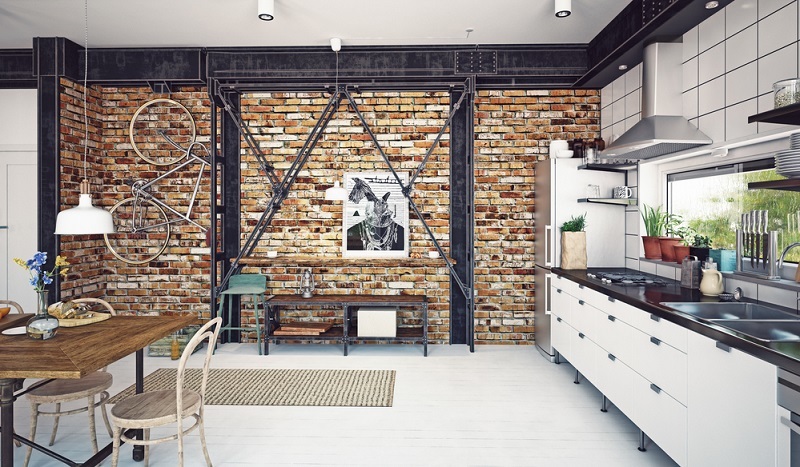 If you have no additional space for the bike, then turn the bike itself as part of your wall decor. There're ways to do the scheme, including the way this industrial apartment organize the indoor bike rack, so that it makes the bike feels like an integral part of the wall decor.
The key is in finding the point of interest of the room. In this apartment, your eyes are drawn to the brick wall and black industrial metal structures, so you only need to hang a butcher hook on one side of the structure for the bike to make it part of the visual impacts –just like the example.
16. A Cheap DIY Rack for Bike Storage System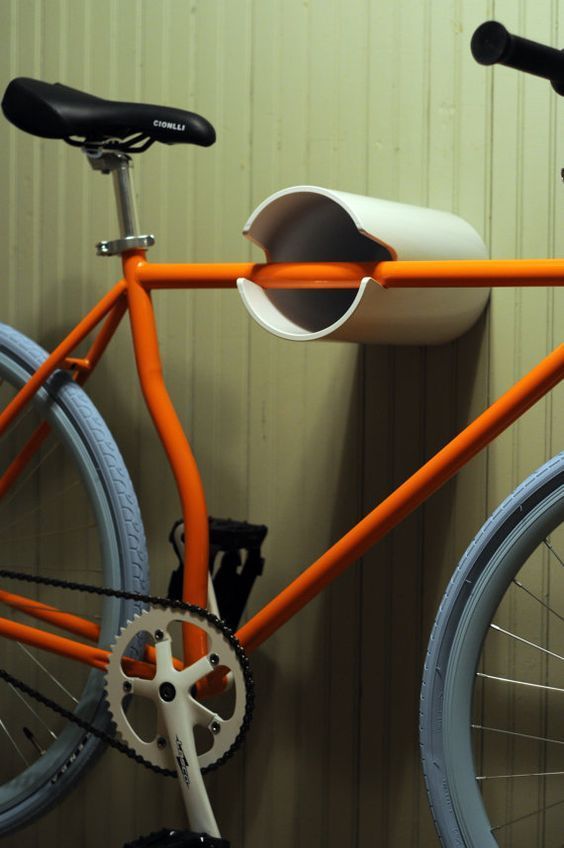 Like to have another interesting DIY project for a bike storage? Previously, you have met pegs bike rack for cheap bike storage system. Now you have the other alternative. It's also cheap, even cheaper, as for this project you use repurposed stuff.
If you happen to have a piece of unused PVC drain pipe, turn the material into this hanging wall rack for bike. For this design, you need to make sure that you have a sturdy anchor for the pipe. As for the notch styles, it's up to your creativity, not only limited to the one in the example.
17. An Artful Apartment Bike Storage for Classic Touches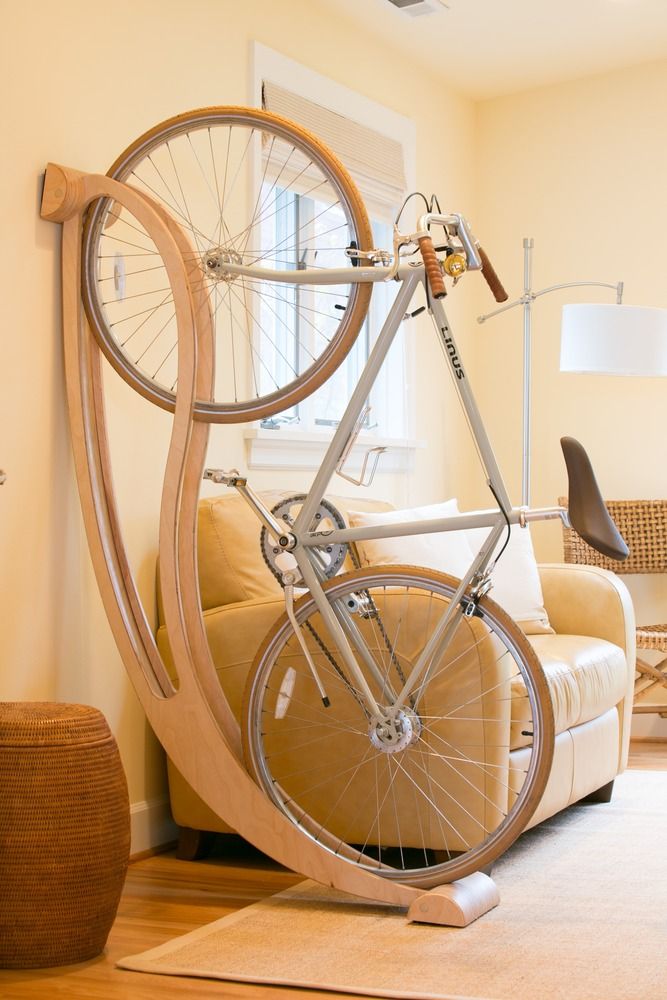 Seeing all the list so far, you might think that a bike storage system should look minimalist and functional. That's not particularly true, as you can have a bike storage with fluid form factors that in the end look charming and even classic.
One of the example is here. If you want fluid lines on the bike storage and look cool in your apartment, then you need this one. Here you have a wood storage, carved in classic lines that blend well the living room area.
18. Butcher Hooks for Cheap Bike Hanging Storage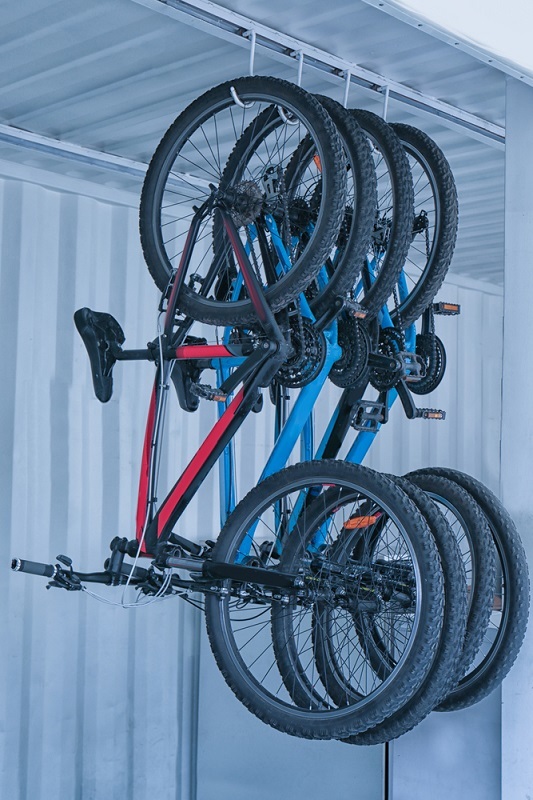 A hanging storage gives good benefits, one of the most important is that the mode can save much of your room space. You have several option for hanging storage designs, from the most sophisticated ceiling rack system up to the cheapest one, like this one.
In this list you meet a cheap way to store your bikes, that's by hanging them on butcher hooks (the one you often see in butcher shop to hang the meat). Put a railing system on the ceiling as the hooks' anchors and you have this handy bike storage system.
19. Circular Outdoor Big Storage for Office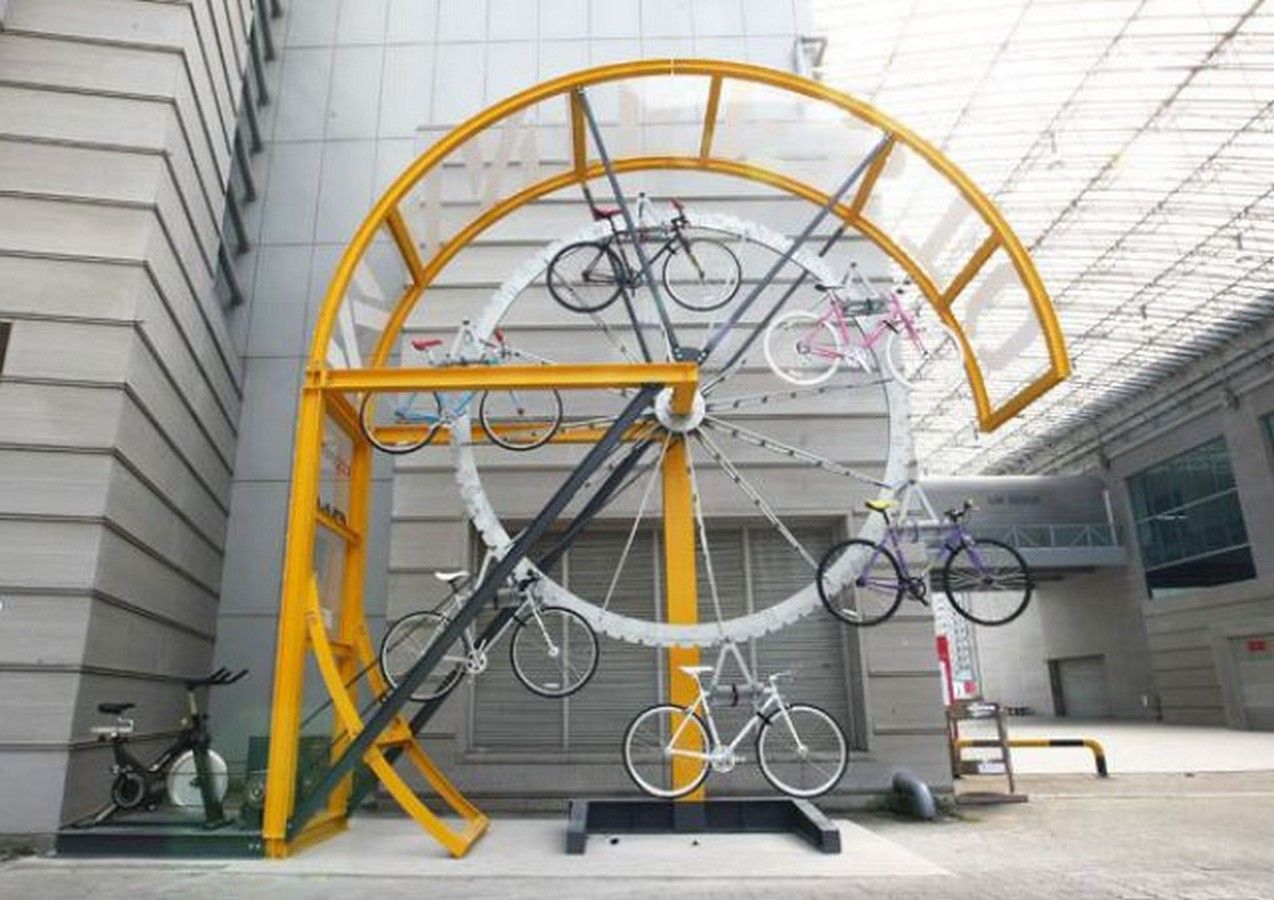 If your company want to go green and the office need a space-saving bike storage system, you need to try this outdoor bike storage. Almost all list in this article talk about boxy shed or wall-mounted bike storages, now you meet the different one.
This bike storage resembles a ferry's wheel you see in a fair, but this time the riders are not you, but your (or your workers) bikes. Along the wheels are pegs to hang the bikes. This way the wheels can hold several bikes at once.
20. Minimalist Bike Storage for a Small Space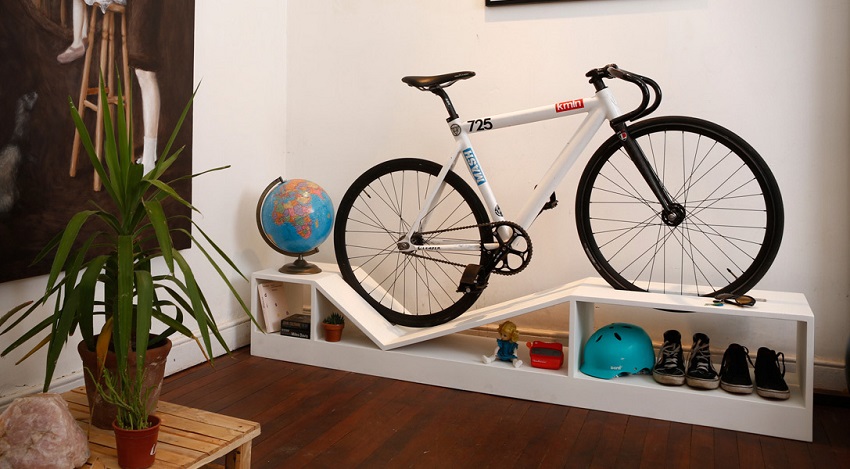 The last list of these bike storage ideas will be a minimalist bike storage for a small room. So you might want to install one in your apartment (or small homes) to show of your favorite bikes or shoes, as this storage also serves as shelves.
Overall, the interior storage's design suits well with a minimalist room with its simple and efficient lines. It also offers you an artistic touches with asymmetrical 'broken' line of the top parts, where your bike may sit coolly on it, and adding visual impact to the room.
Read More: 25+ Kickass Japanese Living Room Inspiration for a Peaceful Living
That's it. We have outlines some of the coolest bike storage ideas around, some will be most suitable for the indoor use or garage, while the others for outdoor purposes. You'll also find some of the most unique designs up to the simplest one.
You can even can build some of those ideas with simple or repurposed materials in DIY projects. Lastly, we hope you enjoy this small article.