Whether for working, studying, or just gaming, a computer desk is indispensable. It helps you to focus on your jobs, so it increases your productivity. And if you're a gamer, it make you gaming session more enjoyable. Now if you need plans for a new computer desk, here we offer you these following 20++ easy DIY computer desk plans.
1. DIY Computer Desk for Two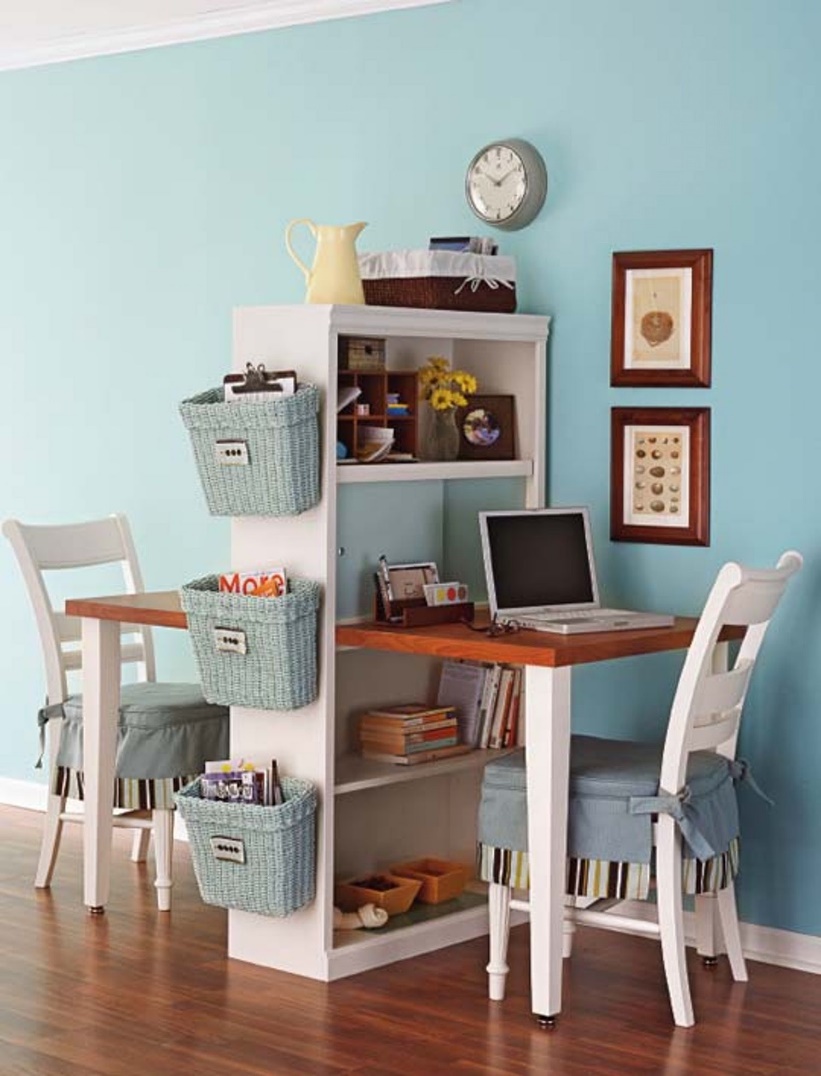 This DIY project suits you well if you have two kids or twins, mainly if you have no enough space to let them have their own computer desk separately.
In this example, you have a double-sided computer desk. The setup consists of a table and a book case. The bookcase inserted on its top, dividing the table into two working areas. The other alternative is by fixing two small identical tables onto each of the bookcase sides. This way, you also have working stations for two fairly.
2. Ikea Countertop for Wider Working Space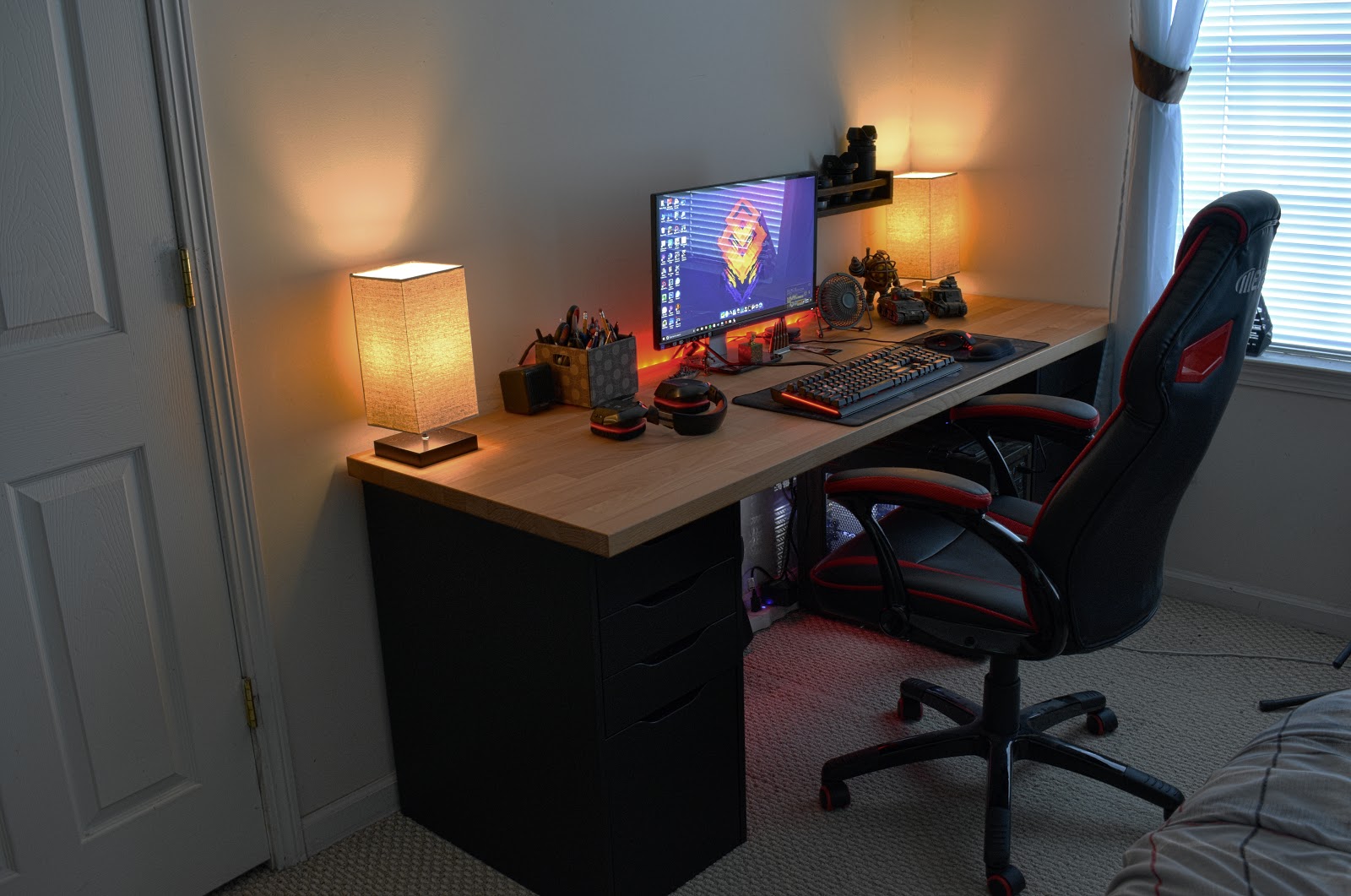 The existing working space is to cramped? Find something bigger. If you think a regular big computer desk is way too much for the budget, try this DIY working desk with a countertop.
Find a countertop with your desired size, a brief browsing on IKEA's stores can solve your problem. Then you need two identical tower type drawer or with file cabinets. The next is setting the countertop on both of the cabinets, just like in the picture. Easy?
3. Plywood Working Station with Wire Shelves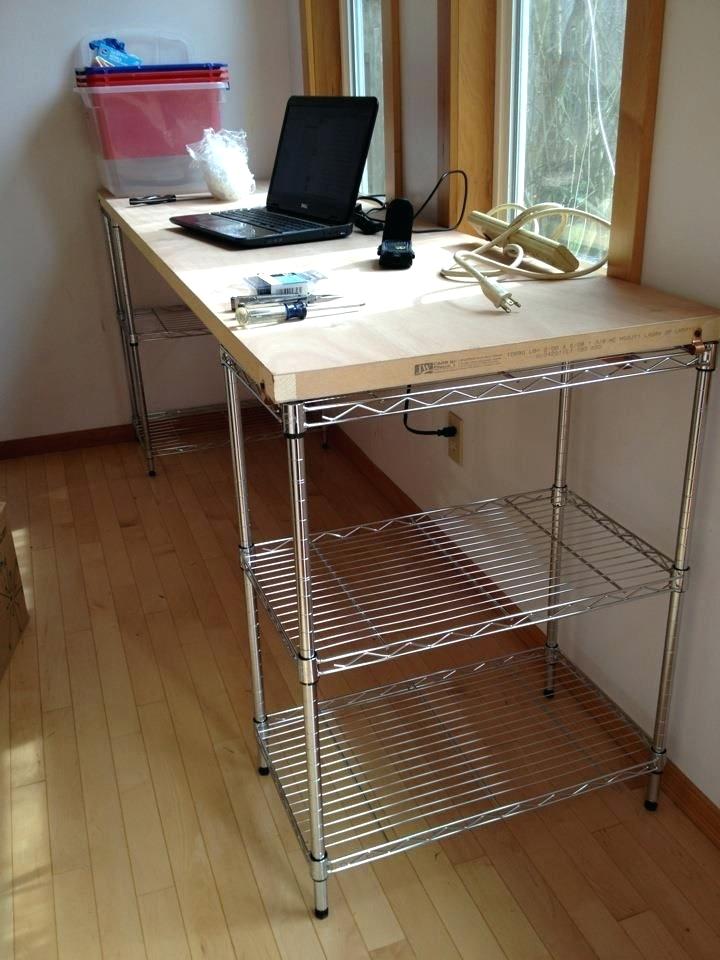 This DIY computer desk is your cheap solution to have a large working desk. The desk has simple structures, and you even can set it up in under an hour.
All you need is a plywood countertop, three wire shelves, eight metal pipes (for supports), and corner brackets. For construction, see the picture. It's a simple construction, so you won't meet difficulties in building the desk.
4. Easy DIY Working Station from Wood Pallets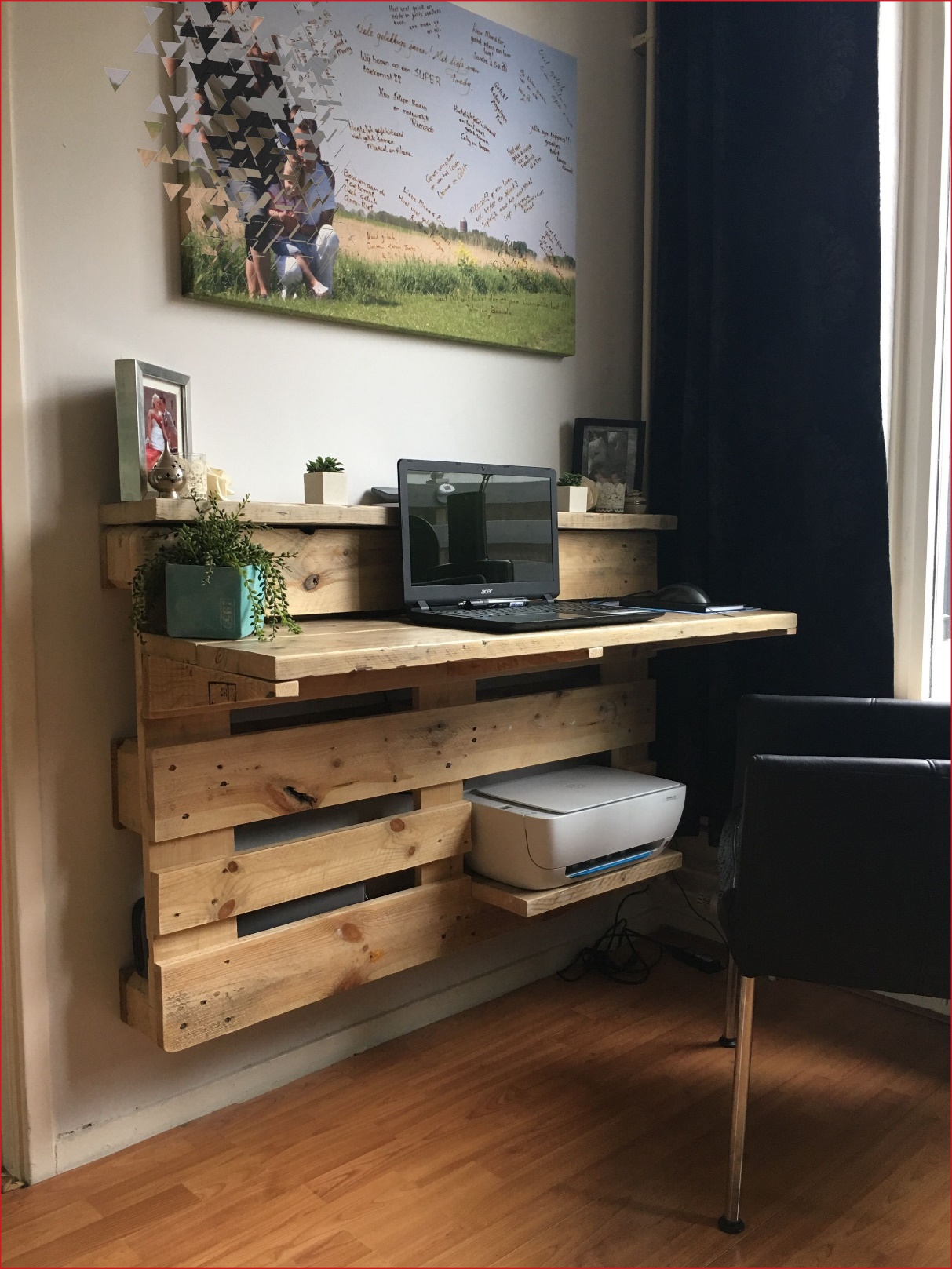 Now this is, again, an easy project for you. You even don't need to purchase any materials at all. The basic materials are wood pallets, things you can have it easily from unused wood containers or from salvaged old furniture structures.
As for the constructions, it's up to you. It'll be in the regular desk table designs or, in this example, a space-saving wall-mounted working desk. Whatever designs you choose, the pallet desk will add rustic charm to the room.
5. DIY Computer Desk with Small Hutch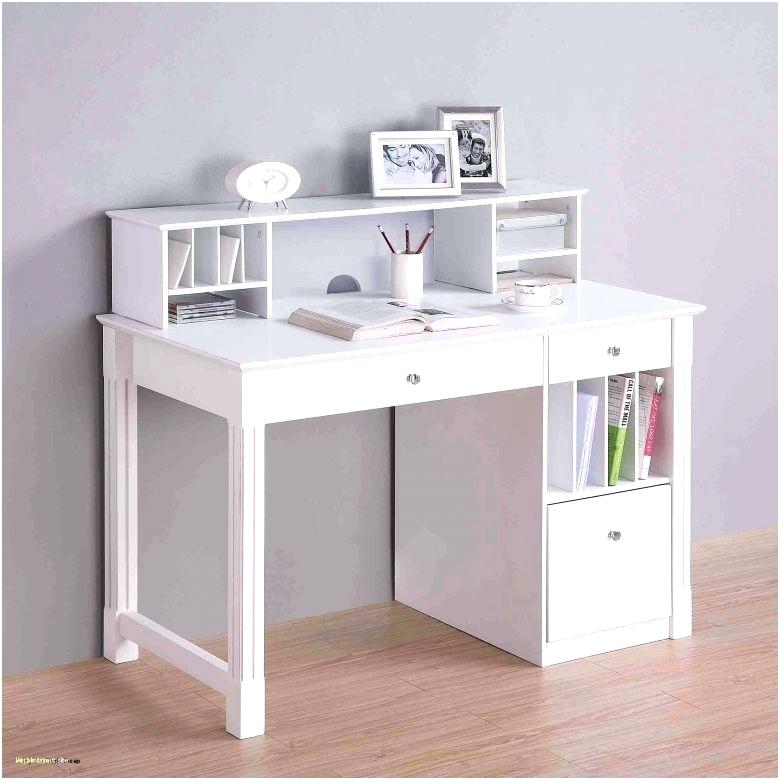 A cluttered desk only let your mood slips down. To declutter the desk, install additional storage system on it. In this case, you need a hutch. You don't need any fancy or big hutches. Pick the small one, kind of hutches you can build yourself.
Try this small hutch in this picture for a start. It's simple and you don't need lots raw materials, just several wood planks (used or new, depends on your liking). Put this hutch on your working desk. An for now on, this desk with hutch will be far neater and organized.
6. A Floating Working Station Desk with Cup Holder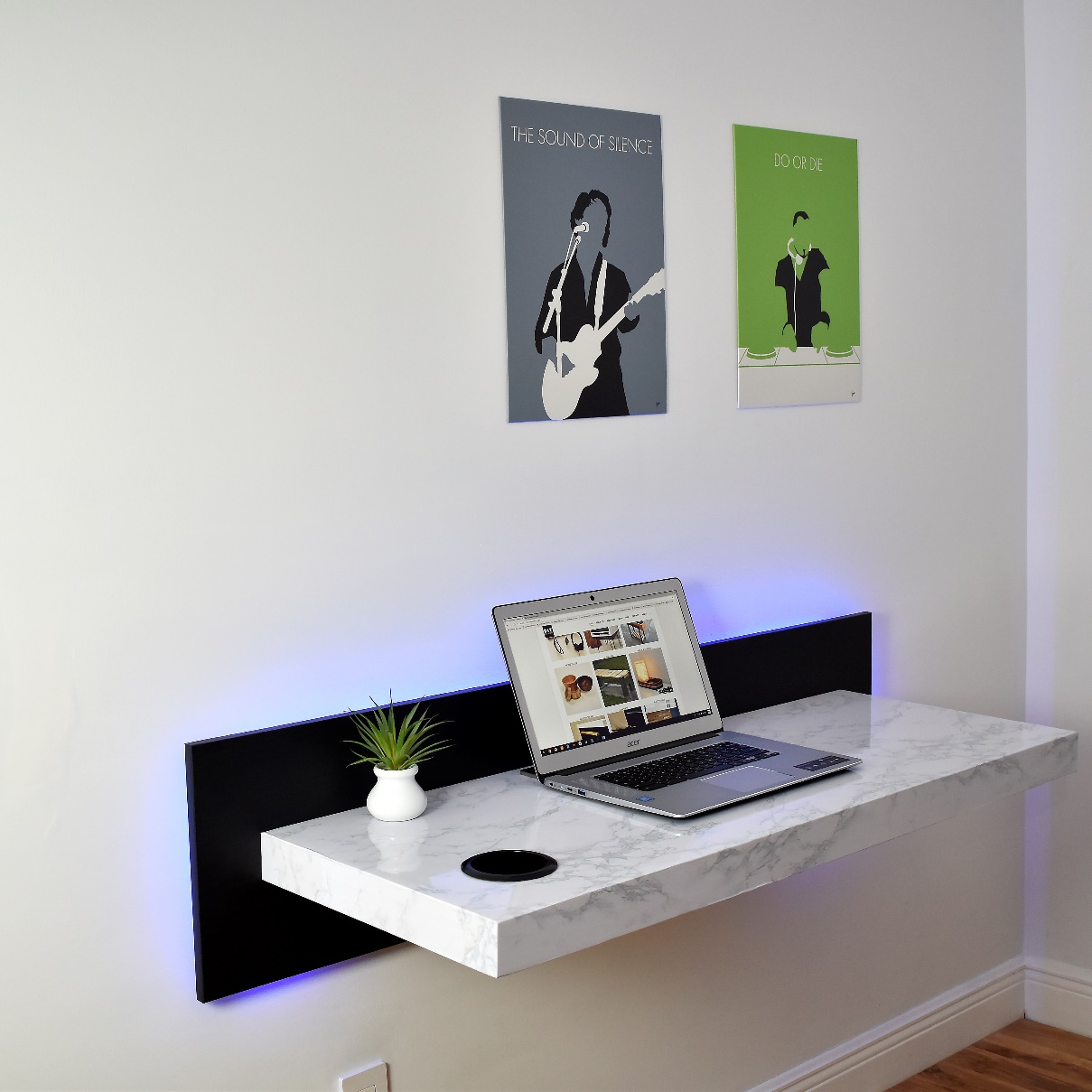 A Floating shelf is a feature of minimalist styles. And this feature increases its popularity among the minimalist lovers. Along with its function as shelves, you can modify the designs for desks too, floating desks, like this example.
This project also works well for small spaces. It looks to float on the air from a side, leaving the room roomier and cleaner. All the wiring and porting are hidden, for neater appearance. This computer desk also has cup holder for your convenience.
7. Make Your Own Working Station Out of Old Piano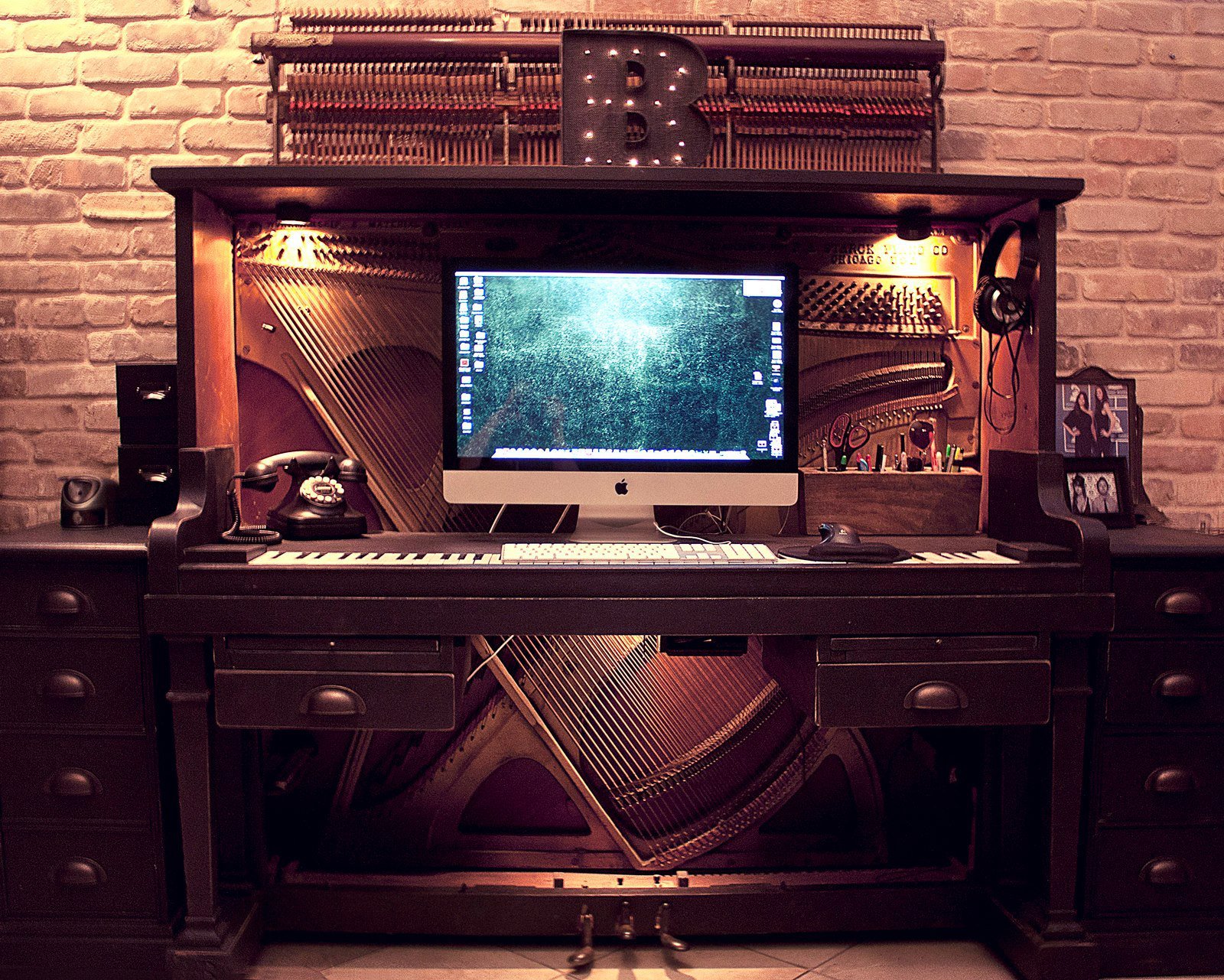 Now this DIY computer desk won't make you build a computer desk from a scratch. Instead, for this project, you have to gut down an unused piano.
The goal is repurposing the piano for a contemporary working station –like the example. You only need to remove the front covers, leaving the interior intact. Add pot light to highlight its intricate steampunk interior and enjoy your day.
8. Small Efficient Desk for Small Spaces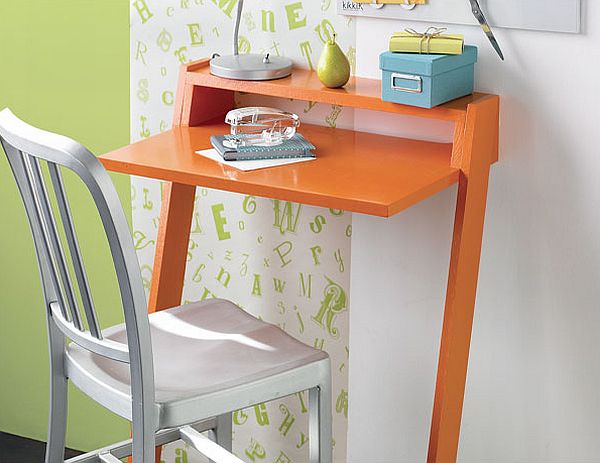 For small spaces, you need efficient computer or working desk. If a small regular desk probably is still too big for the room, try this design.
You have a wall-mounted desk with two legs as the supports. The design itself you can replicate easily, just by seeing the example. Once completed, you can set this table in any tight spots in the house.
9. White Corner Computer Desk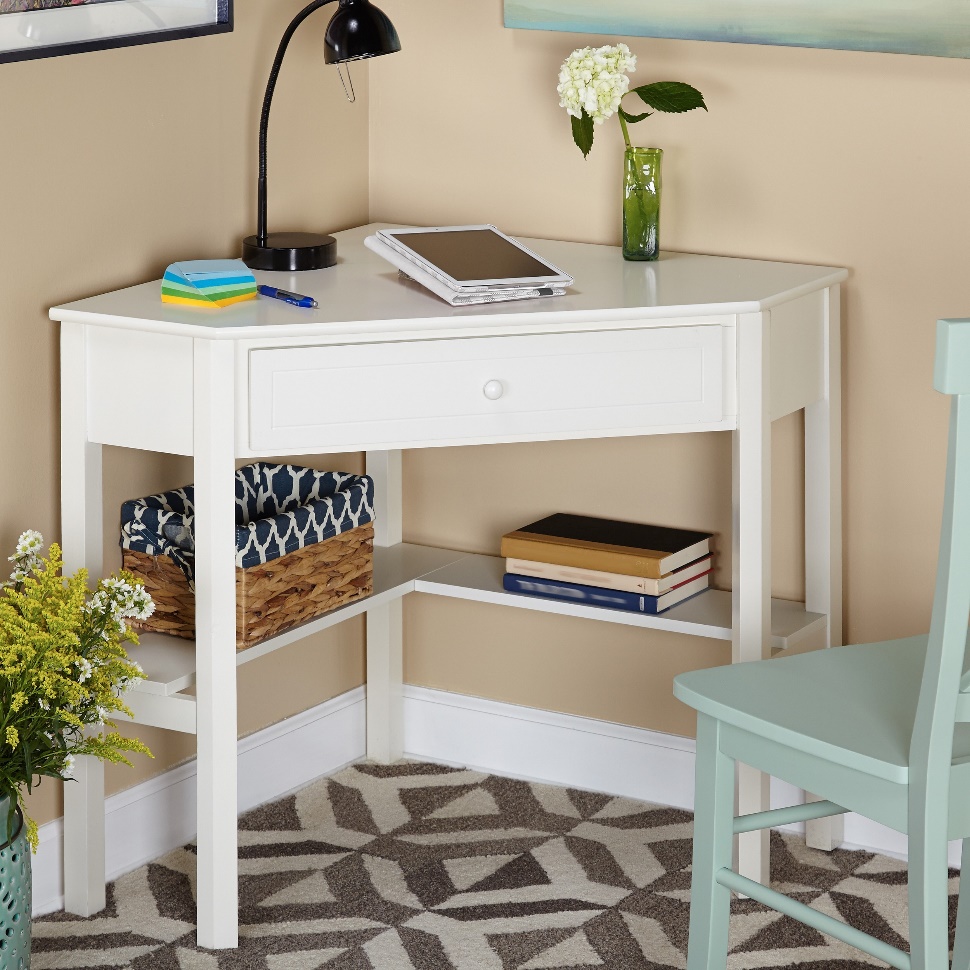 If you feel the corners are too empty, use them (or one of them) as your corner working station. Add a simple corner table and let the corner be an enjoyable haven. For inspiration, a white corner table is worth to try. The simple classis lines are simply graceful, it add charms to the now elegant corner.
10. Contemporary Concrete DIY computer desk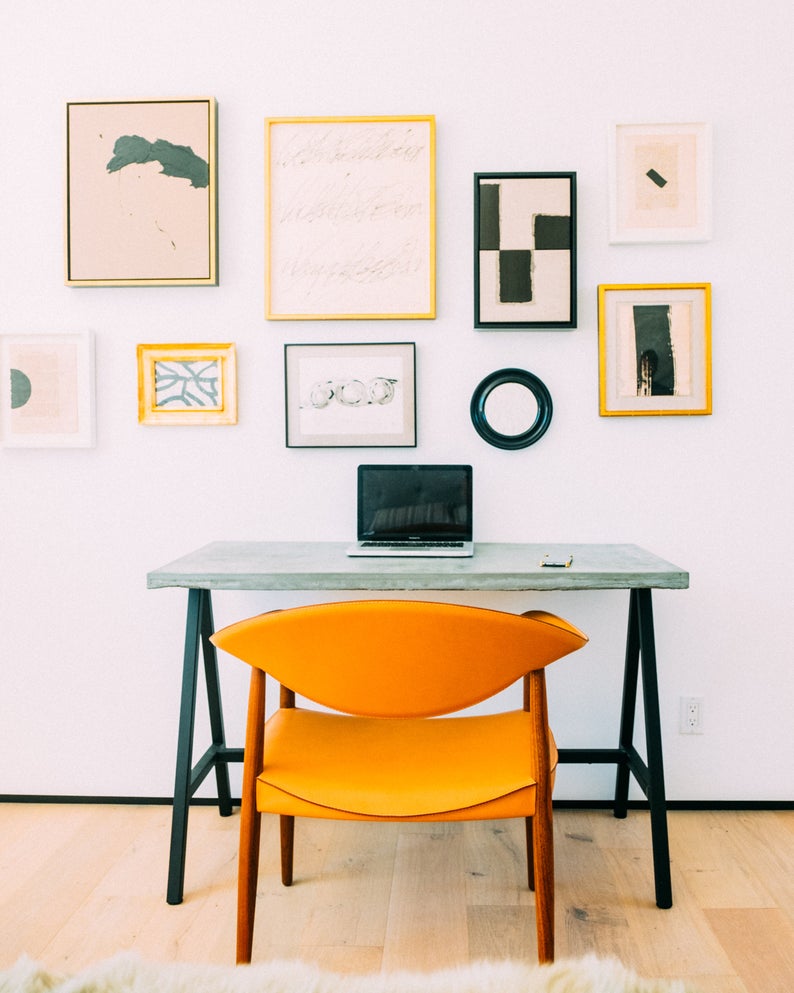 You have many alternative for a computer desk materials. Woods, metals, glass, are only to name some of the popular materials. Now you also can use concrete as a computer desk material. A desk made of all-concrete is possible.
But here, if you prefer the light and minimalist version, you have a slab of concrete for the desk top. Let it in its original ash grey color. As the supports, use steel frames. This structure has matte black color to match the concrete grey, which resulting an elegant contemporary working desk.
11. Small Working Station Desk with Drawer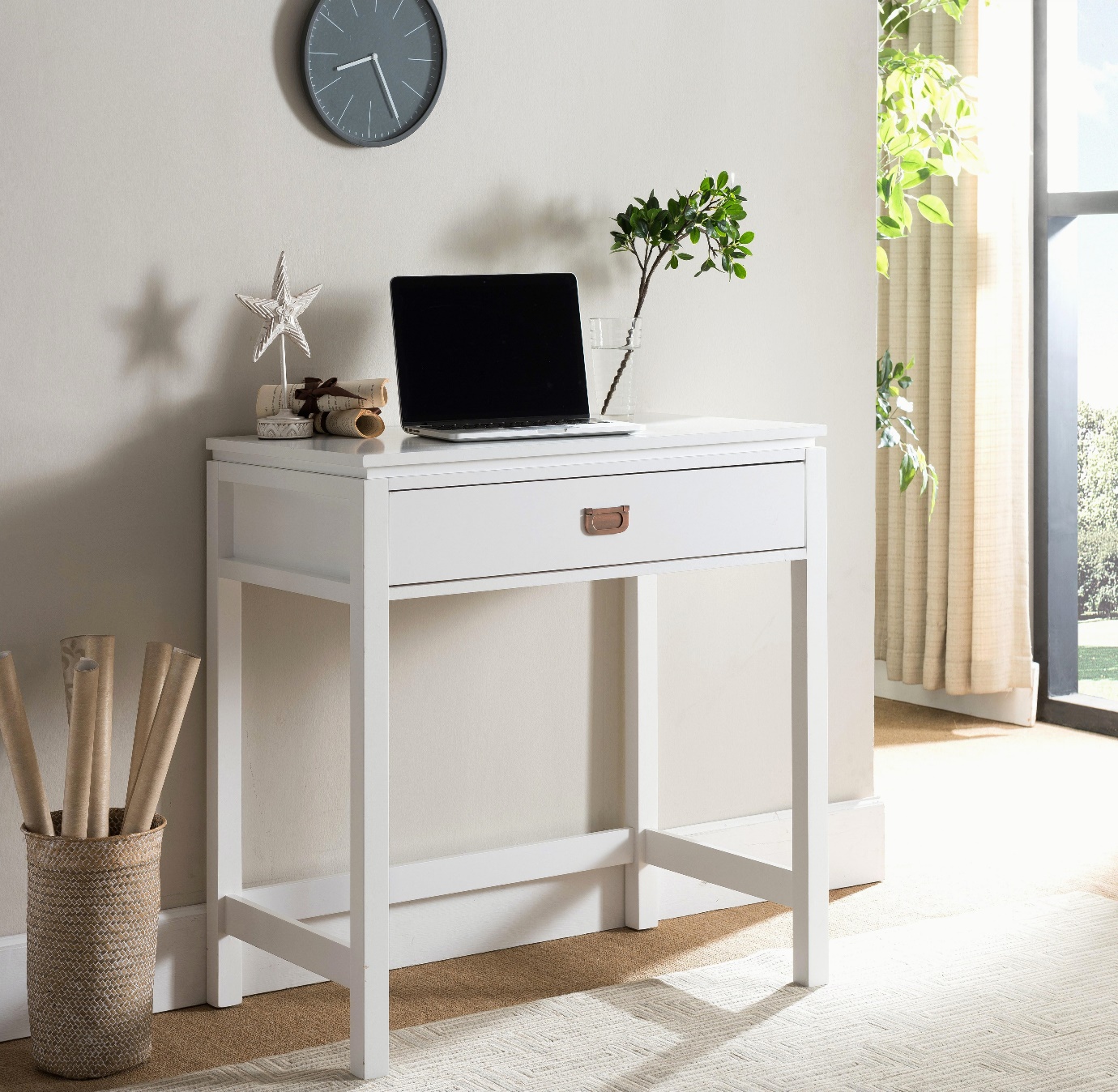 You don't have to have big working desk to have an effective day works. It's the mood of the room which contribute greatly to your productivity. So, don't worry about the room or desk' sizes. With small desk you can make great works as well.
This simple desk with drawer offers much positive vibes for a working desk. Though small, it combines well with the surroundings. And helps you to increase your productivity through it.
12. A Standing Computer Desk for Two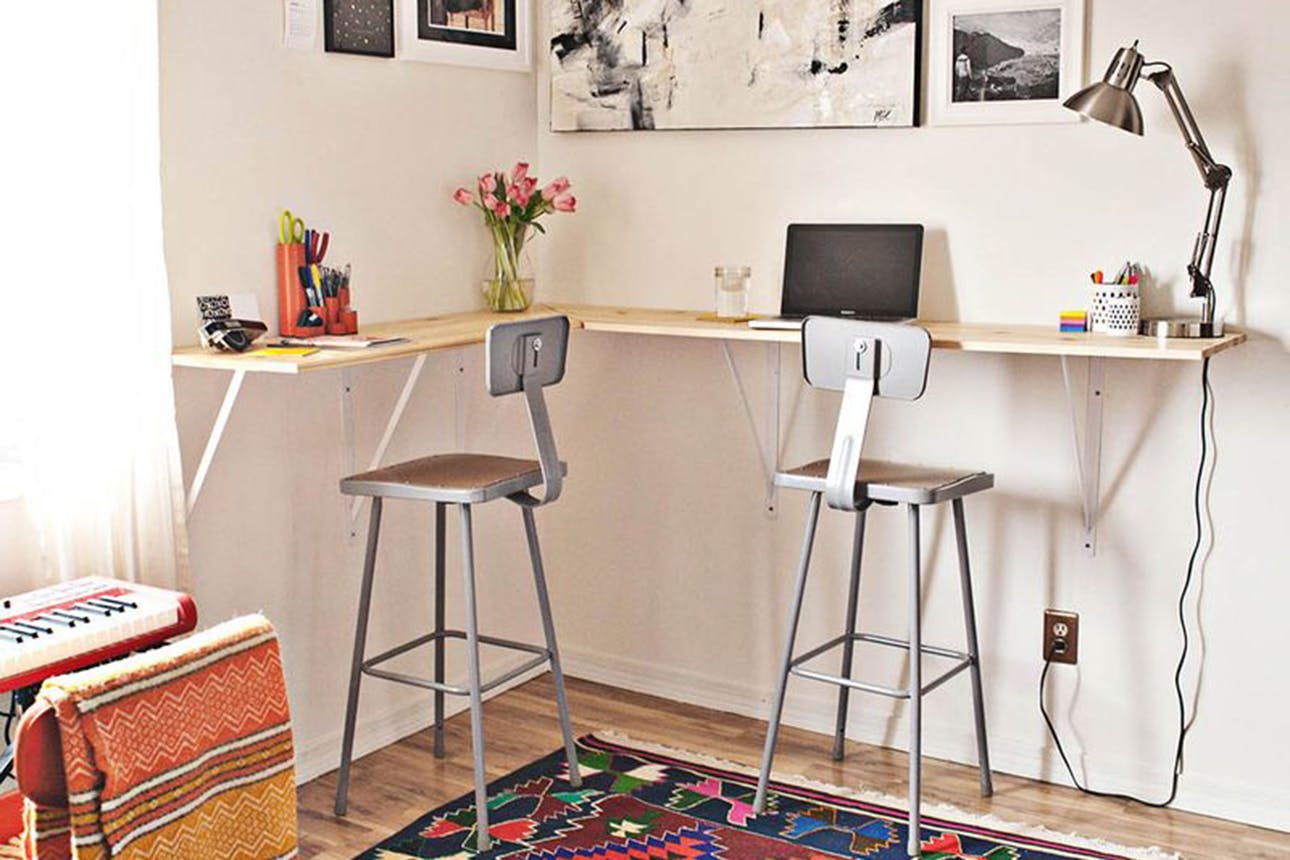 Two kids needs two separate work or study desks –ideally. But, if you cannot afford the space (or they share a room), this working station for two is your next project.
This DIY computer desk project needs only simple materials. For the top, cheap plywood is all you need. The supports, triangle types, are of metal or aluminum. To save the space, use room corner for this project. Once completed, you have a corner desk, suitable for two kids –standing or sitting down on stools.
13. A Cool Computer Desk in Retro Design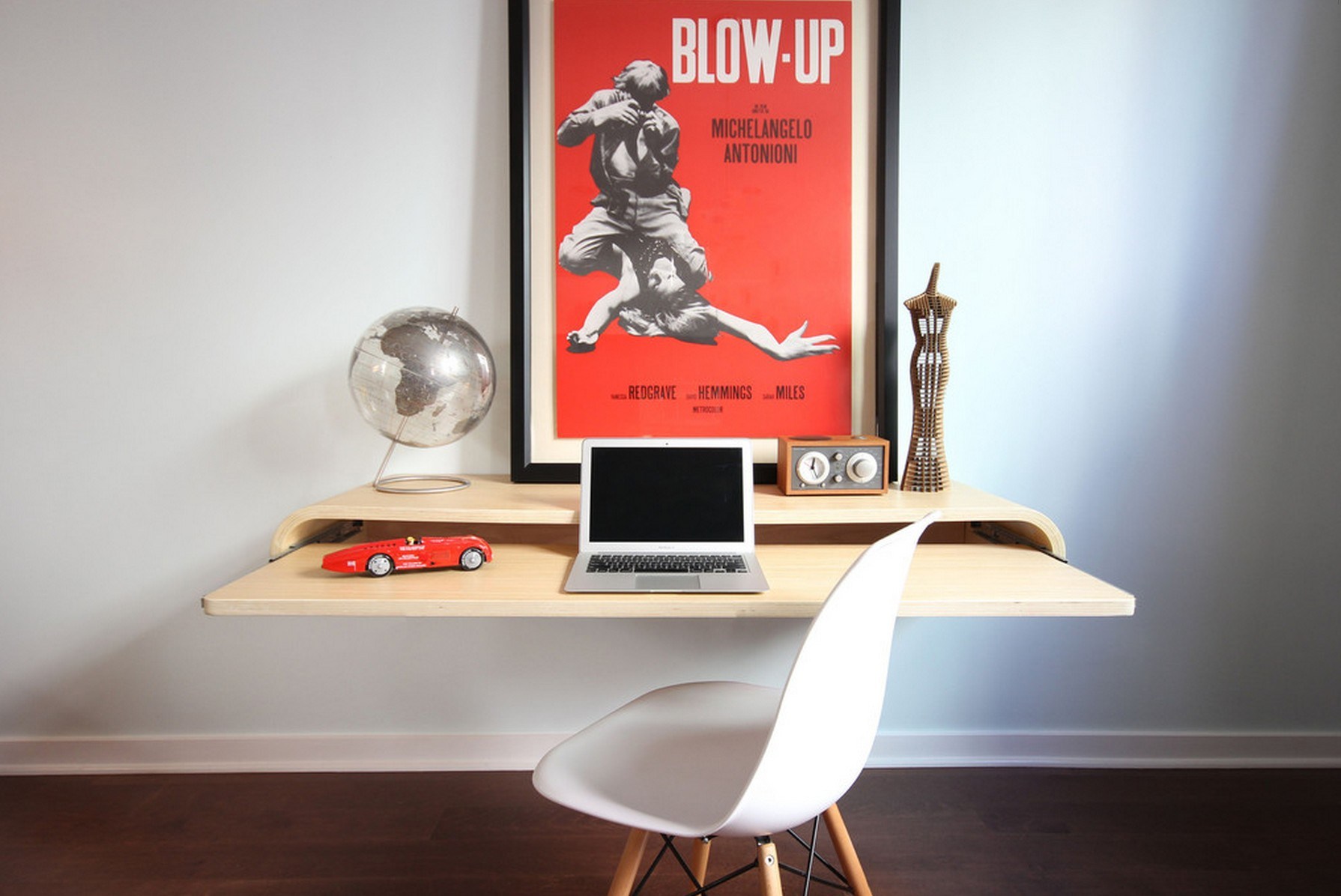 You might think that, so far, this list only offers you some 'simple' DIY projects. If you need something complex and cooler, try this retro computer desk. Here you find different challenges: how to bend the materials fluidly a shapely into a gorgeous desk top.
Once you complete the task, now set the top to float on the wall like the picture. Easy, right? But your works will be rewarded with an elegant and classy retro 50s desk. How about the chair? The Eames chair is easy to grab for any retro shops.
14. Floating Solid Wood Computer Desk with Steel Wires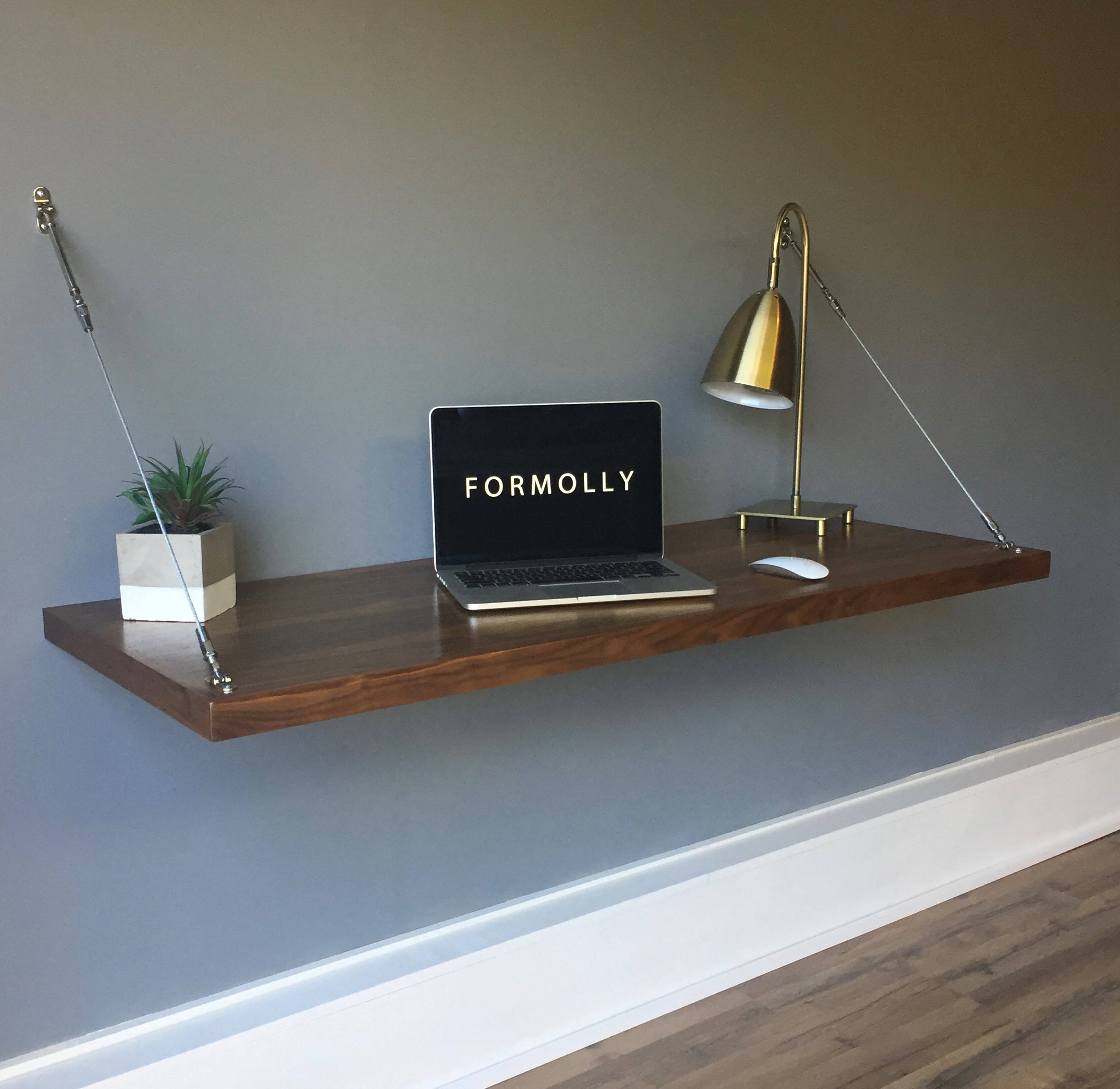 Solid wood, nothing compared to the grain and warmness of a piece of quality solid wood plank. And if you have a piece of that stuff, you can turn it into this elegant floating computer desk.
Unlike the other floating desk design in this list, now you have a steel wire rigging to stabilize the desk. These wire are anchored to the wall above the wood plank, it gives a minimalist and unique look to the overall desk.
15. DIY Computer Case and Desk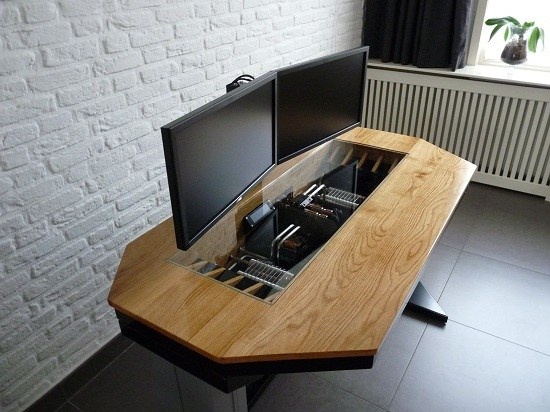 A Computer enthusiast know how it feel to have a cluttered computer desk with its entangled wiring. A clean and, if necessary, hidden wiring and porting are what's needed. And, if necessary again, the computer should have no cases. The desk itself is the case, just like this example.
The owner of this beauty turns his desk into chic computer case, complete with several cooling fans. The computer hardware itself is enclosed within, and shows off through clear glass on the table top. All the wiring to and from monitor displays are hidden for neater look. Interested?
16. DIY Comfortable Gaming Computer Desk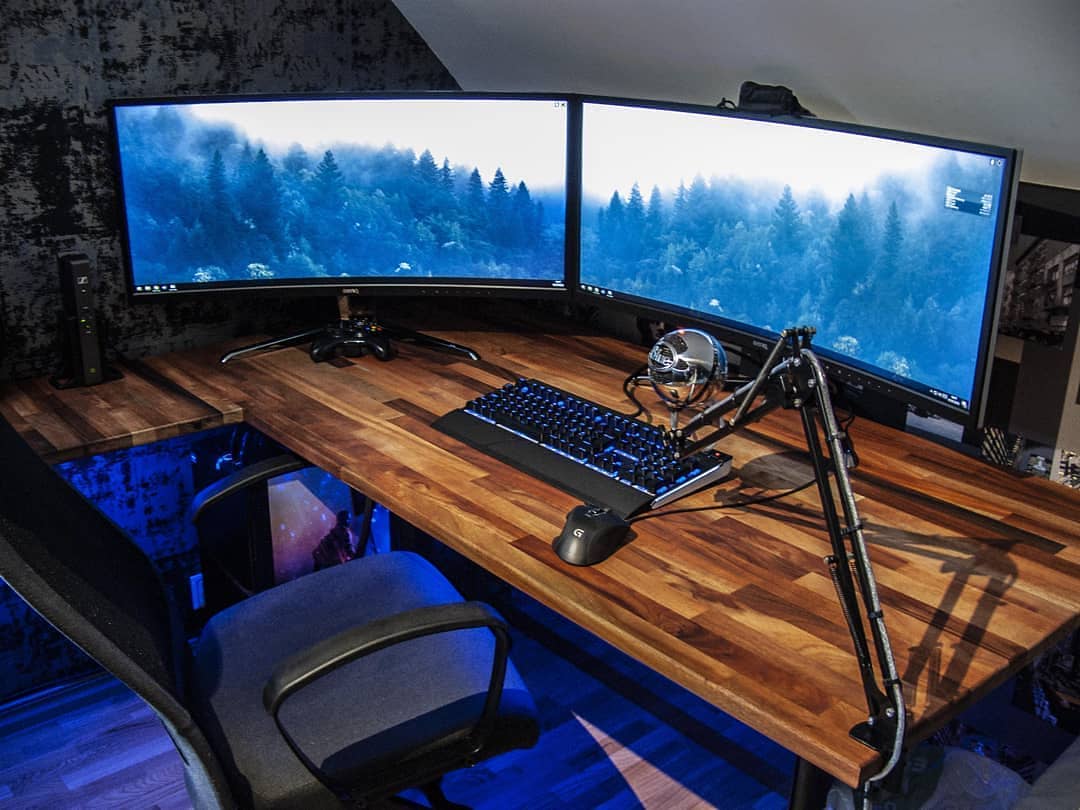 The ideal bench for gaming standards are relative to the users. But, they all have the the same characteristic: comfortable for long period of gaming sessions. So, you have very flexible gaming bench designs here, from the more advanced to the simple one.
As a sample of your DIY project, this design is simple enough for a start. The setup is a regular plywood table with metal supports. Just adjust the height, so that your hands or eyes get strained from long gaming time. You also have to choose the right gaming chair, so you can get the most pleasant game all the time.
17. A DIY Computer Desk Plan for the Kids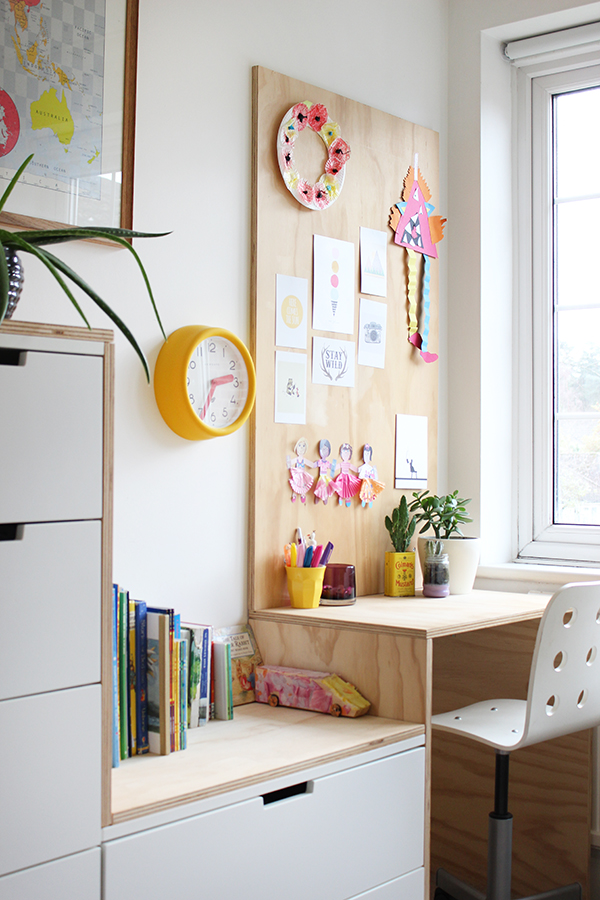 For the kids, gives them something warm but simple. Something from the North, the design from the Scandinavian countries might do well for them. The Nordic style won't disappoint you want warm and pleasant atmosphere.
This Nordic DIY computer desk also wants the kids to have those atmosphere. The Desk is of plywood. No groves or intricate joints for this project. All you need is several angle brackets to joint them all.
18. DIY Computer Desk for Girl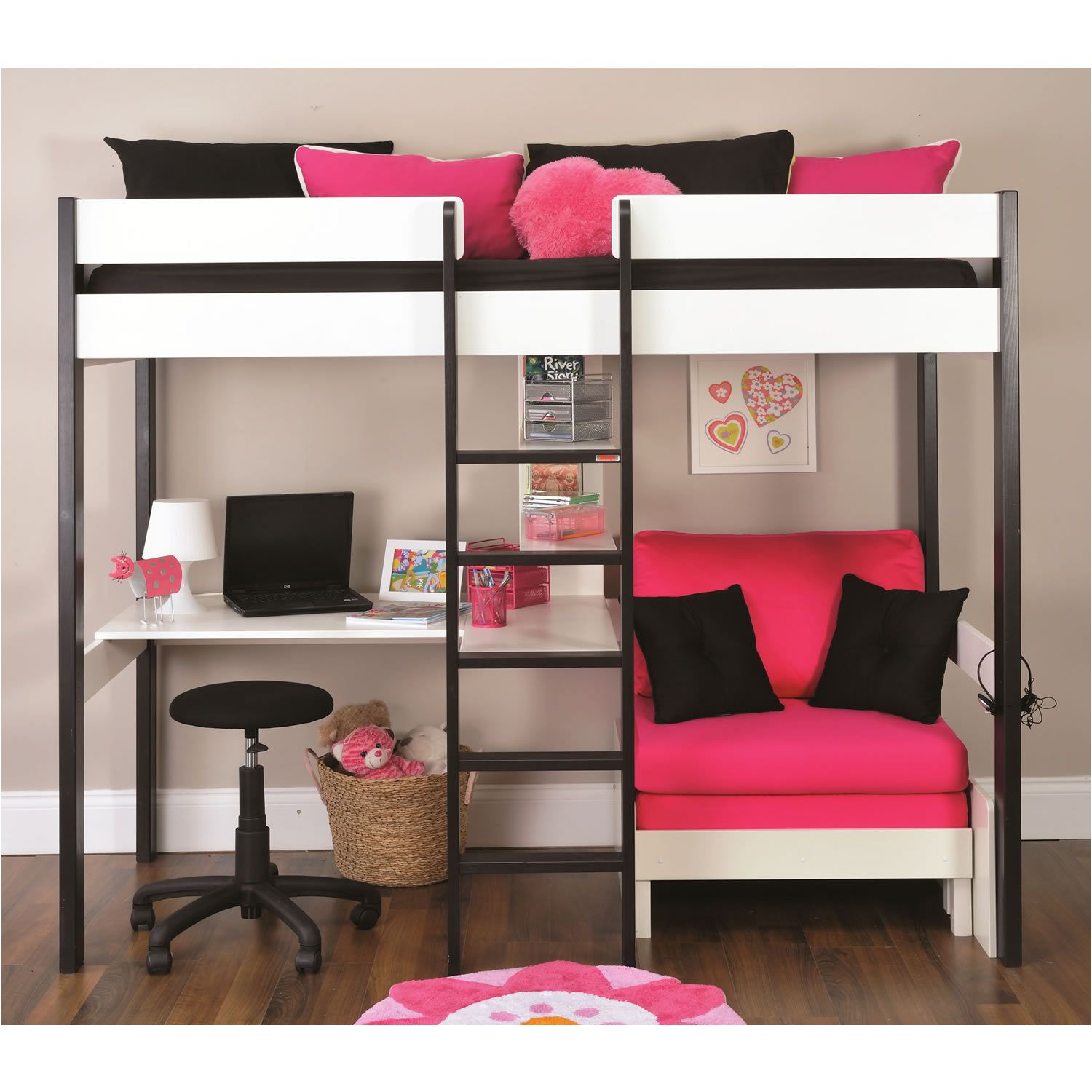 A working station for girl is a must, mainly if the little girl has turned into her teen years. Along with that, she also need a combination of privacy and chic study desk. This example might represent all of those characteristics.
This example is also a perfect example of a computer desk design for small spaces. And, most of all, you can build it easily –provided you've already had the elevated bed. The design also includes a comfortable reading chair.
19. DIY Cheap Computer Desk on Bay Window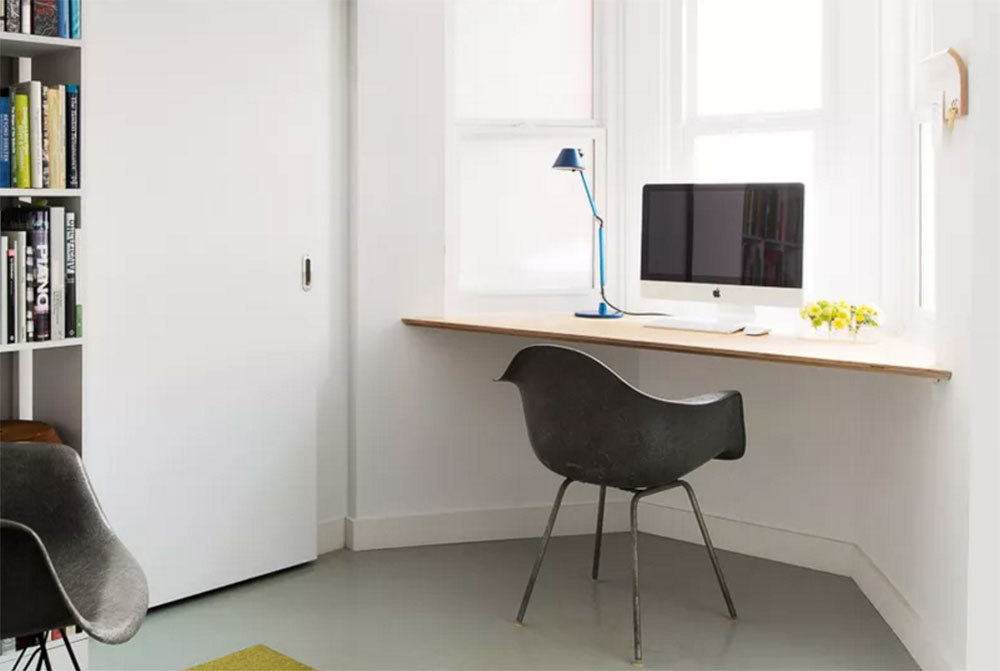 A bay window adds a classic tone to the house. Apart as its main purpose as view window, a bay window also offers you some other purposeful options. And it includes this cheap work station.
This working station only need one or two wood planks. These planks will fill the nook, as a desk top –just like the example. And practically, that's all you need. Because you will mount the planks on the window stools.
20. Fold Up DIY Computer Desk with Minimalist Cabinet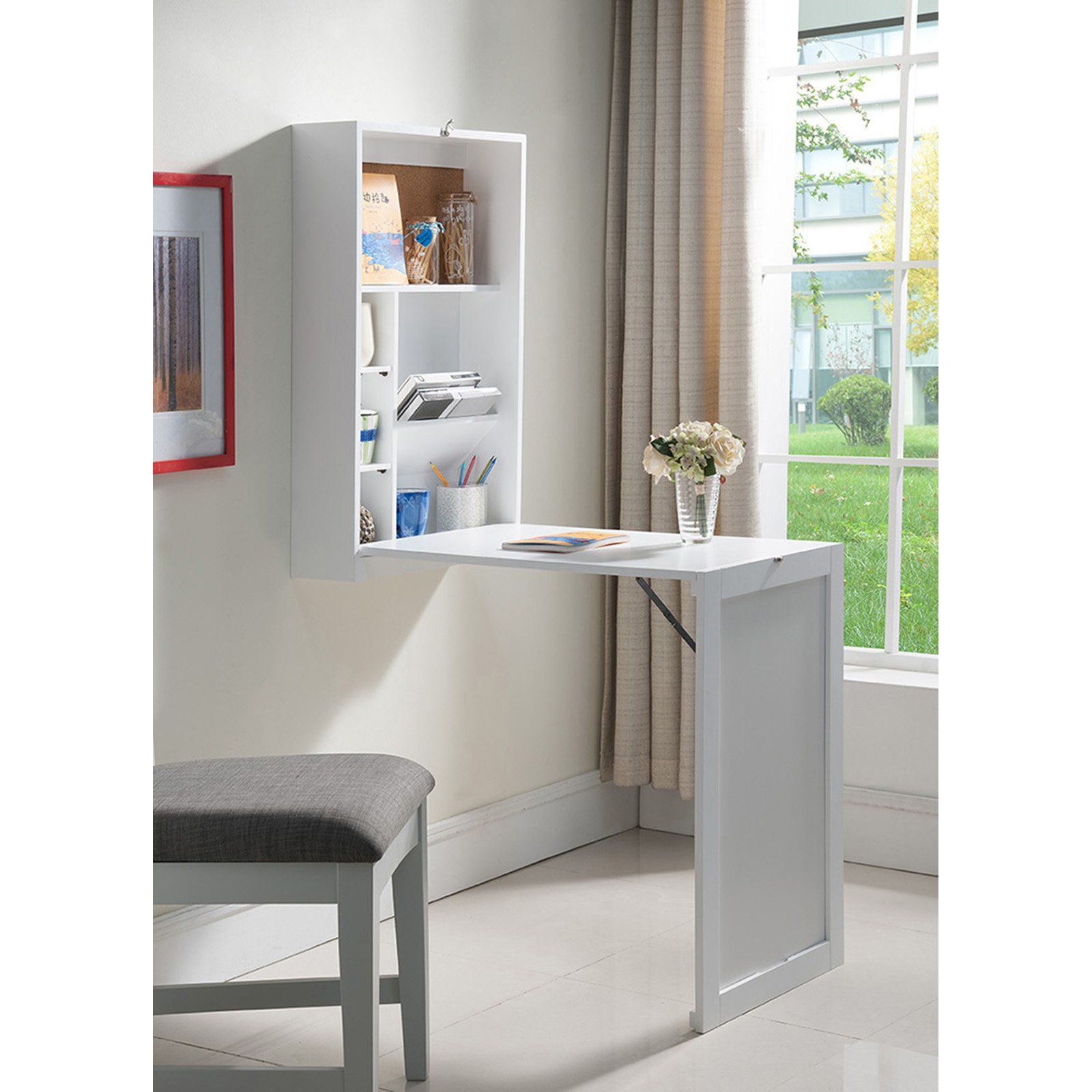 Again, if you still in need of an efficient working desk for limited areas, this computer desk design works well for small spaces. It won't eat the leg room as well, since this desk is a fold up type.
So, when the desk is not in use, you can pull it up and unite with the cabinet –fold down when you have a desk works to do. The materials mainly of plywood. The design is also simple, though you need to pay more attention to the hinges and the latches.
21. Wall-mounted Twin Tracks DIY Computer Desk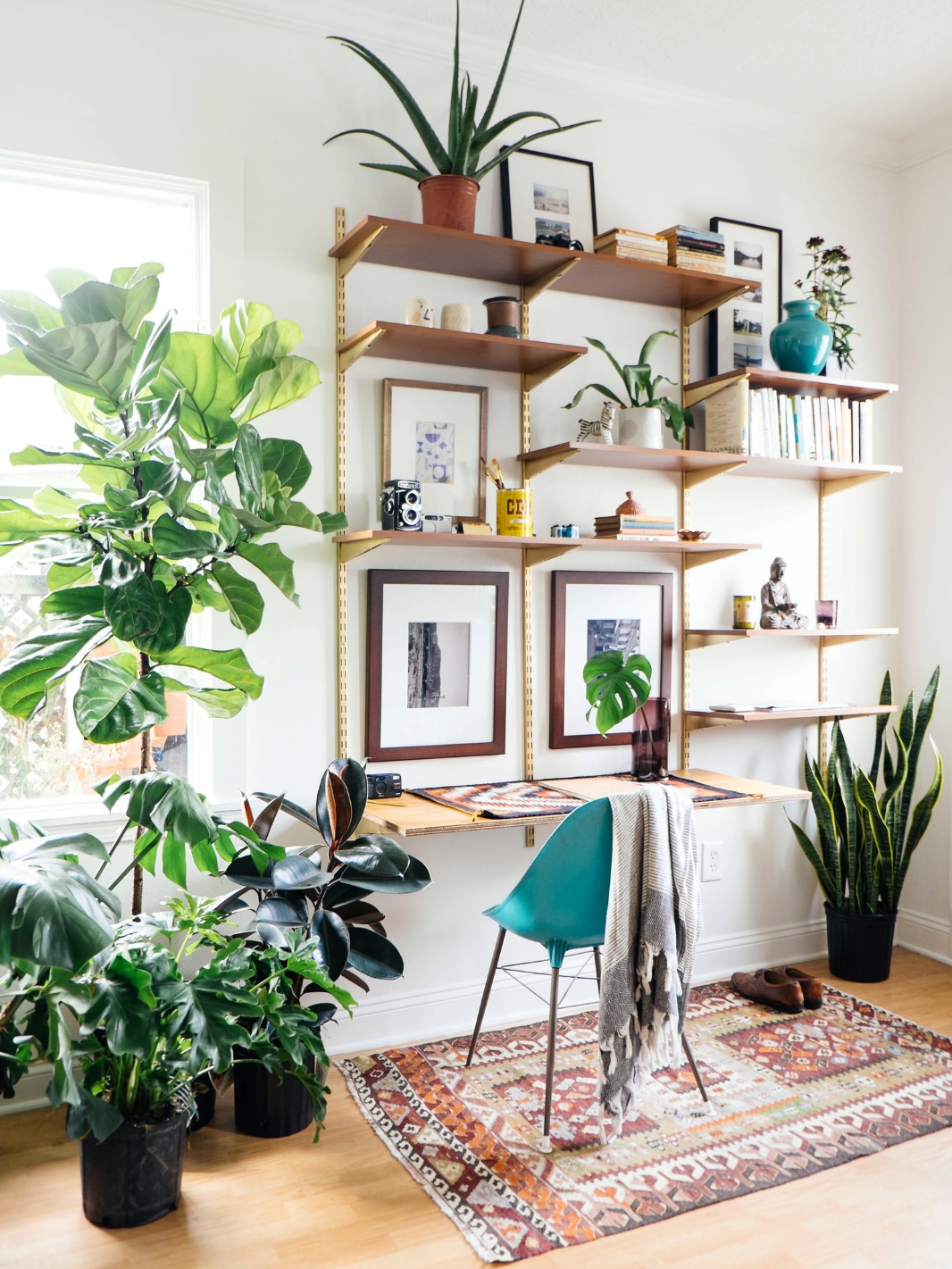 You can make an affordable computer desk plus its shelving system with multipurpose twin tracks. You only need a flat wall to mount the tracks. Its practical and evenly spaced holes enable you to put shelves on any places along the tracks.
For the shelves, choose solid woods for elegant look. But, if you want the more affordable choice, try plywood. You can experiment with laminated glasses or any other hard materials. This example show you how a wall-mounted twin tracks desk with genuine wood colors gives you warm rustic air.
22. Shabby Chic Computer Desk in Distressed Finishes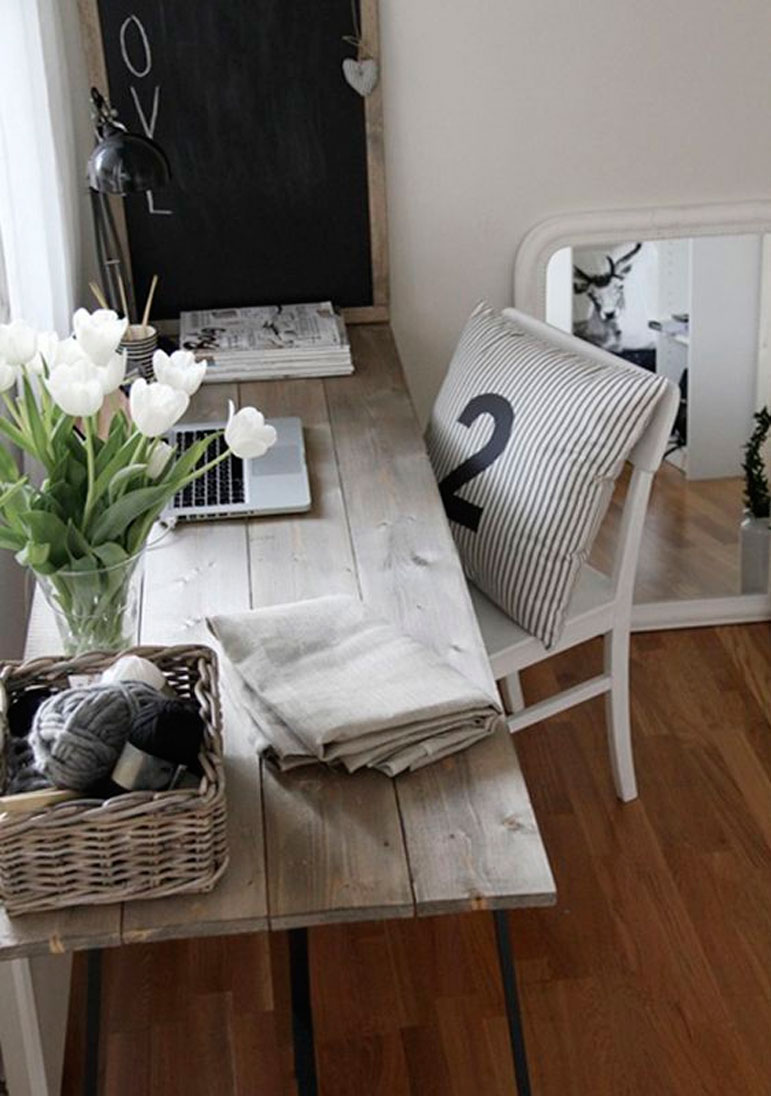 The finishing touches of a computer desk has an impact to your mood. They have to be in tune with your personal tastes. So, for an example, if you love minimalist design, you love the desk to have natural touches. As alternative, say, if you love the pleasant air of a cottage, this DIY computer desk with distressed white finishing touch is a better choice.
23. Cheap and Easy Recycled Cardboard Computer Desk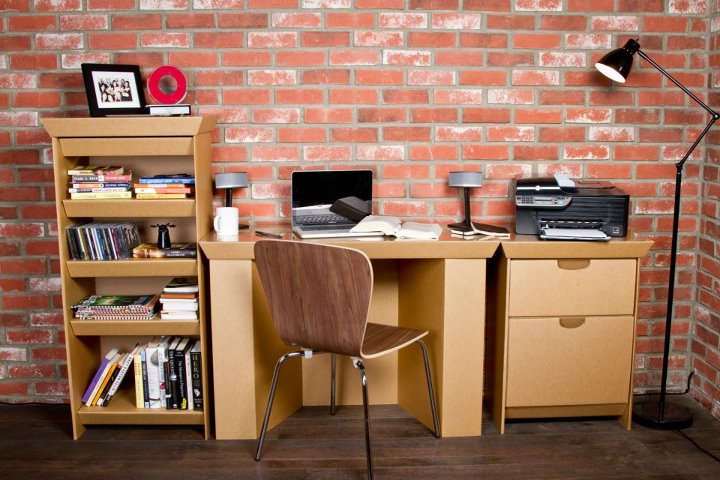 This DIY project only needs your deft hands and a scissors. You are to make computer desk from cardboards. This desk won't need any nails or even glues. All you have to do is just fold and fold again until the cardboards turn into this ergonomic computer desk.
24. A Nook for Neat Working Station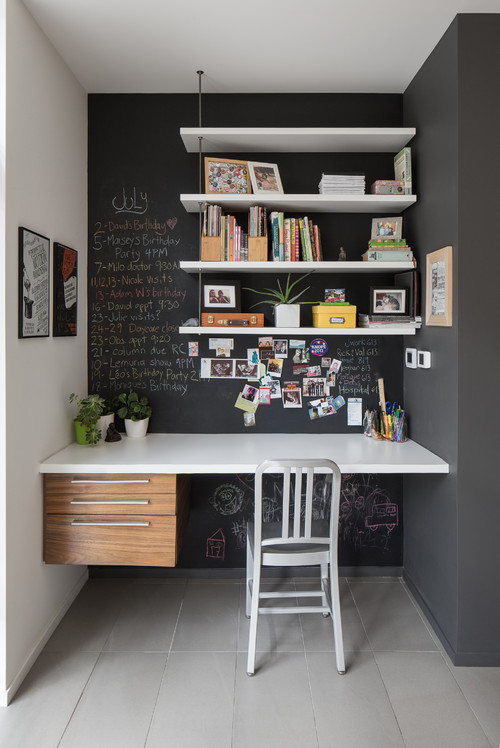 Having unused spots can spark imagination. An unused nook in your home makes your fertile minds get nicest idea, like turning it into a nook working station like this example.
Use floating style for the desk and its shelves for neater and efficient appearance. The white and charcoal black color theme further adding the contemporary vibes. This elegant working desk also is easy to do in your DIY project.
25. A DIY Computer Desk with Industrial Vibes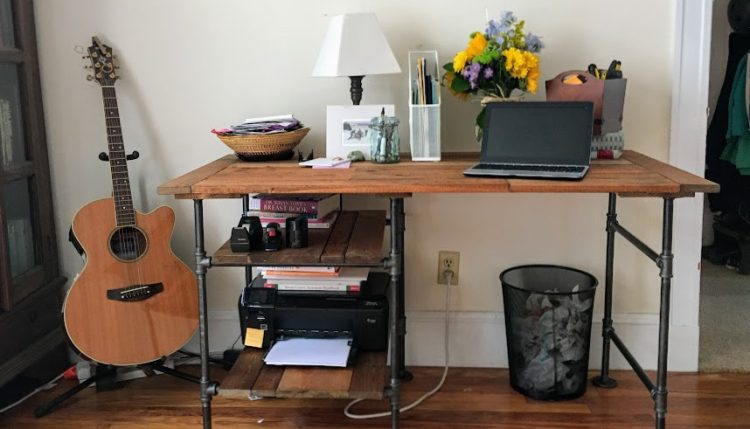 This last computer desk design is for industrial and repurposed stuff enthusiasts. Here you need reclaimed woods and several length of iron metal pipes. You also need some pipe joints to connect them all into a table's frame. And that's all. Once completed, you have this rustic computer desk with industrial vibes on it.
Read More: 25 Most Awesome Walk In Closet Ideas for Big or Small Room
That's all the awesome list of DIY computer desk for you. Some are super easy to build, some other might be good for inspiration. Lastly, we hope you enjoy the list and even have already had the clues for your dream computer desk or working station in the next DIY project.