Want to update the existing fireplace? Then you need to consider a double sided fireplace. The new trend gets its footing only recently, but has garnered lots of fans all around the globe.
After so long being placed along the wall, now fireplace is the new centerpiece of the house. It's your new focal point in the house. It also inject a certain contemporary touch to your home.
If you have an open layout interior in the house, the fireplace also offer a new way to divide your rooms, with the fireplace structure as your room's partition.
Not only in the middle of the room, it's not uncommon to set the fireplace as the transition spot between the indoor and outdoor areas.
Those are only a fraction of coolness of this new type of fireplace. If you're now interested in the fireplace, here we've picked you some of the awesome double sided fireplace.
1. Double sided Fireplace Insert in Concrete with Wood Storage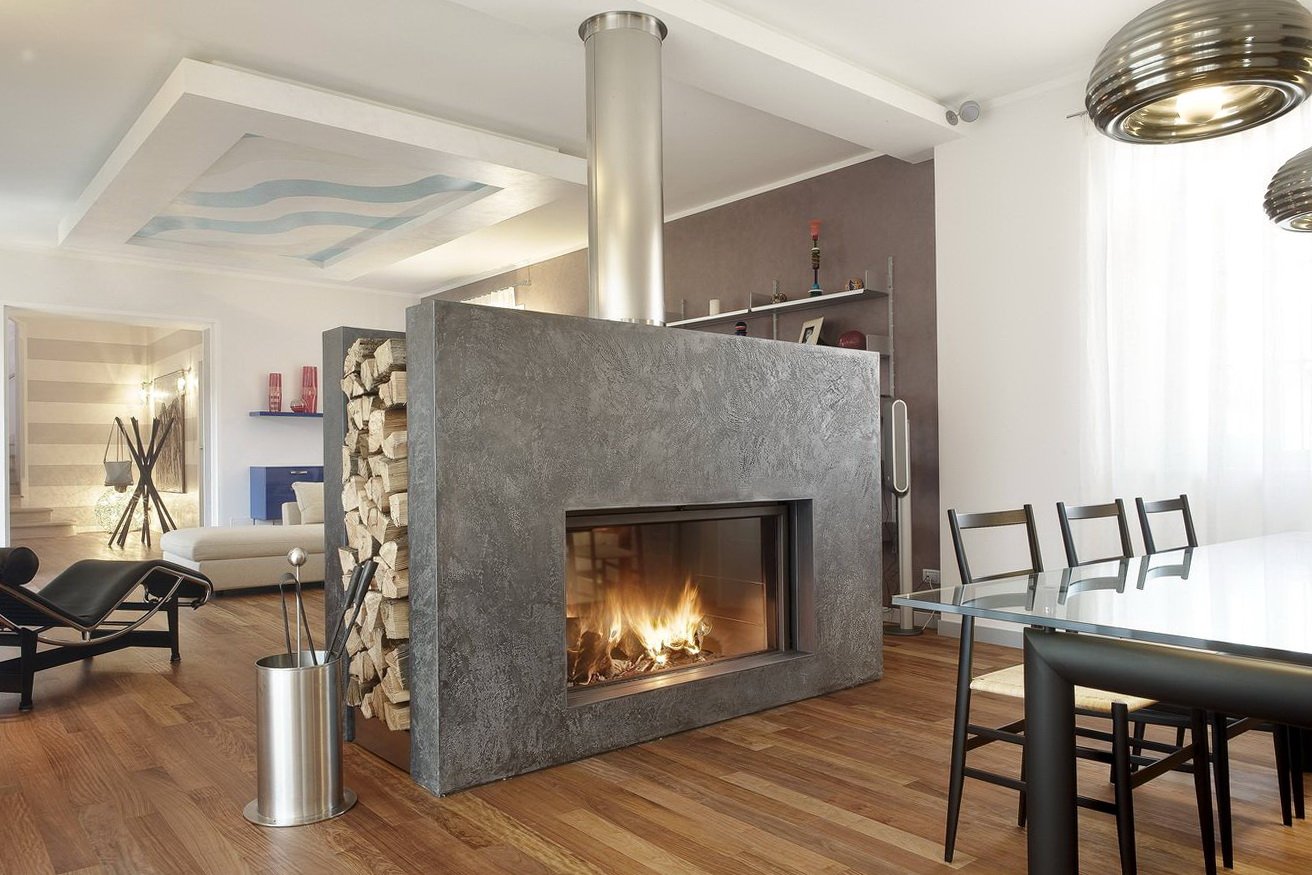 A regular old fireplace offered only a fraction of the heat generated to warm the room, the rest of the heat is blasted out of the chimney. The old only has 5% efficiency, so now you often meet insert structures.
An insert is an iron or steel structure lining the inner wall of the fireplace. The purpose is to reduce the heat lose and increase its efficiency.
Propane, gas, electric powered inserts only some of the regular inserts you meet in the market. The one in the following example is a double-sided/two-sided wood-burning fireplace insert.
2. An Efficient Electric Two-Sided Fireplace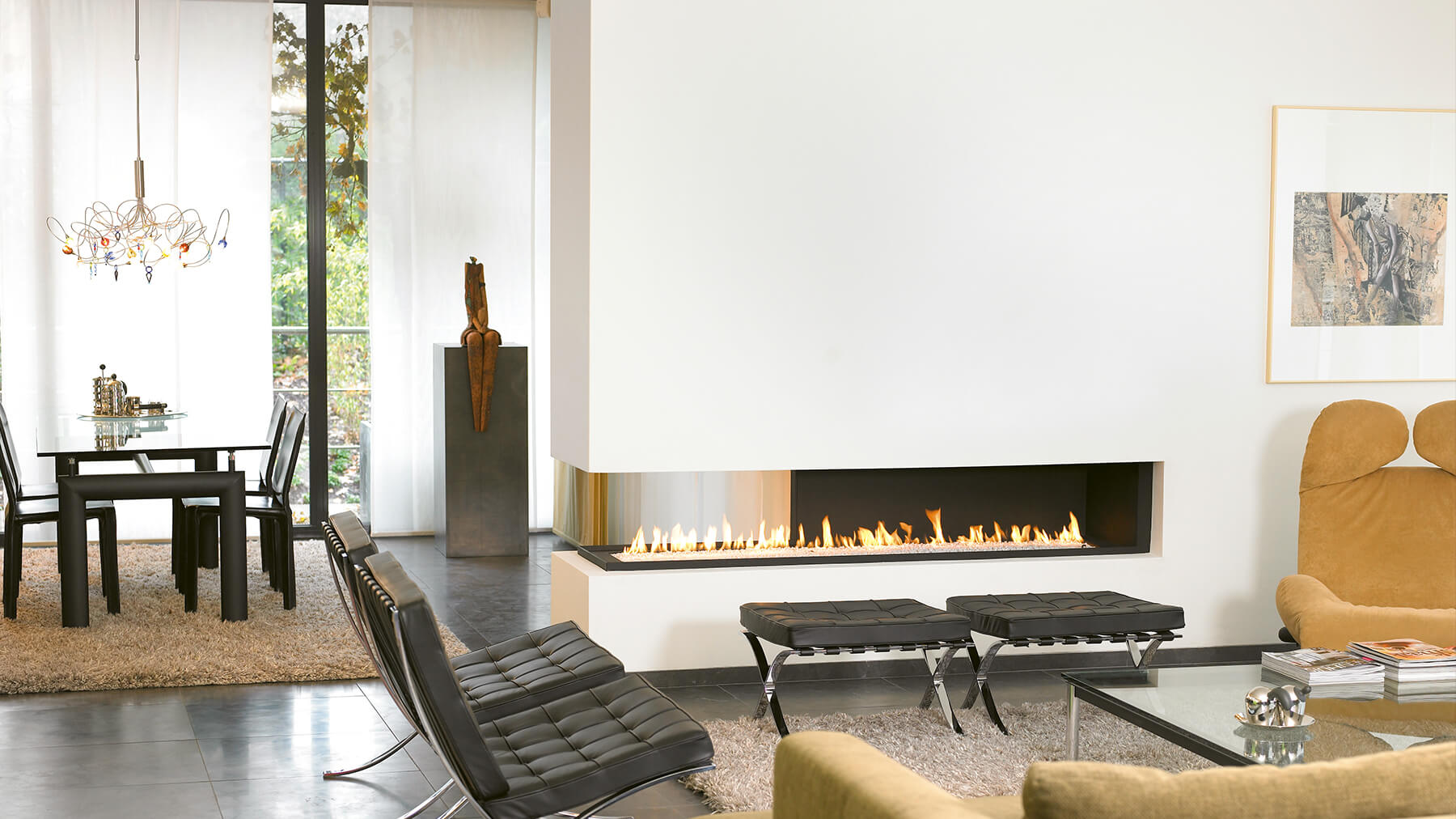 Having a two-sided fireplace is great, it also makes you feel safer, as it has sturdy glass and iron structure enclosing the fire –Mainly if you use gas or wood-burning as the main fire source.
If you have an electric fireplace, you don't have to deal with the fire. Unlike the wood-burning fireplace, the electric fireplace has higher efficiency.
It also is cleaner, as you don't have to deal with any chimney-cleaning or ash removing. For the reasons, the f
ireplace often an option in an urban or contemporary homes.
3. An Indoor Outdoor Fireplace for Pleasant inside-out Activities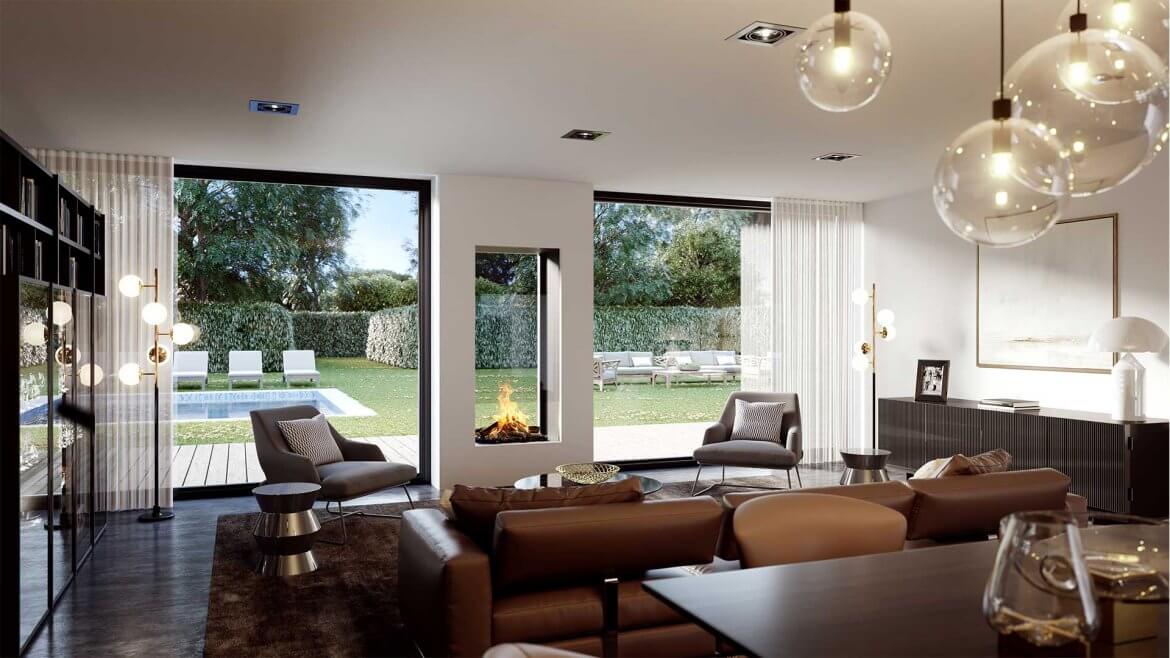 A vital benefit of a two sided fireplace in the house is that you it can cover larger area with only a fireplace. For example, you can easily warm a dining room and a living room with this fireplace –if you install it at the center of the house.
Another option is that you can warm the house simultaneously both for indoor or outdoor activities. This where you pick an indoor outdoor fireplace.
With the right placement, like this example, you will always warm at home –both indoor or when you're outside on deck or patio.
4. Ventless Two-sided Fireplace for Easy Maintenance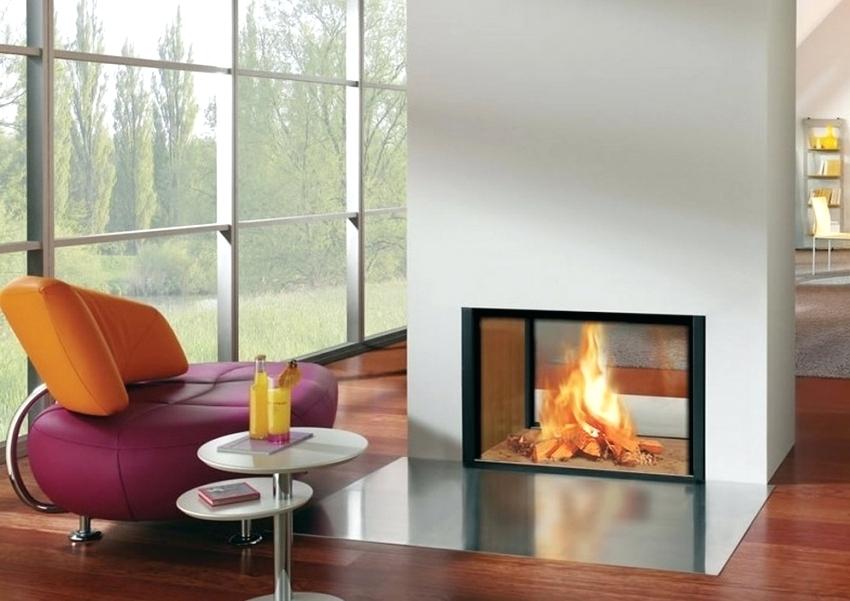 For home heating systems, you have at least to options: the vented or ventless fireplace. The difference is obvious: you want the fireplace has chimney or not.
The ventless fireplace offer no chimney, you may pick the gas or electric ventless. With the rise of efficiently sealed homes, this kind of fireplace also is on the rising demand.
With a ventless, you don't have to worry about sooth or ash all over the room (if the chimney blocked), it also gives you the cool urban look.
5. Double Sided Fireplace Design for Uneven Rooms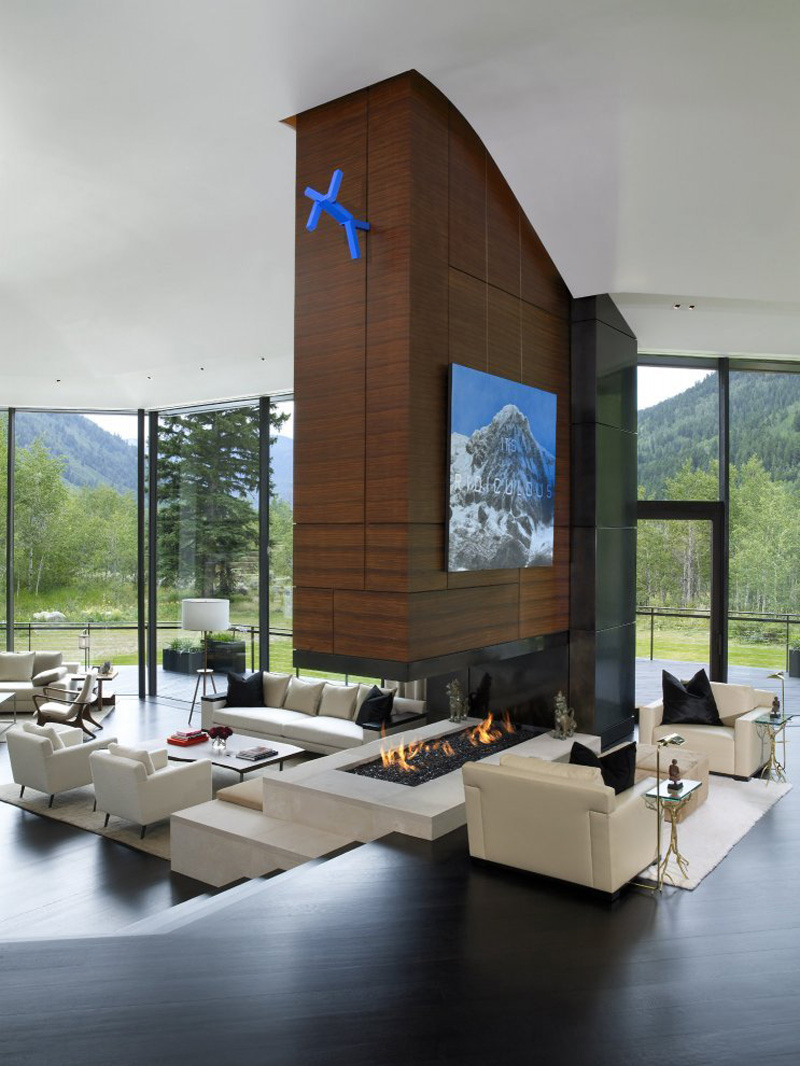 Once, you only have an option when it comes to divide a house interior into rooms, that's by walling the interiors.
Then comes the portable partitions systems. And now you have the two-sided fireplace.
Now you use the fireplace as a room divider. With is double-sided characters, it can heat up at least two rooms adjacent to it.
This cool fireplace might worth considering when you want to have the kind of room divider. It divide two different level of rooms in awesome way.
6. A Gorgeous Minimalist Fireplace, Two-sided Type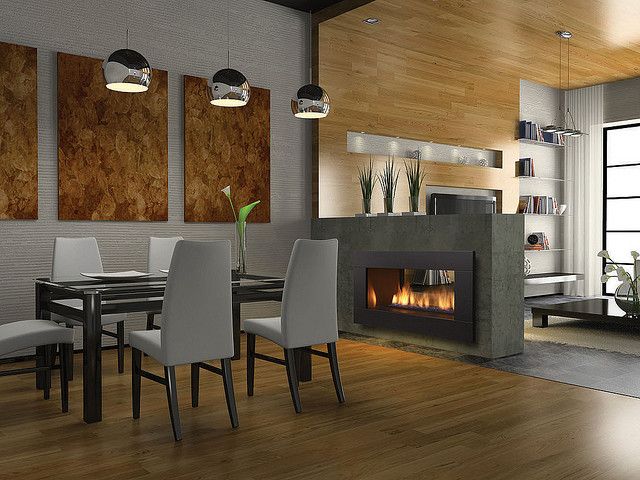 Having a double-side heating system in the house is a thing, but then you should consider the room lay outing. You need to think about the right theme for each side of the fireplace.
You may set different theme for both rooms sandwiching the fireplace, as most people do. But some suggests that you need to use the same theme for each room, mainly if you're into minimalist theme.
This room gives you an example of the theme. A Regency fireplace divide the modern minimalist rooms seamlessly without having to make the room looks fractured.
7. A Cottage Style Outside-Inside Fireplace Idea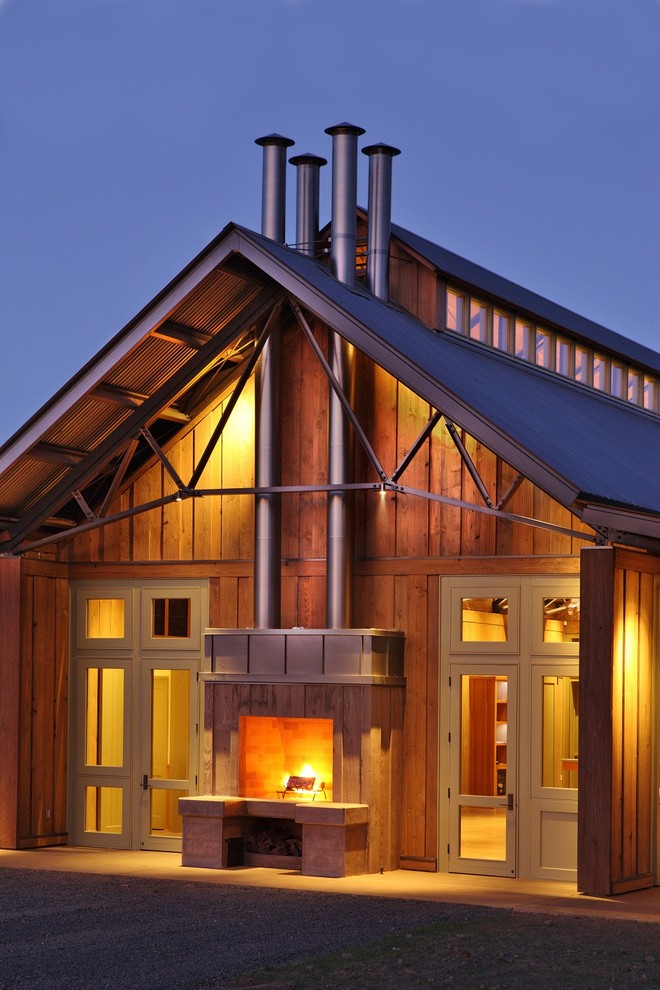 As a home feature, 2-sided fireplace is a relatively new trend. This way, you might find that it comes in higher price than the regular one.
But, if budget is not an issue, then you might need to consider the fireplace when you want to update the existing fireplace in the home.
In this example, you have another cool outside-inside fireplace. This time you have a wood-burning not see through for a cottage house, complete with its four chimneys for the in and out hearth.
8. Rustic Fireplace (Double-sided) in a Rustic Home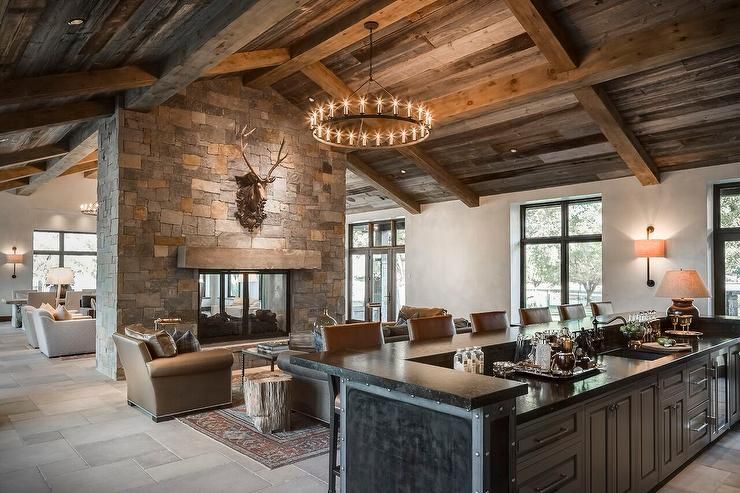 A fireplace, double sided style, also looks great for a rustic living room setting (actually, not just they style, most of the home interior designs).
Along with its functionality and its aesthetic values, the fireplace also offer double charms and warms unlike any other regular one-sided fireplaces.
This rustic fireplace is only one that offer those qualities. Its natural stone' frame stand in the middle of the room, giving unique focal point to both the living room and dining areas.
9. A Slim Awesome Gas Two-sided Fireplace for a Modern Home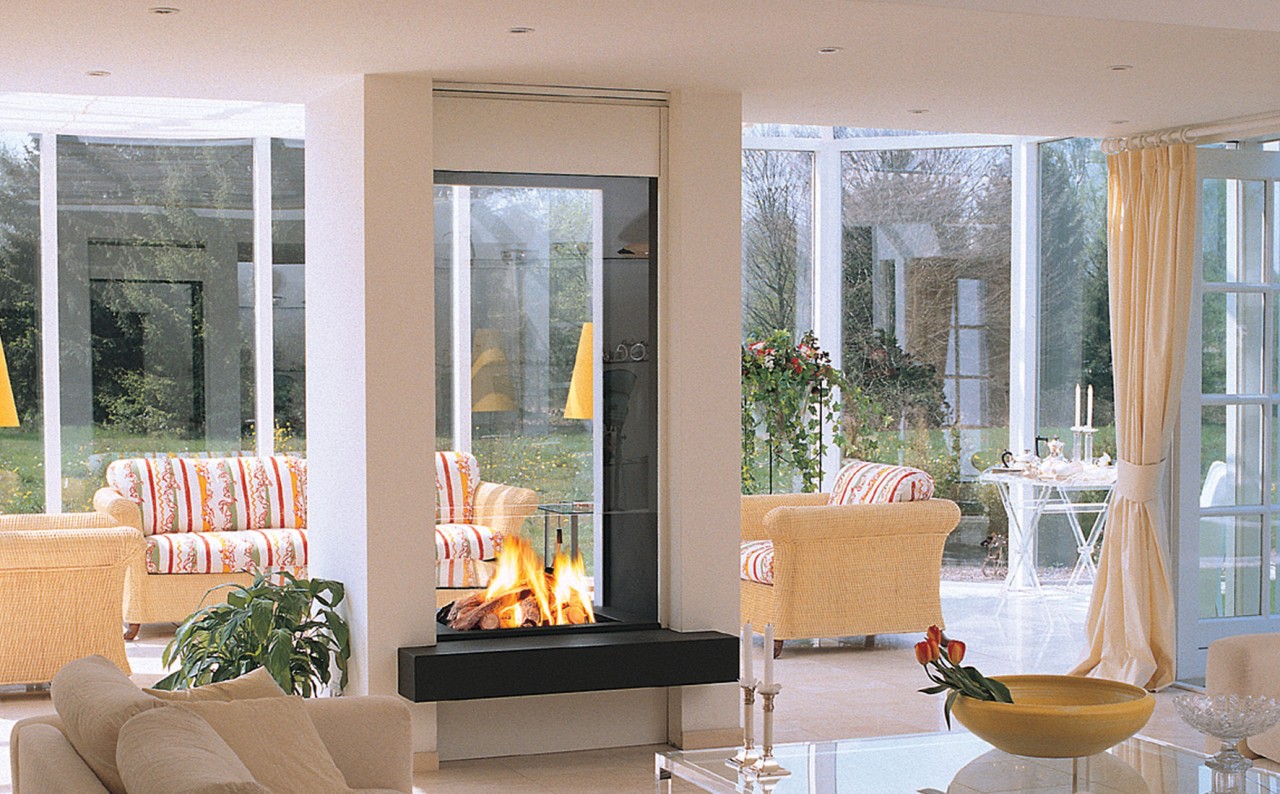 Two-sided fireplaces come in a variety of structure styles. You might find a fireplace with natural stone structure fireplace surrounds. On the other hand, you may find the structures also serve as supporting wall for the roofs.
But, for the fireplace structures to look balanced, you need to consider the forms to the overall room styles where they stand.
In this example, you find a modern room with a roomy atmosphere. And even the fireplace, in its slim design, seems to boost the atmosphere. It's good as fireplace and focal point all at once.
10. Craftsman Outdoor Double Sided Fireplace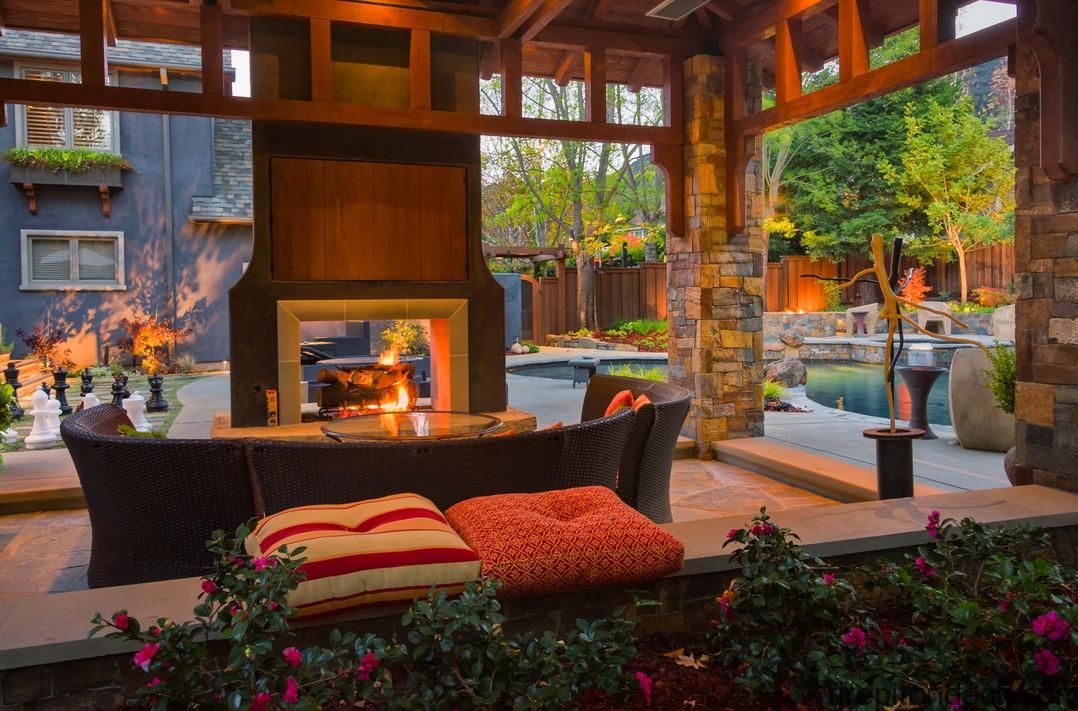 As you've meet mostly indoor two-sided fireplace, now it's time to meet the outdoor types. The fireplace, just like any other fireplace here, is also flexible enough to accommodate the overall style of your homes.
This outdoor fireplace, for example, is set in Craftsman style. If you love quality wood works, this style is one of the best choices.
The combination of wood works and natural stone structures surround the fireplace is gorgeous, making your evening moment more pleasant.
11. Glass-enclosed Fireplace for Contemporary Home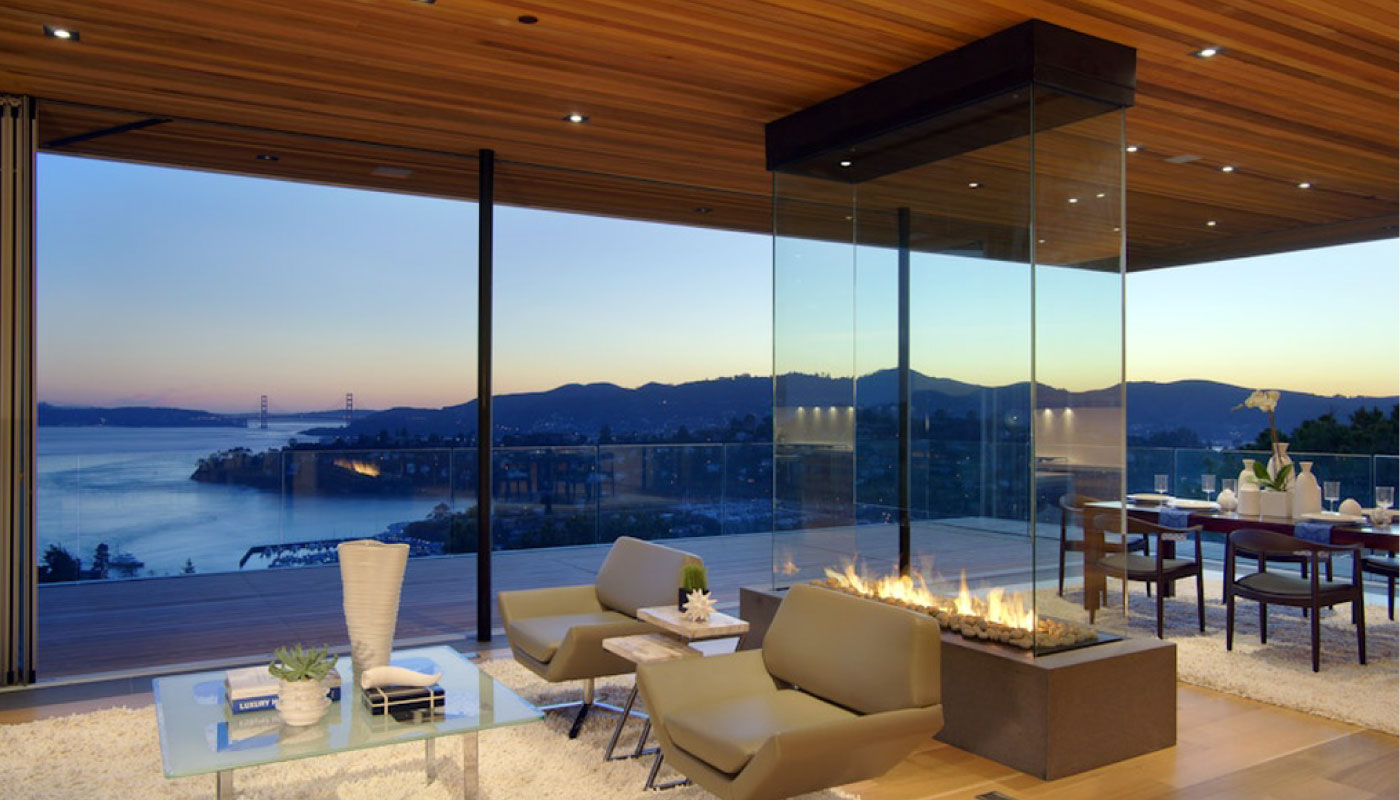 You might want a fireplace, the double-sided type fireplace, that's so clear it won't disturb your visual. The one that's truly blend in with the room.
For the reason, you need to consider of having a glass-enclosed fireplace, just like the following example.
Not only offer two-ways visual experience, thanks to the glass cage, you also can see the flame in 360 degree view.
12. Electric See through Fireplace for Small Apartment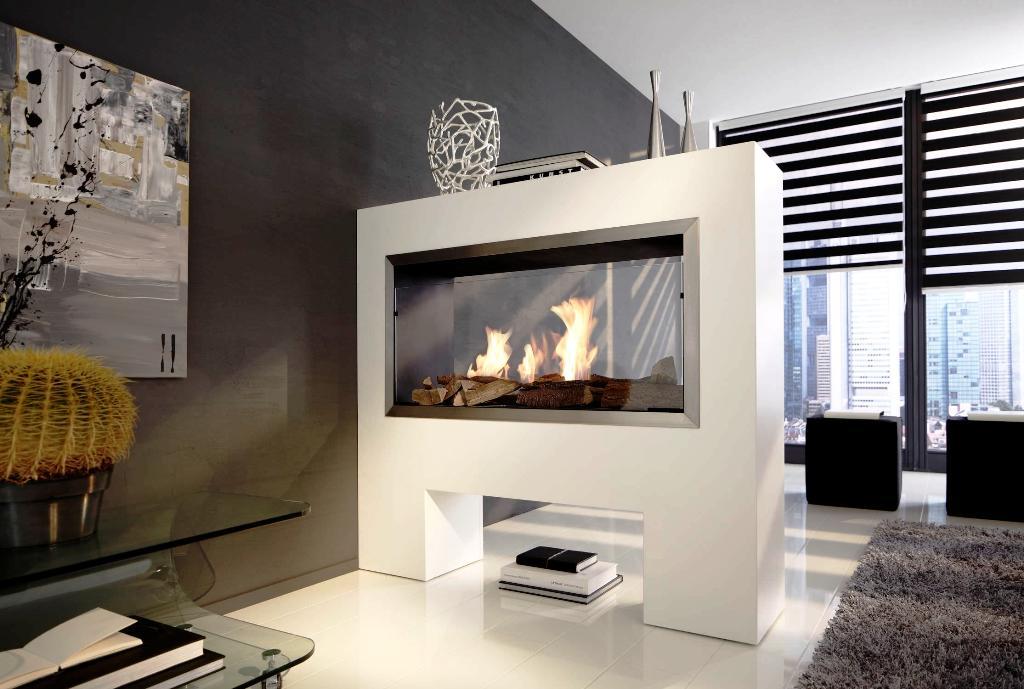 A double sided fireplace for a small apartment? The new heating technologies enable you to have a cute fireplace in a limited area, like a small apartment.
An electric see trough fireplace should be in under your radar when you want to update the existing fireplace with the new one.
The fireplace has minimalist design which would not present problems when you want to install it in the room. It even divides your room in efficient and aesthetic ways.
13. An Inside outside Fireplace with Classic Mediterranean Touches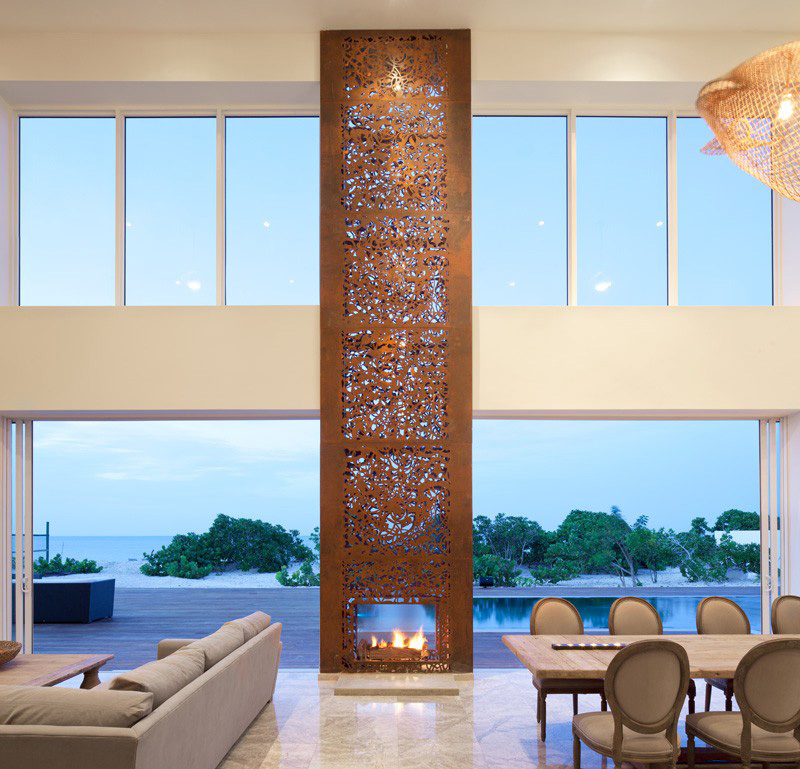 Again, here you meet an indoor outdoor fireplace, but now you have it in far more luxurious and extravagant ways.
This fireplace, slim and tall, serves as heating system for the living room and the pool area outside. That's the main purpose.
Along with the basic purpose, the structure also offers you fantastic focal point with its intricate pattern of its copper structures.
14. Elongated See through Electric Fireplace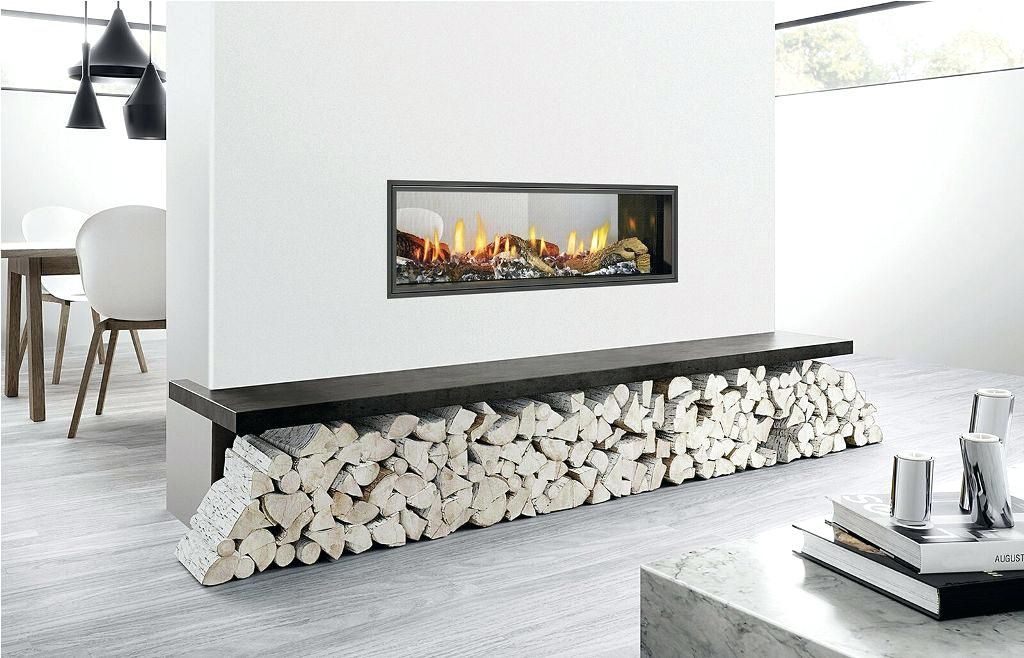 Talk about types of two-sided fireplace, you have several to choose. The first, probably the most popular, is the elongated types.
As the name implied, the fireplace has elongated opening –as you can see from the following example. It's a ventless electric double side fireplace.
The design enable the heat to spread wider all round the room. Like to have one? Be sure to choose the right sizes, as the wrong size only makes your room looks bad and makes your bank account shrink.
15. A Wood-burning Double Sided Fireplace Design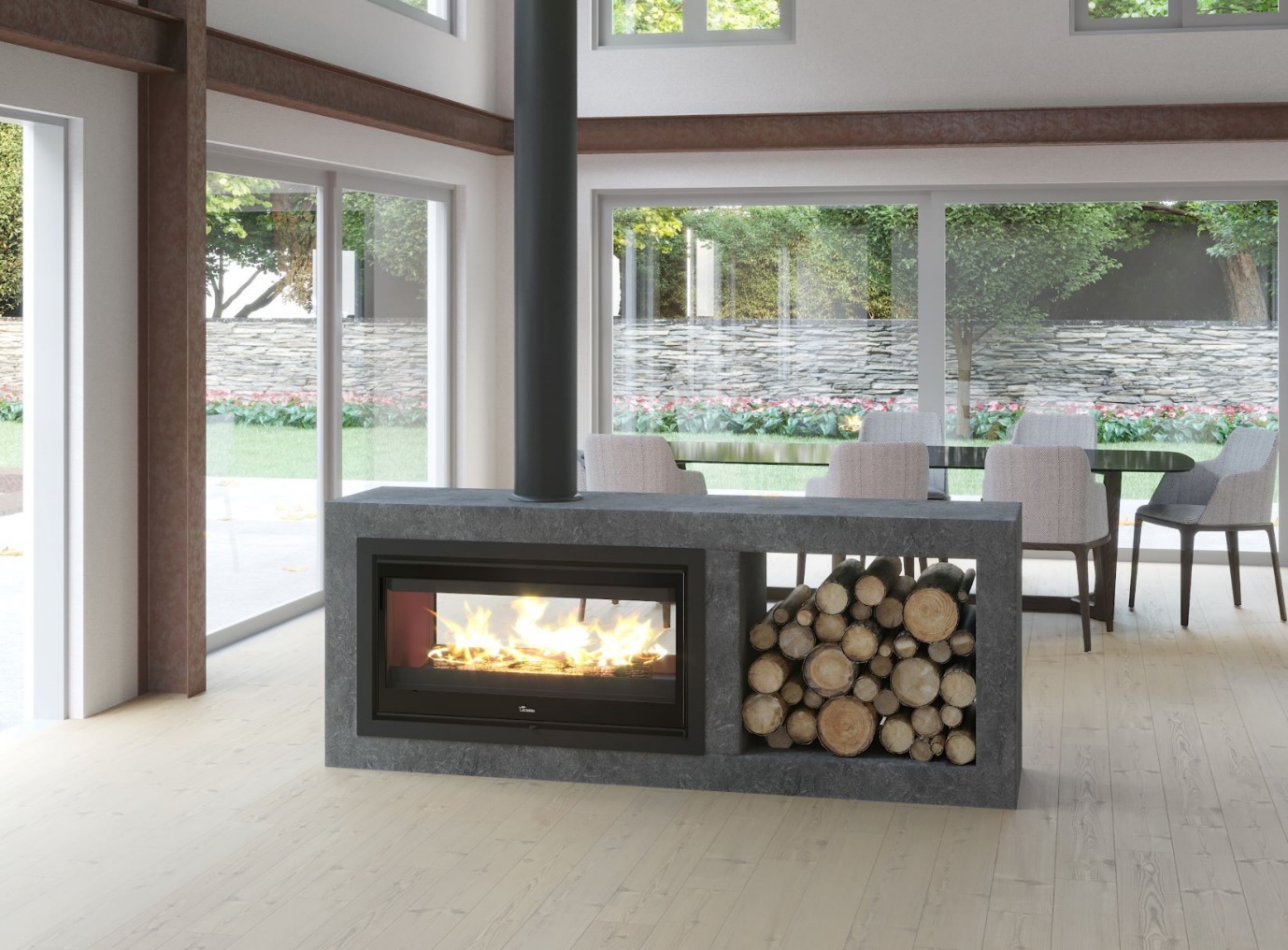 The sound of wood crackling, the blazing fire, and the heat that warm your soul in a chilly days are just awesome, nothing can't beat the sensations.
An indoor type of this fireplace often use gas or electrical power as the fuel. But this time you'll have a wood-burning two-sided fireplace.
This see trough wood-burning fireplace design suits well for this industrial home interior, separating the dining area and living rooms. It looks robust and contemporary with the metal-concrete combination.
16. A See through Fireplace for Modern Home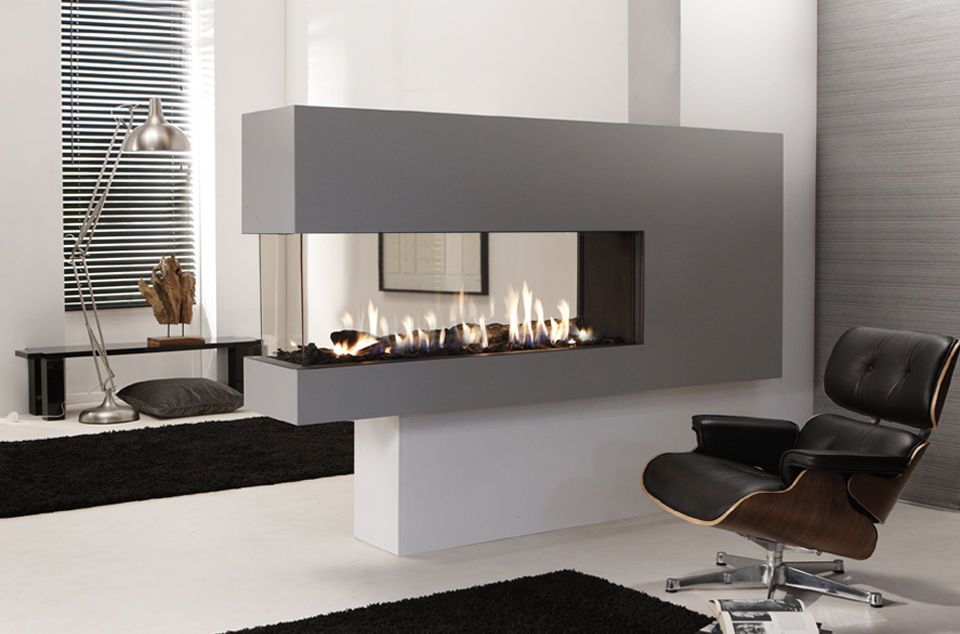 Back to the types of see through fireplace, along with the glass enclosed fireplaces which over you 360 degree of views, you also find three-sided types.
This fireplace lets you see from 3 sides for most warming occasions. You also has triple joy, as you can enjoy the warmth from three points around the fireplace.
This fireplace works well for a small room. Where it helps you to define and adds personality in the room without having to overwhelm the other features in the room.
17. A See through Fireplace in Scandinavian Look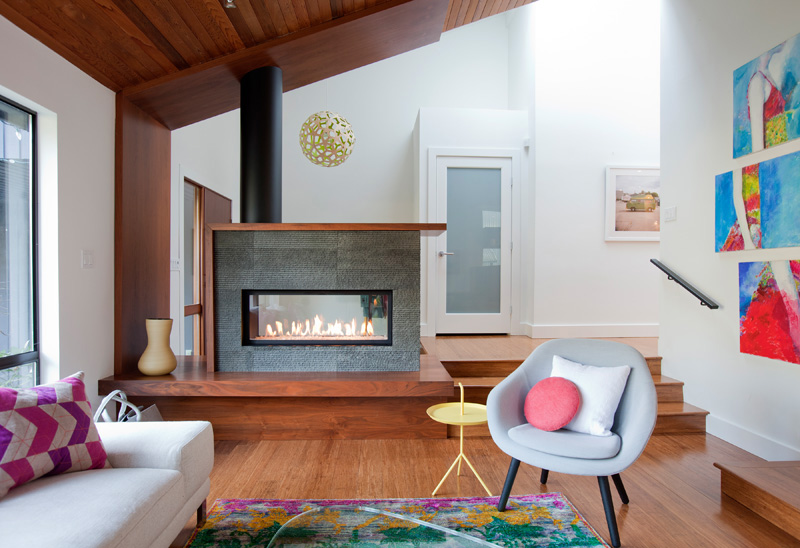 If you want to find a warm minimalist theme, a Scandinavian theme is one of the best options available. It has minimalist and efficient characters which should cheer your chilly days.
A combination of quality materials and superb room lay outing make this style always looks great, for small or large rooms.
In this Scandinavian home, a see through minimalist fireplace divides the room without reducing its minimalist characters. The idea is about finding the right fireplace style with the room –and this living room has the right one.
18. Low Two-sided Fireplace for a Room Partition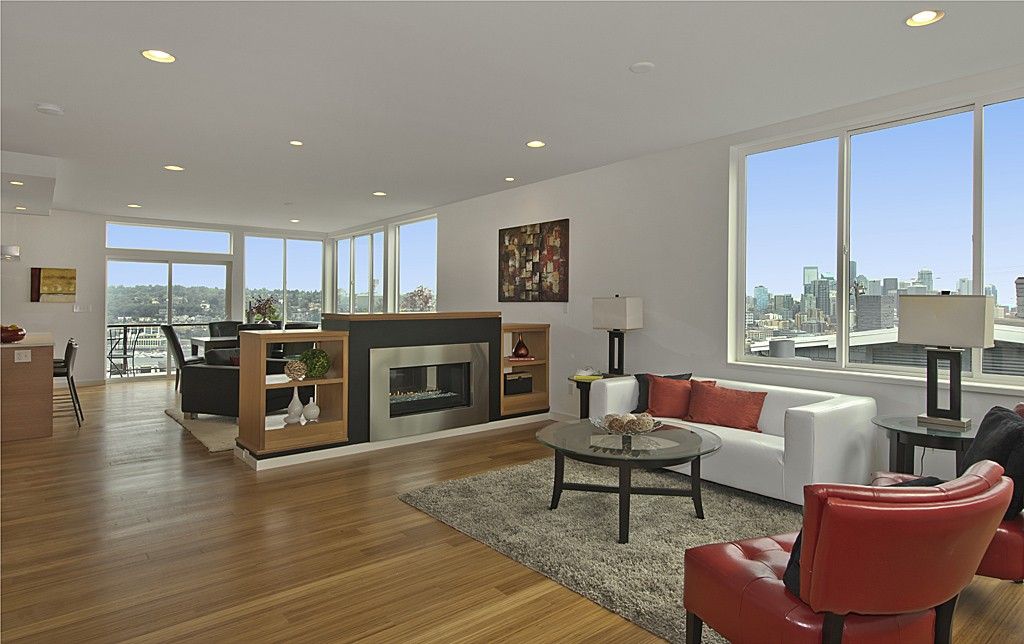 Sometimes you just don't want the double sided fireplace in the room looks too obvious, you want it blend in so nicely it's not even looking like a fireplace.
For the purpose, the following example might worth your attention. The fireplace fits perfectly with what you're looking for.
The fireplace is low enough to match the shelves flanking it. It helps you to have unhindered views to the overall room, making the room looks even wider and brighter.
19. A Luxurious Modern Bedroom with See through Fireplace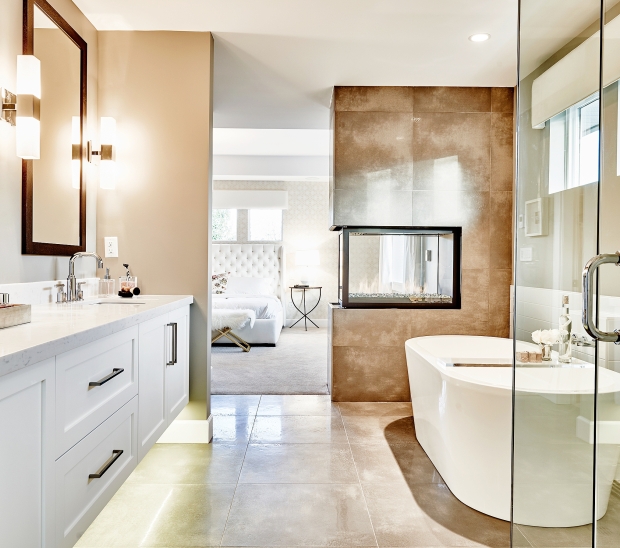 Sometimes you need to treat yourself with a little privacy in luxury. This time we offers you how a fireplace can turn your bedroom into an awesome retreat haven.
So, now you need to update the bedroom with a two-sided. You have several spots to install it. For example, install the fireplace between the bedroom and your reading room.
Another example is in this awesome luxurious bedroom setup. You place the fireplace between the master bed and the bathroom. See how cozy it looks.
20. Outdoor Tropical Fireplace, Double-sided Style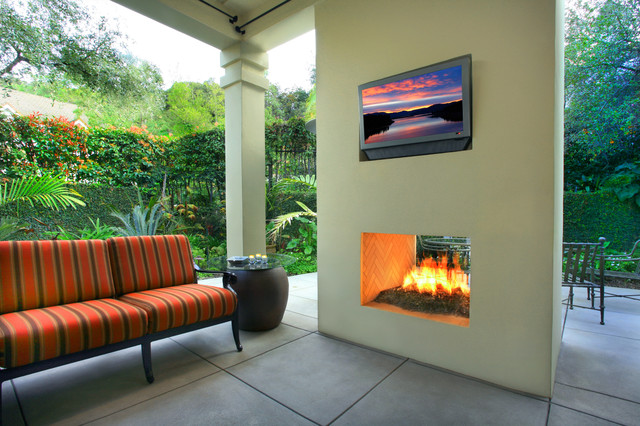 Once you had to depend on woods to survive in the winter days. Now you have other alternative stuff as the fuel for your fireplace. They also offers design flexibilities which work well for almost any interior or exterior designs.
The new tech are also offers you more convenience. You don't need to make fire every time you need to warm the house. Now you just click a button and that's all, you have a snug room –indoor or outdoor.
This time you have an outdoor see through fireplace in a tropical setting, ensuring you to always have pleasant moment all days.
21. An Industrial double-sided Gas Stove Design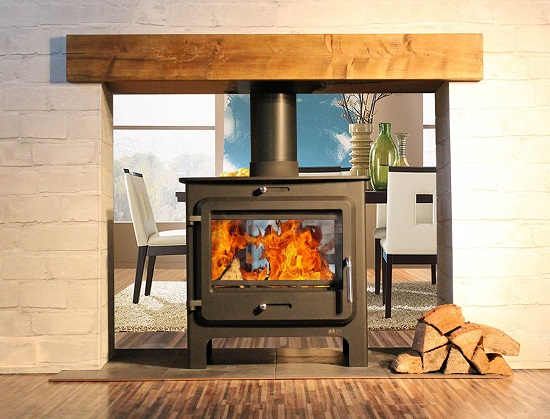 Industrial gas stove is another type of fireplace. This fireplace's resemble an old stove and even now you can still use it as a food warmer as a standalone fireplace.
The gas stoves are made of durable metal which could last for generations. For the reason, you don't need not to worry about its maintenance.
This gas stove usually has industrial style, which offers simple and light designs. It also comes with double-sided features for double heating your rooms.
22. An Eclectic Vintage Industrial Fireplace Idea, Double-sided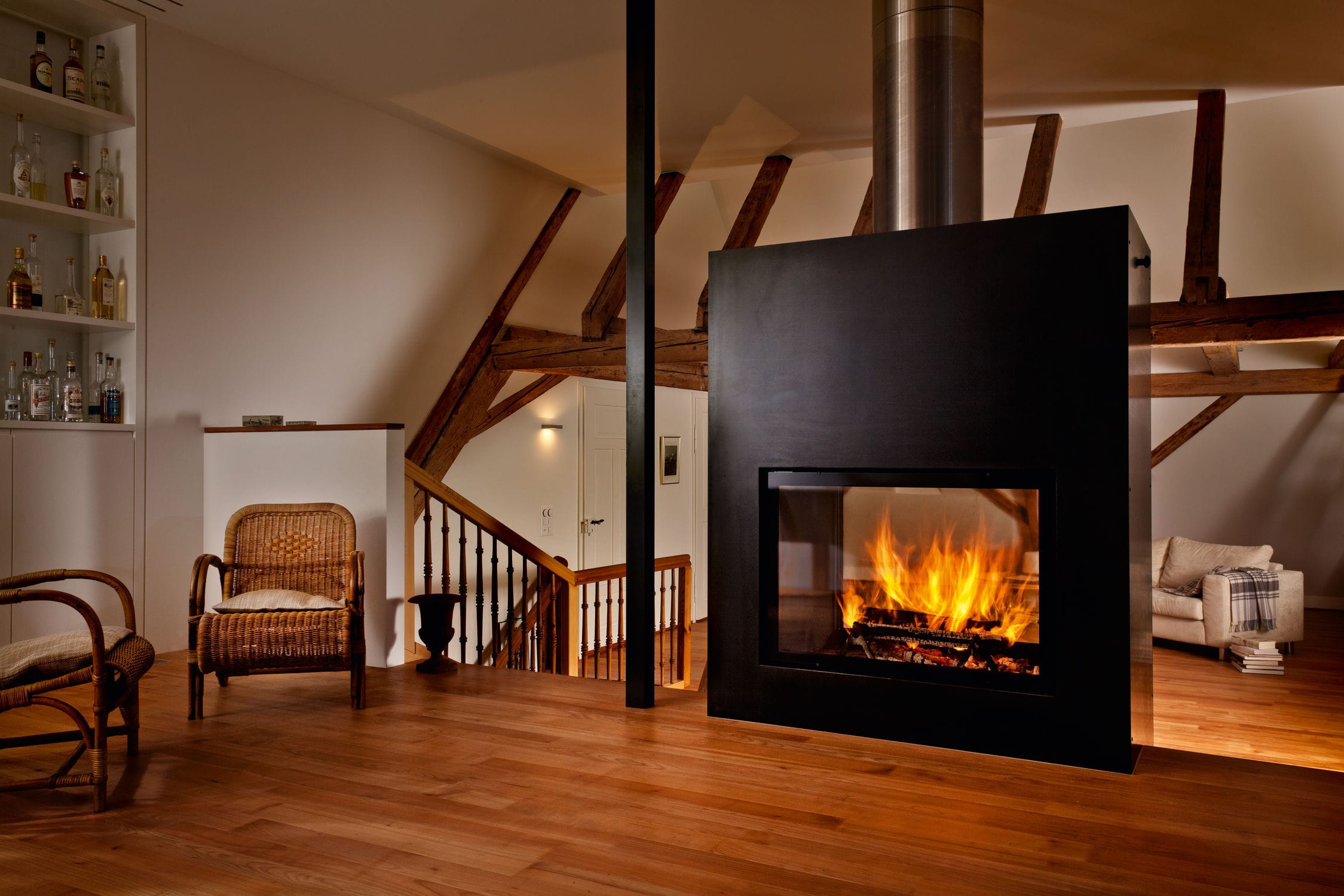 Eclecticism shows your personal tastes in the more unique ways. As blending different styles into a great new style needs certain aesthetic talents.
This old but updated industrial living room looks so charming with contemporary metal fireplace as its focal points. Either style won't overwhelm the other style, they blend in nicely.
23. Double Two-sided Fireplace for Double Heating Power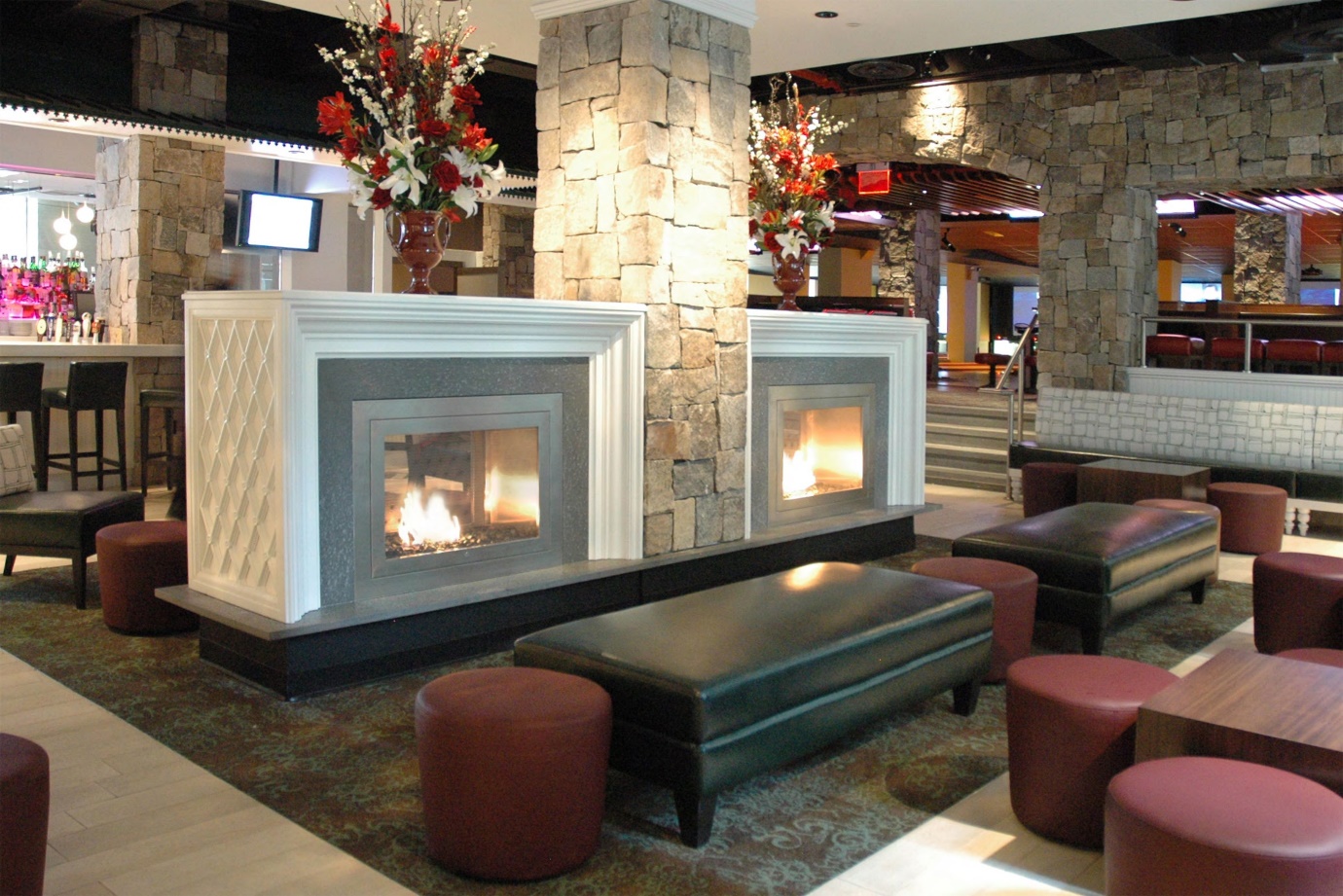 When a fireplace is not enough to heat your home, then try to double the number. Make it two and make sure it see through with double side feature. It's great for a room.
If you love the idea, this idea helps you to start the project. Here you find double fireplace installed in the center of the room.
They divide the room unobtrusively, separating the living room and the bar seamlessly without limiting your views.
24. A Not See Through Fireplace in a Stone Wall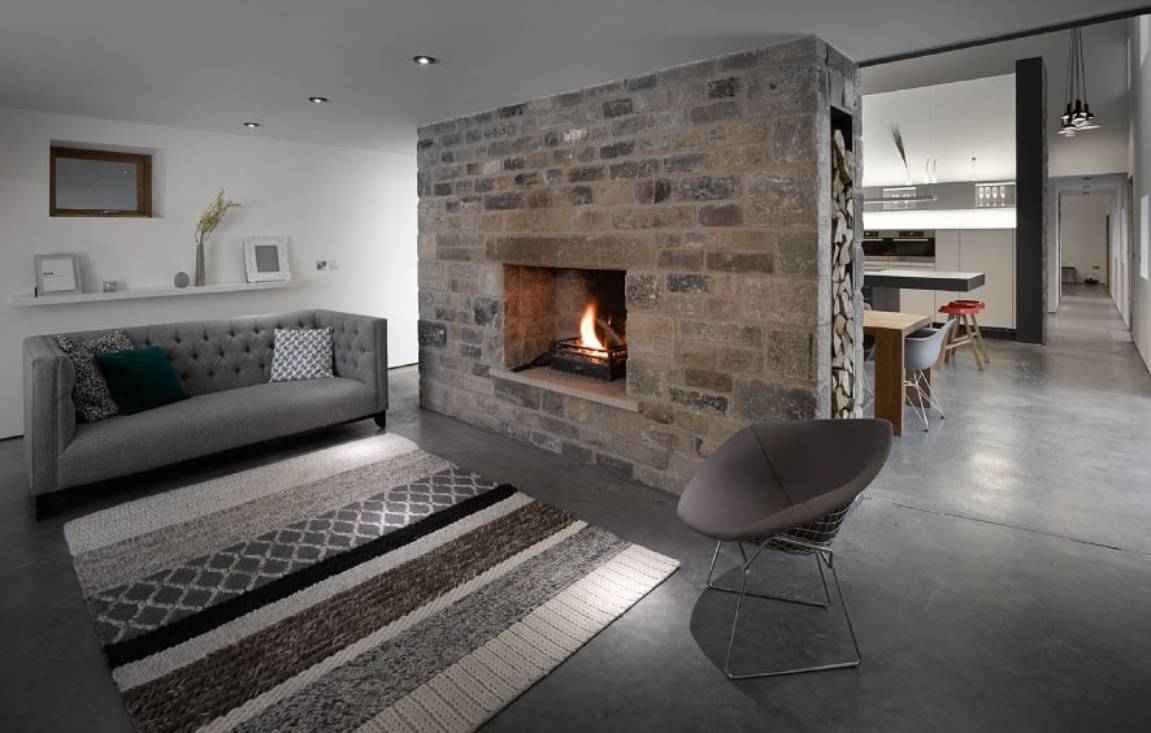 Along the list here, most of the fireplaces shown here are of see trough fireplaces. But you also have another option, the more conventional one.
The idea is by installing a not see through fireplace in the center of the room, with each side of the fireplaces facing to the opposite rooms.
In this example, the fireplaces is framed by stone wall, making the modern living room and dining area look charming and rustic.
25. A Low Modern Double Sided Fireplace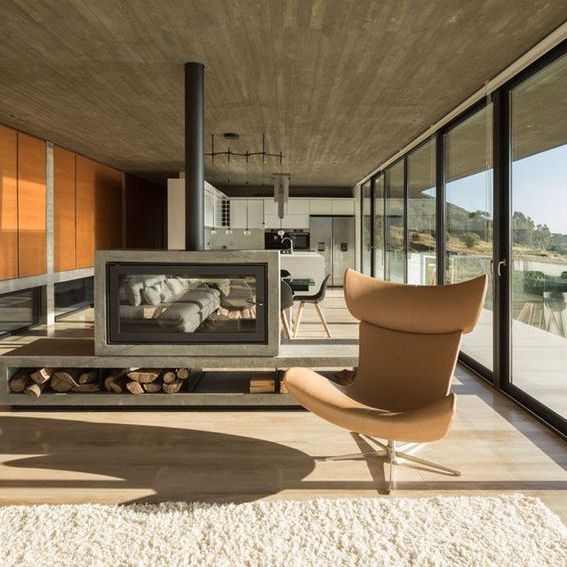 The last fireplace will be light, low, and slim, it's suitable for your modern homes. If you have a small living apartment and want to update the fireplace, this fireplace design will work as well.
Modern style, mainly with the 50s vibes like the following example, use natural and fabricated natural extensively. It blends the materials in minimalist style.
The interior of this modern home is divided by a contemporary concrete-metal double sided fireplace, which give the room its updated 21 century ambience.
Baca Juga: 25+ Awesome Eclectic Living Room ideas to Have This 2020
We almost covered all the types of double-sided fireplace ideas and designs around. Now that you've see some of the coolest for indoor or outdoor (or both) purposes, we sure that your next step of finding the right fireplace is easier.
Like the modern, contemporary, or rustic fireplace? Or even you want an eclectic one? It's the time for you to answer. For now, have a good day.