Kitchen is essential feature in a home or apartment. The problem is that sometimes you just can get the right kitchen for your home due to the size of the rooms. Some are too big, while the other are too small. If you have the problem, we have compiled more than 20 white kitchen ideas that suit well for your needs. Let's check them out.
1. Modern White Kitchen with White Cabinets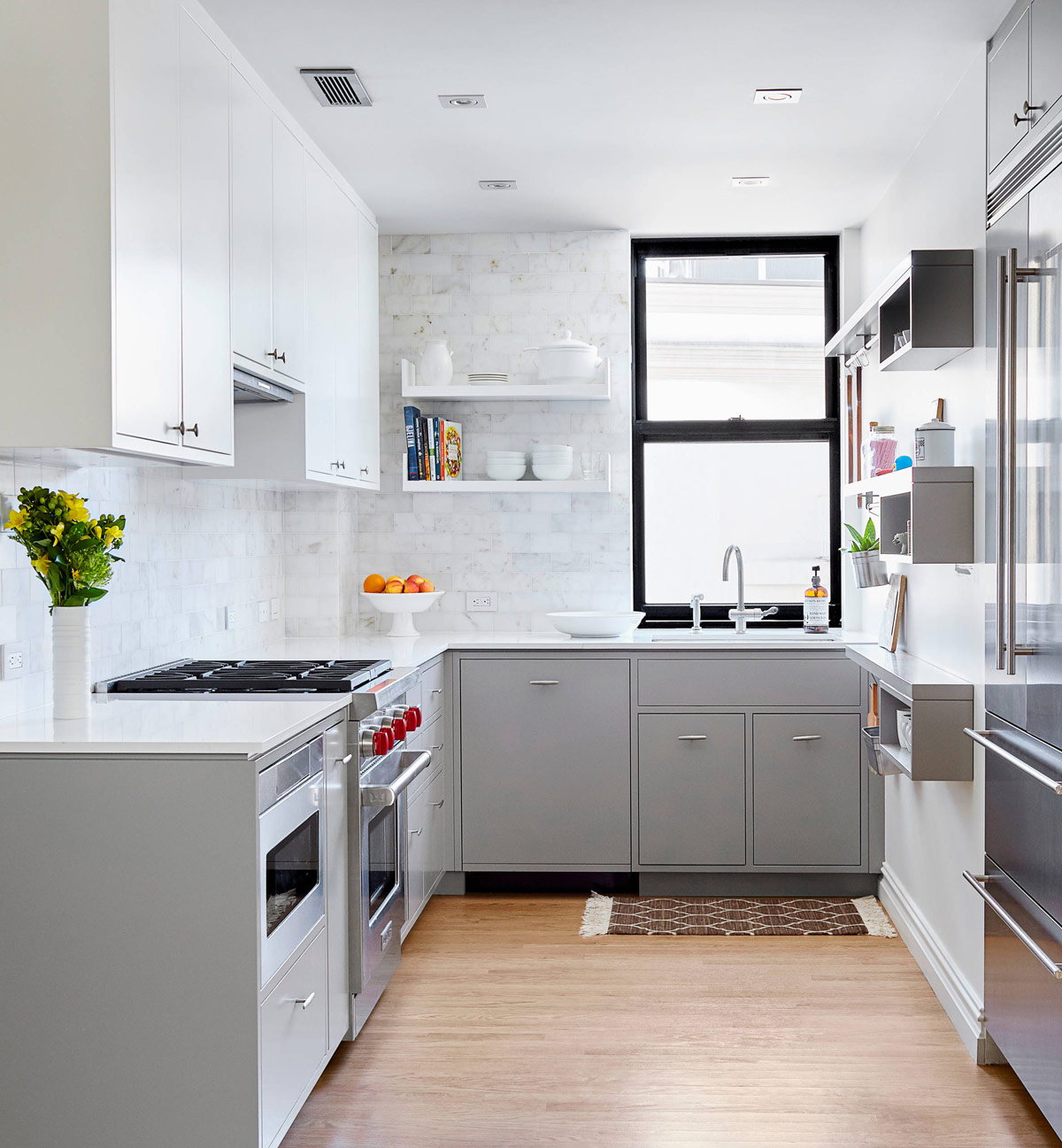 Galley kitchen is your right choice when you want a kitchen in a limited space. The preparation tables lay parallel to each other (for this reason, this kitchen is also known as parallel kitchen) with working space or walkway in between.
This modern white kitchen is an example of a galley kitchen. The neat arrangements makes it looks clean and fresh, for large or small kitchens. Especially for a small kitchen, a combination of a galley type kitchens with white paints also makes it even feels roomier.
2. Small Antique-modern Southern White Galley Kitchen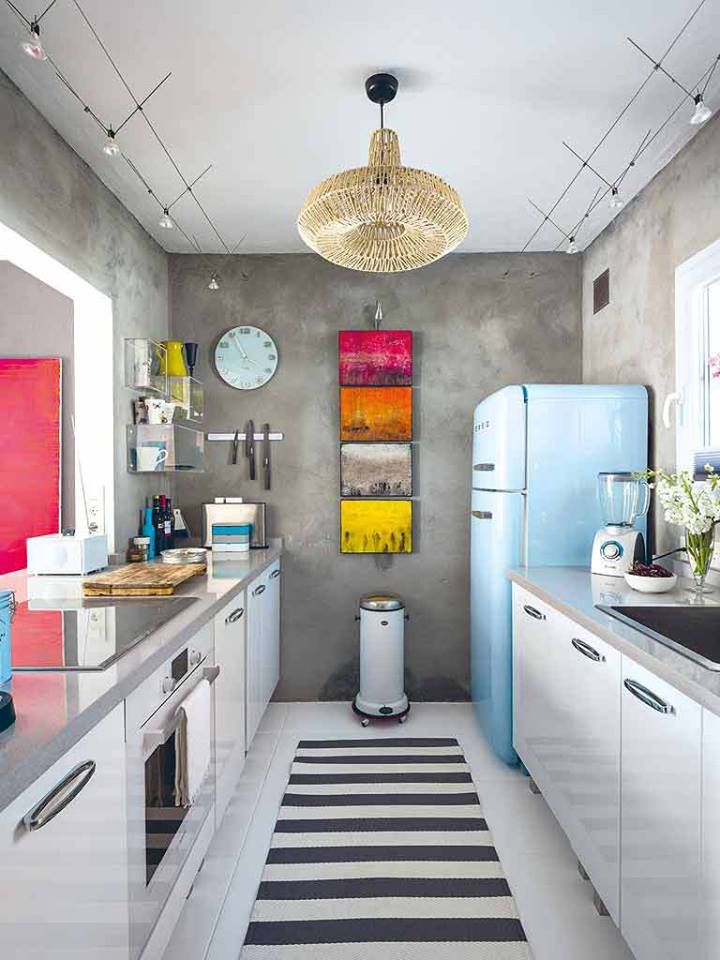 Now, thanks to the Internet, you can see almost all of kitchen models in the world. And your chances to widen your tastes on the models will also improve, from the antique styles to the contemporary one.
If you have the love for antique kitchen style, this example is yours. Here you have an antique white kitchen in Southern style. No, you don't have to worry about the lack of modern appliances and conveniences here. This old galley kitchen also can be equipped with the modern amenities. A good news for the lovers of Ikea or Hutch products, right?
3. Small Minimalist Scandinavian White Kitchen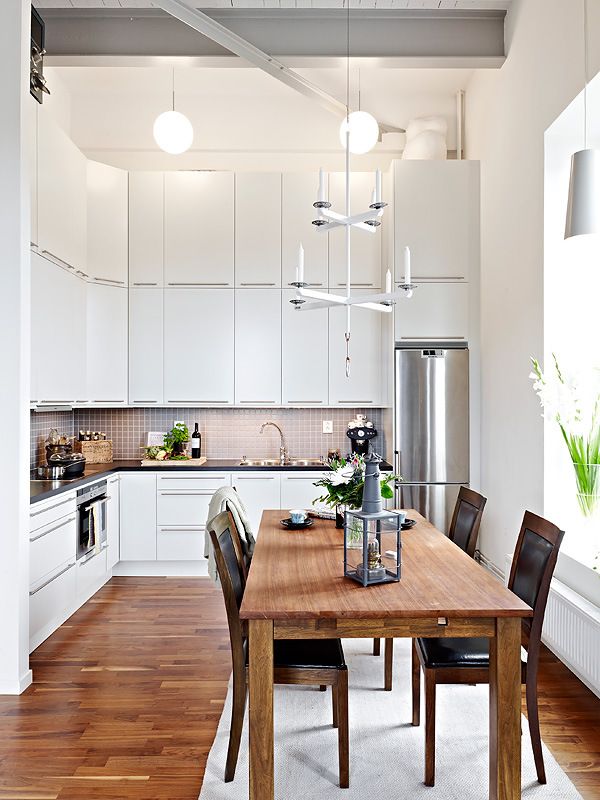 Scandinavian minimalism is getting popular this last decade. Propelled by charming knockdown products from Scandinavian names like Ikea, this style gets warm reception globally. Partly because the efficient designs, other by its warm look.
If you're into this style and looking to build a kitchen, here is your Scandinavian style white kitchen. It fits well into a small room. The galley style ensures you to always have room to move around freely. Its wooden ceiling and floor, guarantees you a warm and comfortable space to do your cooking activities.
4. Modern White Kitchen with Granite Countertops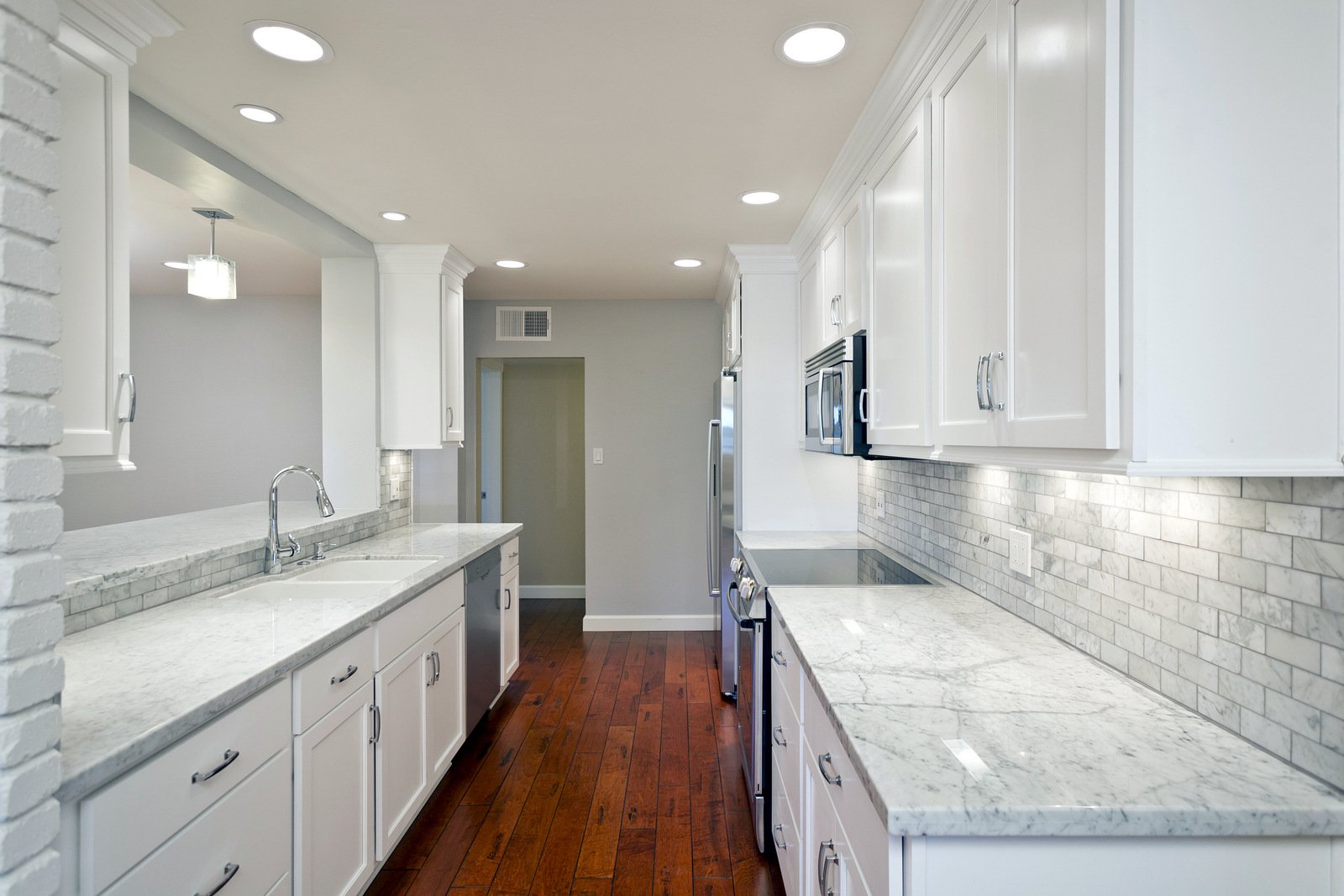 A kitchen will always better with slabs of granite. Granite offers natural touches to the kitchen. It's durable and strong. It also has the smooth appearance unmatched by any industrial materials. Granite also offers elegance and, even, a touch of class.
Here slabs of grey granite are used as countertop. Another large slab sits on kitchen island top as nice complement of the modern sink and faucet.
5. Small One Wall Kitchen with Subway Tiles Backsplash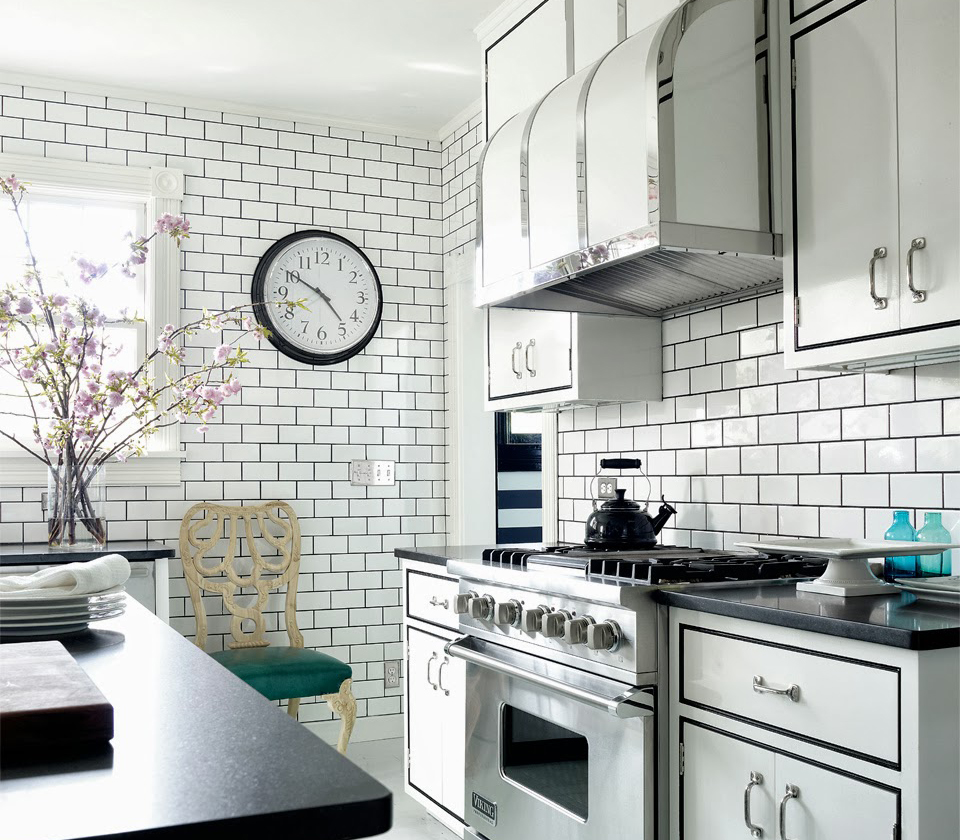 For an apartment or small house, one wall kitchen (or single wall kitchen) is a better alternative. It only occupies a single wall of a room. And if the layout is right, you get a charming kitchen as well.
This particular single one wall white kitchen is good starter point if you want to build a one wall kitchen. It's small, yet contains all the basic stuff you need in a kitchen. As refreshing accents, you have the black board cabinet doors. They also serves as your old school menu list board.
6. Small White Kitchen with Seating and Splashes of Colors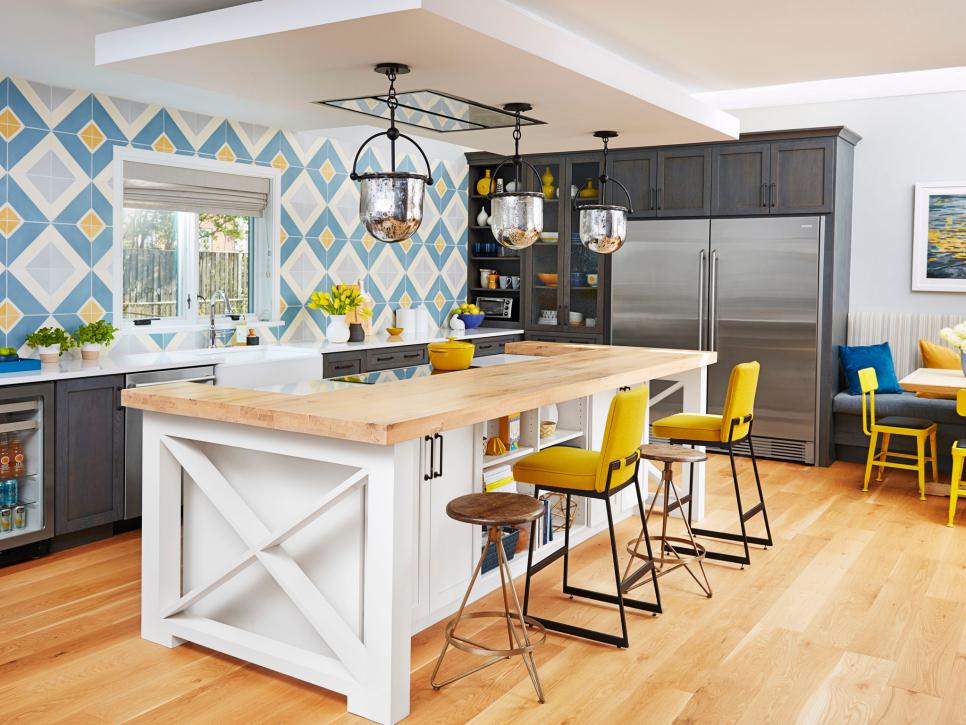 All white kitchen may be enough for some. For some other, they want a touch of color on their kitchen. A dab of color, no more. But, if you want a more colorful kitchen, here is a sample for you.
This small single wall kitchen offers a cheerful atmosphere with its some bright colors over the neutral white. The hexagonal shelves and its geometric backsplash complement the white-themed kitchen. This kitchen also comes with modern breakfast table with seating.
7. Cozy Modern White Kitchen with Grey Cabinets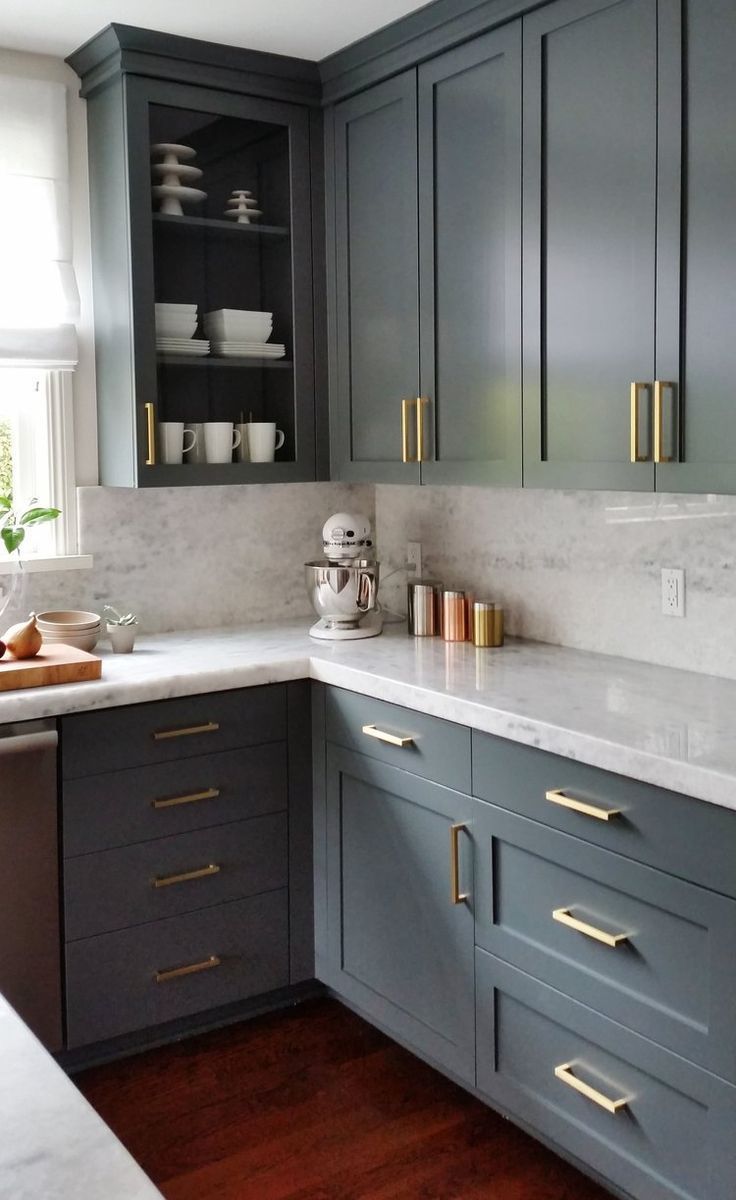 You may want another color for your white kitchen, but not too powerful color. Here's your nice option: add grey to it. Grey, being a neutral color like white, complements well with the color.
This attic one wall kitchen has light grey (almost metallic) cabinets. Apart as a nice complement to white color, it also gives a contemporary minimalist look to the kitchen. A splash of black countertop (another neutral color) gives balance to them. The yellow one, above and on the planter boxes, add a refreshing accent.
8. Roomy Single Wall Kitchen with Classic Chequered Floor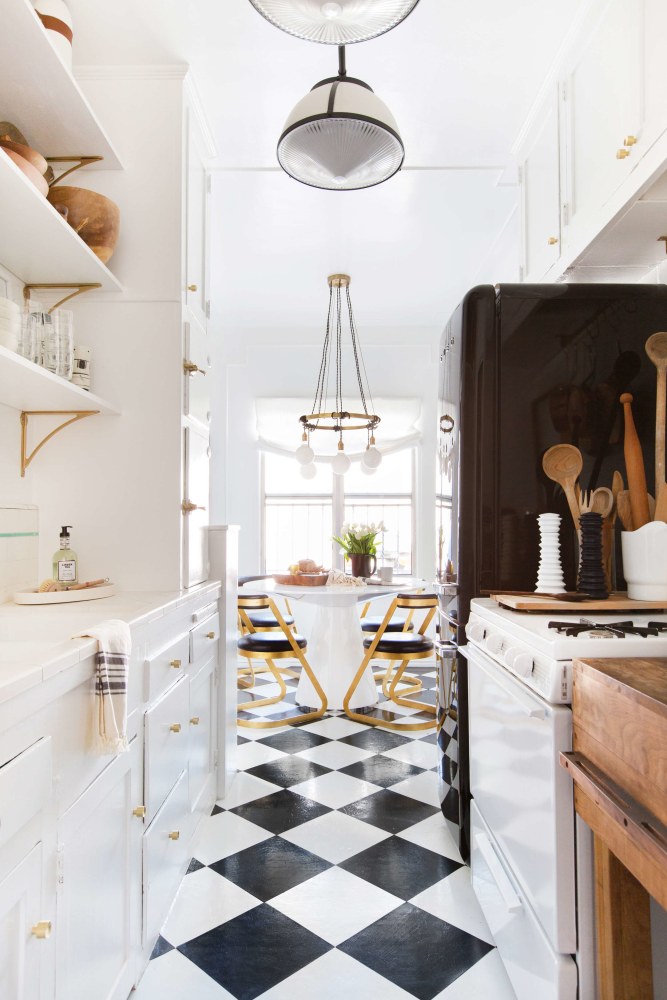 Contemporary kitchen designs never set rigid rules about how it should look. It may blends a special feature from an era with something else from yet another era. Now if you want this almost eclectic tastes, here is one of the best example.
This white kitchen has Scandinavian open beam roofing, the 50's windows on the furthest side, and the antique Victorian chequered floor. The single wall kitchen layout makes all the combination fall into it right places, not a single one overwhelms the others. The result is a charming eclectic contemporary kitchen.
9. Minimalist One Wall Kitchen with Large Island Table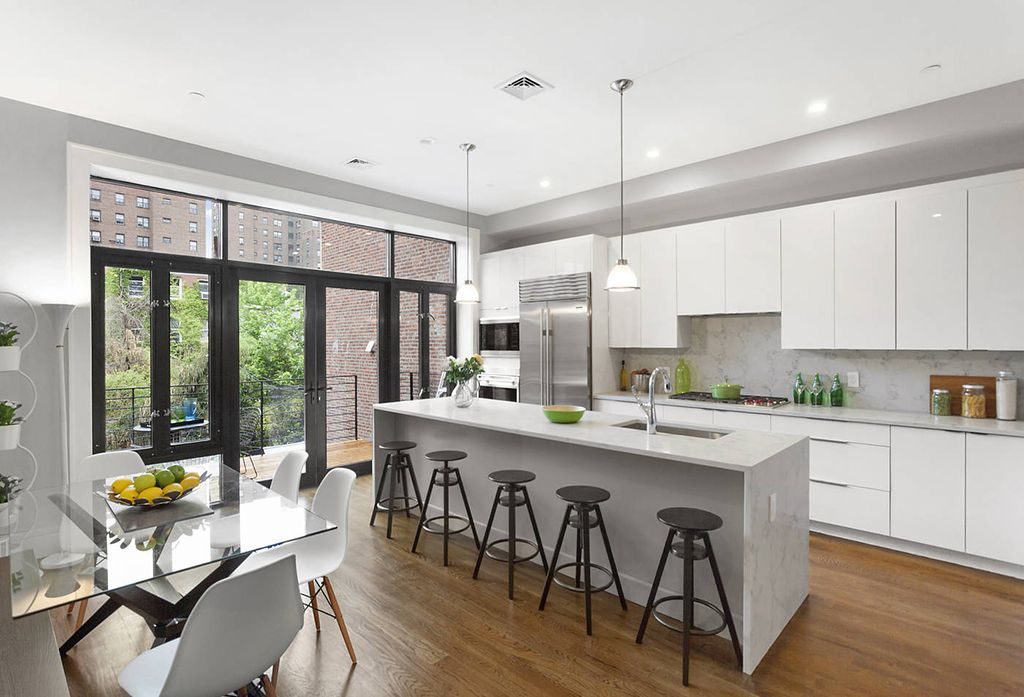 Being minimalist doesn't means that you have to live in a survival mode. It's a state of mind. If you're a minimalist, you love to have only what you need most and what you love most. If there're others, then they'll be a redundancy.
A minimalist kitchen also has the same frame of mind. All are in their simple forms and deadly efficient. The materials also of the best for the shake of maintenance and durability, like this white kitchen with marble large island table.
10. Small White U-shaped Kitchen with Solid Wood Countertops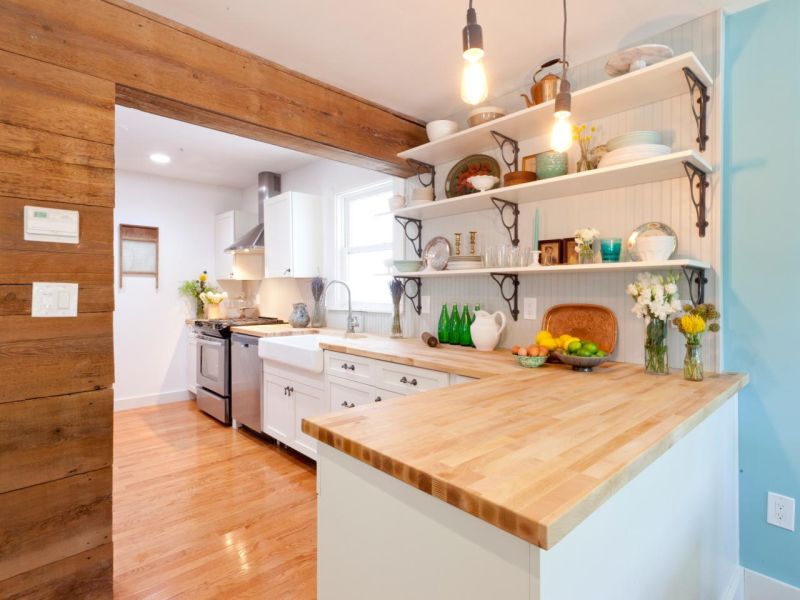 A cooking enthusiast should have this U-shaped kitchen (also known as horseshoe kitchen). The kitchen has three working areas, each hugging three kitchen walls and providing the working triangle (preparing, cooking, and storing food stuff).
Though this kitchen style will be most effective for large room, it also serves well for a small kitchen. This white kitchen gives you an effective cooking area in a small space, without making you feel cramped. The open shelving helps to make the room looks bigger. Its solid wood countertop charms the overall kitchen appearances.
11. Classic Modern U-shaped White Kitchen with Large Kitchen Island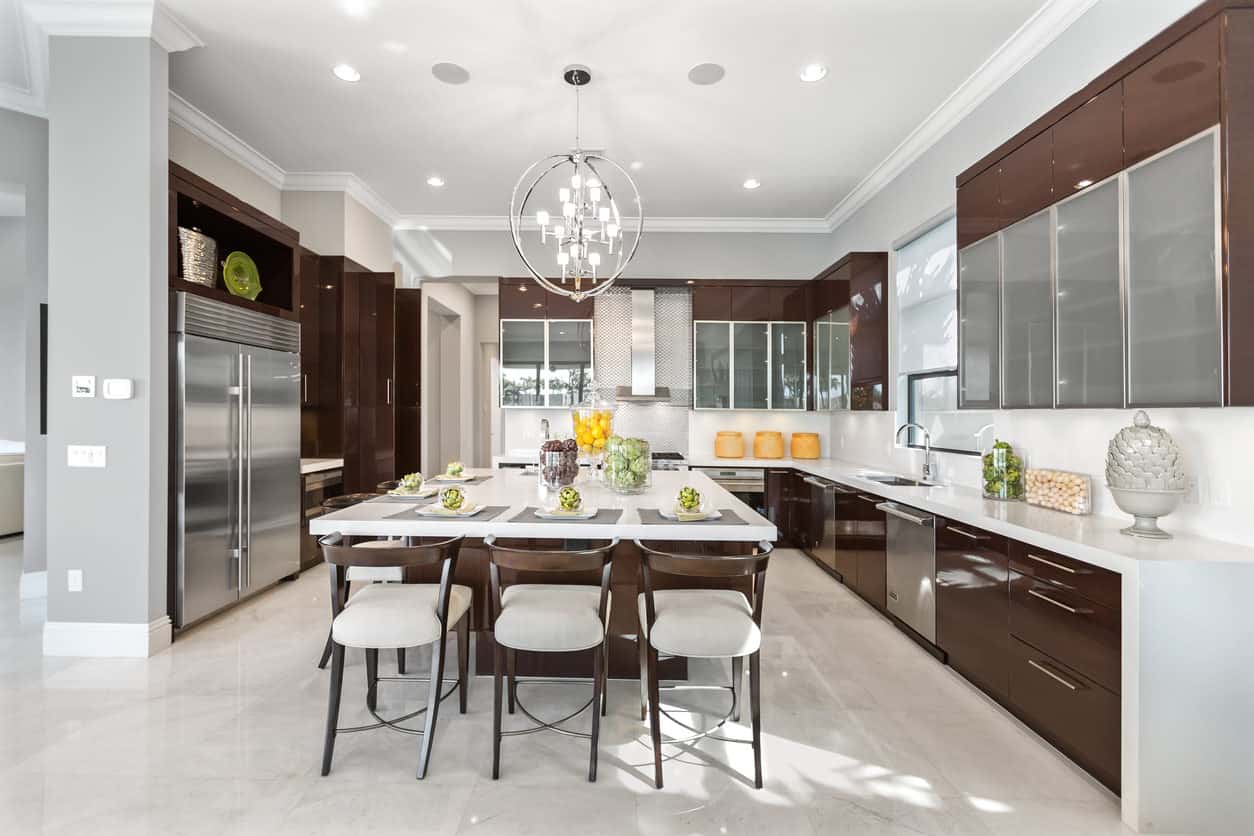 One of the most sought after kitchen styles so far is a classic kitchen. For the owner, it gives an elegant air to the house –and, of course, a touch of pride. Here is a big U-shaped white kitchen full of classic and modern touches.
The cabinets are of classic, old school style. Meanwhile you have modern touches on the appliances sides. The treat here is a big kitchen island on the center. It comes with gorgeous slab of granite countertop, complete with seating and sink.
12. White Modern Kitchen with Dark Gray Cabinets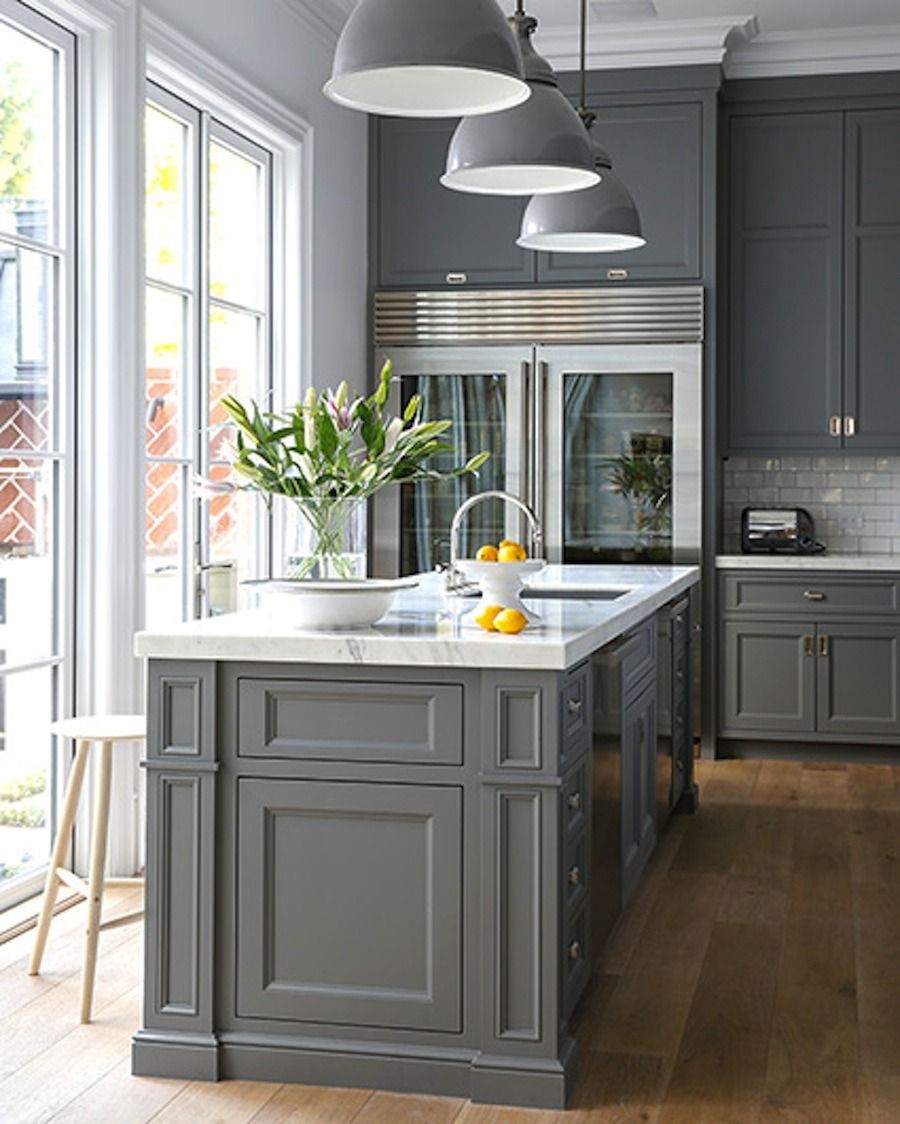 Having an empty corner and want to use it as a kitchen? This white kitchen can help you as a starting point. This kitchen sits in a medium room, and comes with a peninsula table. But you can apply the design for a small corner –with some modifications, like eliminating the peninsula and changing the closed container into an open shelving system.
The kitchen is dominated with white. To add warmness, wooden floor is added. And so with the naked wood beam above. The necessary accent of this white kitchen is added via grey color of the kitchen cabinets.
13. Small Kitchen with Warming Wooden Floor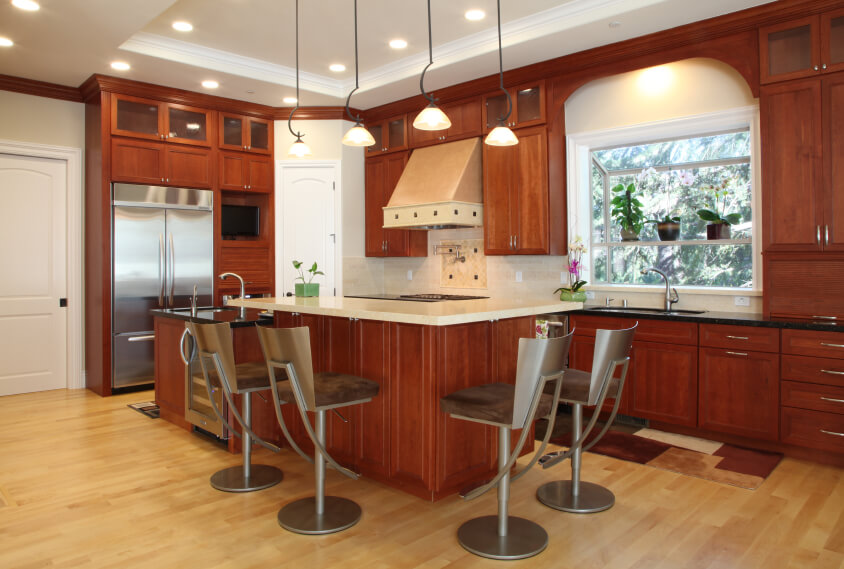 Contemporary house with open floor layout often gives you lots opportunities to experiment with the room allocations. This Kitchen, as example, is put on the rear end of the room, in line with other rooms.
As the 'border' or transition region between it and the living room is a peninsula table, which also serves as a preparation and breakfast table. Coupled with the wooden floor, the arrangements of this white kitchen feel so warm and pleasant.
14. Small White Kitchen in L-shaped Style with Breakfast Table Set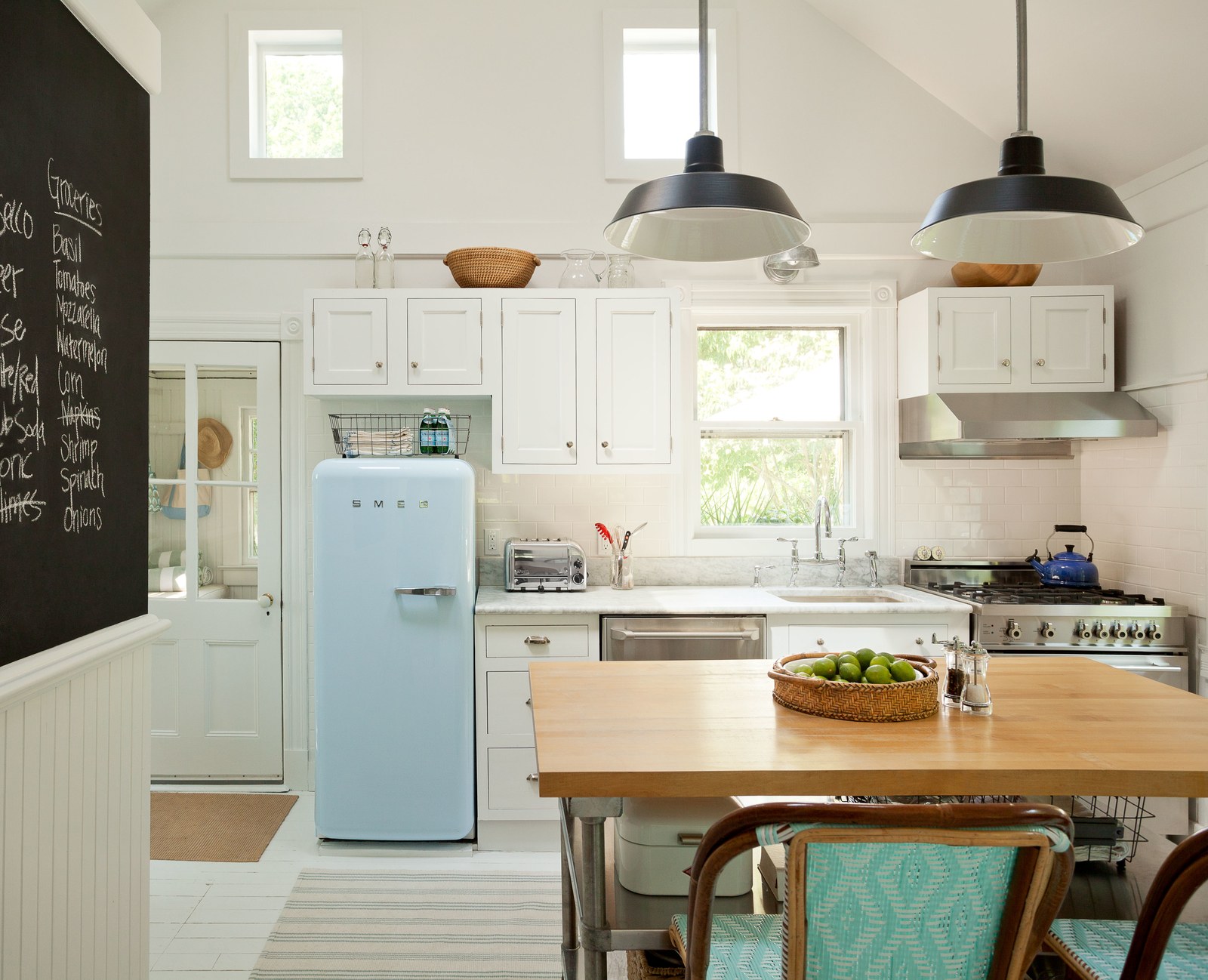 Still with small kitchen. Here an L-shaped white kitchen for you. You don't have an island table here, due to the room's size. Instead, you have a table set and chairs for breakfast or dining table.
L-shaped kitchen (or corner kitchen) is perfect for small room which open to another room. It offers simple and efficient designs.
15. Mid-Century L-shaped Kitchen with Geometric Backsplash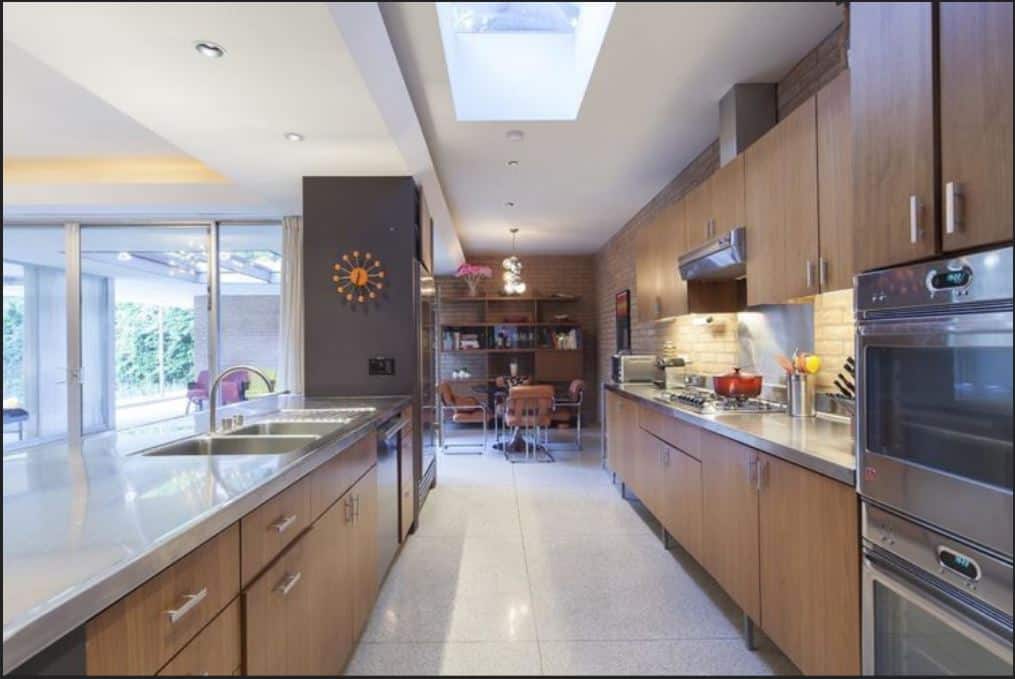 Part of modern styles, Mid-century still is on the rise again. It's geometric and simple lines are simply irresistible to the contemporary minds who want something different for their dwelling.
This revived 50's style white kitchen gives you both contemporary and old timey feels at once, particularly on the wall and backsplash parts. Its hexagonal patterns and shocking blue color are awesome.
16. Small White Kitchen with Fresh Accent Colors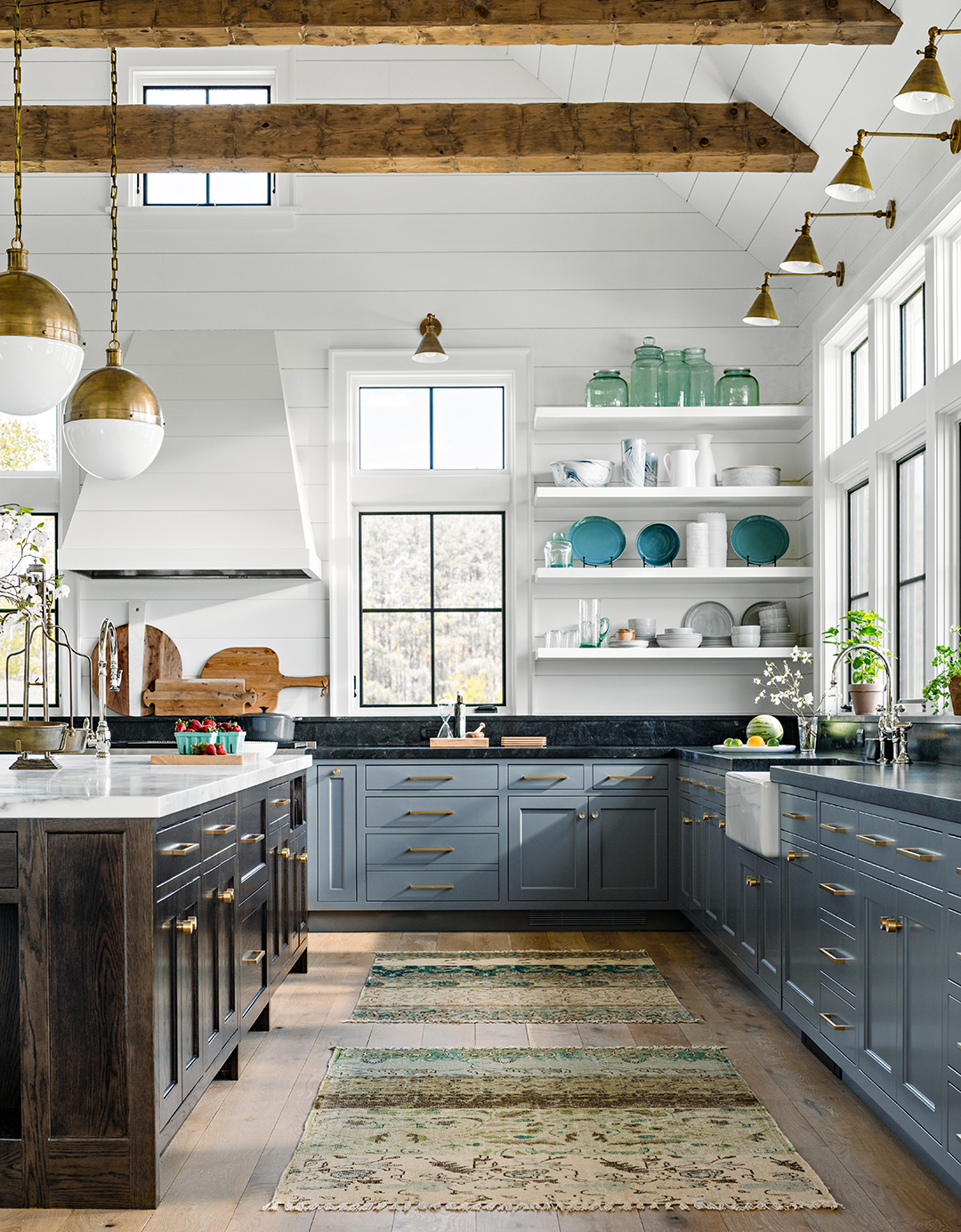 Sometimes you just don't want all white kitchen too white. And then comes the colors. The cabinets, window rims, shelves, are some of potential spots where you can splash your favorite colors.
But here you meet a different coloring approach. Instead of coloring those stuff, you put colorful cooking items (as you see on the shelves and countertop). Meanwhile, as an accent, the designer paint half of the window and a section of the cabinet doors with stark yellow color.
17. Small Efficient Gray and White Kitchen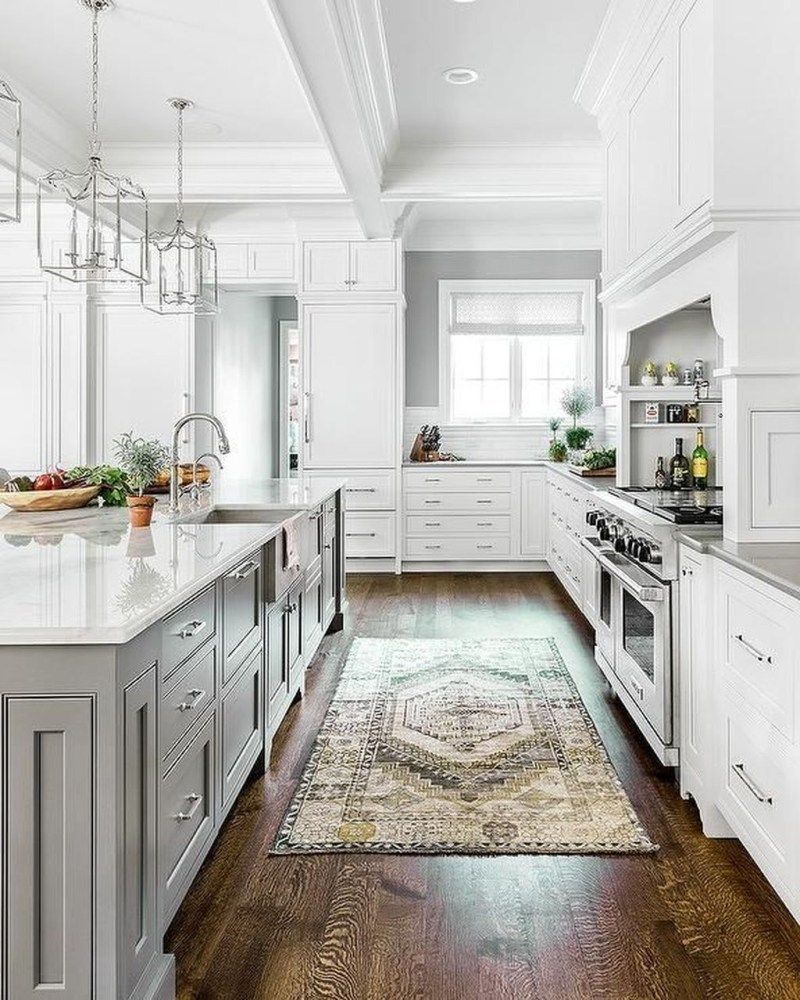 Gray is not a gloomy color anymore. This color has become one of the main today's interior colors, mainly the gray with light and metallic shades. It also one of neutral colors commonly used in contemporary style.
A small white kitchen may looks neat and cozy if you combine it with light gray color. This example shows you how a balanced mixture of white-gray colors can make a small kitchen feels cozy and pleasant.
18. Cozy Corner Kitchen with Green Tile Backsplashes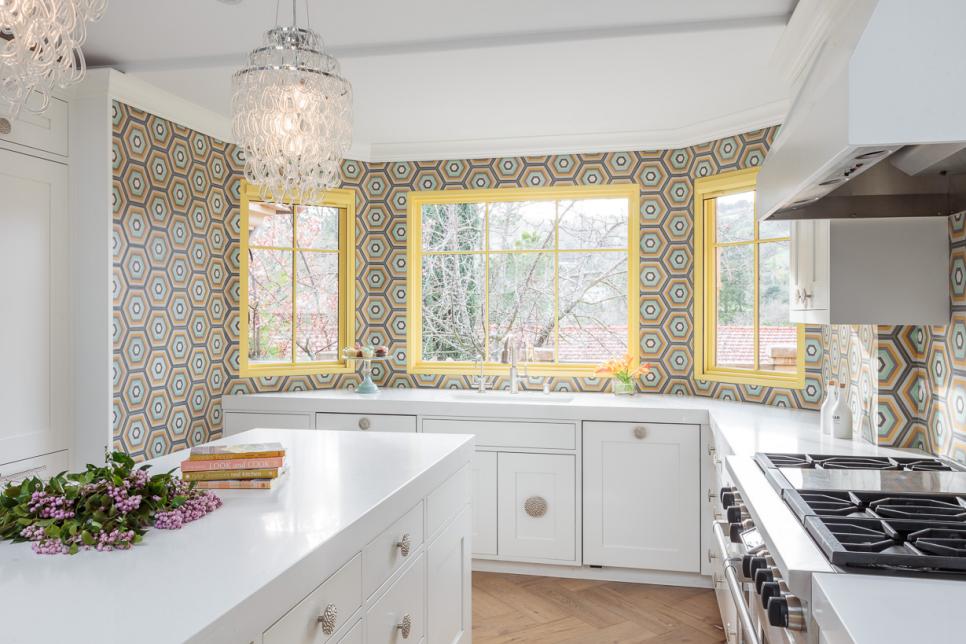 Once backsplash has only functional purpose: to keep the wall behind stoves free of splashing cooking oil, smoke, or any dirt resulted during cooking. Now you see that backsplashes are also being used as kitchen accents as well.
Here a white kitchen as green industrial subway tiles as backsplash. Not only on the part under the kitchen cabinet like regular backsplash, but the tiles spread all over the wall. Making it a fresh accent to the kitchen.
19. Antique White Kitchen with Modern Tones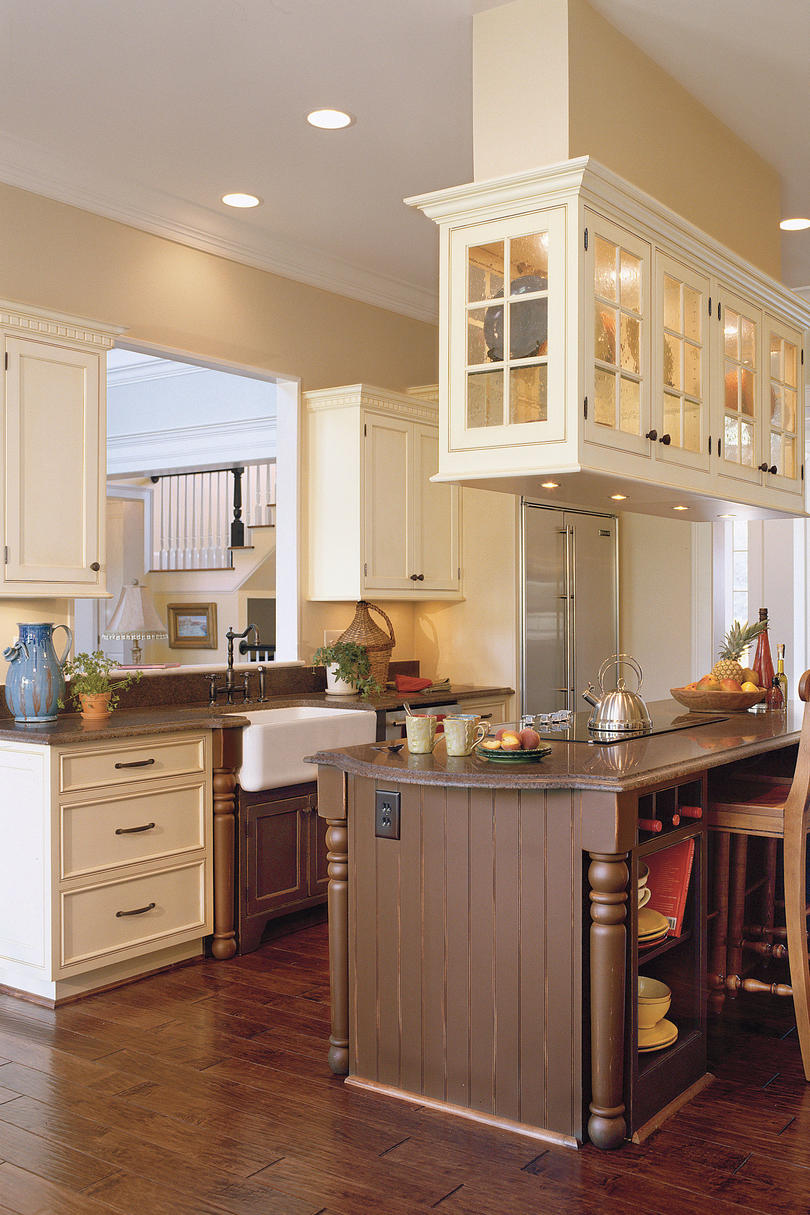 If you have enough room for a large classic kitchen, here's another antique white kitchen for you. Unlike a flexible modern kitchen which suits well for small or large kitchen, an old style kitchen needs ample room to stand out.
But, once it's done, you have a masterpiece you can boast in the house. For your cooking convenience, you may add modern appliances like the example.
20. Compact and Small Peninsula Kitchen with Chairs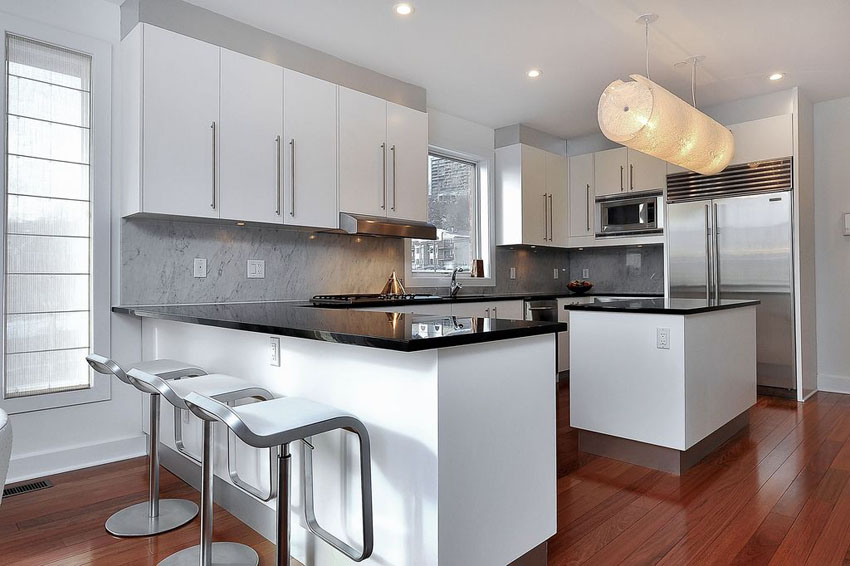 Adding a table set with chairs to small kitchen only makes the space looks crowded and inefficient. As alternative a small peninsula table may be added.
This small galley kitchen add a small peninsula on its preparation table' end. Completing the setup, you also have chairs for quick breakfast or else. This peninsula also serves as a charming border between the kitchen area and the living room of the house.
21. Classic Kitchen with Marble Countertop and Backsplash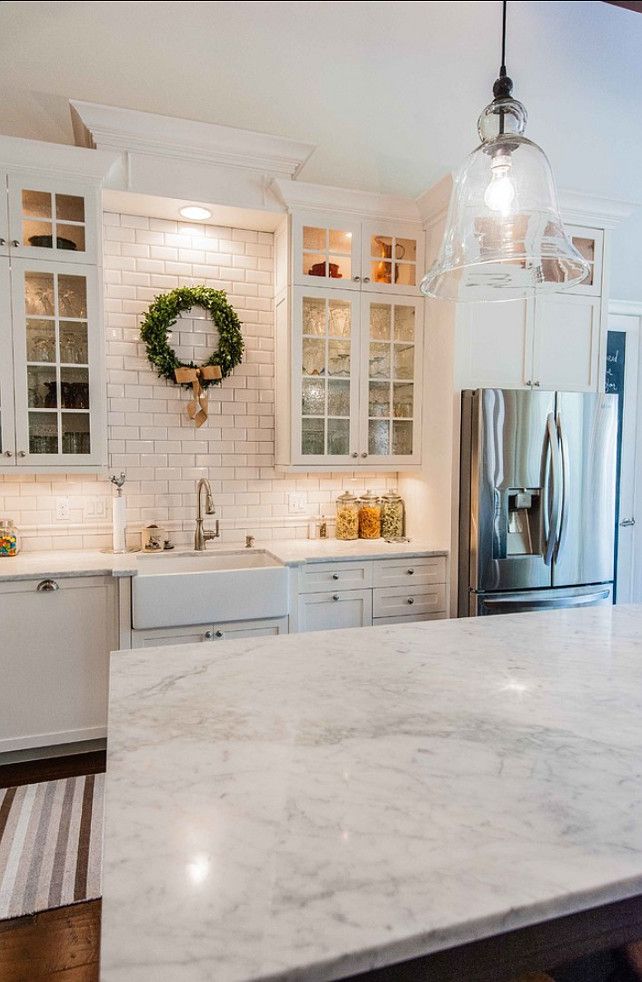 When you want elegance and taste, pick marble. As kitchen material, marble is still incomparable in giving you those two characters. And this applies for your modern or classic kitchen.
As you see here, marble dominates the white kitchen materials. The material nicely covers the countertop and backsplash, giving elegance to this classic-modern kitchen.
22. Rustic Small White Kitchen in an Efficient Layout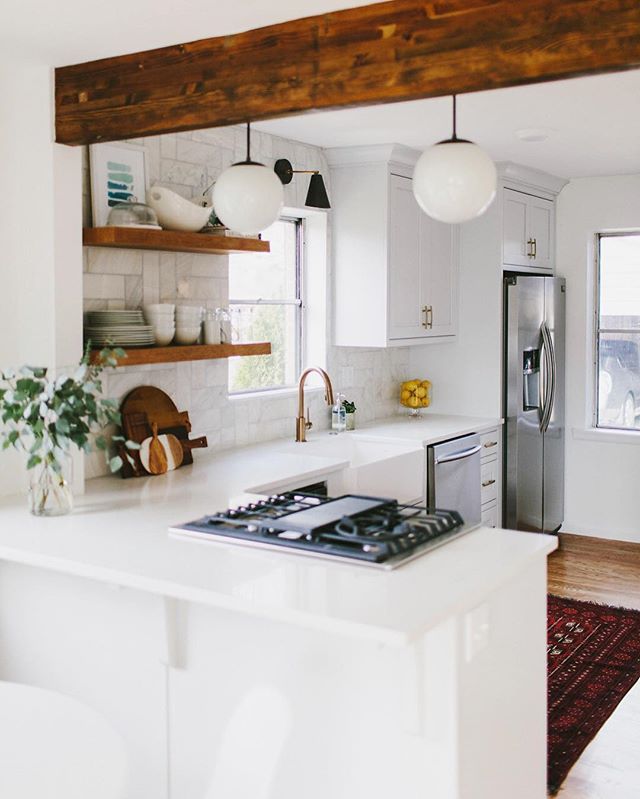 One popular word in today's home interior is rustic. The definition of this word is varied. But, in short, a rustic object is something that always makes you feel cozy and reminds you to a cottage living.
A rustic kitchen may have minimalist or antique look, but it always gives you a laidback feeling. This white kitchen is a perfect example. You have a modern appliances along with old-fashioned kitchen cabinet (see the screened cabinet door?), light curtains, and the iconic rustic flowers in the vase.
23. Grey and White Kitchen with Marble Herringbone Backsplash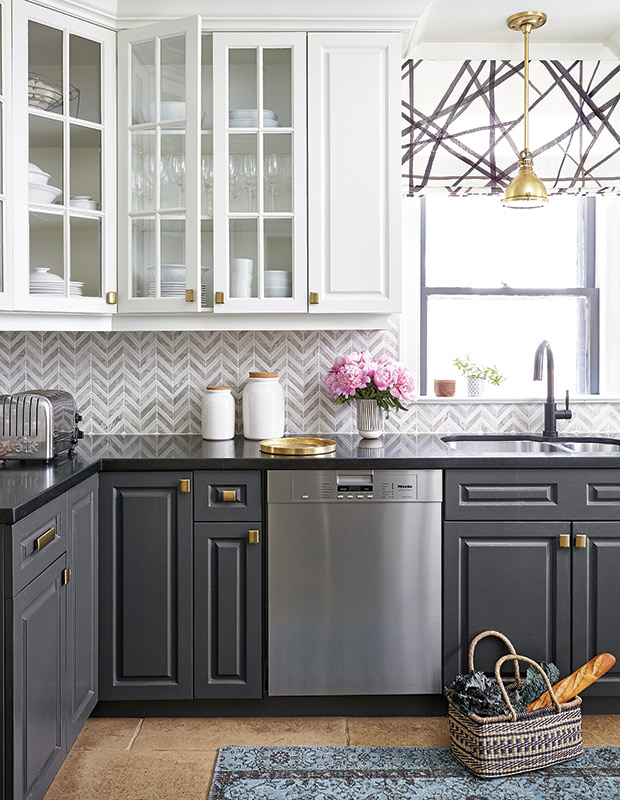 Herringbone patterns are old. These patterns are usually found in old cloth or fabrics. Now you can see the wavy patterns on the kitchen, on the wall, as a backsplash. This white kitchen, as you can see here, uses the patterns to accent the wall. And you see the fresh look it gives to the room. To complete the scheme, the modern wooden stools warms it all.
Read also: 25 Awesome Spice Rack Ideas for Your Kitchen
24. Small peninsula Kitchen with Modern Chairs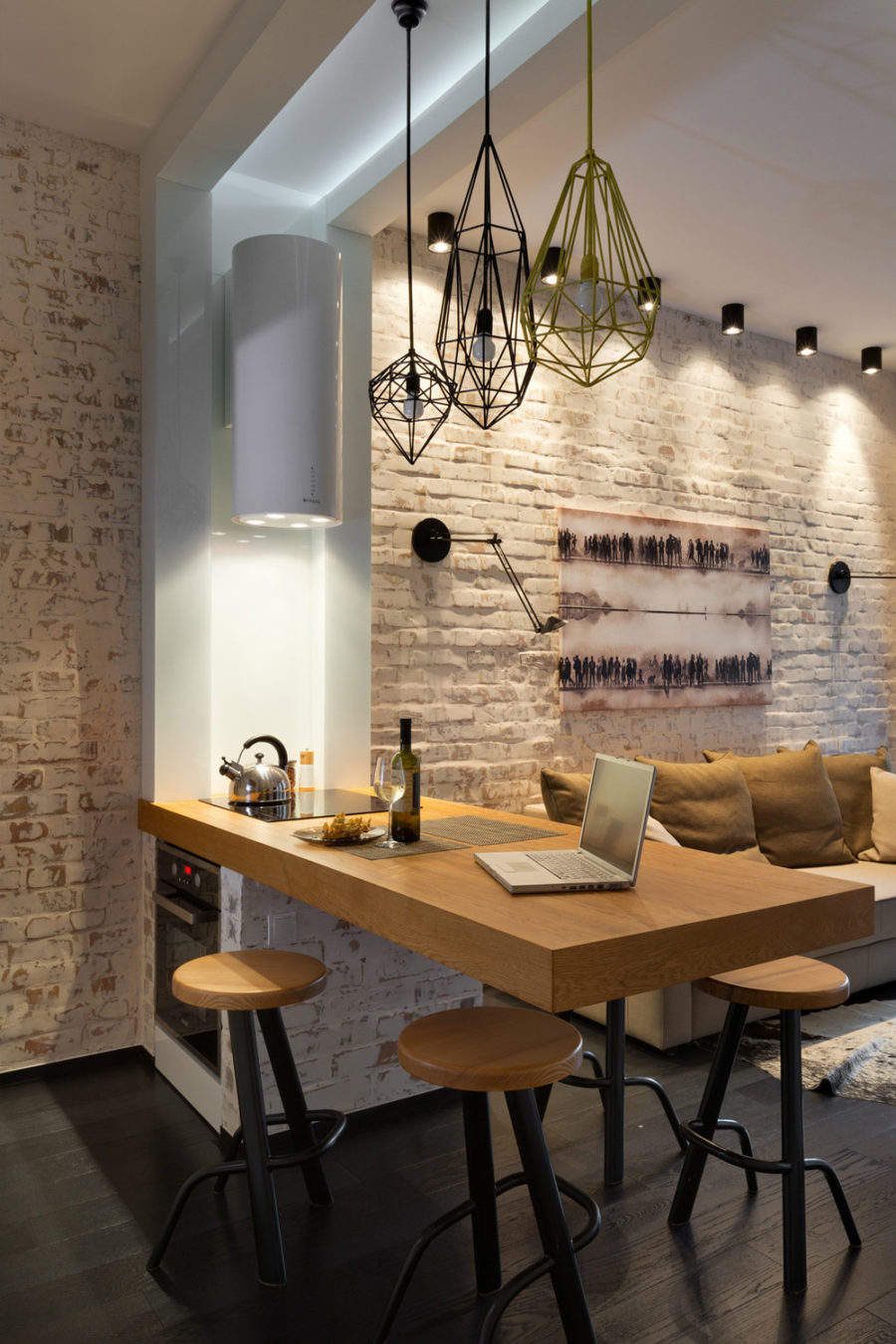 Blending old and new features is no new approaches in interior design, including in the kitchen area. Here is an example, an antique kitchen combines well with modern stuff and appliances.
This white kitchen has classic cabinets and detailing. That's the background. On the foreground are a kitchen island with modern chairs. Meanwhile, as functional accents, you can see minimalist floating selves (next to the cabinets).
25. Simple Antique Off-white Kitchen with Modern Black Countertop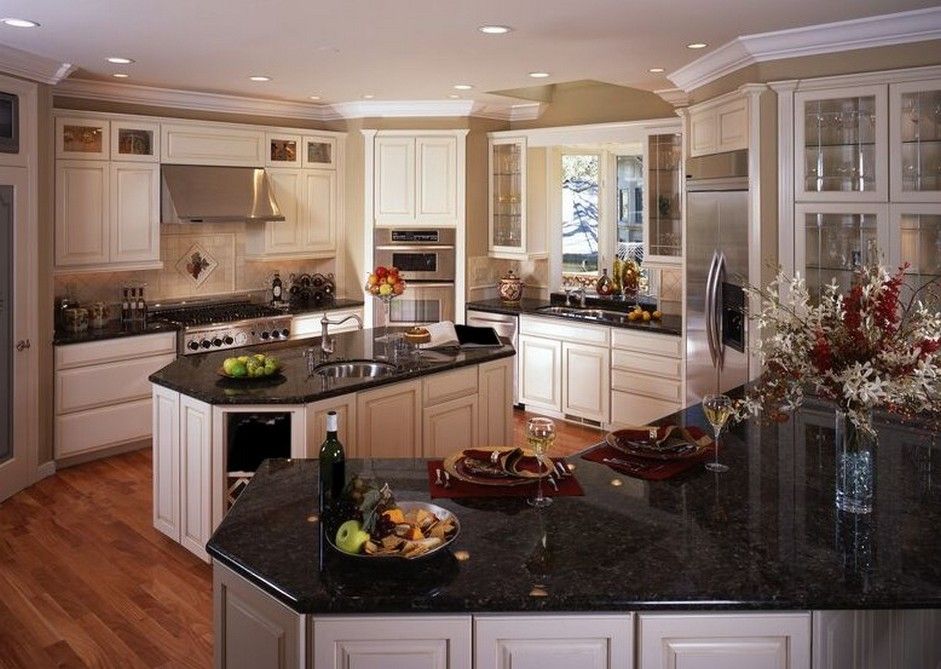 A combination of white, gray, and black is a staple of minimalist home interior and exterior, including the kitchen. Those neutral color won't makes your nerves jumpy. Instead, they gives you calming air.
Read More: 20++ Coolest Privacy Fence Inspiration
But the color schemes is not only for the minimalist enthusiasts. You can use the colors for any of your kitchen style. Here you have a classic-modern white kitchen with the same color schemes. Topping the dominating off-white background are gray wall and black countertop. And all those scheme offer the same calming effects.
White kitchen are gorgeous. They always look neat and clean. Love the list here? We hope. We have covered almost all type of white kitchen up till now. So it's your time to decide which white kitchen you'd like to have.