When you feel the kitchen looks always messy, then you probably need to have a reliable spice rack. If you want to pinpoint the cause of the cluttered table, oftentimes the spice jars are the most likely culprits. As you cook, you grab the jars for some spices and mostly forgot to put them back in the proper places. This is due to the difficult-to-reach or inefficient way to store the jars which will result in a messy kitchen. If you feel that way, here are some most awesome spice rack ideas which will keep your kitchen neat and clutter-free.
1. Large and Satisfying Spice Rack Ideas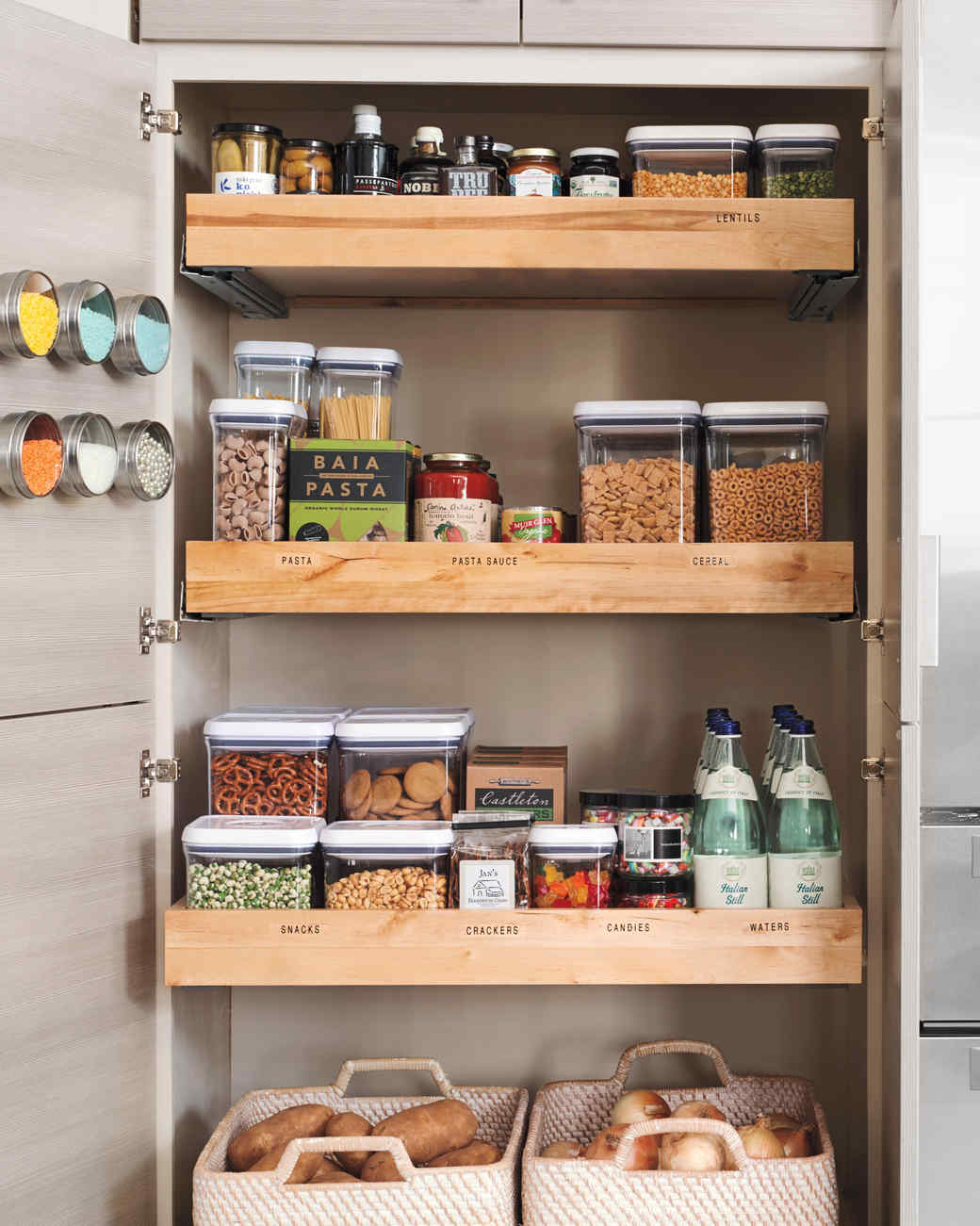 Lovers of spicy food need a large rack for their big jars of spices. This spice rack idea will satisfy your needs. It's big and yet simple in design, you even can do it yourself in your own unique DIY style. Because they are made out of wood, the materials are easy to find.
You can attach this rack on a small or large kitchen wall. Just place it on an area next to your cooking activities, for easy reaching or returning it later.
2. Large Spice Rack for Small Kitchens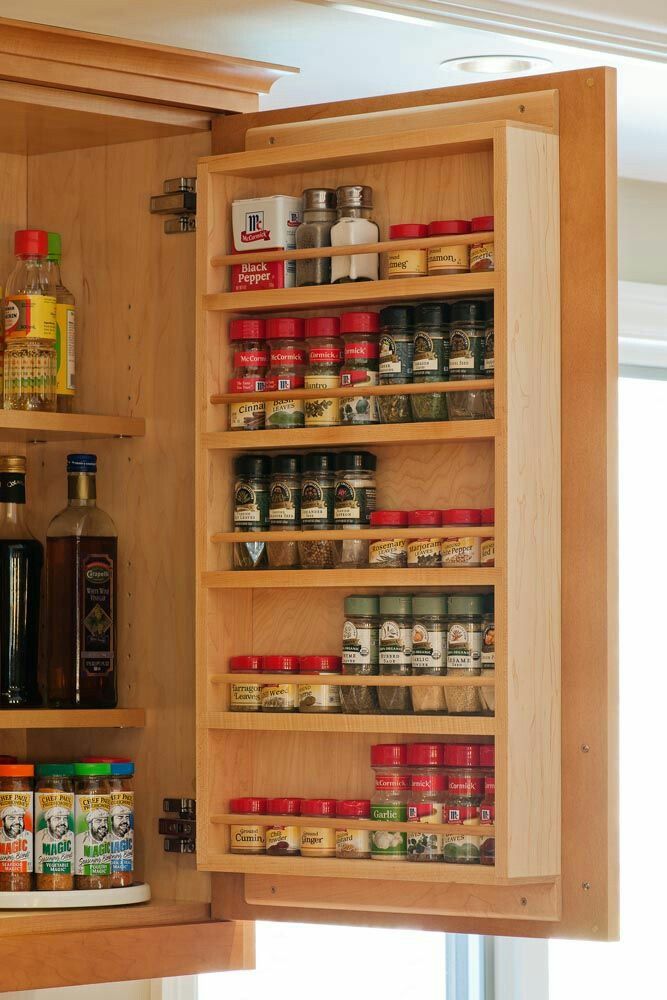 You can have a cool large spice rack in a small kitchen and still feel roomy. The key is in choosing the materials for the rack. In this case, you need to find a steel or metal rod spice racks like this example. It has a slim design and enables you to put many of your spice jars on it.
It's also easy to mount. You can even fix it on the side of your kitchen cabinet or the pantry door.
3. DIY Cheap Countertop Test Tubes Rack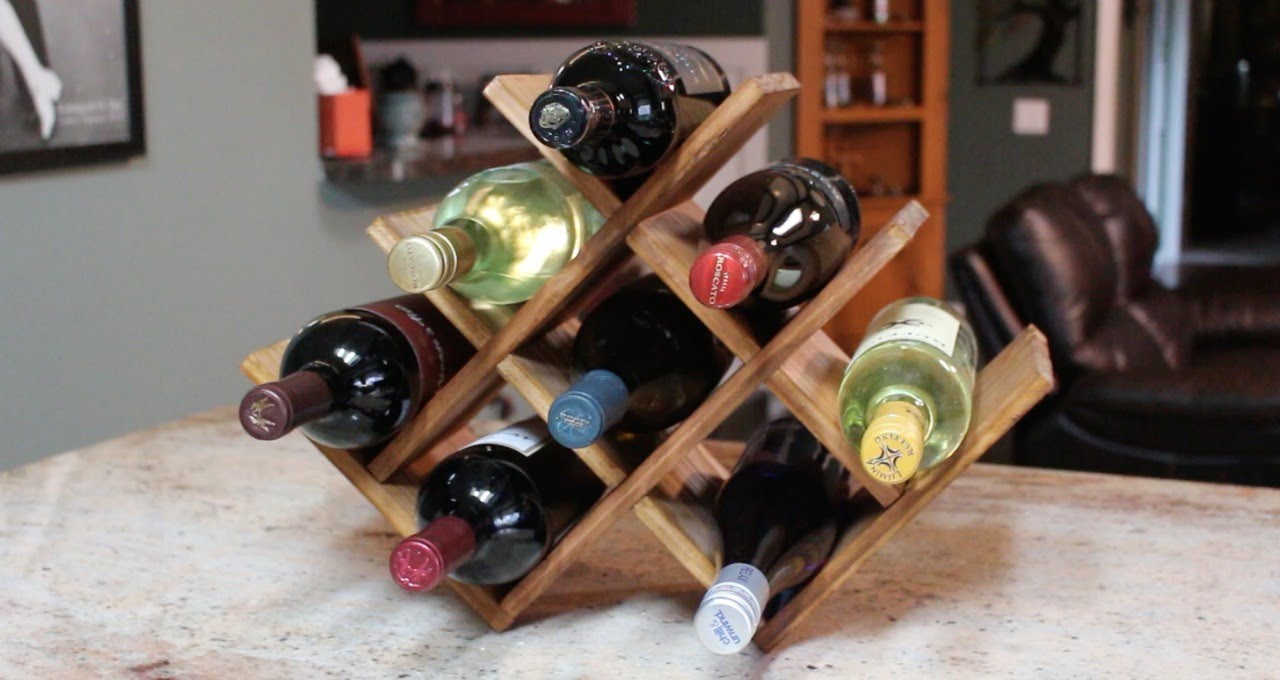 Don't want to reach further on the wall for spices? Then you need this countertop spice rack. This rack will be one of the easiest DIY spice rack ideas on this list. See the rack? It consists of a box full of test tubes. The spices are in the tubes. You don't have to make the tubes.
You can get these tubes easily in some thrift stores as well as the corks. All you have to do is make the wood box, which is easy to do. Lastly, don't forget to mark the corks to identify the spices, making them easier to find.
4. DIY Old Coke Container Spice Rack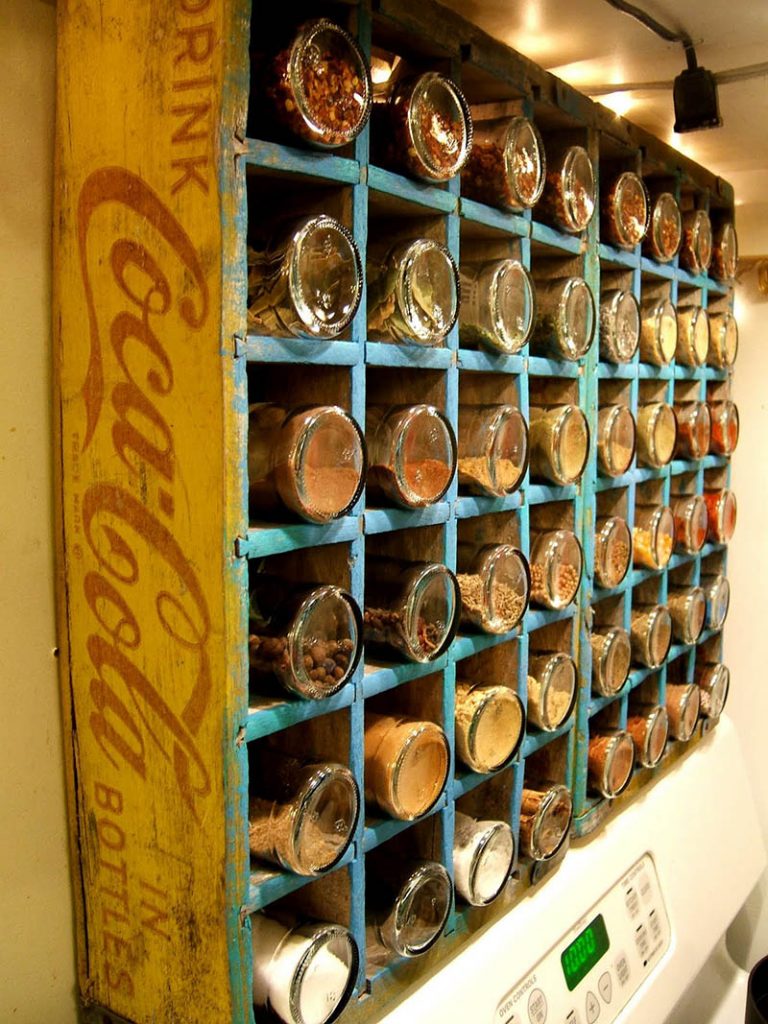 Inspiration is everywhere. This includes finding an arty spice rack idea for your rustic kitchen. If you have some old unused Coke bottle boxes in your attic, this will be the perfect time to turn them into a spice rack. When finished, you don't have to paint the rack.
Keep the old and vintage paint, it will add a rustic look to the kitchen. It also has lots of slots for your spice collection jars.
5. Simple DIY Towel Racks for Small Kitchen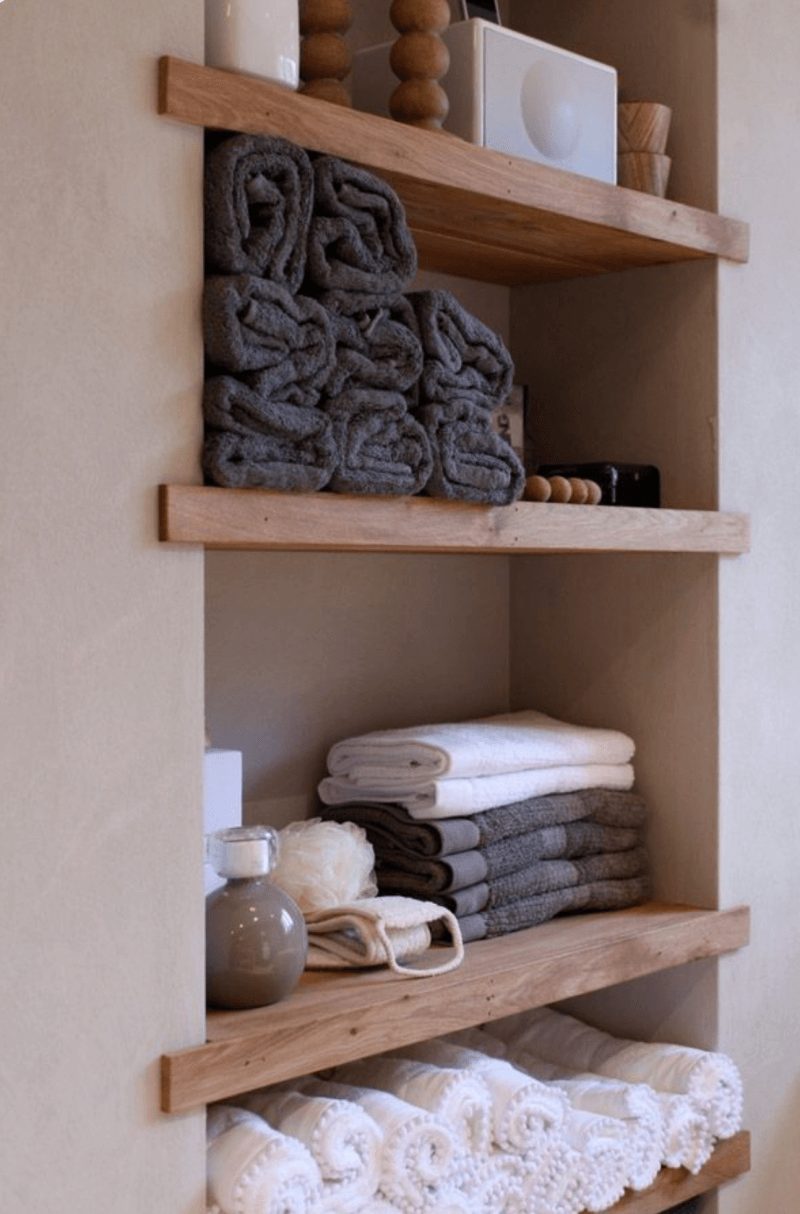 Need a quick spice rack solution for your small kitchen? Grab some towel racks and turn them into a minimalist rack. Put it under the cabinet, right in front of your cooking area. It's adjustable, depending on the racks' length.
For this DIY spice rack idea, you need 2 towel racks. Screw the racks on the wall tightly and then find the suitable spice jars for it.
6. Tiered Wire Rack for Easy-to-Grab Spices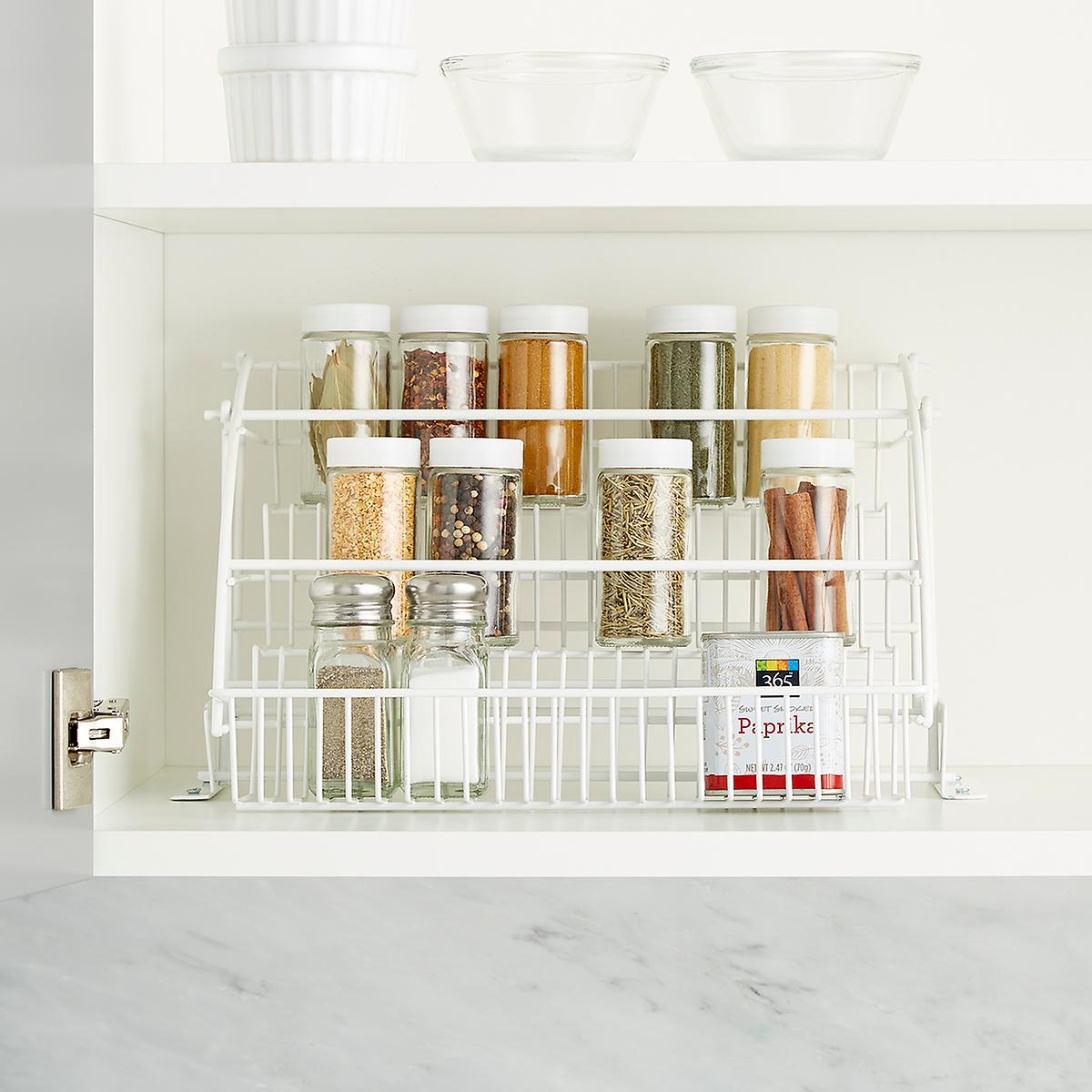 For minimalist minds who love uncluttered countertops and clean walls, you need this spice rack idea. The rack itself lies hidden in the kitchen cabinet when not in use. In cooking time, you can reach it easily. Open the cabinet and pull out the spice rack and you get your spices easy to reach.
For even more convenience, this spice rack comes in a tiered model. You can easily add as many spice jars as you wish. The wire material will ensure the rack's reliability. It also offers a light and neat minimalist look.
7. A Handy Spice Rack from Repurposed Old Trays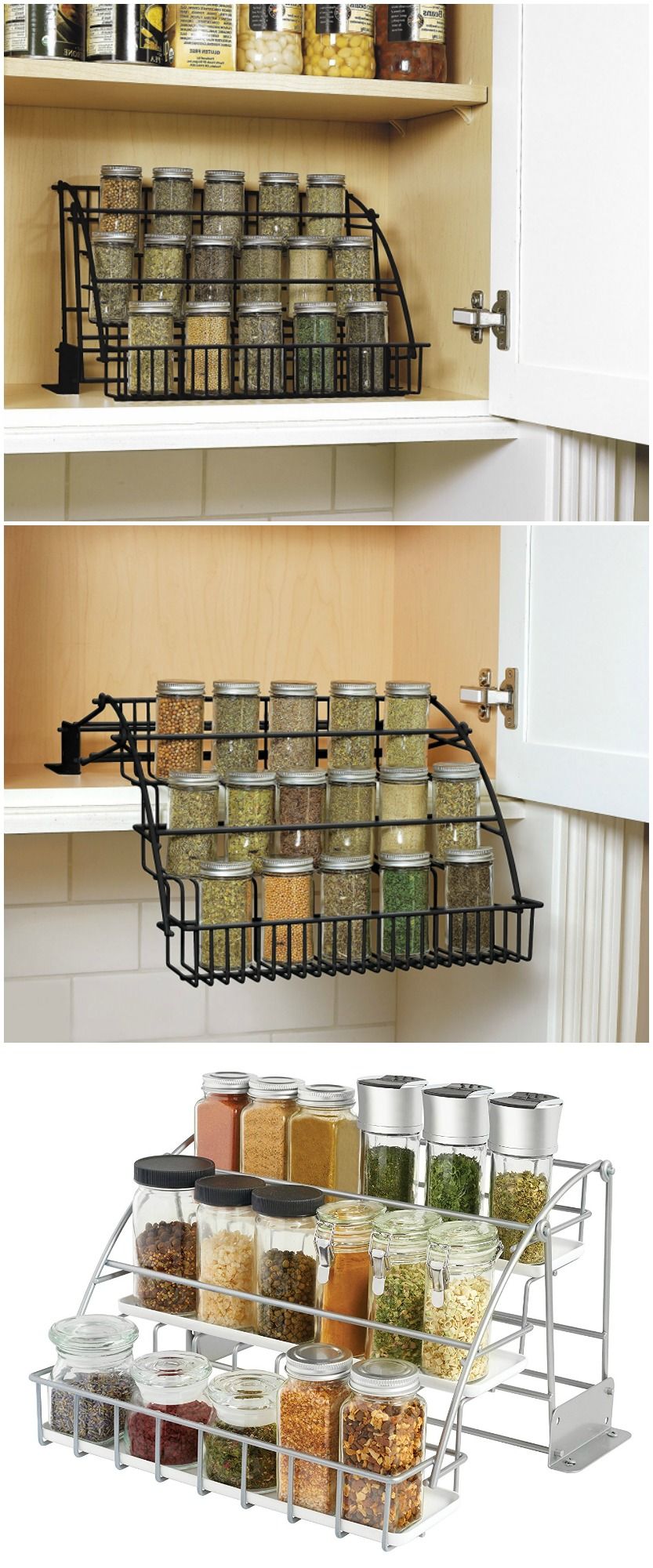 Even old abandoned trays can be cool. Try this spice rack idea and find out. Dust off the trays, grab your tools and turn the idea into your most beautiful DIY project of this week. All you need to do is remove its base plates. You do need the rims, just like in the picture.
Put wood planks in the middle of the tray rims and sturdy ropes to hang them. Lastly, add the spice jars. A lover of symmetry will love the same jars arrangements, for others, it's up to you.
8. Chicken Wire Rack for a Small Minimalist Kitchen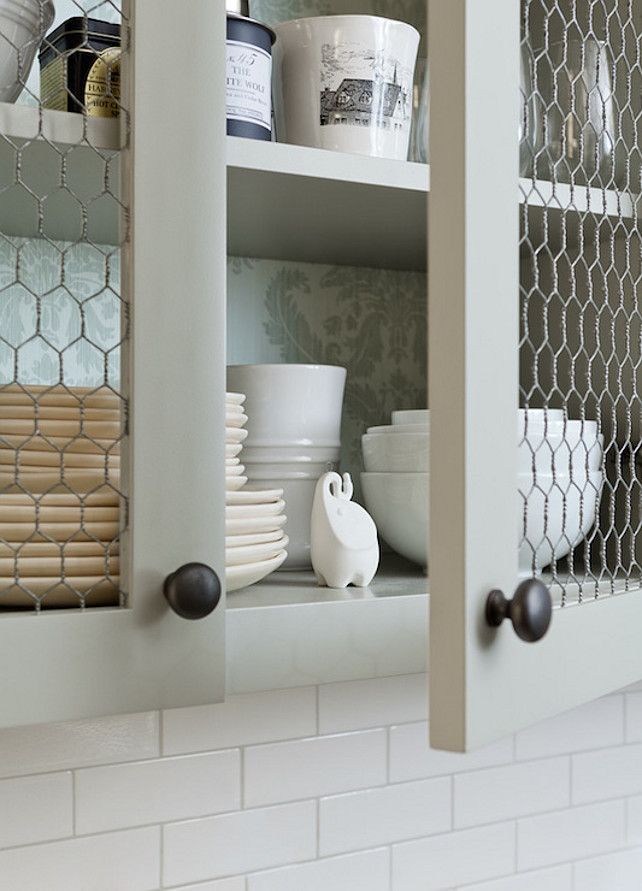 A Minimalist kitchen works well for small spaces. It's space-saving and yet gives you all you want in the kitchen, though in the most basic terms. If you want to find a suitable spice rack for small your minimalist kitchen, try this chicken wire rack.
It's light and has a simple design which will blend well with your kitchen. You don't have to worry about its capacity, it can hold almost all your spice collections with its layer of racks.
9. DIY Wall-Mounted Test Tube Spice Rack
Use the test tubes idea again. This time it's a more complicated DIY spice rack idea using these tubes. Previously, you created a countertop test tubes spice rack. Now the tubes will attach to the wall with the help of a perforated wood plank.
This wooden design serves as a stand for the tubes. To assure they are fixed in place, wrap rubber bands around each tube. The bands help to lock the tubes in their holes.
10. DIY Spice Rack from Pallets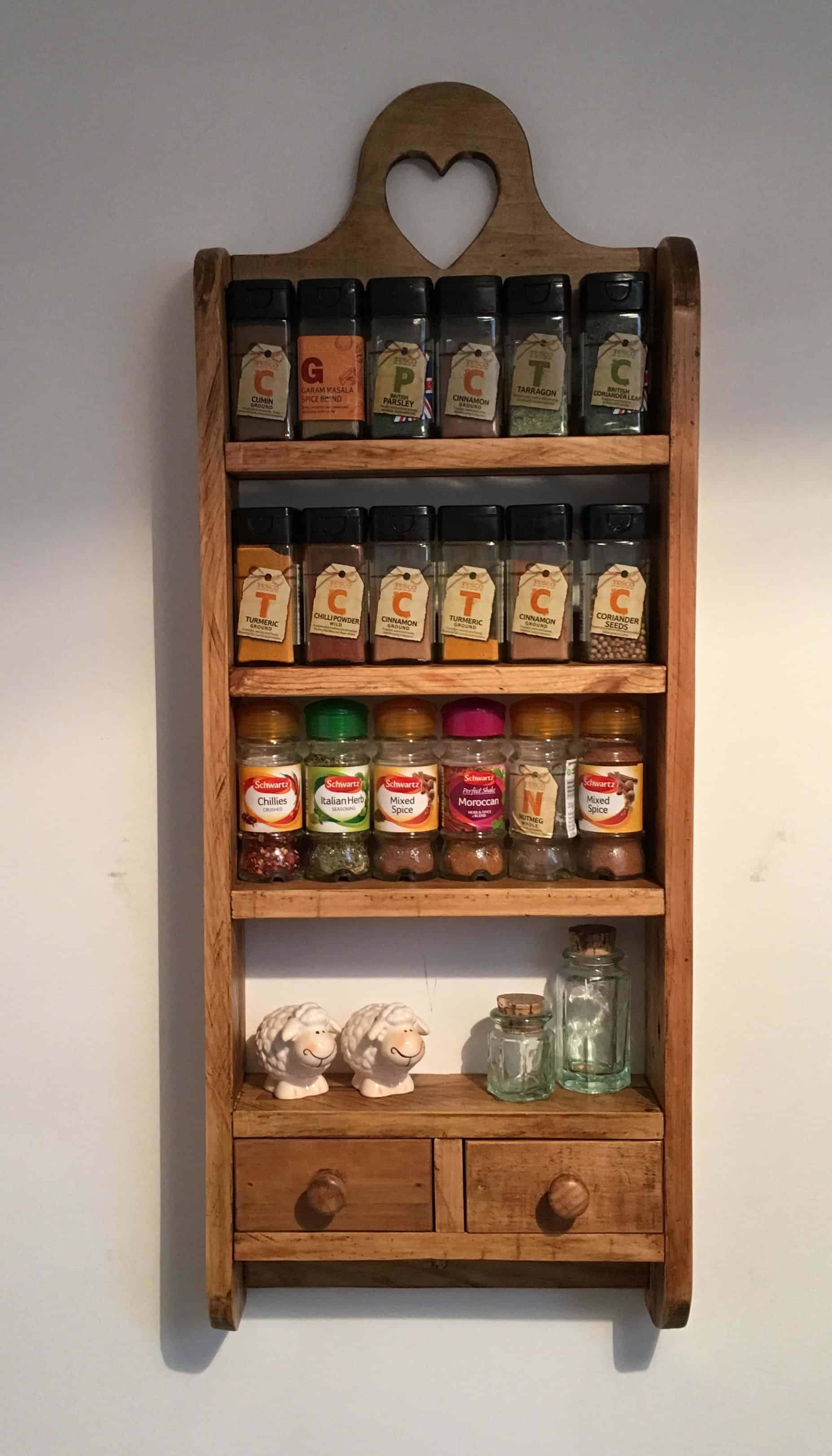 Need another easy spice rack idea? This DIY project you only need to prepare some wood planks, wood glue, and screws. You don't need fancy or expensive wood either. You don't even need freshly prepared wood planks. All you need are some wood pallets from unused container boxes.
Sand them smooth then get your deft hands going, making this unique rack. Once finished, hang it on the kitchen wall. You may want it to remain raw and unpainted, as in the illustration for rustic touches. Do you prefer to paint it? Go ahead and pick your favorite colors.
11. Neat And Easy to Reach Spice racks with Glass Jars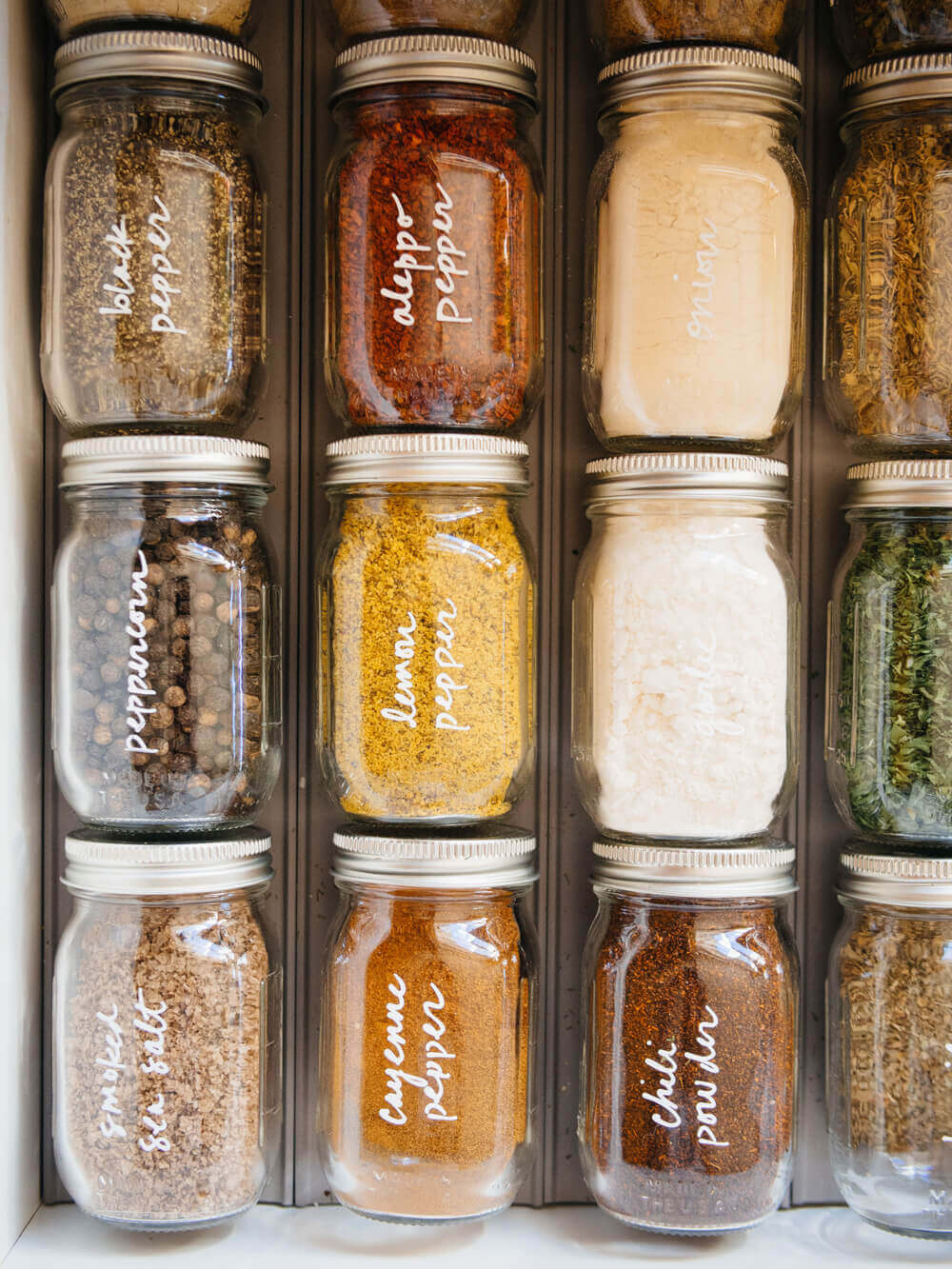 If your days full of kitchen activities and you need an easy-to-reach spice jars, a vast array of wall racks like the following examples are all of you need. They are made from a combination of woods and glasses.
Then if you follow the design layout, as addition to this spice rack idea, you also have extra storage for food stuff like flour, lentils, fruits and else. And all are within your reach in your busy cooking time.
12. Minimalist Wall Spice rack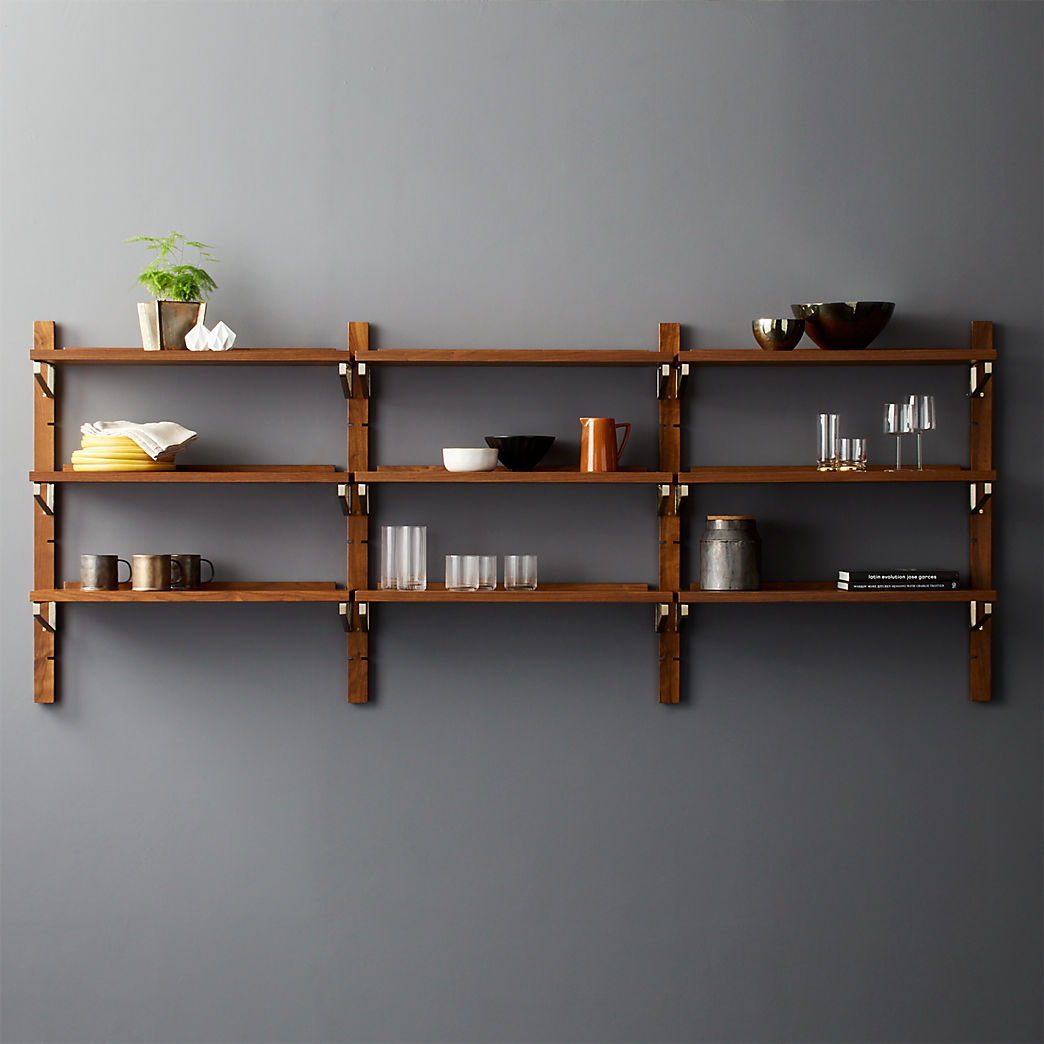 This stylish space saving spice rack idea suits well for a small kitchen. And if you're into a minimalist-contemporary style, this also serves you well. Its clean lines and finishes offers you a light and fresh atmosphere, making the small kitchens look bigger and, of course, contemporary.
13. Spice Rack Mounted on a Kitchen Cabinet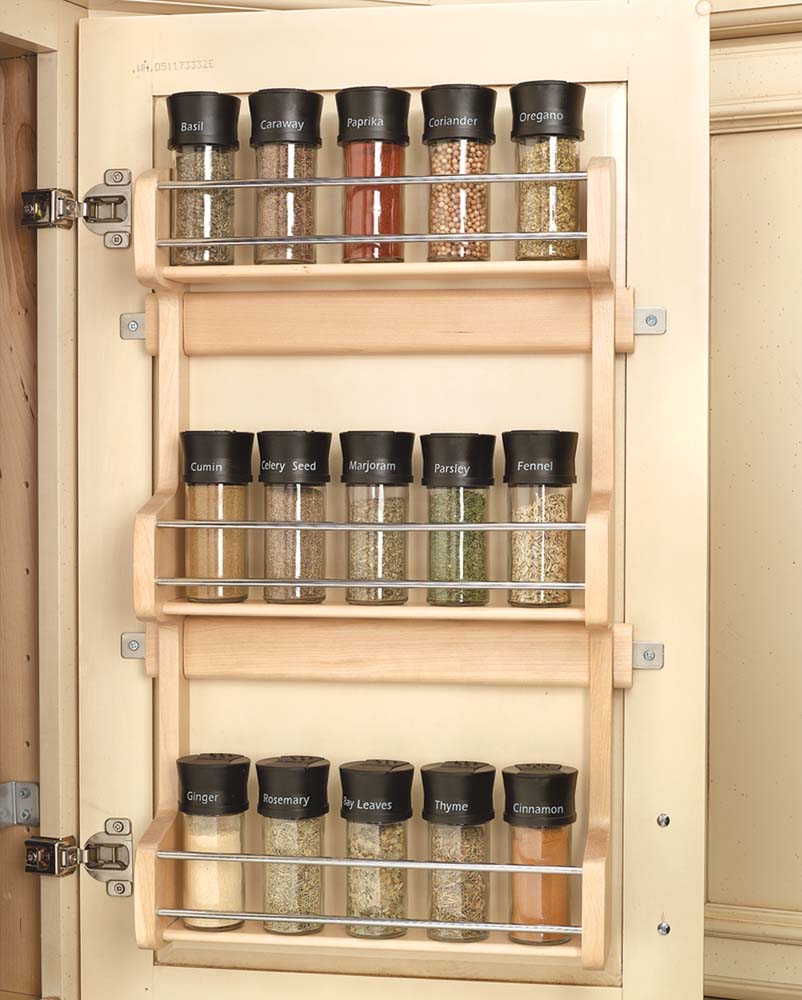 Optimize the kitchen cabinet with this simple spice rack idea. Here you use the empty spot on a kitchen cabinet door for support of the additional spice rack. This rack has simple design if you want to build yourself.
To make this spice rack, you need some woods and acrylic glass. The glass serves as railing for the rack, so the glass jars won't fall down when you open the cabinet.
14. A Revolving Wood Spice Rack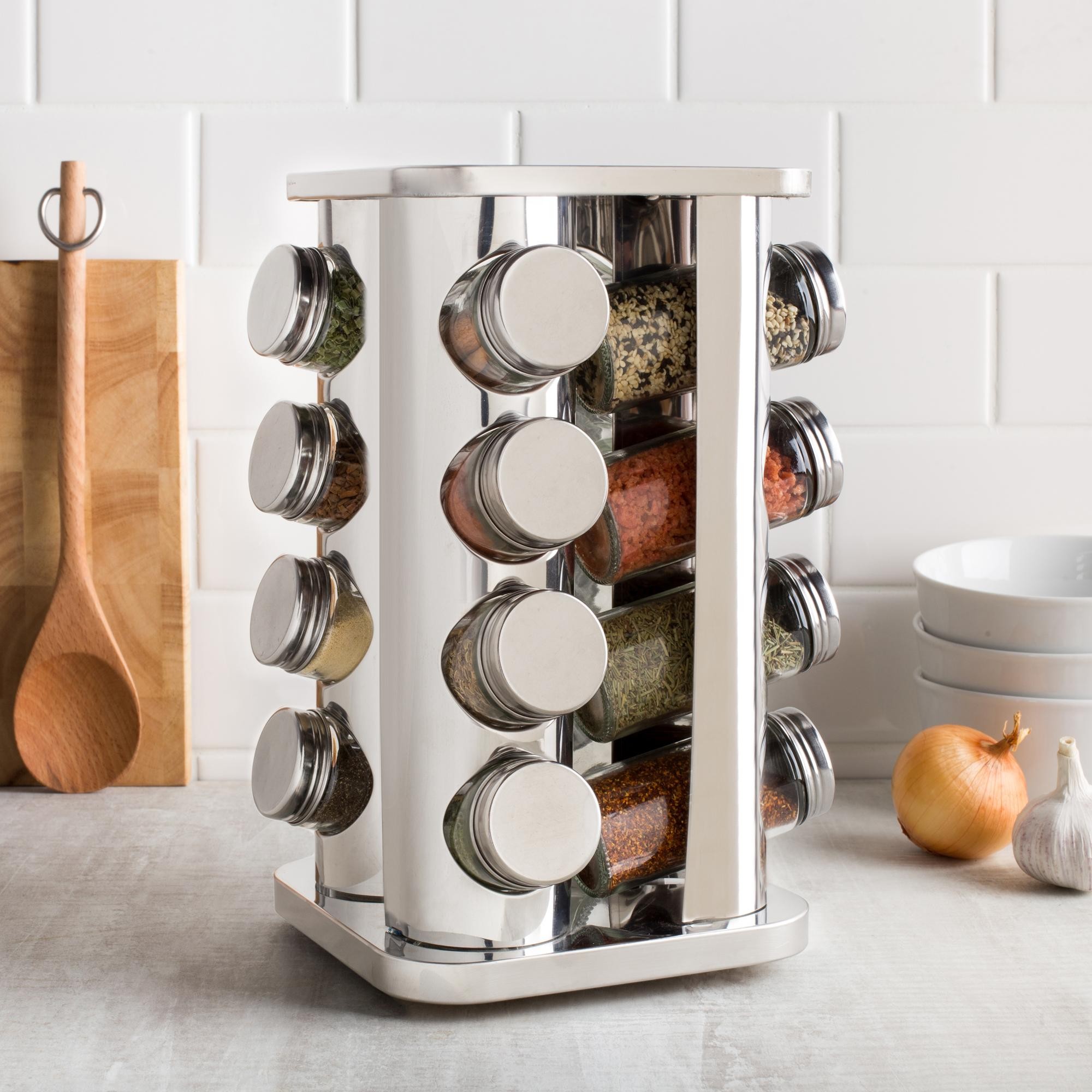 This countertop spice rack idea helps you to tidy up your kitchen and helps you find the spices faster. Put this cool rack in a corner of the kitchen and enjoy your cooking time. One of the pluses of this round rack design is that you can turn it for easy access. The tiered layout also serves well if you want to put many of your spice jars.
15. An Elegant & Clutter-free Pull-out Spice rack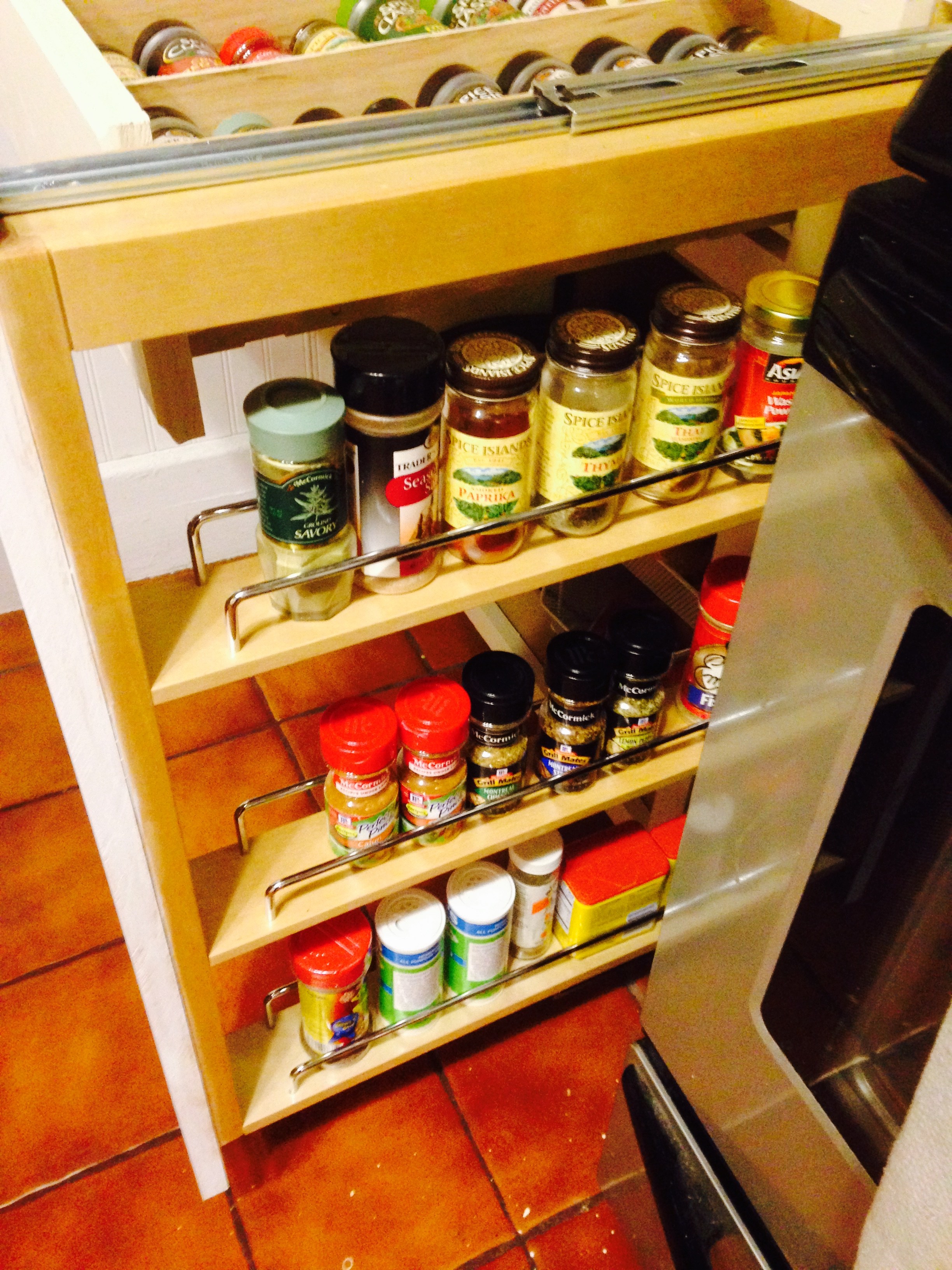 Now you want to put the spice jars neatly. But you also want them out of sight. In short, you don't want then cluttering your kitchen counters or walls. Then here is a unique pull-out spice rack idea for you. It hides nicely under the countertop, snugly inserted among the kitchen cabinets. Need some ground pepper for the steak? Just pull the rack out. That simple.
16. An Industrial Hanging Spice Racks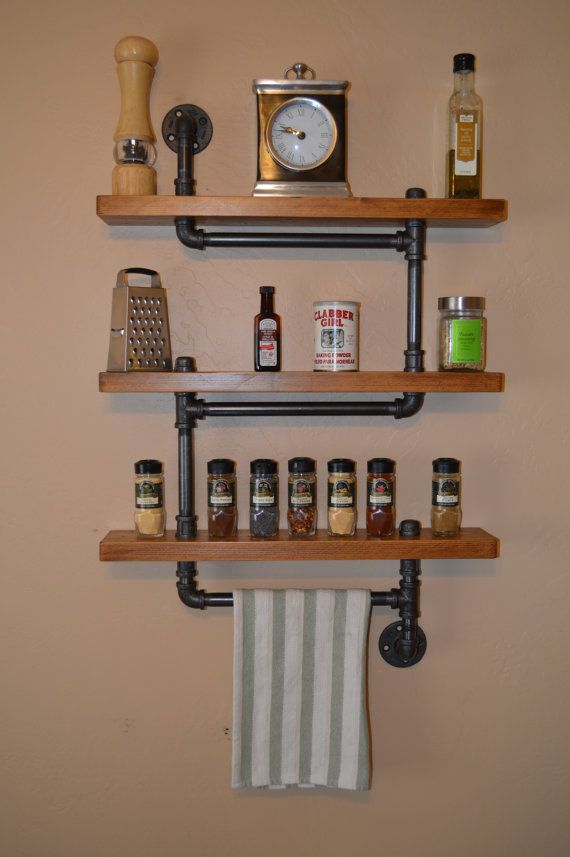 This list is not complete without a simple industrial spice rack idea. And this one is simple enough for small spaces. So, if you feel your kitchen is too small for regular racks, this rack is your option. This rack is of a hanging type. If you purchase one, it comes with the railing where you can hang the rack on it. It is also painted in an industrial black and suitable for a small minimalist or industrial kitchen.
17. A DIY Magnetic Spice rack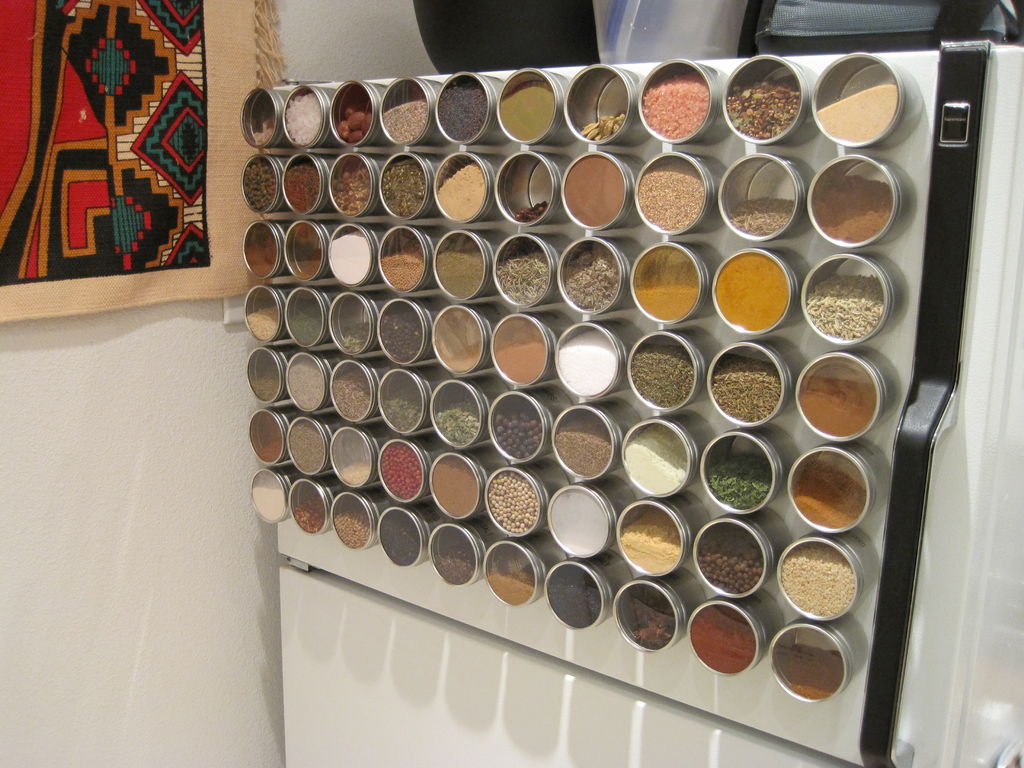 Now it's time to have a DIY project again. Still with a spice rack idea, only now you have the cooler rack idea. Here you are to make a magnetic spice rack. Your spice jars will hang on the magnetic power placed on each its metal covers. The hanging place is a piece of unused metal tray, as you can see from the following illustration. Easy, isn't it?
18. A Metal Spice Rack with Stands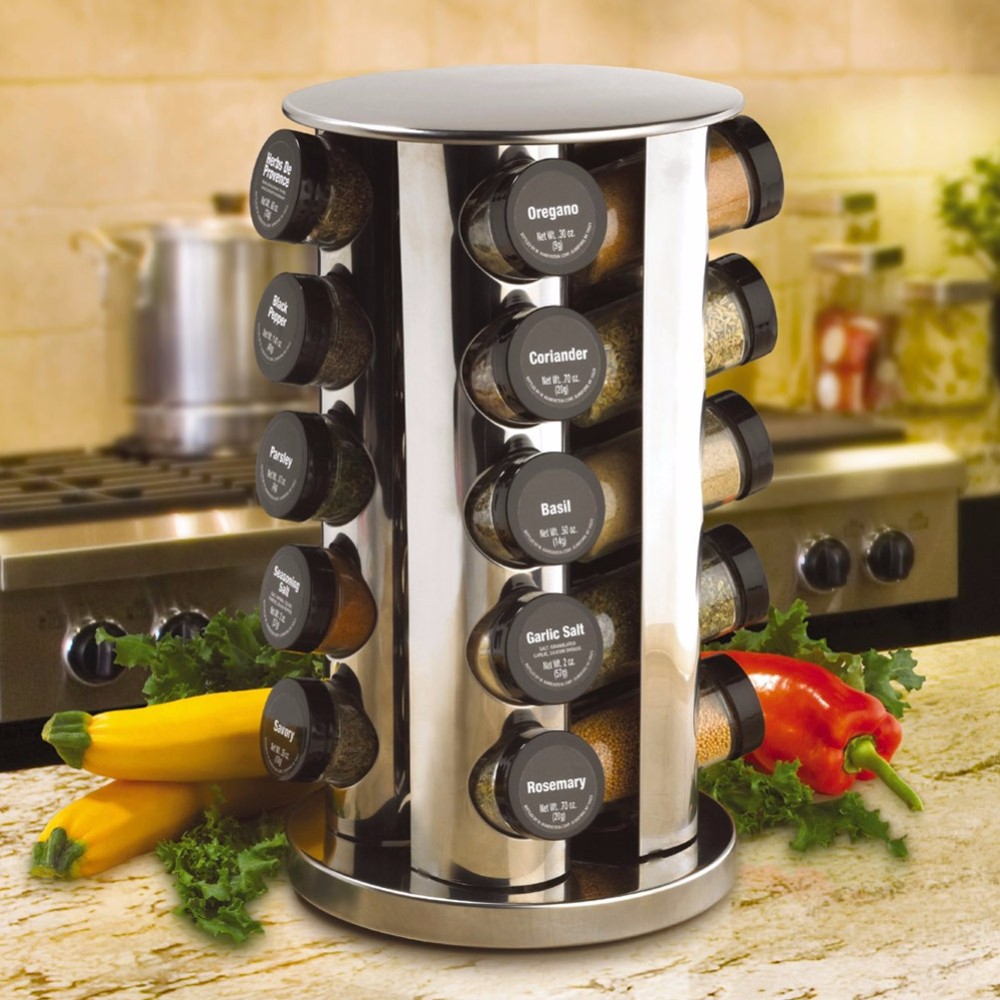 Your little kitchen will be happy with this minimalist spice rack idea. It's a cute rack with stands and a handle. So you can move it to any suitable places in your kitchen. It's light and easy to carry, as it made from a combination of lightweight wire metal and wood.
19. A DIY Unique Wood Spice Rack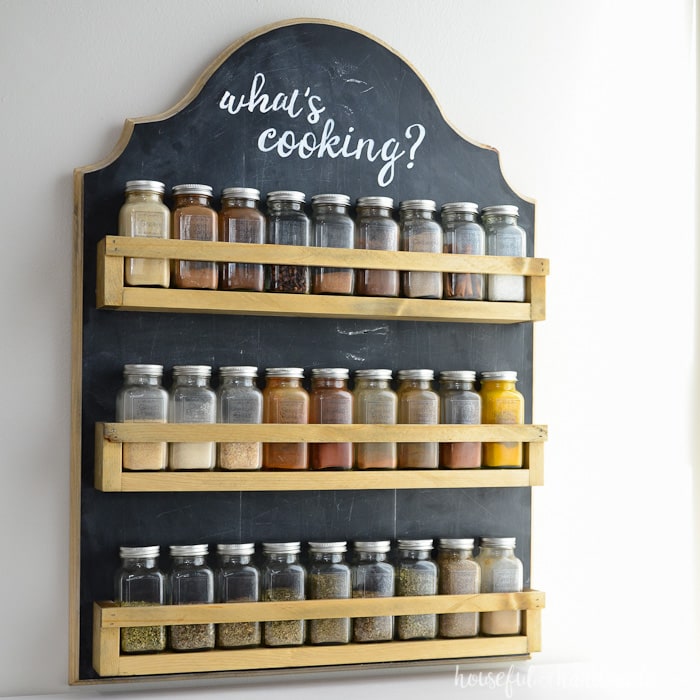 Need an arty spice rack idea? Find a piece of dry branch and make some holes on it. Hang it on your kitchen wall. There it is, you have a cool spice rack. All you need now is finding the suitable spice jars, just like in the example.
20. Stainless Steel Hanging Spice rack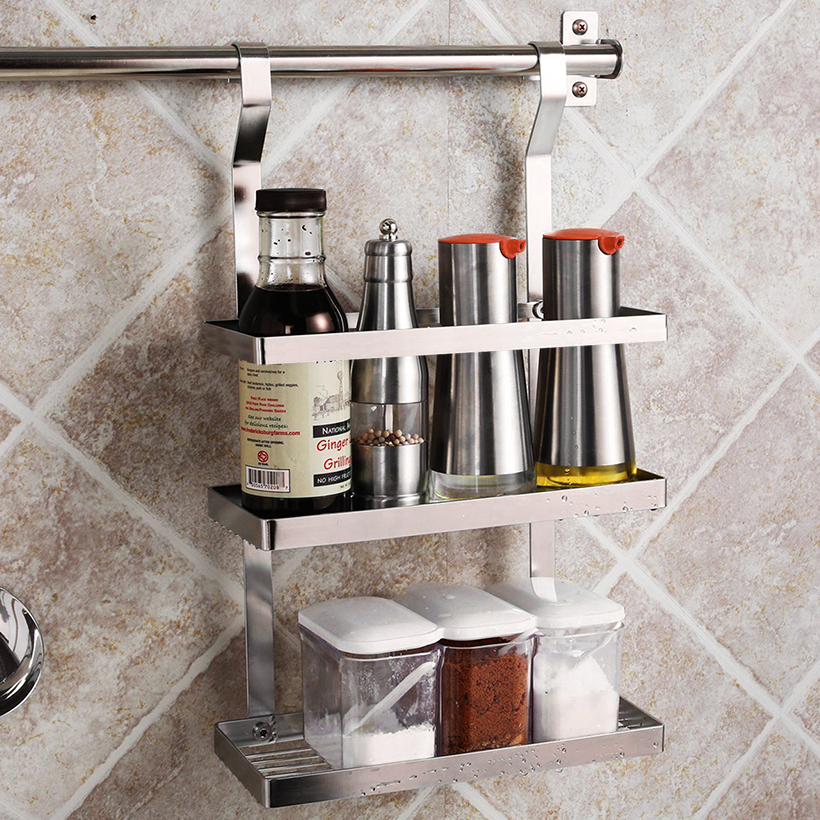 Need another spice rack idea for a small kitchen? This hanging spice rack is one of the best option around. The racks hang on a long railing which will not only support the rack, but also some other kitchen utensils.
This hanging spice rack is made of stainless steel, so you won't have to worry in putting it on humid areas like, as the example here, above the sink.
21. DIY Cool Corner Spice rack with Raw Wood Planks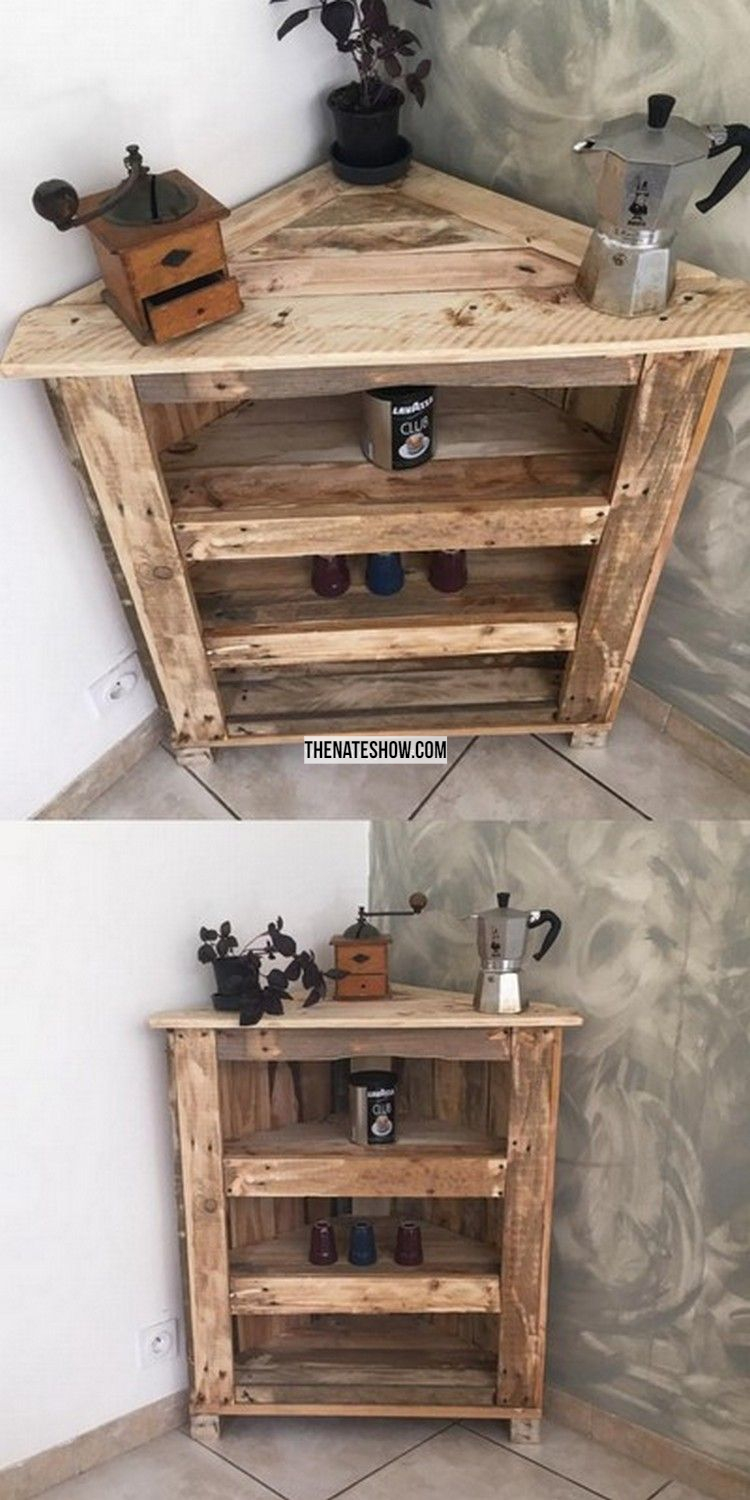 A spot in the kitchen (or other areas) which often overlooked are the corners. Now it's time to reconsider those spots. If you happen to have a corner kitchen and the corner still is empty, put spice racks on it.
No fancy corner racks here, it's just stacks of unfinished wood planks. You even can build these racks easily, even with minimum tools.
22. DIY Pegboard Spice Rack with Hooks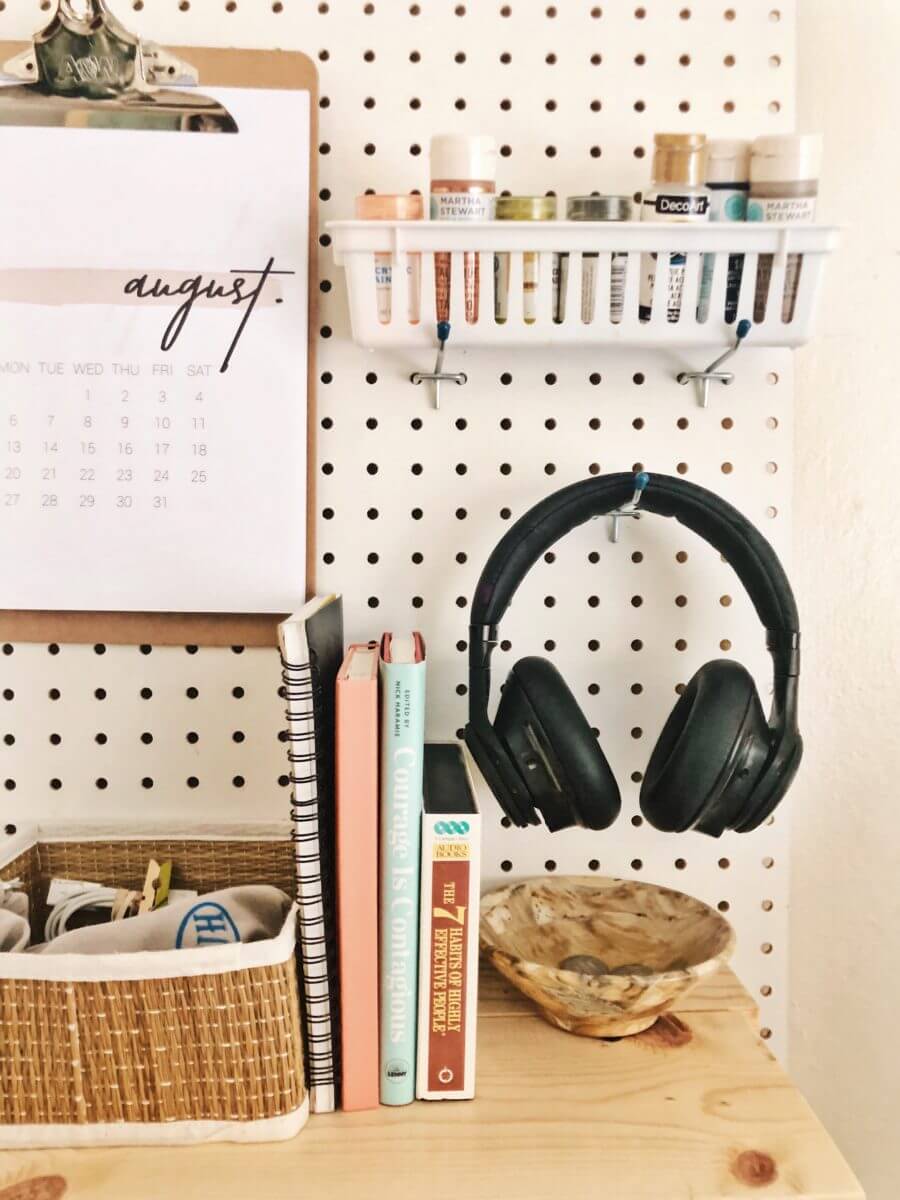 You often see pegboards in the garage or workshop walls. They help to organize the tools, so they won't clutter around the spaces. In this DIY spice rack idea, you will use a piece of pegboard as part of this unique spice rack. Put hooks on the board and use them to support the spice jars. To even cooler appearance, you may frame the pegboard spice rack.
23. A Light and Space-saving Glass Spice rack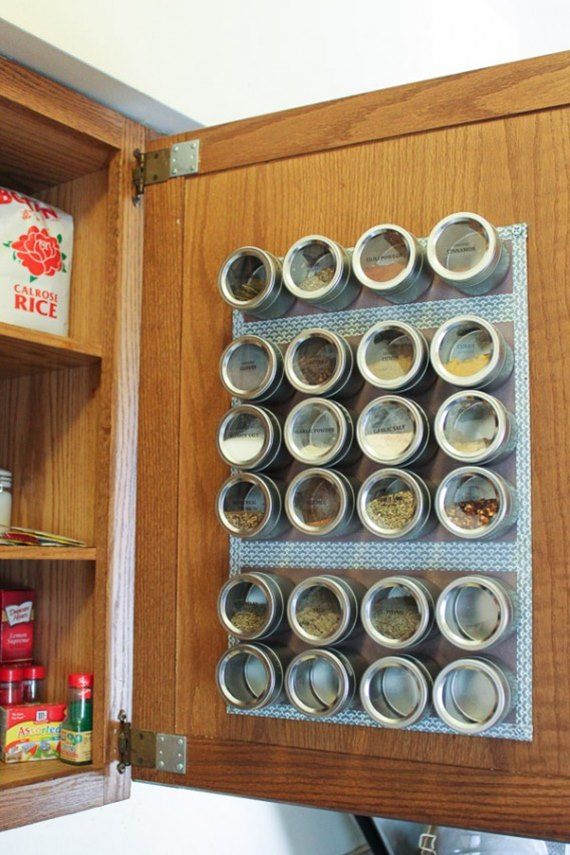 If your kitchen still feels cramped with the existing regular spice racks in your kitchen, try this simple glass spice rack idea. Put one on your splashboard (or any convenient places in the kitchen), and you have a spice rack with contemporary-minimalist look. It also makes your spice jars look floating, adding a unique atmosphere to the kitchen.
24. A Contemporary Countertop Spice rack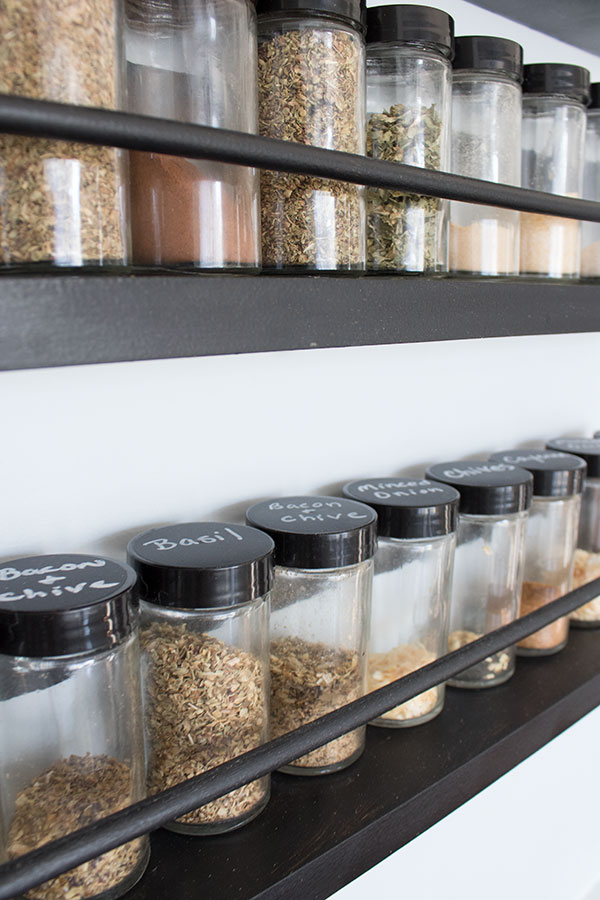 A contemporary kitchen needs contemporary stuff. A minimalist kitchen needs a minimalist items. And if your contemporary minimalist kitchen wants a spice rack idea, try this cool countertop spice rack.
You'll have a tower-like spice rack. It's made of stainless steel. With its form, it also is easy to put anywhere in the kitchen. You also can load as many spice jars you have.
25. A DIY Wooden under Cabinet Spice rack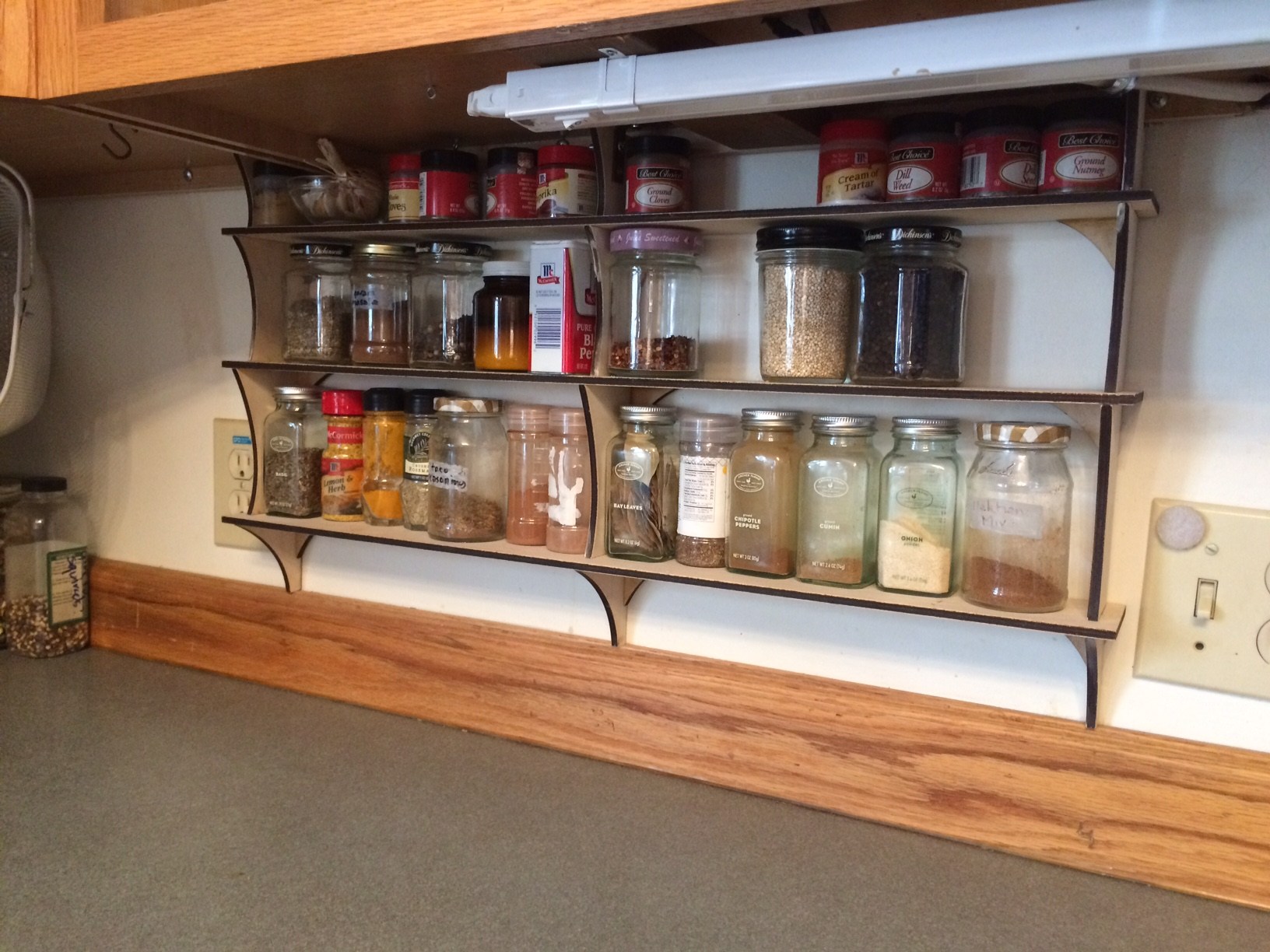 Use the empty space under kitchen cabinet as a new spot for this awesome wooden cabinet spice rack idea. If you remember the pallet spice rack above in the lists, you also can use pallets to make this spice rack.
To put or take the spice, this rack doesn't use drawer system. For more practical putting or taking spice jars, you just need to tilt it down. Simple and easy.
Read More: 20++ Coolest Privacy Fence Inspiration
So far you have met some 25 unique spice rack ideas. Some of them are so easy that you can make them at home. You can find the materials easily. Some even are made of recycled or unused materials.
All you need is your free time and your deft hands. Finally, don't forget to inform us when you succeed in making one of this cool spice rack ideas.