Once, when home insulations were not as good as today, home owners relied their comfort solely on their heart and thick stone/brick walls. As stone/brick tend, plastered or not, tend to cold and damp, then came the wall paneling ideas.
Yes, at first, wall paneling is a way to ward off cold air from entering the homes. This idea has been around since 13 century. At first, they had simple and practical designs. Along the time, the designs evolved as the panels were not seen as only practical structures but also for beauty.
Now homes with wall paneling are often seen as period homes, as the panels mostly installed in old pre-war homes. Some are preserved well, the others are stripped down for the sake of modern touches.
But if you want to revive to old style warmness of the wall paneling, now you also has the contemporary options as well. The materials are also more varied. Aside of classic solid woods, you have various engineered product as well.
Now if you want to find wall paneling ideas for the house, here we've picked some of the most gorgeous for you.
1. An Elegant Bathroom Wall Paneling Idea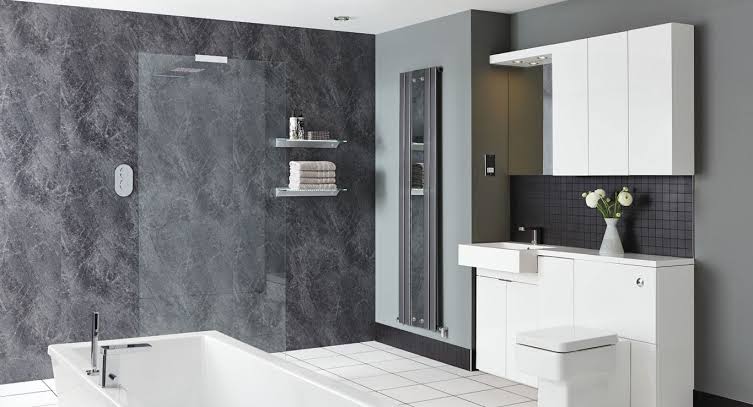 Finding the right wall panel for bathroom wall may give you some headache, if you're not accustomized with the business. But, as a simple tips for a starter, the first you need to do is finding the style of your homes.
Some homes have their own styles, and these style usually also applies to the interiors. This bathroom, for an example, has modern contemporary style. So you need to find contemporary wall panel for it.
If you want to have affordable wall panel, choose MDF products. The materials offers almost limitless color and patterns, from the natural up to the contemporary abstract patterns.
2. Blue-painted Wall Panel for a Classic House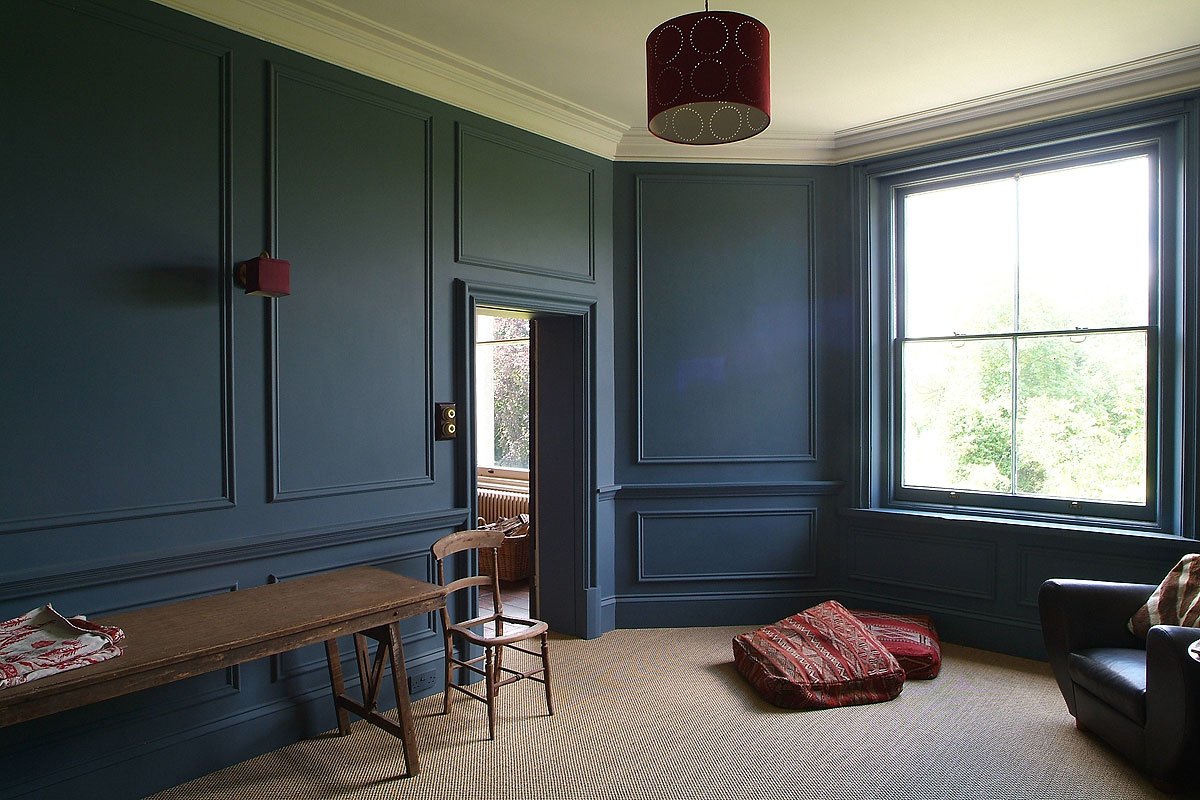 Blue represents life stability, at least that's what colors psychology says. Whether the notion right (or wrong), all of us probably agree that blue also gives peaceful feeling to the room. As for an old home, it also offers a classic look into it.
If you have a large room (hence ample walls to cover), you can have wide wood panels as the cover –provided that you have no issue about the budgeting. As alternative you may use Plywood or similar product. Paint it blue like the example, and see the imposing effect to the room.
3. What to Use, Wood or MDF Paneling?
So far we've talked about the real wood and engineered materials for the wall paneling ideas. But you might wonder about what to use: wood or MDF (as popular engineered materials) for wall panels.
The answers may varies, as the answers depend on your tastes and budgeting. If you want the affordable option, MDF (Medium Density Board) materials are worth considered. But if you need the most impressive and authentic covering for the wall, real woods would be the best option.
4. Rustic Faux Wood Panel for Living Room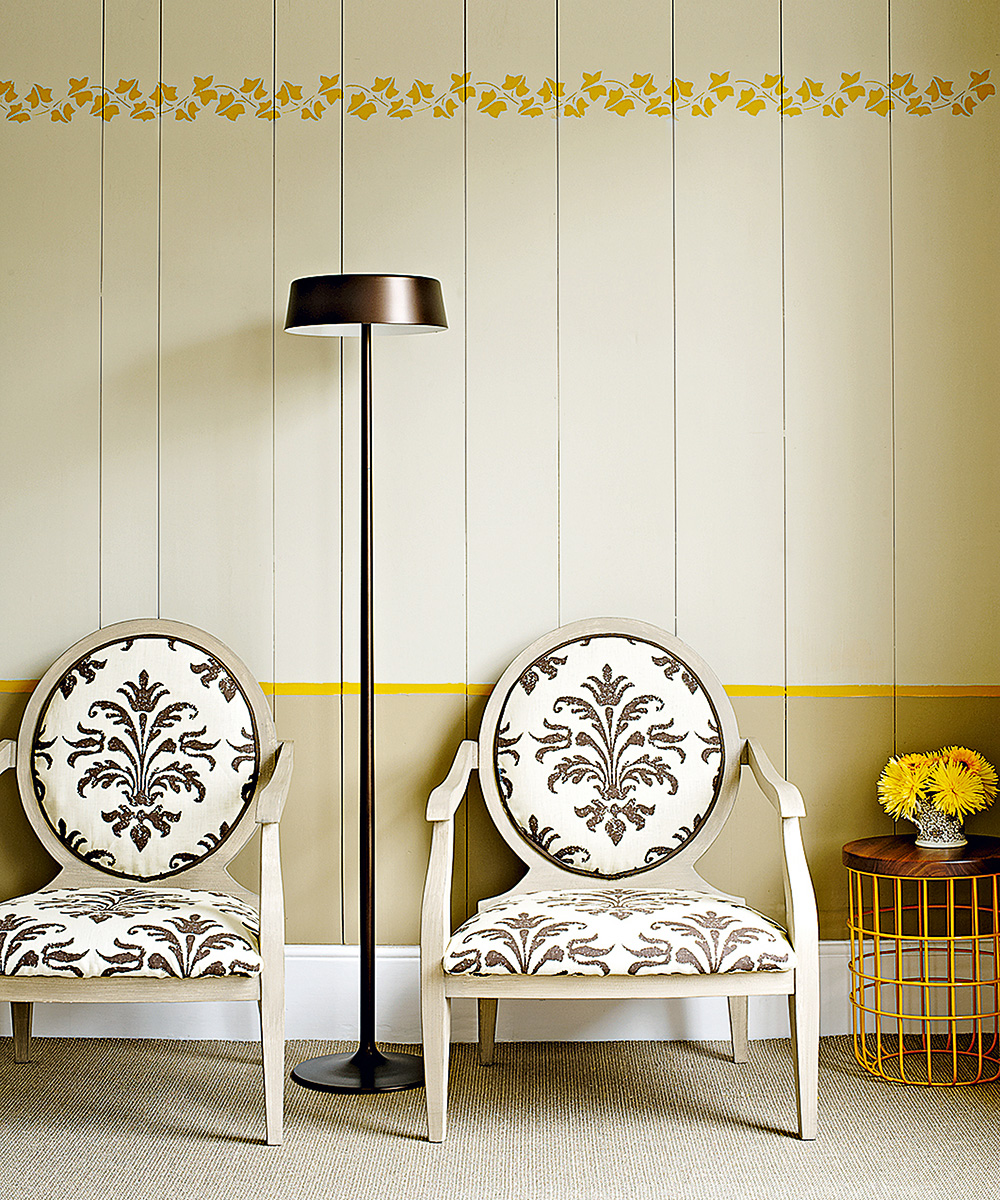 As we said before, real woods can be expensive and out of reach for most us. For the reason, MDF materials become the popular alternative. It offers much cheaper materials which, after having the right finishing, cannot be distinguished from the natural or genuine materials.
The MDF materials are easy to install, even if you do it yourself in one of your DIY projects. MDF materials are also easy to evoke certain look to the room, just like this example. The faux wood panels shine obvious rustic look, though they're consisted of modern industrial materials.
5. DIY Half-height Wall Panels with Reclaimed Wood Planks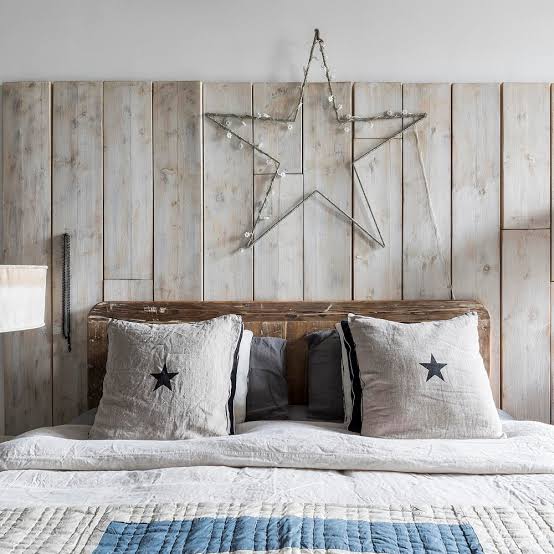 If you have redundant or unused structures full of wood planks, you may reclaimed and turned them into wall panels. Yes, you can do it yourself in a DIY project, as this project only needs basic carpentry skills.
If you want to find the simplest wall paneling idea, this example shows you one of them. When installed, it only cover a half height of the wall. It also has simple structures, as it consists of wooden planks rows. For a rustic look, give it a distressed finishes.
6. Simple Multipurpose Wall Wood Panel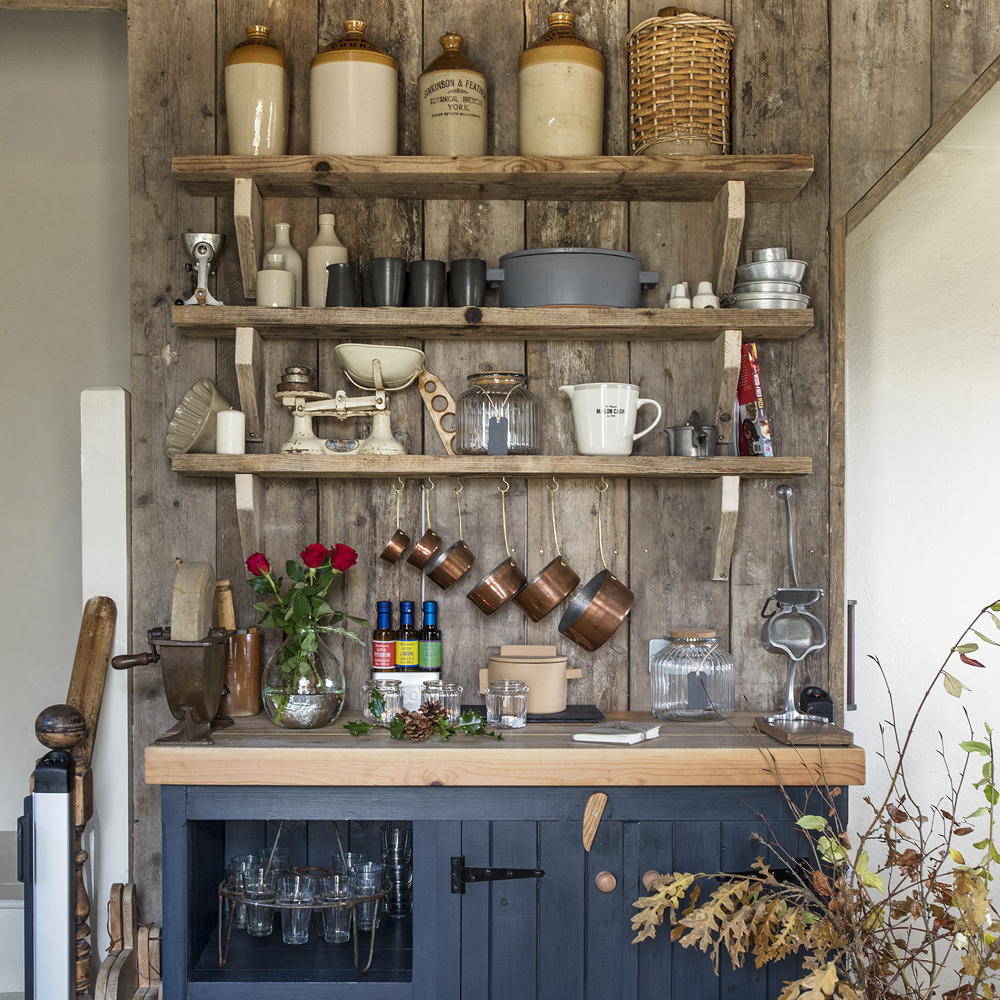 Still want to use reclaimed woods as creative wall panel? This list shows you how that wood panels are not only for protecting the wall, but you may also use it as other uses. For example, you can use the panel as stands for open shelves.
In case of reclaimed woods, you don't have to coat the surfaces (if it's naked in the previous conditions). As you can make the wood color and patterns as point of interest. Furthermore, the rustic vibes also offers comfortable warmness to the room.
7. Vintage Wall Paneling Ideas for Living Room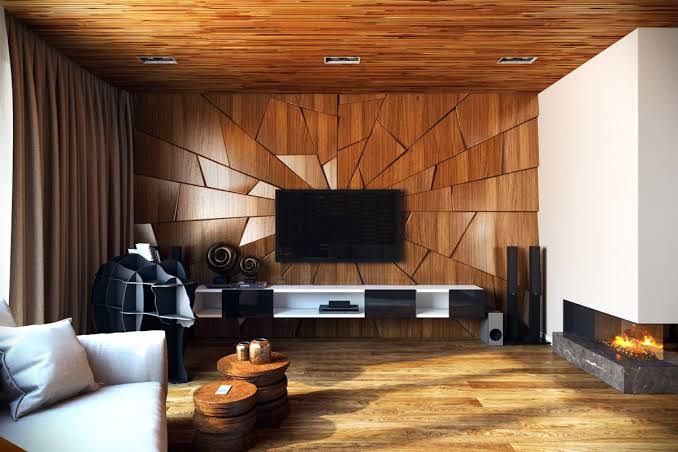 Mid-century style probably uses the most extensive wall panels. The panels seem to be an integral part of the styles, one of the iconic characters –along with its also impressive furniture styles. If the classic panels tends to have simple geometric patterns, the Mid-century often offers more.
This mid-century wall panel for living room gives you a best example of how the 50s style can be much more varied in its paneling styles. Here you have impressive web-like wood panels which not only panels your wall but also can be a great point of interest.
8. White Wall Panels for a Limited Spaces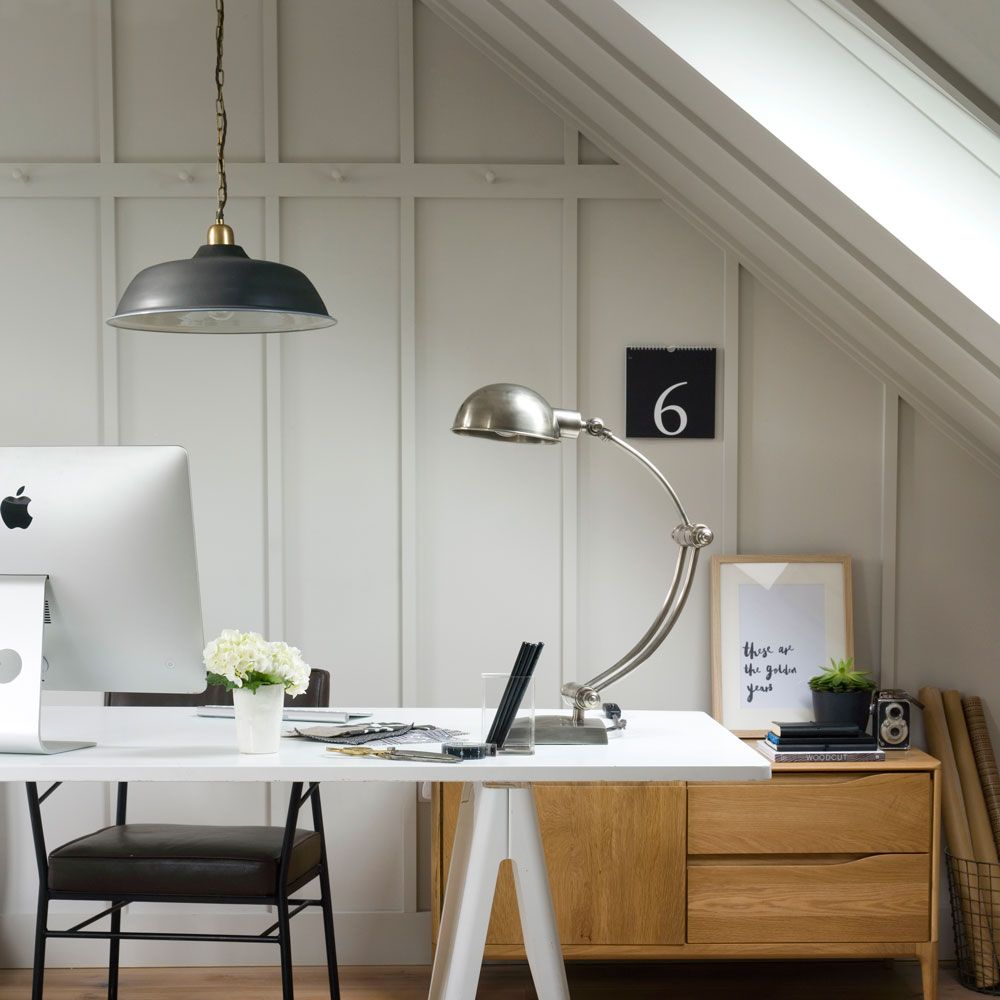 You can make a limited space to look larger with white color. Painting the wall white is the easiest way to make a small room interior to look bigger, fresh and neat. And this applies to any rooms, including an attic, like this study.
Only in this study you don't have bare wall to paint, as the wall is already lined with simple wood panels. But, nevertheless, you still can coat white color to the panels and the result is still the same: a nice little room which looks brighter and bigger.
9. Rustic Modern Living room, a Farmhouse Style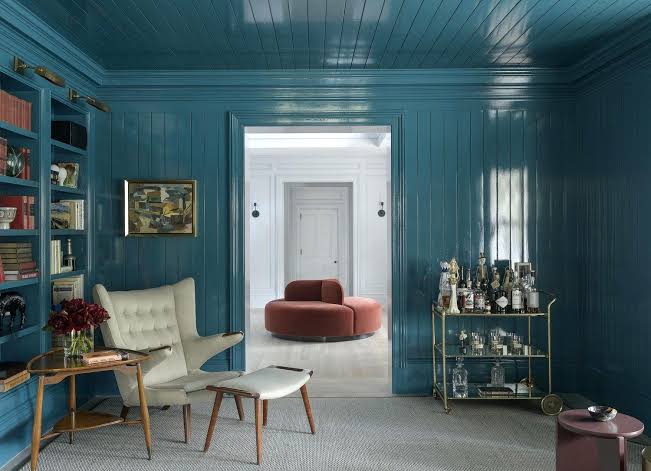 Trying to update the wall panel but still has no clue about the color you should coat on it? Then try some bold colors. Instead of adhere to a fixed natural or neutral paint colors, try to experiment by choosing a more vibrant color.
If you want to have the more refreshing vintage color, try this classic blue coating for the wood panels. You'll have a joyful farmhouse style living room which should match with any of your modern furniture, just like this handsome 50s furniture.
10. Decorative Wall Panel for an Oriental Living Room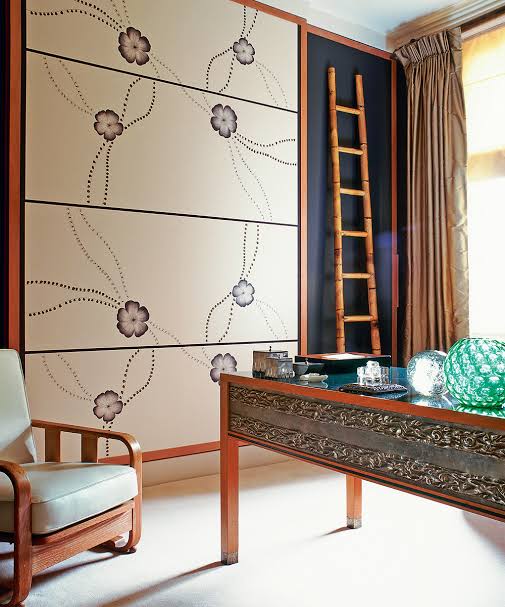 Along this list you often meet wood planks as wall panels. Not only in planks, you also can have wood or engineered boards as wall panels. You even may choose patterned boards for the more impressive room appearance.
This wall panel idea present you one which is not only serving as wall panel, but also become a decorative boards. This oriental living room gives you the live example of the wall panel. The wide panels has simple wall patterns which is nice accents for the living room.
11. A Classic Contemporary Wall Panel for Basement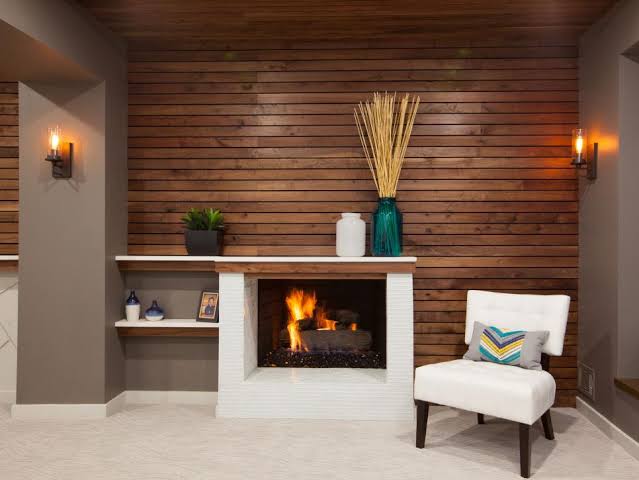 As part of the house, a basement often is often seen as dark neglected place which is good for derelict old stuff and spooky things. But, if you want to expand the living areas, the place also is a great alternative for the rooms.
Get rid of the dark and damp atmosphere with the right room lay outing and materials involved. This basement might worth considering if you want to redo the basement, as it doesn't give you the cramped or dark look with its minimalist style and warm natural wooden wall panels.
12. Modern Bathroom with Elegant Wall Panels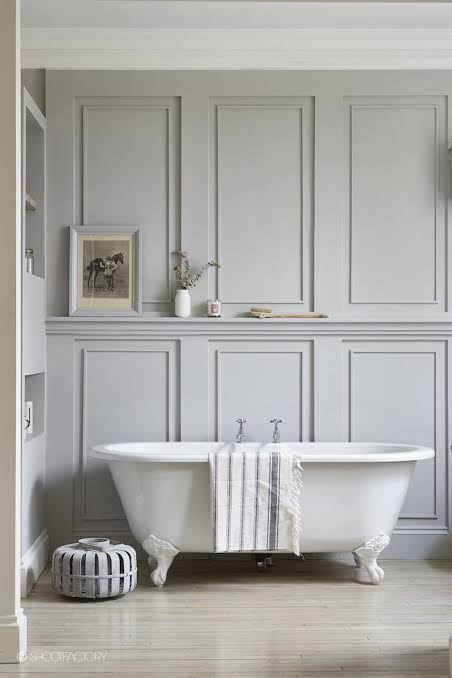 Don't want to have cold rigid bathroom look? Then try to add natural organic elements into its. When marble or granite materials are too cold for some (including you, maybe), then it's time to install wood wall panels in it.
As a more affordable way to get superb impression out of your bathroom, you may use faux wood in the form of MDF or even aluminum panels. Once finished, it has no differences from the real one. It even has more benefits, like cost, easy installations, and more durable.
13. An Innovative Bedroom Wall Paneling Idea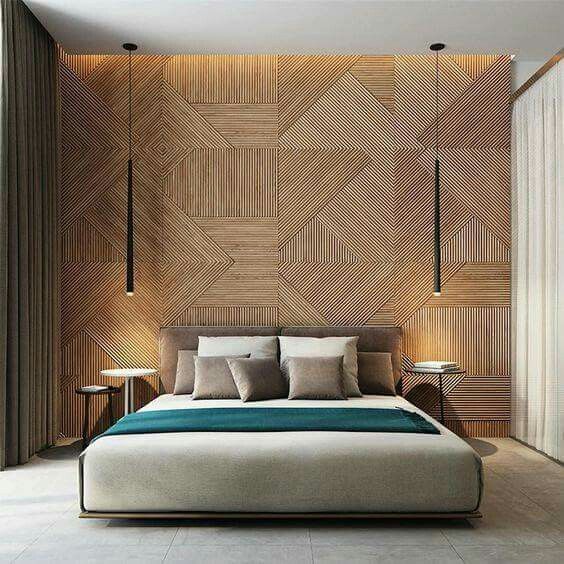 You probably want to install wall panel, but you also don't want the 'regular' wall panel styles. You want it different and chic at once. If you're in the position and, if you want some innovative ways to make wall panels more desirable, try this idea.
Here you have one of the sweetest idea, that's by patterning the wall panel. As you see from the example, the panels of this bedroom are arranged so that it geometrically looks awesome. Not just as a wall panel, the structure also serves as point of interests.
14. Rustic Log Style Wall Panel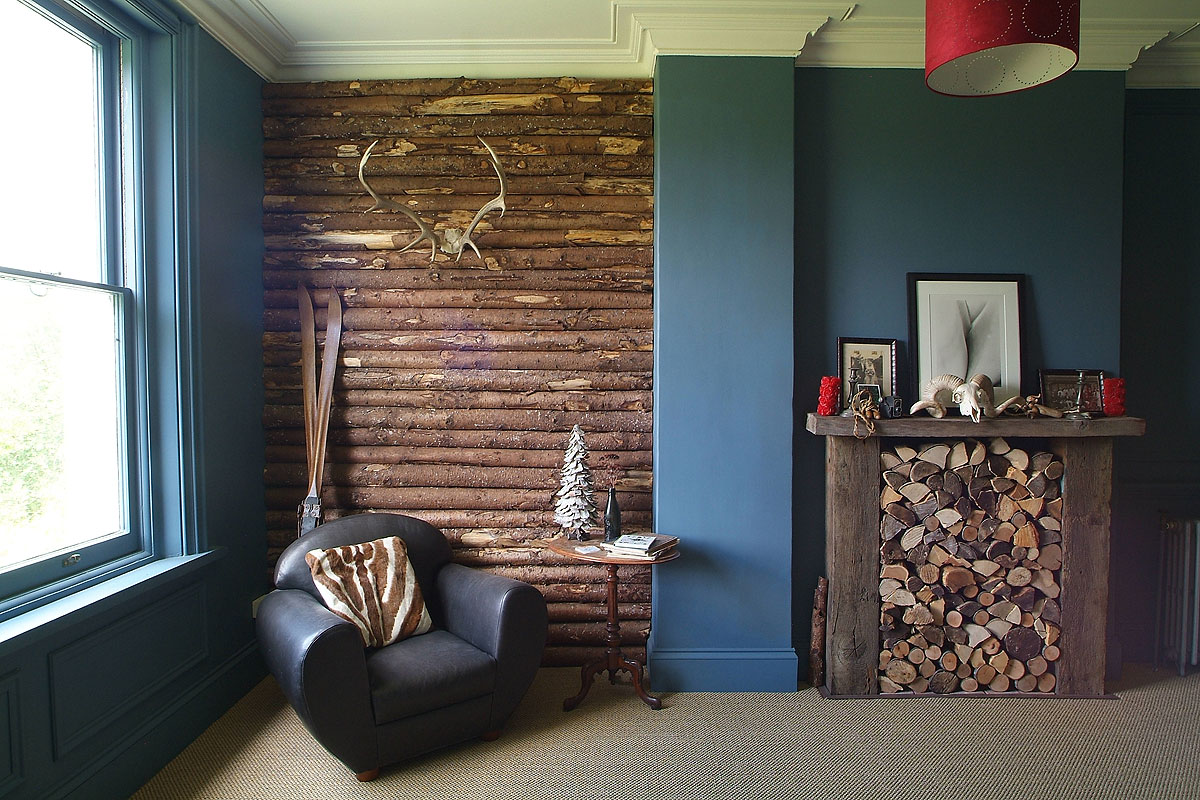 The feeling we have inside a warm log cabin in the woods during the winter time probably one of the most unforgettable of all. For the reason, most of us love a rustic setting. Even if we already have a modern home interior, a dab of rustic styles here and there still makes you happy.
In this example you find the combination of a modern Livingroom is imbued with rustic wall panel. The panel itself is of non-regular panel, instead, you have log style wall panel. Not the regular big horizontal logs, but the small one –neatly stacked and impress your friends most.
15. Minimalist Mid-century Wall Panel for Living Room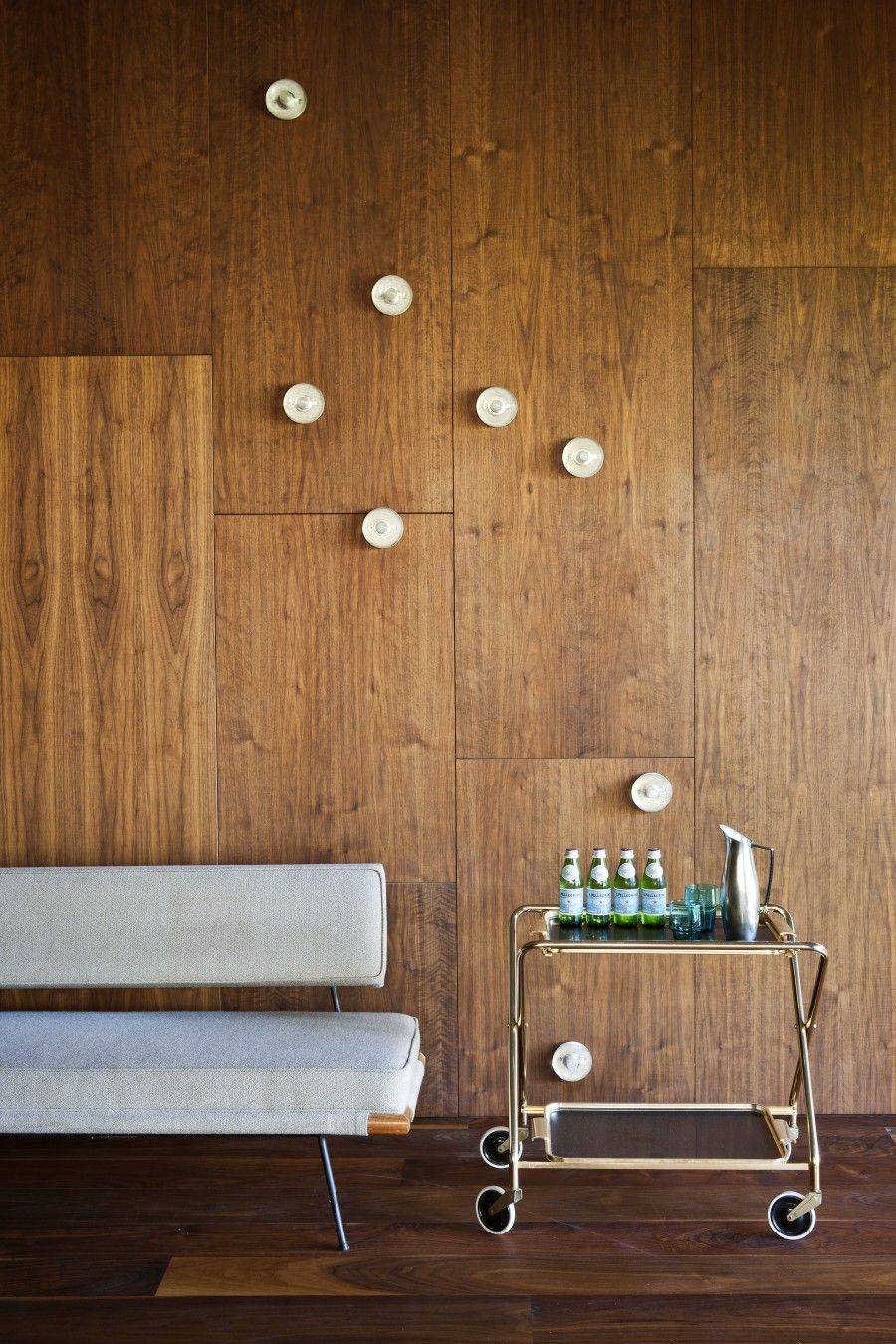 Even though the 50s Mid-century style has minimalist soul, the style still gives you the warmness which often miss in minimalist style. This because the extensive use of natural quality elements, like stones, marbles, and, of course, the woods.
Mid-century style is also often seen with flat wood wall panel. This gives the warmness and comfortable vibes to the living room. Install this flat wall plywood panels in your living room and feel the same.
16. Minimalist Wall Panel in White Nordic Dining Room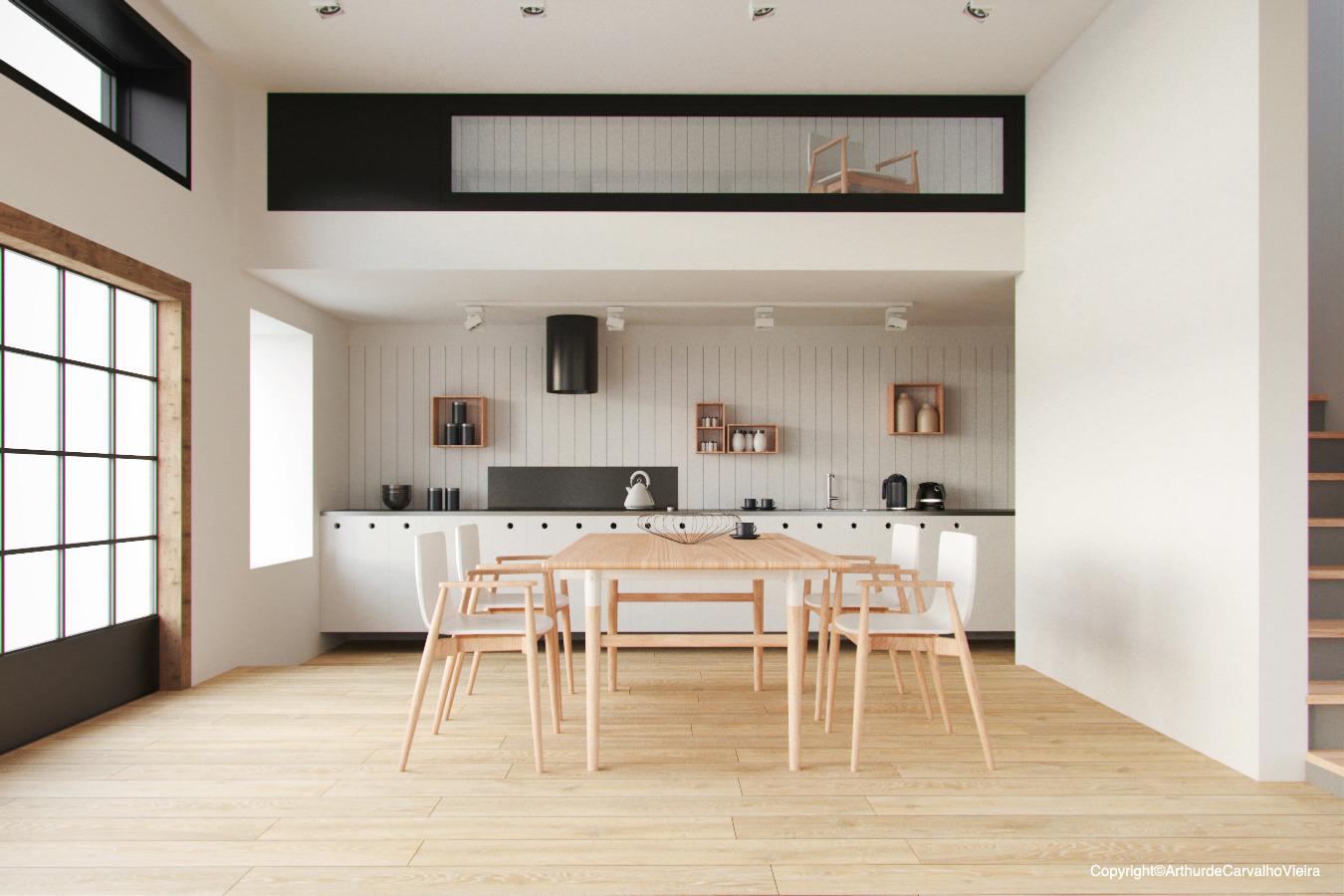 This wall paneling idea brings you back to the classic farm style wall paneling style. Though this time you're not going to find this structure installed in a traditional home interior. Instead, you have this panel in a minimalist Nordic dining room.
A Nordic style always boasts on its simplicity and efficiency. You find no redundancy here, just the best stuff for your most essential needs. Here the wall panels serves also as wall accent which warm the simplistic look of this Nordic living room.
17. Luxurious Bathroom Wall with Mahogany Panel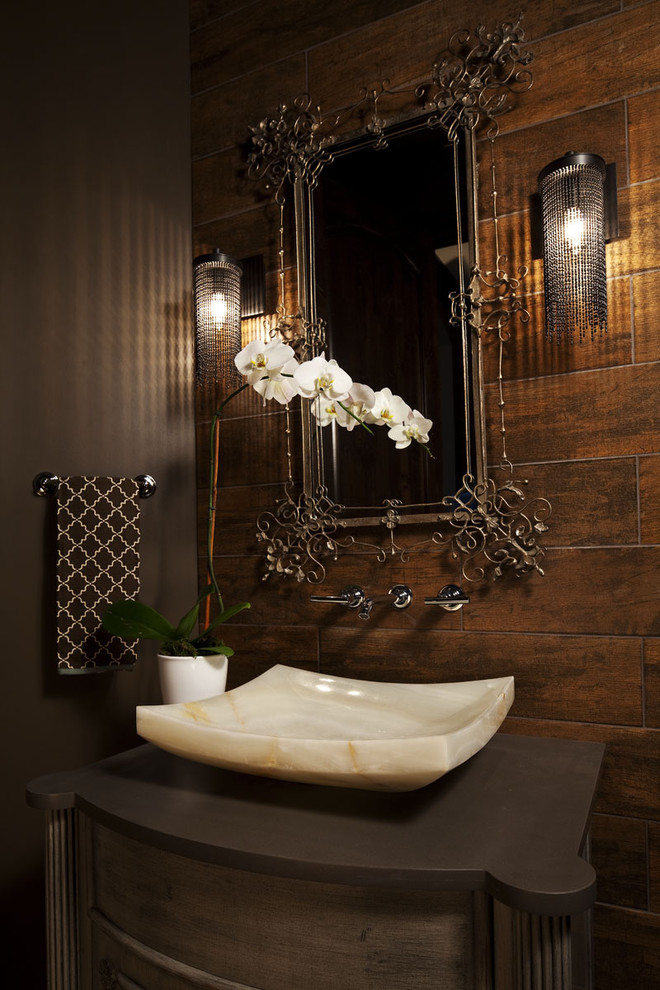 There's a way to make your bathroom to look exclusive and luxurious: install a solid wood panels on one of its sides. There's nothing compared to solid quality woods when you want to have expensive and classy look at once.
This example shows you how with just simple slabs of wood your bathroom turns into a precious haven. Here you have mahogany as the wood panels. Mahogany is known of its durability and its awesome patterns and colors.
18. White Wall Panel for Cottage Style Entry Way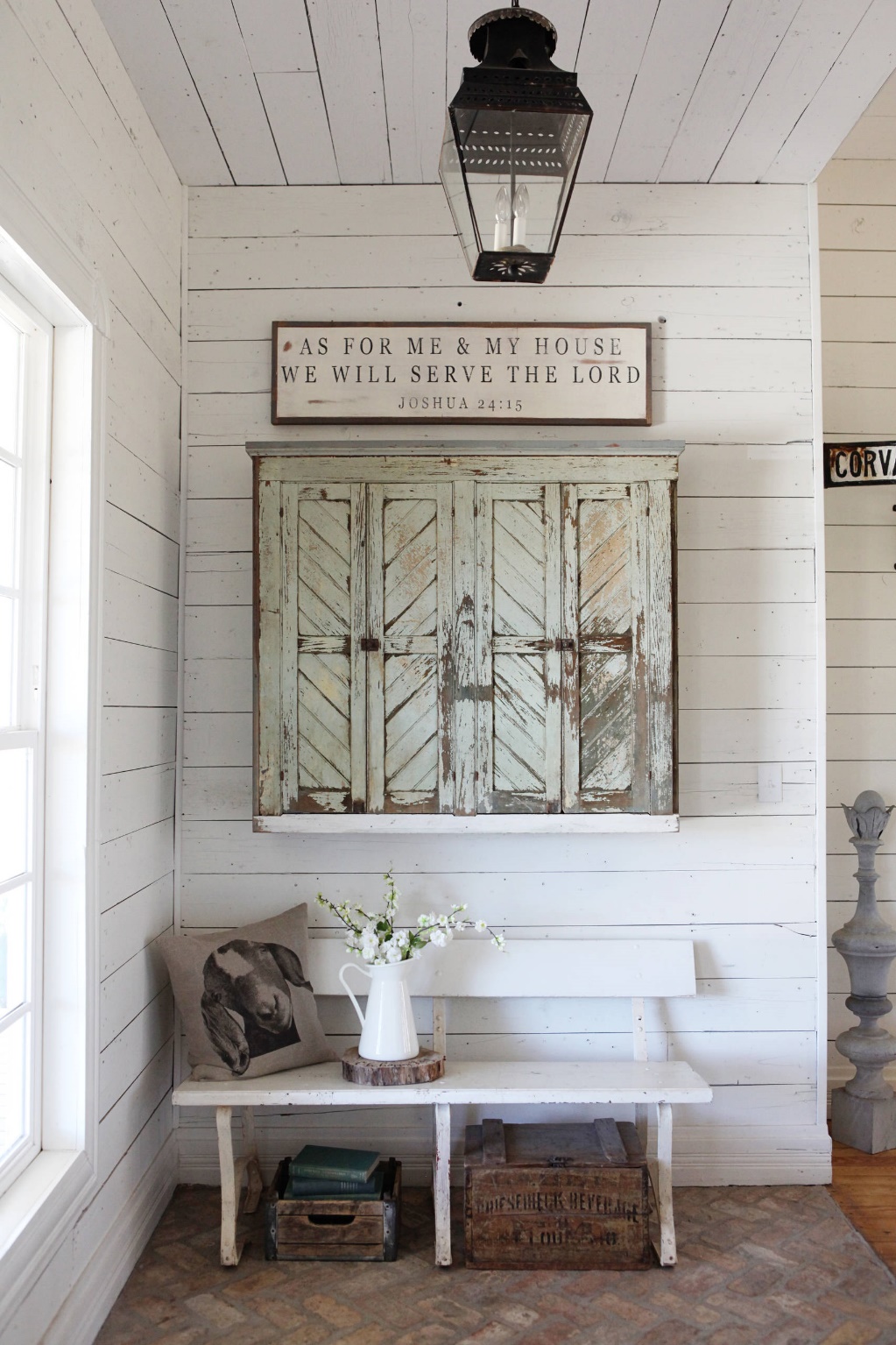 So far, most of the ideas outlined here are about interior wall panel. But, the panel won't only be good for interior purposes only. You may install the panel for the outside wall, like the example shown here.
Here you meet a rustic entry way cladded in wood panel. The cottage feels instantly hits your visual as the panels' look remind you to a sweet country cottage, a sign of enjoyable and comfortable moments. The white painted wall gives you the light and joyful air.
19. A Superb Contemporary Wall Paneling Idea for Small Apartment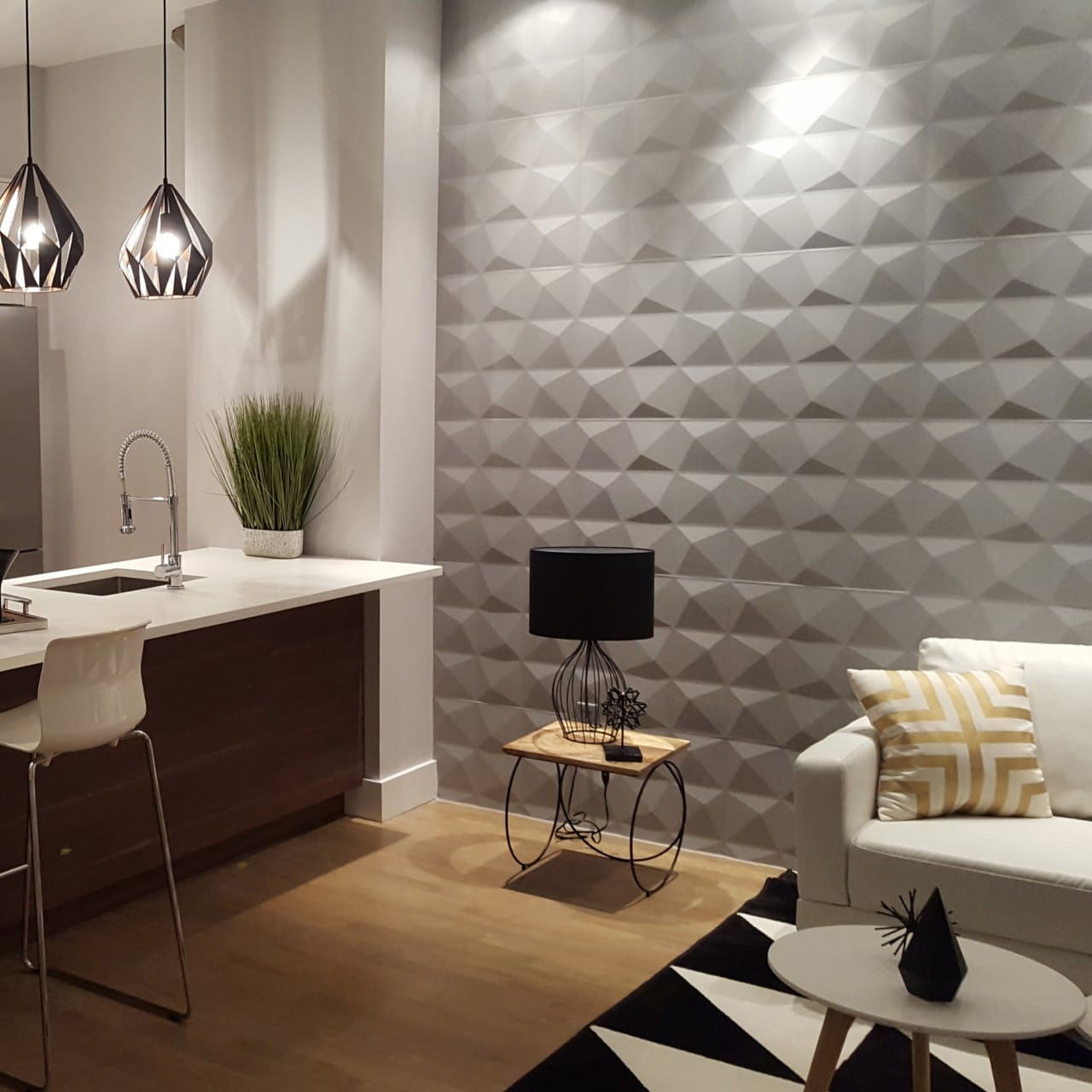 Wall covering has become part of interior designer jobs. Not only for the practical purposes, you need to have the wall panels cool enough to impress your friends –that's why the interior designers worked so hard to satisfy your needs.
That's why you meet this gorgeous contemporary wall panel. The tech advancements in panel materials enable us to have lots of wall panel options, including this geometric one. Install one in your modern living room, and it'll make you proud.
20. Solid Wood for Exclusive Living Room's Wall Panel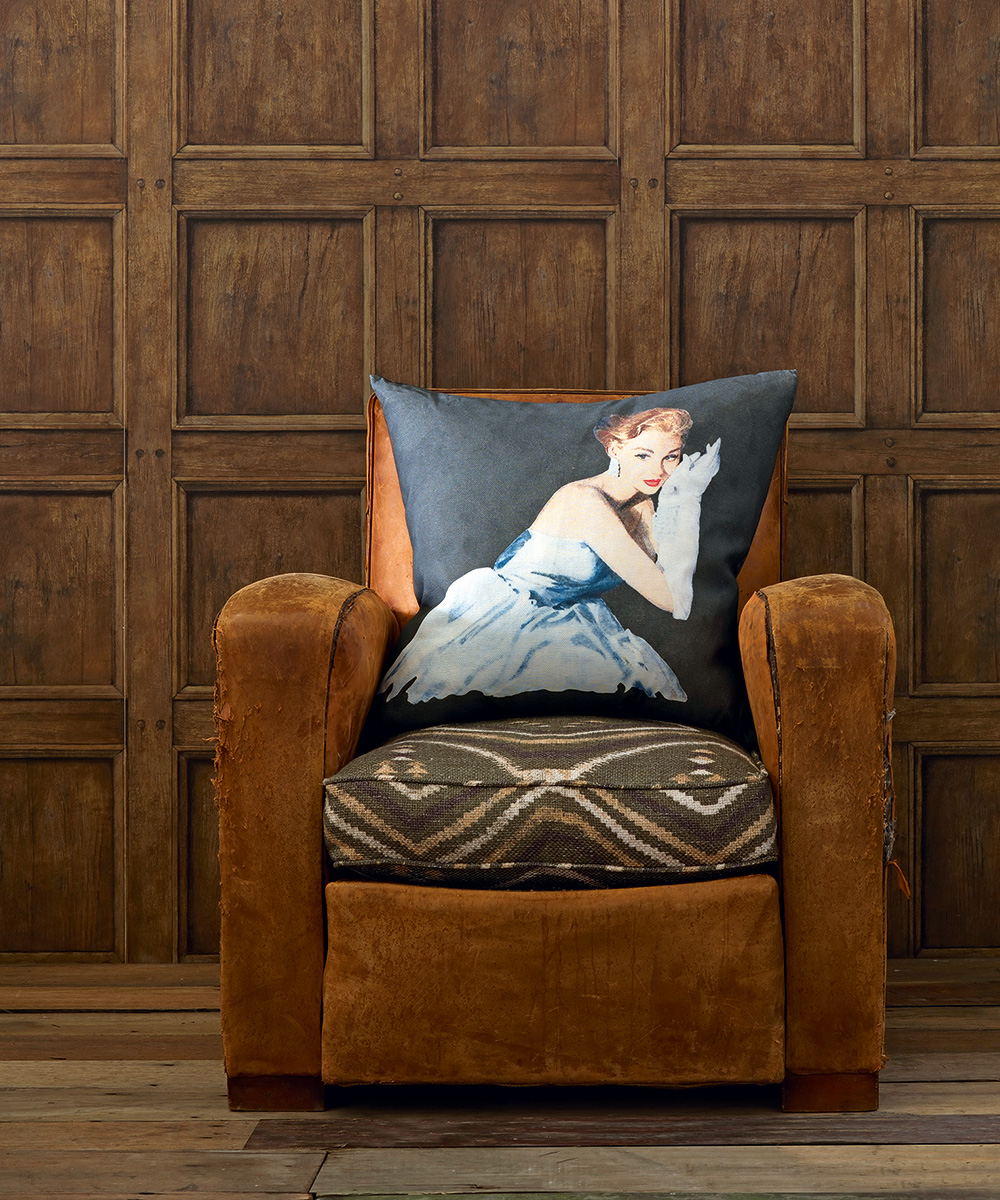 As natural elements will always be great to improve a room's appearance, then you often find the materials in any home interiors. The better a wood quality, then the better the look. As good quality woods gives you most of their character, from their durability up to their looks.
If previously you meet slabs or boards wall panels, now it's time to meet wall panels in lattice styles. The patterns itself looks oriental, reminds you to some old Chinese home. In this example, the panel works well with the modern theme of the living room.
21. Creative Wall Panel with Ambient Lighting for Bedroom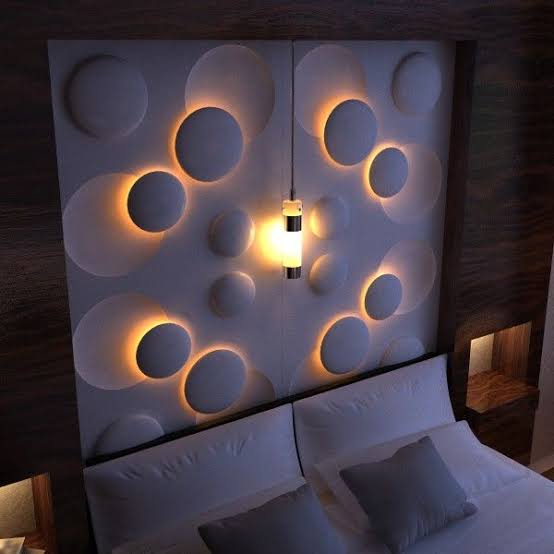 One of important factors in building a comfortable bedroom is the lighting systems. The right lightings even can boost your positive moods. You have at least three different light in a bedroom, like the general lights, task lights, and ambient lights.
Ambient lights is your indirect lights. They highlights any objects in front of them, giving the objects and your room 'depth' which eventually playing important roles to your mood. In this example, the creative ambient lights highlight the wall panel above headboard. Cool.
22. Warm Wood Wall Panel for Garage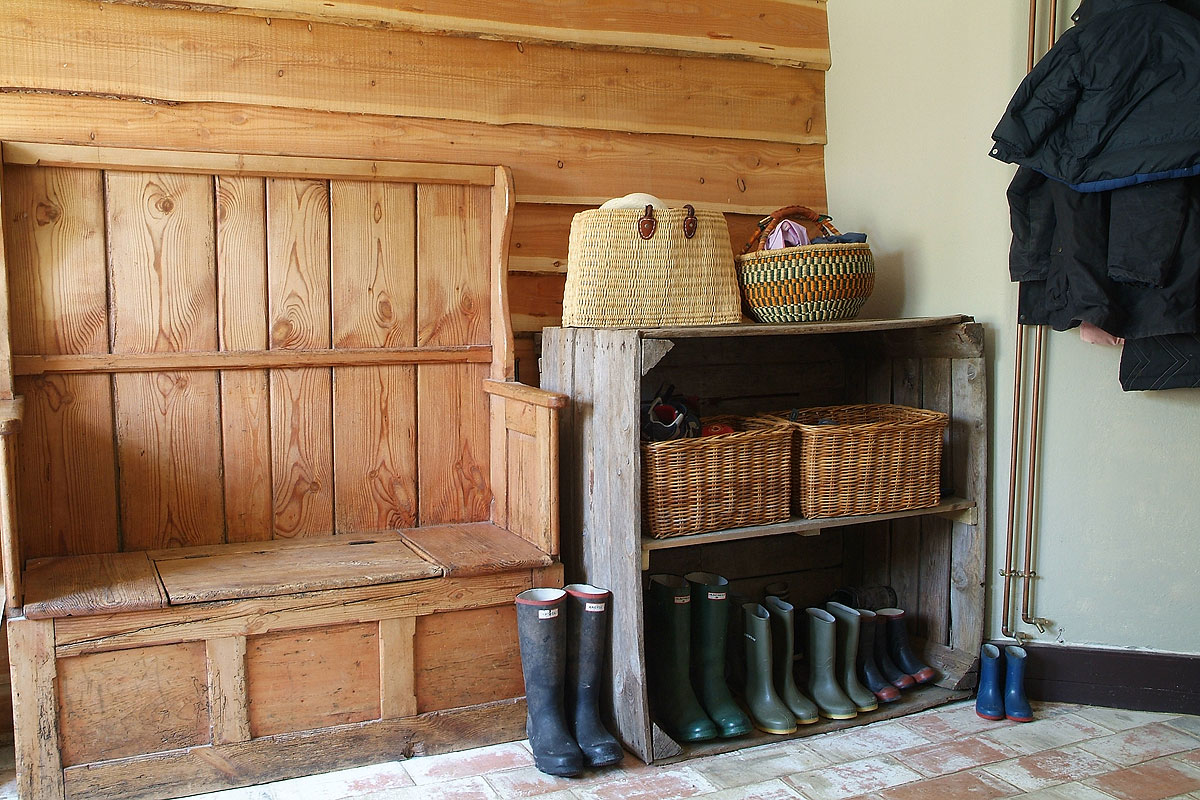 A garage, just like the basement, is often a neglected place. Aside of your cars, it's probably full of unused stuff and spider web. But you can make it better visually by updating the room by adding rustic wall panels on one of its wall.
In line with the naked garage's utilitarian purposes, you don't need to bother about its panel's finishes. You just put clear finishes on it and let it be the garage accents. You also can install shelves or cabinets next to the wall panel for additional storage systems.
23. Patterned Wall Panel for Large Living Room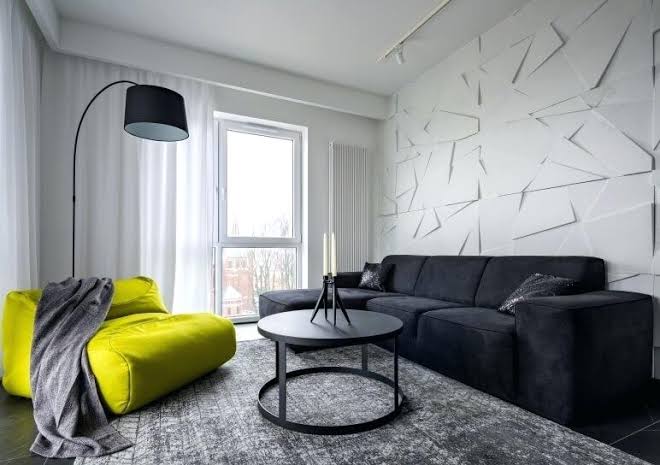 The recent trend of wall panel tends to go into patterned wall panels. Unlike the regular wall panels, patterned wall panel offers seamless look and far various patterns. So you can pick any patterns out there which serve better for your needs.
This living room can be your initial steps into picking the right wall panels for the living room. For a living room this big, the designer choose white patterned wall panel as accent, and so the room will look more impressive and alive.
24. Bathroom Wall panel, Wainscoting Style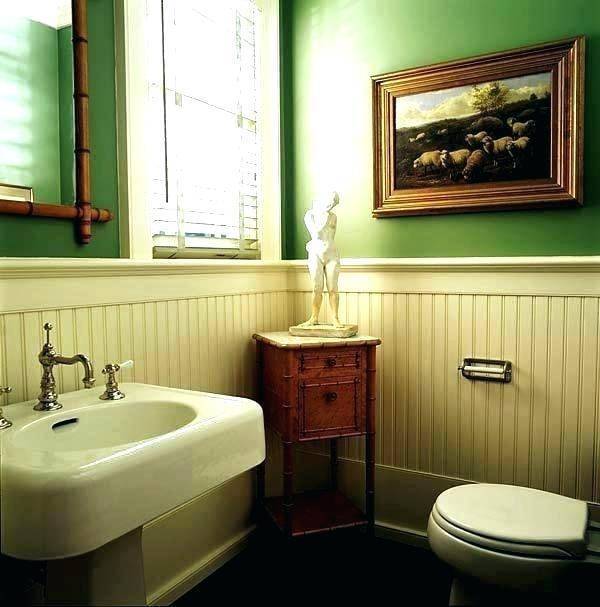 Old homes often had wainscoting on its wall. This half wall cover served as good wall insulation in pre modern homes. Some were of simple solid wood structures, while others were accompanied with complex decor or carvings.
If you want to inject a classic or vintage look into your bathroom, then you may use wainscoting (instead of full floor-to-ceiling) wall panel. This example show how the right wainscoting serves as an impressive rustic wall decor.
25. A Composite Wall Panel Idea for a Spacious Bedroom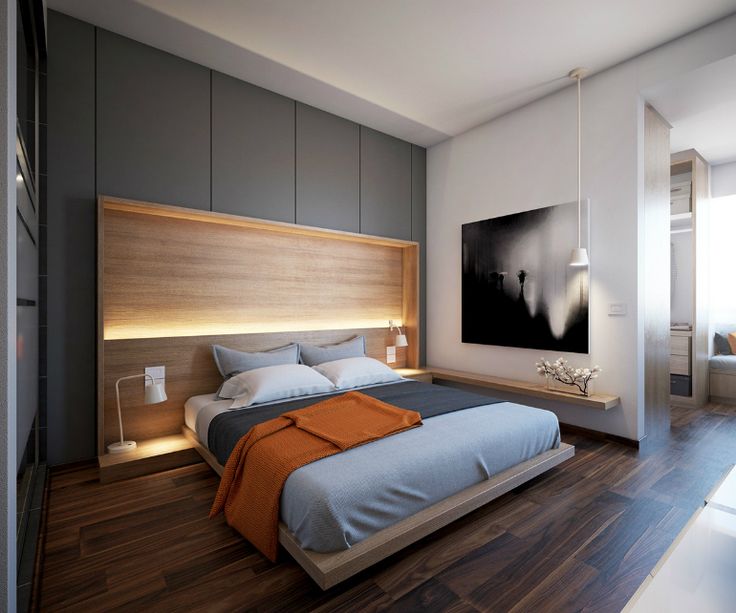 For the shake of bedroom's look, you may blend two (or more) materials for wall panel. The contrast of the different materials offers unique beats to the room, and even makes you feel happier and more comfortable.
In this example, the designer blends two different types of wall panels with different colors. As a result, you have a contemporary room so warm and cozy. The ambient lights amplify the snug atmosphere.
Read More: 25 Attractive Desk for Small Spaces Design
There it is, we have outlines some 25 wall paneling ideas for you. They are covering the living room areas, bathrooms, bedrooms, and even the basements. We also offer you some awesome seamless wall panels from affordable engineered materials.
Still, we know that this article is far for complete. But we hope this list can spark your idea and even got a new one for your home interior. Lastly, have a great day.