Designing one of our home spaces is such a pleasing activity to do, this particularly is easy for larger rooms. The cases might different when you only have limied spaces. They often present tough chalenges when it comes to install additional furnitur, for instance, adding desk for small spaces.
That's it, some people won't even start to recreate their tiny spaces because of the difficulty level in designing limited space is higher. But now, due to of economical, preference, or any other issues we can find majority houses or apartment is in minimalist type with limited space.
Though, that's not a really big problem to set any furniture, like desk and table set which are very focal furniture inside the room. You still can manage to maximize your small spaces for simply setting useful practical desk. Here are 25 desks for small spaces just for you.
1. Minimalist Standing Desk for Small Spaces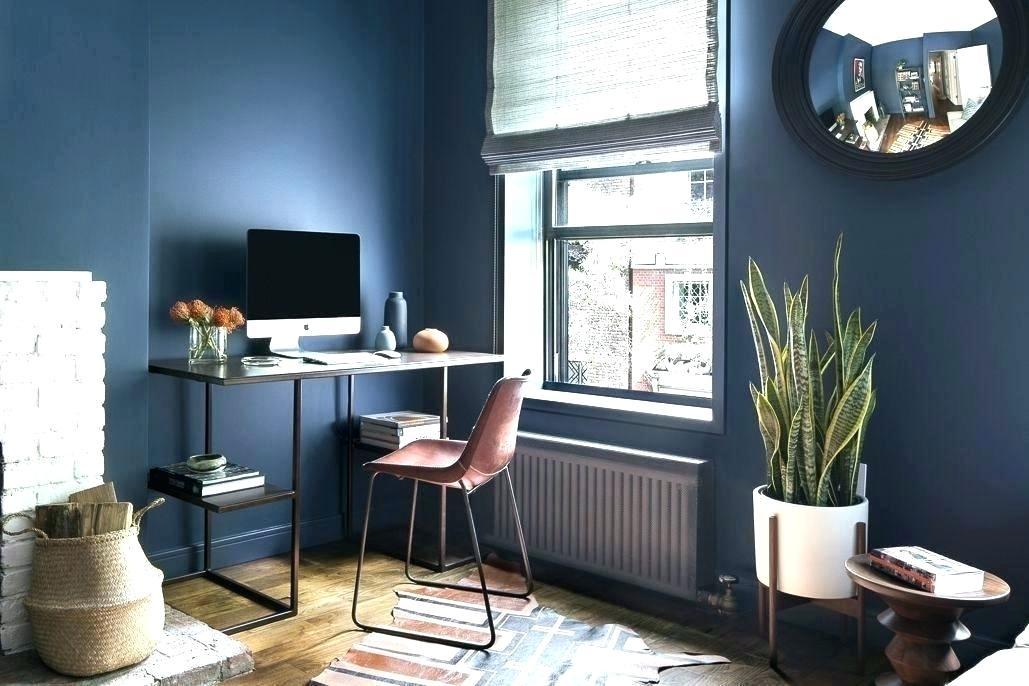 Whether at the office or at home, you still need a place to do the works. Sometimes, you need an area because you just moved your work from office to home, or maybe just place to web-surf, scan emails, pay bills, place a computer set for working.
You will face no problem for working if you can find the perfect small desk. This small standing desk will be the best solution for you who want to keep working at home with your computer in the limited space. It helps you to set your small room not to look stuffy.
2. Repurpose Old Desk Idea for Small Area at Home or Apartment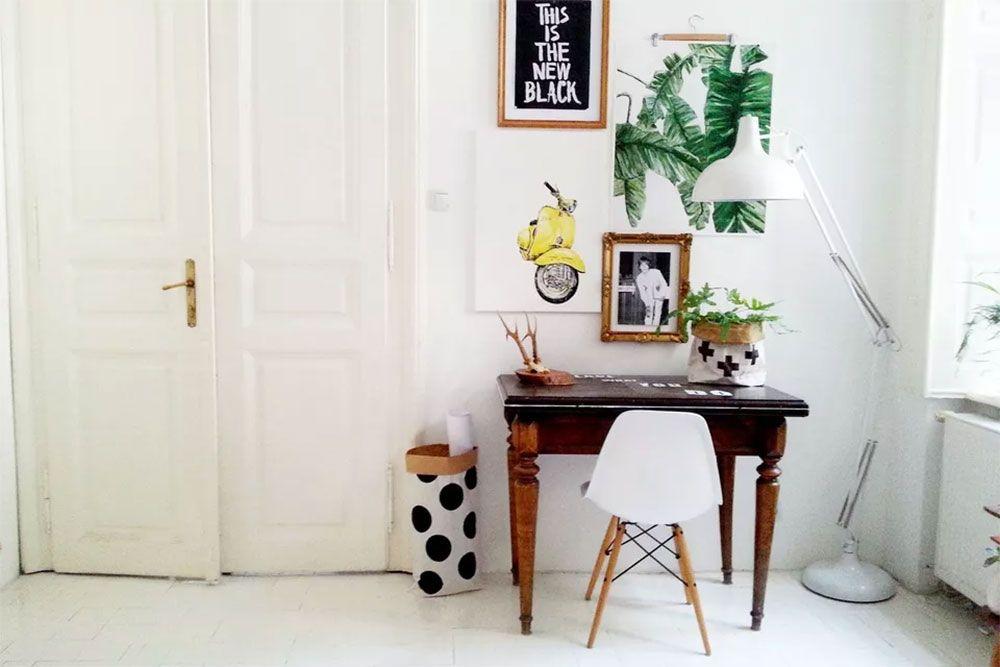 You moved to your new apartment? Reusing an old table from your granddad's home isn't bad idea for your desk for small space idea. You can pick the small one in term of size, so that it can work well in your small apartment with ease.
Aside from giving classic look, repurposing old desk will be more cost friendly for you. It's cheap because you just need to renew the counter top and varnish it little bit for the other parts. It will load the room with character.
You can set it near the corner with the help of standing lamp for lighting. For making it look more appealing, you may hang some pictures in front of the desk. It can be pretty practical to work on this tiny classic desk and kind of functional to save the room space.
3. Set a Stylish Desk for Small Spaces with an Invisible Desk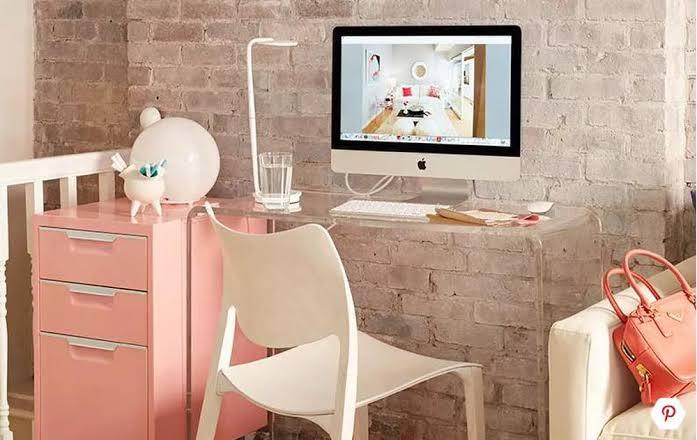 Getting monotone style from one house to another maybe will give you inspiration to reform the look in your place. Let's start to reform your small place into new look design and add some unique furniture which will give new atmosphere.
For your small space, it would be better not to place a large piece of solid furniture. To make it less oppressive yet unique, you may try to set a Lucite desk. Crystal clear lucite as your new interior at your apartment make it look fancy isn't it?
It can be considered as sophisticated look by setting this desk at the exposed brick wall. Brick wall exposing will give oldies look, then you set that crystal clear lucite desk complete with computer set on it to create contrast look of oldies-sophisticated look in one small place.
4. Setting a Floating Drawer as Desk Storage in Small Area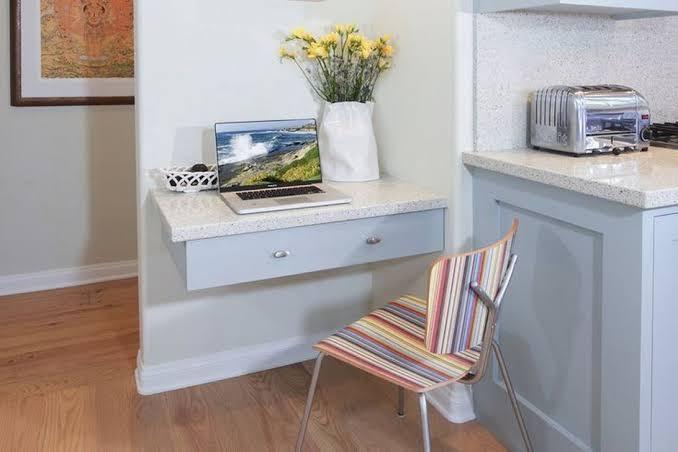 As you have limited free space to set every furniture you need, you may integrate and make use any free space even the tiniest space at your home. Even you can set the corner in every room to set something useful.
Such as, place a desk at the corner of your kitchen entrance will make that useless small space to useful small space. If it's inconvenient to place a solid desk, you can try to set a floating small desk.
In this idea, you may give additional drawers beneath. Floating desk with storage will be great idea for making that small corner useful. Even simple activities like browsing recipes or servings on your laptop placed on topper counter desk while you're cooking.
5. Desk for Home Office by Maximizing Small Spaces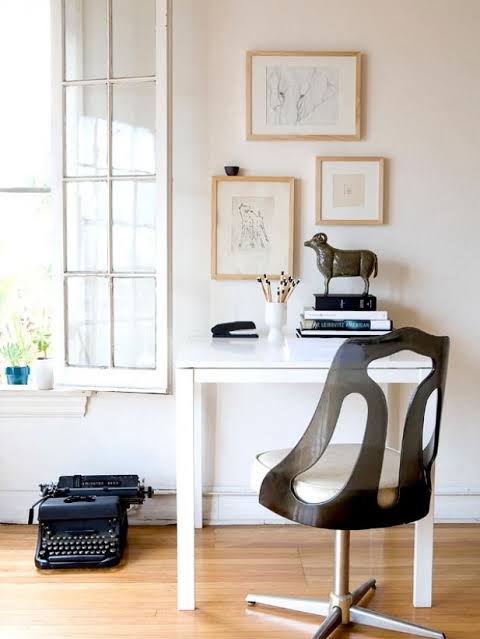 Decided to move your office to your home? Start with maximize your free area in your living room to set up new home office. Let say, you will need two area in the corner of your living room in one row to set it as your office area.
You need to set a mini kitchen booth for working together with your coworkers or get a small meeting for a client or two. The lower storage under the chair set, will give you extra space to keep meeting agenda or work-related stuffs.
Then, if there's nobody coming, you can work by yourself by installing tiny desk near the book shelve. For being practical, no need to set a computer because you can use the netbook. Yet it will be stuffy to set a PC near book racks.
6. Flip Down Hanging Desk to Save Spaces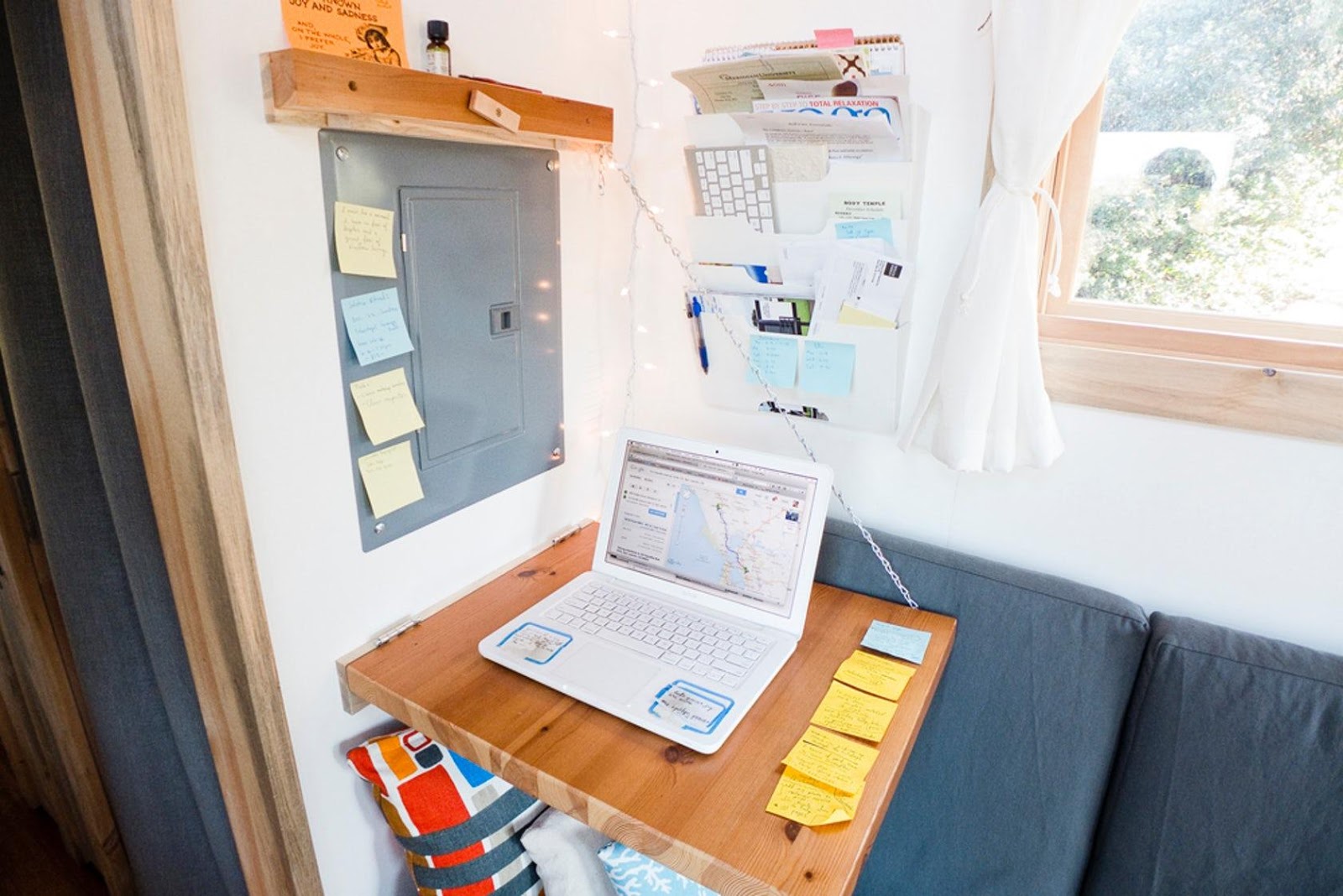 Modern human principle is being simple. Tiny place with big solid furniture won't be good enough for keeping simple. It will just make your place look so full. Even you won't have enough room only for breathing. Lol
That's another reason why now people tend to choose on simple furniture. For simplified, there is a new idea not to waste free space by setting a solid desk at your home. Flip hanging desk can be the best option for your simple principle.
It's made of solid plywood attached with hinges on the wall. It's completed with open-shut latch. It will flip down when you open the latch with the support of the chain. After finishing the work, you can flip it up and shut the latch again. That simple!
7. Working Desk at Tiny Nook? Try This Desk for Small Space Idea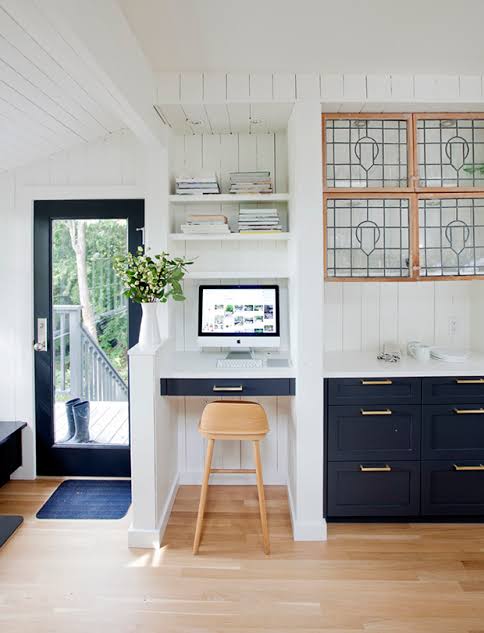 When you think about work, maybe the first thing which comes out is office desk with computer. Well, even more for millennial, workspace and computer are a must daily stuffs that we must face from waking up until back to sleep.
Though, to make it practical and efficient, you can set a workspace into your bedroom. Make use one of the nook in your small bedroom to set it as your working area. Change your bedside table with a small catchy desk to work.
That desk can be used to set your bedside lamp, as well your portable writing desk. Have a comfortable seated and do the work loads there. If it still has free blank space, you may place a decorative object or photos of you with the family members to feel more homey.
8. Utilizing Dining Floating Desk at the Kitchen Corner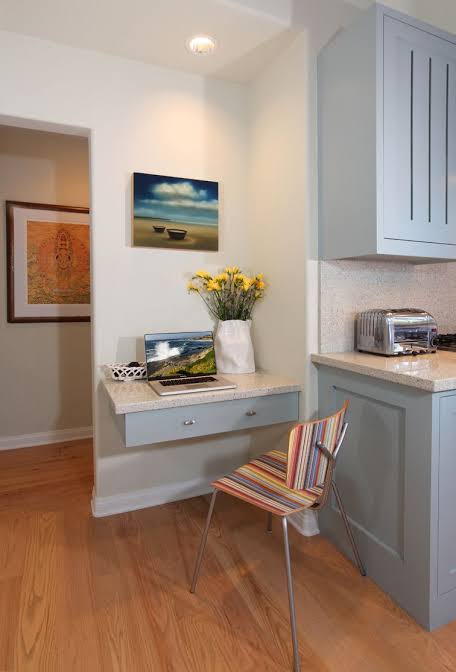 Have no space left to bring dining table set in? No worries folks, you can utilize a small dining desk set in one of your kitchen's corner, like this desk for small space idea. It will be practical to set it not far from the kitchen so that will be easier for you to eat right after cooking.
Utilize a floating desk is the best solution for maximizing the function of room's nook. It will be good choice for you who live alone due to its limited seat and space. To make it less dull, you can décor the wall corner with photos or wall sticker.
9. Small Desk for Small Space with Big Exposure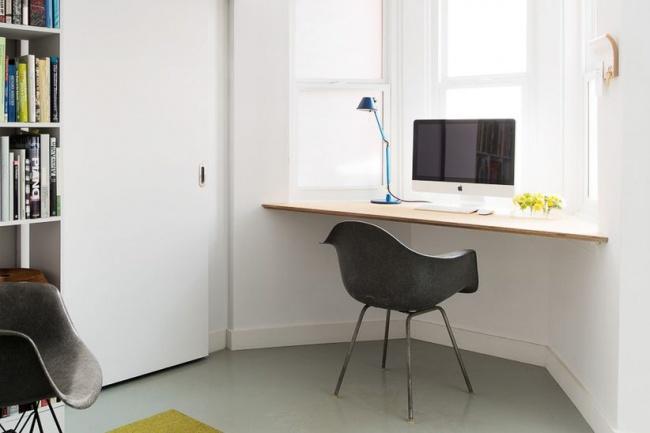 Once you find it so pretty to set window niche in your place, but then you realized that you just wasted space for its angles that created an odd nook in your small place. But in this idea, we offered on how to make useful that odd nook and simplify your space usage.
You can give a try to set a floating window desk on that odd angled corner near the window. It will be difficult to find a floating desk that will fit into that corner in the market, so you need to custom-built tat hanging desk
Besides to make use of odd nook space, this desk design will give you great view through glass window and much exposure of natural lighting. Paint the desk and window into white that go along with the white wall and floor will create elegant-fancy vibe to the whole room.
10. A Desk for Small Space idea, a Workstation in the Small Alcove Space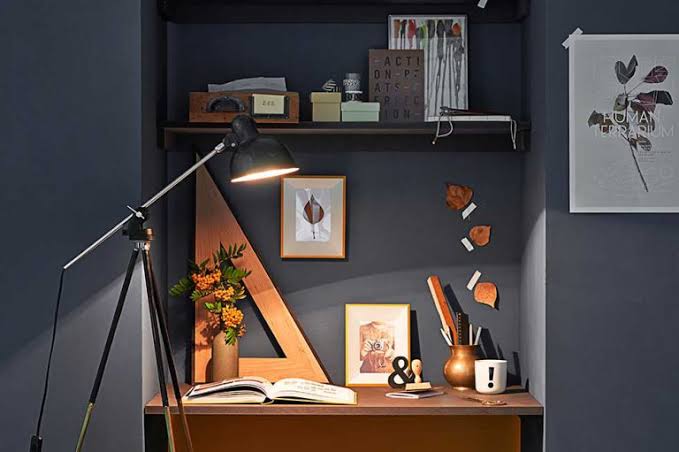 Even though not a big place, but still each of you are so proud for your own place, isn't it? You want to set to every inch in your place so it becomes useful. Though it's little bit challenging to design a stuff for narrow space.
If it's a must for you to set a workstation somewhere in your room but don't want it to be space wasted, you may try the small alcove. Narrow alcove will be more useful with a full of wooden hanging desk in that space. You can set small wooden wall over the desk as well.
The wooden wall part is considered as the bulletin board for you to stick work schedule and deadline. The desk is so useful to work on your laptop and as your work corner. For lighting, a study lamp will help you with the lighting.
11. Elegant look for a Small-Spaces Hinged Desk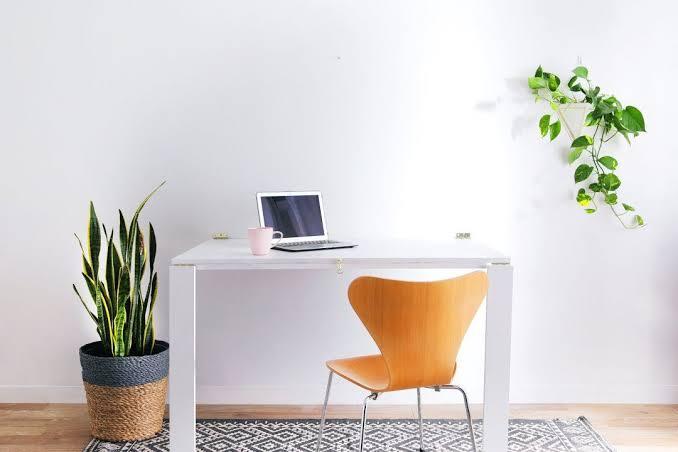 Most place paint their wall into white because they know that "white" is the easiest and cheapest way to get elegant look for a room. Moreover, for a small room, white will make your room look wider and bigger.
Though it looks bigger with white, but still it's a small space –as this probaly one of the most effective desk for small space ideas so far. That's why you need to bring something tricky to set the furniture. One of tricky furniture is a hinged- folded legs desk.
The legs and work surface of the desk all attached to hinges. Then, the desk is wall-mounted folds up, so it will fit flats against the wall when it's not needed. And, of course you won't find it easily, you need to get custom-built for this desk idea.
12. Industrial Furniture as the Easiest Way for Small Place Setting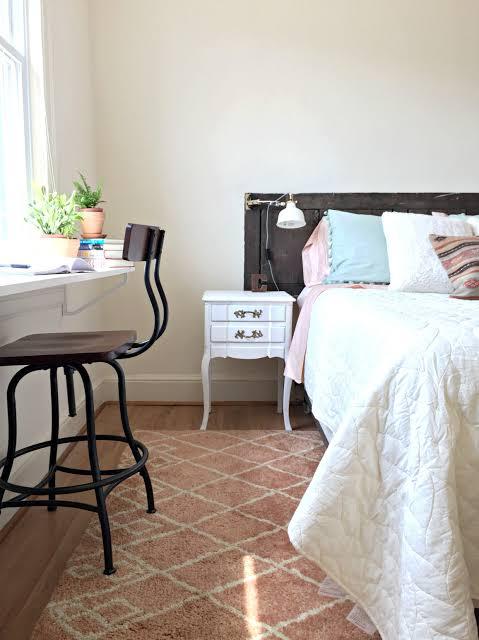 Nowadays, due to the market demands, many of new furniture designs has showed up. And we can find easily the new furniture product at furniture retailer that now is growing big in many countries.
Let's say, a new design for wall-mounted desk, at first maybe its not that common, but see now. You can even find it easily at IKEA or even Amazon. With the existence of those furniture retailers will help customer to easily find furniture fit in to their place.
Following the trend design for a small space, you may consider a wall mounted desk in your bedroom. It can easily be folded into the wall when in no use. It won't take too much space. In addition, you can choose the one with a little bit of storage inside to make it more useful.
13. Functional and Stylish Desk In A Small Modern Bedroom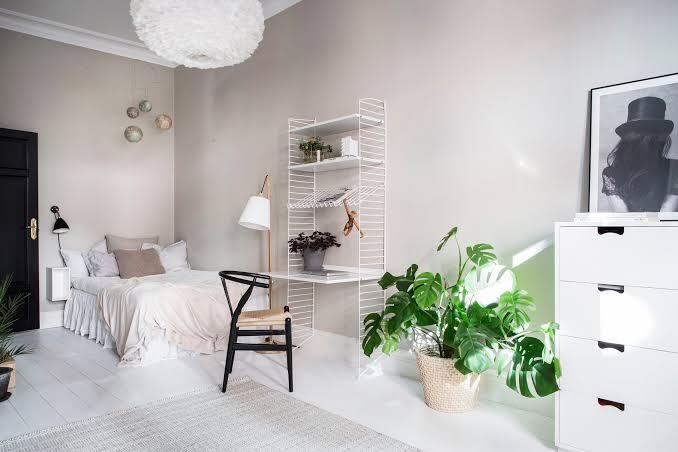 Mostly apartment in the downtown offer pricey rent cost yet small apartment. For some people, they have no option but to take it due to economic issue. But still they can find a way to create stylish living spaces with not too pricey furniture.
However, if you stay in this type of apartment, you need to try this desk-storage idea for your space-money saving. This desk made up of a board added to an inexpensive wire frame unit.
This desk is surprisingly become modern yet functional that can help you to adjust it in the small area. The brackets and shelving can be bought at any home goods store. You can attach the backs of shelving to the wall, like wall mounted desk.
14. Wrap Around Counter for Your Tiny Home Office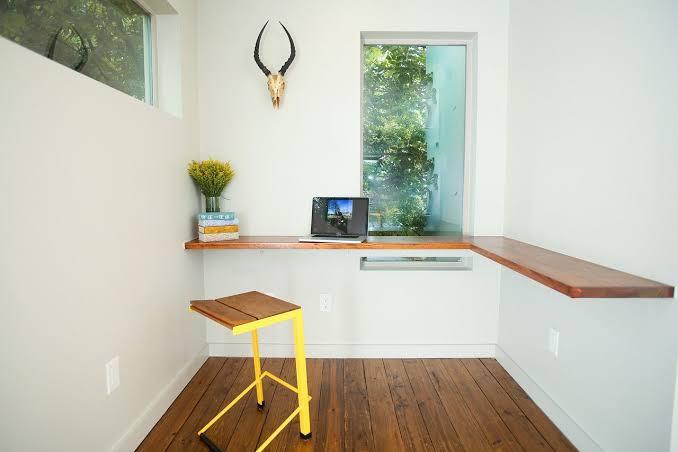 Starting up your business from home? Maybe you can consider to create a small corner as your workstation. Instead of squeezing your traditional desk, it would be better if you just installed a hanging wood counter, just like this desk for small space inspiration.
It looks simple yet stylish as your home office. Set it in one of your room's nook near the windows for air articulation and exposure. The wrap around style will create more room bookshelves and more storage that you can add later on.
As it's hanging, the space under the counter will be free. It can be used to allow the chairs move freely. And also, the space beneath will provide big space to keep storage boxes and load of work-related stuffs.
15. A Midcentury-modern Style Desk for Small Space (that Works Well in limited Area)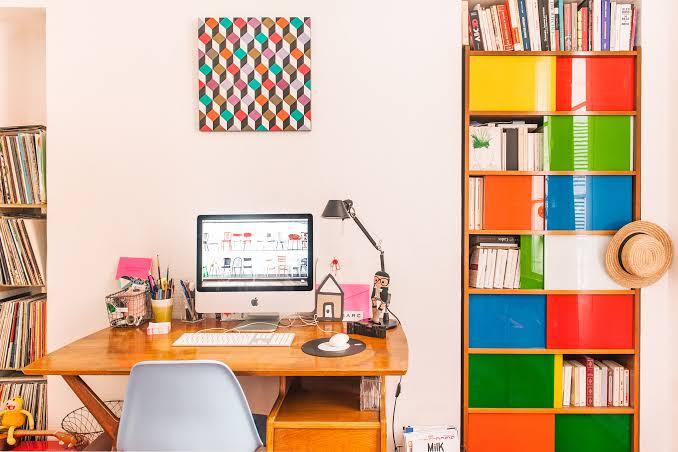 Transform a small room with stylish and practical touch is not an easy work, but it doesn't mean it's impossible. Get a cool vibe yet simple touch on your work corner with a small midcentury-modern desk.
Its beautiful finished and simple design made it chic that work on small living room with ease. It's completed with one side drawer beneath the desk surface as storage. The desk is even perfect for you who want to set a PC.
16. Small Console Table in Your Limited Spaces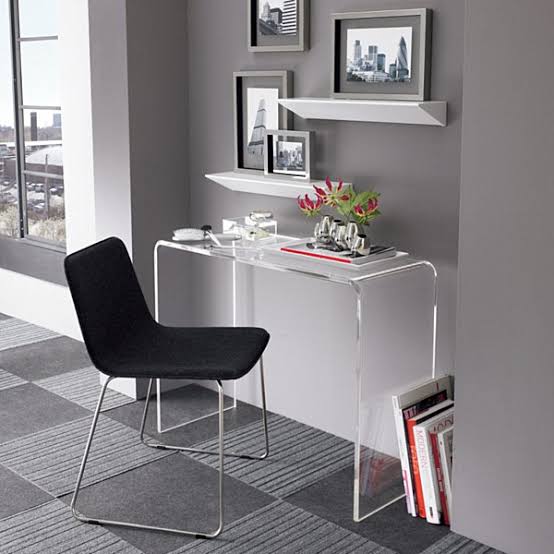 Minimalist lover, still confused with too many options for small room furniture? Here, we offer one more furniture option that may give you another sight. It's called hall table. A nice small table which won't take up too much room space.
It can be really functional though it's tiny in term of size. You can make it as laptop table that set in your entryway, behind the couch, or on a blank wall. Bring in a chair if it's necessary. It can be considered as your console table due to its multifunction purpose.
17. DIY Desk Riser from Copper Pipe as Limited-Space Solution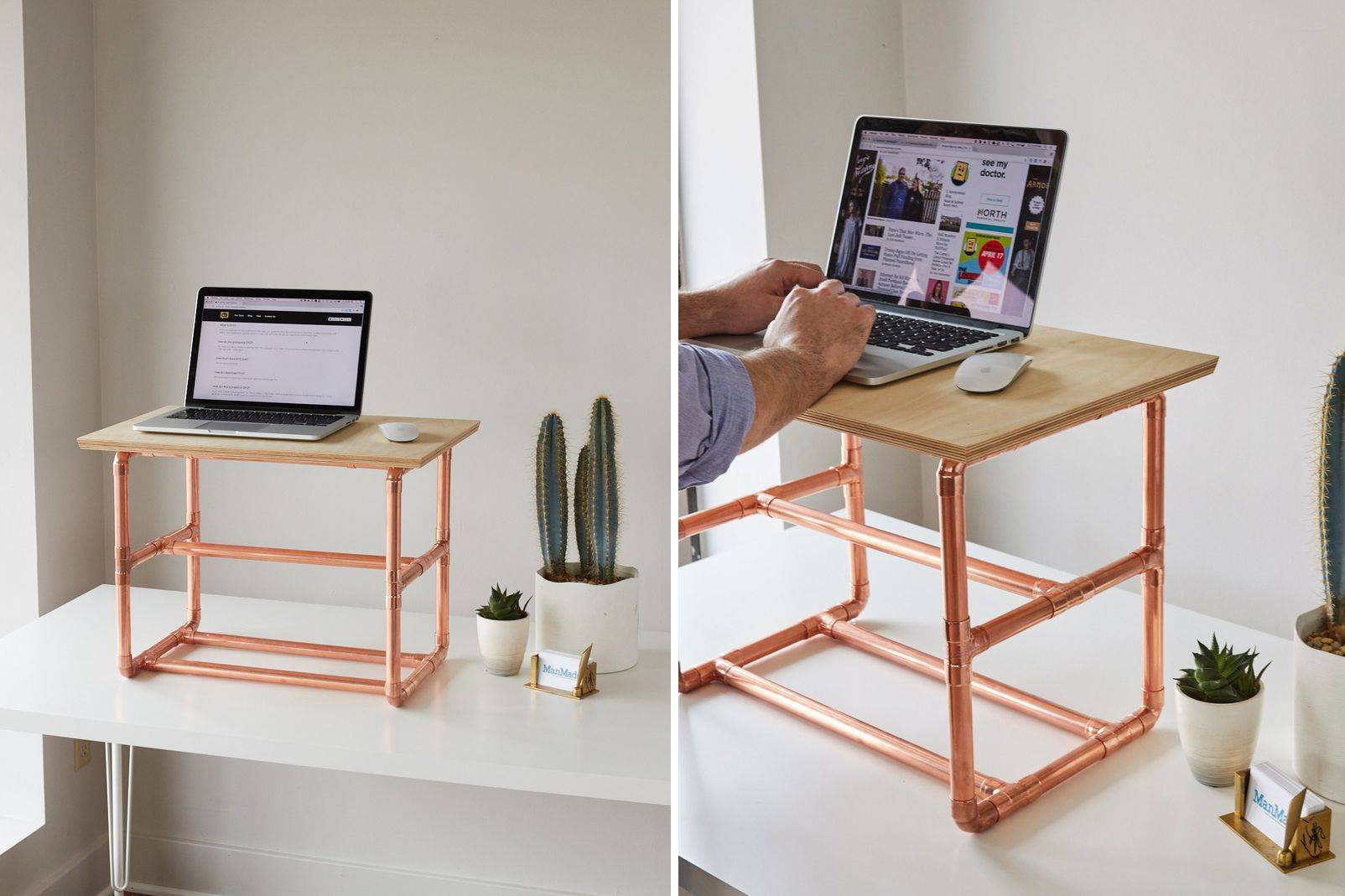 Sometimes, just sometimes people more like standing rather than sitting on the chair when working. Even once medical expert agreed that a standing desk is good for your health. Though it's not a bad idea to turn out your ordinary work area into standing work station.
To start creating this DIY desk for small space, for crafting this desk riser, you just need two essential tools, a copper pipe cutter and screwdriver. You can take any of your old tables surface or if you do not have it, just simply purchase it in home center.
Set up the table surface with the pipes as the legs or riser. After finish built, you may set it on the table to get standing work station, or if you want to throw away your solid desk to create a space, you may just use this small desk riser while seated on your bedroom.
18. Incorporate Multipurpose Desk for Small Kitchen Area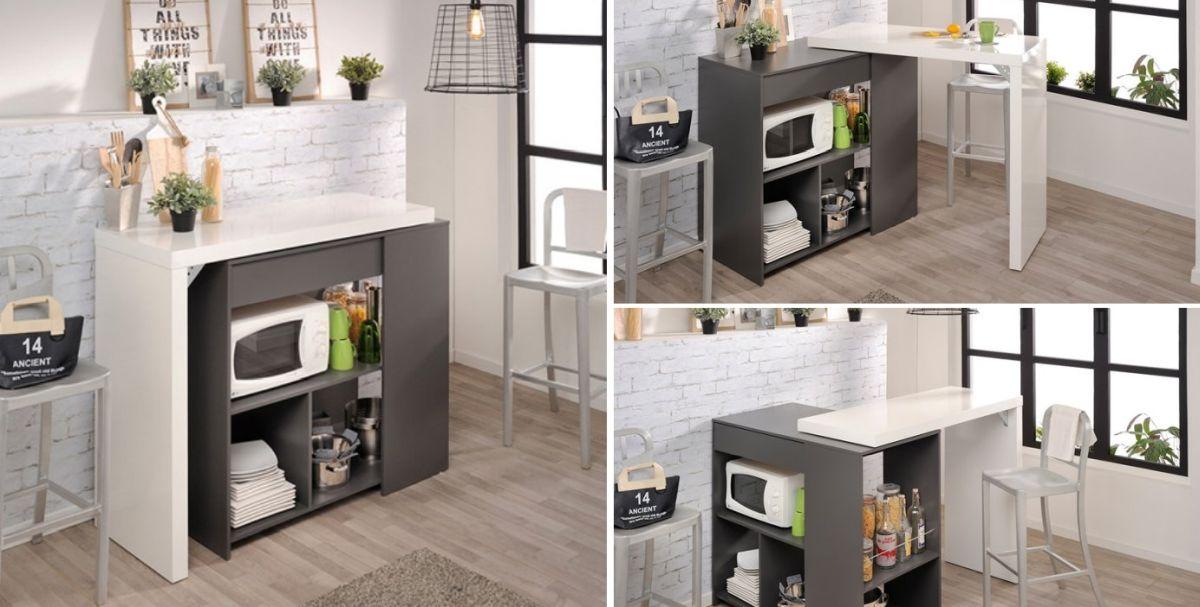 When choosing furniture, maybe you need to consider about the function and the space you have at home. If you have wide space, it will be good. But it will be different consideration with limited space area.
For your small area, maybe you can try to get this incorporate cabinet. You can set it in the Livingroom or in the kitchen, depend on your need. This type of vanity has more functional furniture function.
Become functional because it can be storage area to keep the seasoning, plate and glass, kitchen set and, many more. And it's completed with a flat folded desk at the top to add extra function on it.
You can place this vanity-desk at the corner of the room to save small space. You can fold the desk when it's not needed and just leave it as countertop of the vanity. Will be good to paint in elegant black and white.
19. Low Desk for Small Space Design for Efficient Working desk in a Tiny Home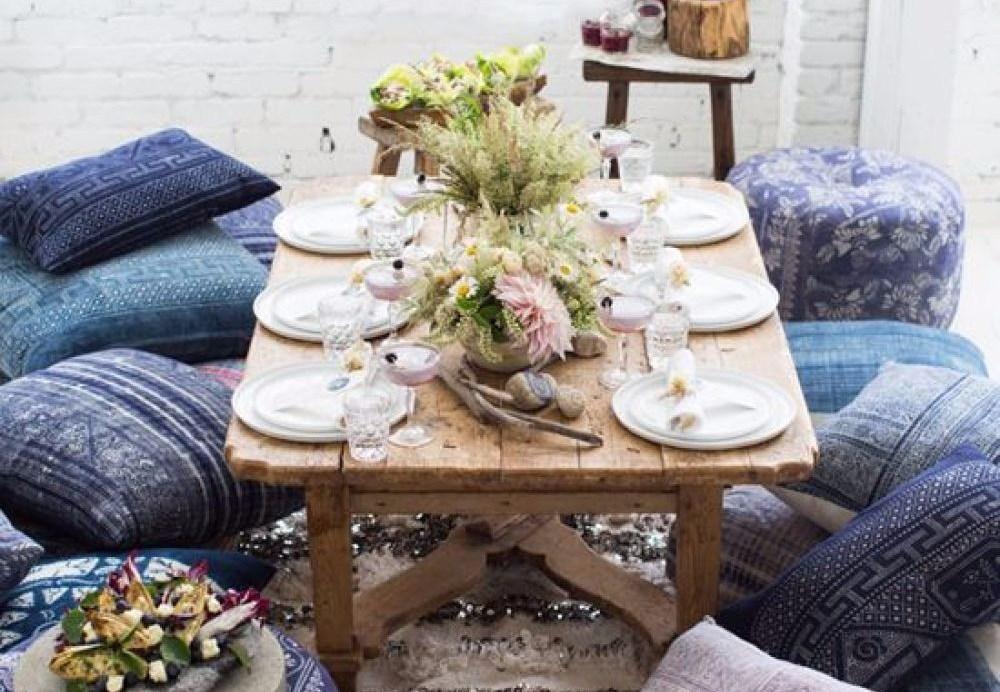 Small house will come with narrow space, even the ceiling of your house feels little bit lower because of the limited area. For saving space in your small house you need to come with some tricks on it.
One of alternative trick is to set your dining room or living room with lower desk set. Changing solid table set with a low desk set where you do not need chairs, so you can set a carpet beneath the desk and sit on it.
If you want to make it fancier, you may complete it with set of pillows to replace the chairs. This kind of design will create wider room space and modern vibe. And, normally you can find this style in Asian houses.
20. Desk Bar Idea to Set In Your Small Room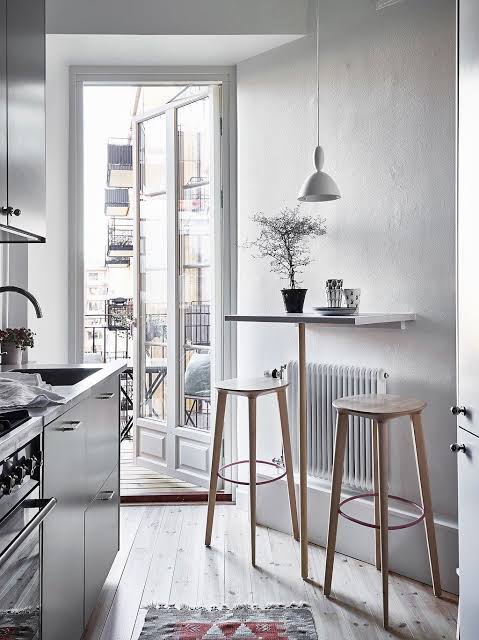 For you who should share your room with your sibling or roommate may find problem to set solid desk for two. Besides it will take more space, it will leave untapped area in each beside.
To cope this problem, maybe you can try to set a hanging desk bar so both of you can minimize the room waste area. Setting it up at the nook in the untapped space. It will be fit as a work desk for two made of plywood.
You can install extra floating shelve bracket over the wall if it's needed as for storage. The space beneath the desk will be used for storage boxes or you can leave it like that so that you can move the chair freely.
21. Installed a Fold-Away Desk for Study desk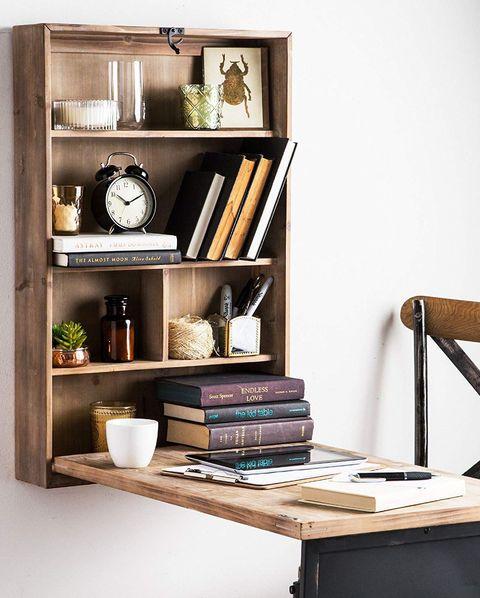 Go classic in your short space area won't be impossible to do now days. One feature that must be installed is vintage desk. If you don't want to set a big solid old desk in your room, you can try a new desk design.
This new design offered a rustic fold-away, wall-mounted desk. Rustic style can be seen from the material and character of the design. If you need the desk to work, you just simply pull it down and close it up.
22. Small Desk In Sliding Closet for Your Glamour Look Bedroom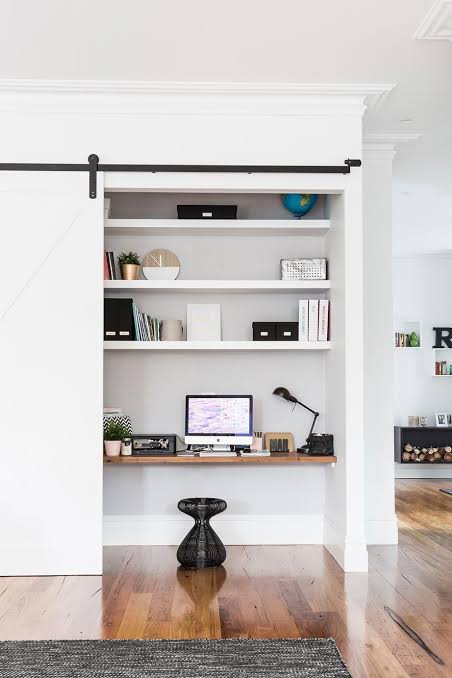 Thanks to sliding door inventory, we can combine our creativity into a new featured furniture. Your room may have small spaces, but being lux and trendy is a must. So, we offer an idea on how to cope small area problem with this idea.
For making it look fancy, you may bring your fancy bed inside. And then, set a mirrored sliding door closet which has enough space to get full storage in it. As you already bring your fancy big bed in, you have not enough space left.
As solid desk replacement, you may set a tiny desk inside the closet. Leave one side of the closet to set wall-mounted shelving above the desk as storage shelves. That desk set vanishes simply by closing the sliding door closet.
23. Cheap Side Desk in Your Small Space Room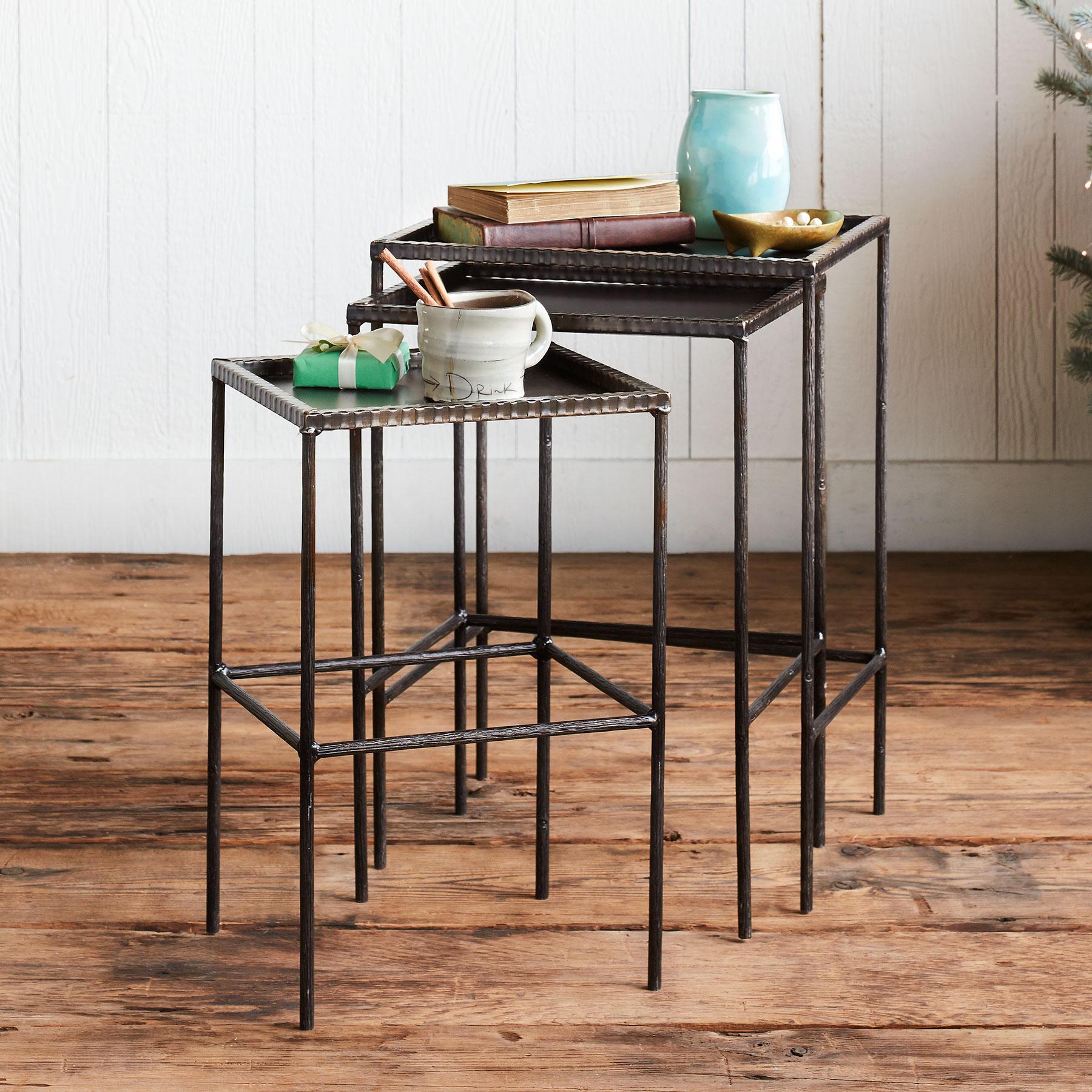 Designing room won't always ask you for fabulous expensive furniture. You also can hunt some furniture at local flea market to find something unique, mostly old-vintage stuffs to set your interior and exterior design.
For your small place, you may consider a tiny vintage side desk which you can find cheaper at local flea market. To give new-look, you can strip off the original finish. It will be fine to set it in any rooms for working or only as a furniture to place some decorations and photos.
24. Small Trendy Desk for Setting Desktop Computer at Your Home Office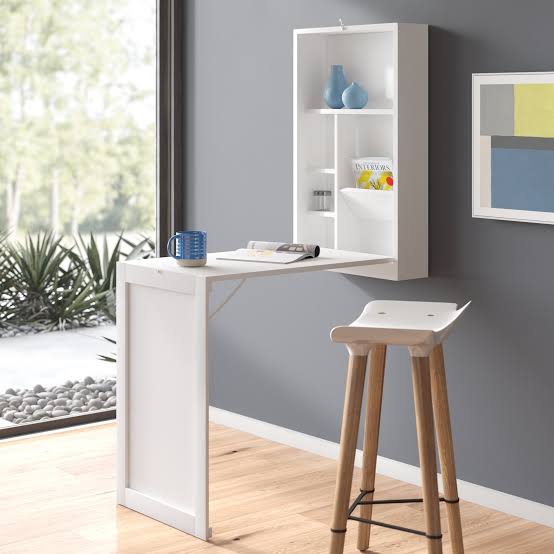 Normally, we can't get away from computer in our now life, whether it's a PC set or a netbook. If you need a PC set to be installed in your room, maybe you'll find it little bit difficult if you have limited area.
To cope this issue, maybe you want to try a floating wall mount desk. It will be perfect for you who need to set up desktop computer in your narrow room. Equipped with a pull-out keyboard tray and two drawers on the side as extra.
25. A Vertical Leaning Desk for Small Space as a Limited Space Solution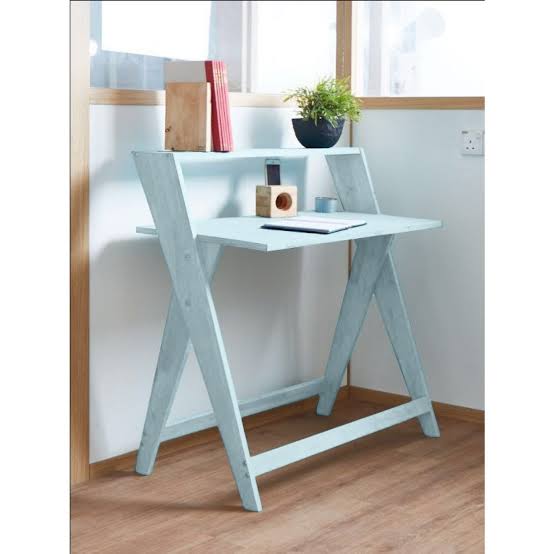 Limited space is always challenging for designing. Let's try to think out not big! Well, it's time for you to come up with vertical desk idea. Space-friendly yet not lacking in style are the feature you can bold from this desk idea.
Leaning desk that goes vertical, completed with plenty storage is a good choice to keep your space. At just under three feet wide, it has enough workspace to use. And the upper leaning shelves can be used as storage area. Shortly, there's nothing not to love this desk.
It's a wrap. That's all the stylish yet functional desk for small spaces for you. Some are so easy you can do in a DIY Project, other are so cheap you may purchase it from IKEA. Hope this top 25 desk list idea here can help you to get some inspiration.
Here we wrap almost all design of small desk for small space. As you can see, there's some different set of simple and unique desk style that mostly set in the untapped narrow corner. Lastly, we hope you have fun with this little article. Cheers!