To keep the kitchen or bathroom walls from water splashes, you need a backsplash. In the kitchen, you find the structure behind the sink, stretching up to the length of the wall around the spot. You have several quality materials for it, including stainless steel backsplash.
Unlike other materials like tiles, granite, or glasses, the stainless steel backsplash offer some better benefits. Most of all is on the look. The materials is unmatched in giving you the contemporary or modern look.
Stainless steel also is better in transforming a simple kitchen into the more futuristic one, with its sleek and smooth appearance. The materials also works well for a smaller or bigger kitchen; for classic or the more contemporary kitchen styles.
Now if you want to redo or update your kitchen with this stainless steel backsplashes, here we've picked you some of the most awesome. Let's take a look at them.
1. Herringbone Stainless Steel Tiles Backsplash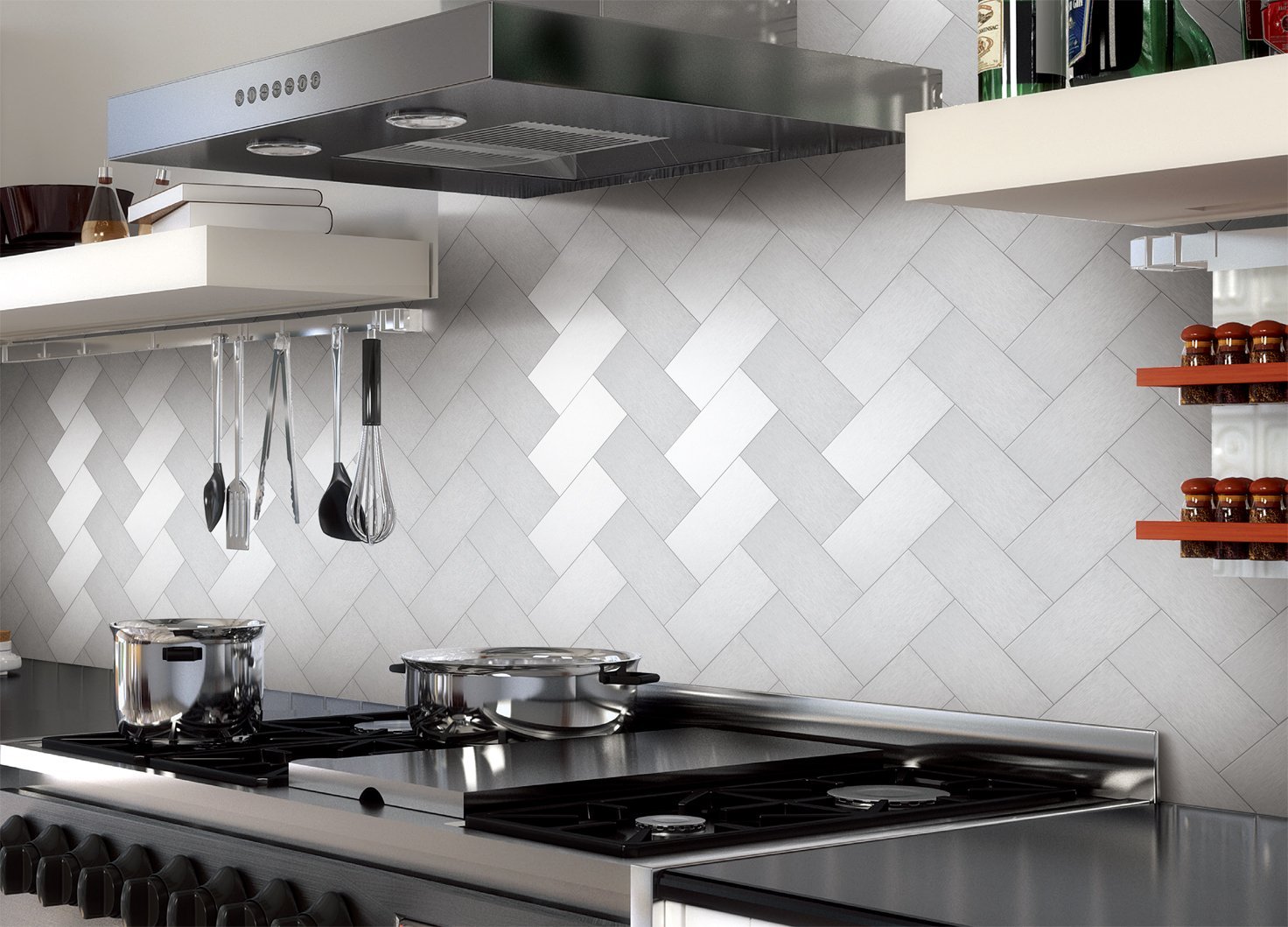 Having small kitchen and want to make it looks impressive enough even for your most adroit friend? Then you need to update its backsplash. A new backsplash update adds new center of attention in the more affordable way –compared to rebuilding the kitchen.
Yes, it main purpose is to protect the wall from water or oil splashes (which could damage its structures). But, on the other hand, a backsplash is the only one feature in the kitchen that you can update easily –and quickly grab any attentions.
Updating the backsplash with a stainless steel tiles backsplash may worth a try. It comes in various pattern and texture, like this herringbone stainless steel backsplash.
2. Broan Stainless Steel Backsplash with Shelves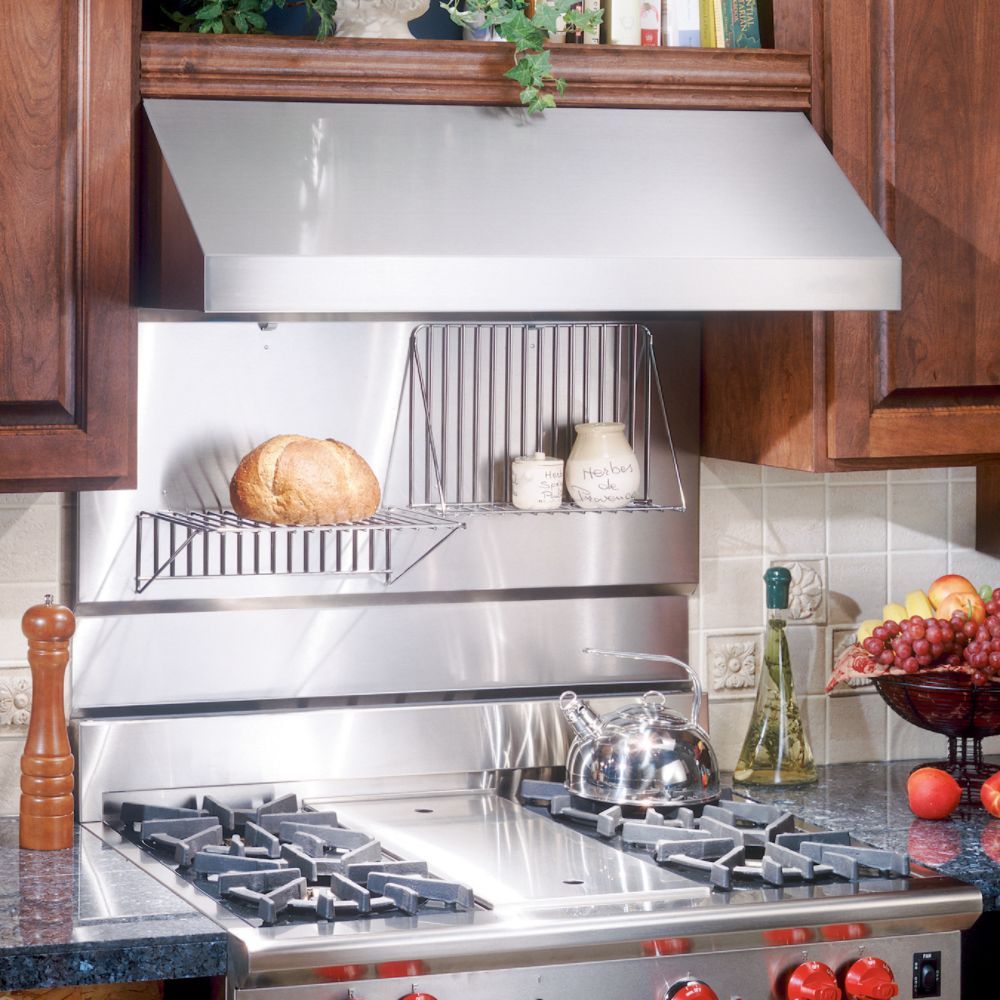 Hacking the kitchen appearance with a stainless steel backsplash update brings you several benefits. First, you have a new center of interest. Second, the backsplash injects new refreshing feel into the kitchen. And three, you kitchen looks shiny and neat.
Now you have many quality options when it comes to finding a good stainless steel backsplashes, like a Broan product you see in this example. It comes in soft shiny steel sheet of backsplash, complete with two basket-style shelves for practical storage systems.
3. Patterned Stainless Steel Kitchen Backsplash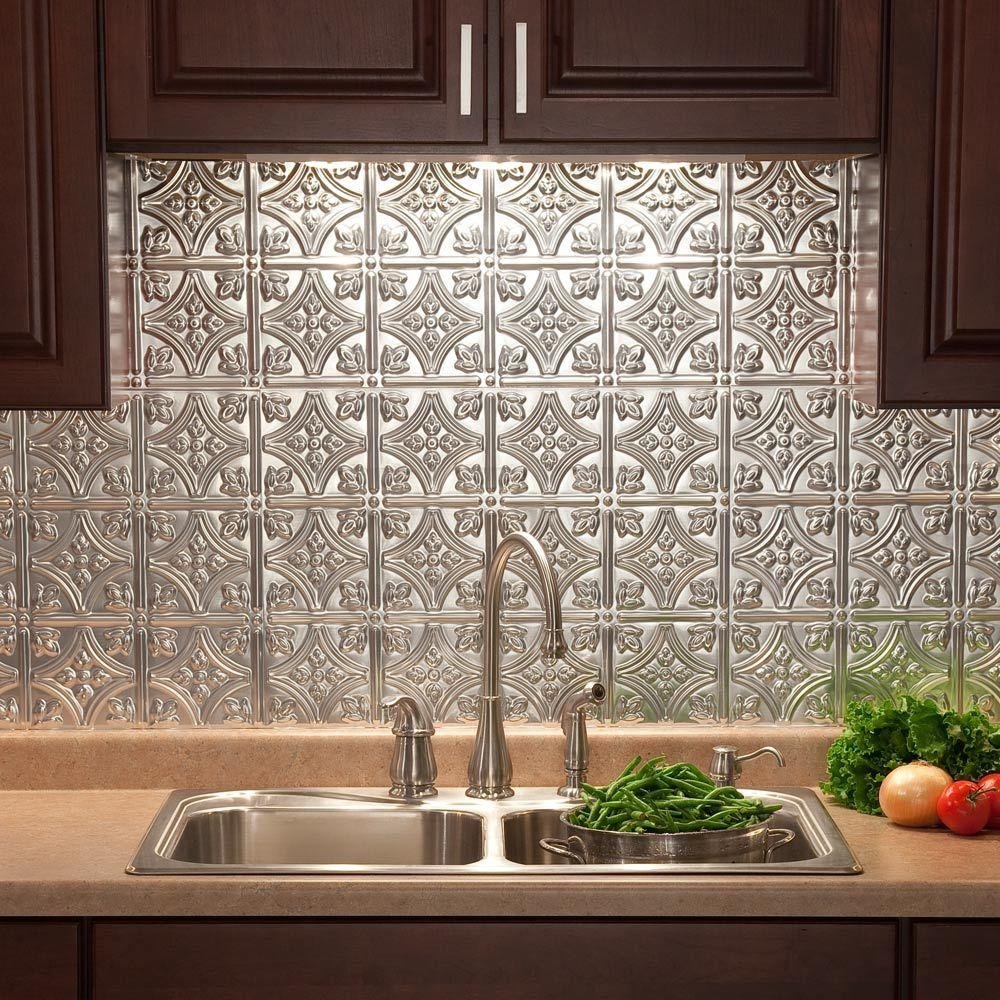 Along with its relative affordable price, stainless steel backsplashes also come in a variety of patterns. If you think a stainless steel backsplash only offer you the typical flat and shiny sheets of backsplashes, then you need to reconsider.
Along with the technology advance, now you can have various finishes for your stainless steel backsplashes. This backsplash, for example, gives you a classic lines with its geometric patterns.
The installation are easy, and you don't need to worry about their trim molding, as they comes in high precision industrial standard. You also don't need grout to fil the gaps between tiles for the same reason.
4. Stainless steel Tiles for Backsplash, Subway Style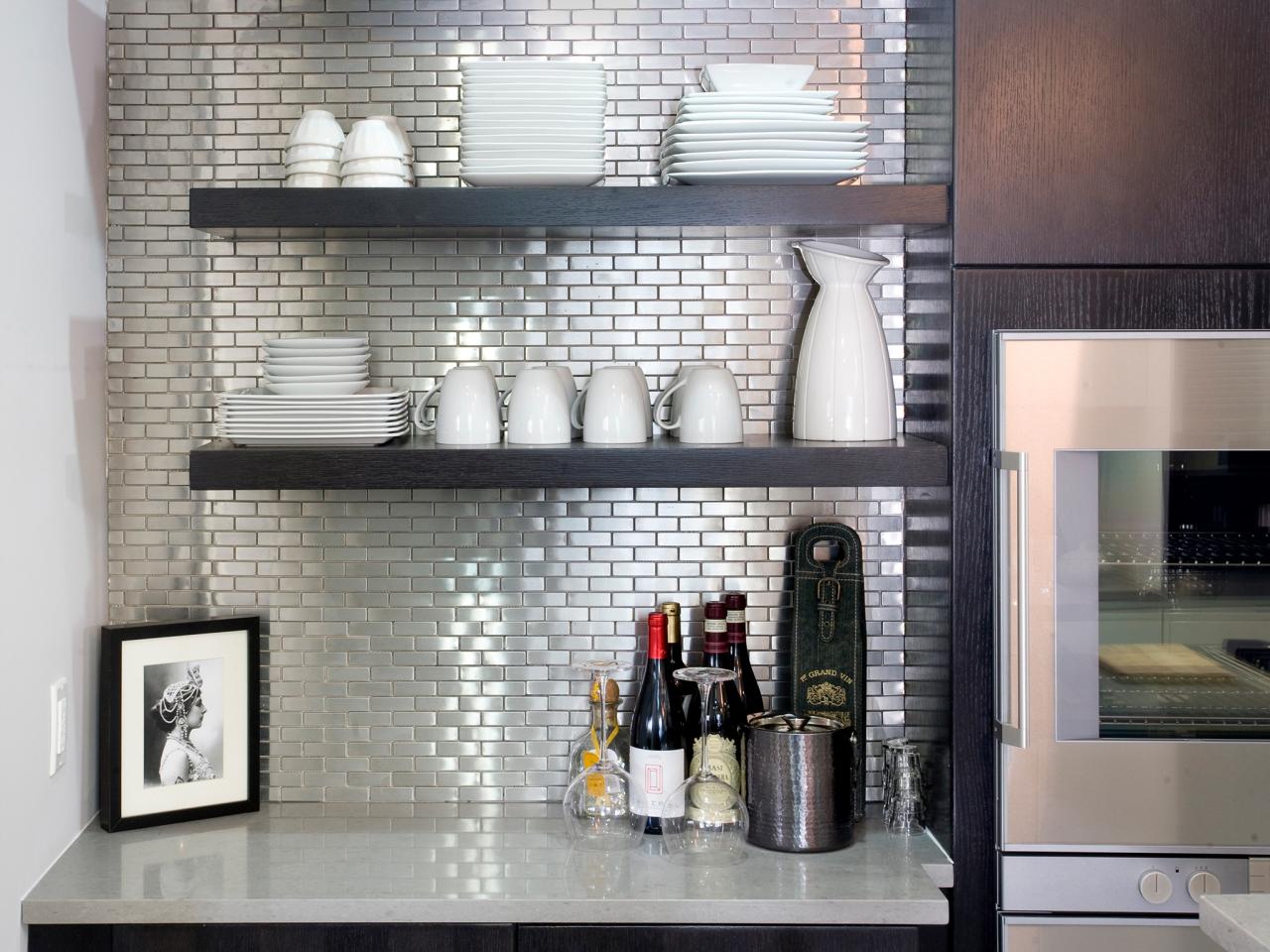 This stainless steel backsplash proves that you can have a variety of patterns, not just in plain its plain sheets form factor. Even with the patterns, you still can see the basic steel characters with its smooth and shiny surfaces. It also presents futuristic atmosphere, no matter where it is.
Love the vintage style but, at the same time, you also want something contemporary? In this example, you meet stainless backlash in subway tiles pattern. You often see the tiles in old kitchens. Now in its new form, in stainless tiles, it looks fresh and modern.
5. Stainless Backsplash in Diamond Style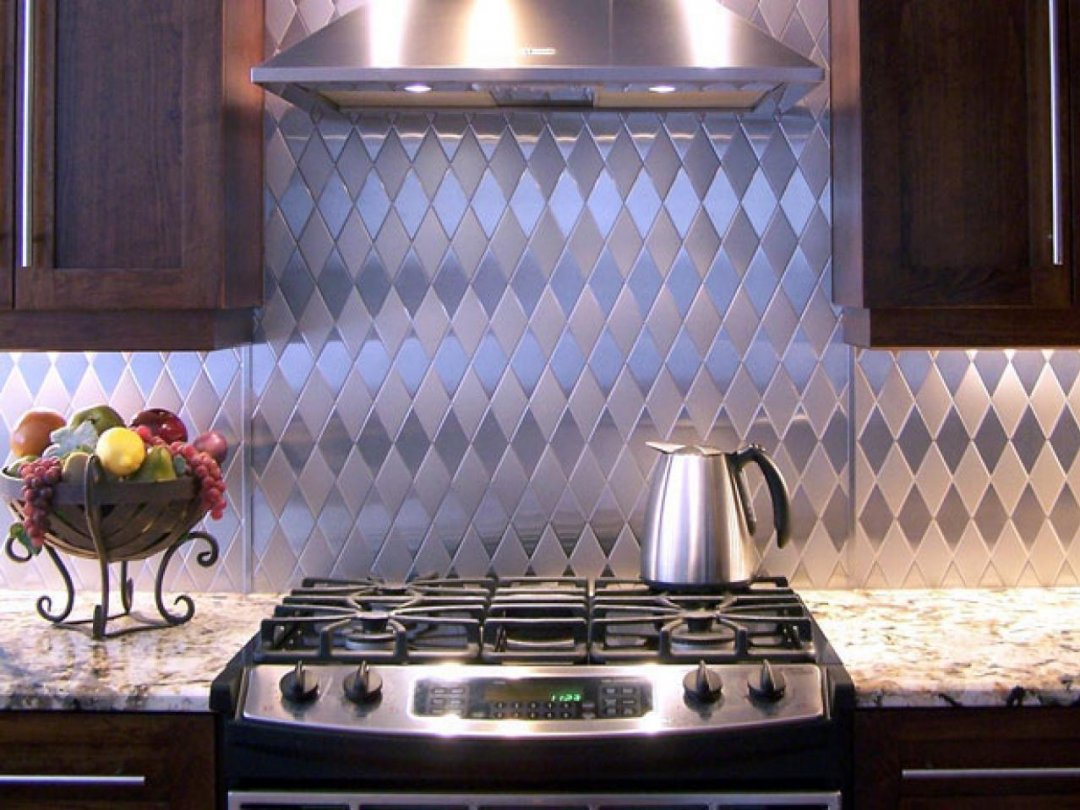 Stainless steel offer wide range of rooms for improvisation. So, if you have idea to update the kitchen, consider to use this material. You can have it in plain sheets, or in patterns –almost unlimited patterns, thanks to the latest precision technology or laser technology.
So now a custom backsplash is easy to find. You even can choose your own pattern if you wish, and have it patterned by a laser cutter company. This steel backsplash also takes advantage of the latest technology for the diamond patterns.
6. Stainless Backsplash Panel for a Rustic Kitchen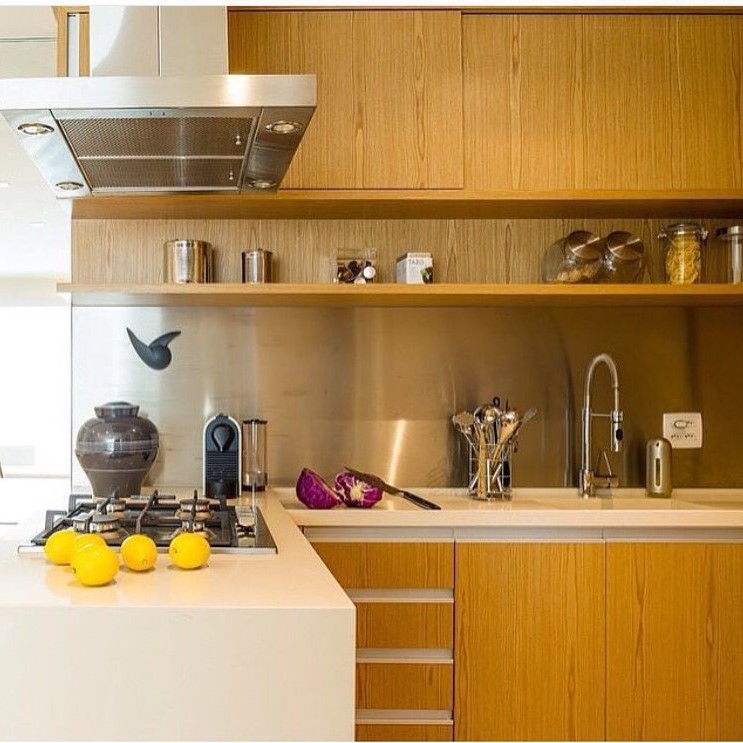 Like to have clean and neat kitchen? Try a panel stainless backsplash. Without any patterns or grooves, a stainless panel surely makes your daily job of cleaning far easier. You even don't need any fancy cleaners, just a clean soft cloth (or microfiber) and light cleaner products.
See this backsplash panel? Imagine a blotch of oil or any other cooking dirt are on the surface. All you need to do is finding a soft cloth and dish or glass cleaners. Spray the cleaner onto the dirt and wipe them with the cloth. And you have a spotless backsplash again.
7. Glass and Stainless Backsplash for Contemporary Look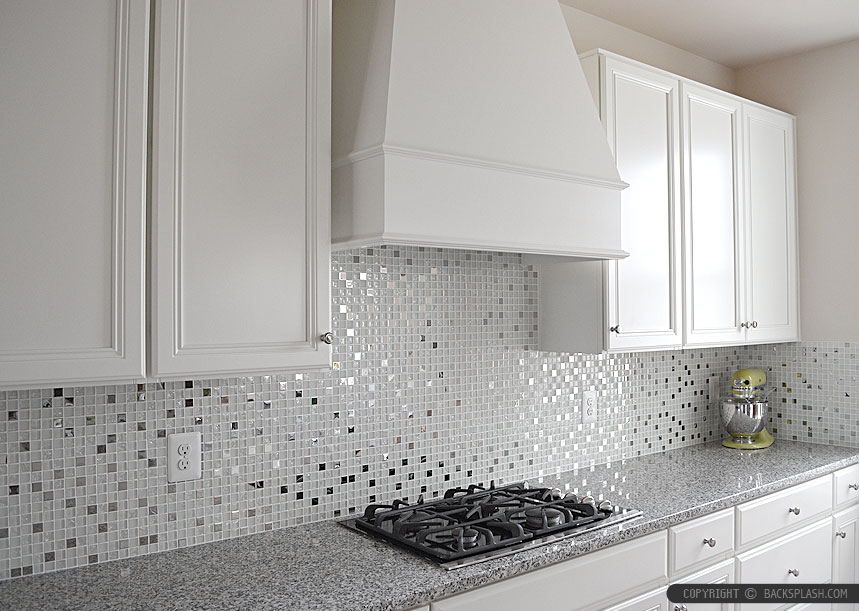 As we mentioned before, cleaning a stainless backsplash is easy. You only need soft cloth and multipurpose cleaners. And don't forget to dry the surface completely, as you may find water spot if you don't do the drying well.
Talking about backsplash improvisation, now you also can find it in combination with glass. So you can have a glass and stainless backsplash for the kitchen. It looks contemporary and hygienic. You may set it as a classic kitchen to fill it with contemporary atmosphere.
8. Minimalist Steel Backsplash with Shelf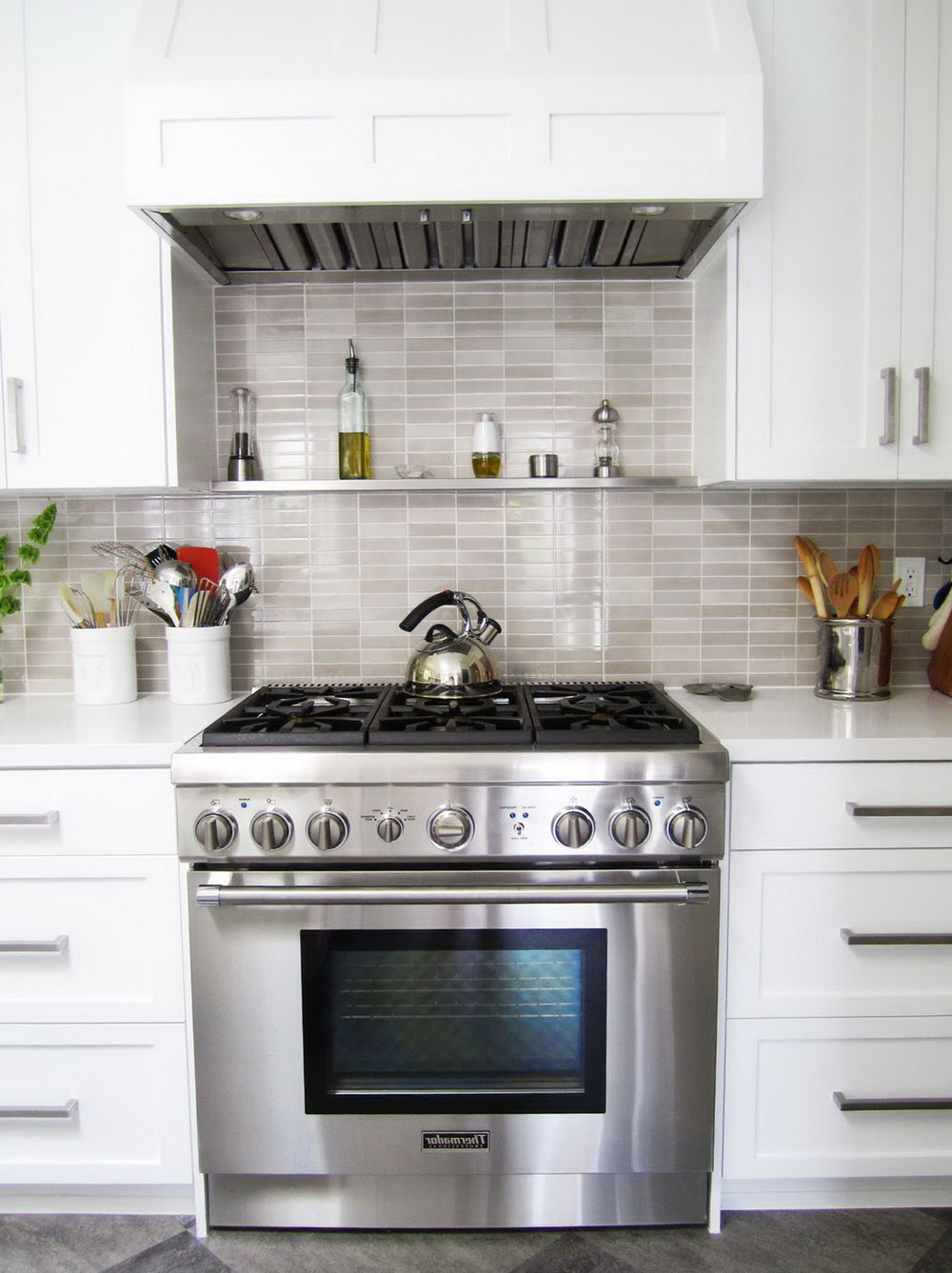 We've mentioned several benefits of stainless steel as backsplashes. But, the stainless steel doesn't end with those advantages. You also should know that stainless steel also bacteria-proof. It resistant to bacteria.
That's why, if you ever wonder, that almost all commercial kitchens (like in the restaurants or hotels) use stainless steel as their materials –apart from it's being easy to clean characters. In your kitchen, a stainless steel also provides the similar effects.
In this example, you meet a stainless backsplash with shelf, where you can put cooking oils or spices for easy use.
9. An elegant Quilted Stainless Backsplash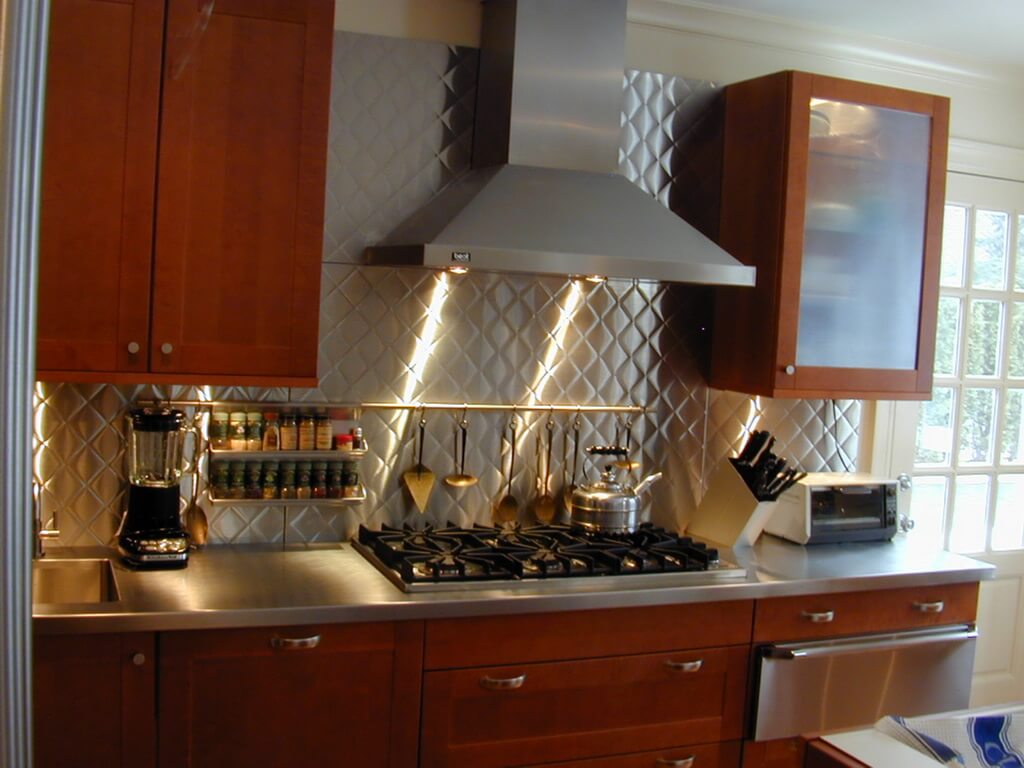 Regarding steel backsplashes, you have many finish options. About its look, you can have it shiny or matte, it depends on your tastes. A brushed finish also known as matte finish. It works well to make your kitchen modern in muted way –without leaving any finger marks or smudges.
About their patterns, there are several patterns available like checkerboard finish stainless backsplash, board finish, harlequin, mosaic, square, and even you have a quilted stainless backsplash.
This example shows you that the quilted stainless backsplash can make your kitchen looks classic and elegant.
10. Easy Installation Peel and Stick Stainless Steel Kitchen Backsplash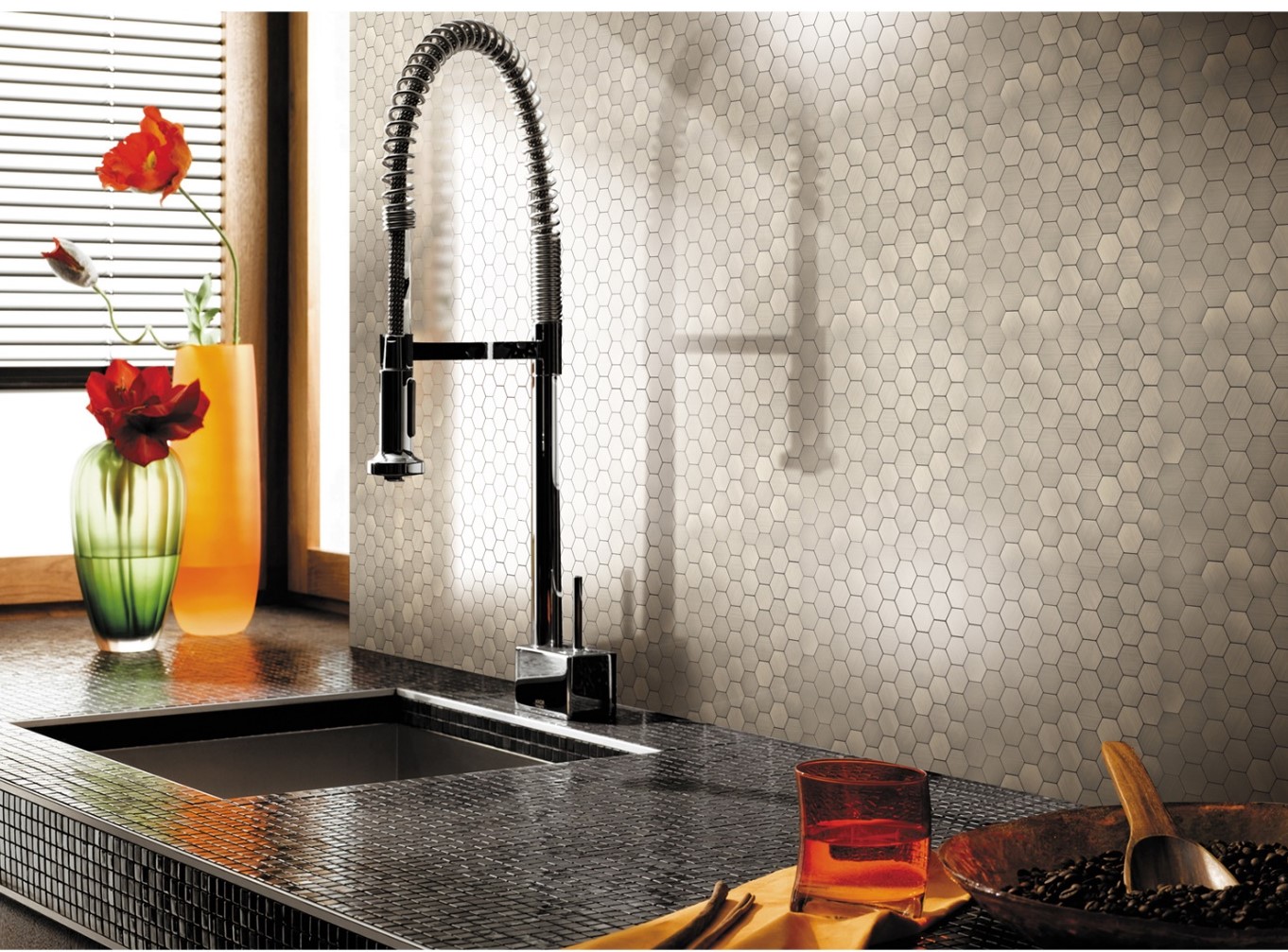 As a more practical and cheaper alternative of regular stainless backsplash, now there're also available peel and stick products. Yes, you set these products on the kitchen wall just like when you hung a regular wallpaper.
The difference between the regular wallpaper and peel and stick stainless backsplash is only on their finishes. This time you have the shinier and the more contemporary finish. This peel and stick product also offers more durability from its heat-resistant, and splash-resistant characters.
Along its easy-to-install characters, this product also offers wide array of patterns which should satisfy any of your tastes on certain patterns.
11. Modern Minimalist Stainless Backsplash with Shelves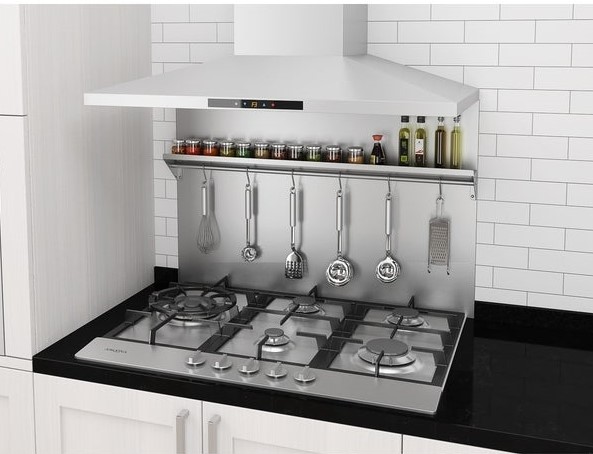 One of annoying thing to have during a cooking session probably when, in a critical time, you cannot reach the needed spice –because you happen to store it far from your reach. For the reason, or if you often have the experience, you need a backsplash with shelves.
This stainless steel backsplash idea shows you the setup of a stainless backsplash with shelf. This setup only have a shelf, but you may add as many shelves as needed. Or you may add hangers for kitchen utensils like this example.
12. Luxurious Contemporary Steel Backsplash in Puzzle Patterns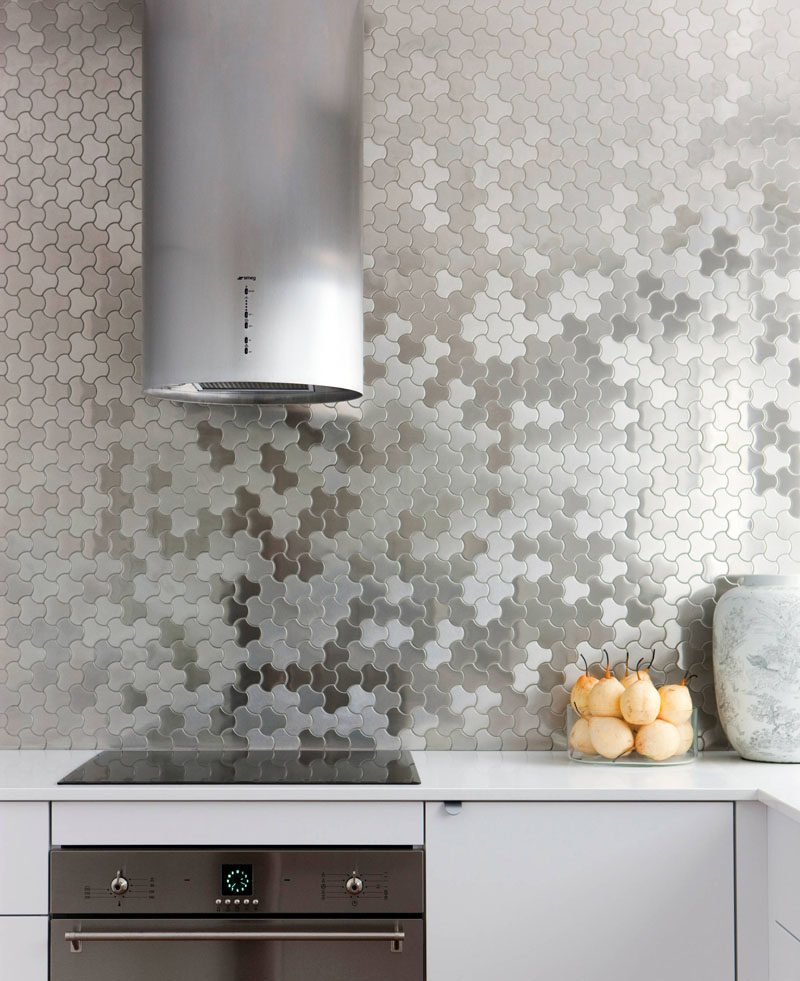 How to find a better quality stainless backsplash for the kitchen? The simple rule is that the thicker your backsplash choice, the better. Generally, the thicker stainless products offer better look and durability –not to mention about its maintainability.
Want to have a unique kitchen backsplash? This stainless backsplash should adore your kitchen. It has puzzle patterns which surely will impress your friends and repel any water or oil from your kitchen wall. This patterns works well for a contemporary or even classic kitchen.
13. Modern Steel backsplash for a Farmhouse Kitchen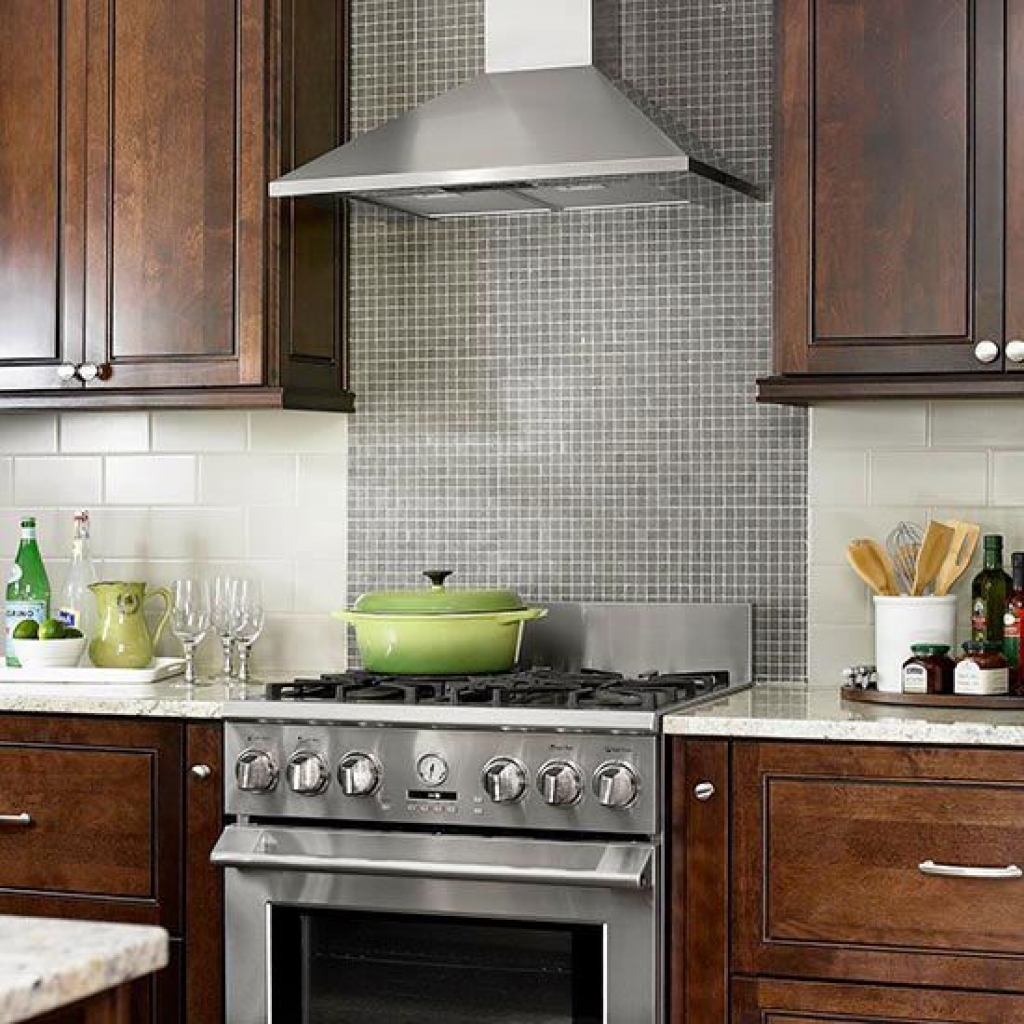 Sometimes you just feel that a type of backsplash won't be enough. So, you want to combine the existing backsplash and the contemporary one. You may combine a tile backsplash and a stainless steel backsplash behind stove.
The choice of the new material behind the kitchen range is good, as stainless steel is easy to clean, durable, and resistant to rust. Furthermore, if you want to inject the existing classic or vintage kitchen, the backsplash also offer you the nicest contemporary look.
14. Modern Spotty Black Steel Backsplash for a Rustic French Kitchen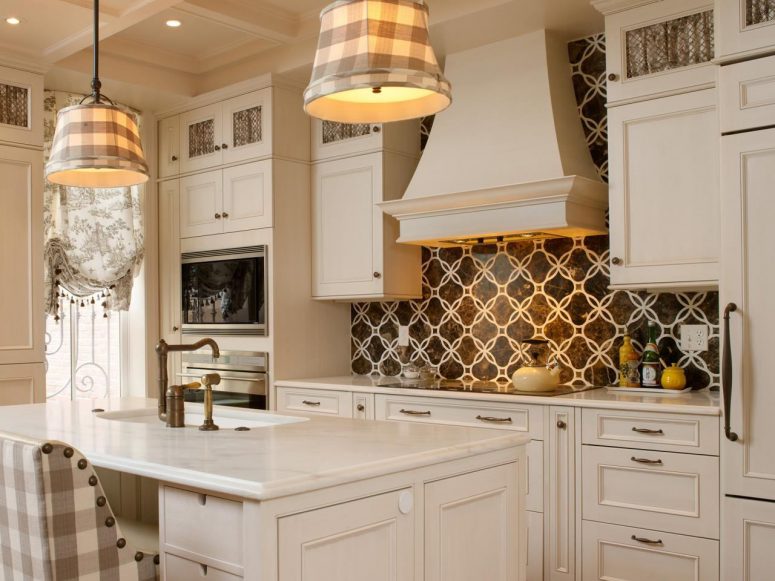 We've often mentioned earlier that you just still cannot find any other backsplash materials that can be compared with stainless in giving you the contemporary or futuristic touches. And, so far, the materials are still one of the most innovative backsplash product in the market.
Not only in its shiny metallic finish, stainless steel backsplashes now also have colors as well. So, you won't have difficulty in finding the right finish for your home. For example, now you have brass or copper finish for the steel. In this example, you even can find a spotty black steel backsplash.
15. How to Install Stainless Steel Backsplash?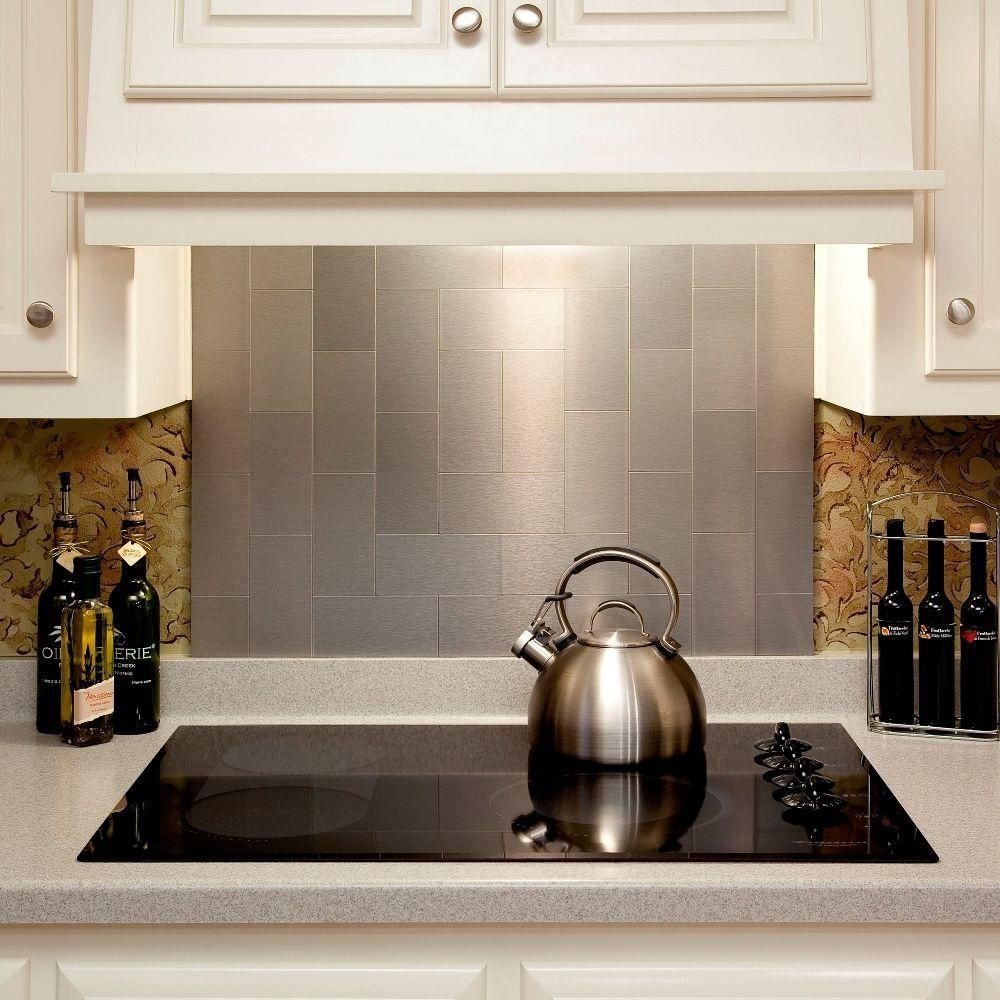 If you like to do any kind of DIY projects, you need to consider installing a stainless steel backsplash as your next project. As you have known before, you don't need to use grout ((just like when installing regular backsplash) when setting up a steel backsplash.
All you need is a flat and clean wall surface, as you need them for the 'glue' to bond the backsplash with the wall. As the backsplash also comes with flat backboard, you need to fix it on the wall with the help of special adhesive.
Some steel backsplash even come in easier-to-install peel & stick products. So you can hang it on the wall just like a regular wallpaper.
16. Glass and Steel Backsplash Tiles for Modern Home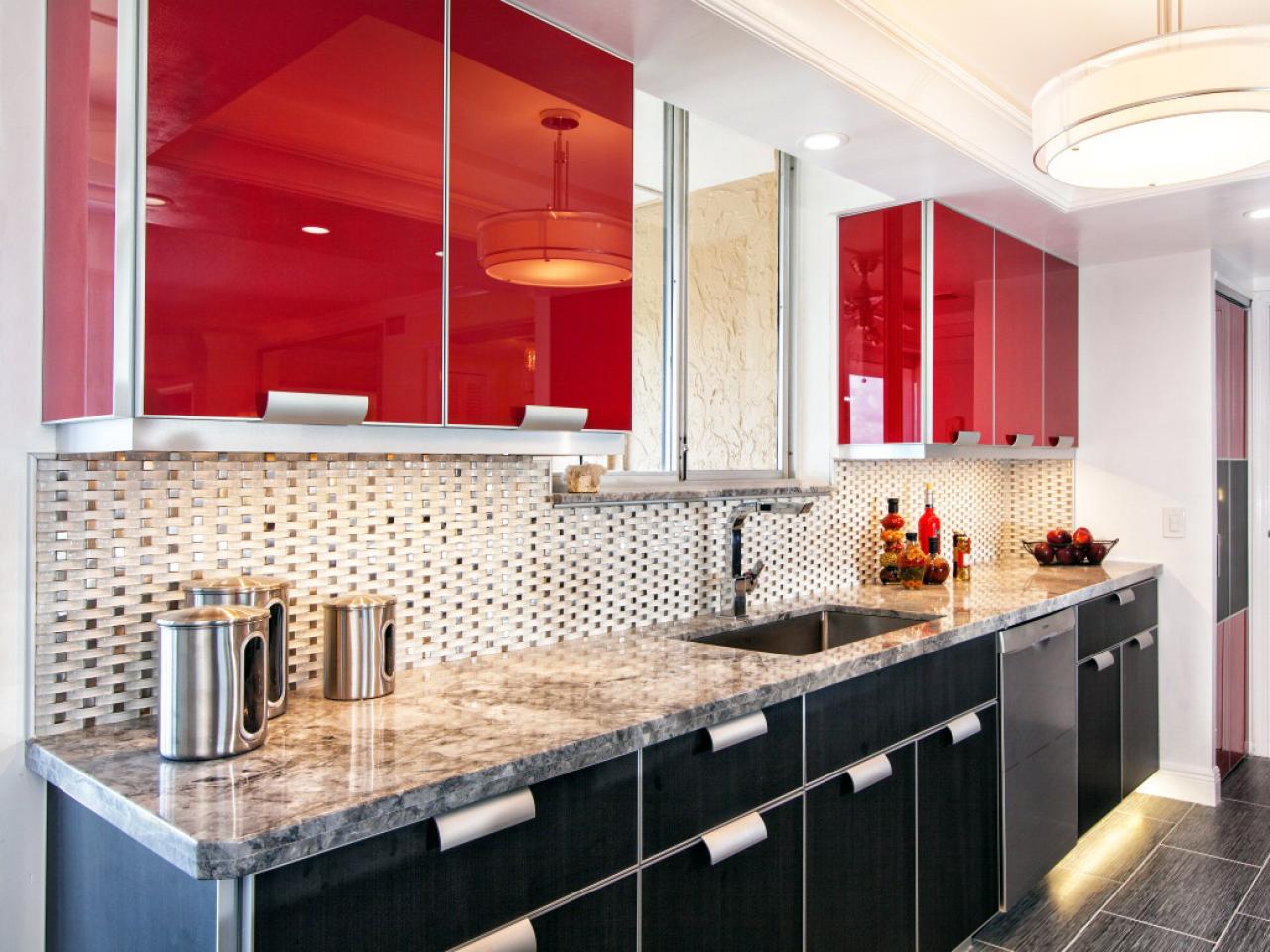 One thing a stainless backsplash has which always lures the contemporary people is its shine. It reflects the surroundings. If you have a set of stainless steel kitchen utensils sit next to it, you can quickly how the backsplash amplify their shines –adding a futuristic look to the kitchen.
In this example, you find glass and steel backsplash blends nicely with the countertop, contemporary kitchen stuff, and its vibrant red kitchen cabinets. If you like the combination, this setup also apply for other kitchen layout –big or small.
17. Minimalist Classic Back Stove Steel Backsplash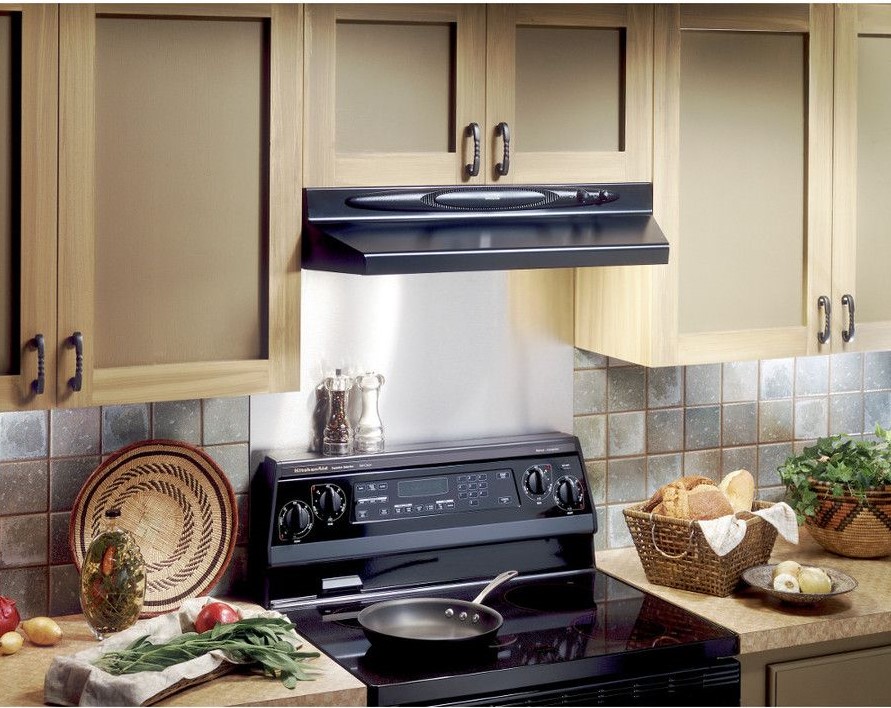 A benefit of steel backsplashes are their flexibility. You can put the structure on any kitchen style. Along this list you've seen (or you'll see) them with several kitchen style from the rustic kitchens up to the most contemporary one.
This time you meet a Broan product again. Previously you meet a Broan product with shelves, now you have one of them as simple but effective behind stove backsplash. This 24-in x 30-in backsplash injects modern minimalist air into this classic farmhouse kitchen.
18. Steel Backsplash Sheets for a Futuristic Sleek Gray Kitchen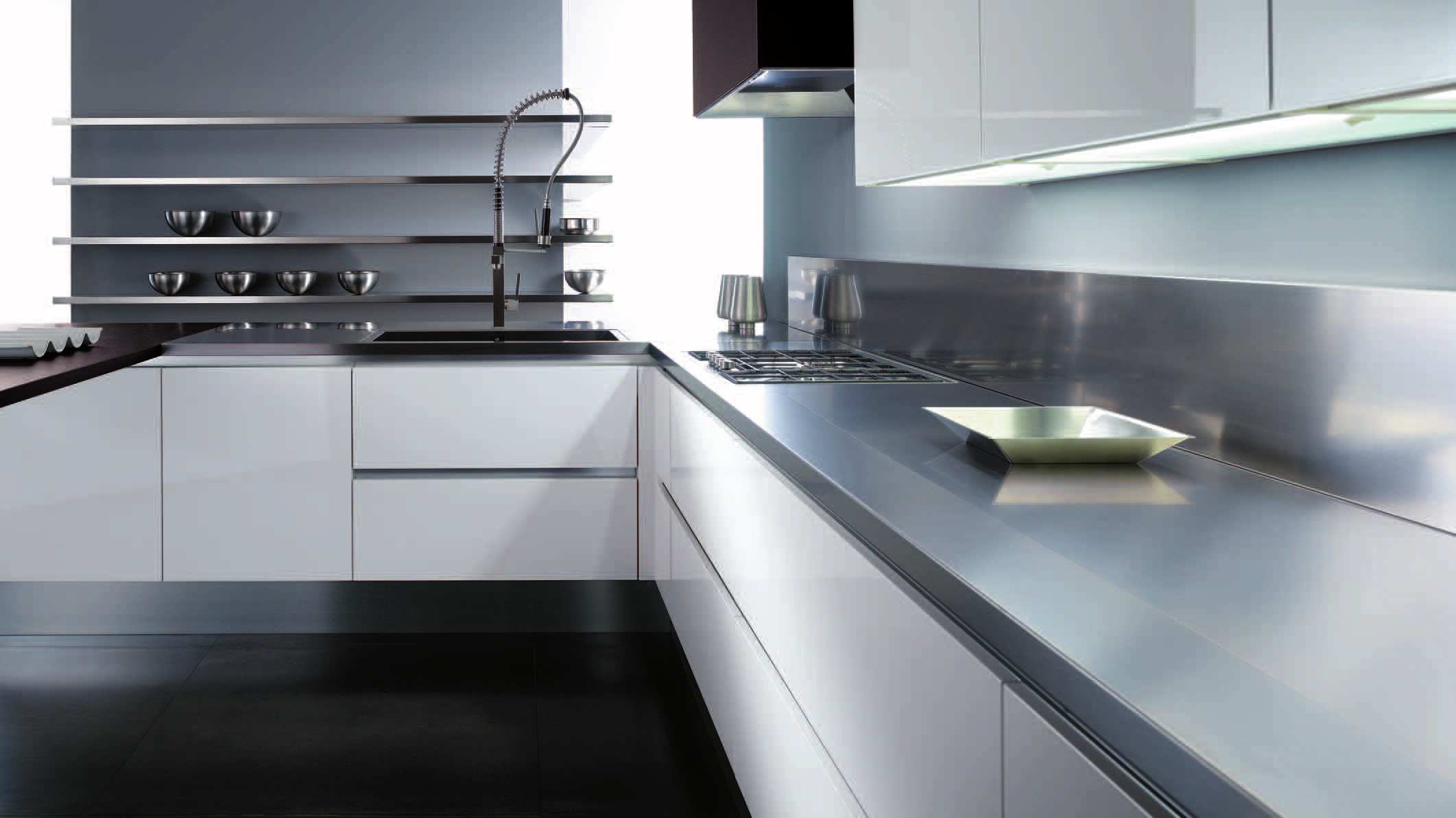 In an all gray kitchen, a stainless steel backsplash seems to find its most suitable environment (though it also works well with any other styles). But in a gray minimalist kitchen like this example, it's just stand out above the rest.
Without any trim moldings, the backsplash offers truly minimalist touches to the kitchen. No frills, but still retains its best futuristic characters. Here, the backsplash combines well with the metallic shelves and its minimalist setup.
19. Minimalist Small Kitchen with Simple patterned Steel Backsplash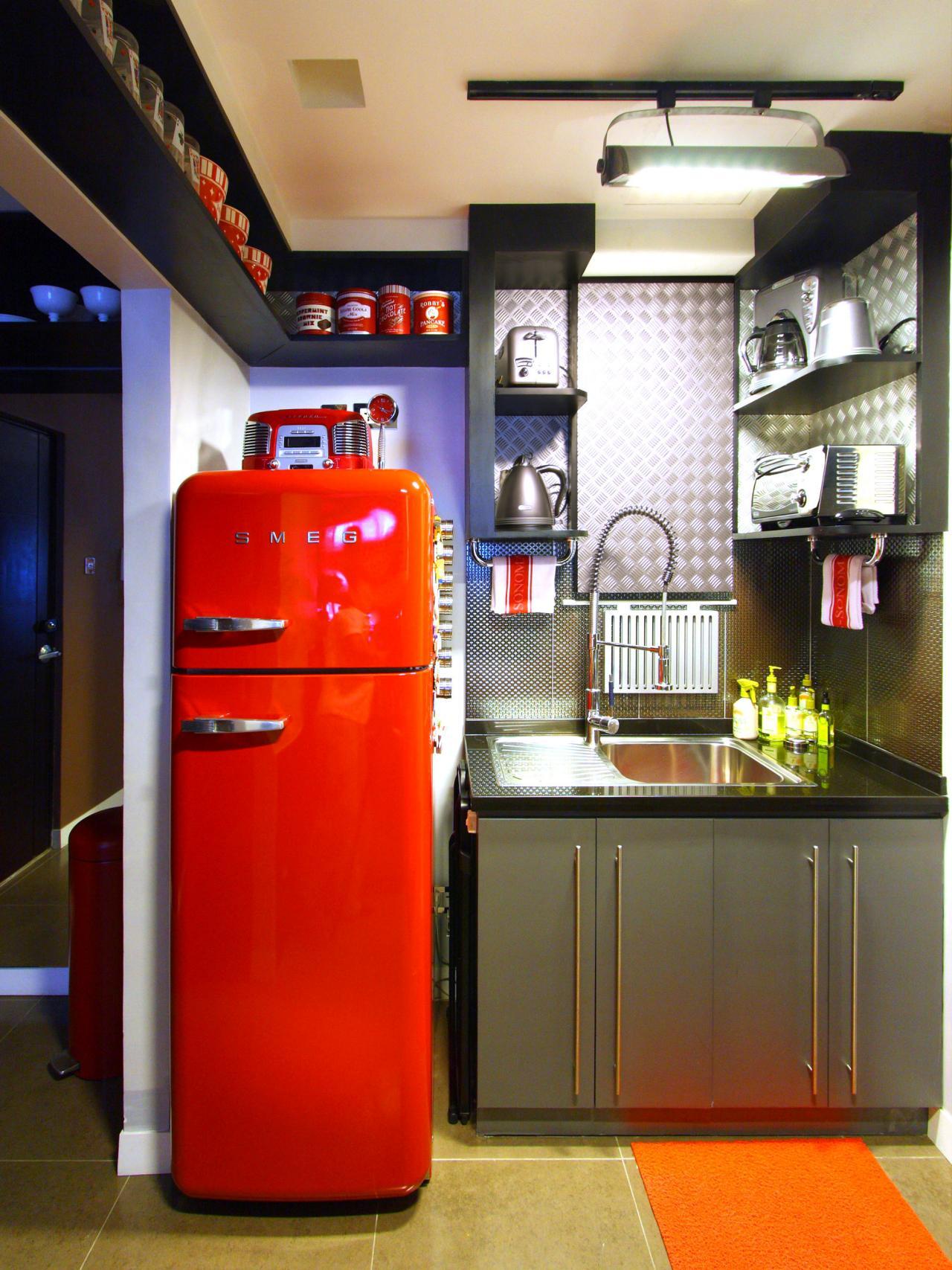 Small kitchens need extra attention when you want it clutter-free and efficient. You need to find the right kitchen layout for the small rooms, and then you can hope to have a fresh kitchen where you can cook in it without feeling cramped.
As finishing a touch, add the right backsplash for the kitchen. Try a stainless steel backsplash if you want to add a minimalist and industrial vibes. In this example you see the combination of 2 sheets of stainless steel with different patterns to be used for backsplash.
20. Custom Stainless Steel Backsplash for Vintage 50s Kitchen Style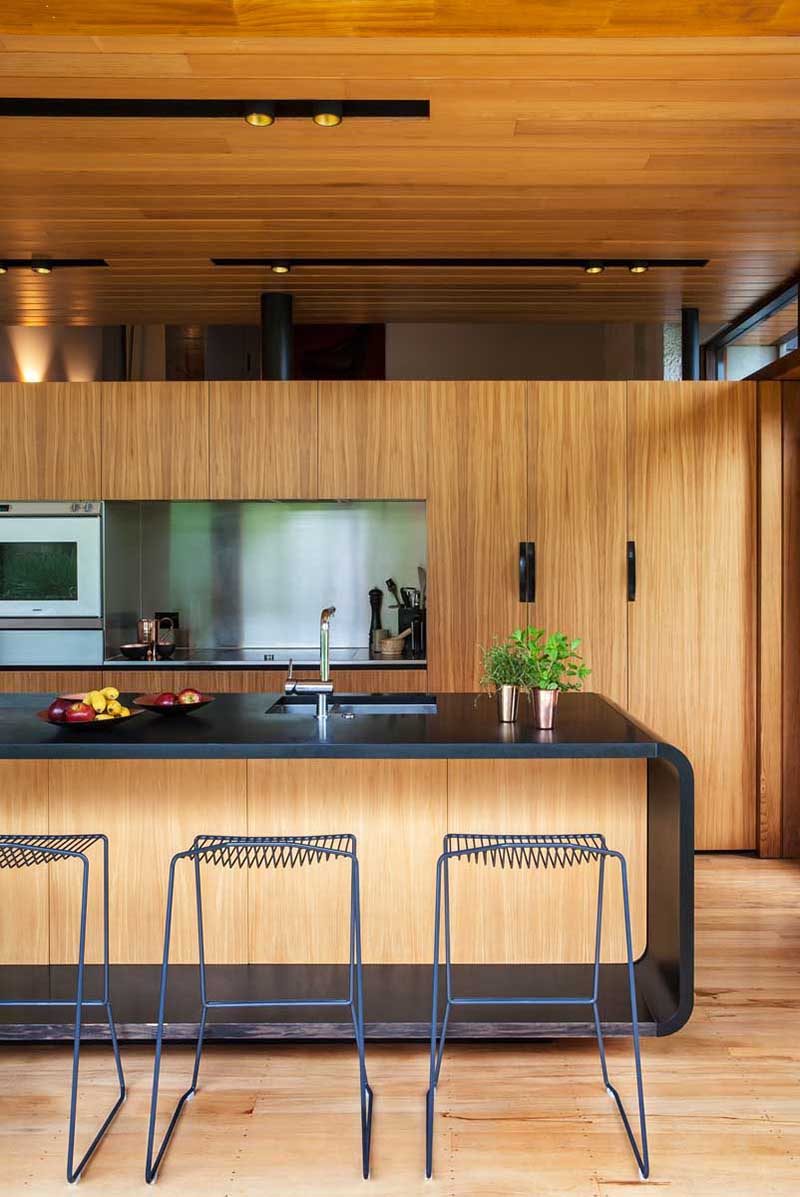 The last thing you need to consider about having a steel backsplash is that you always have room for customization. You can custom the backsplash according your needs or your kitchen styles.
This way, you should not be worry about having no ideas for steel backsplash for the kitchens.
A vintage style like this Mid-century style also works well with steel backsplash. The shiny materials offers contemporary balance to the wood-dominated classic modern kitchen. If you want to have a vintage-contemporary kitchen, try to blend the materials, the woods-steel combination.
Read More: 20 Stand Out Types of Door for Your Favorite Home Design
That's it. You have known several benefits of having stainless steel backsplash along this listicle, either aesthetically or from their practicality. For the first, stainless backsplash panels or tiles offers clean and elegant look. They also offer contemporary touches to your kitchen.
The backsplashes also are easy to install, you even can do it yourself in any of your DIY projects –as some of the manufacturers offer the peel and stick product versions. Lastly, we hope you enjoy this small list and have a good day.