Makeup has become a part of us, ladies or even gentlemen. It helps us present ourselves far more confident. And that's the reason we need makeup storage system badly.
Now if you want to find suitable storage system for your makeup tools or accessories, we present you here 29 loveliest makeup storage. Let's check them out.
1. An Acrylic Makeup Storage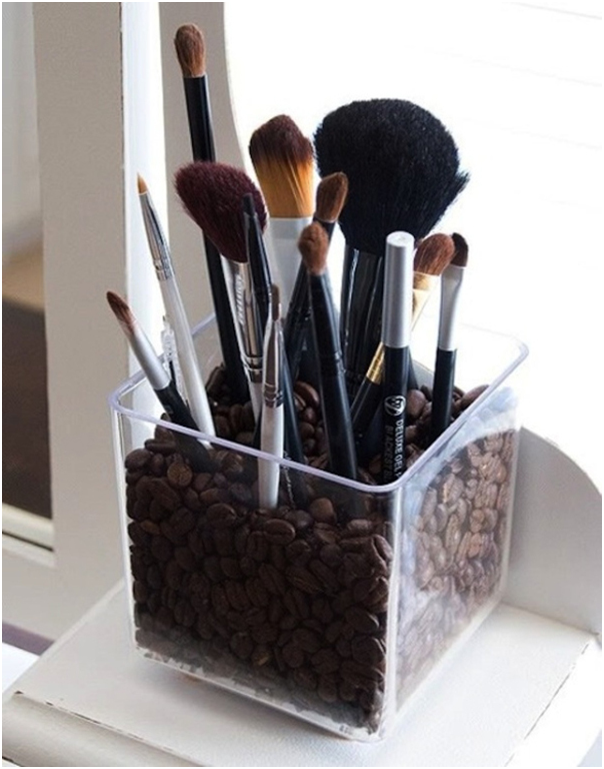 A small and efficient organizer box for the makeup tools is cool, mainly for limited spaces. But, sometimes, the problem is finding the right box. Some of us not just want those the traits.
But we want something different and chic for the storage place.
And here's you nicest alternative, an acrylic container with coffee beans in it. To store the makeup tools, just drive in each of the tool into the beans, like the example.
2. Makeup Vanity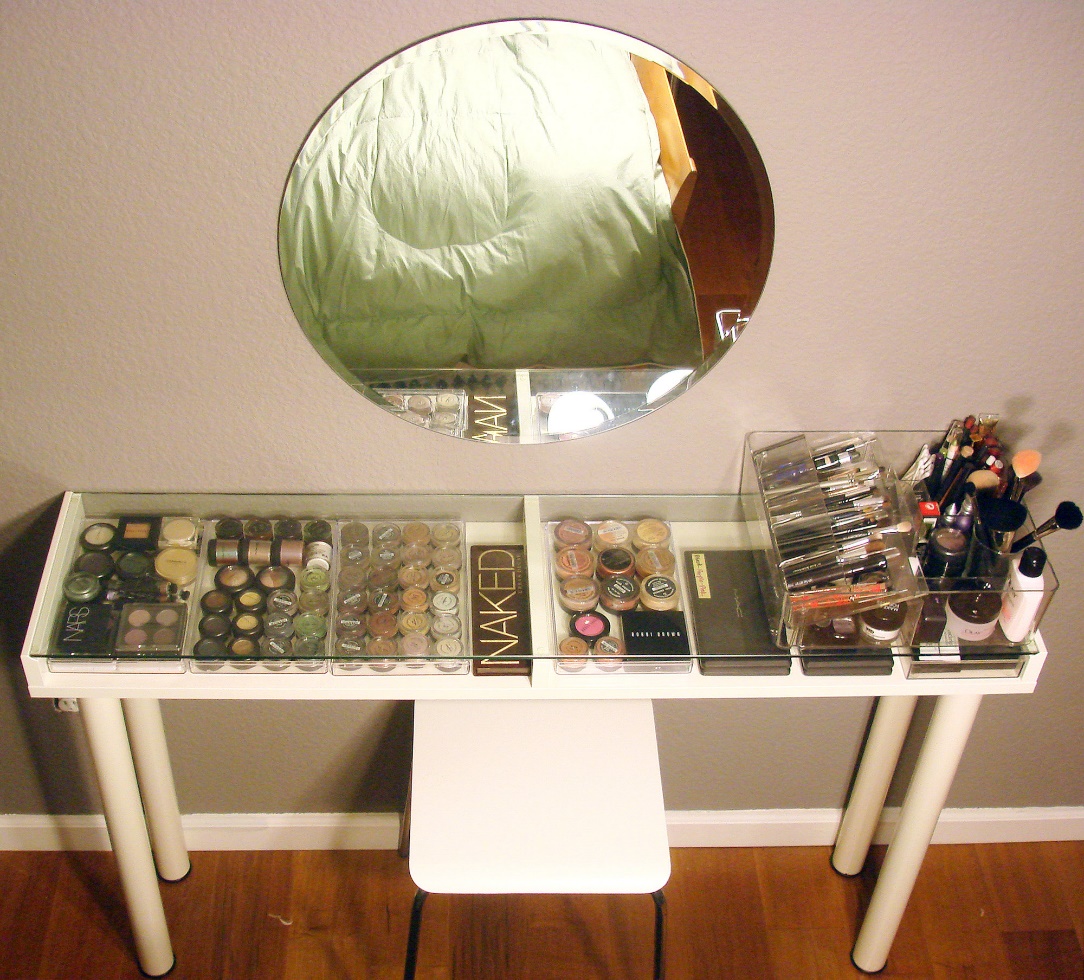 For all your favorite of makeup tools and accessories, here we offer a makeup vanity large enough your collection.
Here you have a mirrored minimalist makeup table with a clear case. If you want to do a DIY project for this table, it consist of an Ikea table and shelf.
As for the clear top, you need a sheet of acrylic. The makeup tools holders on the shelf also of the material.
3. A Cup of Makeup Tools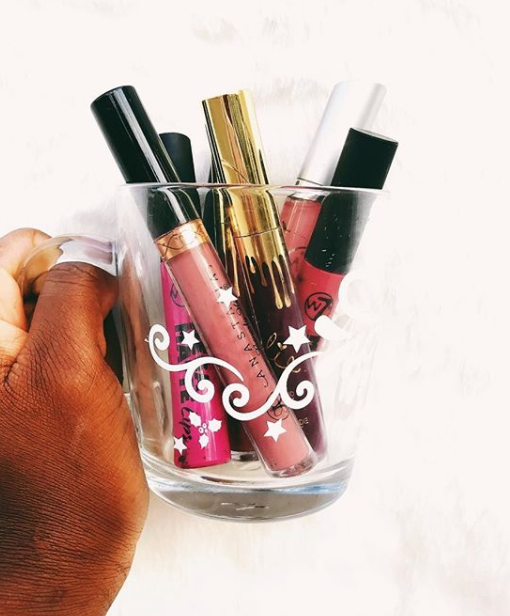 Need a small makeup storage again? And why we don't we use a stuff around us as the storage system? Like this idea, for example.
You only need to go to the kitchen cabinet and find the right material. Yes, for this storage you need a cup. A big cup is most preferred.
Now you get our point? Your storage is ready. Put the makeup tools/accessories into the cup. That's all. Quick and easy.
4. Dark Industrial Makeup Holder with Buckets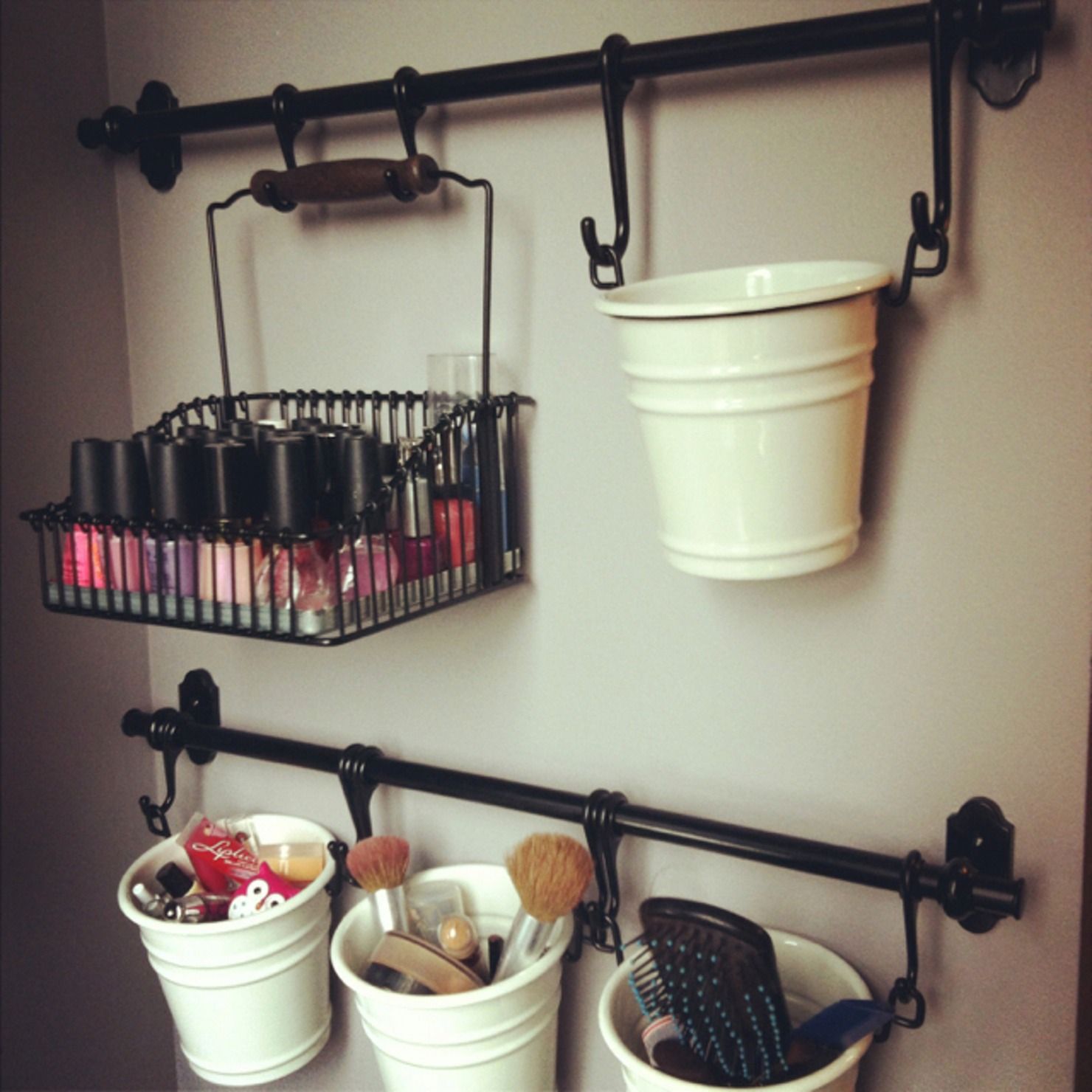 Itchy for a DIY project? You should consider this makeup holder. It's wort a try. And, most of all, it will be an easy project –even if you're a beginner.
Here what you need:
Iron bars
Retro Iron holders (hook types)
Iron wall clips (don't forget with the screws)
Several white buckets
A hanging wire rack
Tools:
How to make:
Make the support with iron bars and wall clips, don't forget to insert the holders first.
Now that you have the supports and their holders, it's time to put on the buckets and wire rack.
The makeup tools holders are ready.
5. Hanging Shoe Organizer for a Makeup Organizer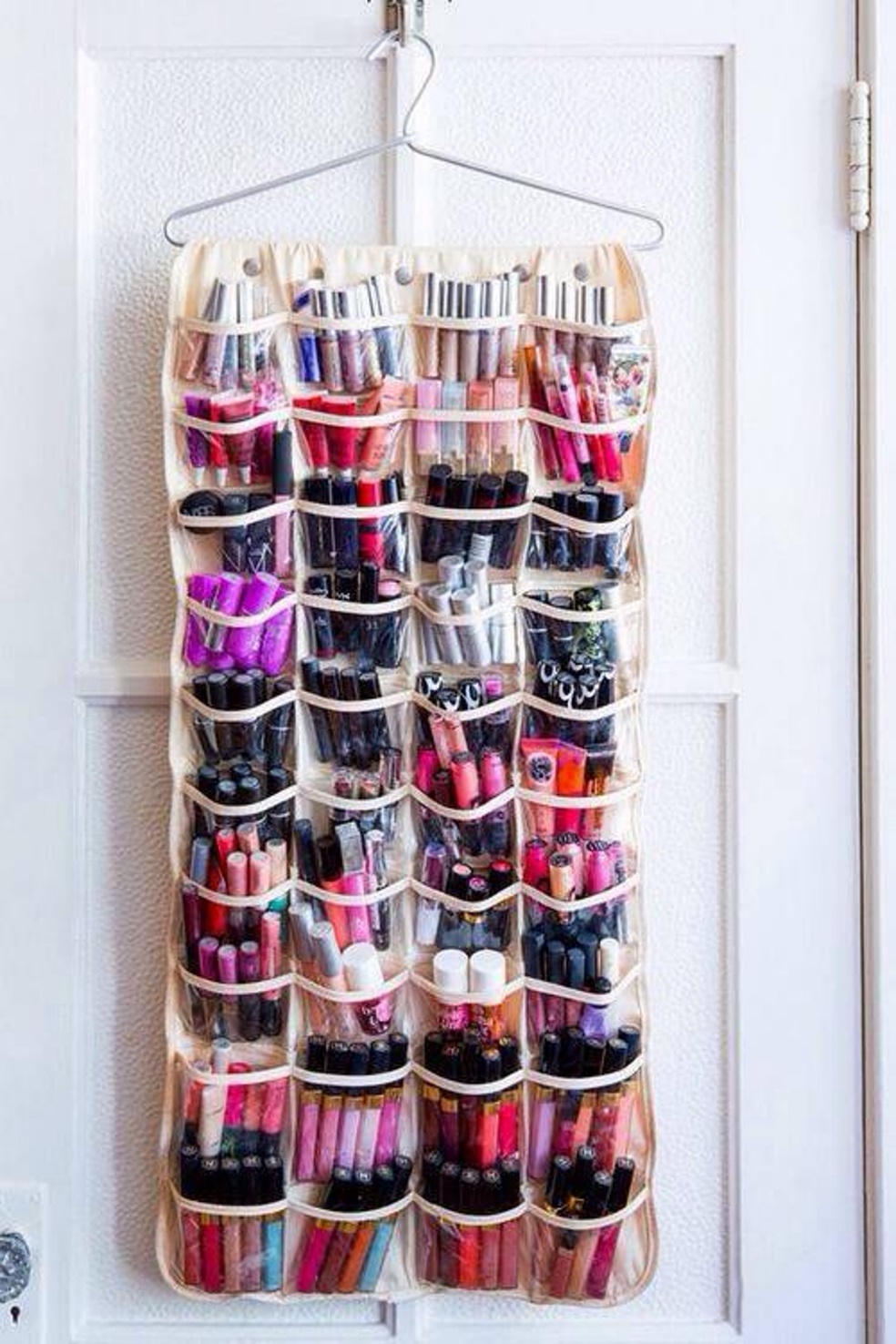 If a makeup cabinet is out of reach, then find something else for the substitute. Something other with the same capacity, but with a more friendly to budget.
How? Find a hanging shoe organizer. It's affordable and durable. It also works well for small spaces, for you need only hang it on a cloth hanger, on the door.
This way, you can solve the storage problem for your collection of makeup tools and accessories.
6. Wall Makeup Storage Magnetic Board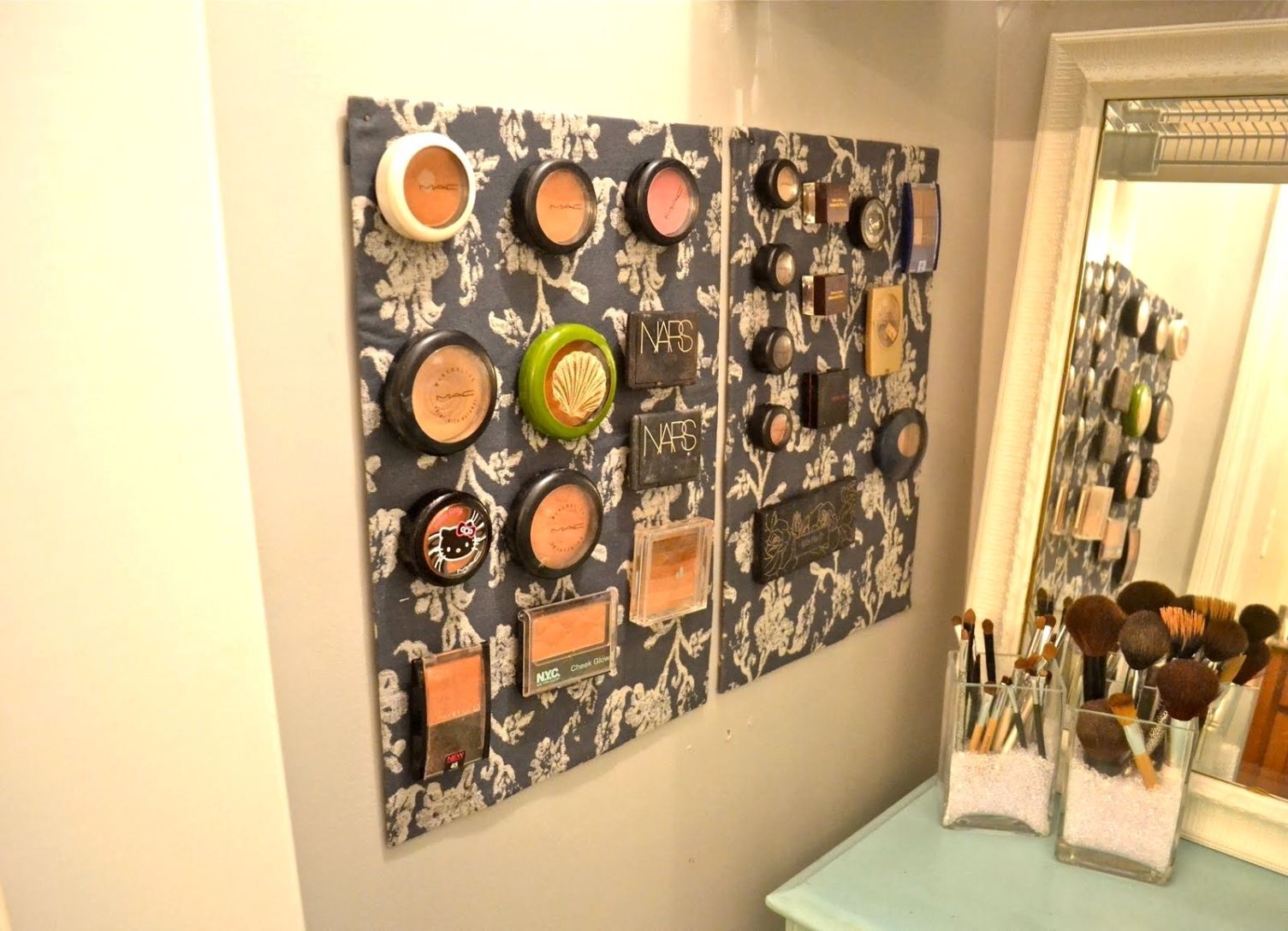 Let your favorite beauty makeup be the accents to your wall. And here's how you do it.
Materials:
A sheet of shower curtains (for durability)
Metal sheets
Magnets
Double tape or hot glue
Tools:
Metal cutter
How to make:
Cut the metals and arrange into a square board(for a magnetic board)
Layer the metal board with curtain sheets, and hang on the wall.
Select the beauty products you'd like to show on the board.
Put a magnet on each of their bottom.
Now your beauty products are ready to stick on the board.
7. Makeup Holders with Repurposed Mason Jars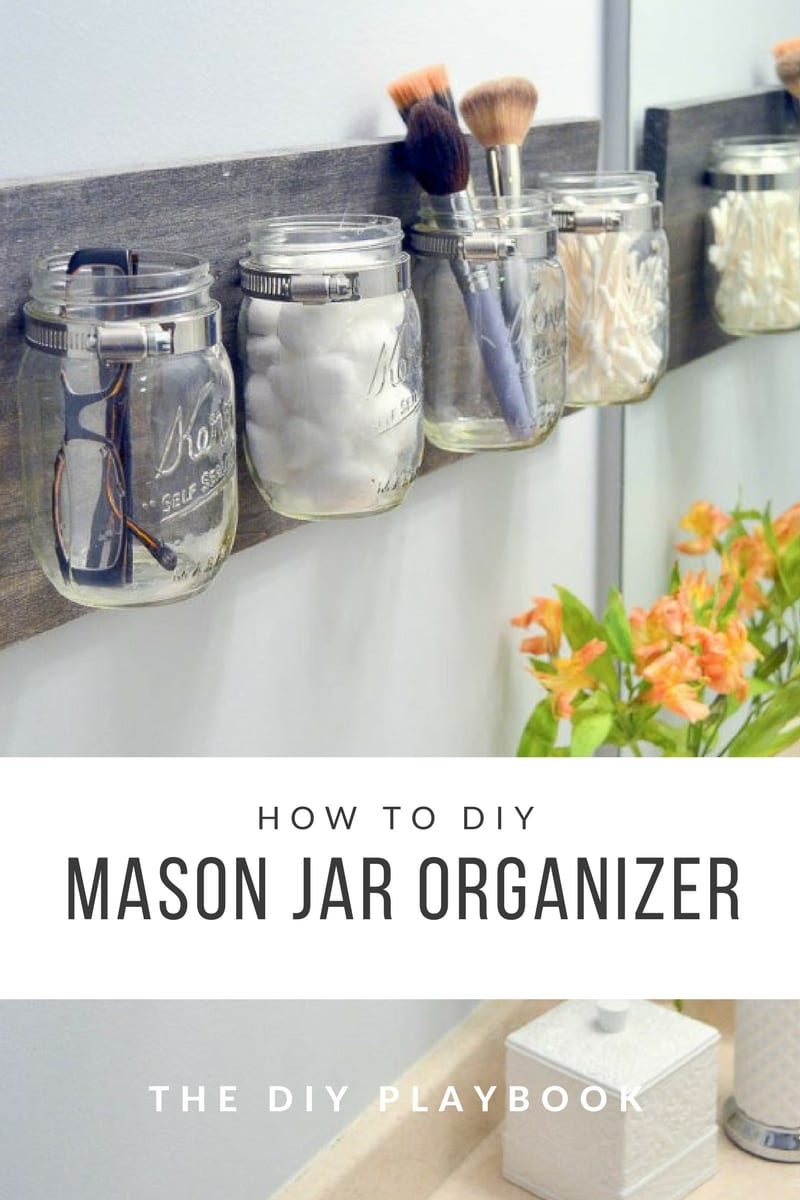 Mason jars, the jars for preserving foods, are also very versatile stuff. Depends on your creativity, mason jars can be anything you want –including as makeup holders like the picture.
It's a combination of reclaimed woods and mason jars (also reclaimed). Hose clams are used to bind them together.
You don't have to have any sophisticated makeup cases here, only reclaimed wood and mason jars.
8. Bookshelf for Large Makeup Organizer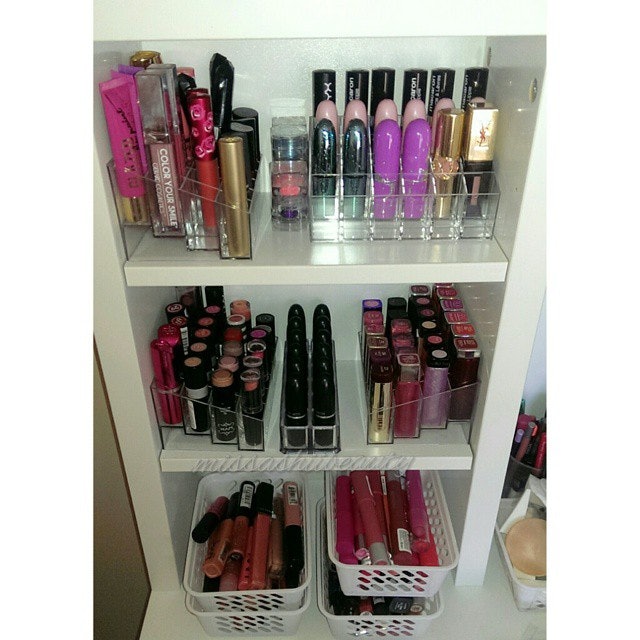 A large collection of beauty products or makeup tools need an ample makeup storage. Not just an ordinary makeshift storage system, but a more permanent one.
Like to have the affordable one? Then turn an open bookshelf into your makeup organizer.
All you need is adding the makeup tools shelves. This you can do by purchasing some smaller acrylic makeup holders and also some plastic trays (also small). Insert them into the bookshelf.
And you have an organized makeup storage system.
9. Unique Toilet Paper Rolls for Makeup Organizer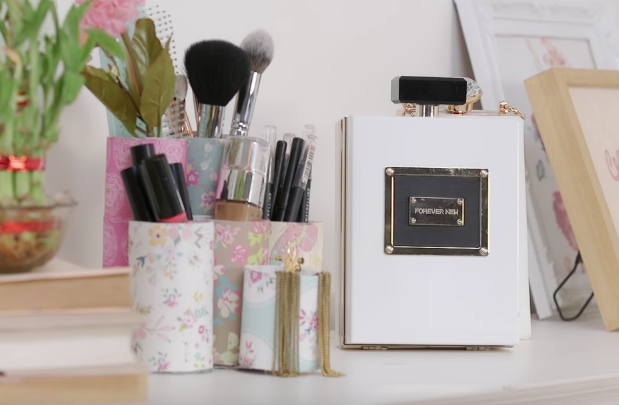 The recycling enthusiasts will love this makeup organizer. The core materials are made off repurposed materials. It's made of toilet paper rolls.
We sure you can do it in a quick DIY project. For you only need several paper rolls, some printed papers, a sheet of cardboard, glues, and a sturdy scissors.
Then this unique paper rolls makeup organizer is yours.
10. Plant Pots for Makeup Tools Holders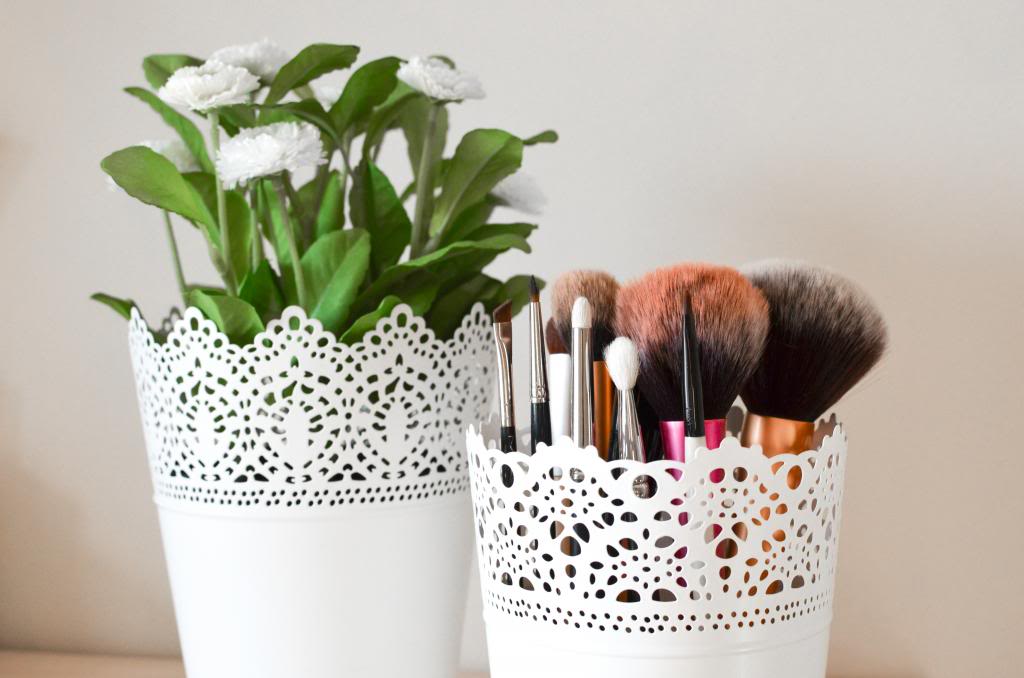 One of the more affordable way to have a chic makeup holder is by hacking an Ikea product. You even can turn an Ikea plant pot product into the holder.
Just find some SKURAR Ikea plant pots. And that's it. You have your makeup holders by filling them with your favorite makeup tools. It looks chic and contemporary.
Your friend won't even think that their real purpose are for plants.
11. Feminine Makeup Storage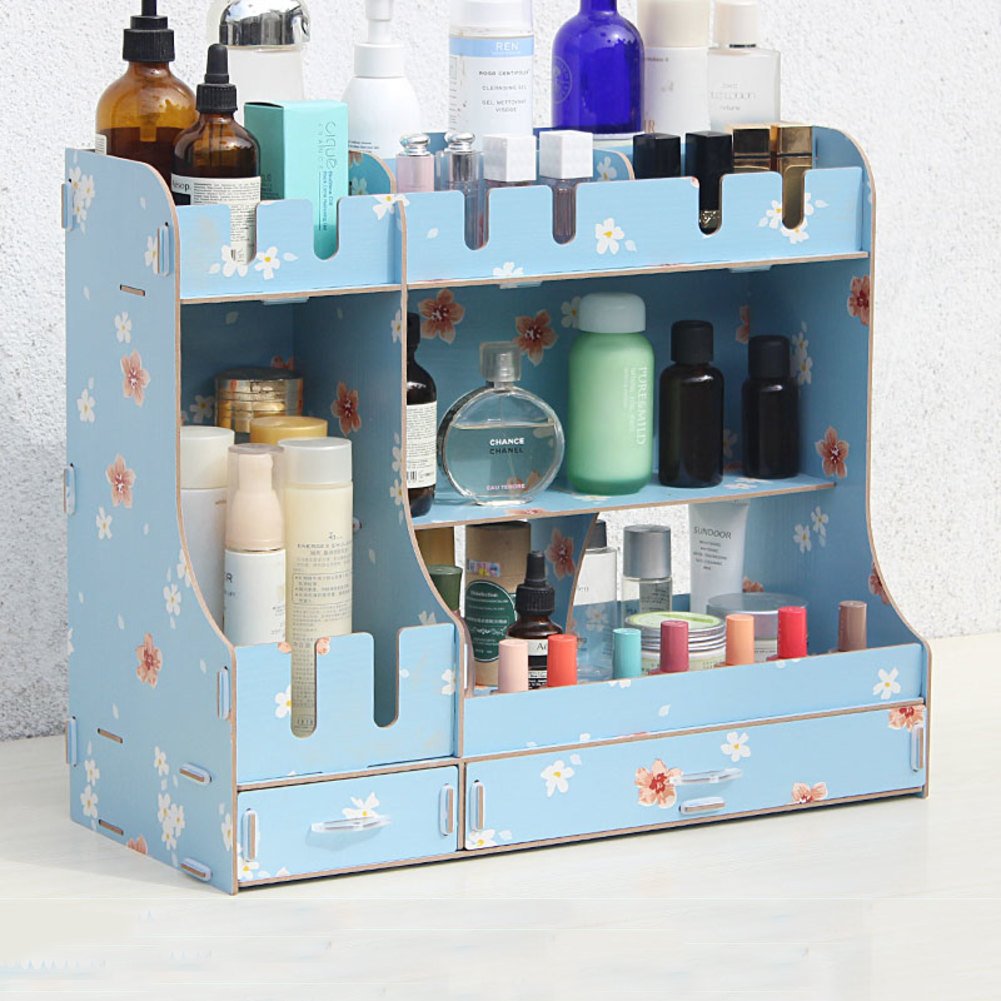 For most of us, the hardest job is keeping the dressing table clean. If you don't want to always get this annoying problem, try to put a makeup organizer on it.
This desk makeup organizer is worth a try. It comes in a knock-down mode, so you need to assemble the organizer yourself. But, you need not to worry. It's easy to assembly.
Put the desk on your dressing table, and no more a messy table.
12. Two Layers Plastic Bathroom Makeup Organizer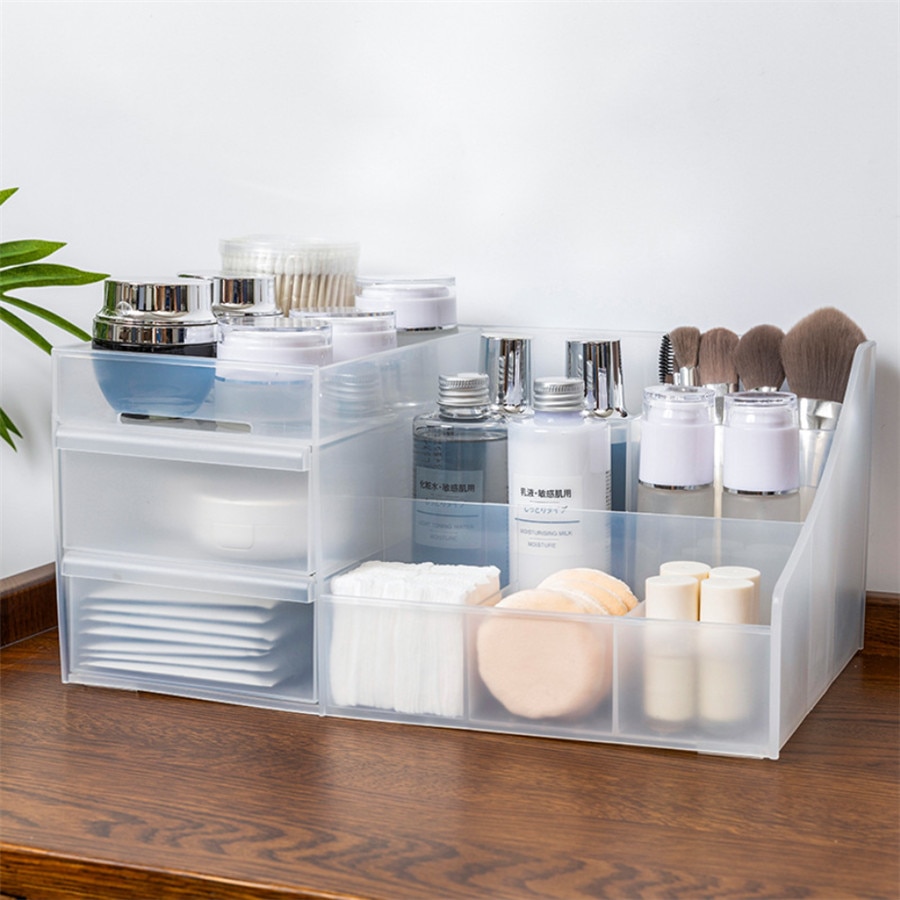 For practical reasons, a bathroom are often equipped with a bathroom vanity or even a bathroom dressing table. For the reason, you need a reliable makeup organizer for bathroom.
Find an organizer which is not only damp-proof, but which is also add coolness to the dresser.
This opaque plastic bathroom makeup organizer is a nice pick. It has two drawers and several open shelves. And it'll cool on your dressing table in bathroom.
13. A Warm Hexagonal Wood Makeup Container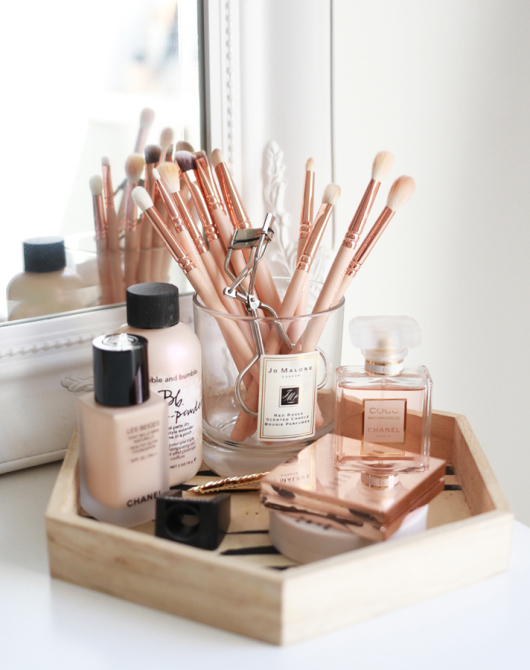 Nothing compares to the warm vibes offered by woods, real woods. And this wood container for makeup is also presenting the same kicks: warmness and pleasant air.
This octagon pine wood tray works well for almost of your dresser style, for the vintage to contemporary style.
Even, if you want to make it yourself, it's easy to build.
14. Easy Makeup Storage from PVC Pipes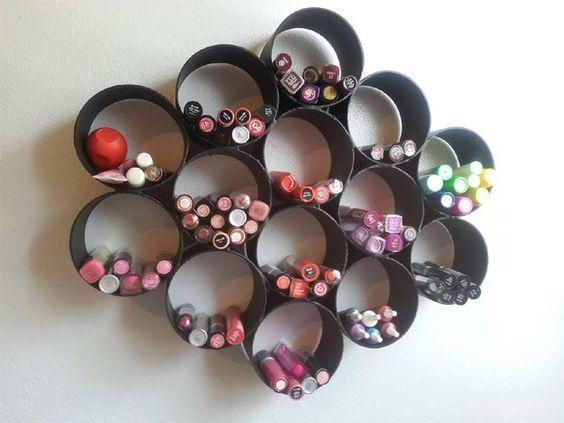 Easy to build and also cheap storage for makeup is possible. Mainly if you have fertile imagination and deft hands.
You find this makeup organizer is cool, right? And this organizer is made of several short-cut PVC pipes. Yes, the PVC pipes you often see in the construction sites.
You can build this makeup organizer easily just with a saw, glue, and your favorite paints.
15. Mirrored Acrylic Makeup Table with Shelves and Drawers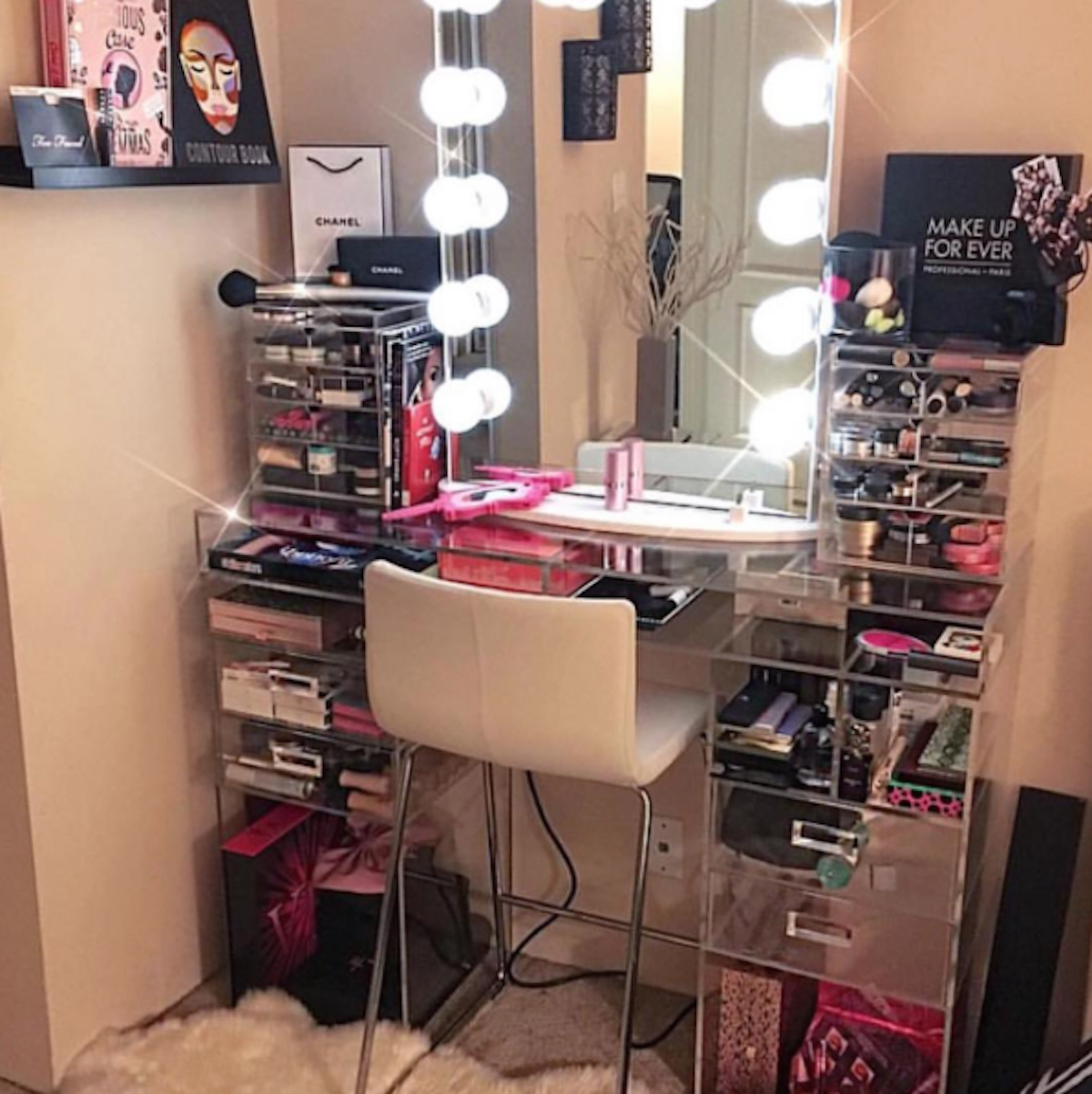 For the awesome you with all the talent of a makeup artist with all her tools and accessories, this acrylic makeup table is yours.
It made up of an acrylic table with drawers and several open shelves. On the top are other acrylics desk shelves, for more storage system.
To complete the setup, a mirror are added –complete with its light bulbs.
16. Shelve Wall Makeup Storage for Small Spaces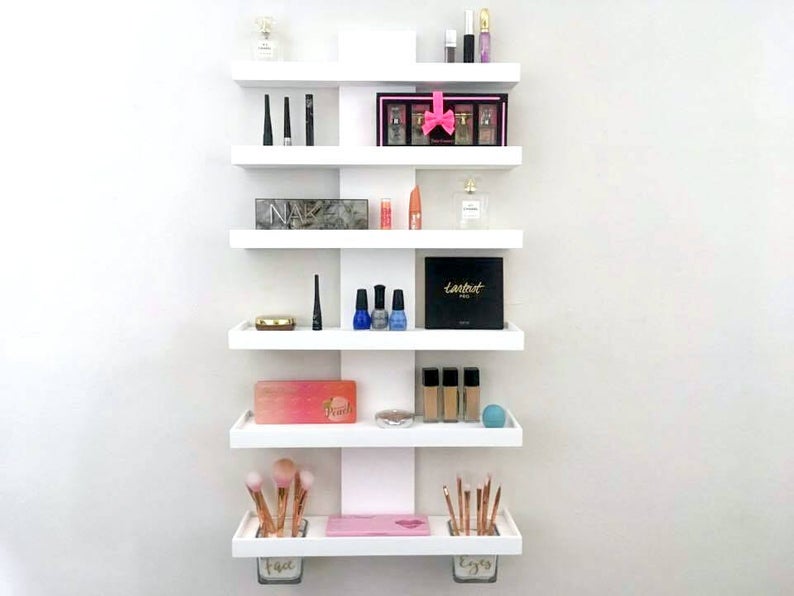 Small rooms need certain treatment for them to look larger and neat. And if you feel the makeup regular makeup tables are too big for the room, you can try this shelve wall makeup storage system.
It's neat and won't eat up the room, for it hugs the wall.
The wall shelve has six open shelves, generous enough to hold all your makeup collection.
17. A Smart Makeup Box Solution for Small Spaces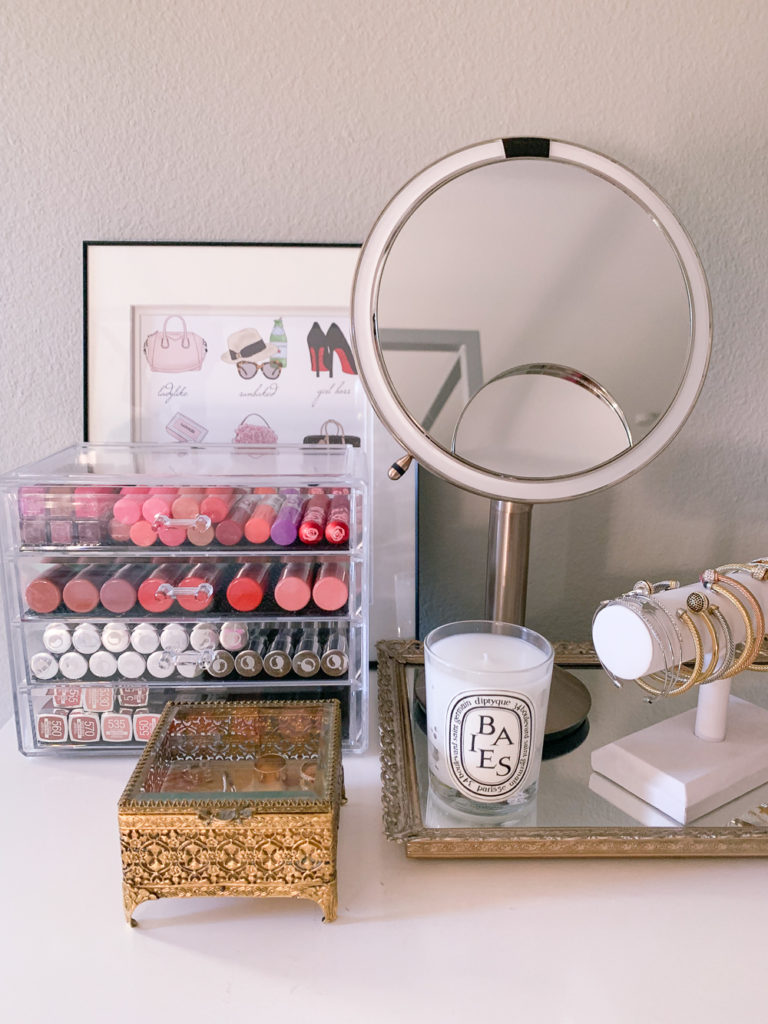 Still need another best idea for small room? This old and new makeup storage system suits well for your need.
The setup consists of an acrylic makeup box, and antique jewel box, a tray from mirror with old frame, and a mirror.
These combination of old and new makeup storage system give fresh atmosphere to the room.
18. Glass Jars and Ropes for Simple Makeup Holders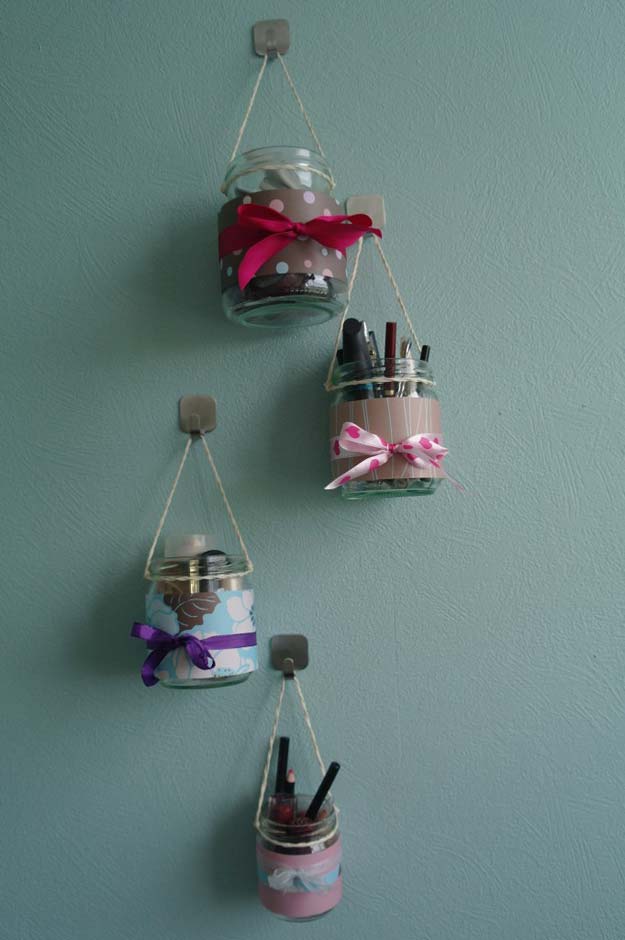 Sometimes you'll not need large makeup tools organizer box. And if just want to store several makeup items, this make up holder idea should be on your to-try-list.
The holders are made of several mason glass jars. Sisal ropes string them together on the wall. Add printed papers and ribbons for cute appearances.
19. A Luxurious Looking Mirrored Makeup Organizer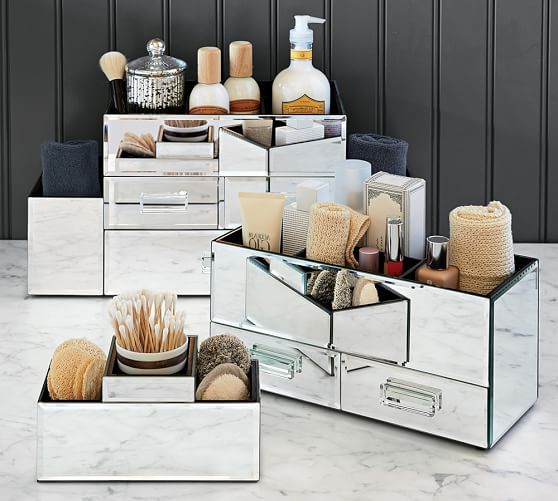 Almost nobody can resist beautiful look. It's in our nature that we always love lovely stuff. And if the lovely stuff are accompanied with luxurious look as well, that will be even better.
So if you love this makeup organizer, we won't blame you. This mirrored makeup organizer is totally awesome with its simple glitter and luxury. Like to have one?
20. Laser-cut Aluminum Vases for Makeup Holders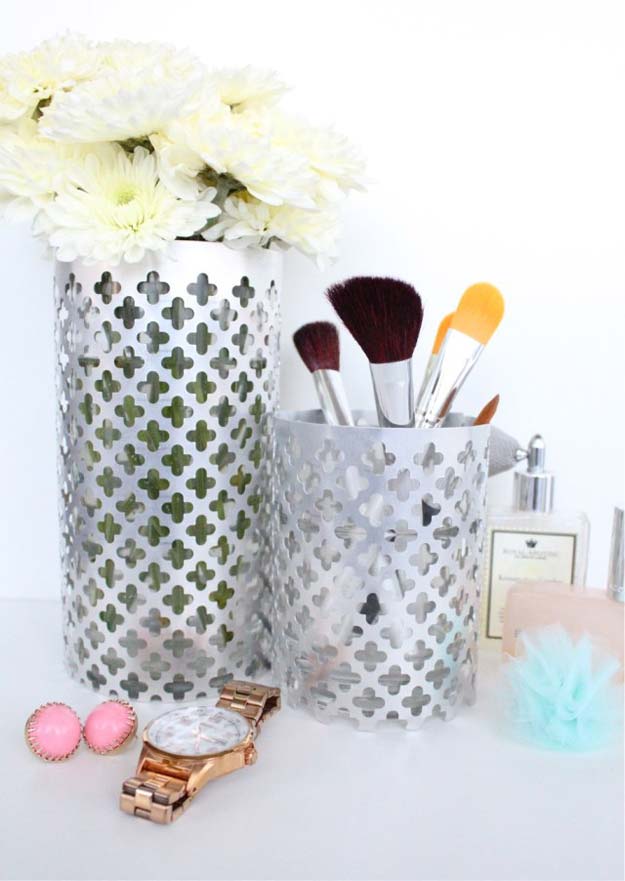 If you still remember the list number ten, about an Ikea plant pots which are also awesome for a makeup holder, here you have the other version.
This time you have aluminum vases. Their bodies are perforated with laser in geometric patterns. These vases-turned-makeup holders work well for contemporary bed room.
21. Makeup Tool Holder with a Picture Frame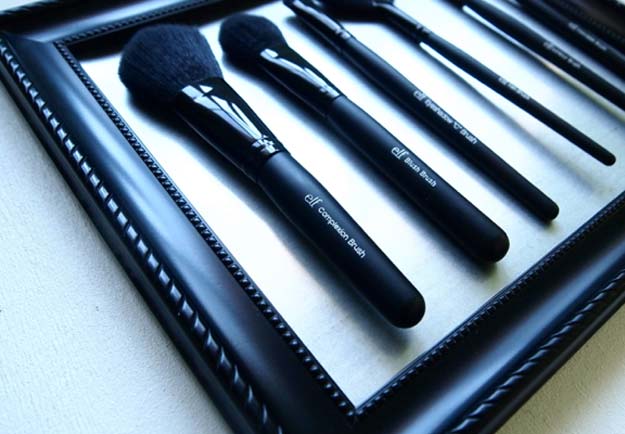 If you love you beauty tools, why not hang them like a work of art? This DIY picture frame makeup holder shows you how.
The trick that makes the tools stick to the frame is on the magnetic tapes rolled on them, while a magnetic board also substituted the existing board's frame.
And the magnetic effects let them stick together.
22. A light and Portable Makeup Container Box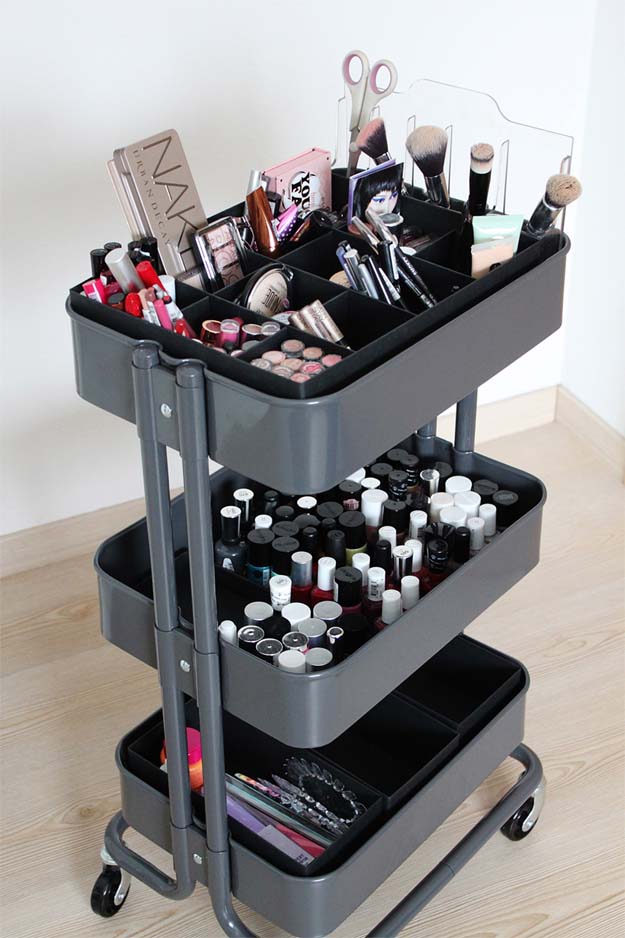 Always in the move and don't have time to have a fixed makeup storage? Then you need this portable makeup container box.
The box itself is made of durable plastic material. It also light and easy to carry. It has 3 containers, which can be opened or closed easily by pulling or pushing each shelf.
It also has wheels, so you can move it on them freely.
23. Corner Slim Cabinet for Makeup Container System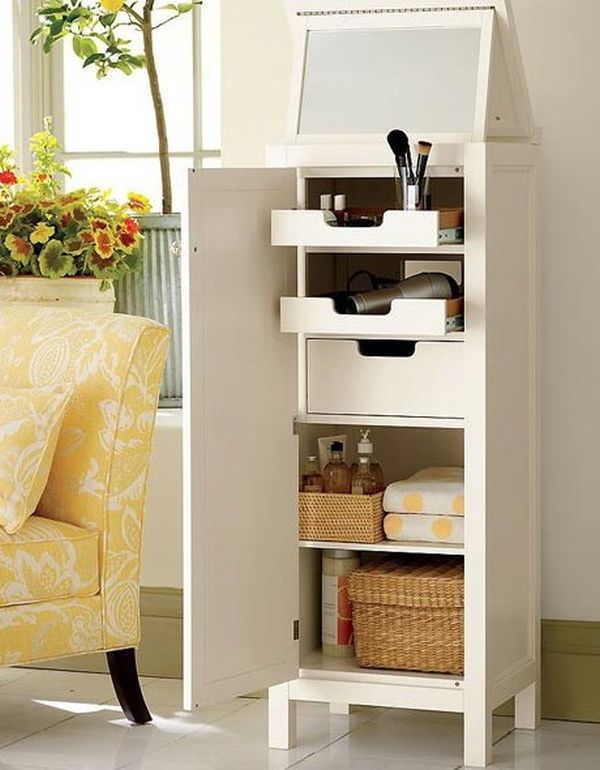 Don't let a corner area lays unused. Make use of it by setting a makeup container system on it.
This slim cabinet will be a better for the spot. It's slim and can add a cute accent into it. Your makeup tools are in the right place, and the corner won't look empty again.
For storage, this cabinet has 2 semi open drawers, a drawer, and 2 open shelves –enough for you beauty things.
24. Vintage Candle Jars for Contemporary Makeup Organizer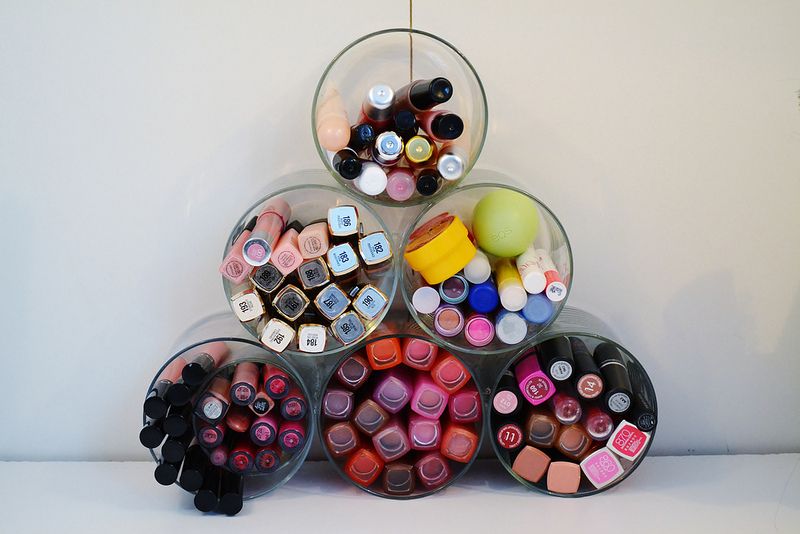 Feel familiar with this makeup storage inspiration? You bet. If you can do the DIY makeup organizer project with PVC pipes, you can build this organizer in a breeze.
You won't cut or paint in this project. You only need to scour some vintage candle jars on thrift shops (or your own collection) plus some glues to fix them together on the wall.
25. Easy Glass Makeup Brush Container with Beads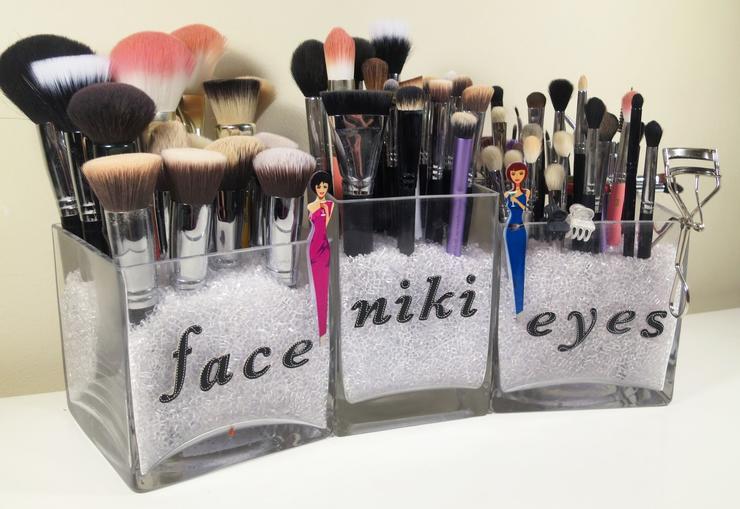 You don't need large and intricate makeup holder to impress your friend.
With several square aromatic glasses, you can wow them. Find 3 or four (depends on amount of the tools) and fill them with plastic beads. Find the clear types for glitter effects.
Dive the tools into the glitter. And see your friend impressed.
26. On-the-go Makeup Storage from Glasses Case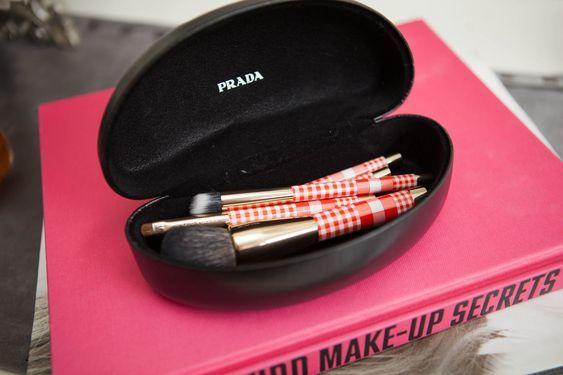 This unique makeup organizer is probably the easiest idea in this list.
All you need is this glasses case. Not only Prada, but any of your glasses case will work well. Fill the case with the most needed beauty tools. It's easy and you can take it anywhere easily.
27. File Holder for a Makeup Holder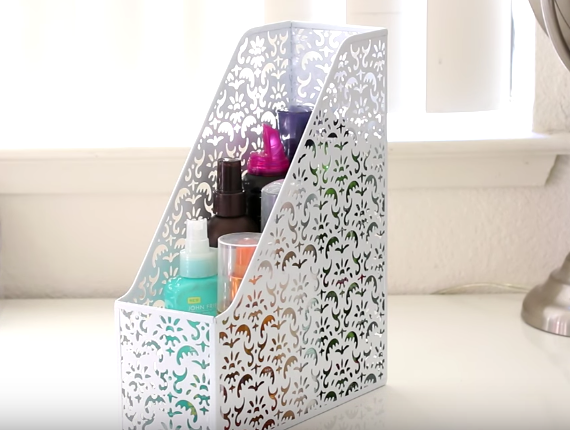 When all you have in the bedroom is a small dressing table, then you need this makeup holder, a makeup holder out of a file holder.
Find an elegant fil holder like this one (but you can always pick the one you feel ok for the table, not just this white holder) and that's it.
Put it on the right place on the table, and your easy makeup holder is ready.
28. Glittering Makeup Organizer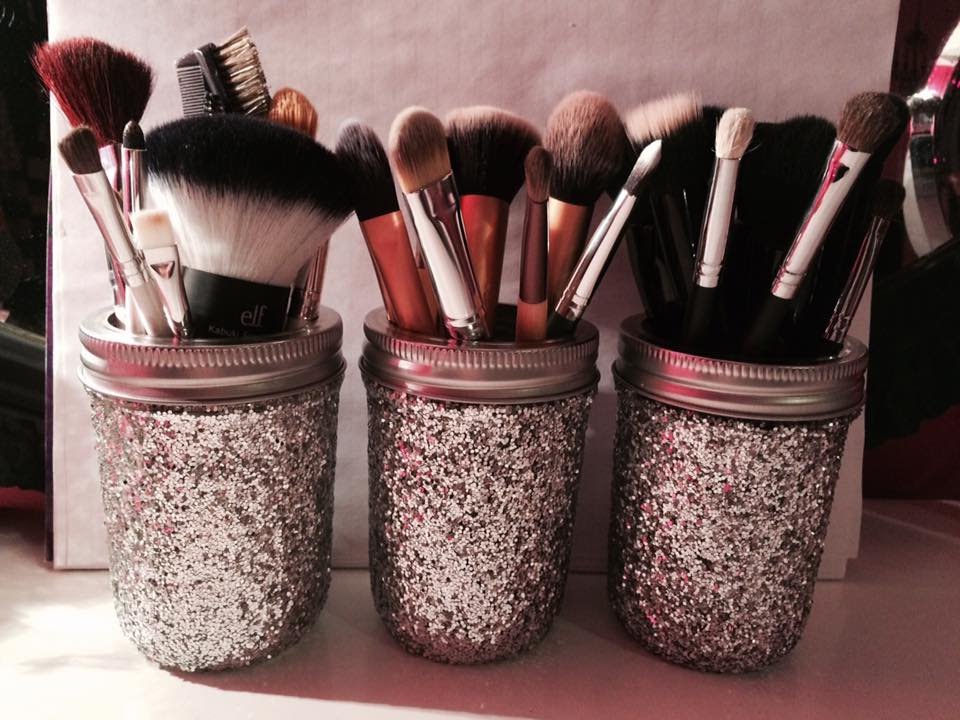 This desk makeup tools organizer should you have, if you love something glittering on your makeup desk.
If you have the time, you can even make it yourself in a DIY project. For the containers, as usual, you have the mason jars available. As for the glitter, try mod podge –the glittering stuff.
29. A Neat Makeup Storage for Bathroom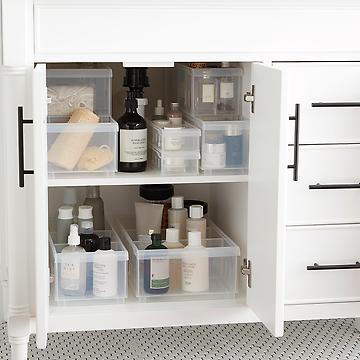 For this last list, we offer you makeup tool organizer for bathroom. Unlike the previous version (which is on the table), here you have the enclosed one.
The organizer lays in a bathroom cabinet. This way, your bathroom will always look clean and neat.
Read More: 30 Impressive DIY Plant Stands
From the easy to the easiest one, you have met some of our chosen compilation of makeup storage. Whether it'll be in the form of organizer boxes, cases, or even an Ikea hacks, you can find them here.
For the reason, we sure that you can build one (or even more) of the storage here in your DIY projects. Lastly, success for you.