You have several ways to highlight potted flowers or plants. One of the most effective is by giving them the right plant stands. Don't want the regular stands? Try to build yourselves in a DIY plant stand project.
In this small article, we have compiled some of impressive DIY plant stand designs. One or some of them, we hope, can be a starting point for your project.
Without further words, let's check them out.
1. Wood-Copper DIY plant stand plans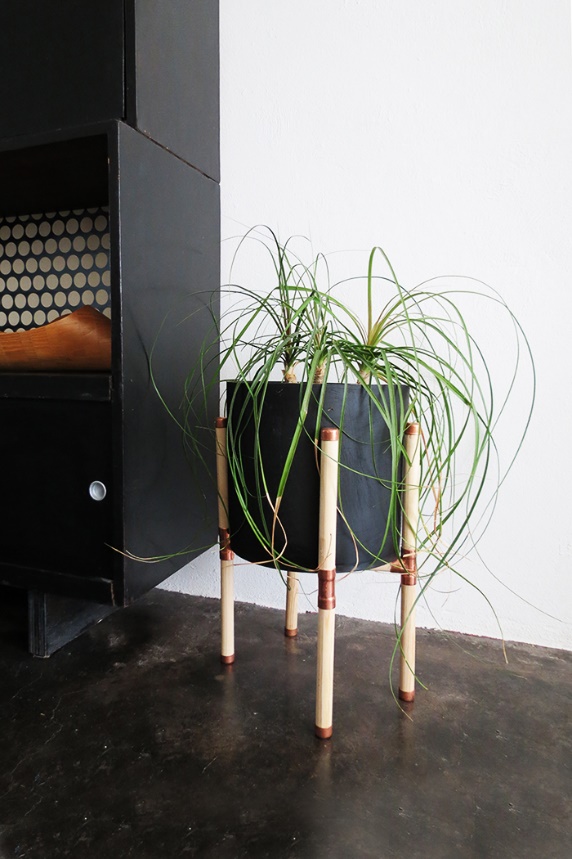 If you feel the living room feels empty and lack of greenery, you need to consider this DIY plant stand plan. As a DIY project, you can do it in a breeze.
For this DIY plant stand plan, you need the following stuff:
• Four round dowels
• Four copper steel pipe tee joins
• A copper pipe cross joint
• Eight copper caps
Tools
• A Wood saw
• Multipurpose glue
How to make:
• Cut the dowel into 8 sticks. These dowel cuts will be the vertical supports.
• Cut other 4 dowels for the horizontal supports
• Trim each of their tips, so that they fits in with the joints or caps
• Now it's time to assembling the materials. For these step, by seeing the picture, we sure you can do it easily.
• The plant stand is ready. This plant stand is suitable for contemporary minimalist home.
2. Hacking an Ikea Plant Stand for a Cuter Nordic Plant Stand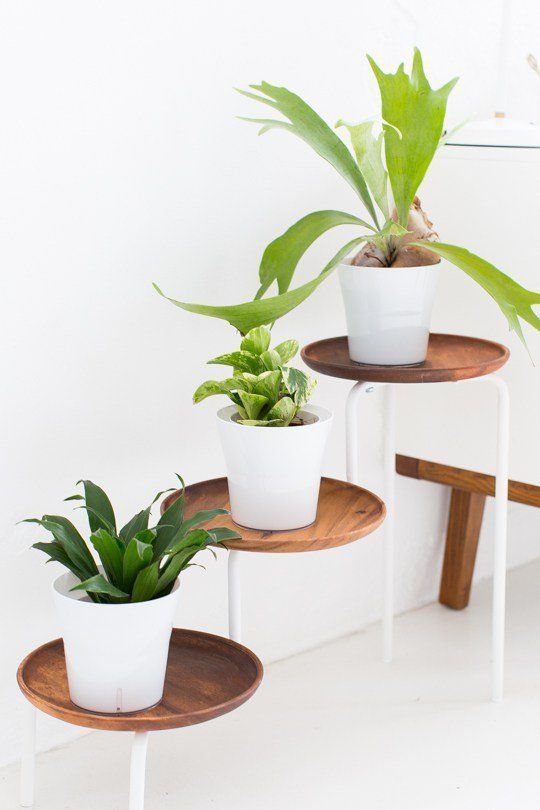 The Nordic/Scandinavian style brought by IKEA often gives you enough room for modification –to suit your tastes even better.
In this plant stand project, you modify an Ikea stand plant product (an IKEA PS 2014 plant stand). The product itself is excellent. But we want to make a small modification on the top.
In this project you put acacia wood tray on the existing top. And you can see the difference right away.
3. Outdoor Movable Log Slab Plant Stand

An ideal outdoor plant doesn't make you sweat. Because you move it around easily, even with the pot (and its plants) on it.
If you wonder having one of such type, try this DIY plant stand project.
Materials you need:
• A slab of wood
• 4 heavy duty roller
Tool:
• Screw driver
How to make:
• Clean the slab. Layer its surface with clear weatherproof finishes.
• Screw the heavy duty rollers on one of its sides.
• Your plant stand is ready
4. Contemporary Wood Plant Stand, Pyramid Style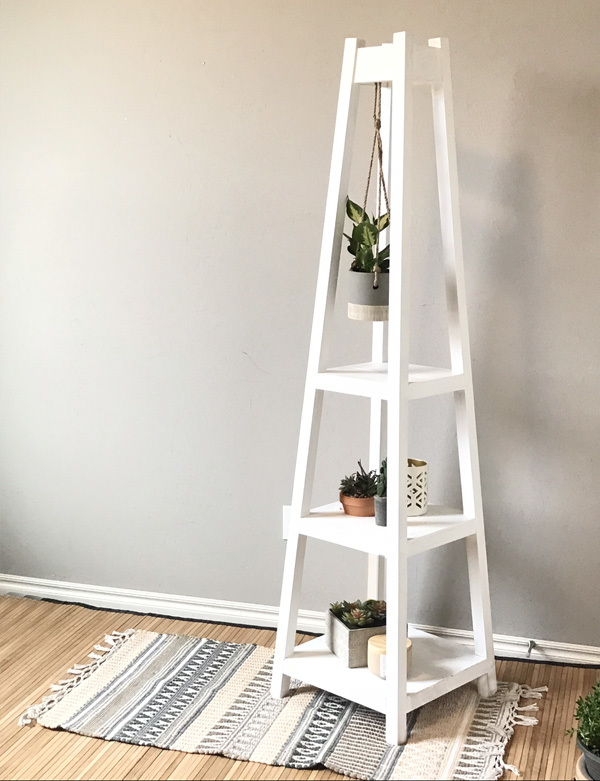 Small room also needs greenery. Whether potted cacti or other evergreen indoor plants, it helps to refresh your energy, by giving positive vibes and sucks any negative ions in the air.
To make your plants collection stand out, just be sure to choose the right plant stand. This white plants stand from Ana White should be perfect for your room.
The construction is light, and offers contemporary look to the room. Nice.
5. Hairpin Indoor Plant Stand with Rope Accents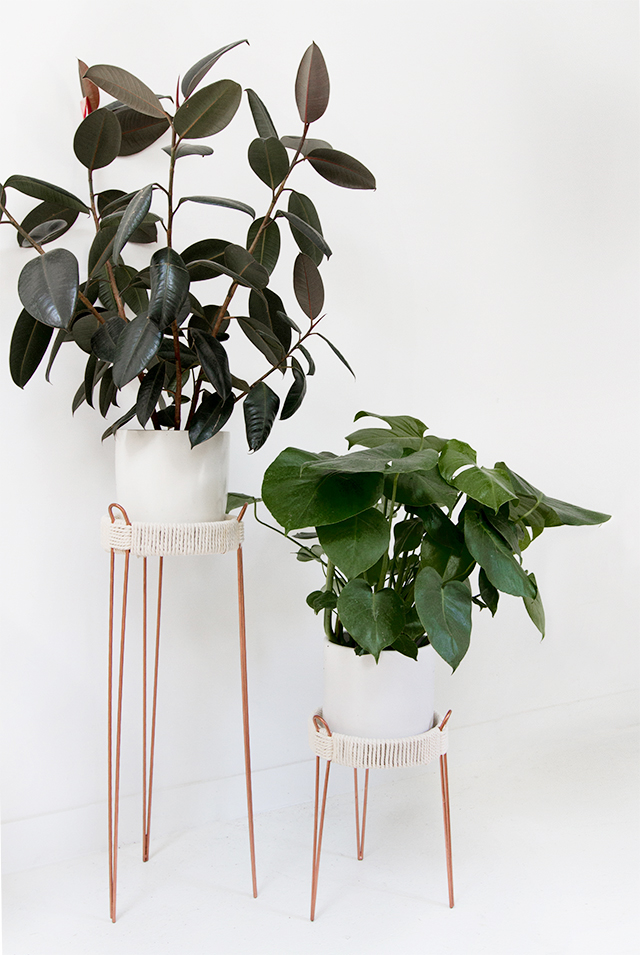 Only with ropes, you can make an ordinary plant stand looks elegant. These Amazon-found retro hairpin plant stands gets a little hack with a can of copper spray paint and simple rope works on their tops.
The original indoor black plant stands get copper paint spray treatments. The tops gets rope works.
And now they looks elegant –thanks for the white ropes and a can of copper spray paint.
6. Contemporary Wood-Metal Plant Stand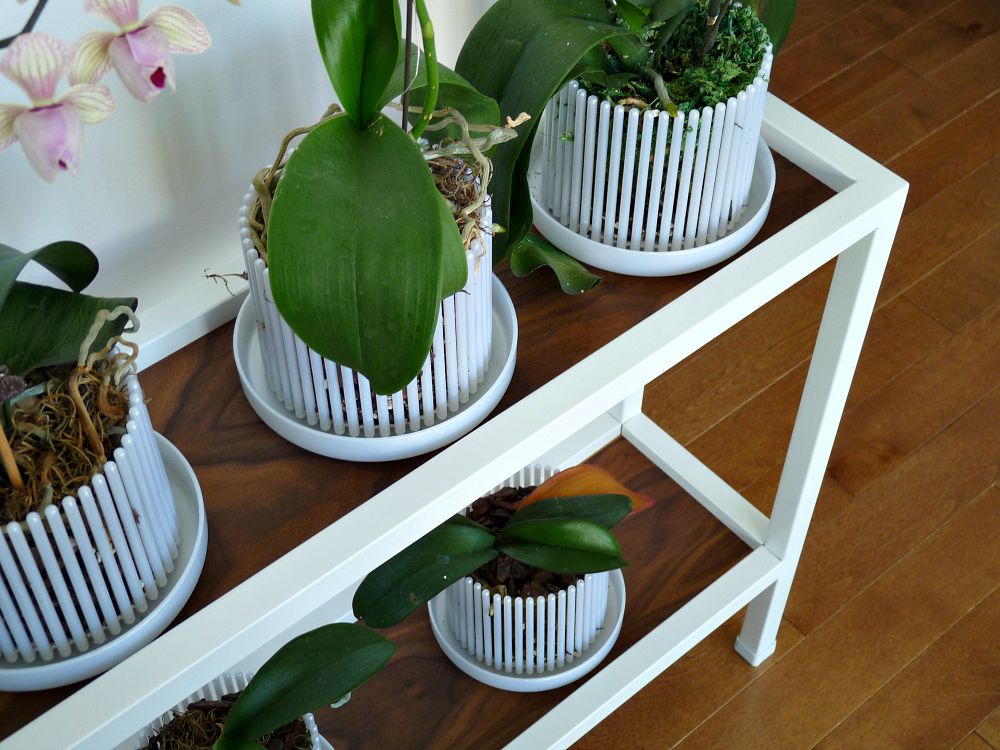 This table plant stand used to have white shelves. The owner wants to redo it for a more natural look.
And she just does the follow. She removes the white shelves with plywood planks with natural wood patterns.
The simple hack transform her plant stand instantly. It feels warmer than before.
7. Retro Iron Wire Plant Stand with 50s Vibes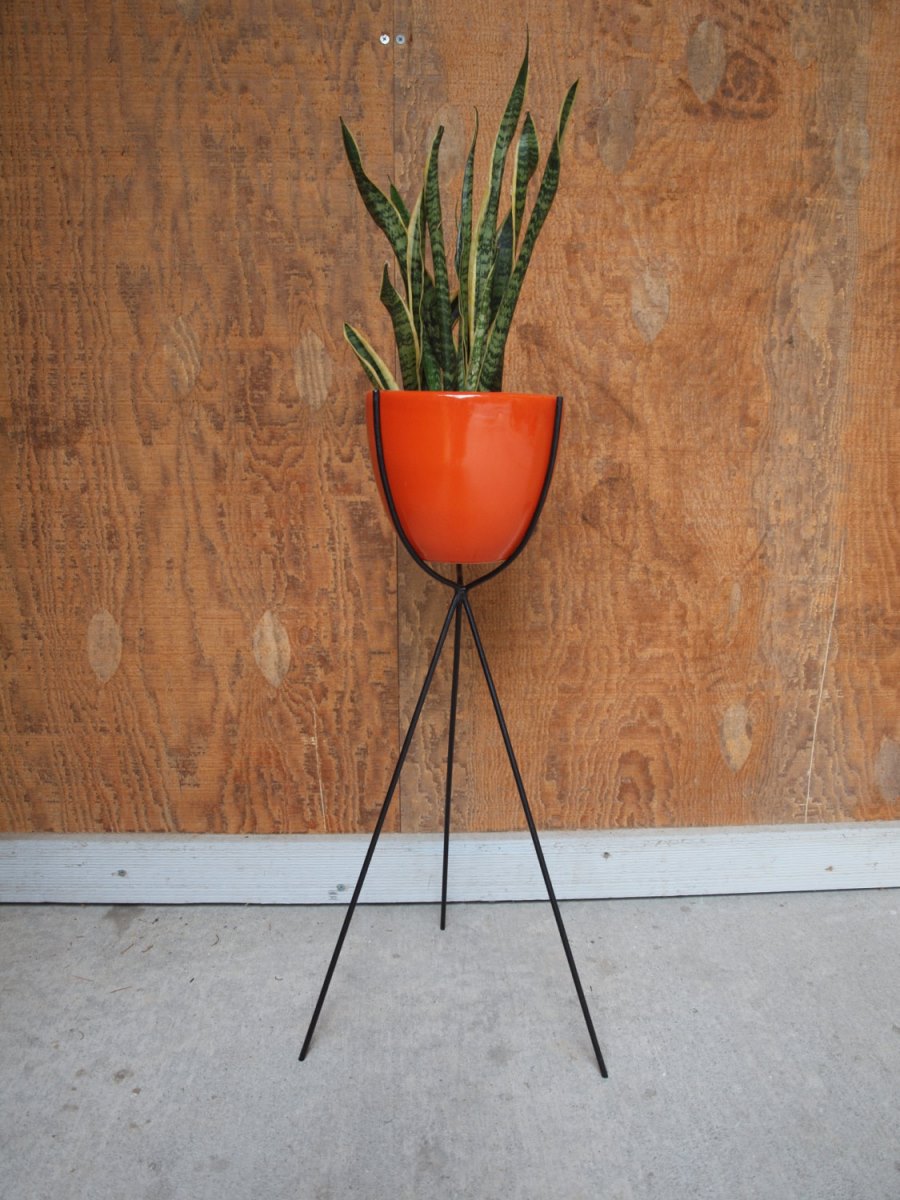 As the contemporary people love to have the 50s styles back, here's a DIY plant stand that fits with a retro 50s style.
This plant stand only uses iron wire as its main materials. If you have basic welding skills, this project will be your next easy project.
Add an orange pot and snake plants on it. And you have a chic 50s plant stand.
8. Easy Raised Plant Stand with Dowels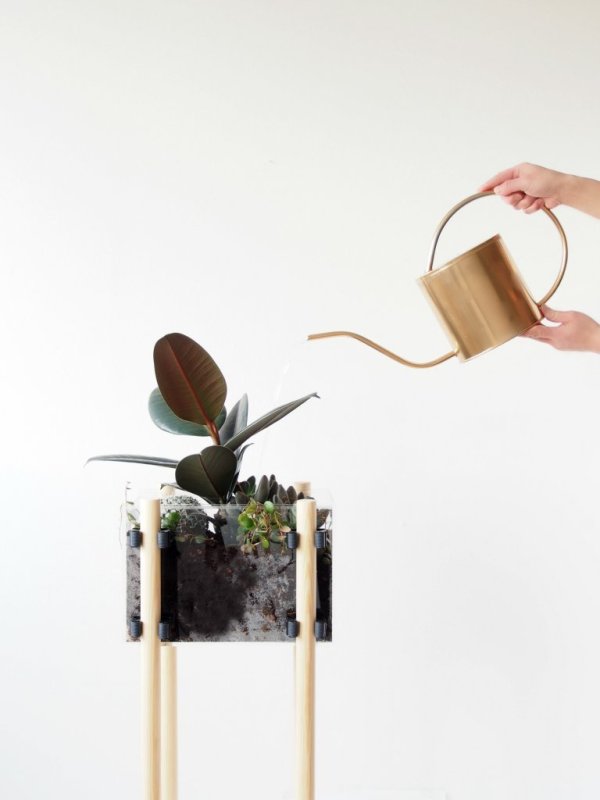 A combination of wood dowels and acrylic will satisfy your hunger for an awesome Scandinavian plant stand. Like to have one?
Materials you need:
• Four round wood dowels
• A sheet of acrylic. For practical purpose, any acrylic box will do. Better still, find a NOMESS acrylic box.
• Eight wall-mounted clips plus their bolt and washer
Tools:
• A driller
How to make:
• Drill two opposite sides of the box. The holes resulted are for the clips to hold.
• Set the clips on the previously drilled holes.
• Once the clips set, insert the dowels –just like the picture.
• And you have a chic Nordic plant stand.
9. Outdoor Folding Plant Stand Plans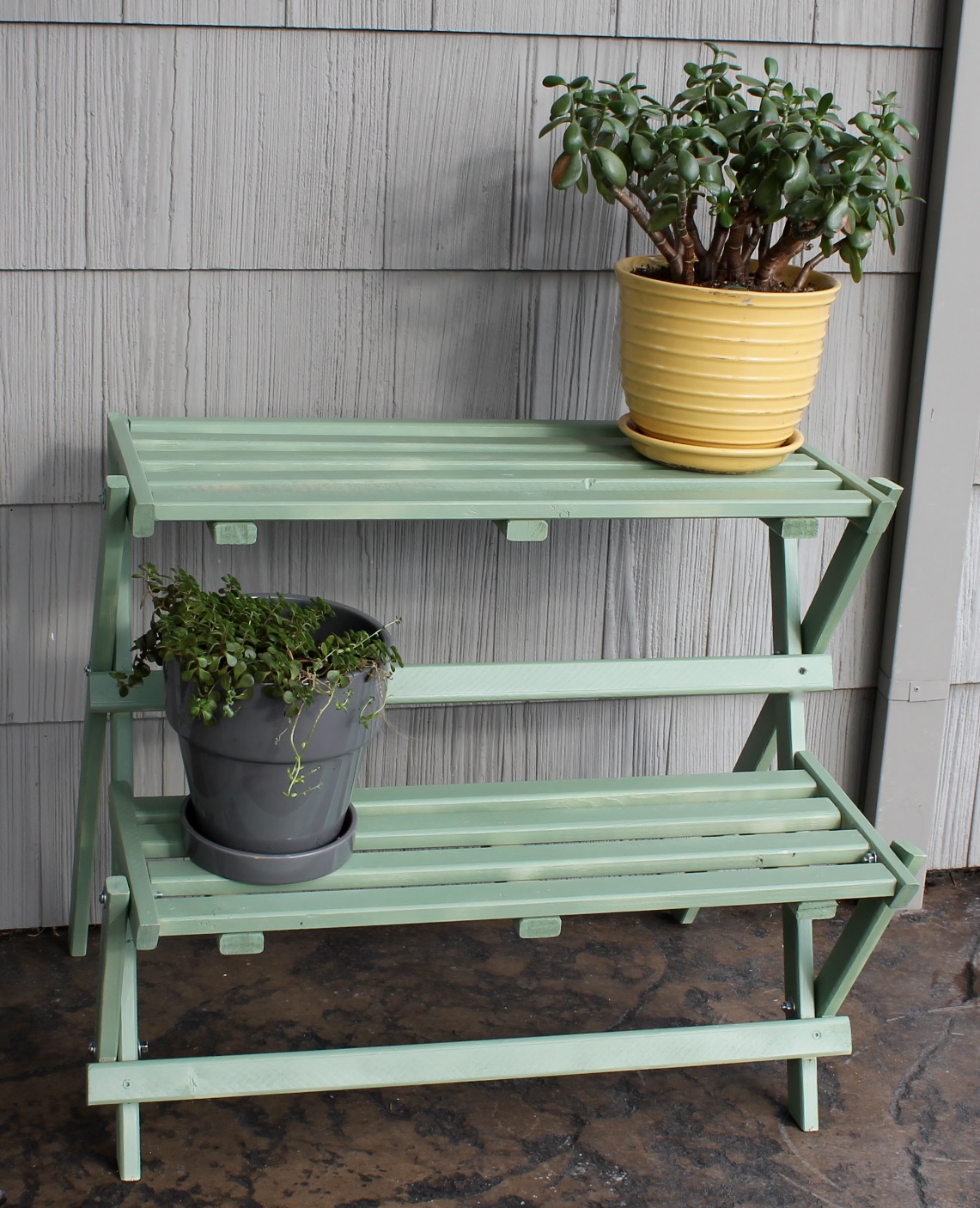 Don't want to have a fixed plant stand? Easy. You need a portable and foldable. This Ana White collection is a good start.
Like to replicate it in your personal DIY project? Possible. Though this will be more challenging than other project in this list. But you like challenge, right?
10. Hack an Ikea Stool for Retro Plant Stand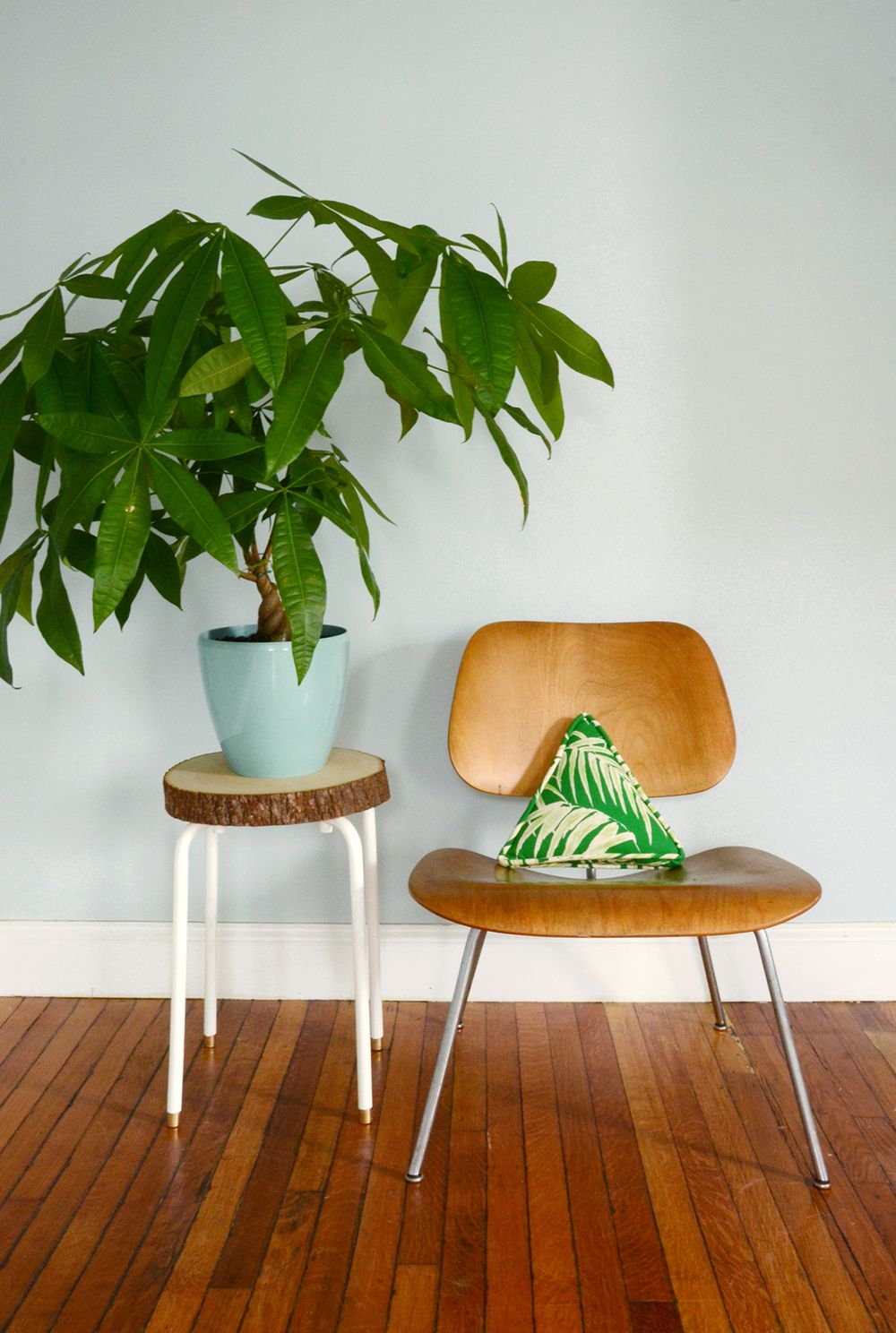 Meet a simple Ikea hack again. This time you want to makeover an Ikea product, the Marius Stool, into a piece of charming retro plant stand.
For this project, find a slab of wood cut with diameter just a little big than the stool's top. No need the rough edge, just finish it with clear finishes.
Screw the slab onto the top stool. That's it, your charming plant stand is ready.
11. Outdoor Storied DIY Plant Stand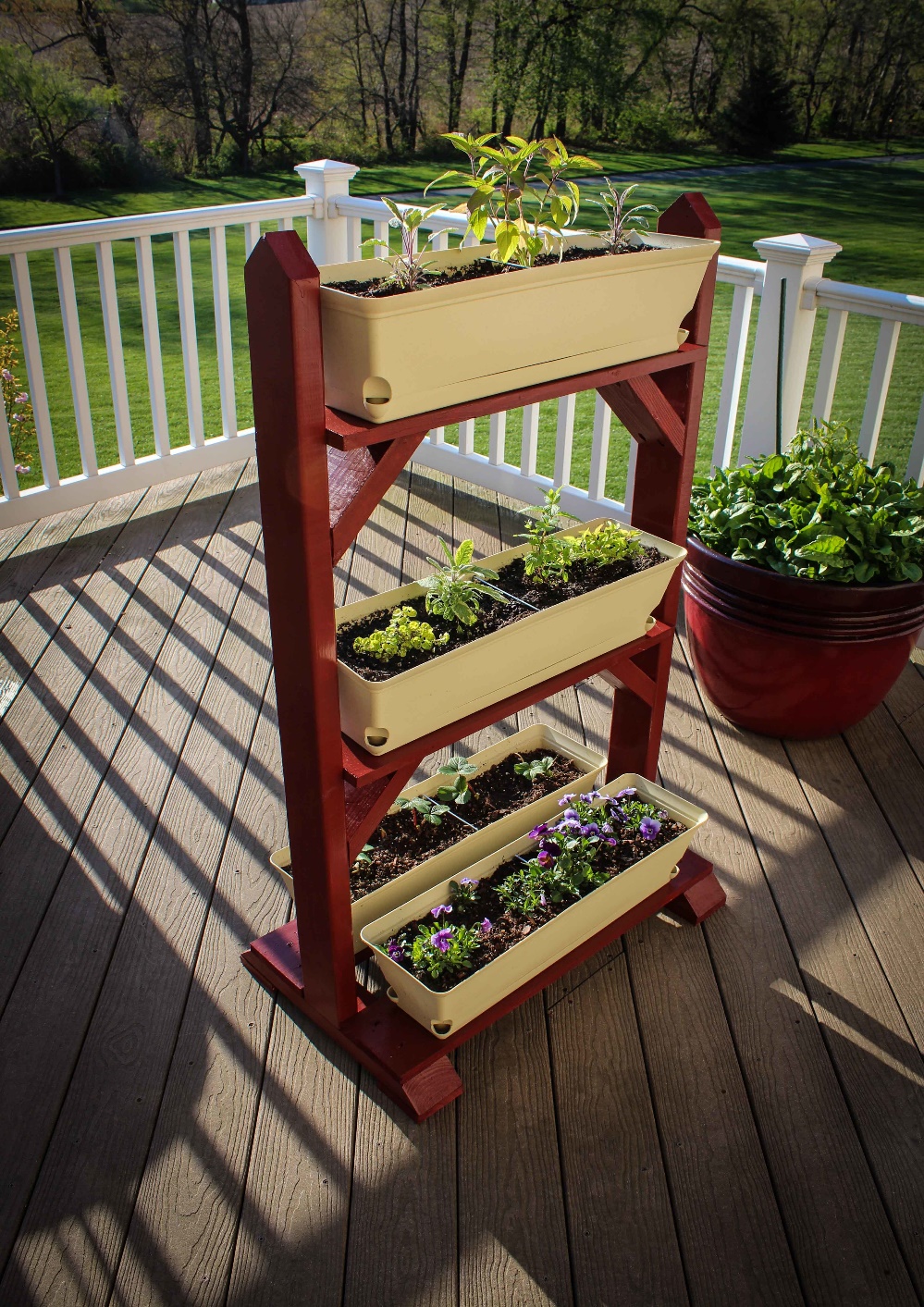 Not only a building has multi story floors, this plant stand also offers you a multi-story plant stand. Seeing the design, we sure you can build it yourselves.
Any woods, reclaimed woods, or even plywood should do you good in this project. Just find the right planter boxes.
12. Cheap Wire DIY Plant Stand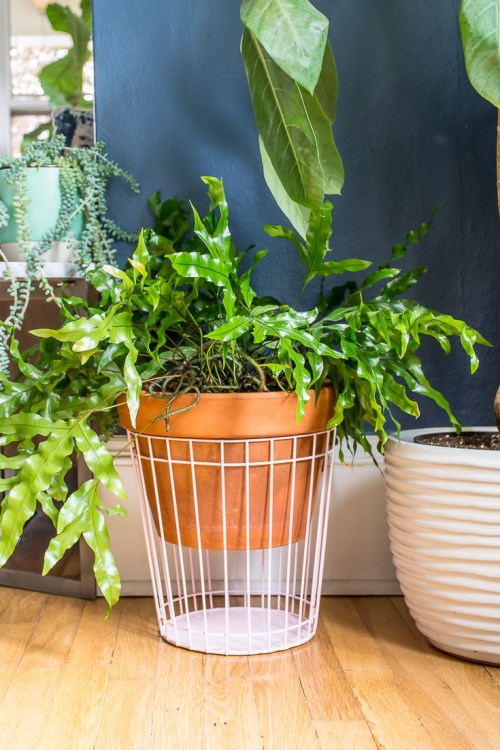 All materials around you are sources of inspiration when it comes to making a plant stand. And so you make this plant stand from wire wastebasket.
Yes, it's a regular waste basket you purchase from your favorite store. Add a pot of plant and, there it is. A chic minimalist stand plant.
13. Elegant Indoor Stand Plant with Three Legs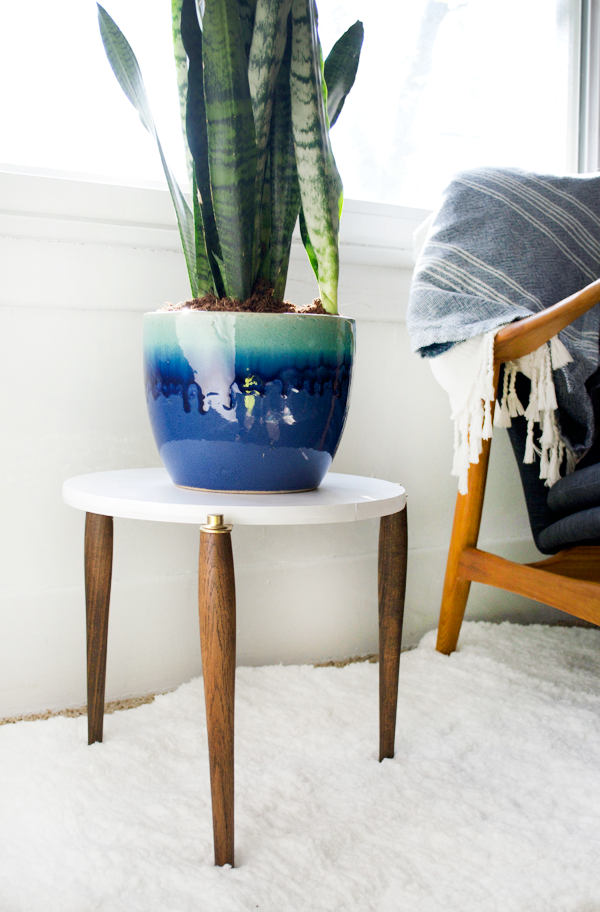 A rustic beauty promises warmness to an urban living space. Here's how you add a splash of rustic-ness into your room: gives it this plant stand.
It combines round white marble-like top and three classic-sculpted legs. And you have and elegant rustic indoor stand plant.
14. Simple Bamboo Stick Hacks for an Exotic Plant Stand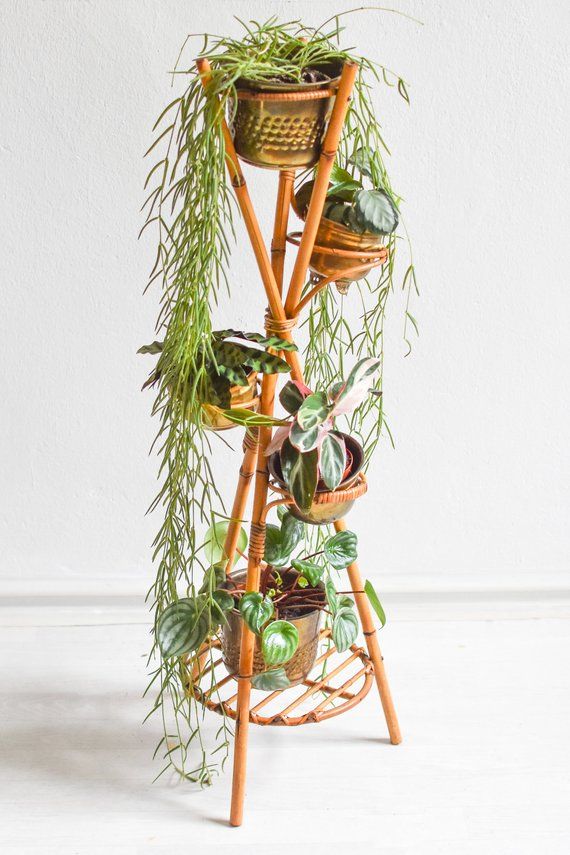 Need a calm serenity of Eastern atmosphere in your house? Bring in this bamboo plant stand. You can also build this stand as well.
It has simple design, and the materials are readily available on any craft store around you –or you could grab it easily via online.
15. Reclaimed Wood for Plant Stand, Table Style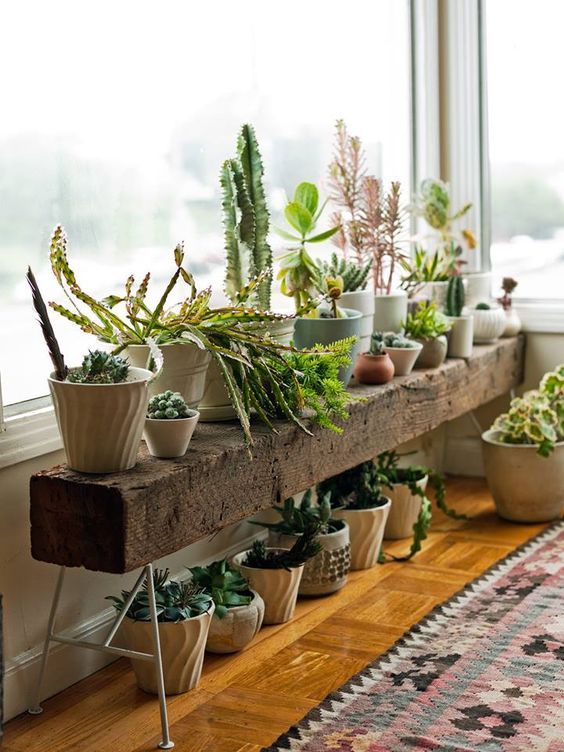 If you still in need of natural touches in the living room, then have the unused wood log in the barn works for you. Let it be your new barn style plant stand.
See? For this DIY plant stand project, all you need is 2 sturdy metal stands. You don't even need to smooth the logs, for its naked beauty is enough for your barn style penchant.
16. White Plant Stand for Minimalist Living Room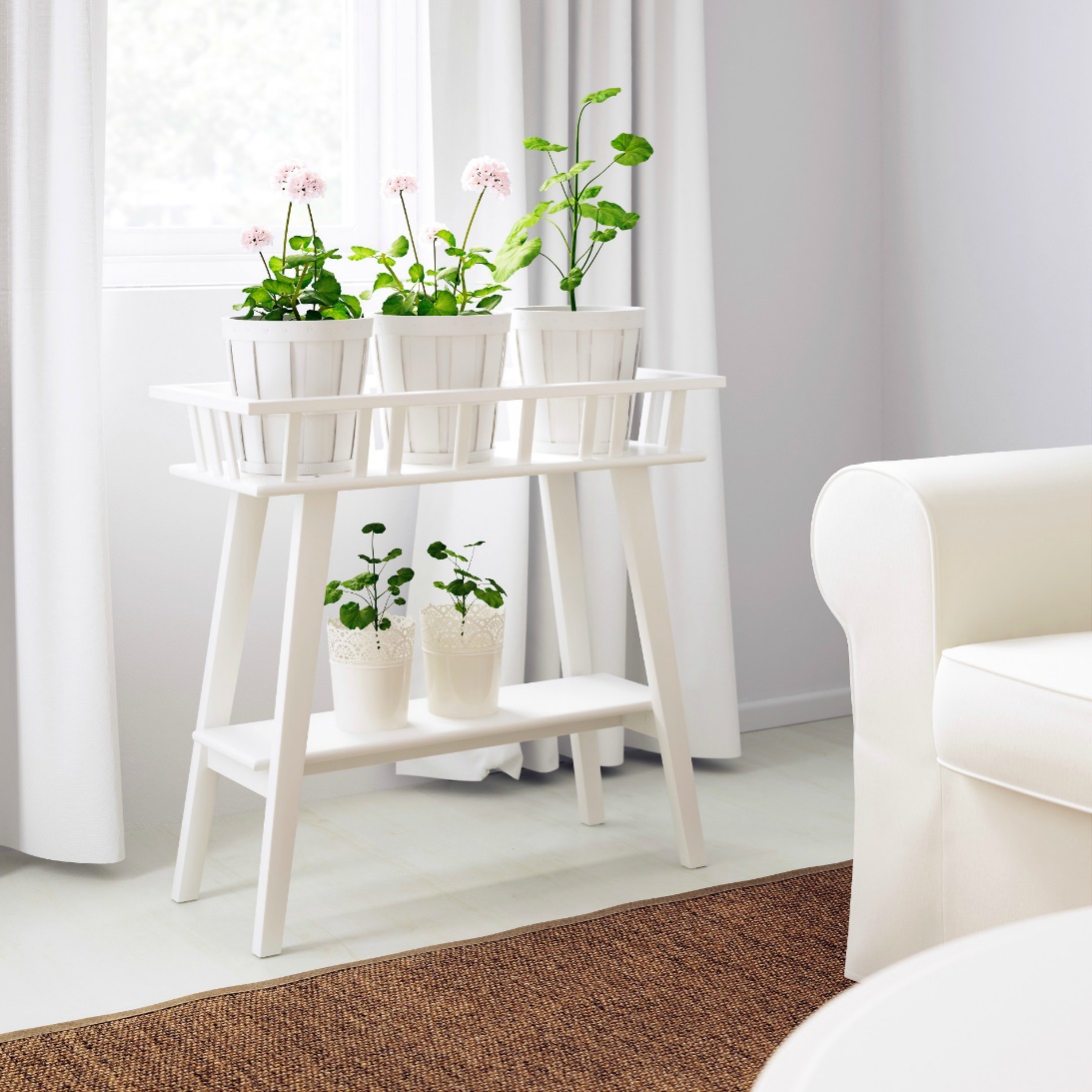 White is neutral. It also warms the heart, mainly if you have a better room lighting. The room looks larger and fresher as well.
And most of all, white provides great background for indoor plants. A right plant stand, like the picture, only complement to them.
No instructions needed for this plant stand, just paint it white for the plants to stand out stunningly.
17. Easy Retro Wood Plant Stand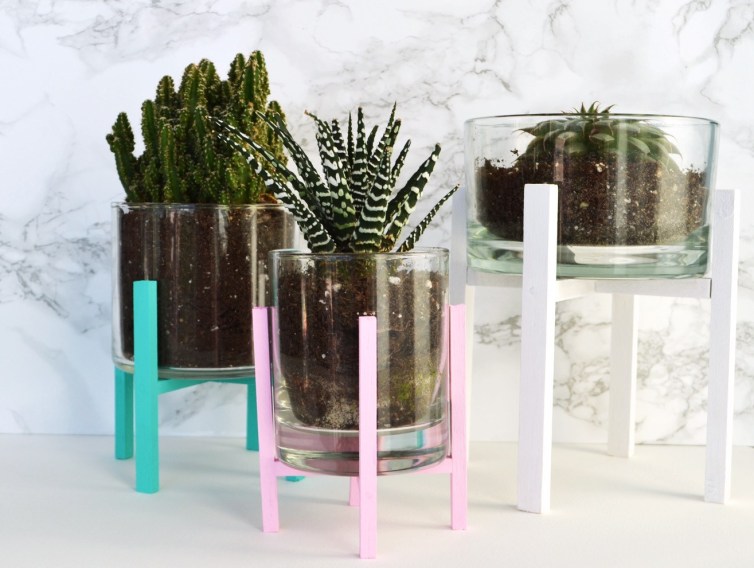 As retro 50s-70s styles combine well with almost of contemporary styles, these retro wood plant stands are no exception.
To thicken the retro look, these stand has various soft-toned colors which will remind you to a cottage living rooms atmosphere.
For the contemporary look, put glass or acrylic planter boxes on them.
18. Minimalist Plant Stand, Scandinavian Style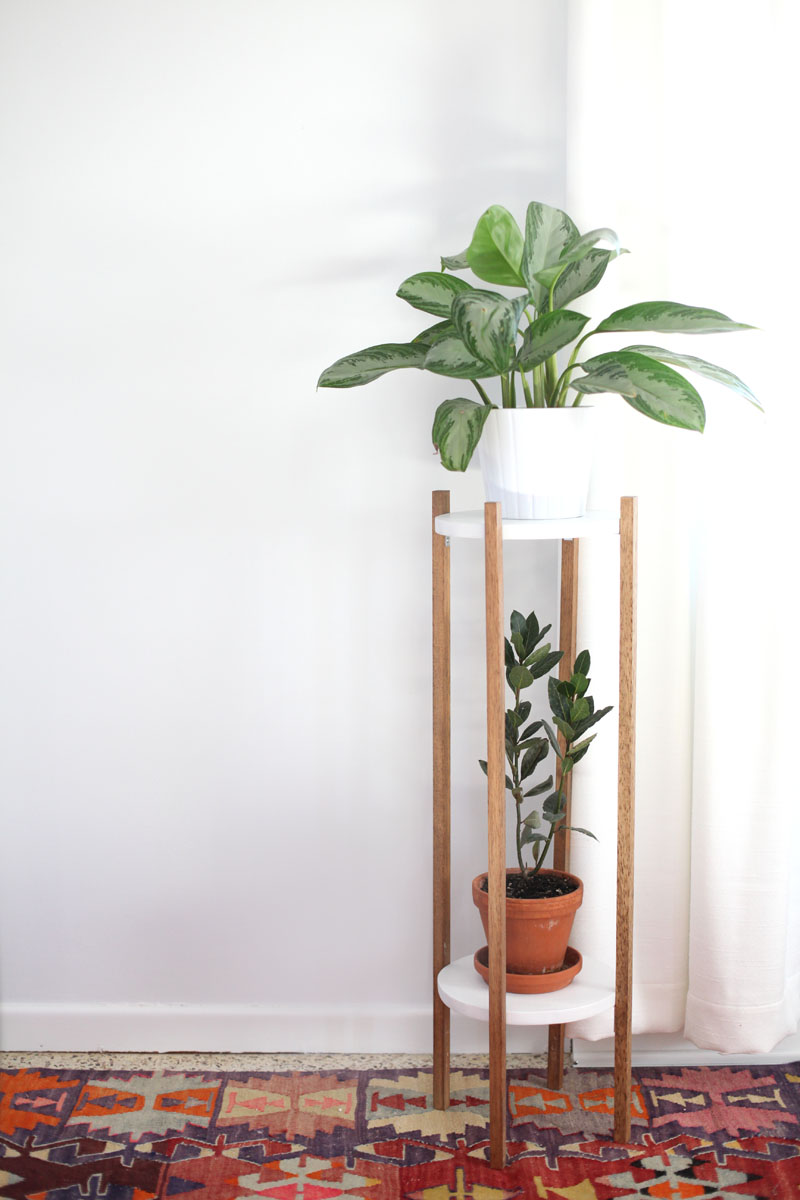 Don't let the corner empty. Fill it in with this double deck plant stand. It's slim and having two shelves for plant/flower pots.
Again, if you want to build it yourselves, you need the wood dowels. Other materials are 2 round woods for the
shelves and eight L joints to fit them onto the dowels.
19. Easy Wood Slice and Metal Pin Plant Stand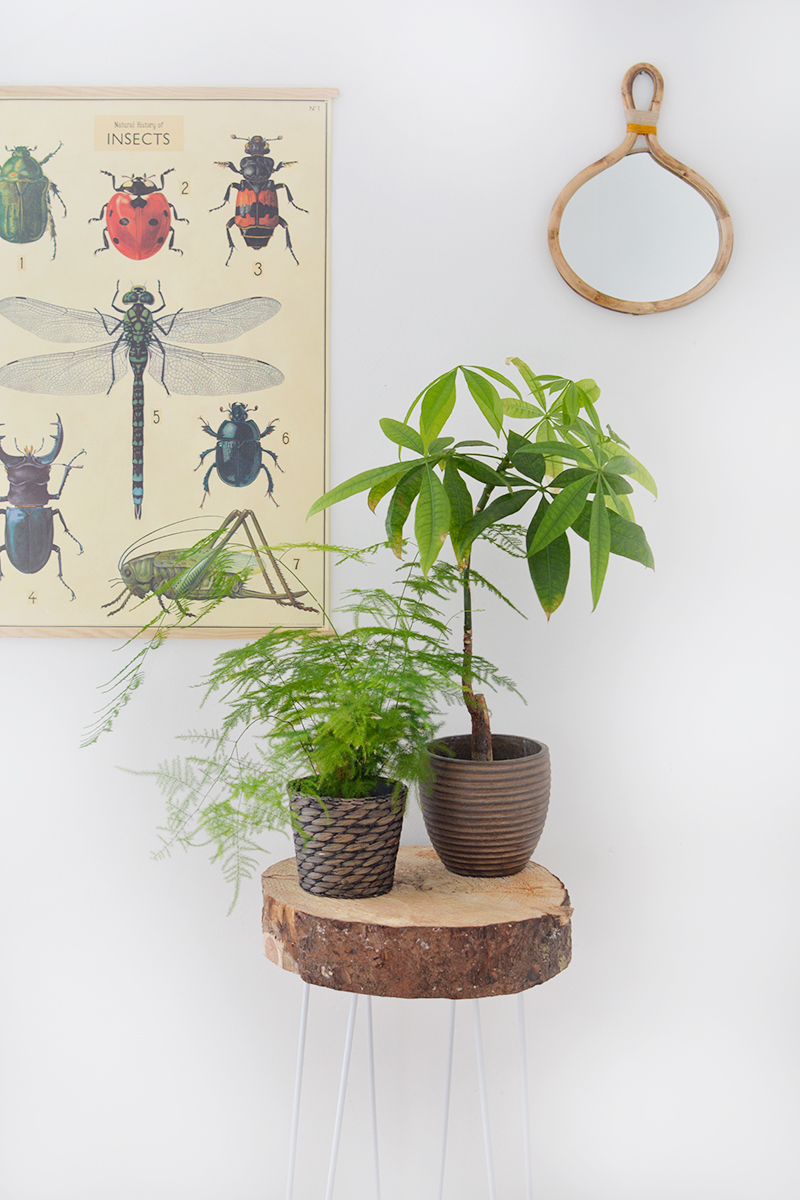 Now that metal hairpin structures in vogue, you should use them for the plant stand as well. Still remember the wood slab hack on the Ikea stool previously? The project will be similar.
The difference now is about its legs. For this project you need the hairpin legs, online stores provide them for you.
Screw them onto the slabs. That's it, you have this chic Mid Century plant stand.
20. Minimalist Wire Plant Stand Plans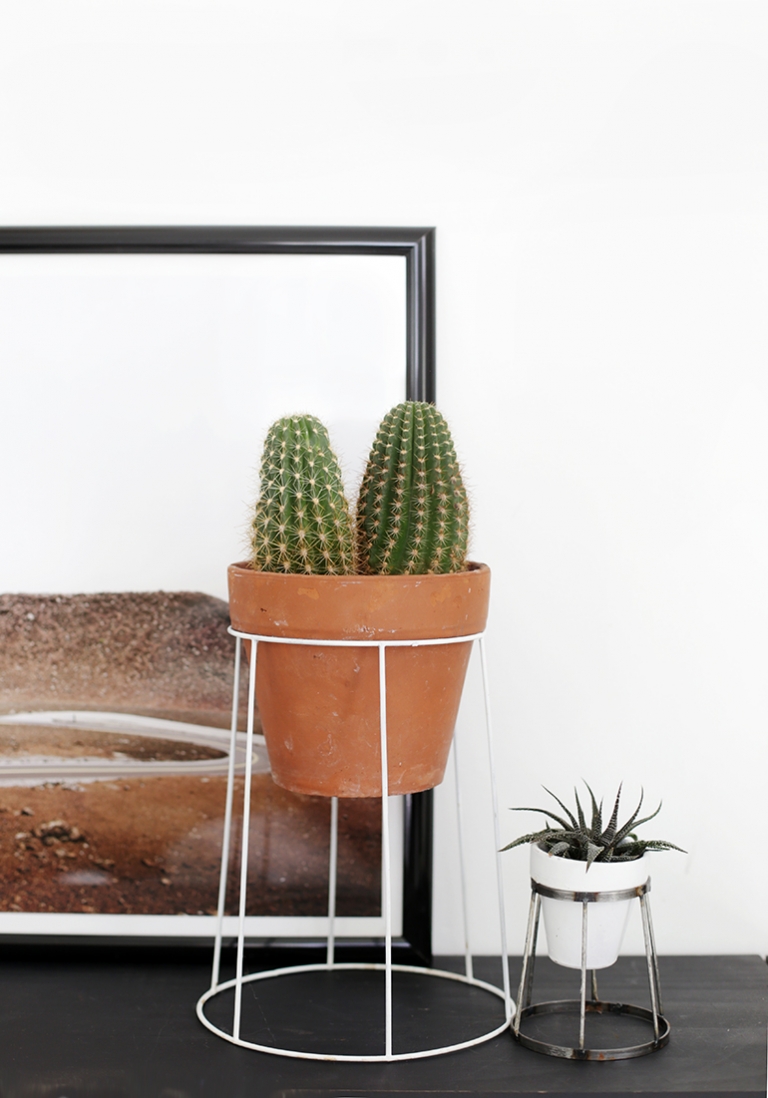 Potted cacti or snake plants should have their proper stand to maximize their presence in the room. These plants stand should enough for them.
These plants meet a minimalist requirement: the stands show off the plants without overwhelming them with their light constructions.
21. Tripod Adjustable DIY Plant Stand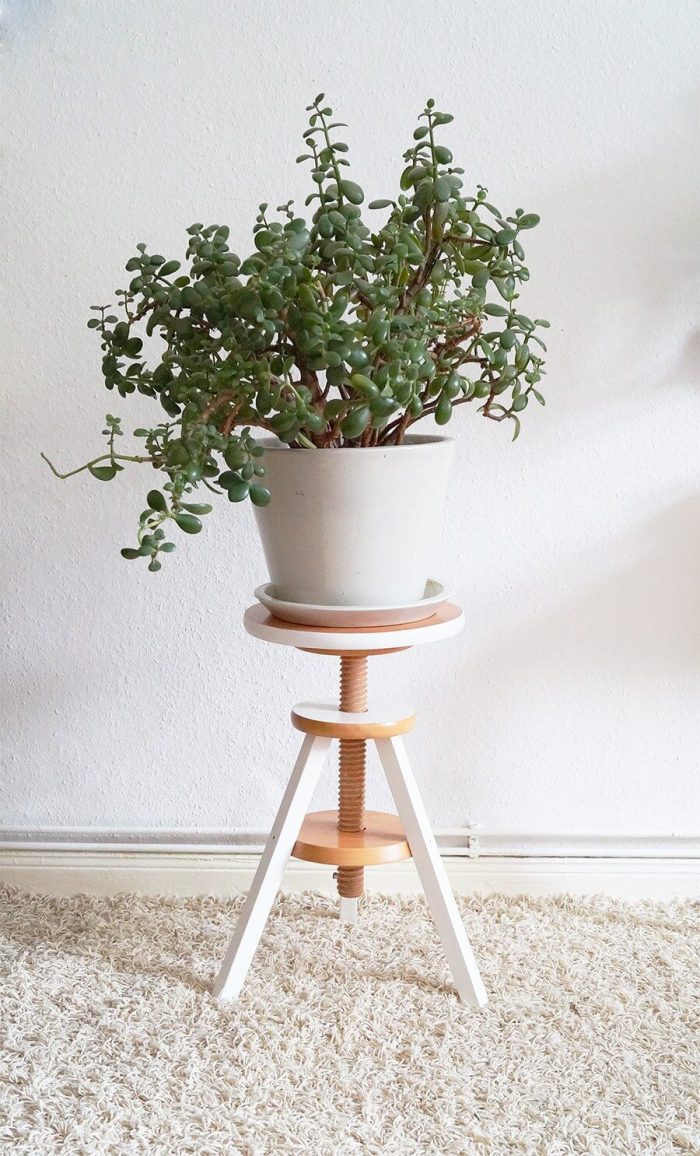 Just for an inspiration, this plant stand is adjustable. You adjust the height by turning its top. It will moves up or down, depends on the way you rotate it.
This indoor plant stand has a threaded stand, just like the grooves on a screw. This special features is the key of its movability.
That's it. Turn the screw for the up and down movements.
22. Cheap Pallet outdoor Plant Stand, Table Style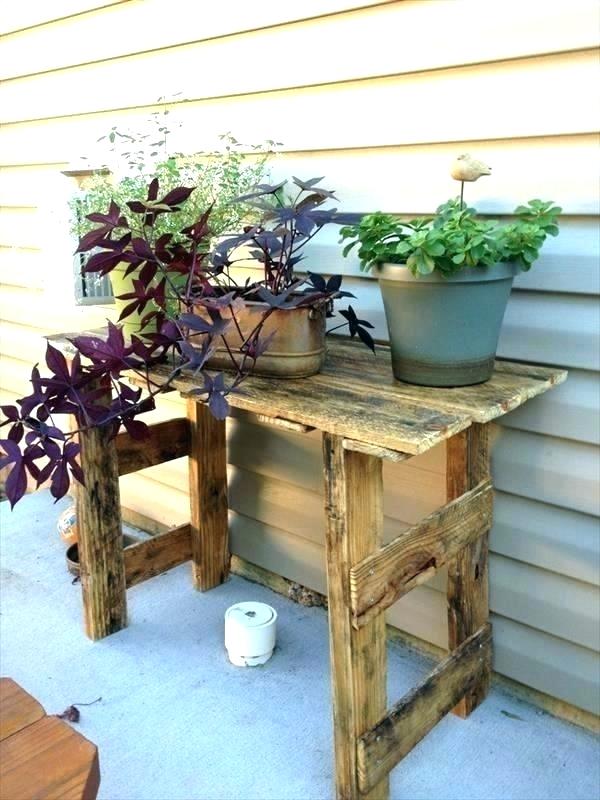 Pallet woods always present in almost any interior or outdoor projects. And now you meet them again in this DIY plant stand plan.
Get your saw, hammer, nails, and start working the pallets. No Instructions needed for this plant stand project, for we sure you're already familiar with this kind of table plant stand construction.
23. Cheap Plant Stand from PVC Pipes in Copper Finish
Yes, we know that copper materials gives a certain idylic and classical vibes to the room. But we also know that sometimes copper are unreachable for some of us.
Here's the hack. Get a length of PVC pipe, don't forget purchase the joints as well (these will be several 90 degree adapter elbows, standard T joints, and pipe caps).
And don't forget the key ingredient, a can of spray can in copper color.
After some pipe cuttings, assembly them into the following picture. As finishing, spray the structure with copper spray paints. And you have this cheap copper plant stand.
24. Indoor Mini Plant Stand with Concrete Planter Box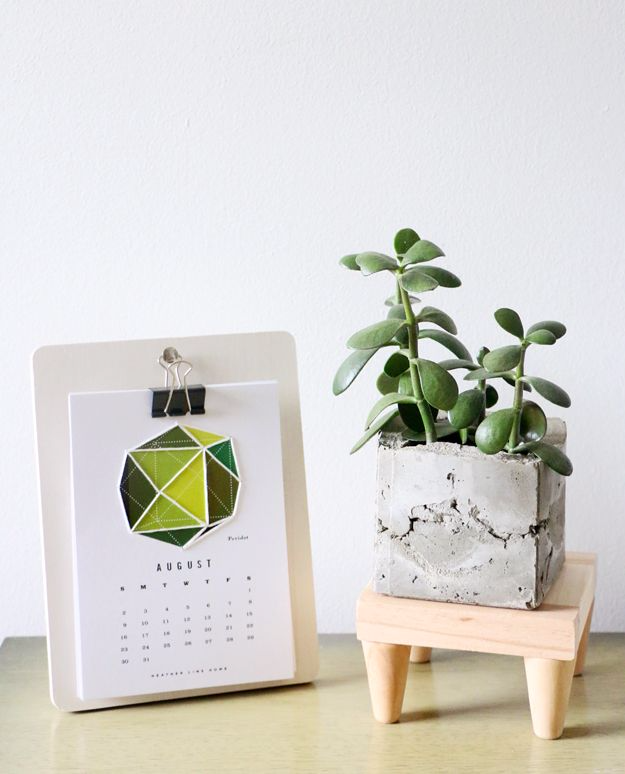 This elegant minimalist DIY plant stand should sits next to your bed, on top of your reading table. It's just cute.
A piece of hardwood, wood stands, and strong wood glues should be enough for this project. For a stronger touch, choose a concrete planter box for the indoor plant.
25. Corner Plant Stand Classic Country Style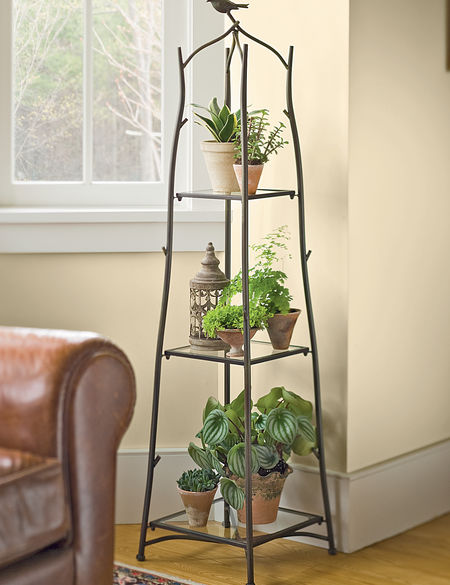 Still in need an elegant plant stand for a room corner? Here we have one with classic country style vibes for you.
This corner plant stand has rustic branch-like features (though the materials are of metals), with a calm bird perches on it.
Glass shelves offset the dark heavy construction, and they works well for a retro corner stand.
26. Minimalist Wood Plant Stand with Cone Plant Container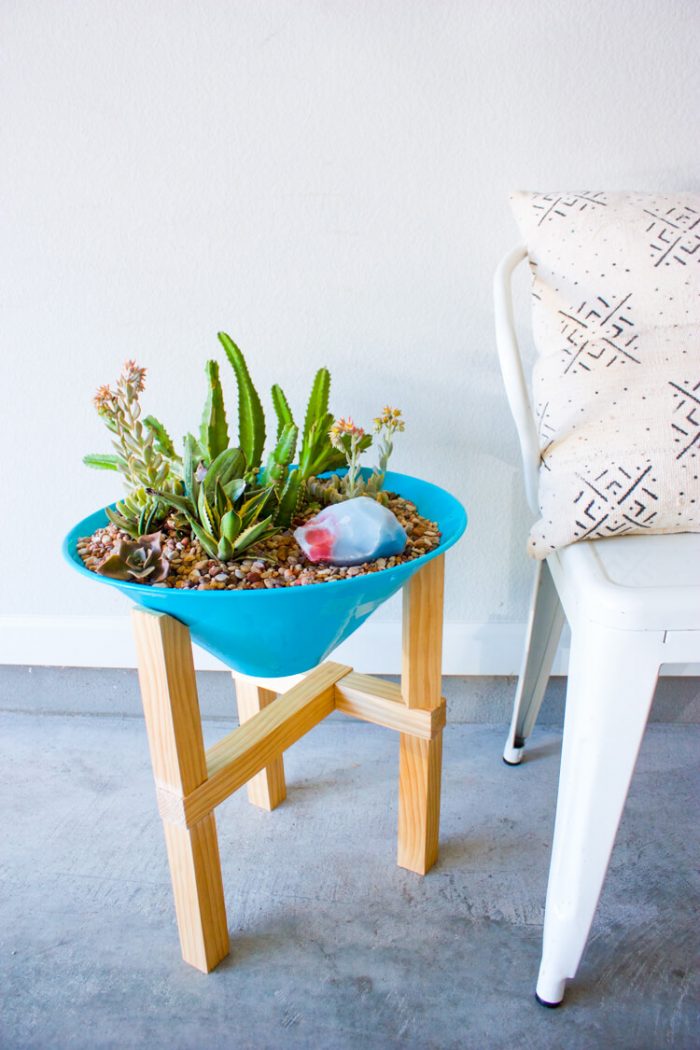 Now if you want to inject a warm air into the room, add stuff from pine woods. Just e small part of the woods can make your room cozy and warm.
Here you have a three-legged pine wood plant stand. The unique part of this stand is its plant container, it's in a contemporary cone shape.
27. Rustic Plant Stand in Ladder Style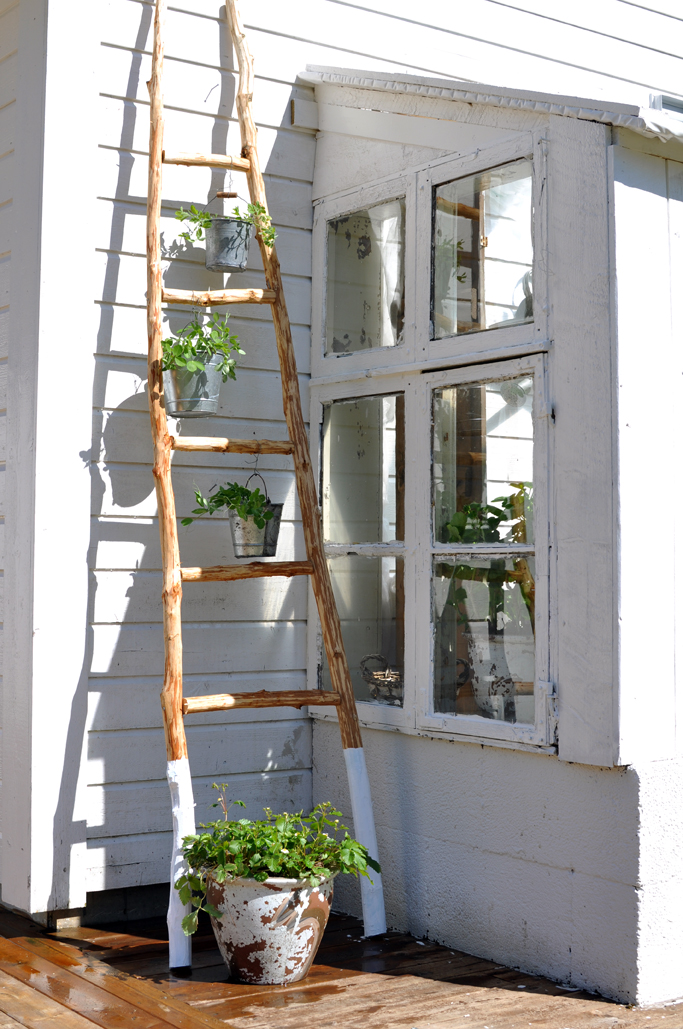 Rural style, country style, or urban style are almost synonymous. They often offer basic and raw beauties.
This outdoor stand plant is a perfect example.
You have plant stand out of raw branches. You don't need to smooth or paint all its parts. The raw finish only makes this plant stand prettier.
28. Slim DIY Plant Stand Wood with Copper Pipes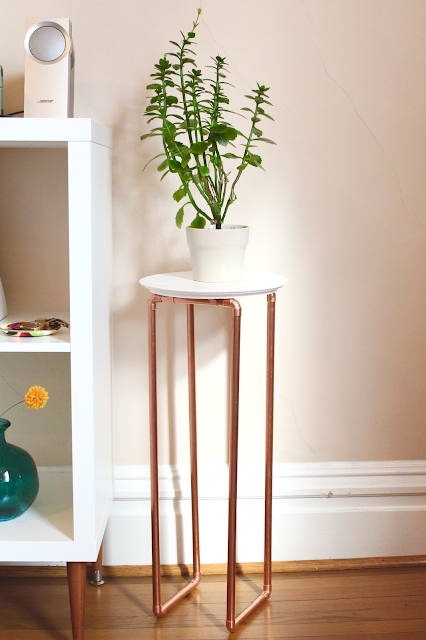 This DIY plant stand project is similar with the PVC plant stand project (see no.23). Only now you use the real copper pipes.
The reason for the material choice is that it's far stronger for this slim and tall construction, aside of looking better as well.
Put a round white top on the structure to finish this project.
29. Metal Plant Stand, Also for Room Partition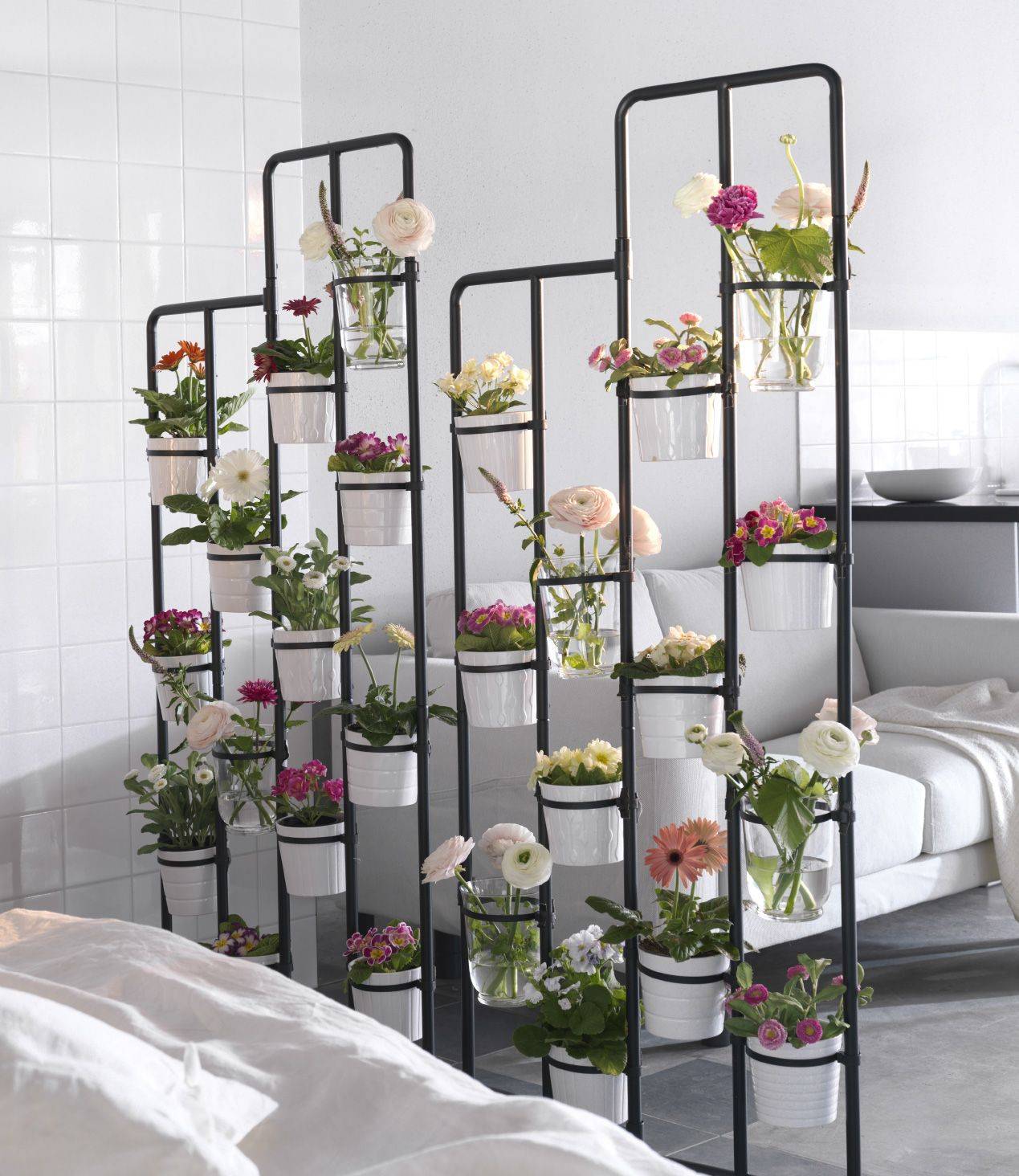 You won't only have this plant stand for shake of a plant stand. This plant stand also works as an open room partition.
This vertical metal plant stand can holds several potted plants/flowers at once, resulting a natural screen which divides a particular area with other areas.
Its black finish add strong accent to the room.
30. Industrial Plant Stand for Indoor and Outdoor Uses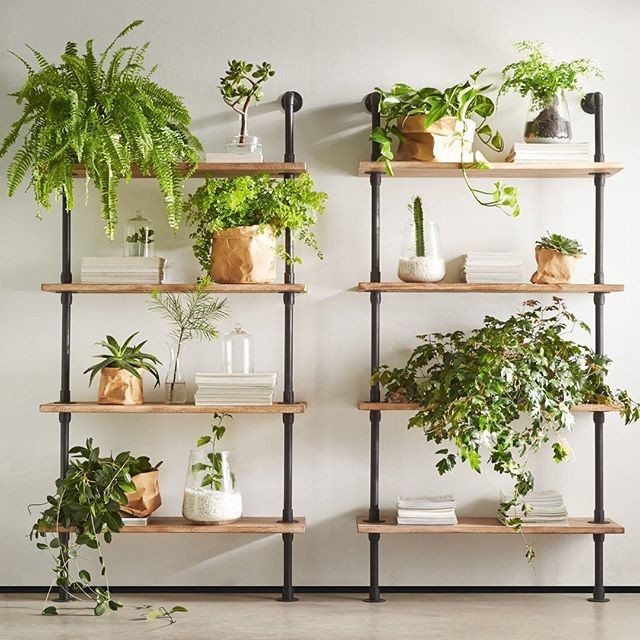 We cannot leave this list without adding an industrial style plant stand into it. And here it is. We offer you here a simple industrial plant stand with multiple racks.
The rugged style makes this stand works well for indoor or outdoor uses. It has no problem in handling various sizes of planter pots and a variety of plants.
We do sure that a list of 30 DIY plant stand is not enough to satisfy all your wants. But we sure that we have offers you some of the best plant stand plans.
We carefully pick them according its materials, finishes, designs, and its usage. As for the styles, this we also strive to cope almost all the styles that the contemporary people love.
Lastly, we do hope that you can enjoy this list of DIY plant stands.