Beach becomes one of favorite holiday destination. Watching the wave while lying on the sand under the sunshine, the water and blue sky, make it perfect for relaxation. Or maybe you can just stay at the beach home aside and staring the blue coast from afar?
Well, talking about the beach, beach theme bathroom would be great transformation for you to keep your relaxation place without going far to the beach in the next city. You can design your private bathroom with some coastal decorations, wall décor, some accessories, and so on.
You know that even without decoration, some of us can spend almost three hours in the bathroom and take it as their second personal room after bedroom. Then can you imagine how long will you stay in your beach bathroom décor? Maybe forever.
Having beach theme bathroom, will give you the feeling as if you're at the beach itself. Utilization of beautiful color, like white and blue would make perfect combination. So, here we are giving you coolest beach theme bathroom décor ideas, special for you!
1. Simple Beach Theme Bathroom for your small space bathroom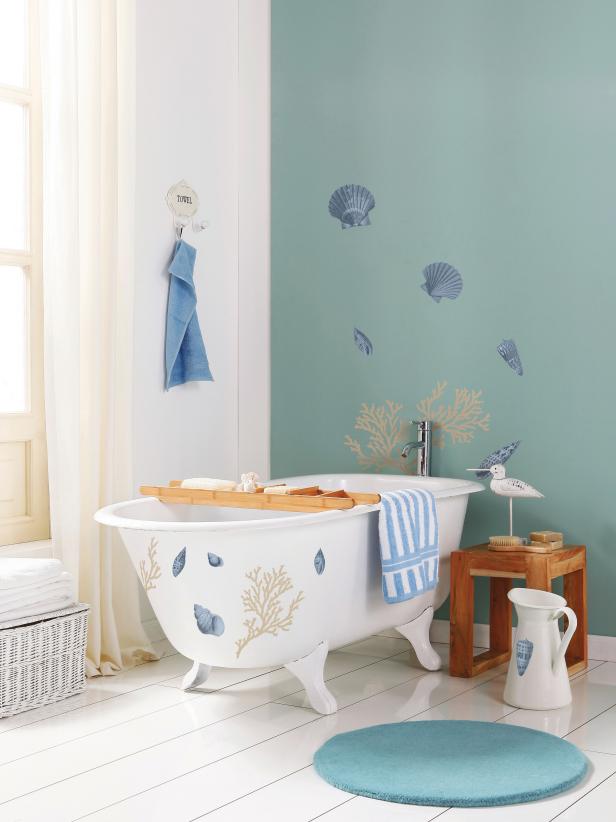 To simply décor beach themed bathroom to get the beach vibe, you can always paint the wall into white and or combine it with blue color. As we know that these beautiful colors are the standard-look we get from the blue-white sky, the water and the sand.
Apart of blue, you can paint the wall in a soothing shade of maritime blue. Place a white bathtub with some seashell-marine life print on it near the window. The wind through the window while laying down on the bathtub will give you a chill, isn't it?
Leave the white breezy curtains, and let the light come through and shine. You can add some seashell and marine-life print and or sticker on the wall as well. For the last touch, you can have sleek white floors that fit perfectly with the blue accents.
2. Beach Style Bathroom In Nautical Theme With Catchy Portholes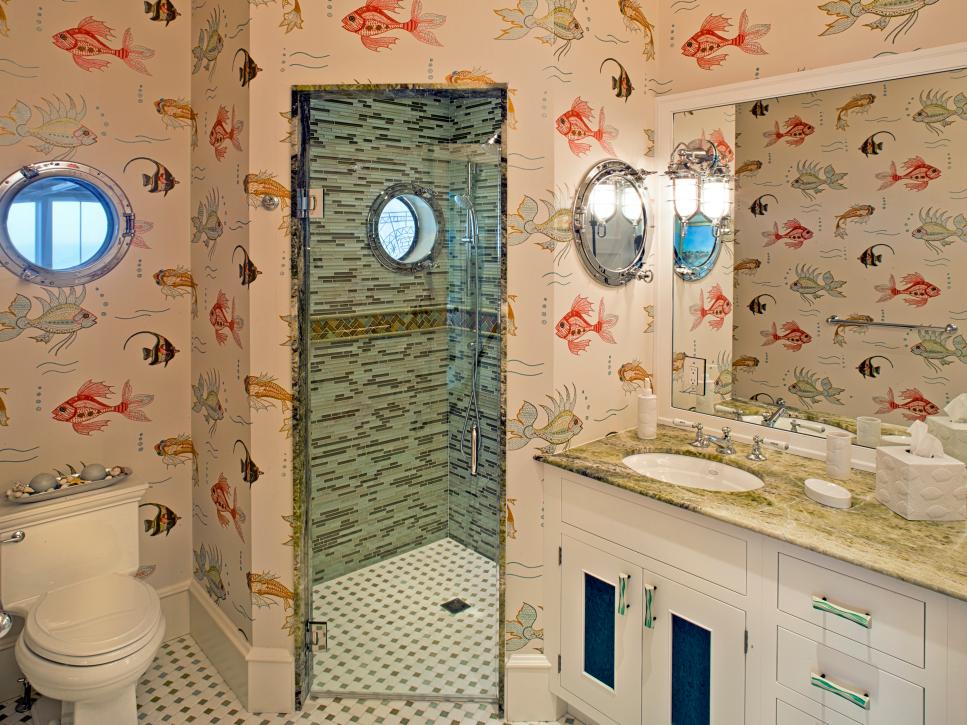 Nautical features in your bathroom? Why not! With the help of wall décor, you can transform your normal bathroom into beachy coastal feel that make you feel so relaxing even only to stand there for brushing your teeth.
You can use maritime-life, swimming fish or other sea-life wallpaper as your wall décor. It gives a youthful feel and a maturity touch in one time. You can leave the floor as white it is or leave a little blue accent on it. Your choice!
As an additional point, you can replace your windows into some port windows and mirror to complete a nautical look. Portholes offer you more privacy as the size and shape of that window. Though, it gives you sense like you're on a ship and swimming with the fishes.
3. Classic Beach Bathroom With Genuine Maritime-Life Touch
Maybe not all of us have the same taste when designing our beach themed bathroom. We just design it as the beach we have in our imagination. Want to have one different classy touch style? May we offer a vintage industrial beach-style bathroom as the solution?
Vintage industrial beach style bathroom will give you simple-classic look but elegant. Placing a classic white bathtub in the corner, near a high-end window is not a bad idea. Paint the wall with soft-blue color will create a contrast with the white floor and the classic bathtub.
Rather than leave it bare, as for getting vintage-elegant vibe you can create like a plication on the wall and place few unique rocks, sea-life creatures, such as sea stars, beautiful sea-shell and arrange it beautifully on the wall plication.
As the last, you may use an old industrial pipe for the shower on the bathtub. The combination of that old industrial pipe and the display of genuine maritime-life creature give you sense combination like in an old home near a beach in Latina tv series, I guess.
4. Paint your own wall to create your Beach bathroom? Why not?!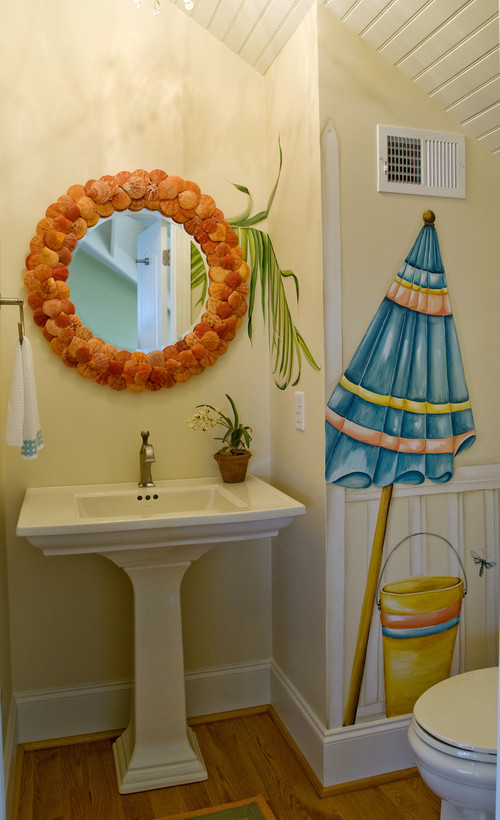 When you think about beach theme bathroom, you probably have various ideas on how to create the space feel like beachy, breezy and sandy using various accessories. Various of styles to bring that beach vibes is also developing nowadays.
Maybe you want to create the beach theme by yourself because you have that artistic talent and you can use the wall as your canvas. Then there you go! Grab your paint or brush to design a maritime look, sea-life creature, or anything related to the beach theme.
For this beach theme bathroom style, if you have no such of skill, you can always hire a muralist to do it for you. Or else you can decide what kind of look that you want in your bathroom and find a wall sticker which is easy to find now.
As it's artistically created, you may place this look for your guest or the kid bathroom. Likewise combining the accessories needed together with the mural or wall painting make a great combination to set beach themed bathroom.
5. Beach bathroom in wall decorative focus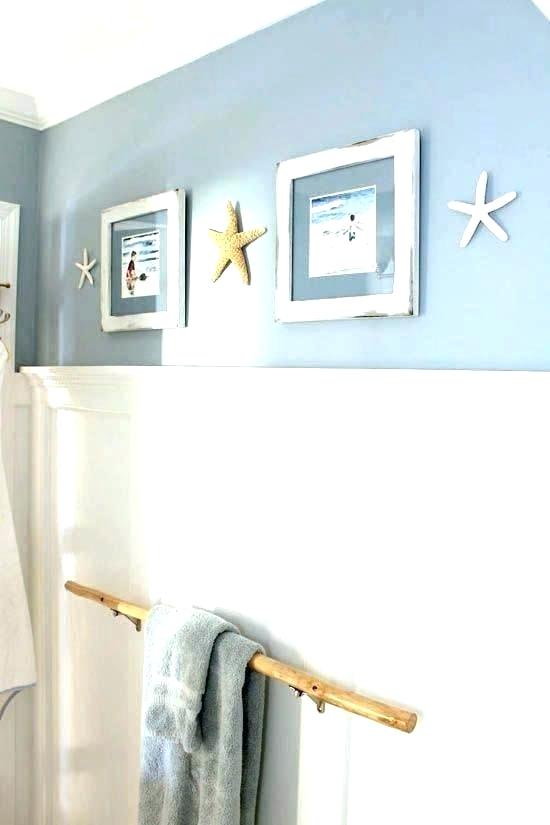 Don't want to go too much for transformation but still need the look for beach themed bathroom? Well, we can get it by redirection the focus of transformation then. No worry, it won't make bathroom beachy less. You still obviously have that vibes, beachy freshly vibes!
You may divide the wall into top blue part and white bottom part as you know the key for beach look are those two main color. You may give it blue, shade blue, tosca blue, and so on. In addition, you can set the floor into sparkling blue that represents lovely blue ocean.
Don't leave the wall bare. Place some beach-inspired pictures on it or you may hang your photos at the beach. Along with starfish sticking near the picture to evoke water life. Make the wall as the eye catcher of the room by sticking any maritime inspired pictures and live it!
6. Soft Blue Color For A Soft And Elegance Beach Style Bathroom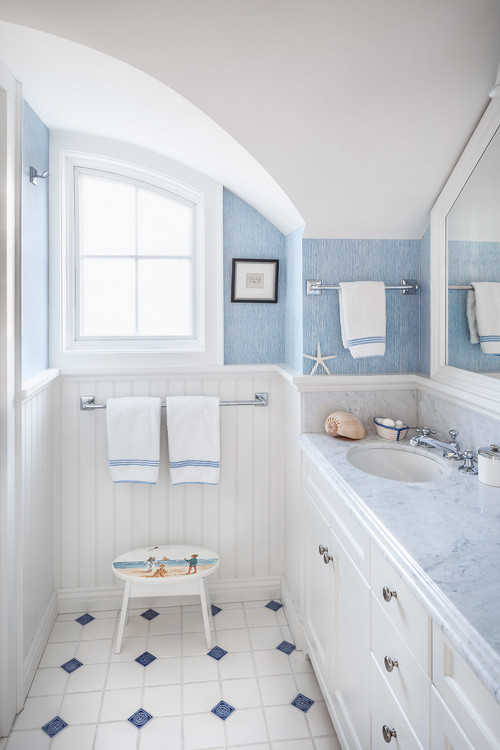 Honestly, soft blue stuffs give us a slight pock of our heart out. Its calm vibe that come along from the color itself, then try to combine it with a beachy look? Dang! It would feel like a room made for a goddess at all.
Soft shades of white and blue backdrop will transform a room into absolutely beachy look for instance. As the rest you can take it lightly. Even ordinary things will not make any significance different look along with this setting.
Get a window of course, to get you lots of natural light and exposure. Also, you can get a big seashell and star sea for more beach atmosphere. For completing the look, you can grab a painted stool step and a small picture framed near the sink.
7. Simply Ocean-Inspired Stuffs for a Beach Theme Bathroom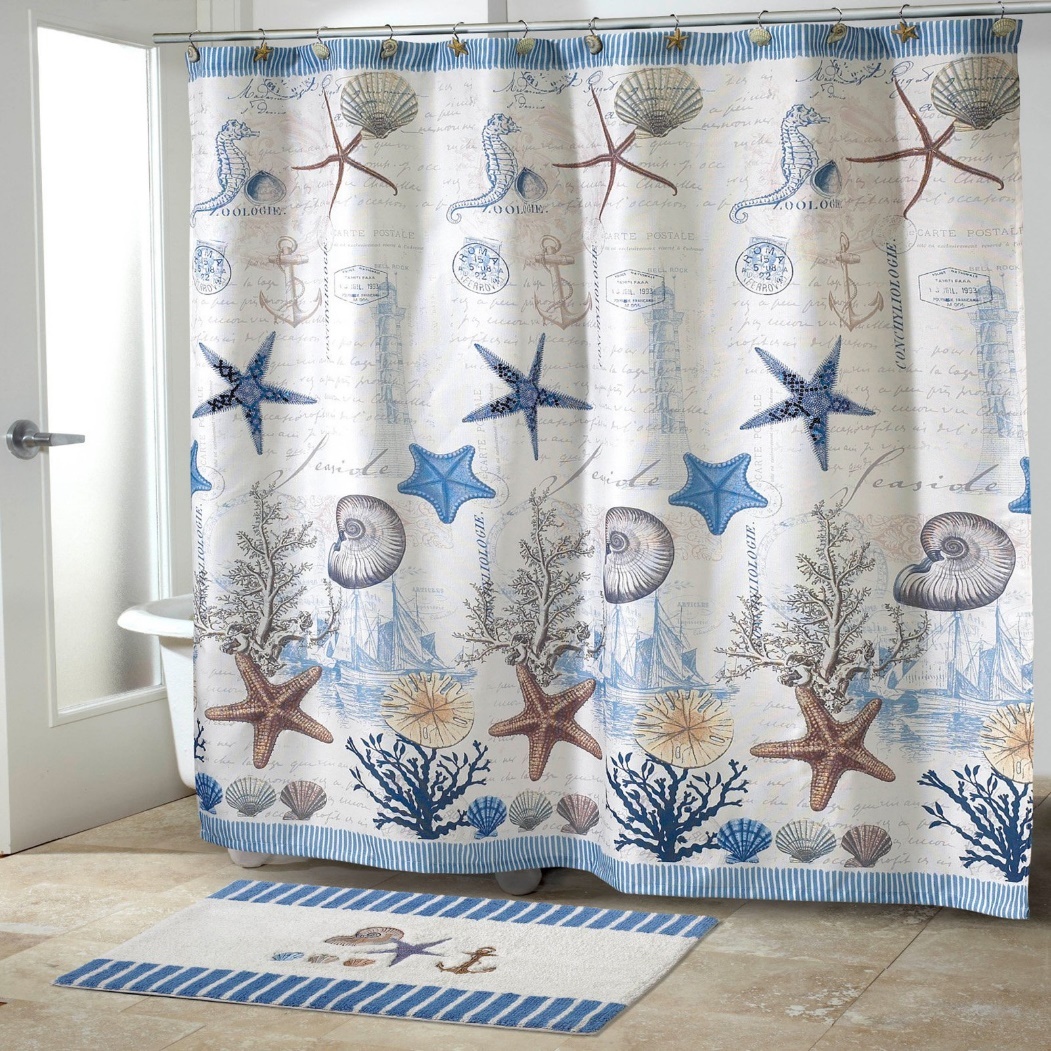 One of the very first things in the bathroom which catch your eyes is the shower curtain. It's a large canvas that can set the tone for whole of the room. Then as the next thing you need to pay attention is the foot rug.
Goes along with beach theme bathroom, you need to choose nautical-inspired rugs and curtains. Serene feeling of the coast will be caught easily with these two stuffs. For the rest, you can simply put it bare in mostly white color wall.
Well, stick with the beachy colors, blue and white are majority a must for rugs and curtains choice. For the pattern, ocean-inspired, sea-life, sea shell and sea star are mostly easily found in the market for a beach theme.
8. Rustic Touch for Beach Bathroom Theme Backdrop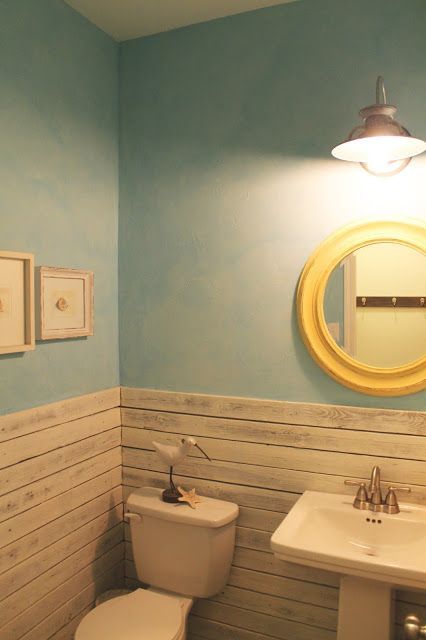 Give something new for your rustic beach themed bathroom. As the basic colors for this look are white and blue, you can use pastel blues here. Instead of painting white for the rest, you use rustic wooden boards.
That wooden side board, give a new combination look for the bathroom. Along with that, you can place a round mirror which looks like a window in a ship, and put a proper lighting over the mirror.
This so called lighting beach themed bathroom is a kind of new style. Combining rustic, old style in a beach theme. This looks totally get you a maximum level serene feeling.
9. Beach Style Bathroom in a Hip Modern Beach House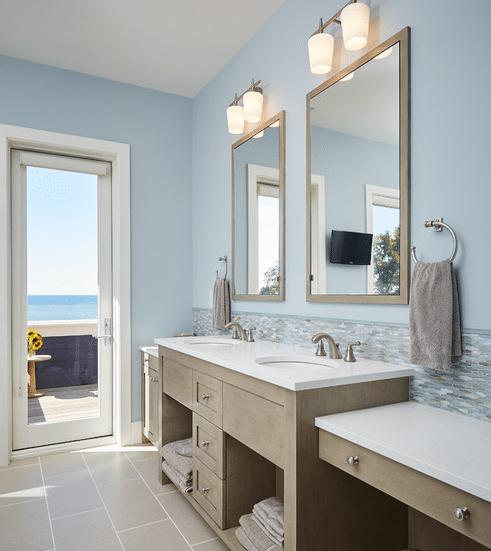 Many of us keep remaining cool relaxation time at the beach and can leave it nowhere. In that case, so then we bring the beach along. Not literally of course, but we come up with lots of ideas to transform one of room, like bathroom, into our private beachy atmosphere space.
Even for contemporary beach house, we can transform the bathroom so it can create a perfect contrast touch for a modern beach themed bathroom. You can keep it remain it modern and elegant with the touch of soft blue for the wall, and direct view of the beach.
A see-through glass door as a way out to balcony with the beach view in front would look so amazing. Serenity itself, even can flow through the glass door in to the bathroom. Place wooden cabinets along with the sink is not a bad idea though.
10. A Dynamic Coastal Inspiration in Beach Style Bathroom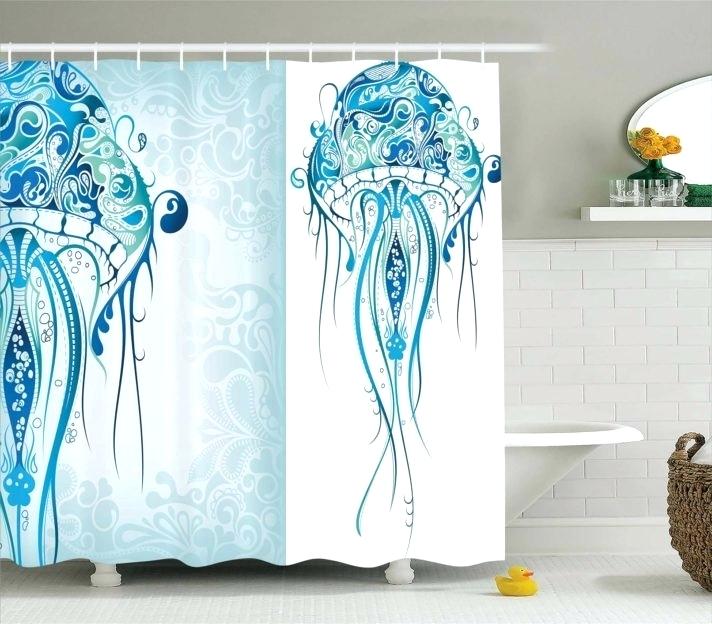 You want to give beachy touch for your modern style bathroom? Let's play with white exposed bricks in your bathroom first. It looks so fresh and catchy with the idea for exposing the brick and paint it white.
Next step for a beachy look is giving a coastal towel hooks along. Back to the basic for ocean-inspired look, you can choose unique hooks which represents nautical life, maybe like seashell hooks, star sea hooks and so on.
As with the hook, you can prepare decorative towels set that go along with the room theme so it can make a good match. Complete the beach themed bathroom with grey shade for the rest of the wall and an oval mirror along with aromatic candles for the room.
11. Calming beach themed bathroom with a splash of classic style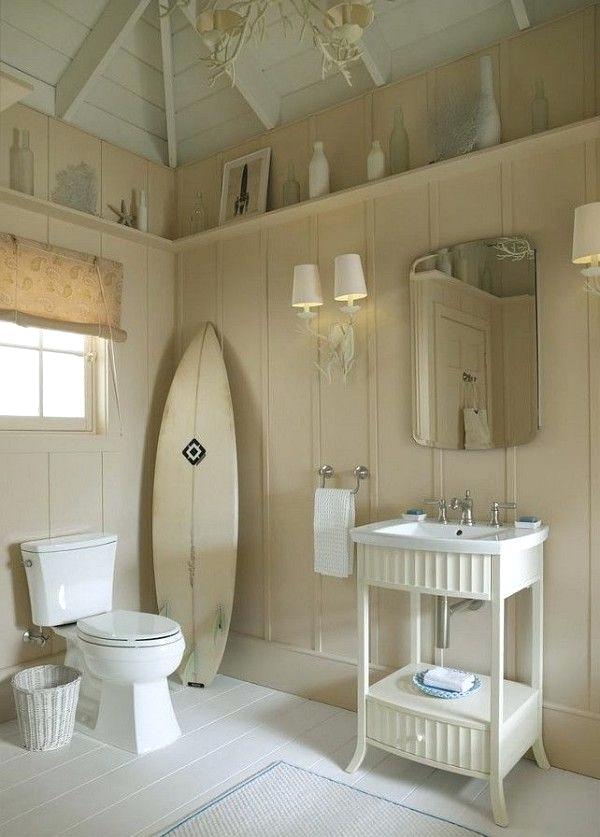 For classic style, calming paint colors become the one of the basic of the style. For transforming a classy look for a beach themed bathroom, you can use crème shiplap wall with wooden white floor as the contrast.
You can set a higher ceiling so that the room look higher and you can save the space as the display for the ocean-life accessories. Place some classic bottles, as we know in the movie, as a media to send a bottle message. Though, big star sea and a small framed picture will be good.
As making it more beachy look, you can get your surfing board and paint it similarly as the wall. This look would be complete with rattan accessories like soap dishes, and rattan clothes basket as the additional touch of the beach to the room.
12. Chic and Affordable Ocean-inspired Décor Accessories for Beach Bathroom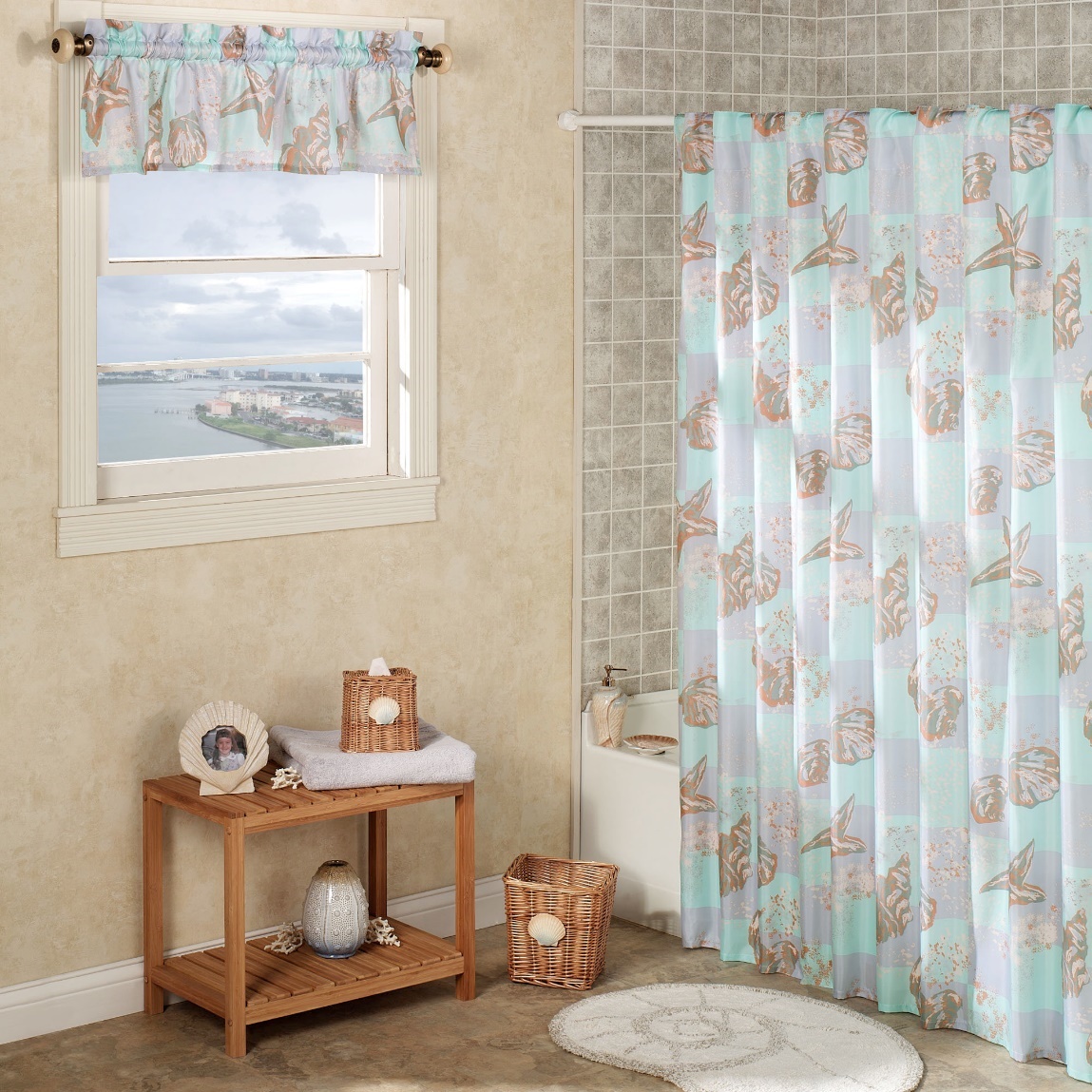 Setting a beach themed bathroom not always stick on a maritime-blue-white wall only. Also, you can give the highlight to the décor accessories for it. To make it not too mainstream, you can set the wall in calming coral painted.
Likewise, you can focus on the shower curtains with nautical-inspired pattern to recreate the serene feeling of the beach. it can be starfish-seashell pattern with soft blue and white color. Though, set a mini curtain for the window inside will be fabulous.
How about the accessories? Well, you can bring some decorative rattan wastebasket with seashell on it, seashell framed picture, rattan tissue holder, along with a seashell rug to add a visual interest while helping with the water on the floor.
13. Tiles as Contemporary Touch of A Beach Style Bathroom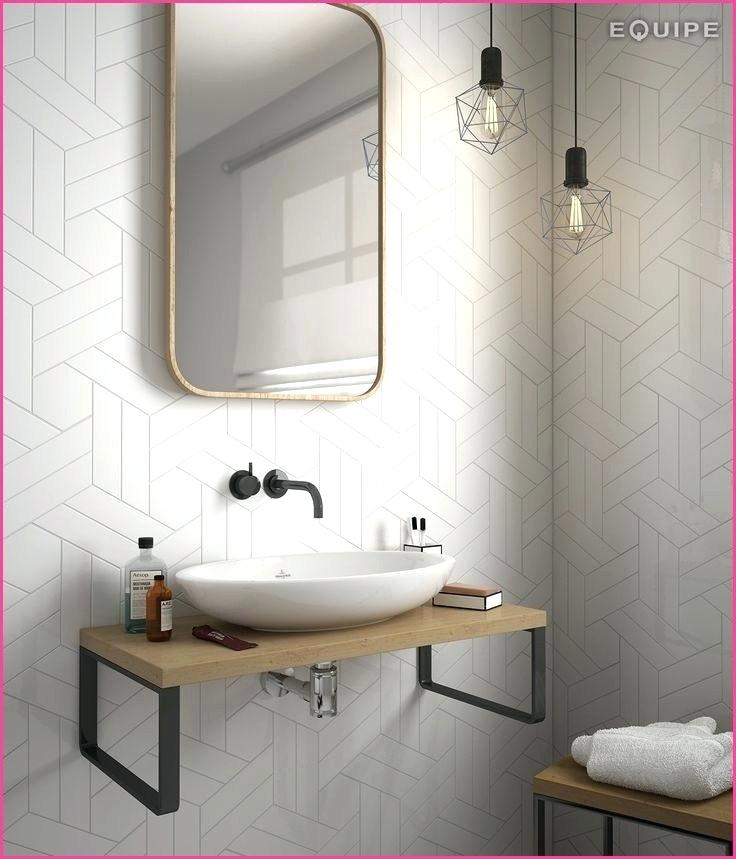 The modern era taken people to more creative in mix matching any designs and style décor for architecture. Though, experimenting with the tiles as the touch for a beach themed bathroom wouldn't look weird at all.
Now, if you think about artistic-modern touch in a beachy look, artistically set up tiles will be good alternative for the wall. Set a simple white sink along with a mirror over it. The water flowing to that beautiful porcelain sink will remain you over the wave pounding on the beach.
As for the lighting, you can hang artistic hanging lamp which is not too low for the position as the electricity problem can come up easily with a splash of water. To add the décor, instead of using towel hooks, you can just bring in a small wooden table as to place the towel.
14. Beach Style Bathroom with Window Curtain in Local Culture Style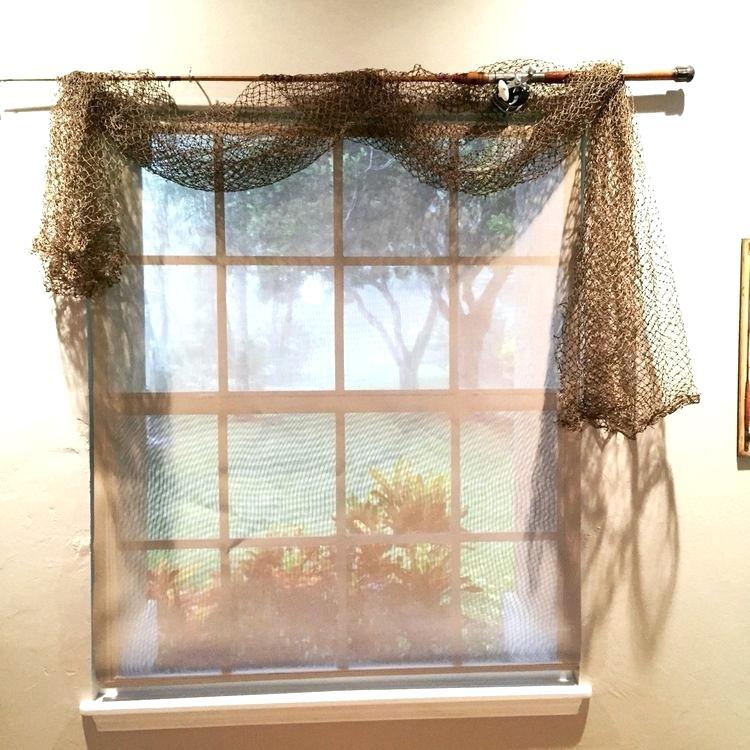 Whenever we talked about beach, sea-life, it can't be separated from the local people around the beach or sea who always tries to catch fish in a traditional way using fishnet. Some often try to bring the fishnet in as their home decoration for coastal houses.
Juggling fishnet as a home décor isn't a bad idea, isn't it? One of style to create beach themed bathroom is by using it as your window curtain. It feels like, not really many people use this on their bathroom design for house-day in the city. Maybe you will be the first?! Great!
Don't you think it feels good when nobody has the thing as same as you? That's why, it's the time to bring the fishnet in for your beach themed bathroom design. Even without adding any other particular ocean-inspired decoration, people notice the beach vibe easily only from that net.
15. Another Chic Beach Style Bathroom with Different Decoration Setting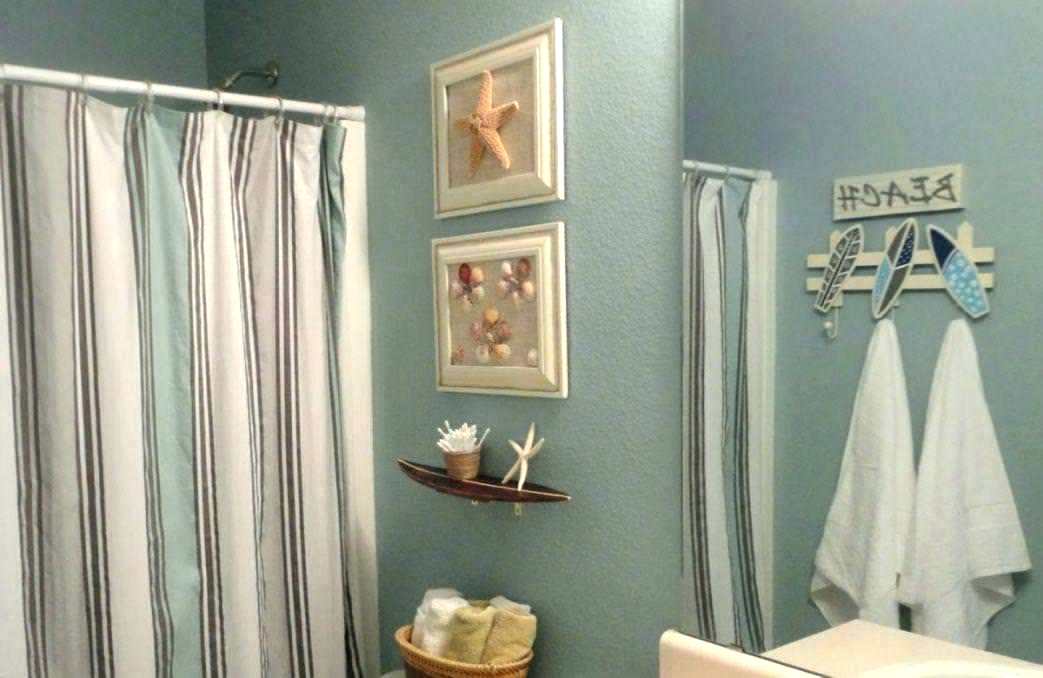 For those beach lovers, maybe they have their totality in recreating a beachy vibe into their home, their private bathroom. They bring all of their ocean inspired collection to make the vibe alive in the whole bathroom with vary decorating ideas.
First of all, let's paint all over the wall with shade maritime blue. A generally used pattern to evoke nautical feel is stripes. Moreover stripes, with blue and white as the basic standard color for a beach. You can use the stripes for the shower curtain to create obvious beach vibe.
You can hang one or two maritime creatures framed on the wall as the décor along with a big starfish without frame. Then to keep it clean, add beach inspired towel hooks like these adorable wooden surfing boards hooks.
16. Maximize Your a Small Bathroom in Beach Style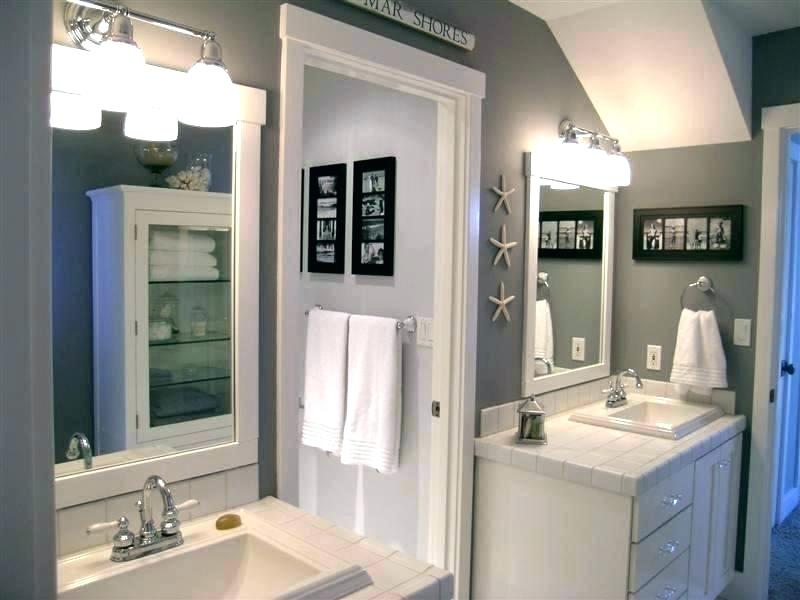 So, maybe you stuck with your tiny bathroom yet need to make refreshment for transforming it into beach themed bathroom. Look no further, because you can maximize your lack space and give in furniture based on the space and theme of the bathroom.
After finishing with shade blue maritime color wall painting on the outside, you may leave the rest of bathroom wall into white. Hanging some small photo framed will make it look classic and eye-catching.
Rather than bringing in cabinets to your small space bathroom, it will be best if you just bring white small vanity contrasting with the shade blue wall. Around the mirror, you may place plenty of starfish as decoration.
17. Bring the Ocean Life in Your Beach Bathroom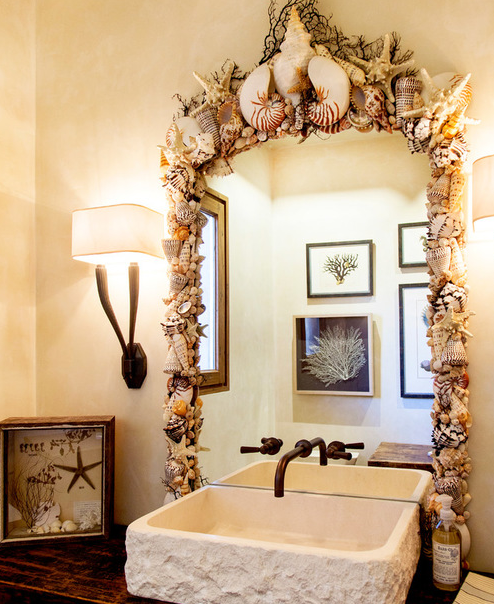 Some of us may have different ideas on how to recreate the beach life in a not beachy place. Some cases, people tend to focus on the décor. Not only for wall décor, but for room décor wholly.
Start with a magnificent décor for the mirror. In this picture you can see sea life creatures like several of seashell, starfishes, seaweed, glued altogether to create underwater life in one frame. It feels like you can see Ariel the mermaid and her friends tagged along there.
As the sink, you can recreate it into coral-like in shape that goes along with those creatures on the mirror. Don't stop there though. Awaken more nautical feeling as you place starfish with the beach sands and rock set in one frame.
18. Calming Beach Style Bathroom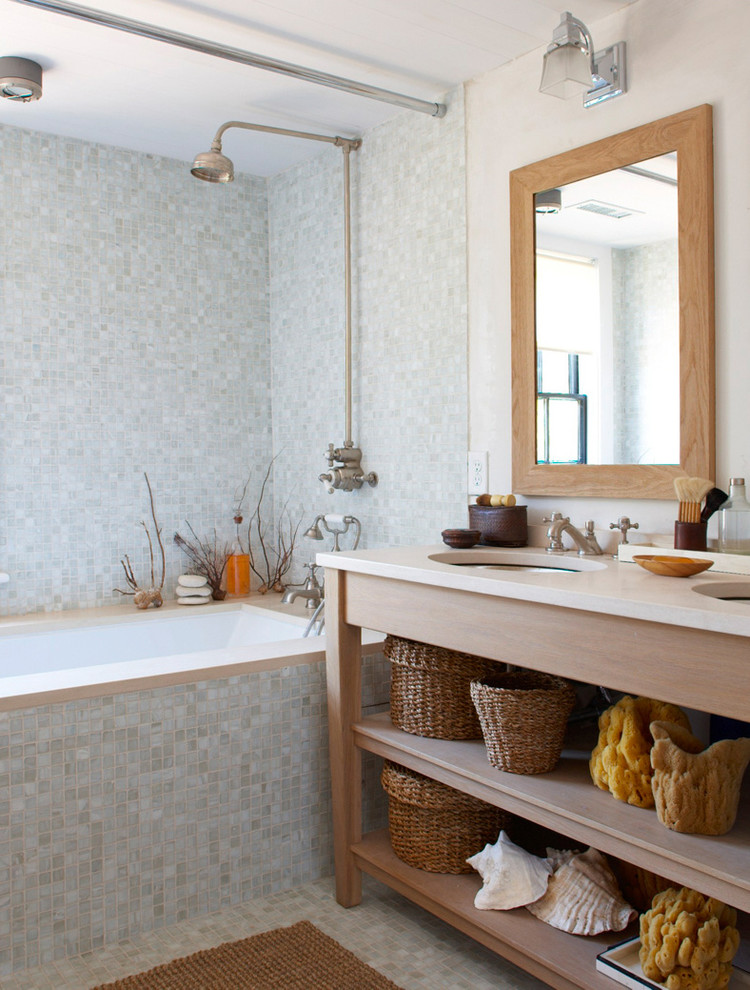 If in the previous ideas we try to focus on room décor, now let's focus on the wall décor as the eye catcher for your beach themed bathroom. No need to be exaggerating with the decoration, else it will look so stuffy on the wall and not comfortable for the eyes.
Keep it elegance yet simply beachy look with a setting of porcelain tiles for the wall around bathtub, bathtub itself, and set a same pattern for the floor. Use calming coral-like color. For the rest of the wall you can leave it white or crème coral color.
In this idea, set up a wooden table for the sinks is a good match. The wooden framed mirror hanging on the wall will match with the wooden table. It's okay to bring your futuristic big rooks and seashells you grab from the beach last time, and set it under the wooden.
19. Classy Rustic Beach Styled Bathroom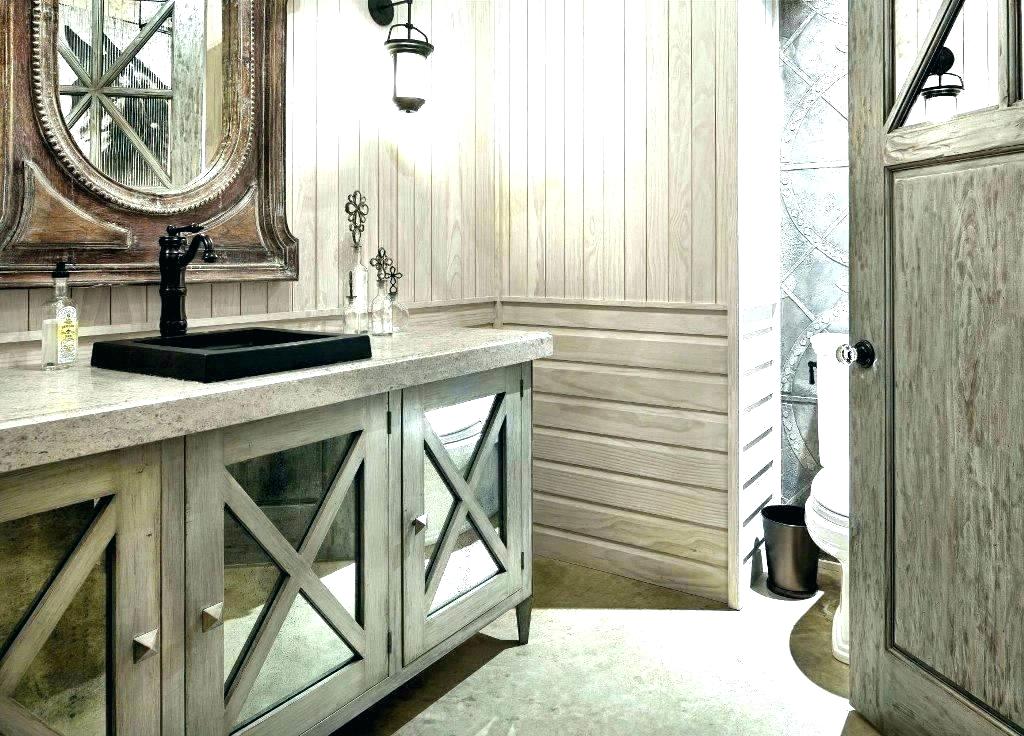 Yeah, now we'll bring you to classic beach themed bathroom with vintage look. After so long waiting this look combination to come up, finally now you can catch the feeling when you stay at a beach house in the past.
The background for this bathroom look is like 80s style with a highlight in the wooden features. You can see the iconic soft color shiplap wall, classic wooden door, wooden framed mirror, and wooden cabinet are can be seen inside the room.
Adoring the 80s lighting and industrial-aluminum waste basket are kind of cool replica of past life properties. They go along with the classy look of the room with a good arrangement of course. Yet it's not really beachy look, but still it's worth to try
20. Beach Styled Bathroom in Spacious Space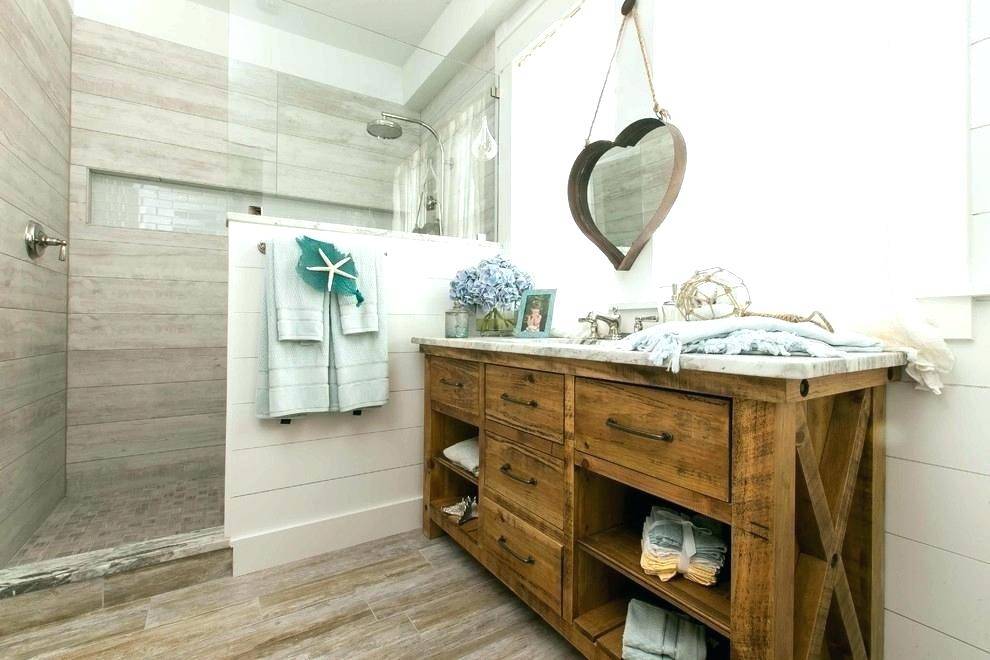 With the help of beach themed bathroom accessories, it won't be difficult to set a beach room in. As a beach enthusiast, you may leave the bathtub outside and just set a wide space to shower, as they want to feel the water flow as if you're feeling the lapping wave at the beach.
Calm wall painted will bring serene felling as for your relaxation vibe. Same goes with the floor, calming crème color would be great to set your good mood. Along with it, hang a heart-shaped mirror as an addition for romance spice for your relaxing time.
Give some touch from the ocean with soft blue towel with starfish engraved over the towel. As to keep the bathroom stuff, you can bring in a wooden cabinet. Then get a small photo framed, flower vase and candle as the additional accessories for your beach themed bathroom.
21. Luxurious Beach Styled Bathroom In Cottage Style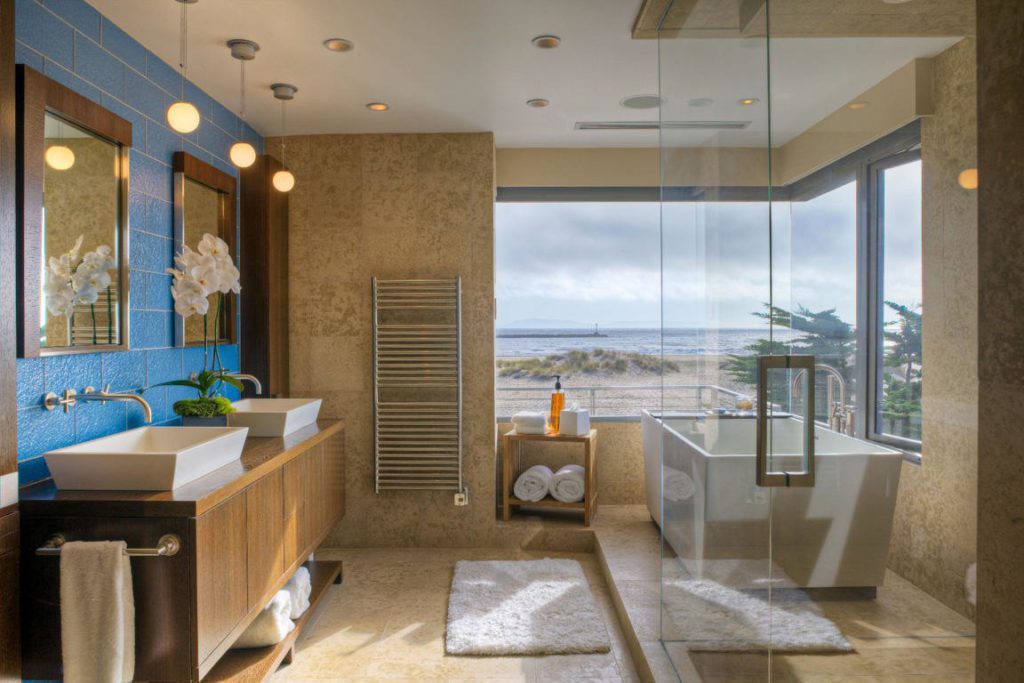 You don't need to complicate the look for this bathroom with any pictures or decorations. It adopts a modern interior style for the basins, shower, and bathtub. For this style, you may play with colors and the view windows.
The sandy color for the wall give you the chill of sandy beach with little splash of nice blue that give the atmosphere of the blue sea. Make it less accessories because the view outside the window enrich the look of calming beach vibe already.
22. Stunning blue-tosca for a Soothing Beach atmosphere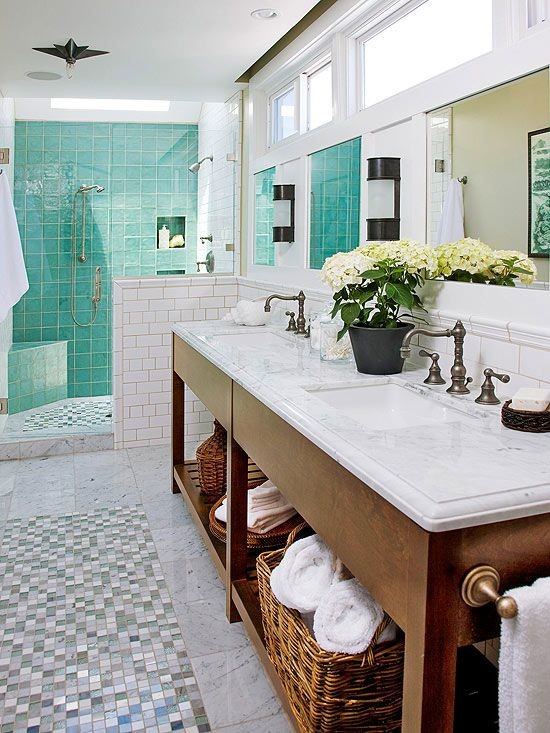 You won't be feeling blue by set up blue in your home. Nothing's wrong to get blue porcelain as your wall in your bathroom as well isn't it? Let's raise the beach themed bathroom with the play of colors. Stick in blue, shading blue and white? No problem.
There is no regret to get tosca blue for your shower part. And let the rest of the wall remain white, white porcelain. As the basins are in white, place a set of flowers and the vase as the eye catcher of the room. Leave a big white seashell at the corner of the basin to add some spices.
As in the picture below, there is no cabinet. So that you can buy some rattan basket as both accessories and to keep clean towels or extra soaps. Meanwhile, to give more beachy touch, you can combine some sparkling rocks like on the floor which represent the sparkling sands on the beach.
23. Masculine Beach Styled Bathroom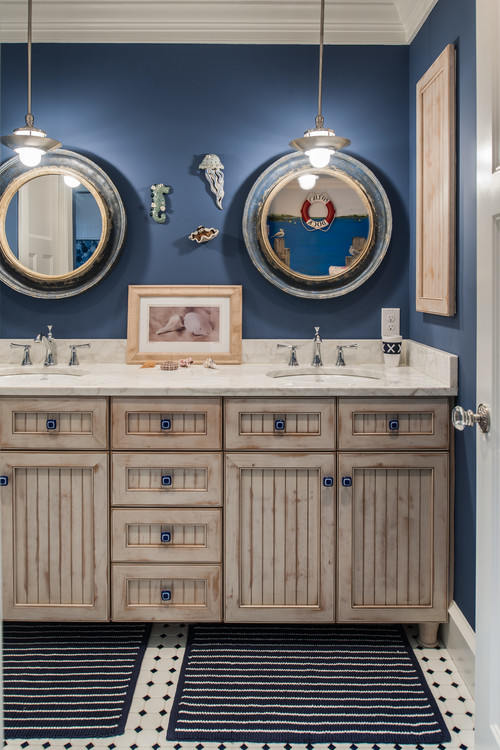 There is natural lighting here, as you can see the sun at the beach. That's enough to get your ordinary lighting with hanging lamps though. Aren't you? Many more things you can set as the eye catcher for your bathroom.
First eye-catcher will be portholes mirror. Set port windows as you see at a ship, round porthole windows will catch your first impression once you come into bathroom. Don't forget to get nautical-inspired rugs with that mainstay stripes pattern.
The distressed cabinets may hold up to lots of boyhood wear or man wear. It looks fun to stick some different sea creatures on the blue wall, it gives you the sense of those sea animals swimming on the ocean. That gives you a combination of cutie-beachy look.
24. Creative bucket light in Beachy Bathroom Theme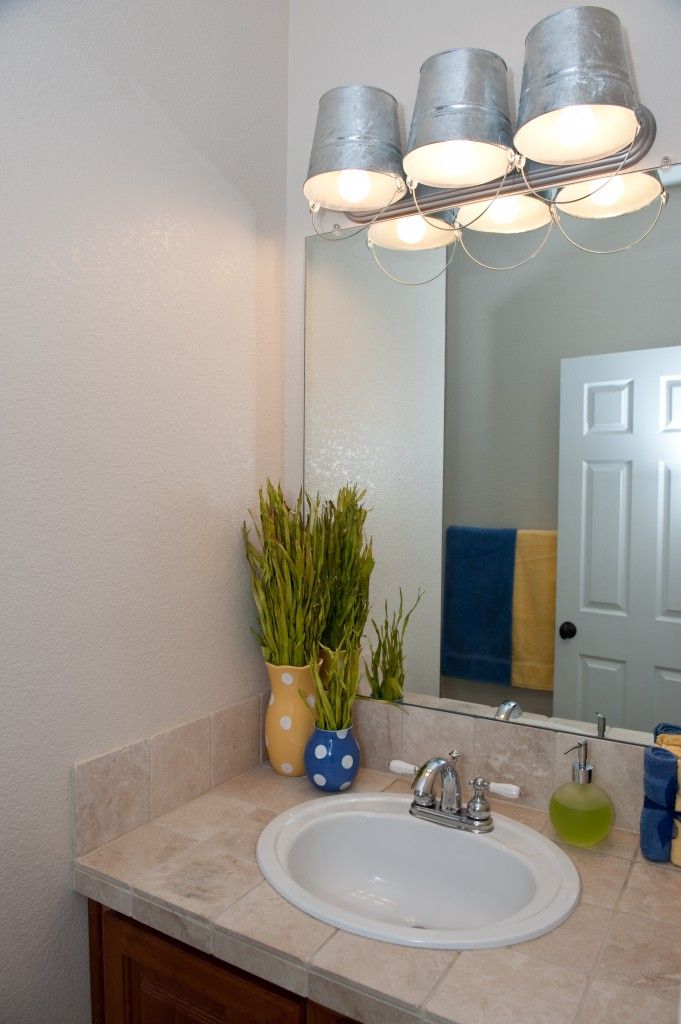 Enclose a simple conservative feature with aluminum buckets from the beach will give a different sense for the look. Normally we found that aluminum bucket, before they replace it with plastic buckets, while playing on the sand to build a sand kingdom.
As being creative, you can use that bucket for the help of lighting. Place the bucket as the head protector of the lamps. It looks simple but the effect that it brings is like bringing the sandy beach come to your head.
With such a lighting feature, no need to push so hard for the rest. You can just set simply bare white wall, and match it with sandy porcelain for the basin. To set up a complete look, place some algae on the corner of the basin to recreate more beach themed bathroom.
25. Elegant Sandy Look for Your Next Beach Styled Bathroom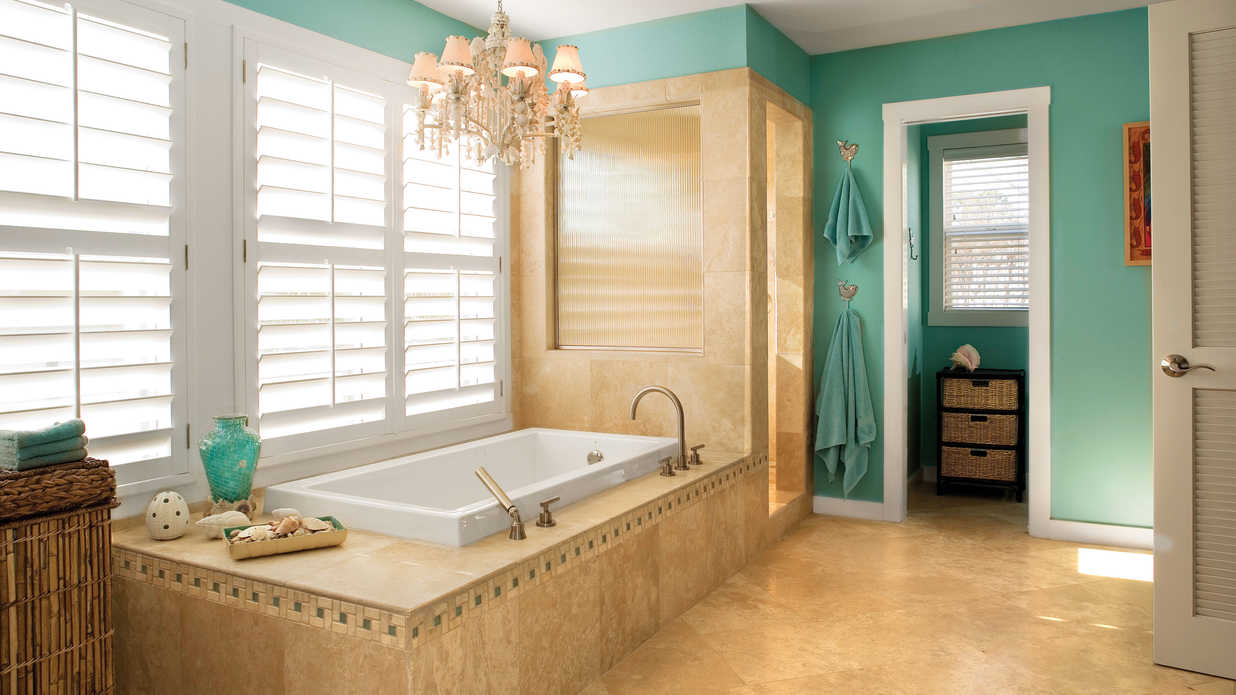 If you like to keep it elegance and clean, you can choose one of ideas beach themed bathroom that play the look with color. Paired blue shade wall with simple sandy look porcelain floor. Set the same sandy tone for Jacuzzi and shower as well.
You can absolutely place a lux modern lamp as the lighting without being overwhelming. As to match for modern look, shoes stainless steel seashell towel hooks and hang your tosca blue towel there.
A woven cabinet is placed near Jacuzzi to keep extra clean towels. Since the Jacuzzi side by side with the window, you can get enough natural light as well as breezy wind from outside.
Read More: 20 eye-popping laundry room décor you should try this year
Here you got almost every important key points for creating beach themed bathroom. As you can see you can set your focus on the white and blue color, wall décor, accessories, shower curtains and rugs, and even lighting. And the styles, well you can set it on a vintage style and the modest style.
We've got you covered. You got all those amazing beach themed bathroom ideas that may help you to design yours. We know that the list is still lacking somewhere. But of course, we hope those 25 designs can be your inspiration to satisfy your taste.