Just like life cycle, a style also has its own cycle. It pops up in an era, then fades away. Then it rises again in another era. And that's precisely that happened to mid century modern kitchen.
It had its heyday in the 50s and mid-60s, the faded away. Now in the early 21 century, the style is on the rise again.
Love the vintage look of Mid century? For you vintage enthusiasts, here we have picked some of the most impressive mid century modern design for your inspiration.
1. Mid Century Modern Kitchen Cabinets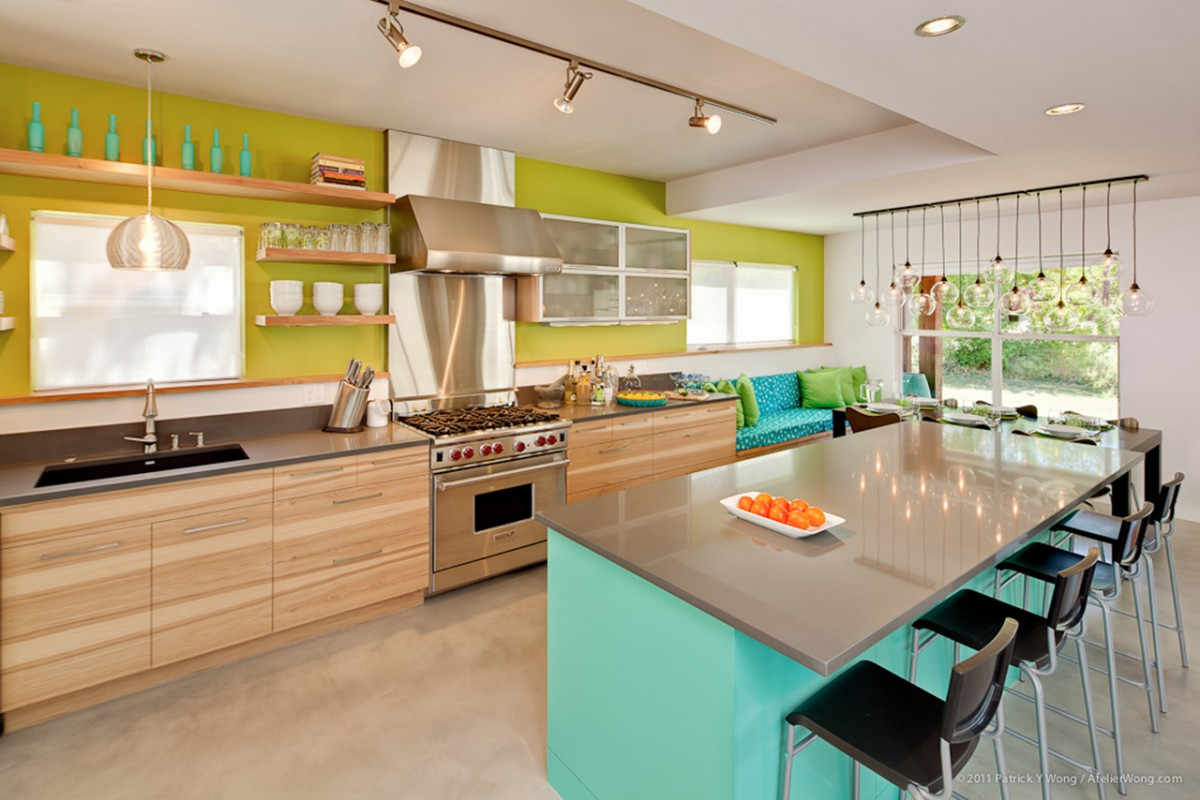 Love a spacious kitchen? Then here's a lovely kitchen plan for you. It's spacious, and it's efficient as well.
And this kitchen is in a Mid century style, the modern version. If you have a long and narrow space, you should consider this kitchen setup as well.
It has big island table with vintage blue color, which also serve as cabinets. The most refreshing character in this kitchen is its olive green wall.
2. Kitchen Update in Mid Century Style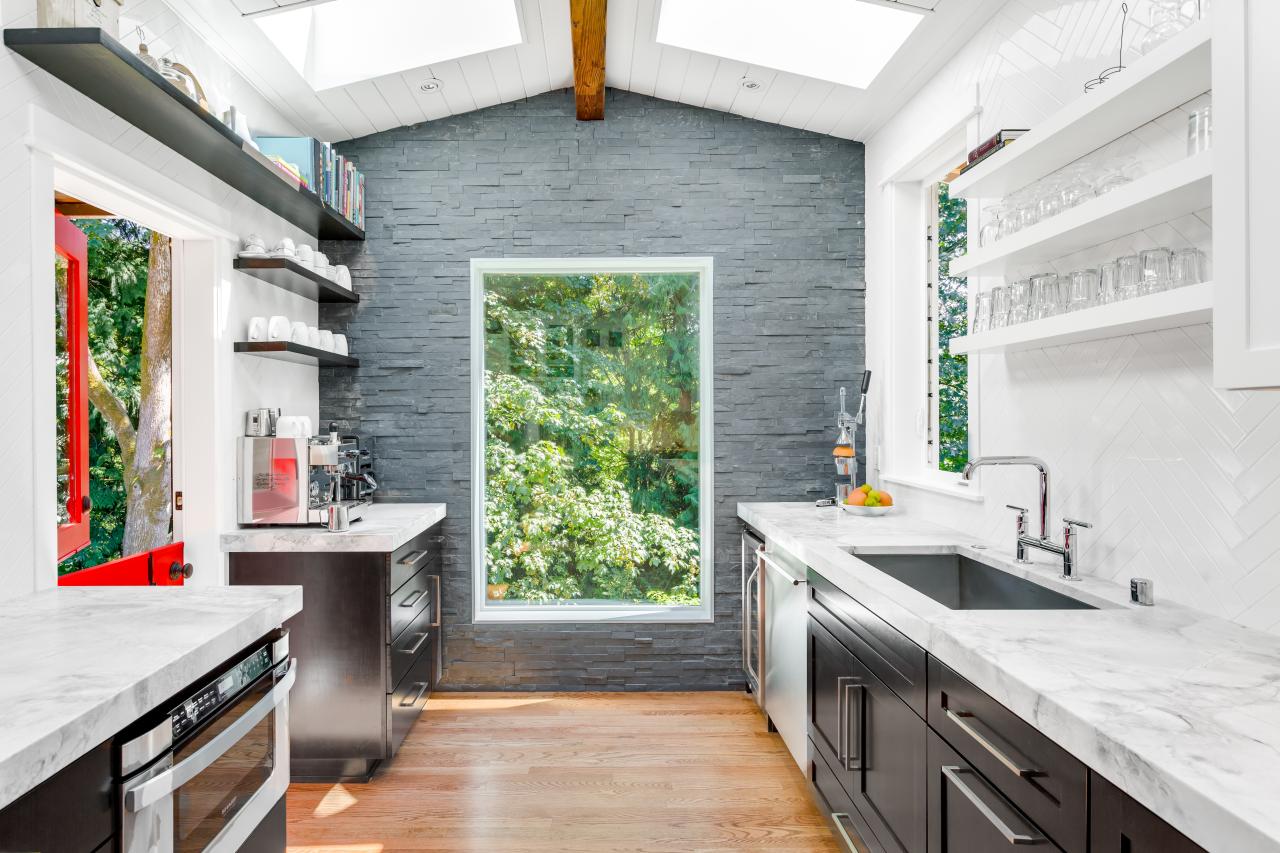 Like to remodel the kitchen? You probably feel that your kitchen is too small or too dark. It has no natural light nor the good air flow. In short, the kitchen's too cramped and you want to remodel it.
Then you need to update the kitchen. First, you need to simplify the kitchen's layout. Be a minimalist. Get rid of stuff you don't need.
Add skylight and enlarge the windows. And if those updates are still not enough for the kitchen, you probably forgot to paint the wall in light colors, like the modern mid-century in this example.
3. Splashes of Colors for the Mid Century Kitchen Backsplash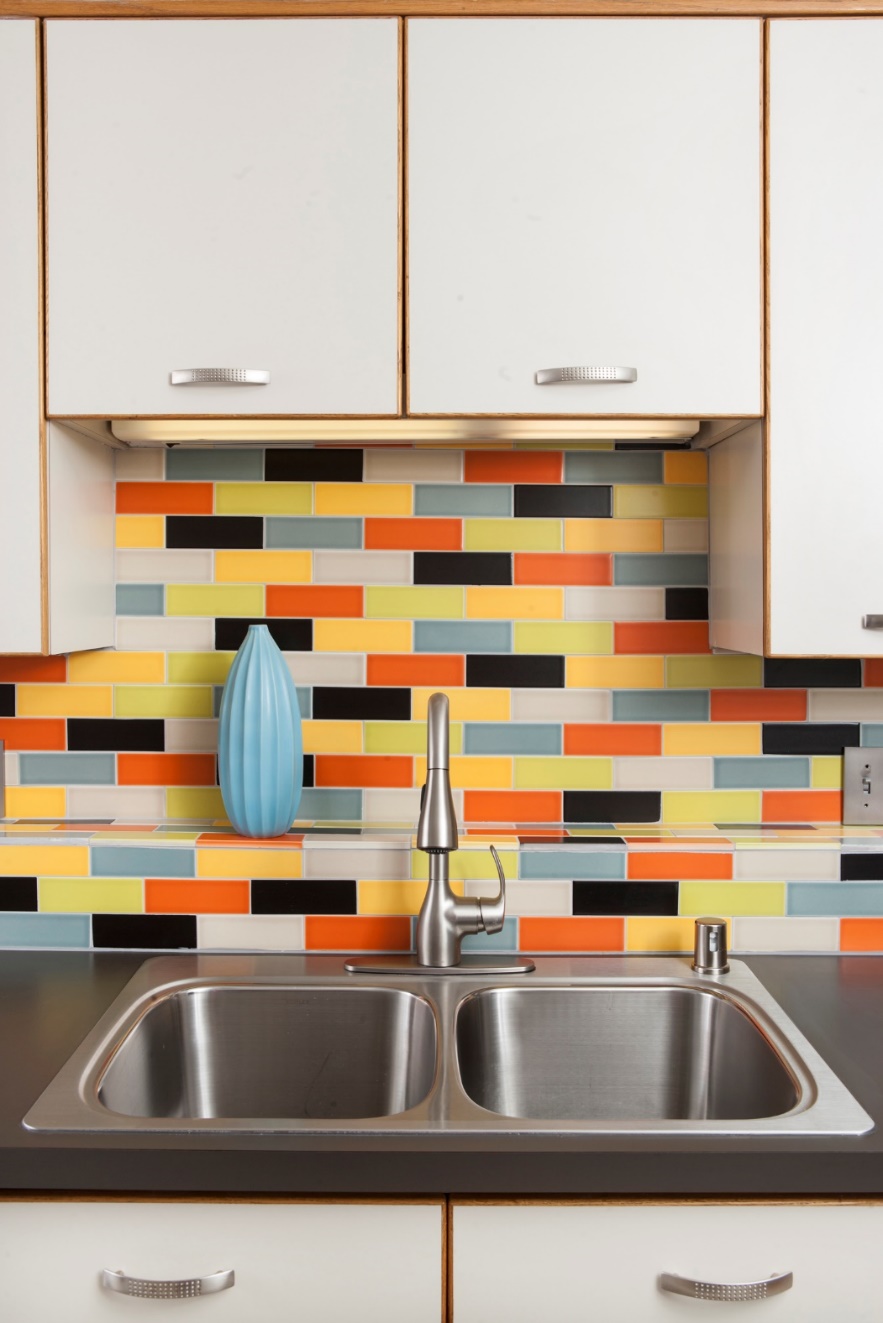 We love this brightly colored backsplash. They're colorful, and they bring strong vibes of 50s.
Not only as a protection layer for the wall (from splashes of cooking oil, fat, or other food stuff during cooking), backsplash also serves as an experiment pad for the interior designers.
And you can only witness the most colorful backsplashes from the Mid century eras, like this one. This tile backsplash, called atomic binds backsplash, includes some of Mid colors like mango, satin black, chartreuse to atomic/orange colors.
4. Minimalist Mid Century Kitchen Dining Chairs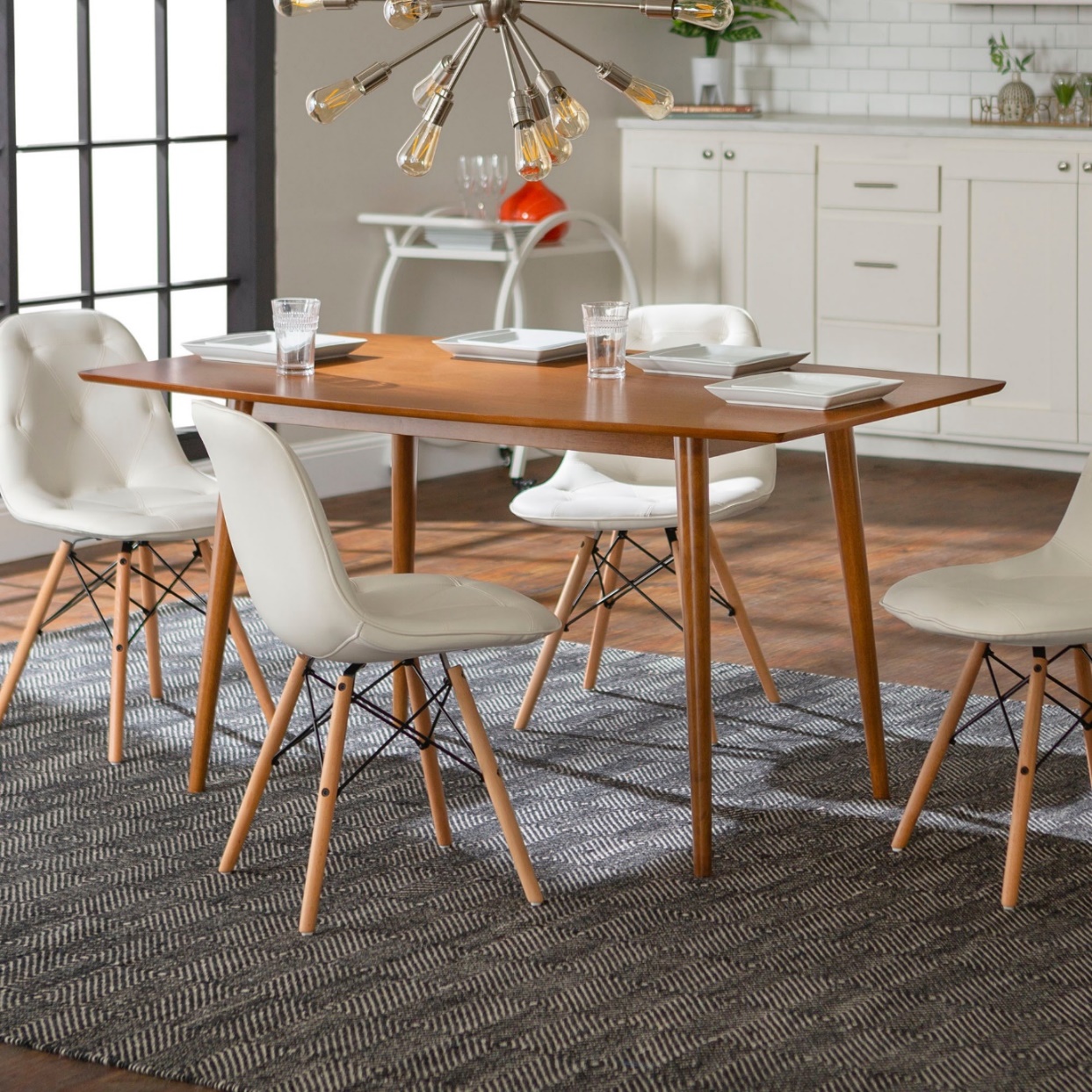 A mid century modern kitchen won't be complete without an iconic Mid chairs, the Eames dining chairs.
Charles Eames and Ray Eames offer the chairs to the world, and the rest is history. Up to this day, the chairs are the most pronounced in any minimalist interior designs.
The chairs, tufted, are also the staple of Mid century dining room. They get along well with any modern minimalist dining table.
5. Two Tone Flooring for Zoning in Mid-century Style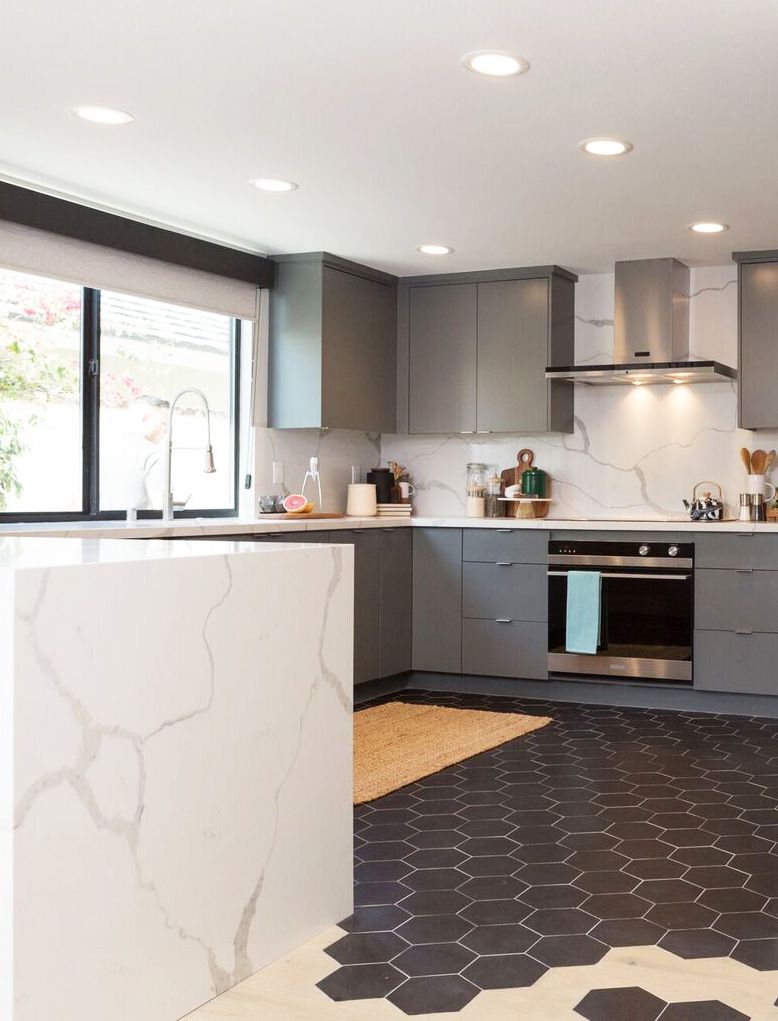 How do you divide the rooms? By giving a wall? A room divider? Now you need to consider this chic why to divide rooms in the house, by experimenting with its flooring.
You play different tile colors for different zones in the house. In this example, hexagonal tiles are used for the Mid century kitchen. The tiles are the classic theme of the style.
Moving out of the kitchen, the hexagonal tiles 'fade' away before let the other tiles of the other rooms overlap them. It's a nice trick to 'zone' an open layout room.
6. Contemporary Mid Century Kitchen with Brass Pendant Lighting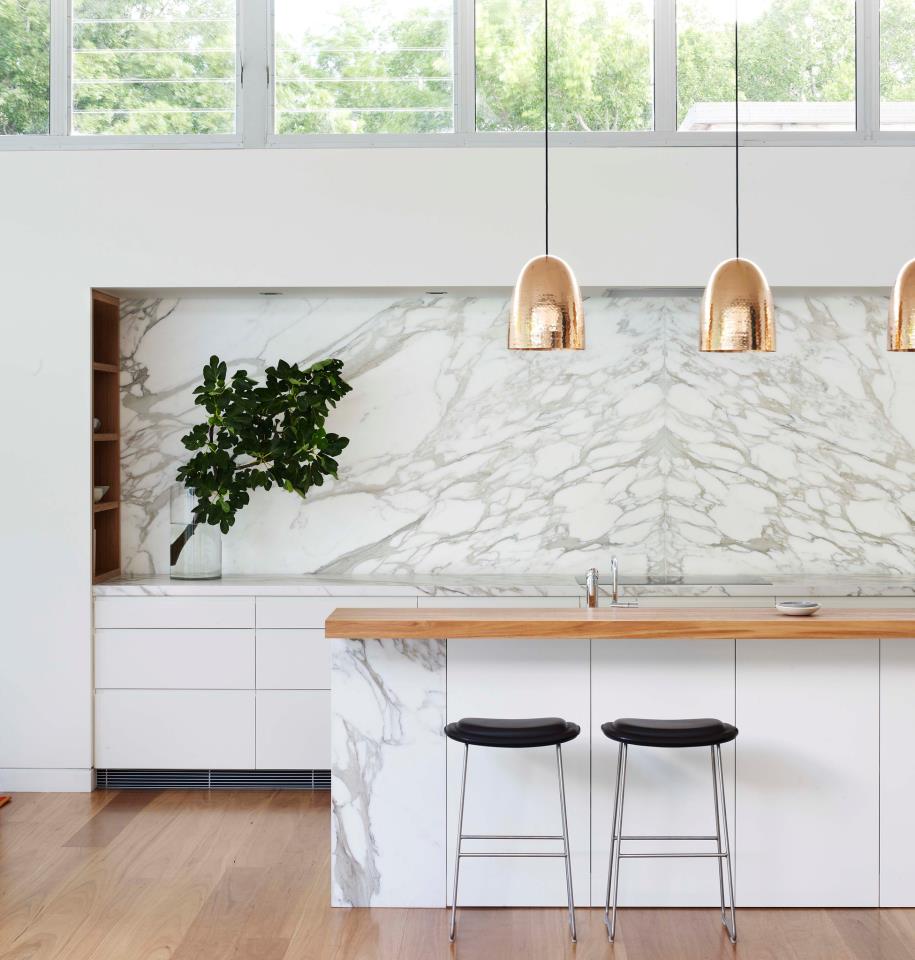 Talk about a Mid century style, you can leave the pendants lights. The style is full of lovable pendant light. Sputnik chandelier, ball pendant, Poulsen, are only some of its cutest pendants.
And here you have another Mid century pendant light for kitchen. Hang them over the island table and you have elegant light to impress some friends.
Just like all the Mid century stuff, you have them in shiny brass for the more elegant atmosphere.
7. mid century chairs for Mid Century Dining Table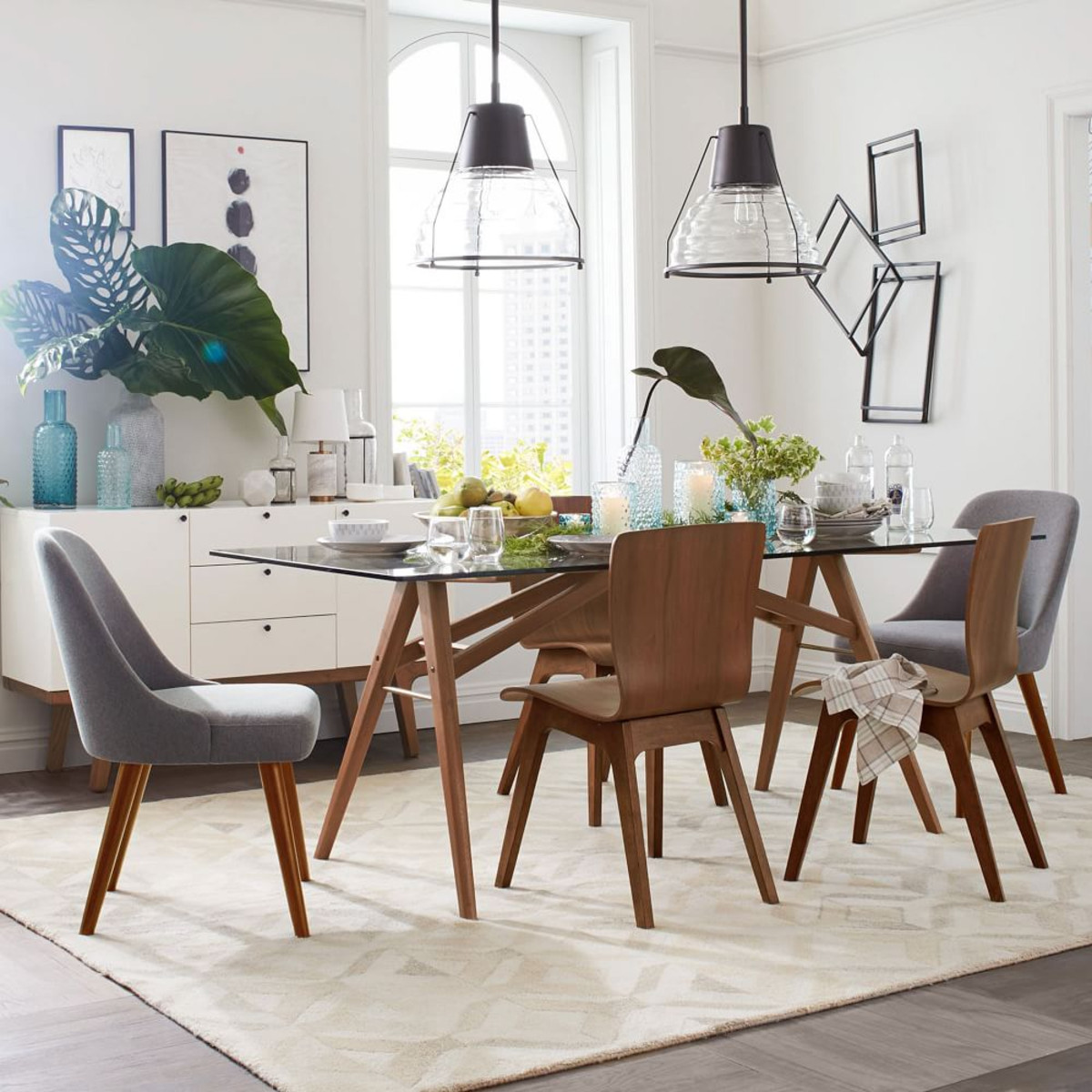 And what is a mid century modern kitchen without its dining table? It's still good actually, but won't be complete.
For your inspiration, here we have a simple but elegant modern Mid century table here. It has simple design, and made of solid wood with glass counter top.
Accompanying the table, are pendant lights and, again, Eames chairs. Sweet.
8. Mid Century Kitchen Decor in Sweet Atomic Themes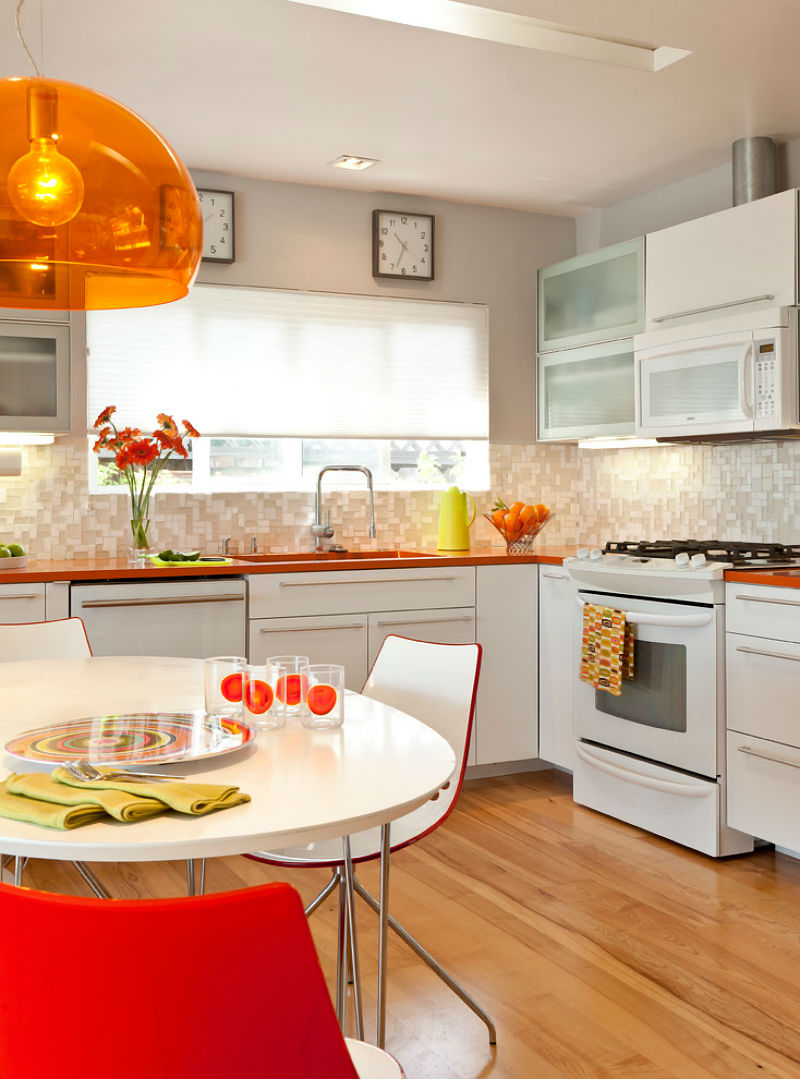 The 50s and 60s eras witness one of the most prosperous time in USA history. All technological advancements were on the rise those times, including the atom energy and space technologies.
And those trends influenced the Mid century styles. The result was some cute atomic or space themed Mid century decors, like the bulbous lamp fixture in the example.
It reminds us to the spacecraft or canopy of vintage air planes. In your kitchen, it adds vintage touches as well.
9. Modern Mid Century Kitchen with Island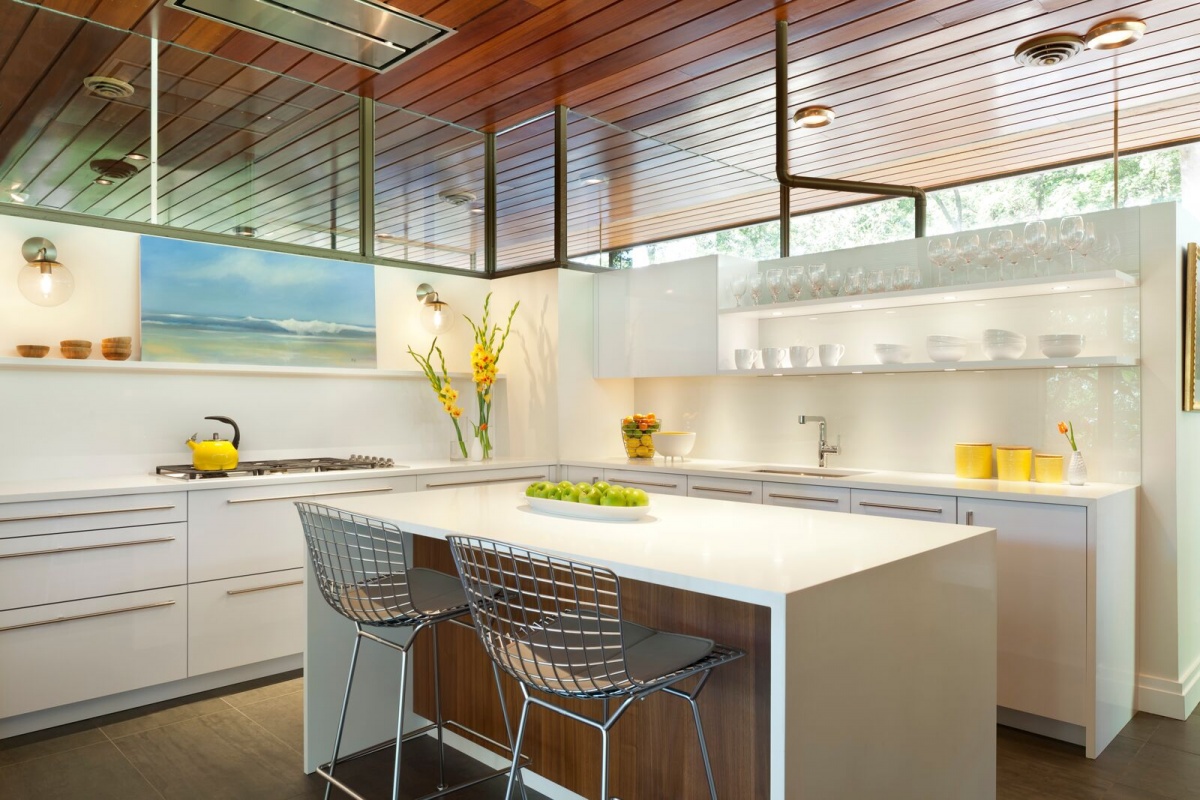 As a modern kitchen feature, an island table began its ascend in the 60s, along with the popularity of cooking shows in TV –where the host demonstrated their cooking flairs on island tables.
Now island tables are common feature in contemporary kitchen design.
This retro mid century use contemporary style island table. It injects a fresh look to the retro styles.
10. Retro Mid Century Kitchen with Modern Faucets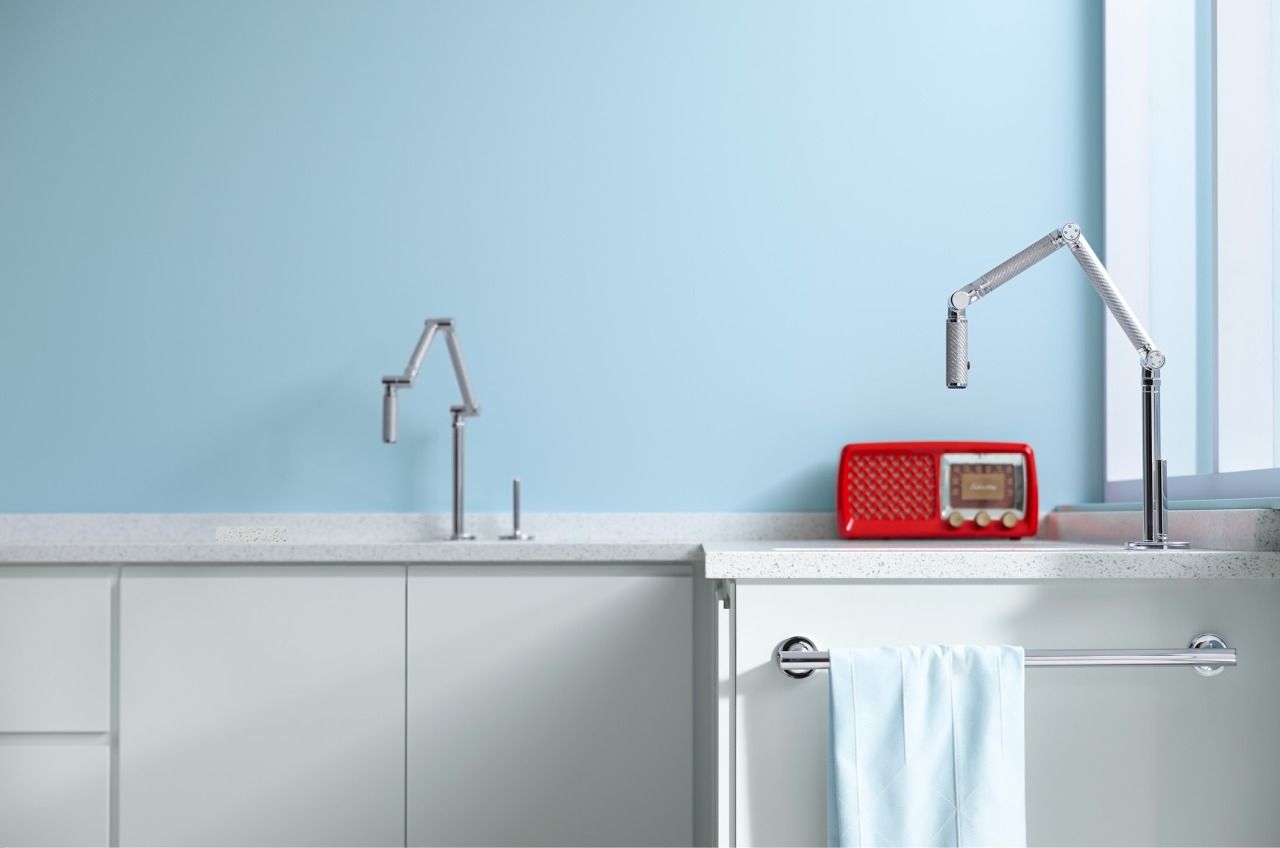 Being part of modernism, a mid century modern kitchen will always welcome to the minimalist design.
In this kitchen idea, a Mid kitchen matches well with modern faucets. They even don't need any additional stuff to make them blend in nicely with the kitchen.
So, now you don't have look far if you want to have a change for the Mid style, just try the minimalist faucets. They'll work.
11. Mid Century Kitchen Design in Tropical Style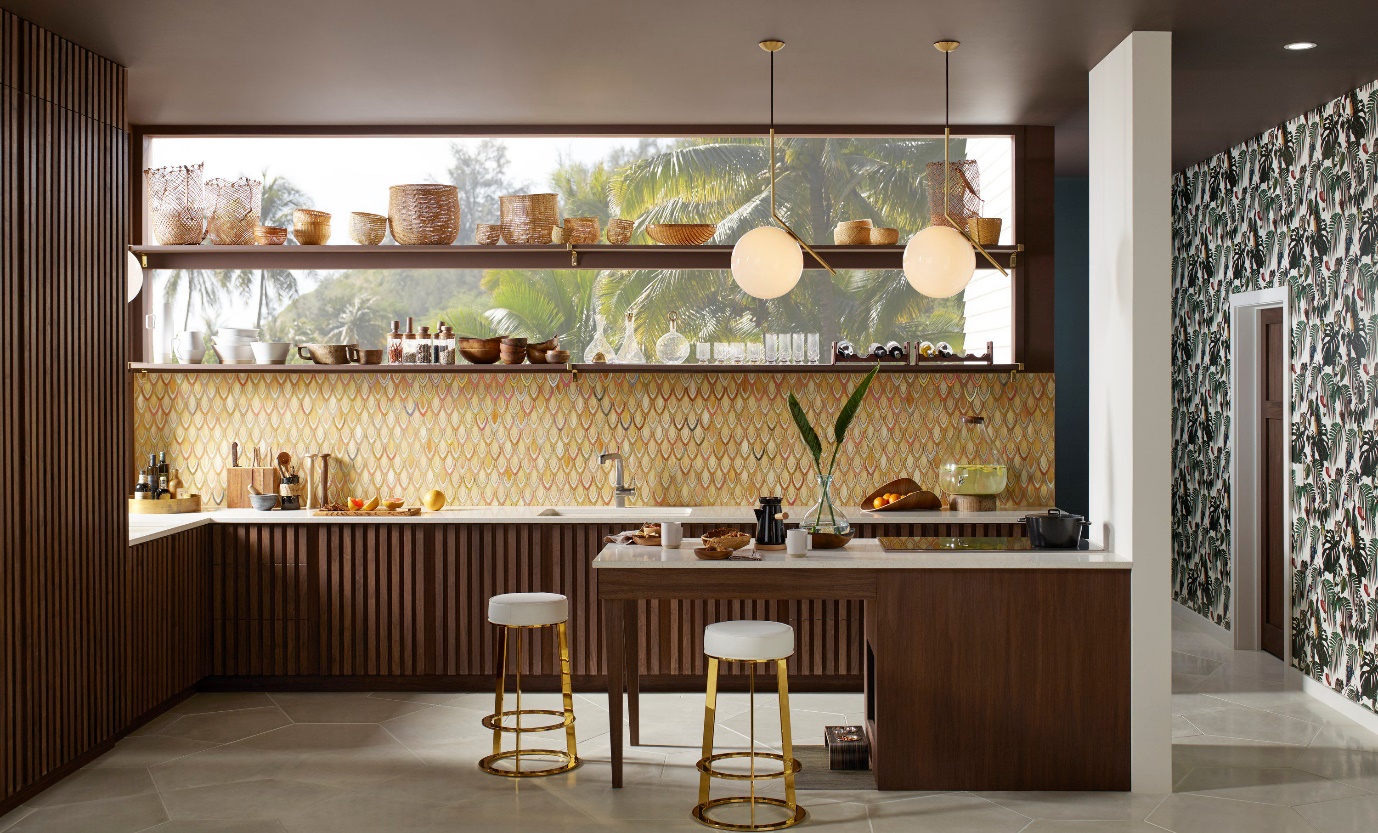 A Mid Century has already offer you an open and spacious room experience. And if you still find it's still not enough, add tropical touches on it.
This Mid style kitchen is full of the tropical vibes. This L-shaped kitchen dominated by chocolaty colors, reminds you to some tropical forest woods.
A peninsula are added for prep table and light breakfast area. It also serves as partition area between the kitchen and living room area.
12. Mid Century Kitchen in Soft Colors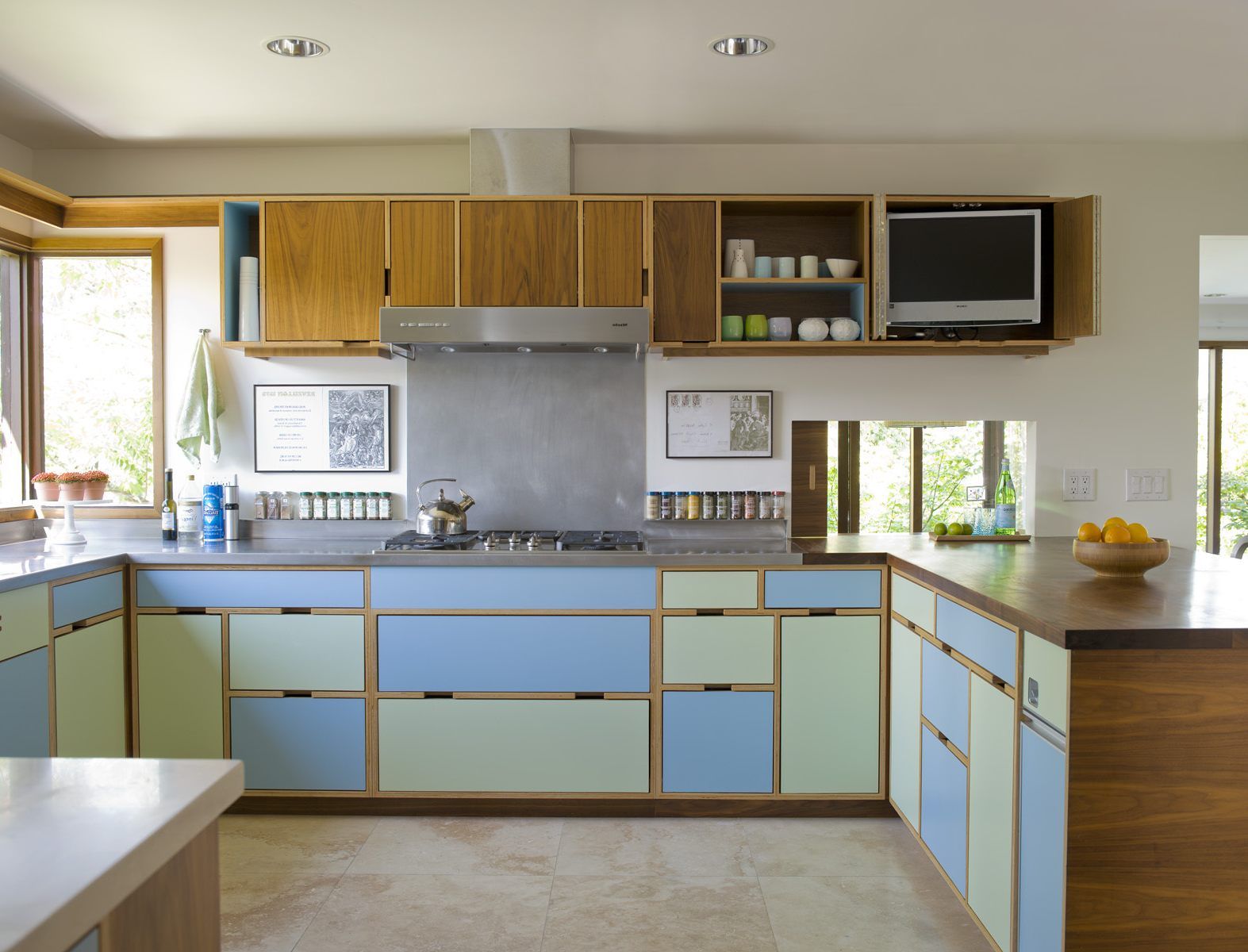 You know well that a Mid century style often uses natural elements extensively, mainly woods. So, no wonder that you see many of them in natural colors.
But, Mid century can display colors as well. The styles even have their own pairs of characteristic colors, like orange and brown, gray and chartreuse, wood and white, and some more.
Here you have a Mid century kitchen with cabinets in soft blue and light green colors (below). They look vintage in combination with the plywood cabinets above.
13. Rustic Mid Century Kitchen with Industrial Lighting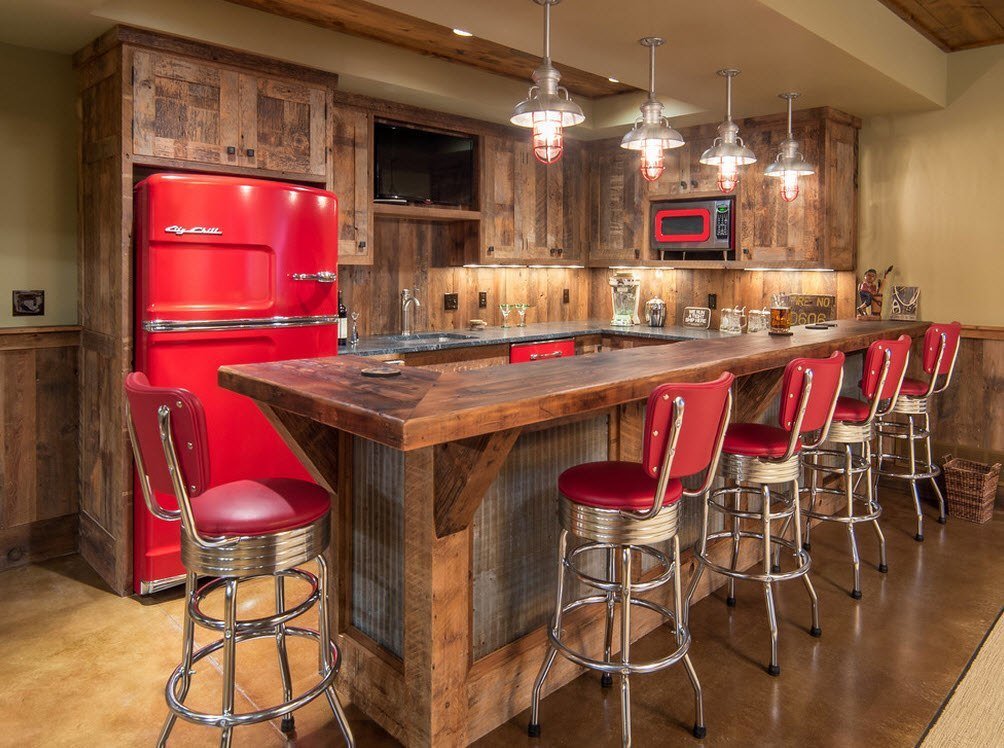 Now you can have a rustic experience inside your home. You don't have to go to the countryside anymore. All you need is finding the right rustic style for the house, and get it done.
As an example, see this kitchen design. The reclaimed woods' structure evoke thick rustic atmosphere. The vintage red kitchen appliances bring you back to the 50s in their Mid century flairs.
14. Vibrant Curtains for Mid Century Modern Kitchen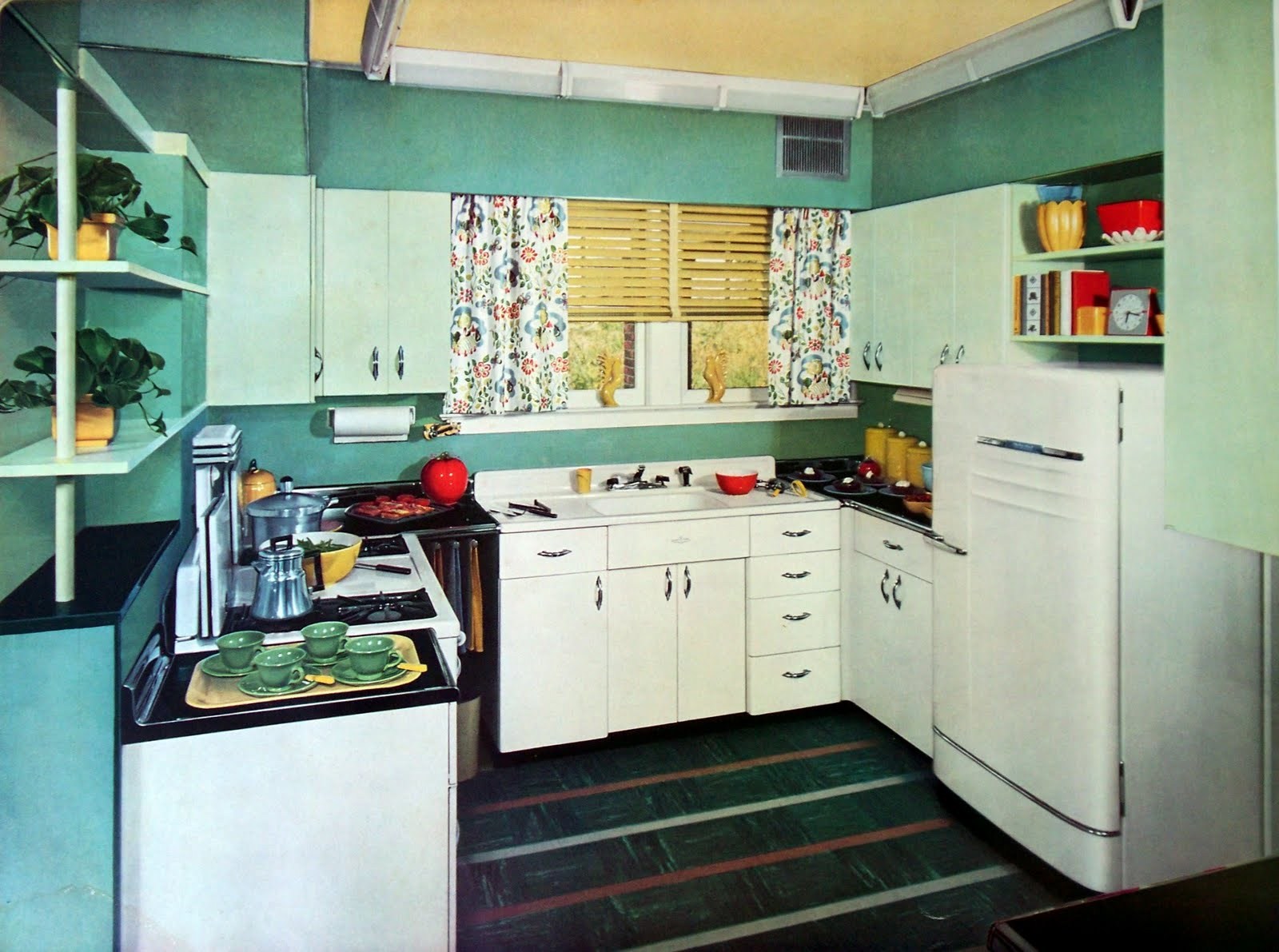 Unlike the contemporary minimalist styles which are often devoid of window dressings, Mid century styles offer you some of the sweetest curtains.
The curtains have several iconic patterns like Geometric, Overlapping Circles, Rounded Squares, Starburst, Atomic, Moroccan, Abstract, Geometric or Circles,
This vintage curtain for Mid Century kitchen is only one of many cute vintage 50s curtains you can find for inspiration.
15. Modern Mid Century Kitchen with Yellow Vintage Backsplash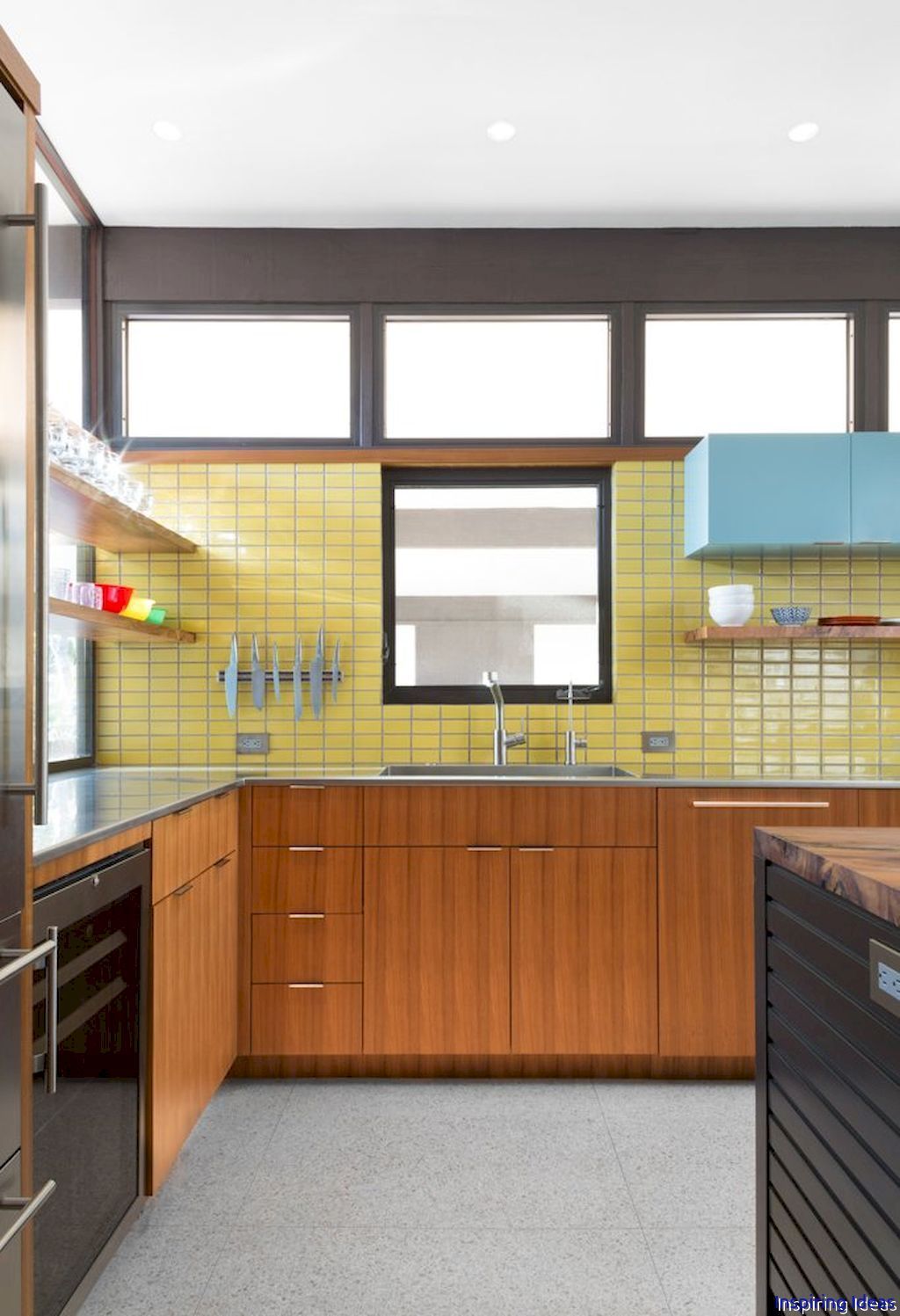 As the new social hub for modern families, a kitchen is now a place where the owner showcase her/his personality.
One of the spot to make the statement is in the choice of backsplash tiles. Here you can explore your tastes and let friends to know it.
This Mid style vintage daffodil colored backsplash is only one of several choices of Mid style backsplashes you could pick to charm the kitchens –and friends.
16. Are There Any Mid Century Kitchen Accessories?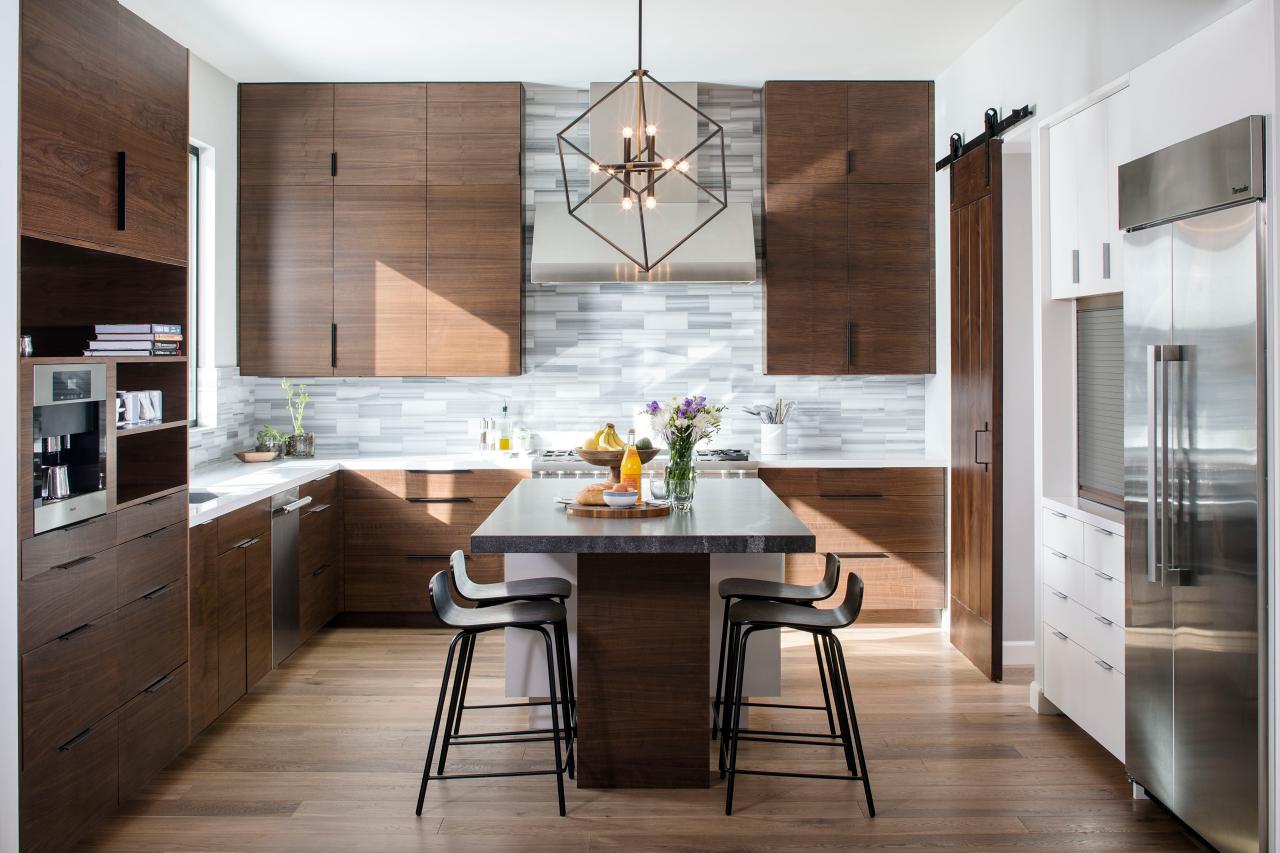 Yes, you do have the right to ask the question, just like we do. Because, as you know, Mid Century style tends to go to the minimalist sides where accessories are scarce.
This due to its minimalist characters which, of course, tends to offer functionality first than accessories or decor.
But, when you want Mid century accessories, you can plenty with the lamp fixtures, backsplashes, or the wall lamps. You can also experiments with the color themes.
17. Modern Eclectic Mid Century Kitchen with Soft Blue Cabinets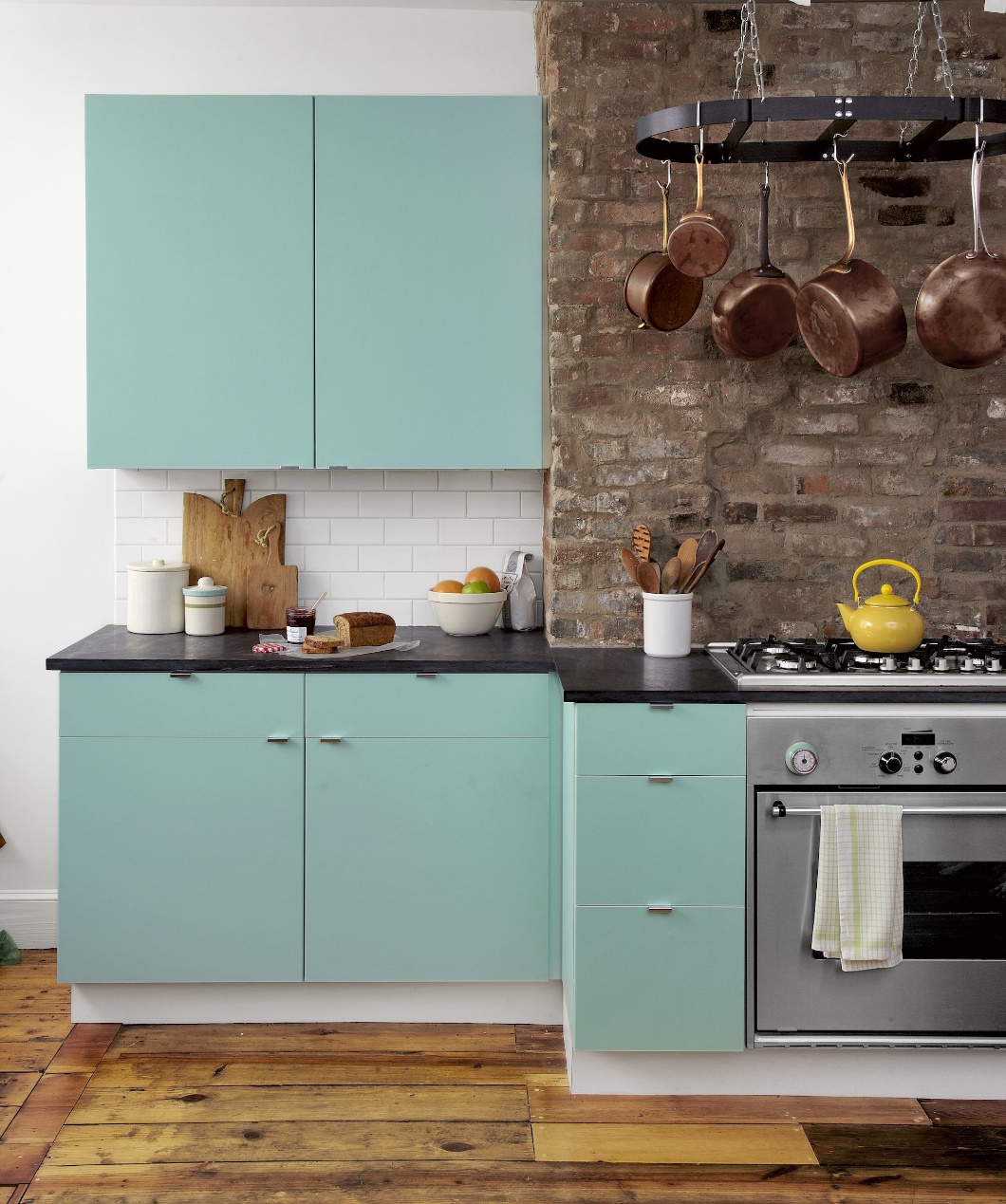 A mid century modern kitchen is full of soft vintage colors (seen from today' stand points). If you happen to see old ads from the 50s or 60s, you can see that they has some of basic color tones.
Soft blue is one of the Mid style color. A combination of blue, brown, white, and teal colors are often seen in classical Mid style designs.
This contemporary modern Mid century kitchen has soft blue cabinets. This time the color accents the eclectic mid century kitchen.
18. A Mid century Kitchen, Freshly Remodeled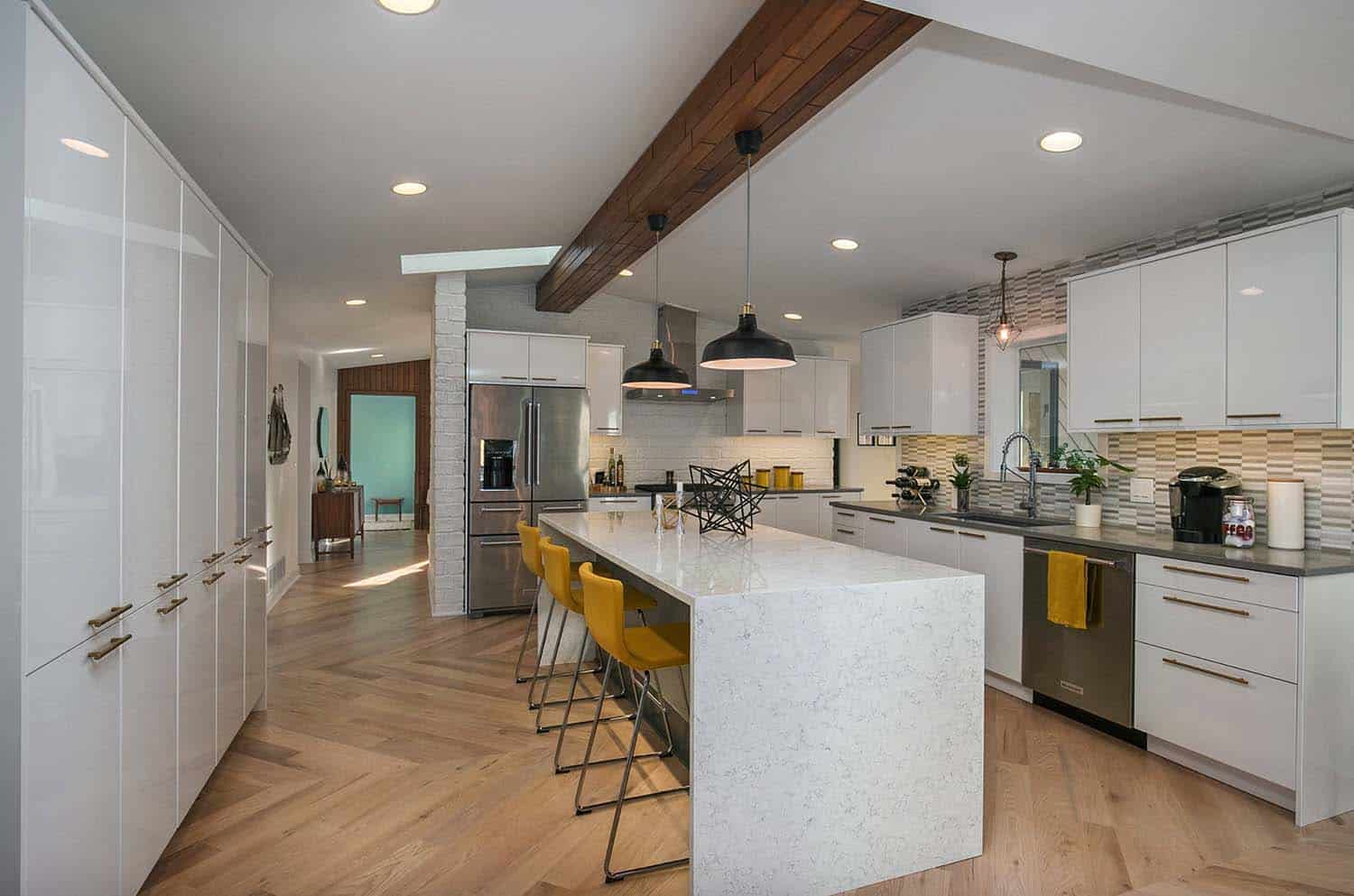 Want to remodel or update the Mid kitchen into more contemporary Mid Style one? Here're what you need to consider.
If the, say, the wooden floor is still in its prime conditions, don't change the floor. You probably only need to repaint or restain it again.
Want to update the cabinets affordably? You may need to consider Ikea's products. Reclaimed woods are also better if you want to inject warm rustic air into the kitchen.
19. A Sleek Modern Mid Century Kitchen Sink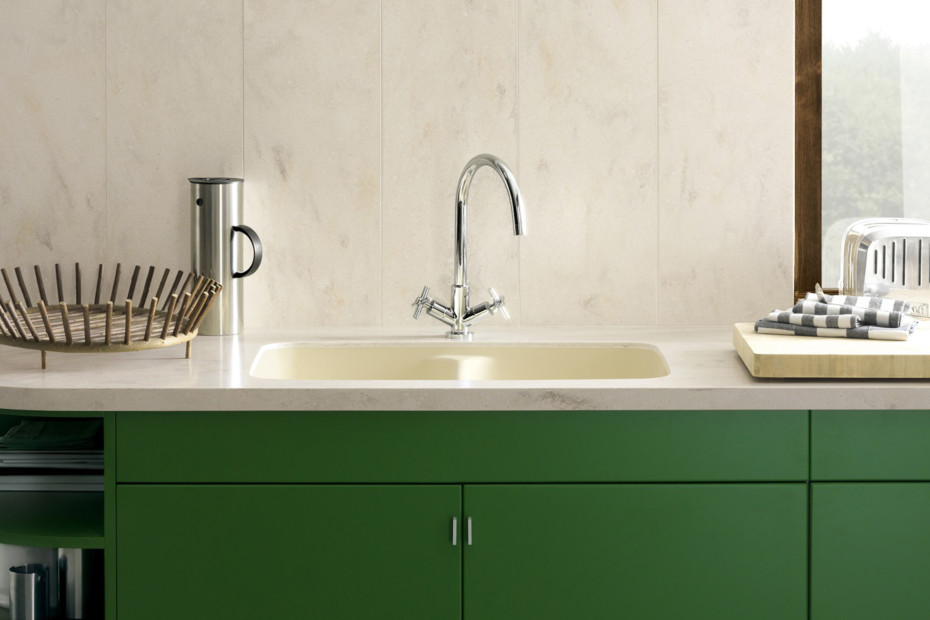 Now you have various sink' types available for a Mid century style kitchen.
Even though you've seen many modern Mid style kitchen use farmhouse style sinks, if you want to keep on the classic Mid style, you're advised to use the bar-style sinks.
A bar-style sink is your perfect Mid century sink if you want to go classic with the Mid style.
20. Warm Midcentury Kitchen with Wood Paneling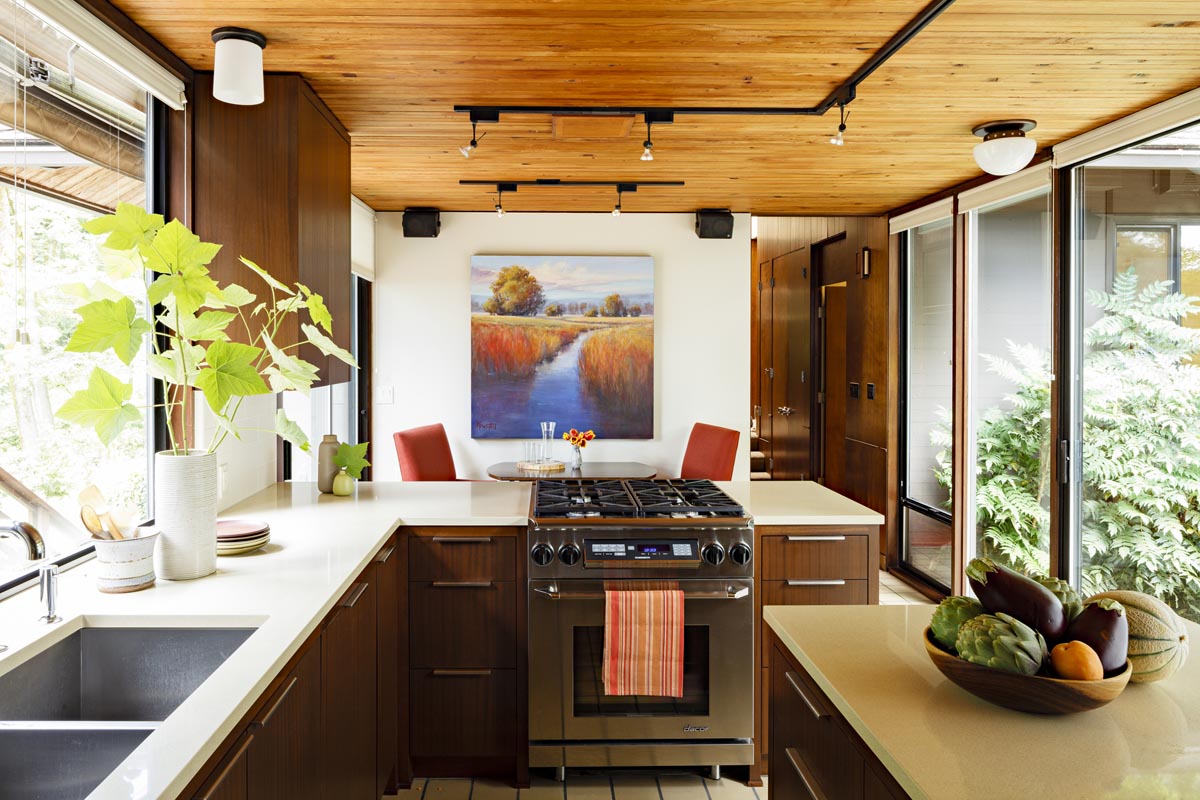 Mid century styles usually use various materials for their structures. They use natural elements to man-made elements extensively.
And if you often see plywood or wood paneling, that's from the above reasons. In this example, woods dominates the kitchen design.
In combination with big windows which let in abundant light and white countertop, the woods evoke the warmest vintage air to the owners and their friends.
21. Flooring Mid Century Modern Kitchen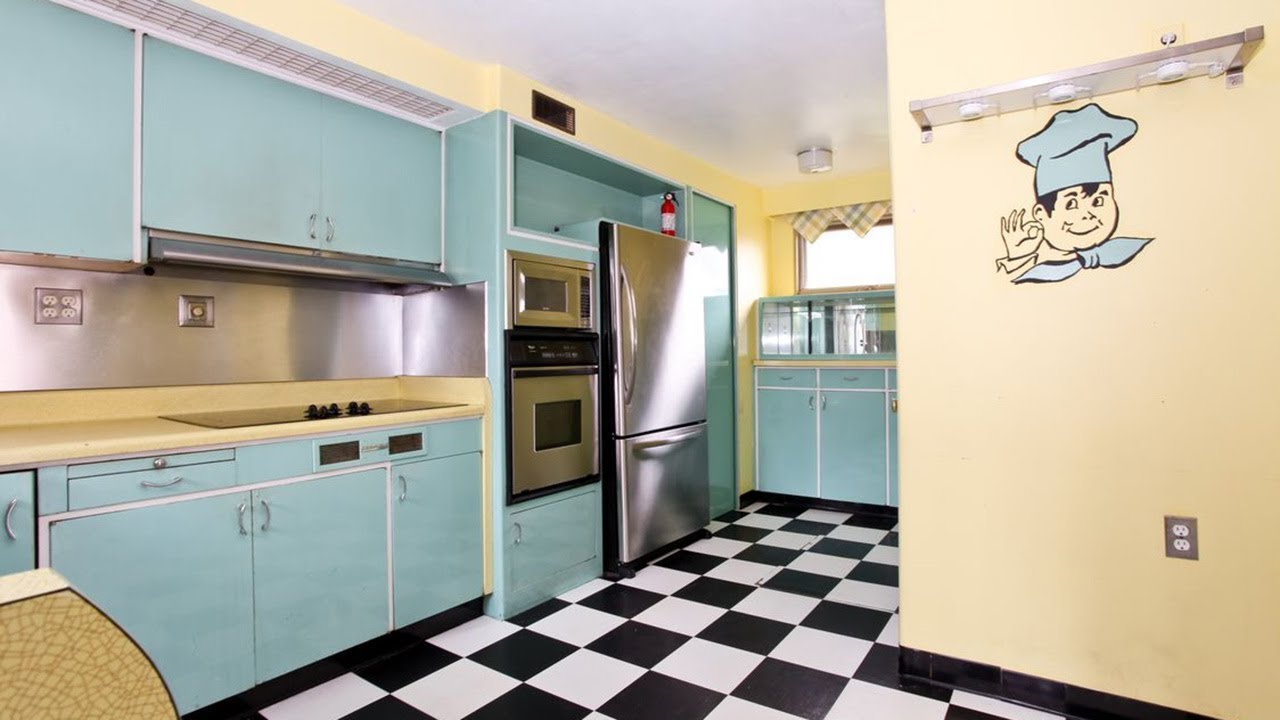 You're not only have geometric or hexagonal tiles with Mid century styles. This styles are also adept at adapting other flooring styles as well.
In this kitchen Mid kitchen idea, a classic chequered tiles are used. The genuine Mid century style kitchen accepts the classic Victorian style tiles readily.
22. Mid Century Sputnik Pendant over Mid Century Modern Island Table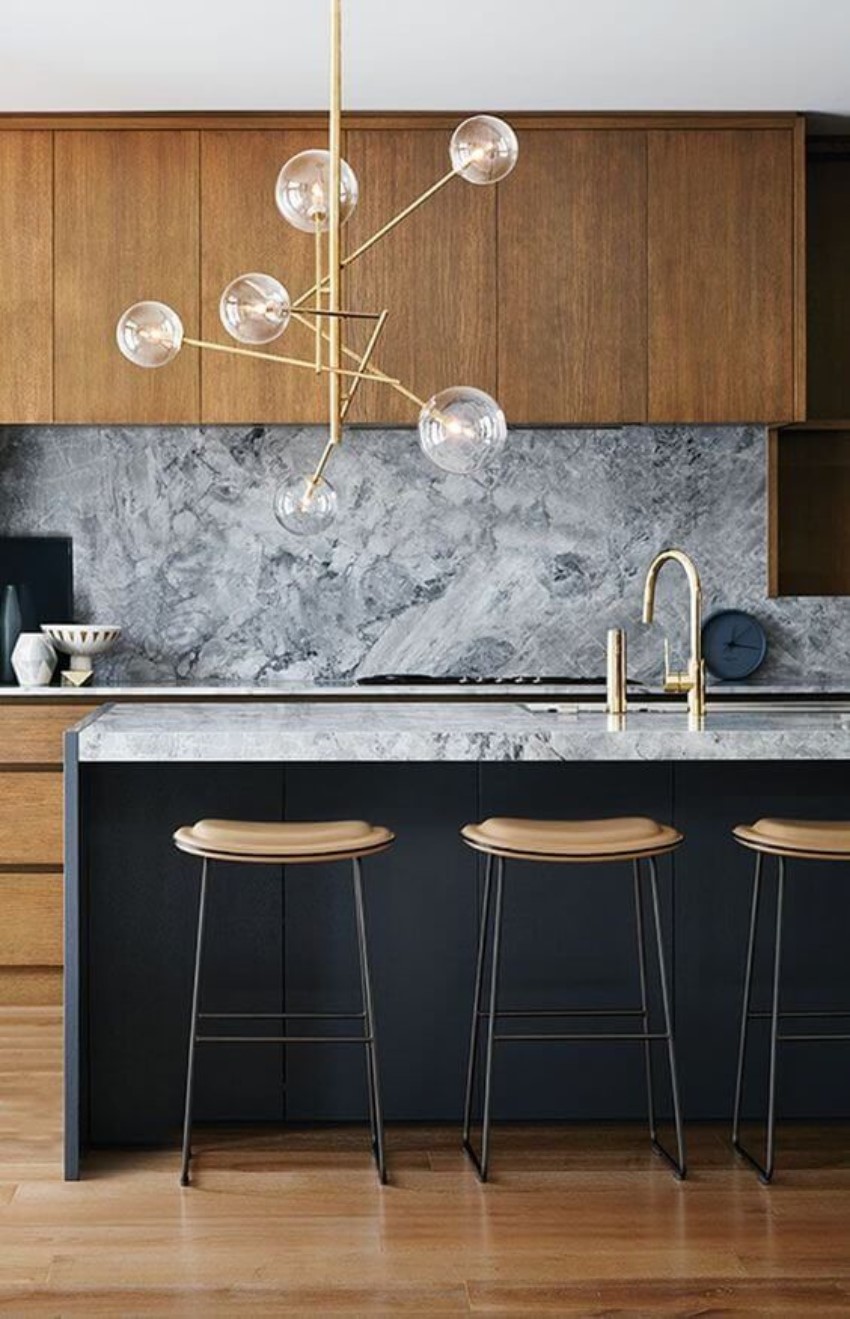 Sputnik is the first man-made satellite launched by Russian in the end of 1950s. It helps to launch the Space Age which influences almost any facets of living –including the interior designs.
The Italian designer Gino Sarfatti then designed a lamp fixture which later become a hit, the sputnik lamp.
It consists of sticks and balls, just like the sputnik lamps above this dining table.
23. Sleek and Elegant Mid Century Kitchen chairs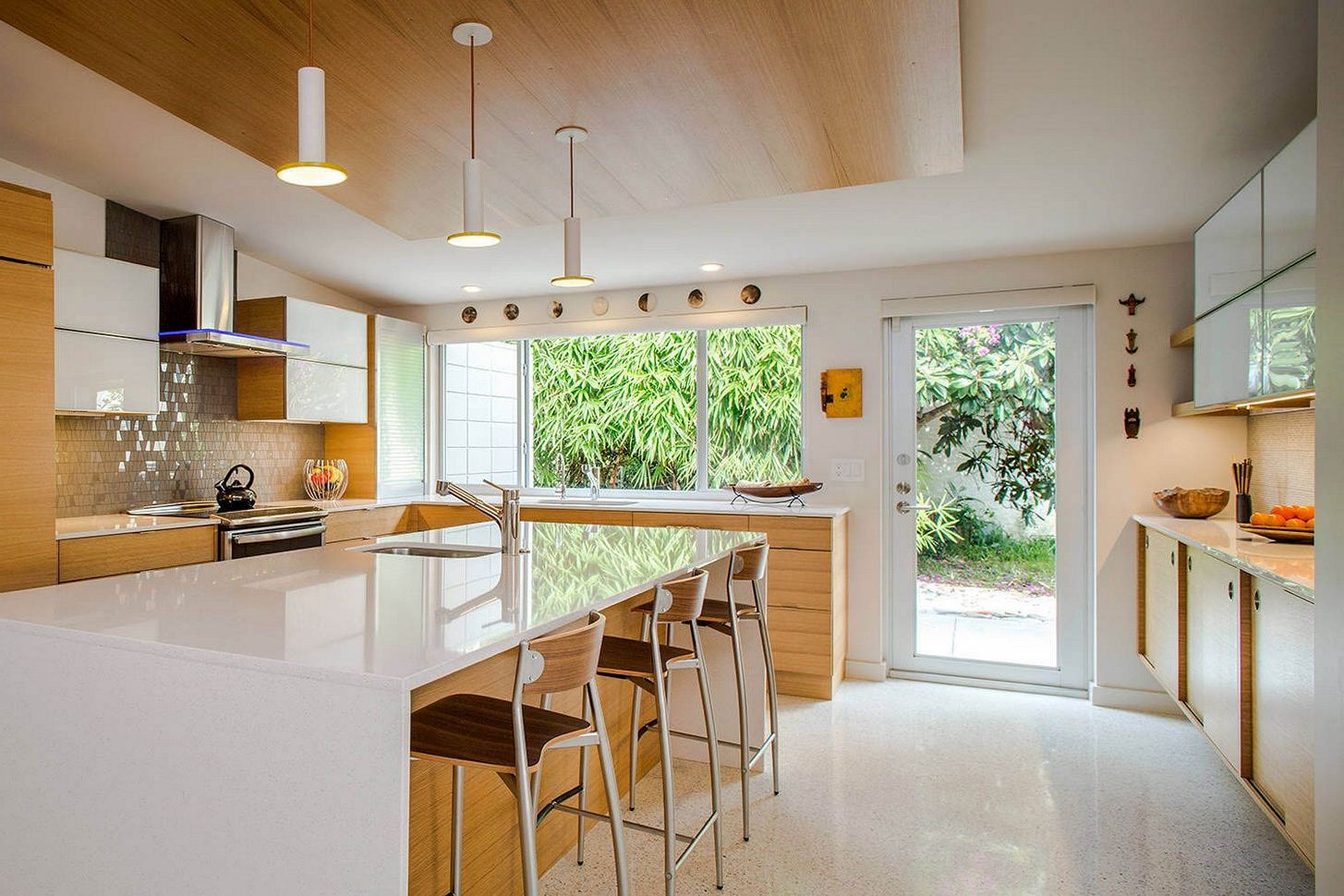 When it comes to the mid century chairs, it probably reminds you with simple structures but superbly designed chairs.
It probably reminds you to some prominent names like Eames, Bertoia, Eilen Gray, or Saarinen.
This modern bar chairs for the island table also remind you to some of the finest Mid century style era: they're simple, fluid, and slender.
24. Gorgeous Modern Mid Century Decor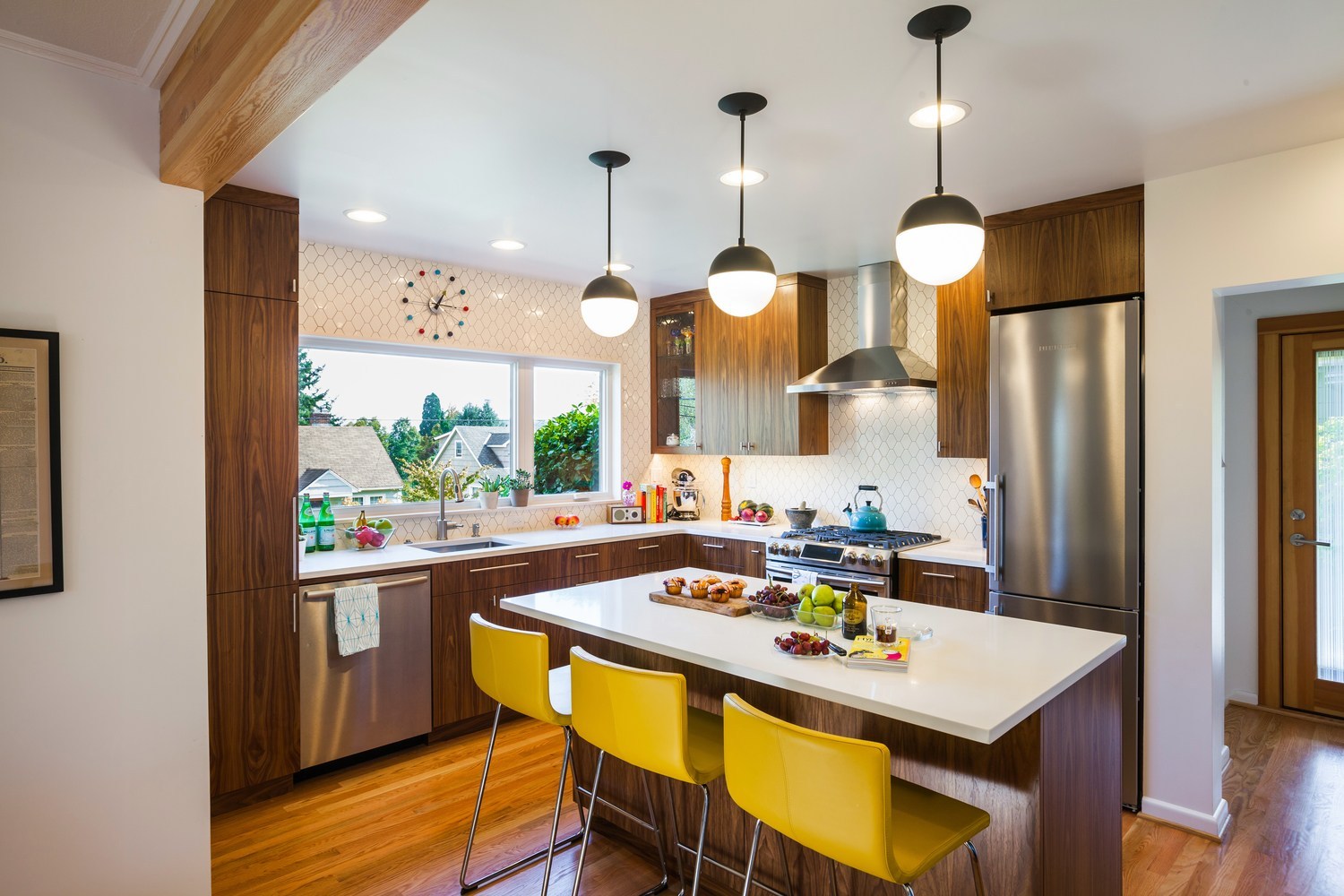 For this list, we present you a medium mid century kitchen. The layout, L-shaped, hints an effective working space, where you can switch from one activities to others easily.
This kitchen also has an island table with countertop big enough as a prep table and breakfast table. To inject freshness to this wood-dominated kitchen, olive green chairs are added.
Three globe Mid style pendant lamps complete the setup.
25. Small Open Mid Century Kitchen with Full of Light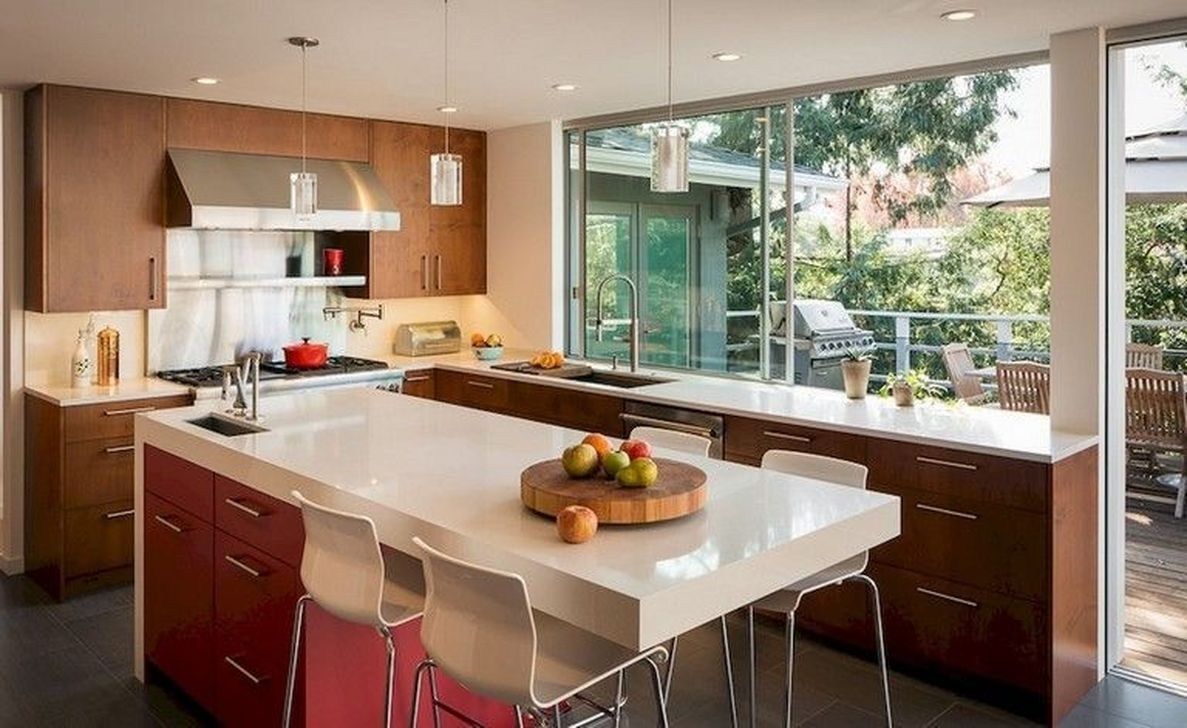 How to make kitchen clutter-free and impressive at the same time? You need to have a minimalist kitchen in a Mid century style.
Minimalism lets you know how to set a kitchen with less decor but effective stuff. It also offers you some of the most efficient kitchen designs.
Mid century style gives the kitchen its soul. If you feel minimalism cold, Mid century evokes a pleasant and warm atmosphere.
26. A Spacious Open Mid Century Modern Kitchen Idea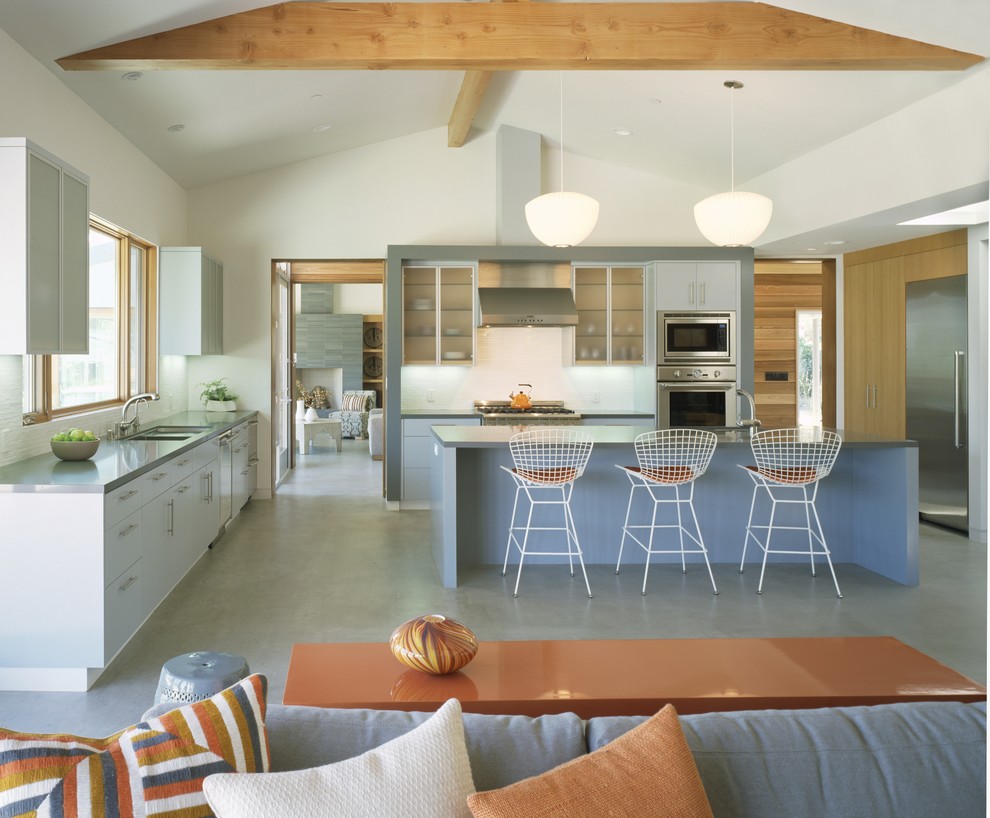 One of the prominent features of Mid style is the open layout of its interior. So, there's no wall (in the conventional senses) between rooms.
With this feature, you have an advantage: having the more spacious kitchen.
This Mid kitchen design shows you how an open layout interior offers opportunity to have a large kitchen. For point of interests, add ball pendant lamps and Bertoia chairs.
27. Nostalgic Mid Century Kitchen Design in Mint Green Theme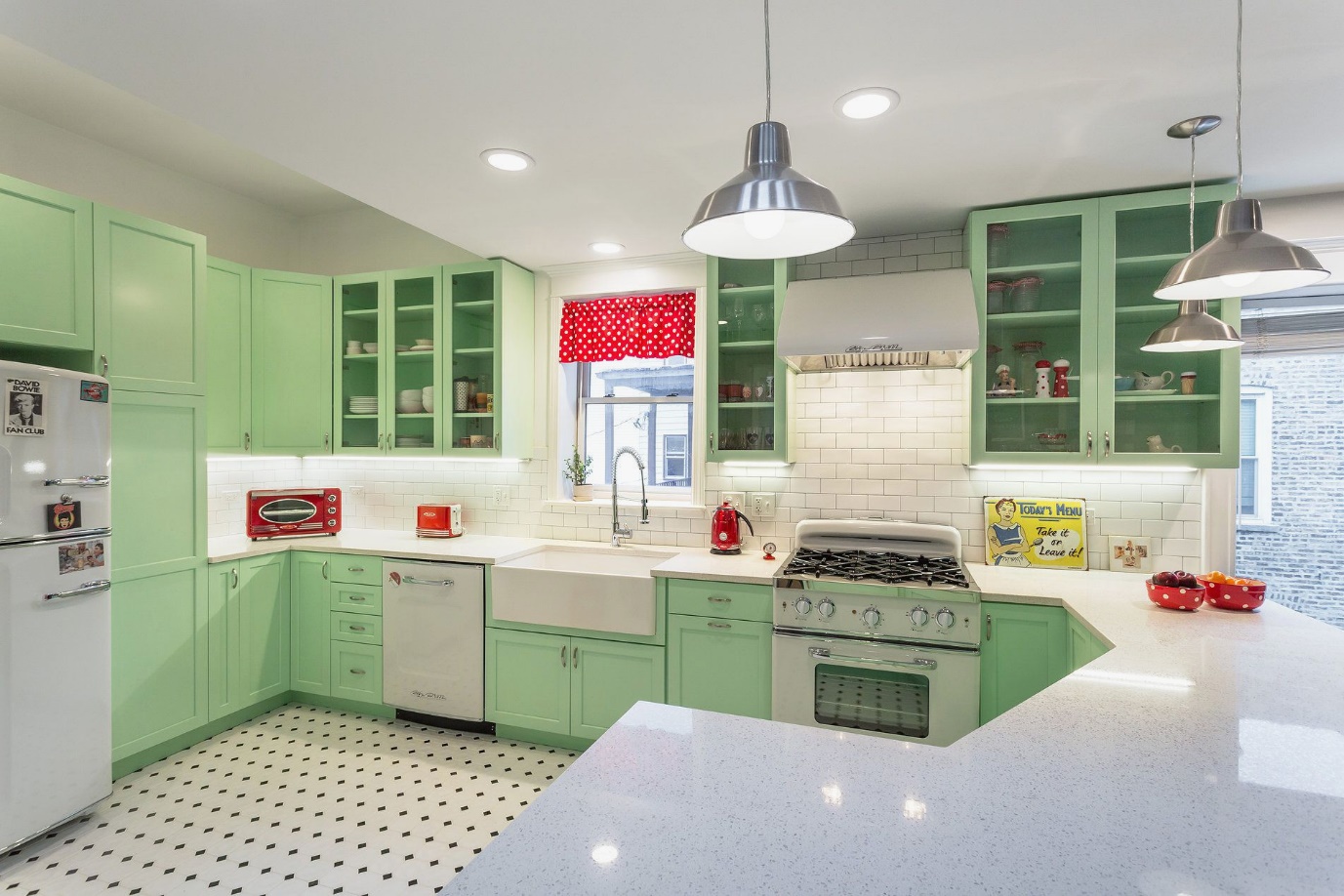 Sometimes colors and patterns evoke old warm memories. Talk about nostalgic feelings, you can always count on Mid century style when it comes about nostalgic vibes.
For example, consider this picture. Almost of all the features in this example could easily trigger your old memories.
The polka dot red appliances and curtains, its grey industrial lamps, the mint green cabinets, are only a fraction of stuff that pull you back to some good memories.
28. Mid Century Kitchen with Wooden Flooring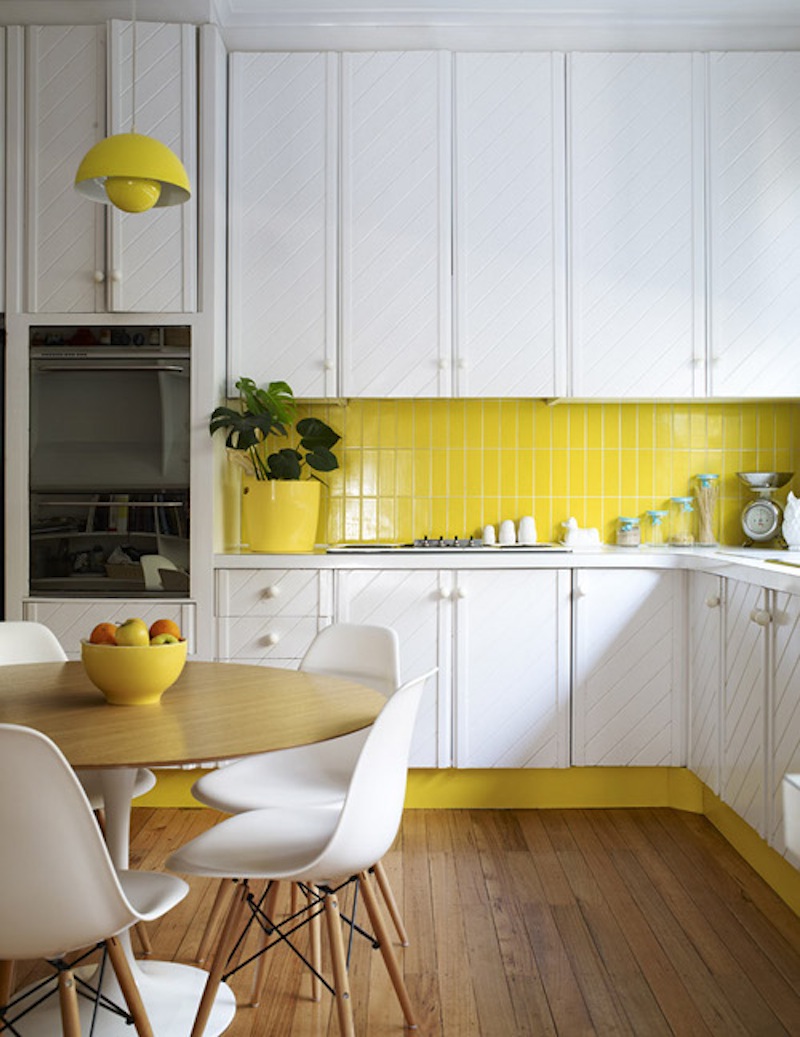 The classic flooring of a mid century rooms include natural stones like terrazzo, travertine, slate, and bluestone.
But that's forbid you from using other materials like wood flooring like the example below.
Compared to the natural stone flooring, wood floor offers unmatched warm feeling to the room –and you as the owner.
29. A Small Mid Century Kitchen Futuristic Lighting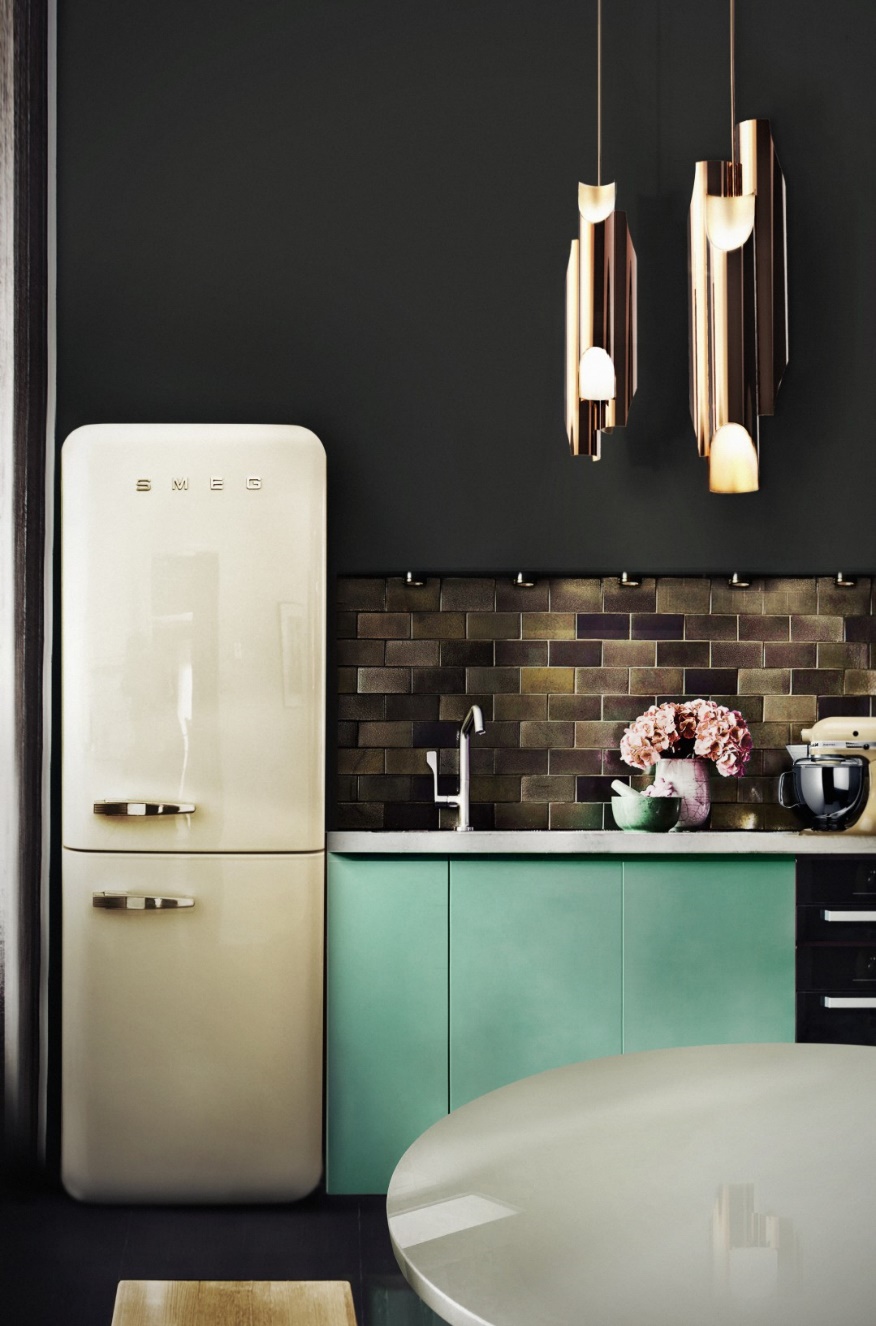 Being small doesn't mean that you should not have a chic mid century modern kitchen.
This Mid kitchen design promises you that your limited spaces can an elegant and spacious kitchen as well.
The keys is its setup and cabinets designs. For the more impressive touches, bring in these futuristic Mid century brass pendant lamps.
30. Atomic Curtains Theme for a Mid Century Kitchen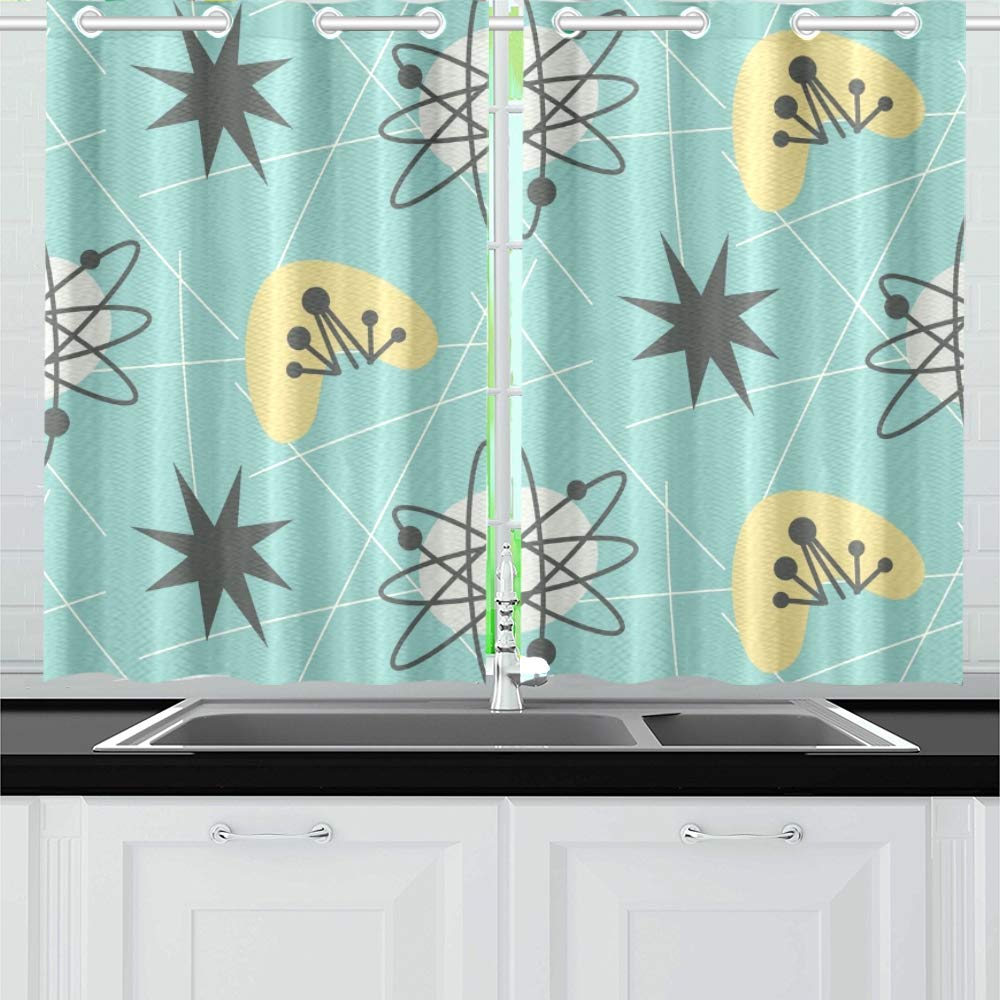 The 50s witnessed a great era known as Atomic Age. The atomic craze swept across the globe and influenced almost all facets of life.
One of Its impact on Mid century styles is its on the curtain colors and patterns of that era. And then you can see many curtains in atomic age patterns, like this one.
Pick one of the curtains for your Mid kitchen, and see your friends impressed by it.
Read More: 30 Awesome Mid Century modern bathroom Ideas
That's it. We have listed 30 mid century modern kitchen for you. We include some of the most classic designs up to the most contemporary one. Some in subdued colors, the others have vibrant and living colors.
We do hope that some of them (or even all of them) may inspire you and spark ideas to remodel your kitchen. Finally, have a good day.