One of the areas that is often left without proper care at many houses is the driveway. It's a shame because the driveway has a quite essential role at every house with a car. It even has potentials to beautify the house it's at; if proper care is given, naturally.
Turning the driveway into an area that beautifies your house, obviously, won't be an easy job to do. A driveway normally takes a quite large space, after all. However, there are quite numerous driveway ideas you can try should you have the necessary enthusiasm.
Just like any other areas, the driveway needs to have a design that suits the house's overall concept. That's why, one should pay a close attention to lots of things when about to design one.
Do you agree that it's important for even your driveway to look good? Well, if you do, we've got 27 ideas you could try to turn your driveway into an eye-catcher. Check them out below.
1. Zigzag Tile Paving for a Cool Driveway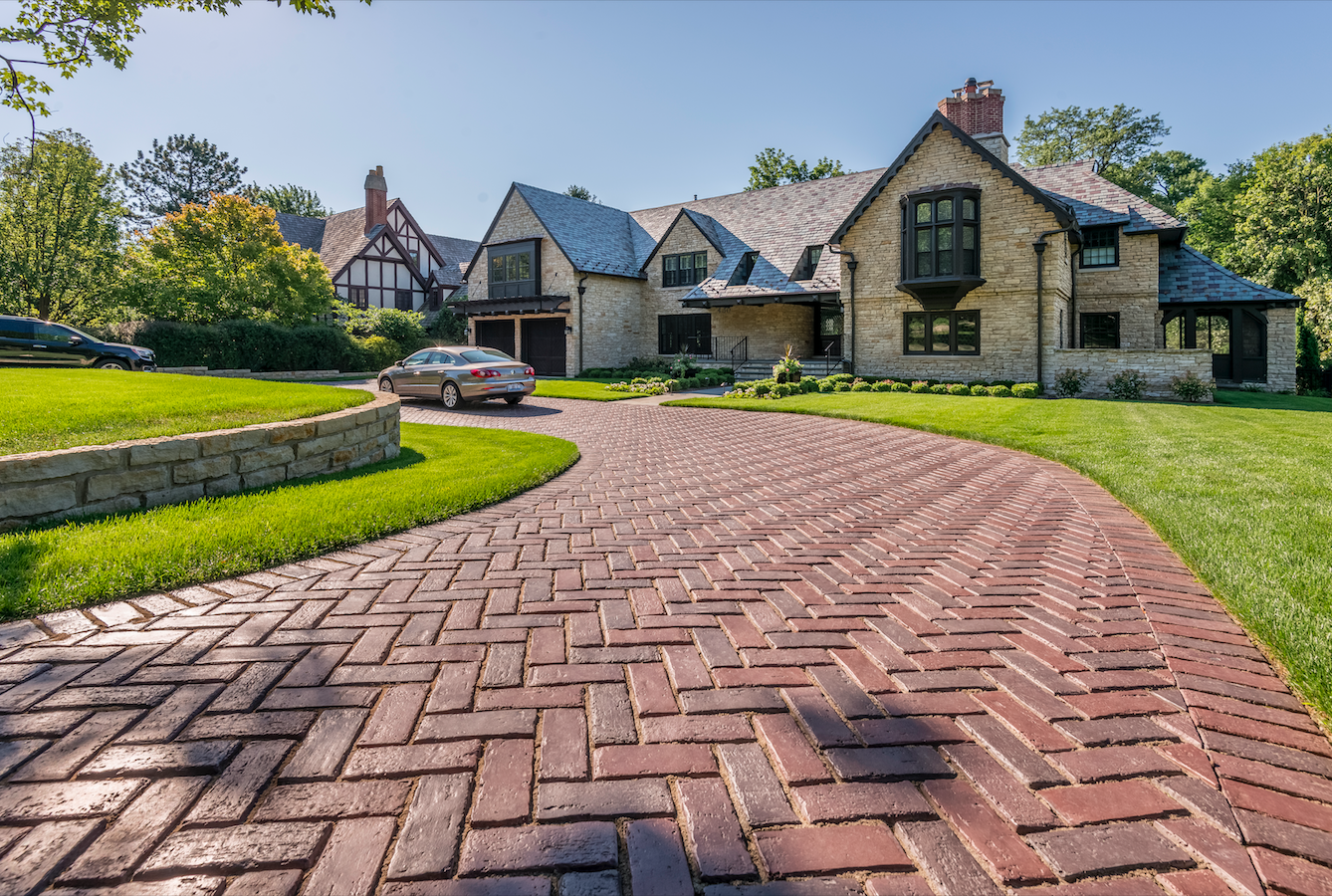 There sure are lots of stuffs to consider when designing a driveway. Thus, you should ask yourself some questions to find out what it is you actually want to achieve.
Are you trying to build something grandeous? Are you considering putting your vast front yard area to a good use? Or are you simply bored with creating a driveway for the sake of it?
If you're just bored, try spicing things up by using non-conventional bricks for your driveway. Zigzag bricks would be cool choices to pick.
Zigzag bricks can help you create a driveway that actually looks cool when you're looking at it while driving on it. Try them if cool is the word you want to associate with your driveway.
2. Brown Resin Paving for a Beautifully Humble Driveway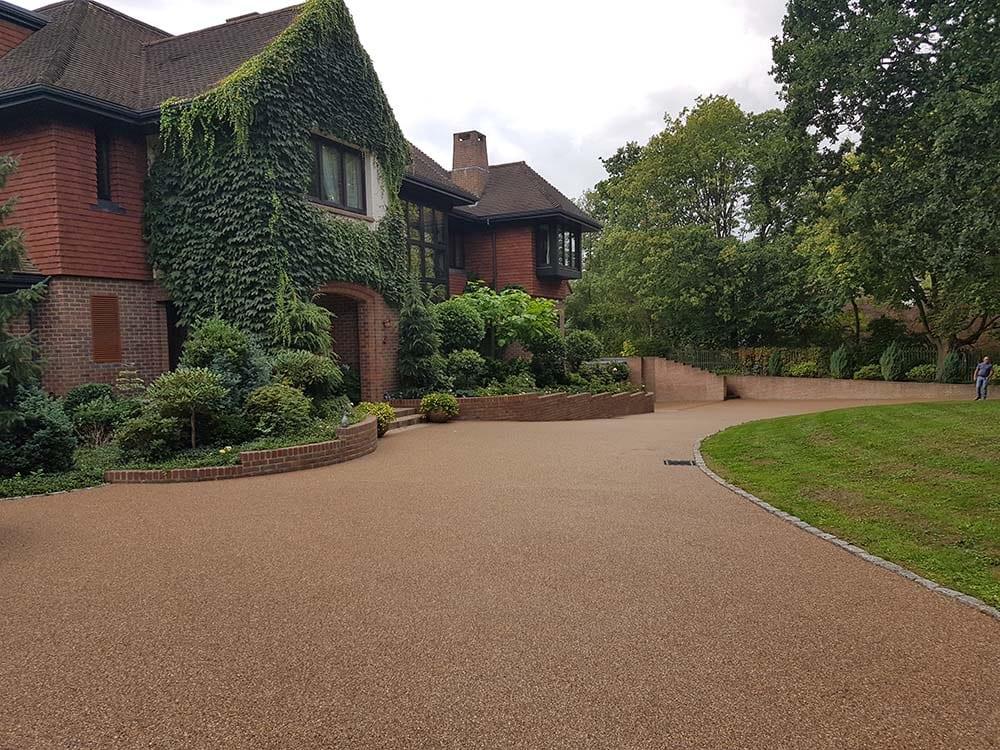 Do you have some degrees of hatred towards luxurious-looking houses? Do you prefer ones that look more down-to-earth?
If a down-to-earth house is one you've been dreaming of, a resin driveway should be among the things in your to-build list. Make sure you choose brown as your resin color and you know why.
Brown is a color that's very close to the earth. It makes for a perfect driveway that tries to stay close to the nature. If your driveway is quite wide, one might even mistake it for soil.
3. A Driveway That Contrasts the Surroundings
How do you make a driveway stand out? Well, one of the tricks is making it a different color from the others.
If you've got brick walls in brown and black, for example, a driveway that comes in shades of gray would be perfect to contrast the walls.
A driveway that contrasts its surrounding will have an identity on its own. It will move from being a useful lane to an area that helps promote aesthetics at the house it's at.
4. When Bright Makes It Better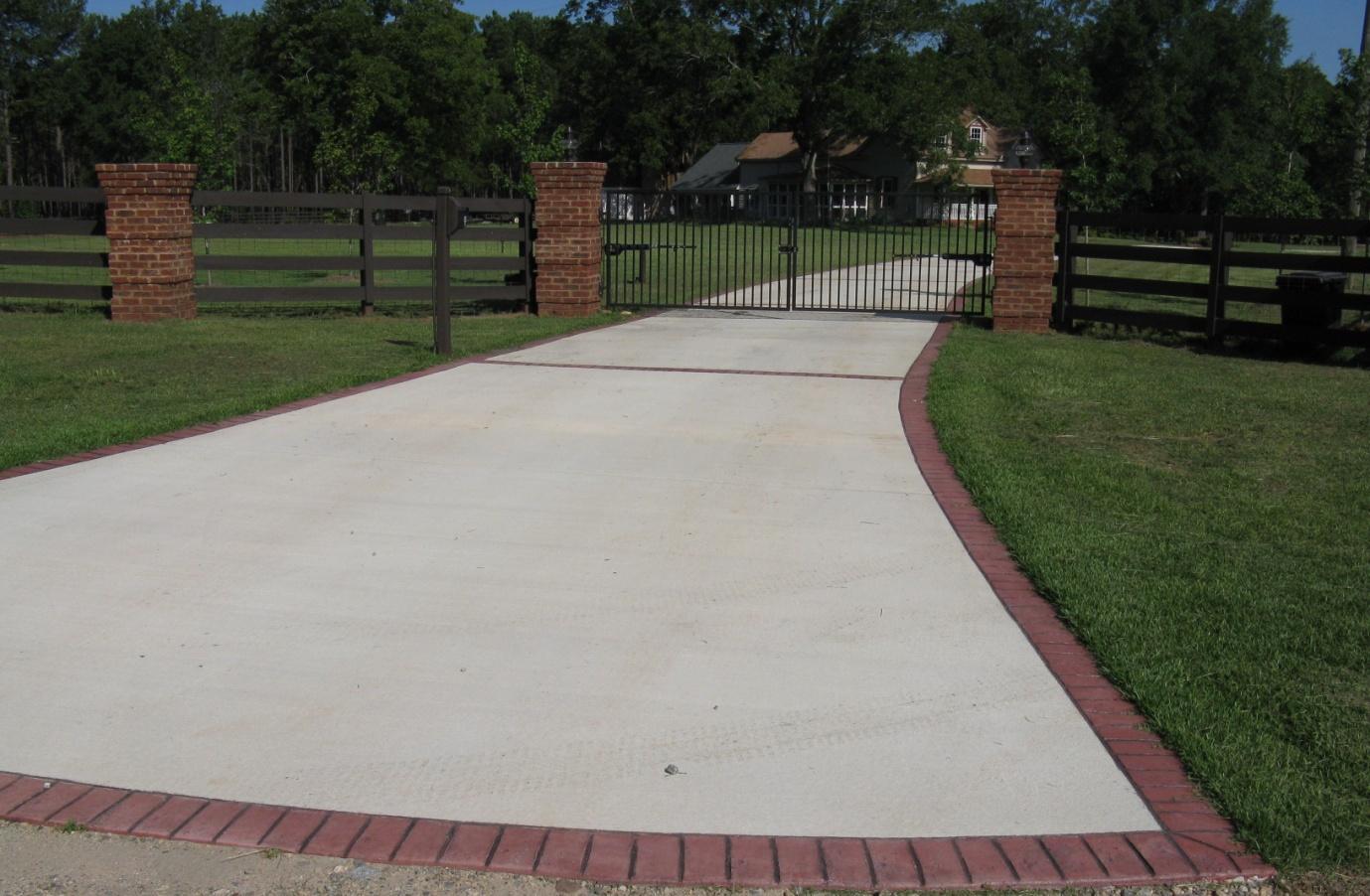 Many people tend to pay little attention to the brightness level of their driveways' colors. As long as they're certain colors, they're okay with just that.
However, there're benefits to get from caring to pay attention. For example, if you don't simply use a certain bright color but you choose to go all the way, you could get some nice looks.
A very bright driveway will look like a heavenly path when you surround it with fields of grass and trees. And that's just one idea amongst so many about using a very bright driveway. You can create more on your own.
5. A Landscape Driveway Escorted by Beautiful Trees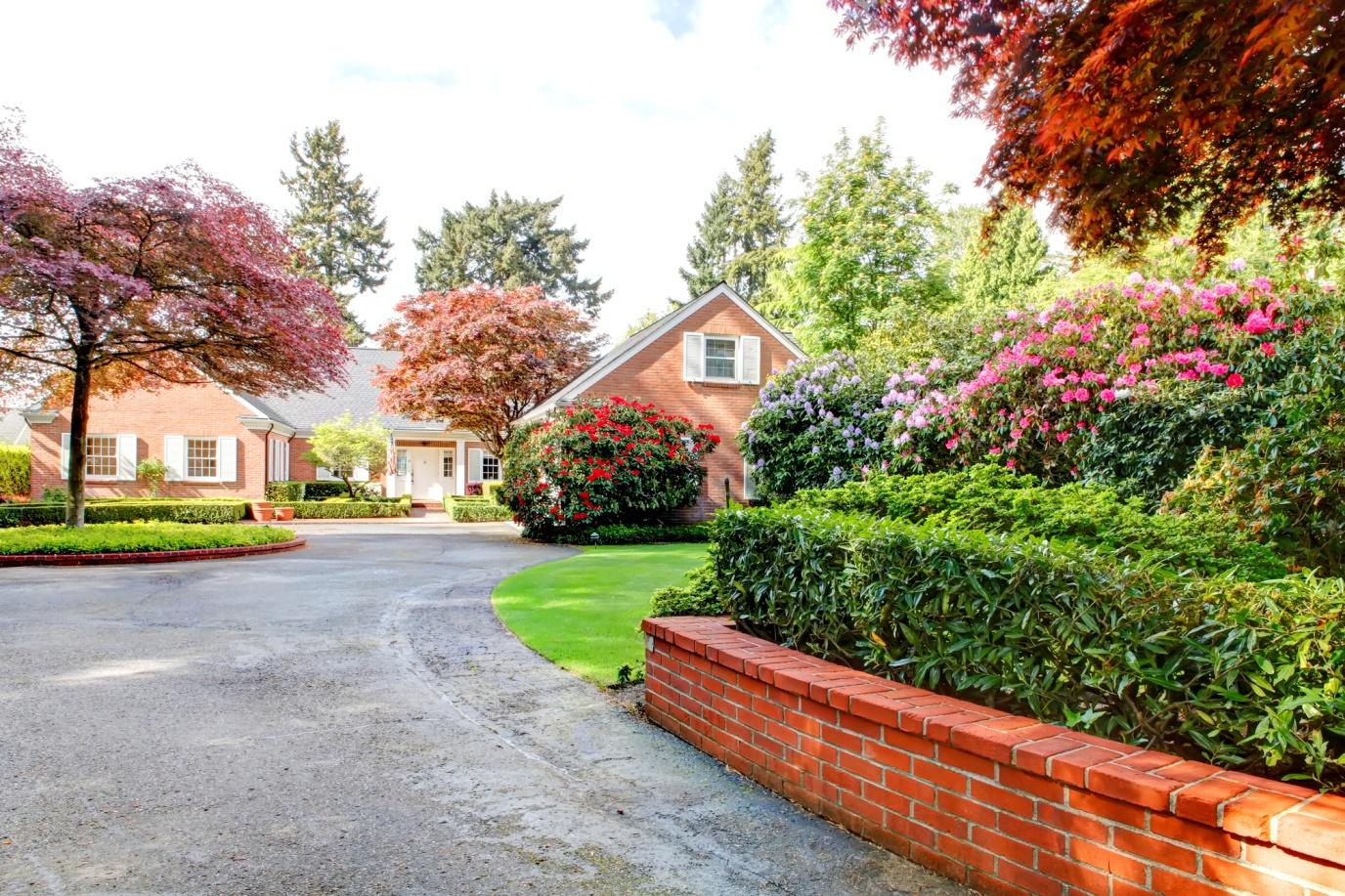 Does driving through your driveway feel boring? If so, you might have to consider spicing tings up a little.
Turn your driveway into a landscape driveway. This way, you'll be able to feast your eyes during your way home.
The trick's simple. Just plant some trees around your driveway. However, choose trees whose leaves aren't green. You'll feel like being escorted by beautiful trees having this kind of driveway.
6. A Wheel-track Driveway with Beautiful Flowers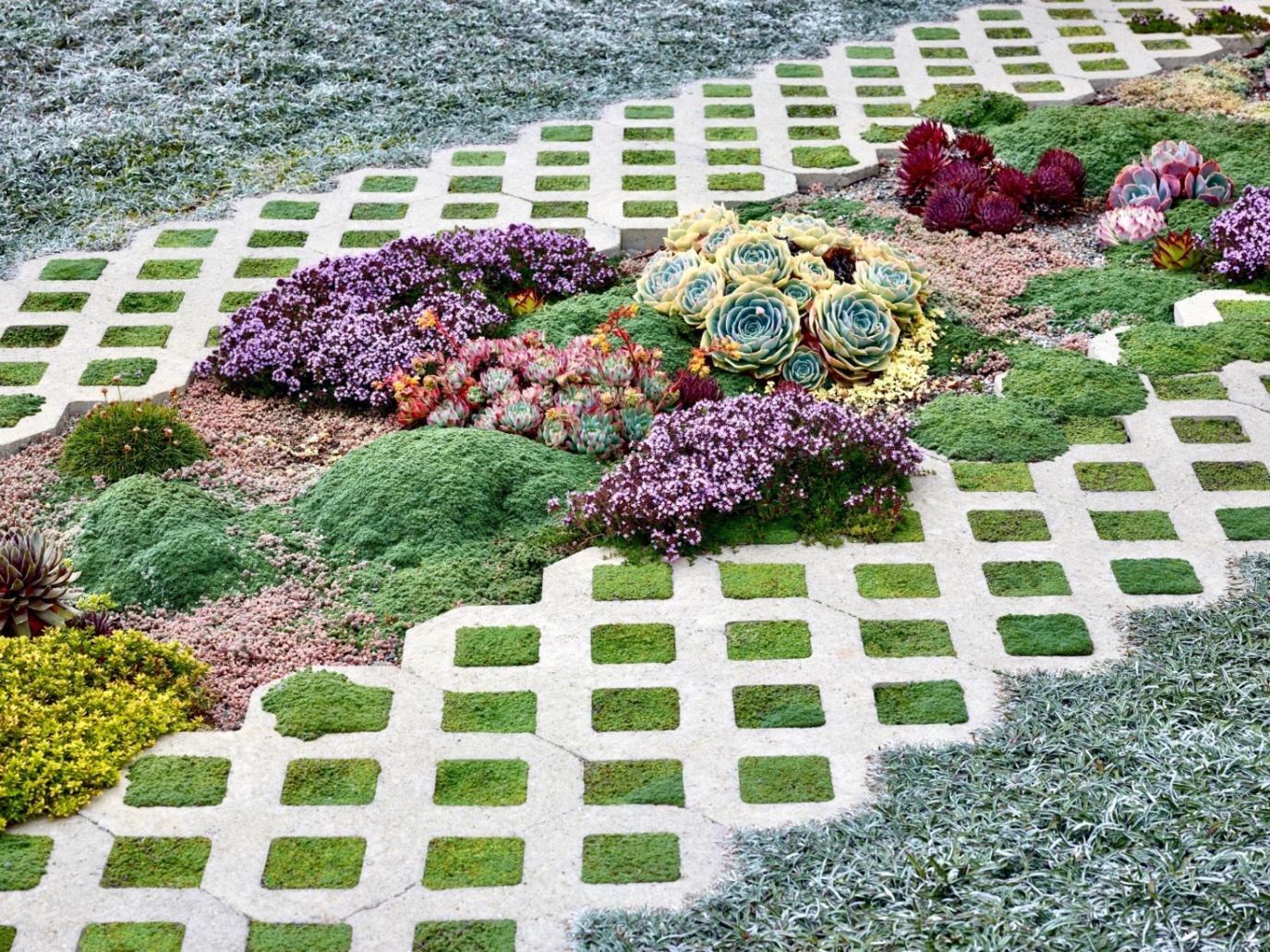 Wanna guide your wheels every time you drive home? Well, just create a wheel-track driveway.
Don't just stop there, though! While you're at it, decorate the space between your wheel tracks so it doesn't look boring.
What are the best things to use between wheel tracks? Well, it's outdoors and it's an exposed to the sun so flowers should provide the best answer to the question.
7. A Driveway Escorted by Flowers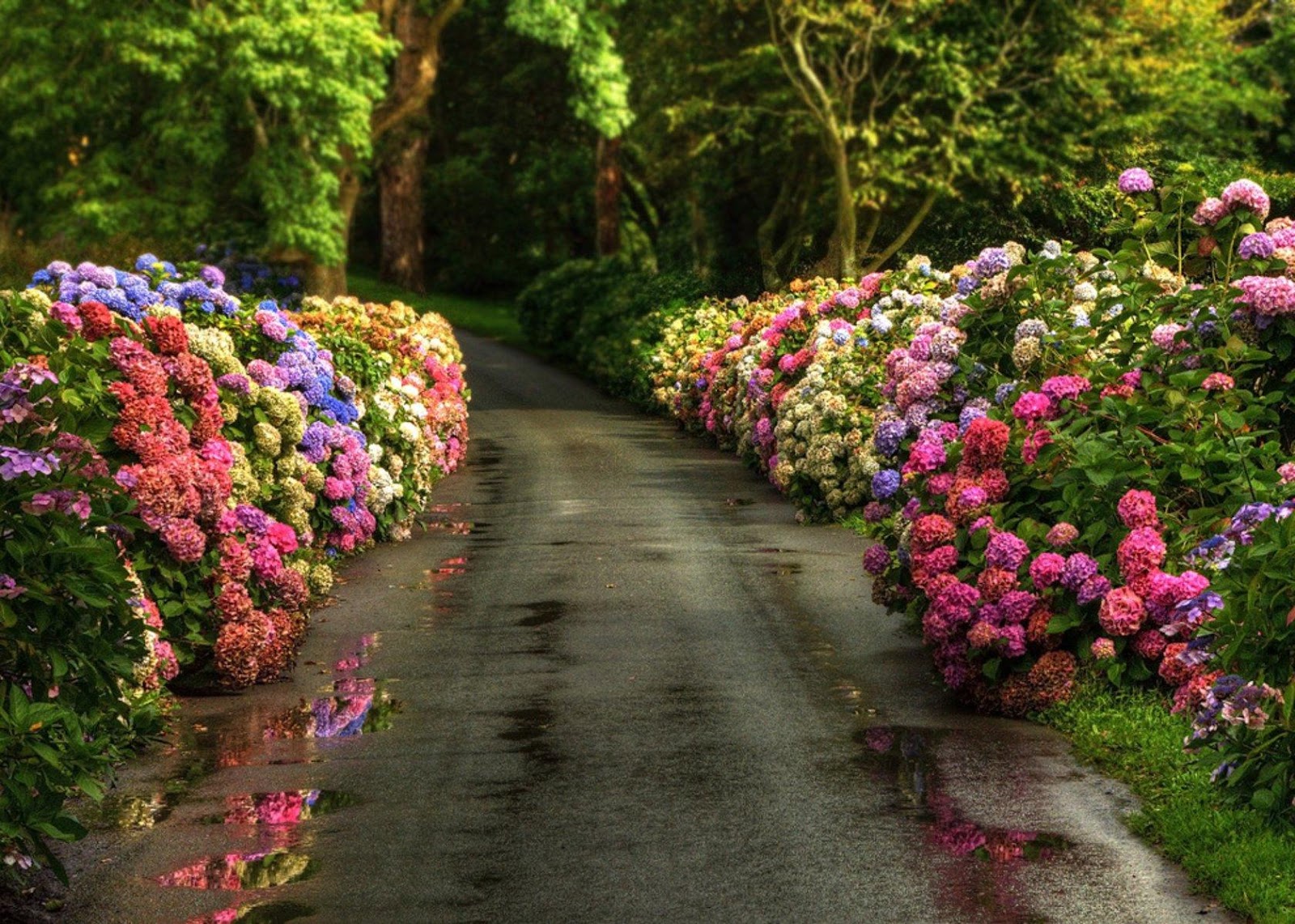 Thinking of using flowers another way? Well, create another kind of landscape driveway where you don't plant beautiful trees but flowers.
If your driveway is quite long, plant beautiful flowers on each side of your driveway. The flower wall will absolutely captivate your eyes everytime you drive home.
Make sure your flowers are in varying colors so you get something different everytime you pass one meter of distance during your way home.
8. A Driveway for a Humble yet Elegant House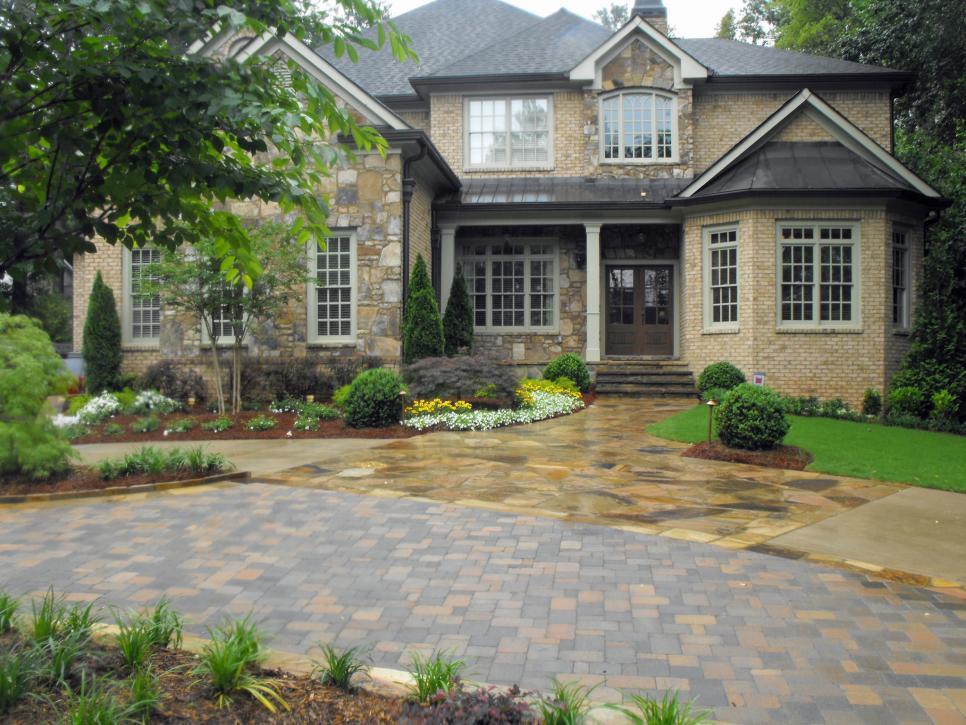 Is a humble house the one you live at? If it is, a driveway that doesn't fail it should be the perfect one for you.
A driveway that suits a humble house should come in colors that complement the earth. So what are the tricks?
Use tiles in natural colors, preferably stone and earth colors, so that your driveway look natural, suiting the house's overall character.
9. A Driveway with a Challenging Curve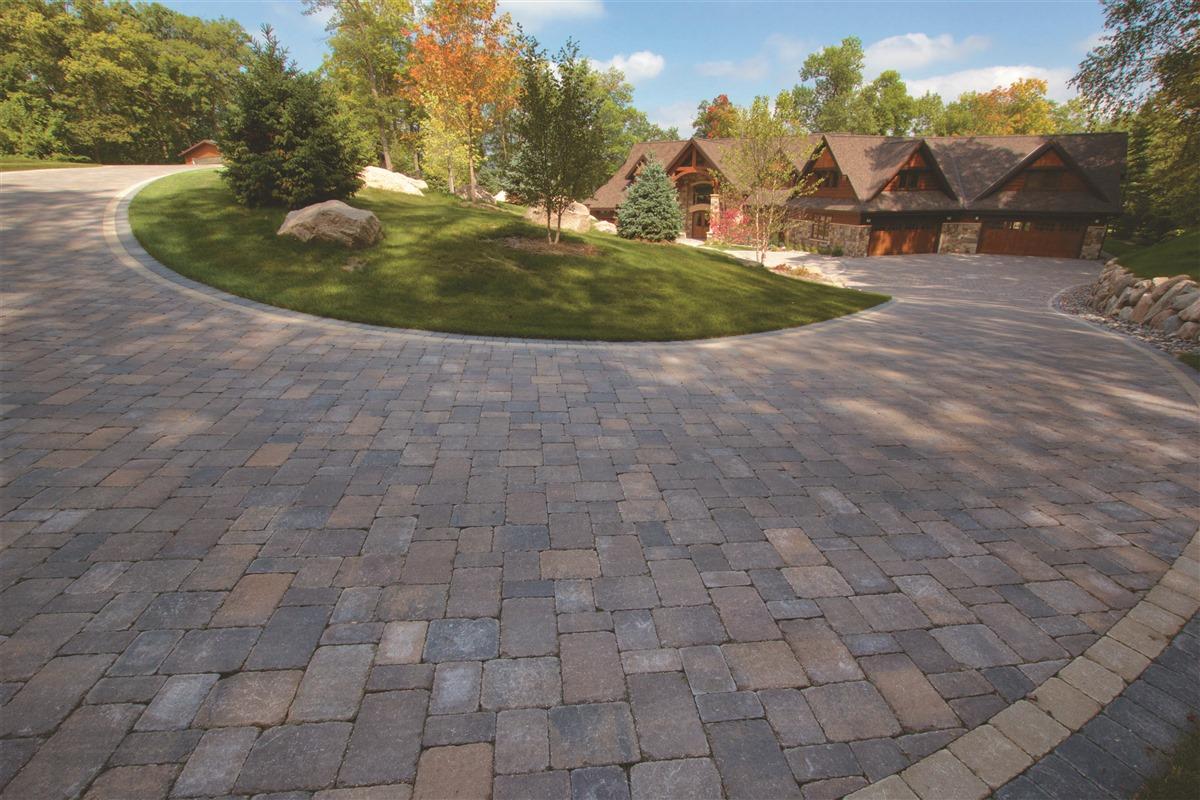 Do you love drifting? Or maybe even driving in fully circular tracks? Then why don't you create a driveway that accommodates your hobby.
Creating a driveway with a challenging curve should help satisfy your need for adrenaline rush every time you drive your car home.
Even though it might not be a full circle, it should be able to give you a challenge to beat every day.
10. A Driveway with a Distinctive Pattern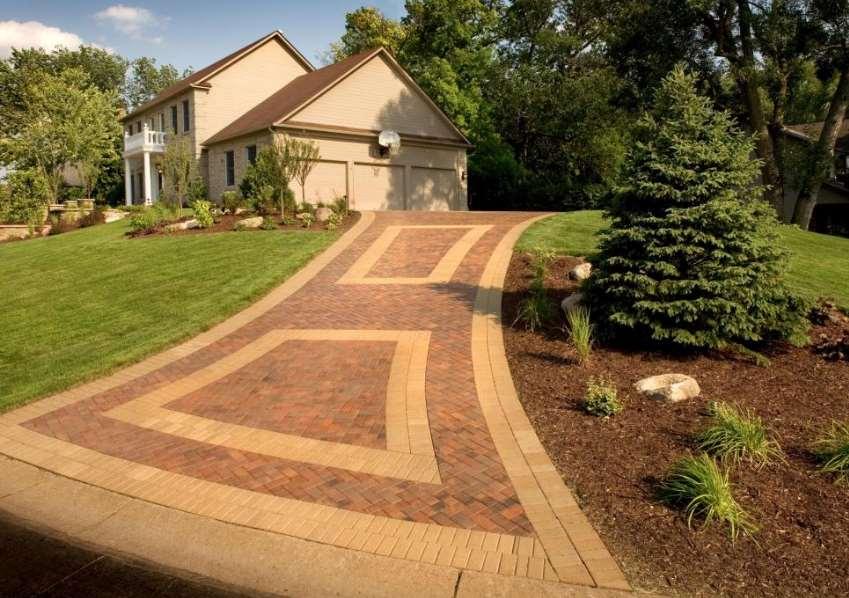 If a plain driveway drives you crazy, you should start designing some patterns. Start from your personal computer first, naturally.
Once done with the design, try applying said design to your driveway. Give your driveway an identity by creating a distinctive pattern on it.
The idea is to have a pattern which is in a color that contrasts the bigger area of the driveway. This way, the pattern's beauty will be easily visible, making it so easy to enjoy it.
11. A Plain and Smooth Driveway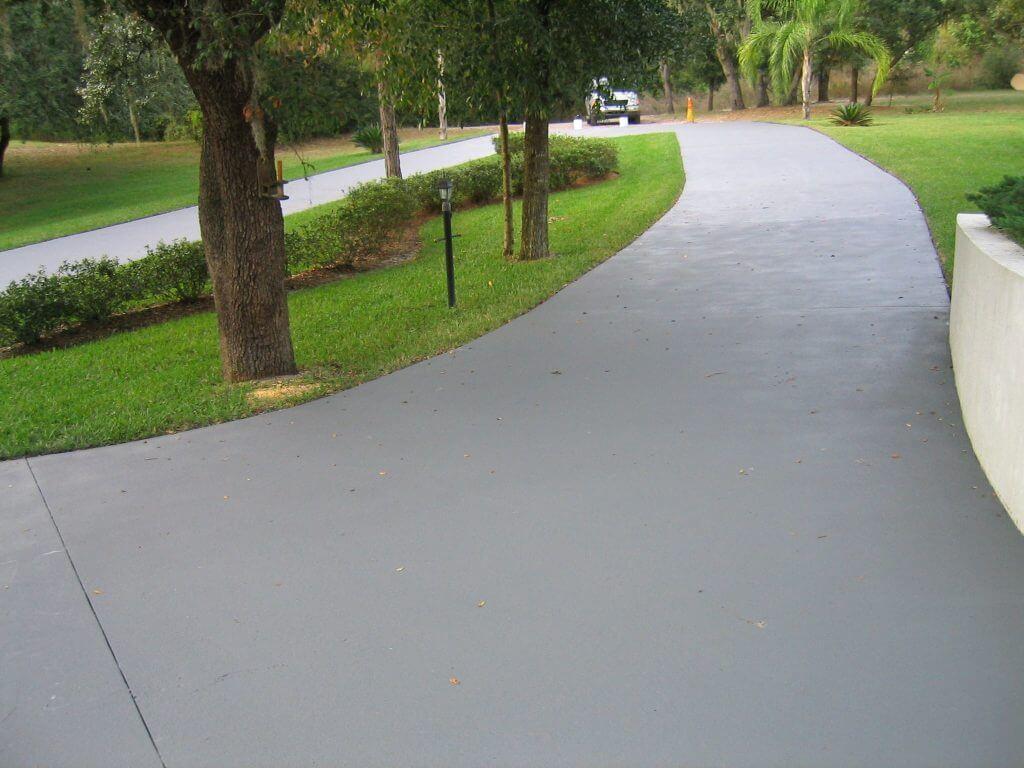 If you find simplicity better than complexity, you should build your driveway around that concept.
Create a plain driveway and don't worry about how people will react to it. It's your driveway so others don't have a say in deciding how it looks.
Don't forget to make your driveway smooth, though. You don't want to experience some turbulence when driving your ride home, do you?
12. A Driveway with a Mid-way Park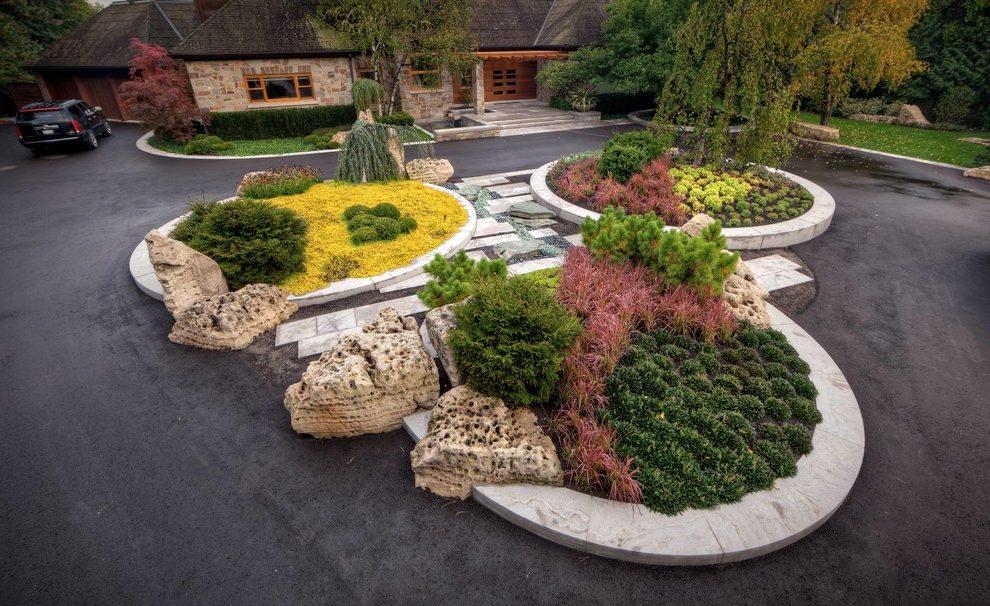 Your driveway should never be boring. If it is, you'll get sleepy when driving home and that's undeniably dangerous.
To prevent boredom from ruling over you as you drive, create something grandeous along your driveway. It doesn't to be something costly.
A mini park will do. It's inexpensive but if you manage to build it, you'll never get sleepy driving home in your ride.
13. A Driveway with a Statement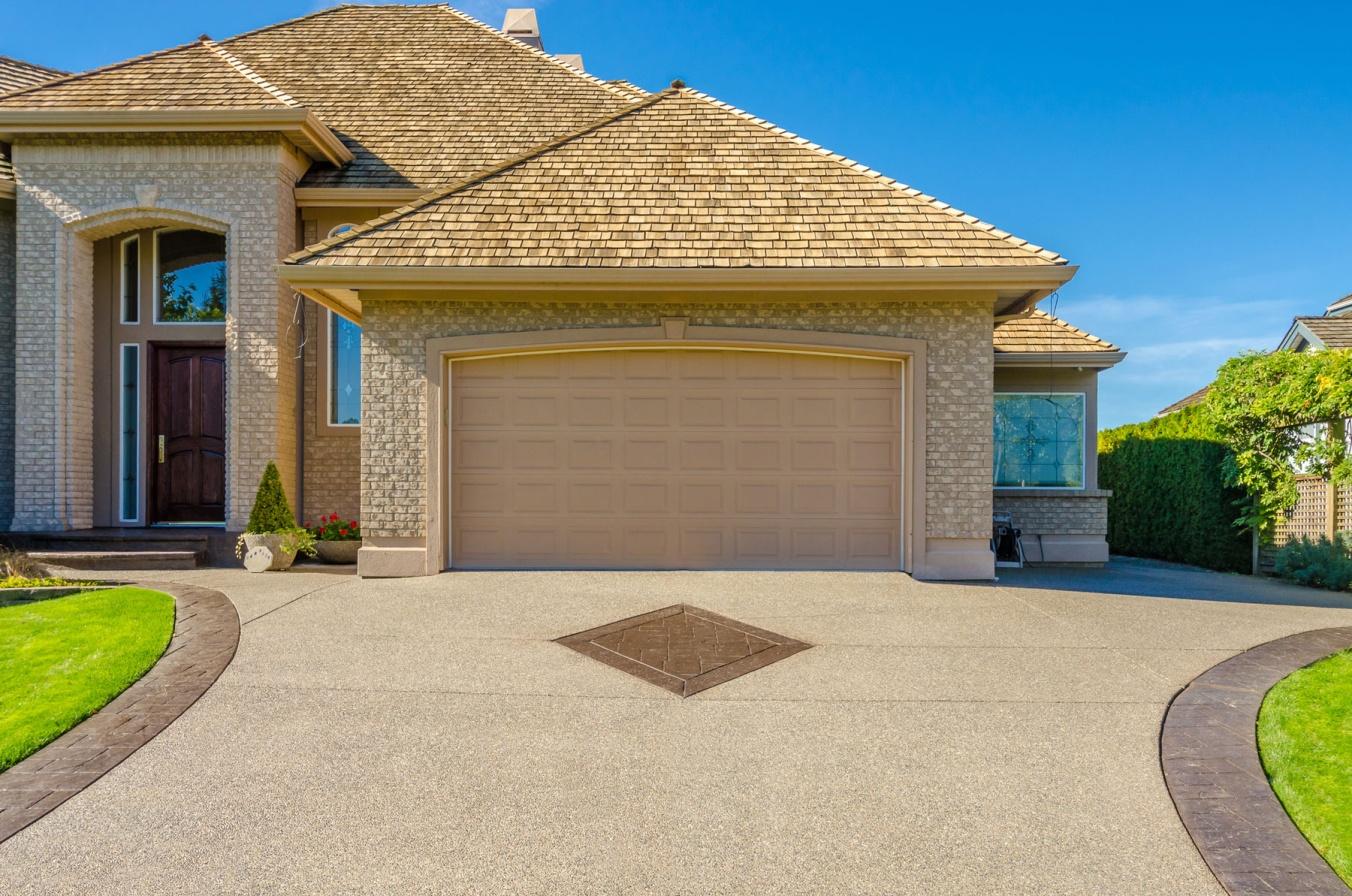 You don't want your driveway to be anonymous, do you? Whether it's to give it an identity, to make it unique or other reasons, you would want your driveway to make a statement.
It's not that hard to realize the idea. After all, a simple logo before your garage door would be enough to separate your driveway from the others, to give it an exclusive character.
So what to consider? Well, your logo, or family crest or whatever it is, should be in a color that's highly visible so everybody sees it clearly when driving to your house.
14. A Driveway with Borders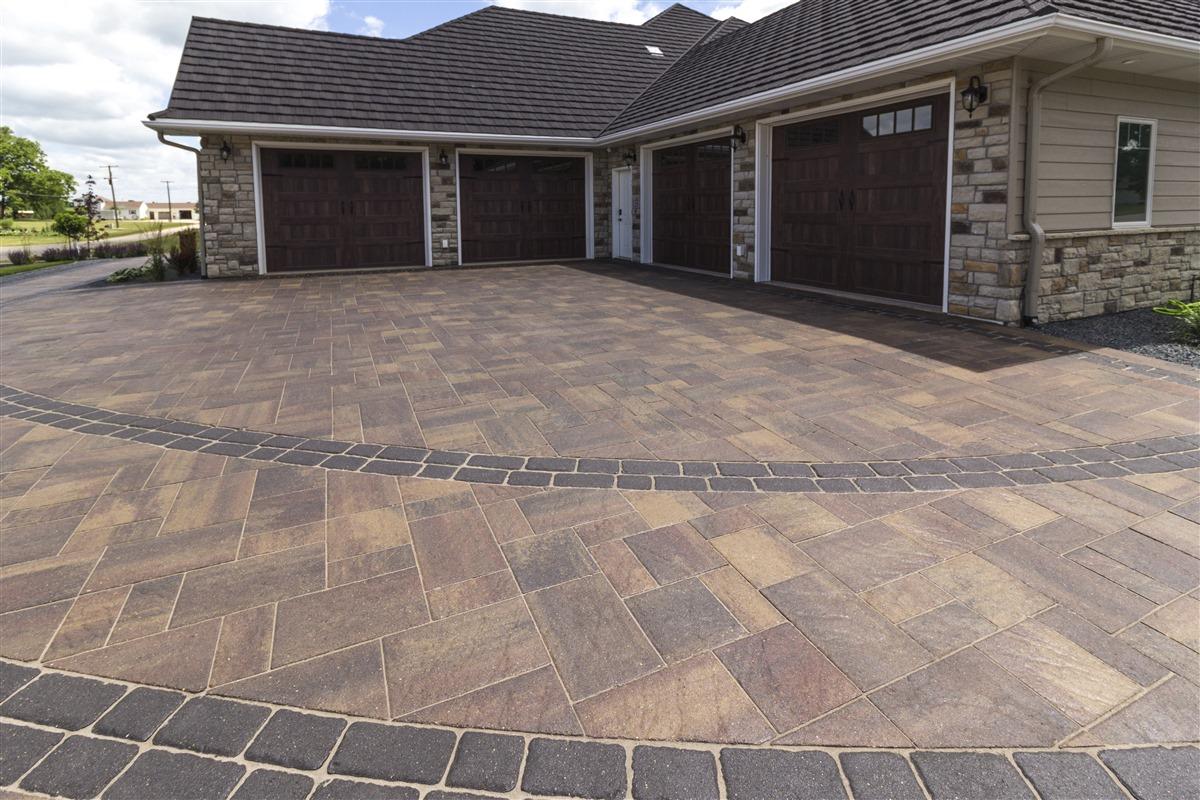 Do you like control over anything? Even your driveway? Well, it's not a bad thing at all, believe me.
You can even use this trait of yours to design your driveway. For example, you can create a driveway with borders.
It's a simple job, really. Just use darker colored tiles to create lines on each side of your driveway so your car never strays. Try it!
15. A Driveway with Dark Pops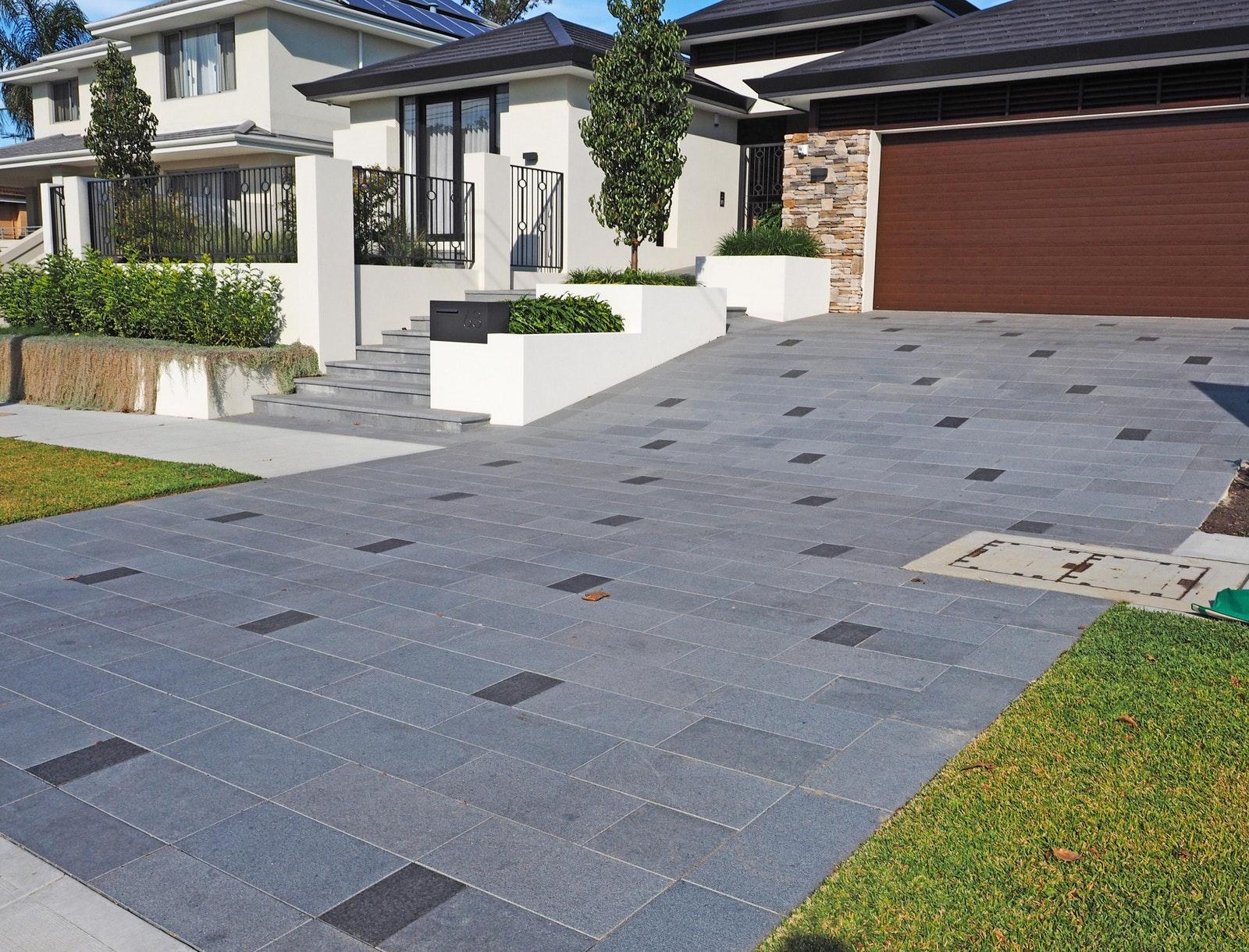 If your driveway tiles are mostly bright colors, try being a little playful with them. What's the trick? Pretty simple, actually.
Amongst your bright tiles, mix in some darker tiles here and there. The more organized the darker tiles are, the better it is.
Doing so would allow you to create a driveway with dark pops, a driveway that looks cute and cool at the very same time.
16. A Gravel Driveway for a Rustic House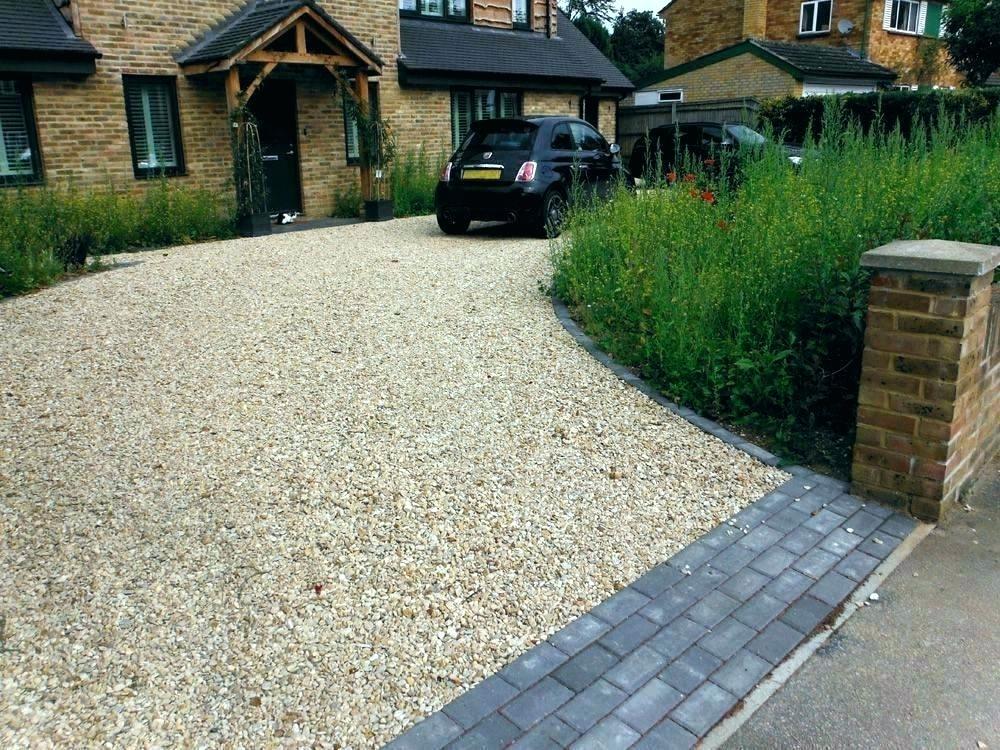 Owning a rustic house? Well, why don't you try creating a driveway that perfectly suits your house?
A gravel driveway should be perfect for this idea. While it isn't exactly super easy to realize this idea, it also isn't super hard to do it.
All you've got to do is collect some gravels and then make place for them on your driveway. It's pretty simple, really. You've just got to make the effort and you'll be there before you know it.
17. A Splitting Gravel Driveway
Care to create a little variation of a gravel driveway? Well, try creating a splitting driveway, then.
The idea is to let your car park in front of your house most of the time and park at another area at other times.
So what to create to split the driveway? Well, a tiny park with flowers will be more than perfect for the job.
18. A Cool Black Driveway for a Modern Look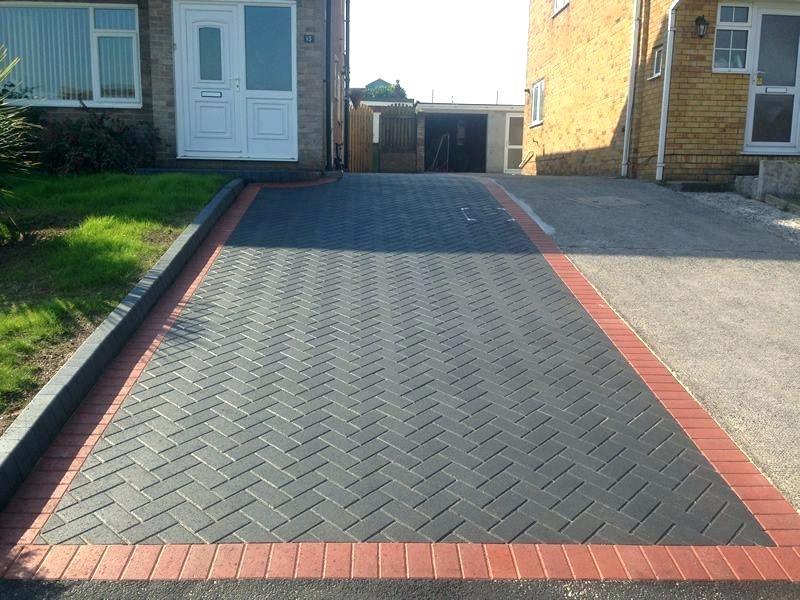 Are modern driveways ones that touch your heart? If they are, just create one for your own car.
Since it's a cool driveway you'd like to create, black should be a color you consider. Black is cool, after all. It's as simple as that!
Use black zigzag tiles and frame them with regular earth-colored bricks to create your very own cool driveway that sparks a captivatingly modern look.
19. A Driveway with a "Welcome Rug"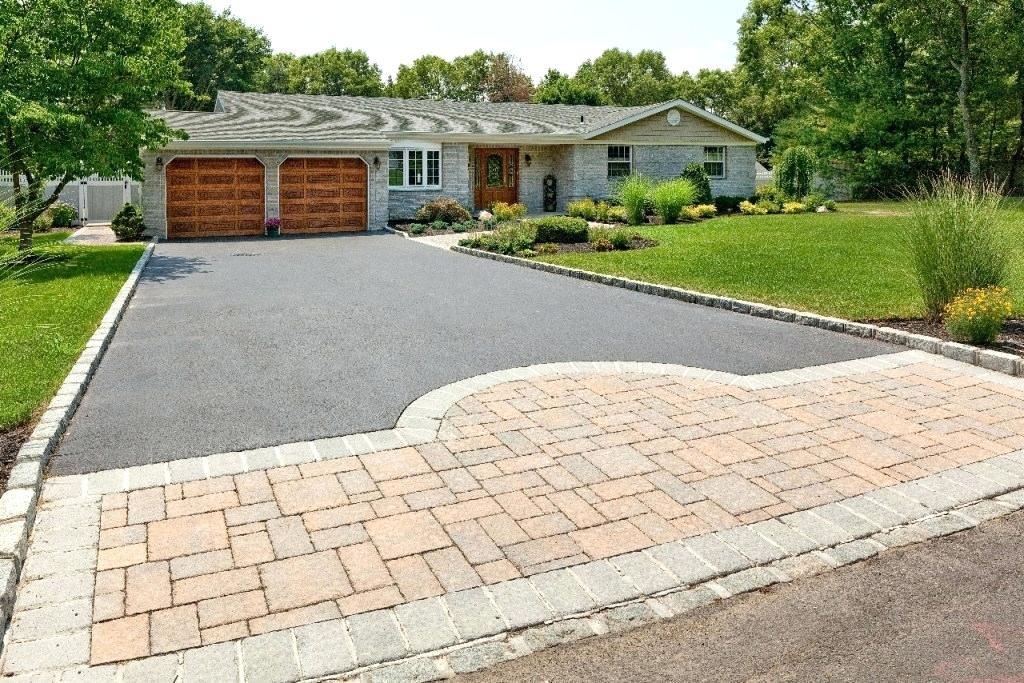 Since a driveway is something that welcomes your car home, you should play around this idea.
Create a driveway that has a 'welcome rug' on it. Make sure your car never enters your house without stepping on it.
To create a 'welcome rug', you just have to create a small area with tiles in different colors from one that dominates the driveway. It's pretty simple to be honest.
20. A Soft-colored Driveway for a Cheerfully Bright House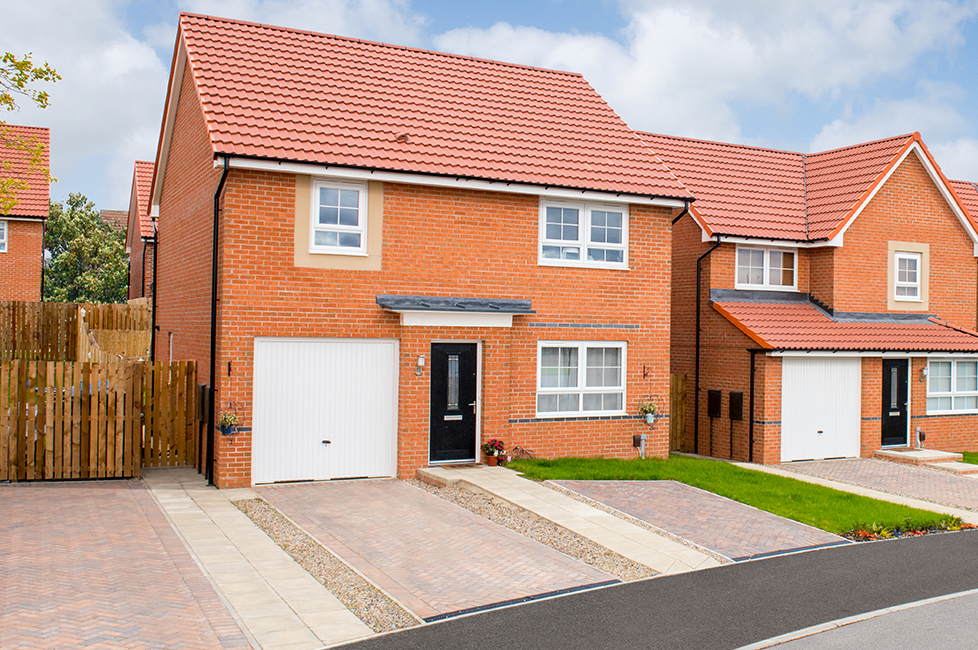 Do you reside in a cheerfully bright house? Well if you do, it's easy to decide on a driveway design for your house.
For a cheefrully bright house, you've just got to create a driveway in a soft color. This way, the driveway will seamlessly incorporate itself into the house's overall tone.
If you can help it, choose a driveway color that constitutes a shade of one of the main colors of the building, or in this case, the house. Just try to make the connection feel natural.
21. A Silver Resin Driveway for a Simple but Commanding Driveway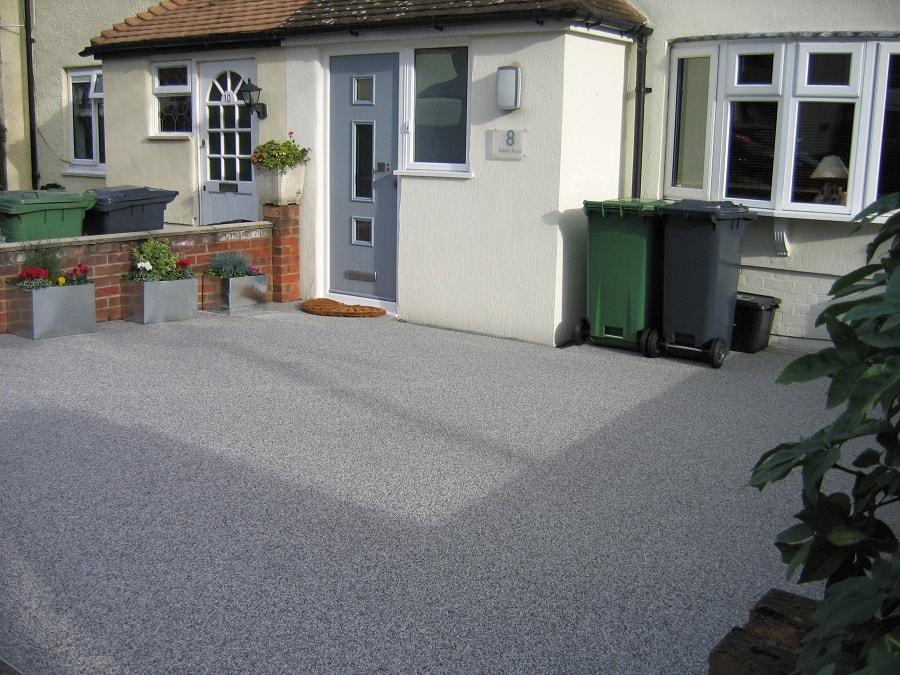 If your driveway is quite wide and you'd like it to put its size into a good use, try using silver resin.
Silver is a pretty tough color and using it on your driveway will be quite beneficial. You can create a commanding driveway using silver resin.
A driveway is the first thing that confronts outsider so it needs to be gallant so that the house feels at ease no matter when. Also, silver resin looks good so it offers beauty as well.
22. A Driveway of Artistically Organized Tiles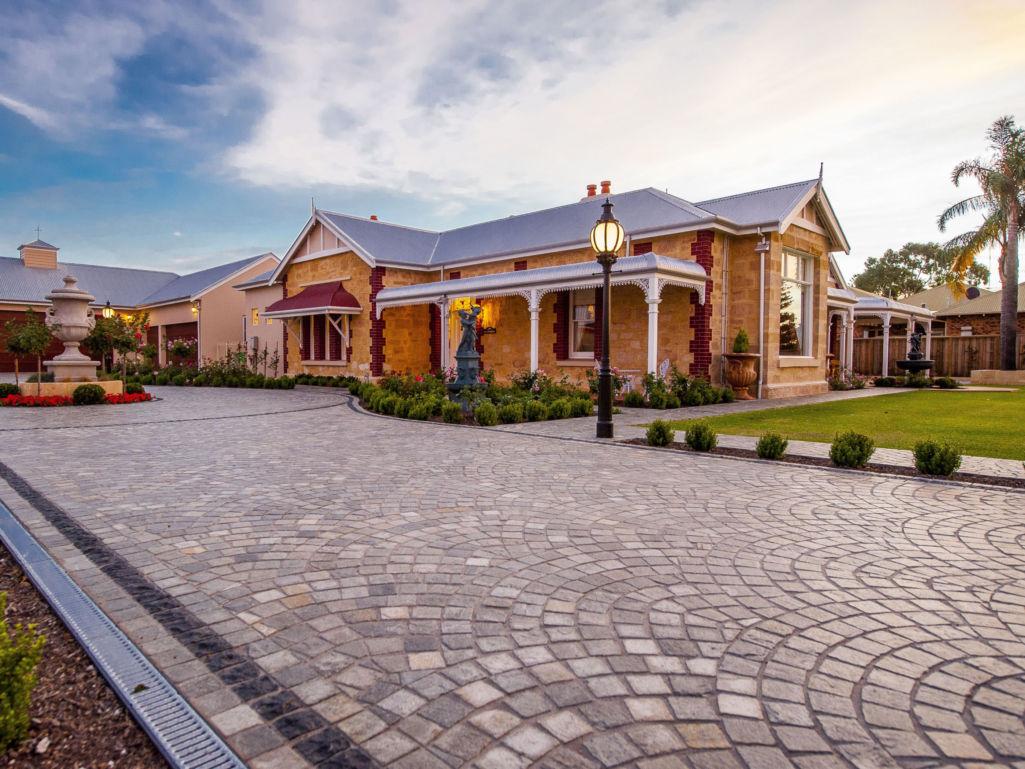 If your residence is pretty big and you love artistic items, why don't you make your driveway a work of art?
Making a driveway look artistic isn't as hard as it sounds. All you need is creativity and some willingness to make the necessary effort.
Just grab some tiles and organize them in a way that makes them look artistic. It's not that hard! Try it and you'll be busy enjoying yourself organizing the tiles. Believe me!
23. A Distinctly Dark Driveway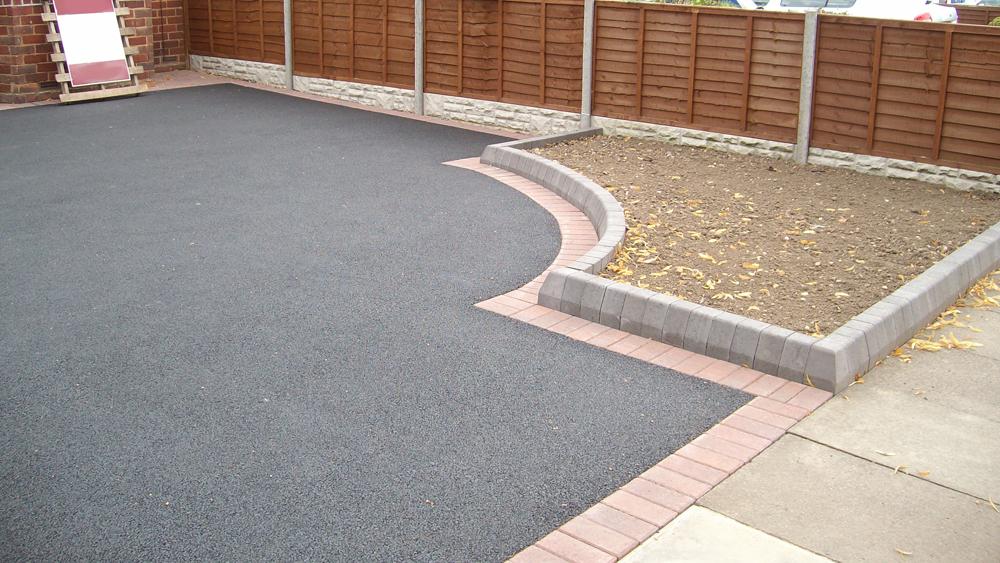 Is your driveway an area that separates itself from the rest? Well, it might be true because it's the area that wanders outside the house to the point that it meets the street.
So how do you state this fact through a design? Make your driveway disntinctly different from the rest of your house.
If the area in front of your house happens to be dominated by bright color, just make your driveway distinctly dark. Over time, you'll appreciate how good it looks instead of how lonely it is to be separated from the others.
24. A Shiny Earth Colored Driveway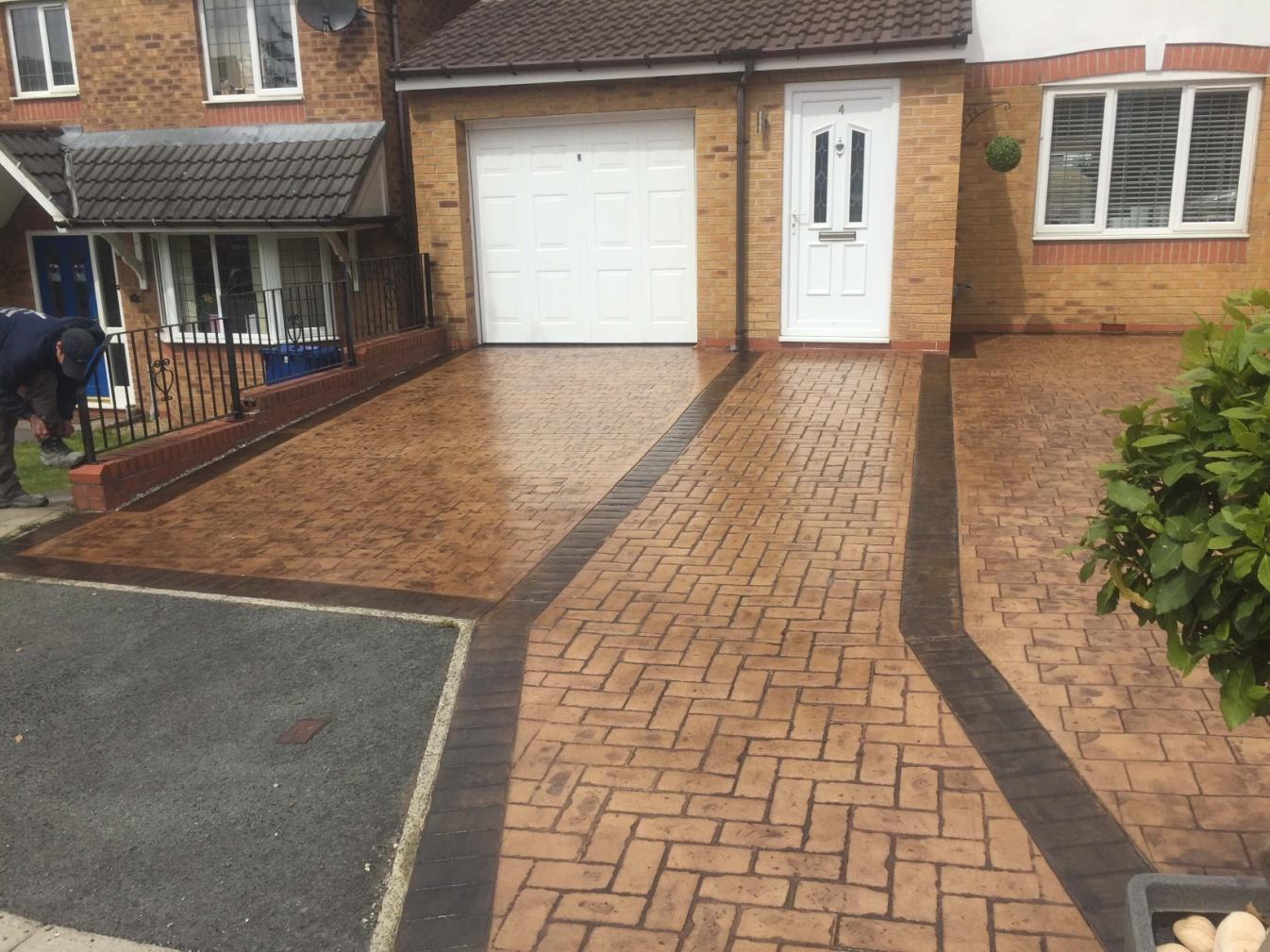 Are you fond of shiny things? Well, if you are, try making your driveway shiny. Shiny, though, doesn't always have to be associated with modernity.
After all, you could create something different by building a shiny driveway while choosing earth as its main color.
The combination of earth and a shiny look should give your driveway a distinct traditional look that's like no other.
25. A Driveway with Irregular Tile Patterns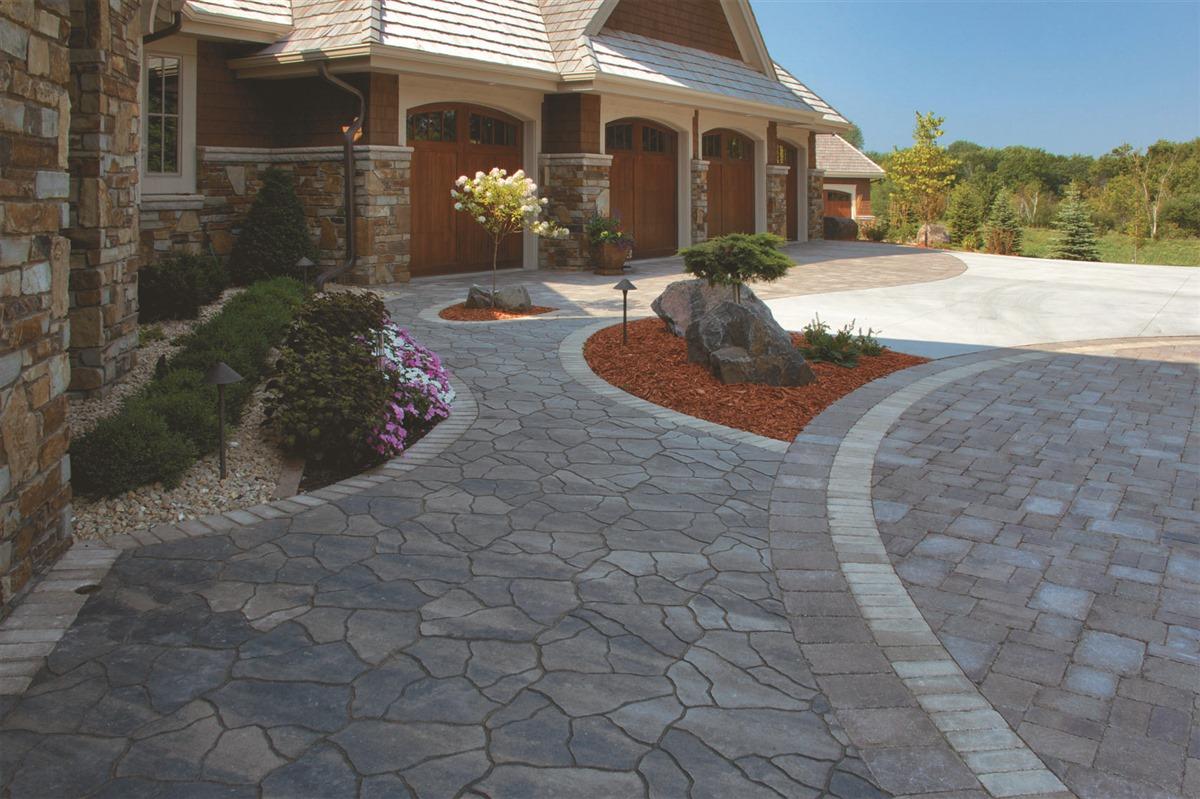 Is concrete one of your first loves? If it is, then make sure you mix it into your driveway design.
What's one of the most rewarding things to do with concrete when creating a driveway? Let it roam free!
Create a driveway that consists of irregular tile patterns and irregular concrete fragments. This kind of driveway look exceptionally good when put side by side with an elegant traditional house.
26. A Literally Down to Earth Driveway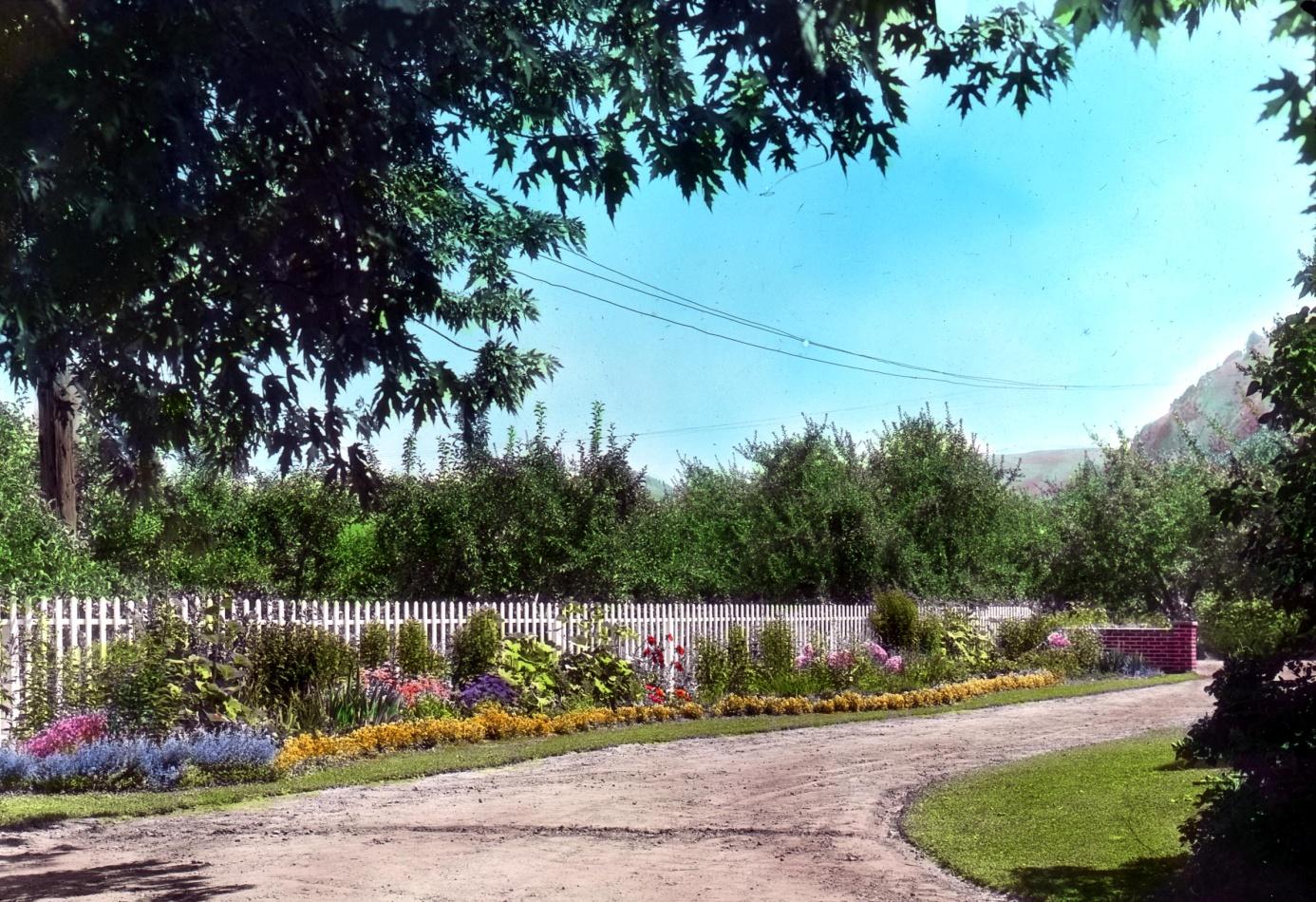 Do you prefer it the simple way? Then create a literally down to earth driveway. It's super easy to do it.
Just get rid of the grass that grow outside your house. What to do next? Nothing, just let the soil sit there.
Of course, you could still spice things up by growing some flowers on one side of the driveway just to embelish things a bit.
27. A Sloped Driveway with Flower Walls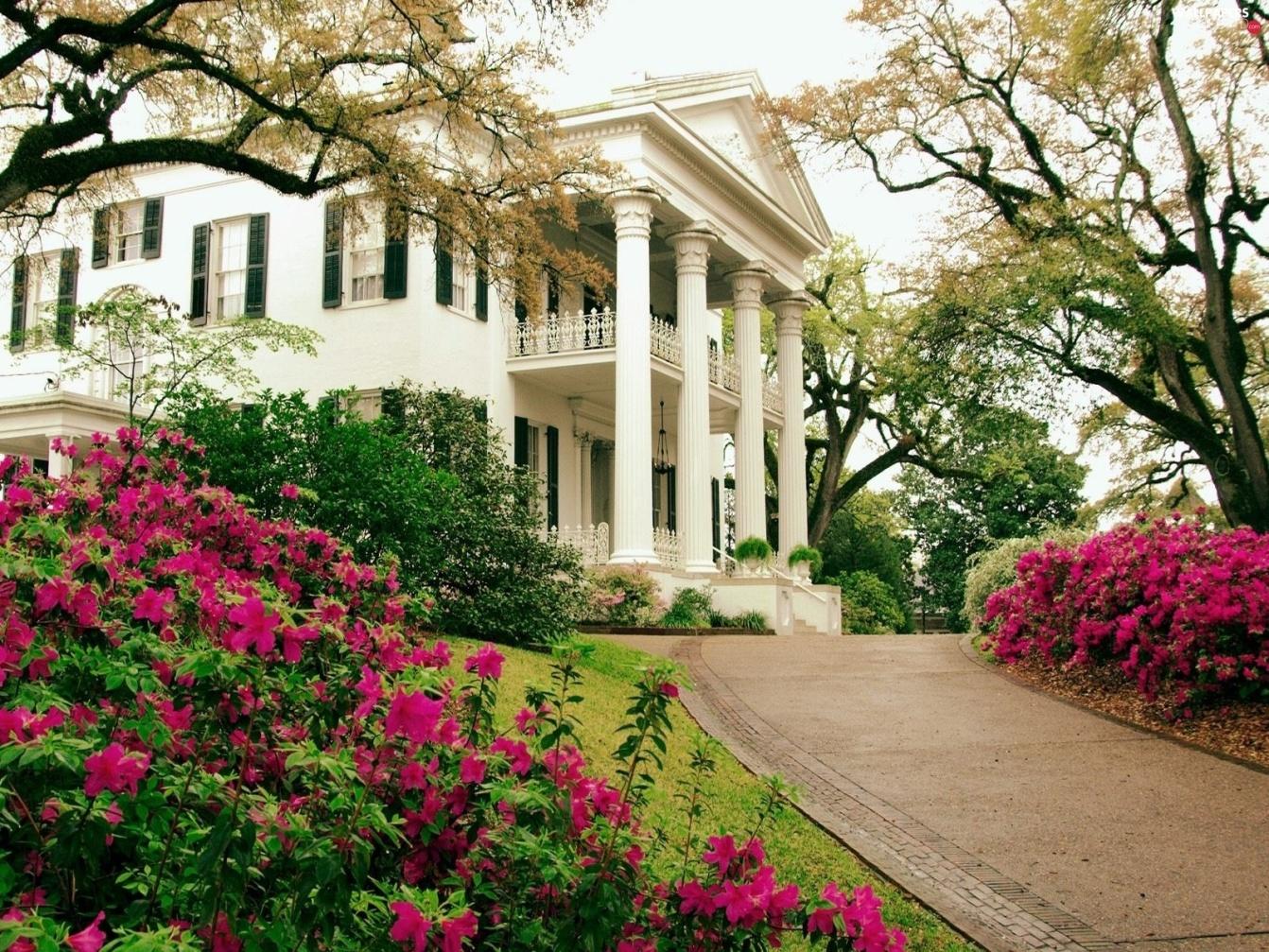 Does the area between your house and the street happens to be sloped? Then make a good use of the condition.
Create a beautiful sloped driveway with flower walls. How do you do that? Just plant flowers on each side of your sloped driveway.
The more creative you get when choosing the flowers to grow, the more beautiful the flower walls your driveway can get. Make sure you give your driveway the most beautiful flower walls possible.
Well, those were several driveway ideas you could try if you believe that your driveway is more than just an area your car goes through everyday.
Read More: 27 Astonishing Baseboard Molding Styles
Even driveways need to look good. Moreover, they need to suit the styles of the houses they're at whether it's country, rustic, modern or other styles.
If you really care about your driveway, we hope that the aforementioned ideas can give you some inspirations. With that said, have a good time beautifying your driveway!