Just like fashion styles, interior designs also have their own ups and downs. The gothic style is one on the rise recently. Along with other styles like the industrial styles, minimalism, and contemporary styles, people also want to have gothic touches in their home.
As you've known, Gothic style has been around for a long time. Once it's in vogue around 12 century, which some of its iconic building still can be seen today (remember the Gothic arches or Gothic churches?). After fading for several centuries, the style also popular in Victorian era.
The style, once, is known from its black and heavy atmosphere it generated. You can discern the style by its uses of extensive materials, full of carvings, and its elaborately carved features.
Now it comes back again, still with its dark characters, but with additional contemporary flairs. Now if you have an inspiration to build or update the bedroom, here we have 25 gorgeous Gothic bedroom ideas for you.
1. Black Netting and String Lighting for Gothic Bedroom Décor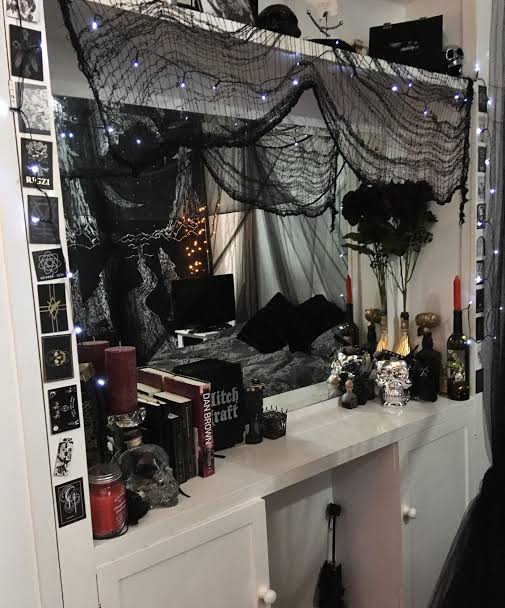 As we said before, a gothic style can be dark and mournful –mainly if you don't pay proper attention in its lay outing. But, you also can make light and vibrant gothic room just with simple decor and lighting systems as its decor.
For an example, you may use black net to generate the gothic look. Drape the net over the shelves or around the dresser like the example. Put string lights on the net and, that's it, you have a cheap but cool ways to turn your bedroom into a gothic one.
2. Elegant Black and Crimson Bedroom, Gothic Style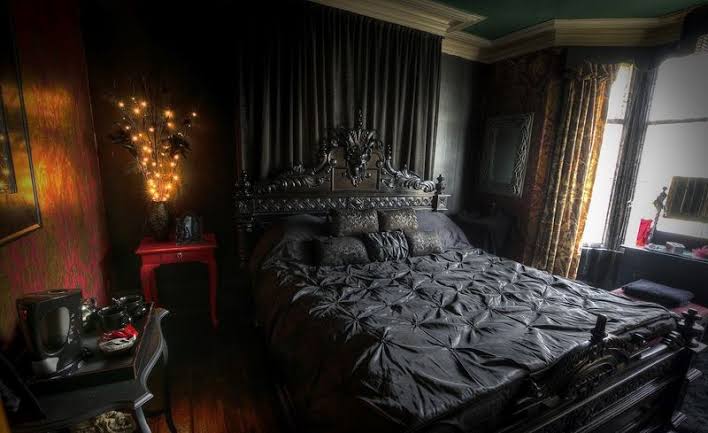 Since black is gothic staple, do we need to explore more about this color? The answer depends on your needs –and tastes. If you love the darker tones of gothic style, then go ahead. Do more experiment of black and darker shades, mainly if you're into a classic gothic style.
But, if you want to spice up your gothic room, then (actually) you have plenty of rooms to play with the other colors, you even can play with lighter colors. But, this time you play with one of the best 'partner' of gothic black –the crimsons.
This time the charcoal black bed dressings blend well with the crimson side table, adding refreshing tone to the overall bedroom atmosphere.
3. Teen Bedroom in Gothic Black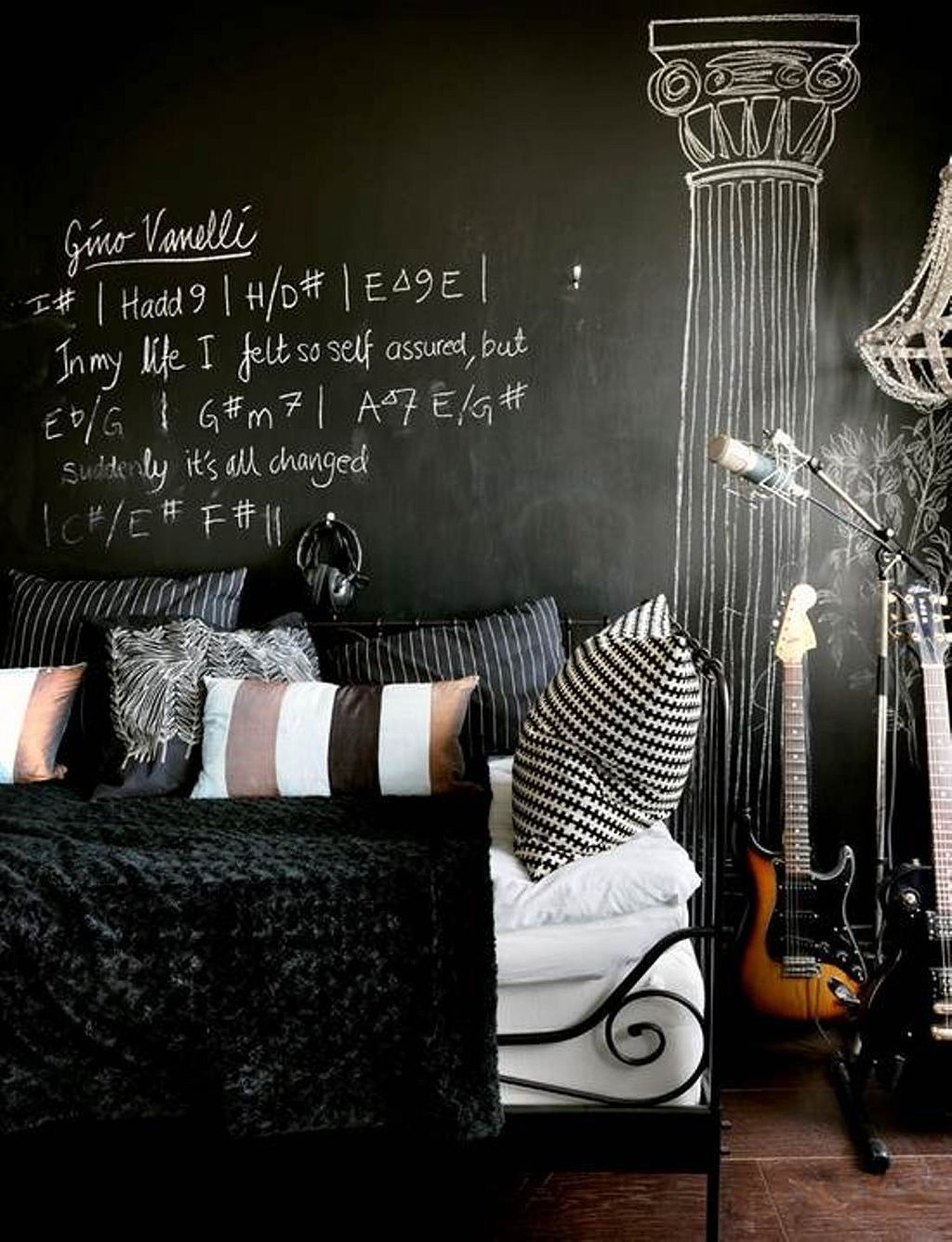 Teens, in their versatile moods, are always want to have something new and fresh. An affordable way to overcome their wants is by updating the wall –paint the wall. Try the monochromatic tones of gothic style, like the example.
As we've mentioned before, to be in a dark gothic theme doesn't mean that you have to look gloomy as well. This gothic teens bedroom looks vibrant and dynamic as teens' room should be from its choice of its contrasting colors on the bed and on the wall as well.
4. An Awesome Bedroom Set in Gothic Style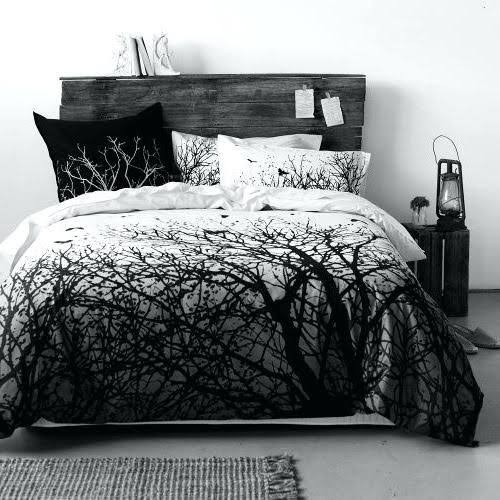 If you don't want to have a full gothic style but still want to have the touches in your bedroom, you may consider to use the style as the main point of interest. Instead of putting black color all over the room, put the dark color wisely in some chosen places.
This set of gothic bedroom for example. You use the black and the dark gothic theme for the bed and its beddings, including the pillow throws. To thicken the gothic look, put simple decor like this black hurricane lamp on the bedside table.
5. A New Gothic Look for the Bedroom? Add Wallpaper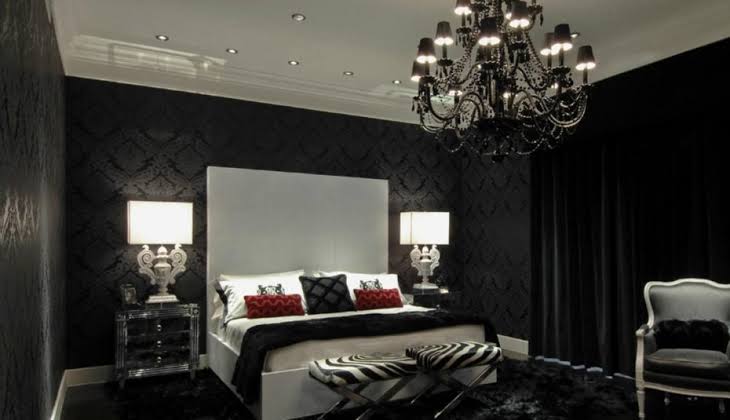 Trying to update the bedroom into a gothic room but still don't have the clue from where to start? The simple solution is by starting on its wall. The simplest option is by paint the walls black. Then you also can put gothic-themed mural on it.
You still have other alternative, though, by hanging gothic wallpaper on the walls. Now you have a wide range of gothic wallpaper in the market. All you need to do is picking the right one for your room. To complete the update, you also may hang a gothic chandelier.
6. Want a Warm and Elegant Gothic Bedroom? Do These Stuff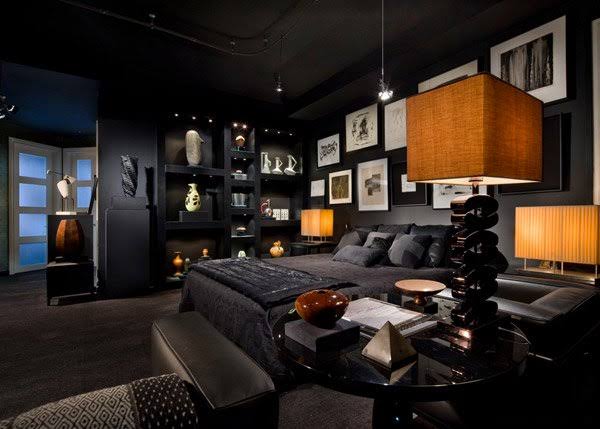 So you want to have an elegant gothic room; you also want it warm and comfortable as well. That's not impossible. For the goals, you should do these steps. First, you need to make sure that you don't have a too dark color theme (see the picture for example).
Secondly, avoid monochromatic colors. Combine the dark/black color with natural color like wood colors or its contrasting colors. This not only will warm the room but also add cool fresh atmosphere to the room as well.
7. Antique Victorian Furniture for Gothic Bedroom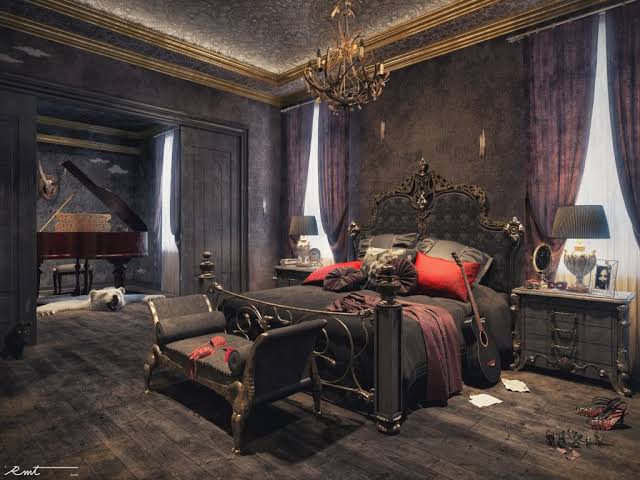 When it comes about furniture, a modern gothic style offers you lots. Almost all furniture of modern (and even contemporary style) can be used as gothic furniture items. But if you want to have the authentic gothic furniture, try the oldies classic solid wood furniture.
You may consider antique Victorian style furniture for your gothic styled bedroom. A combination of dark color with gold trimming also worth to try. Don't forget to put dark velvet or silk upholster and pillows for the classic gothic style.
8. Gothic-Styled Bedroom in Black-Red Theme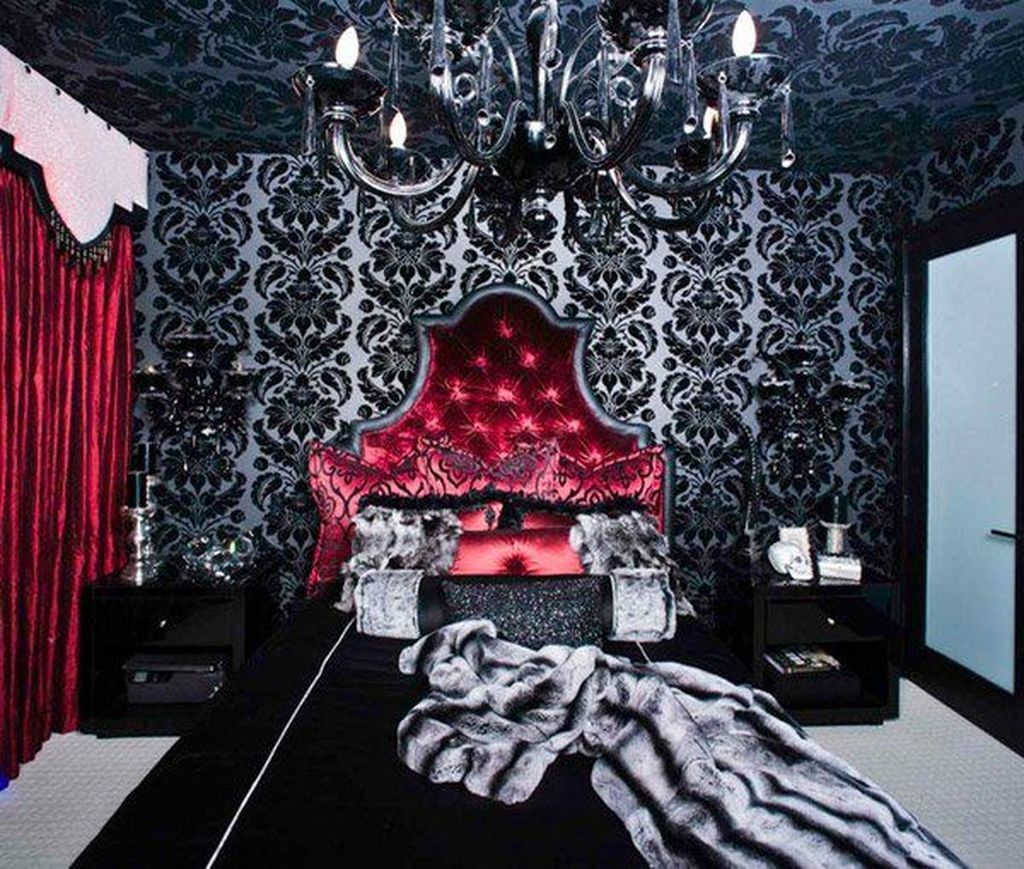 You can combine the mainstream gothic black with other colors, the vibrant (but still has the gothic touches) colors. For example, you may blend the black with crimsons, blues, royal purples, or burgundy.
All these color combination need a clean separation between colors, so keep the room neat. To complete the setup, add accessories and the right lighting systems. For the lighting, you need one with low-tone lighting ambient levels.
9. Elegant Classic Bedroom with Gothic Touches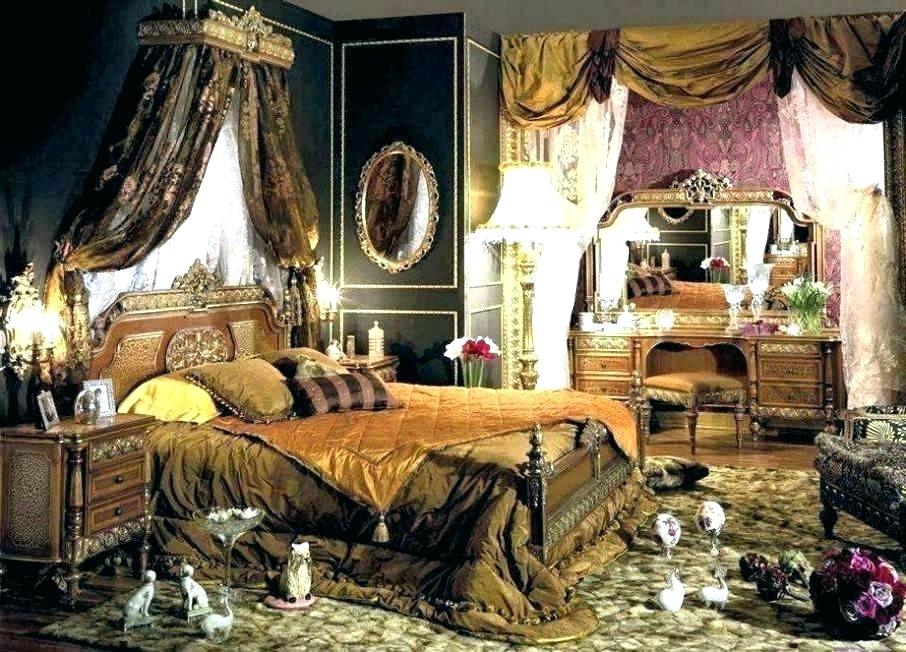 You've seen all black and two-color gothic bedrooms along this list. Then you might wonder, how if I just put a dab of gothic characters into my sweet old classic Victorian bedroom? Sure you can do it –as this bedroom shows you.
At the first glance, you see a chic and classic bedroom –full of heavy but lovely drapes, beddings, and window dressings. All in cool natural colors. You even see some potted greens and flowers. The splashes of gothic tones on the wall adds balance to the colorful bedroom. Like to try?
10. A Light and Fresh Bedroom idea, Gothic Style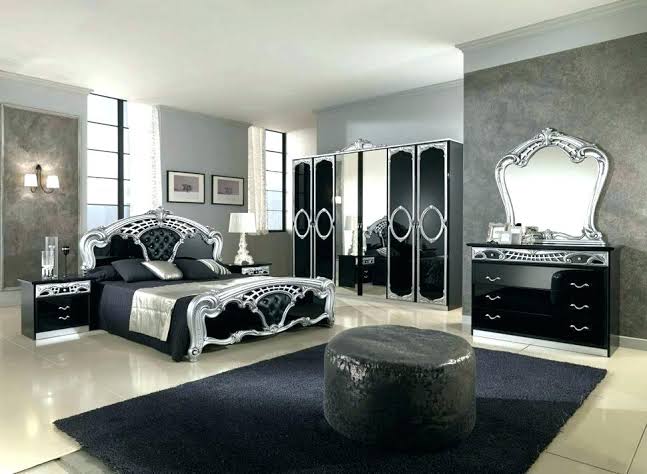 As we previously said, you can always make a gothic bedroom in your own tastes. There's no rules that say you should have a dark-themed room if you want a bedroom in gothic theme. This example proves it to you.
You already can feel the fresh vibes just by seeing it in a glance. See how the light atmospheres shine through from the light-colored wall, floor, and ceiling. The true dark gothic colors this time are reserved as the room accents. The artwork (paintings, mirrors) completes the scene.
11. Gorgeous Bedroom with Canopied Gothic Bed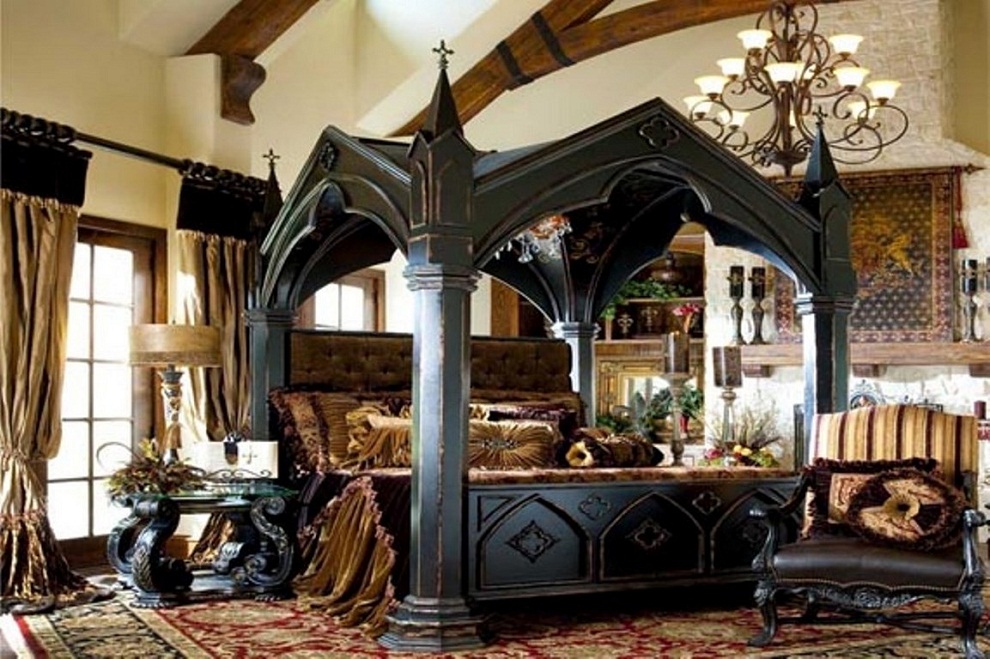 A bed can make your bedroom different. So if you want to update your bedroom's style or appearance, try to put a unique bed into the room. In this case, try this idea. Here you're offered to install a gothic bed which should satisfy your tastes.
With this bed, you don't have to redo the overall room. The bed itself is the update. Here you have a massive canopied bedroom out of solid wood and in heavy gothic style. But, with all the heavy tones and color, the room itself is still fun and airy –thanks to the white and natural color choices.
12. Flowing Curtains for Minimalist Gothic-themed Bedroom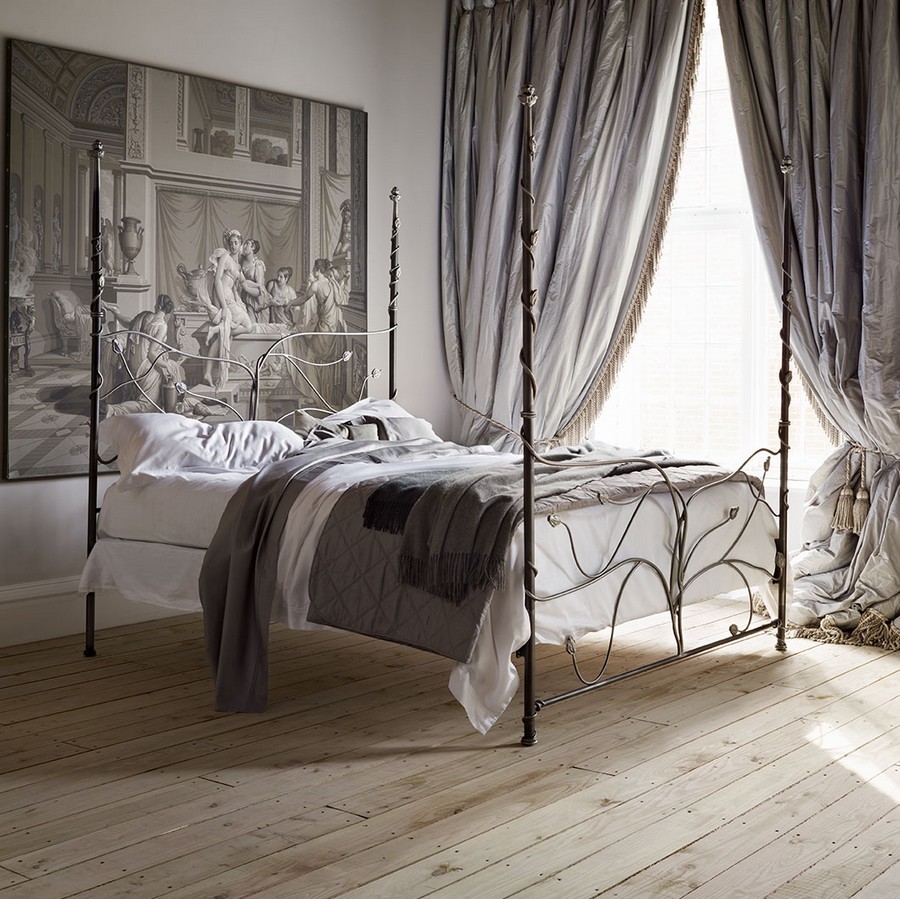 Talking about updating a bed room into a gothic-styled room, you have several alternatives. You may change the bed (into a Victorian bed), adding decor, beddings, or plants. You even can have redo your bedroom in a minimalist gothic style, just like this example.
You probably want to warm your Nordic bedroom a bit by giving something different, so why not install a contemporary gothic bed? Add classic painting on the wall and put flowing curtains on the previously naked windows –and see the difference.
13. Makeover ideas: Turning your Bedroom into a Gothic Bedroom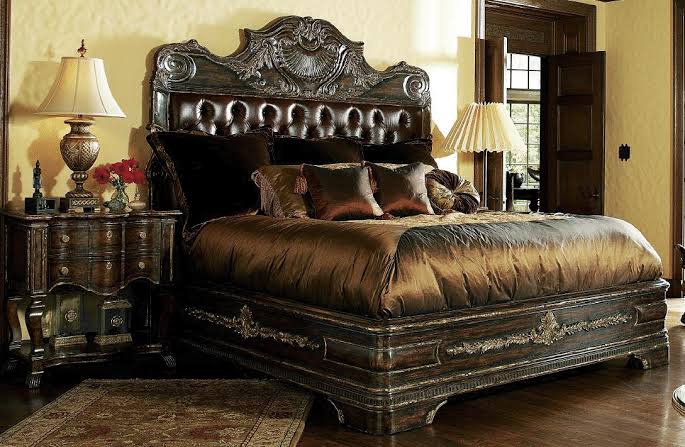 If you want to update the room, turning the existing one into a gothic bedroom you have several makeover ideas to do. First, the most affordable (as we previously mentioned), you can tone down the wall color with darker colors.
Then you may find some gothic decor. You have several options and materials to have, from wood, fabrics, up to the iron chandelier or candle holders. Lastly, don't forget to find the right bed for the room, as this will be your center of interest.
14. Modern Gothic Bedroom with Purple Beddings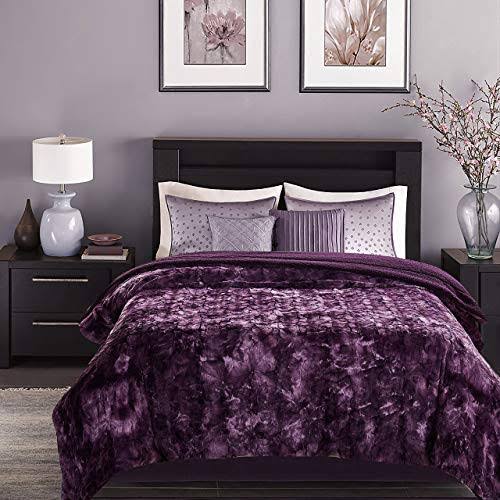 This picture is another example of modern gothic-styled bedroom. As the previous example, this bedroom is not in full gothic theme, you need only one or two of its elements. For this case, you play with colors and its materials.
Here you have a modern gothic bedroom featured by two distinct gothic features: solid black wooden bed (flanked by two bedside tables) and the purple beddings. Along with deep red or burgundy, purple is also often used as gothic colors –accompanying the black one.
15. Gothic Dark Iron Bed for Vintage Modern bedroom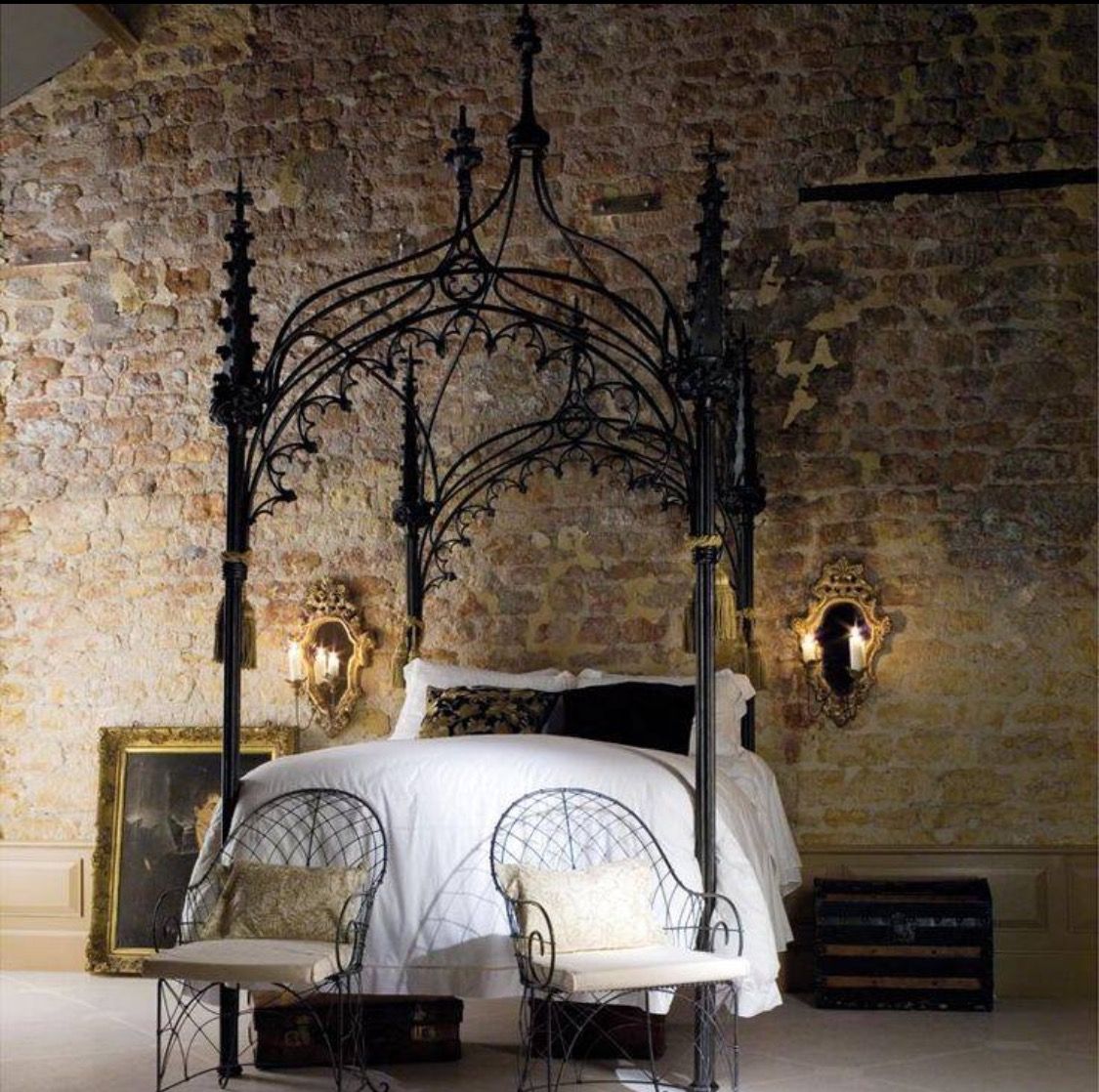 You often see a gothic-themed bedroom with various decor on the wall, from paintings up to the tapestries in a variety of patterns. But you can also let the wall empty, to let the exposed bricks to be one of the point of interest.
Combine the raw brick walls with shining floor for a nice contrast. And then put in this awesome canopied iron bed to complete the setup. And as nice contrast as well, install plush mattress and beddings on it.
16. Large and Luxurious Modern Gothic-themed Bedroom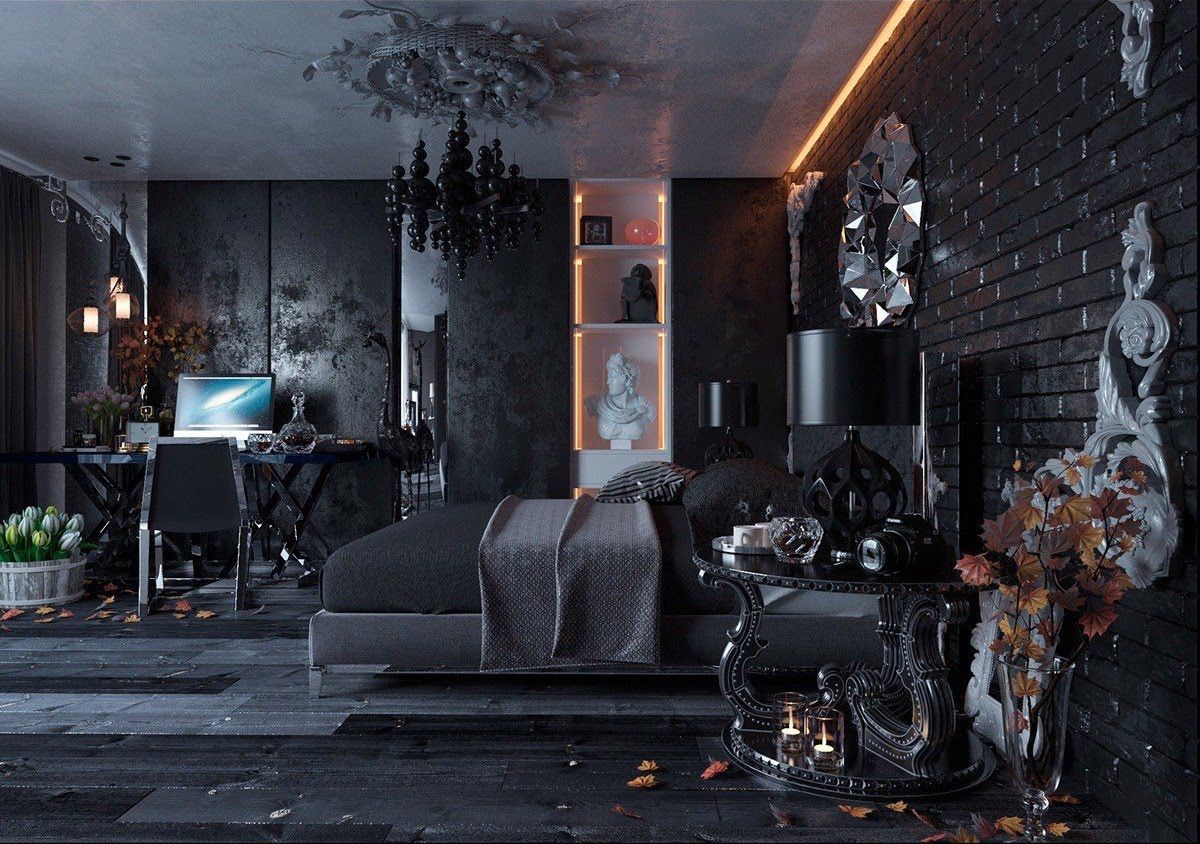 Now it's time for luxury stuff. Along the list you've meet various gothic bedrooms, small or big. In this list we present you the one which is large and luxurious –enough to impress your friends –all of them.
This gothic-themed bed room has modern-contemporary style as its basic style. For the gothic touches, black color is splashed all over the room. To make it more balanced, white color is introduced on the ceiling and some of its decor. The ambient lighting inject warmness into it.
17. The Most Suitable Decor for Gothic-themed Bedroom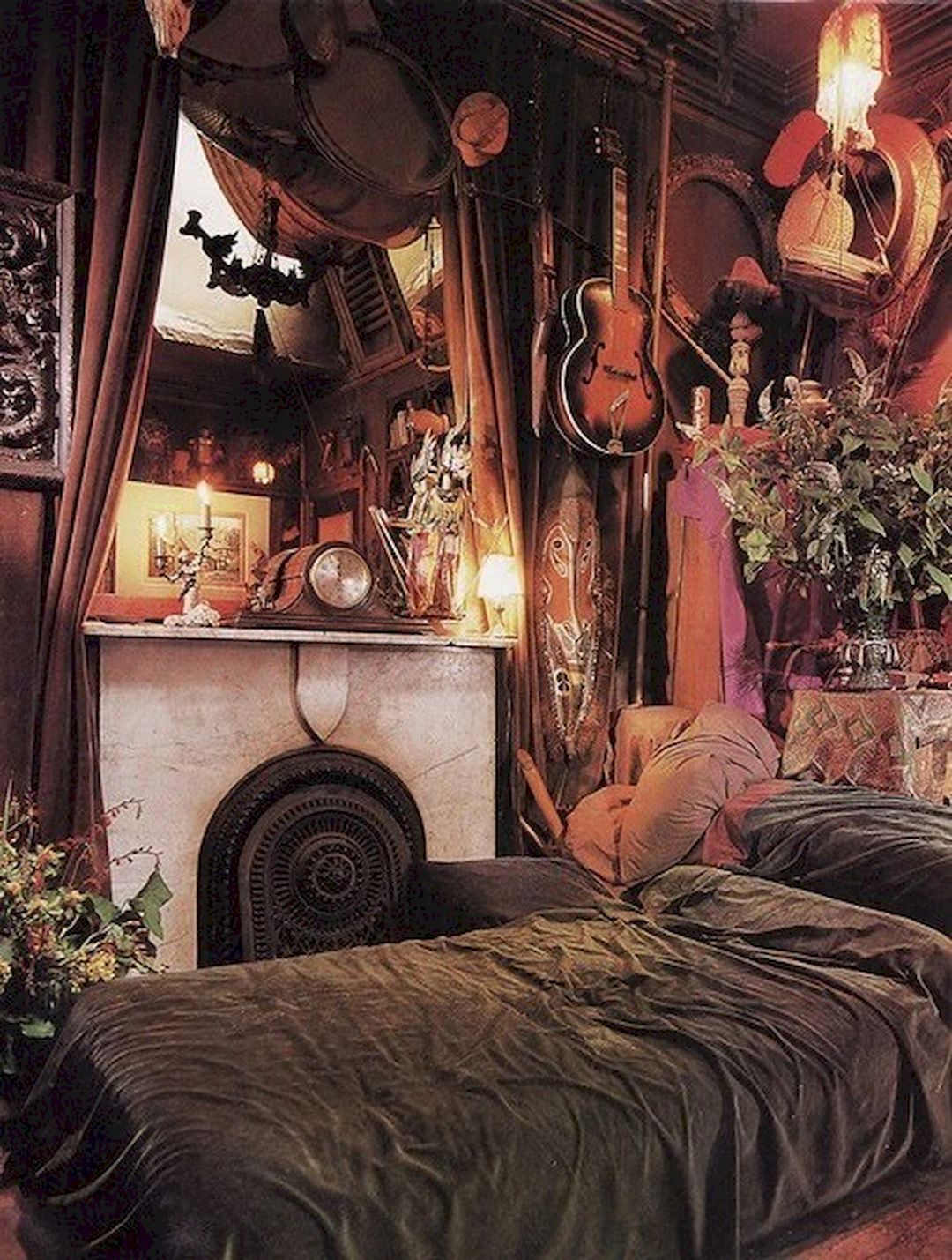 Yes, black is the staple of gothic-styled bedroom. But with only black in hands, you cannot make your bedroom stand out. You need the 'companions', which is in the form of room decor. Along with the decor, you also can play with the contrasting colors.
As depicted in the Victorian gothic bedroom here, you find several options to decorate tour gothic room. The most obvious is the fabrics (as beddings or curtains). Then you find iron candle holder and plants (try orchids, lilies, or roses for a start).
18. Redo Your Bedroom into This King Class Gothic-styled Bedroom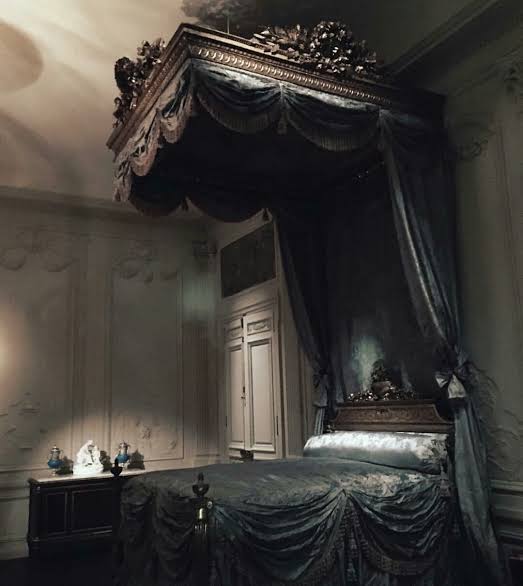 This time we offer you a bedroom idea where you can sleep like a gothic king in it. It's large and spacious, the bed itself is the attention grabber. You have all the grand stuff here, from its heavy and intricately sculptured bed up to its canopy.
Unlike the previous canopies which are supported by poles on bed corners, this canopy is hung from room's ceiling –making it looks like to float on the air. Just like the bed, the canopy is also heavily decorated, and joined with the bed by elegant curtains.
19. A Simple but Elegant Gothic-themed Bedroom for Girl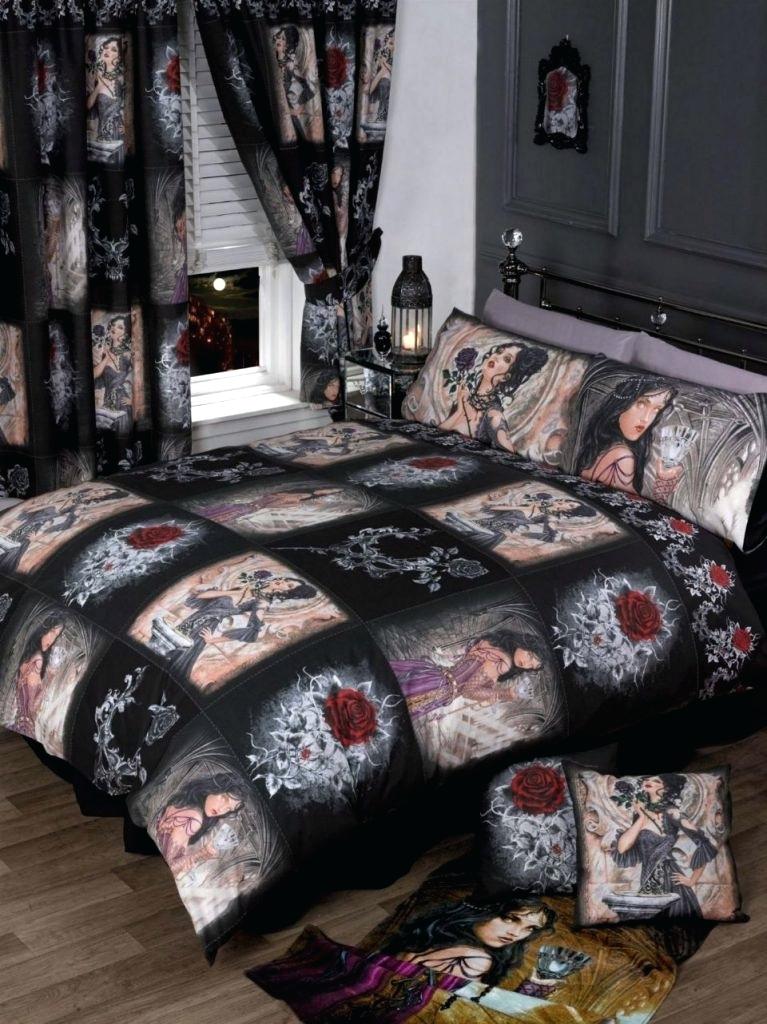 Arranging a bedroom for teens may present challenge for most parents, as the teens are still volatile, mainly in their taste on room interiors. The safest way in preparing their room probably by asking them of the look they want for their rooms.
For the girl who love gothic stuff, it'll be great if you build her a gothic-themed bedroom. Build her a feminine room with light gothic touches on it. You may play with the materials for the beddings or curtains, for example. Find feminine patterns for the fabrics, and see how she would love it.
20. Elegant and Airy Bedroom with a Splash of Gothic Style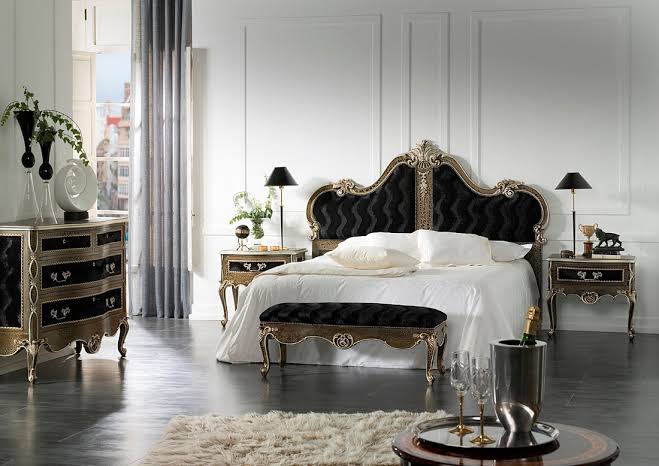 You still can have an airy and fresh-looking room even with gothic style in it. Just like other styles, all you need to do is putting elements of the styles in their proper places – and in right proportions. So that you have the affects you want to have.
In this bedroom idea, you have a spacious classic bedroom full of elegant furniture. Here, the iconic dark gothic plays as the accent color for the bed, bedside tables, and cabinets. Along with them the lamps and vases are also black of similar tone –nicely contrasting the white background of the room.
21. Vintage Patterned Wallpaper for Modern Bedroom, Gothic Style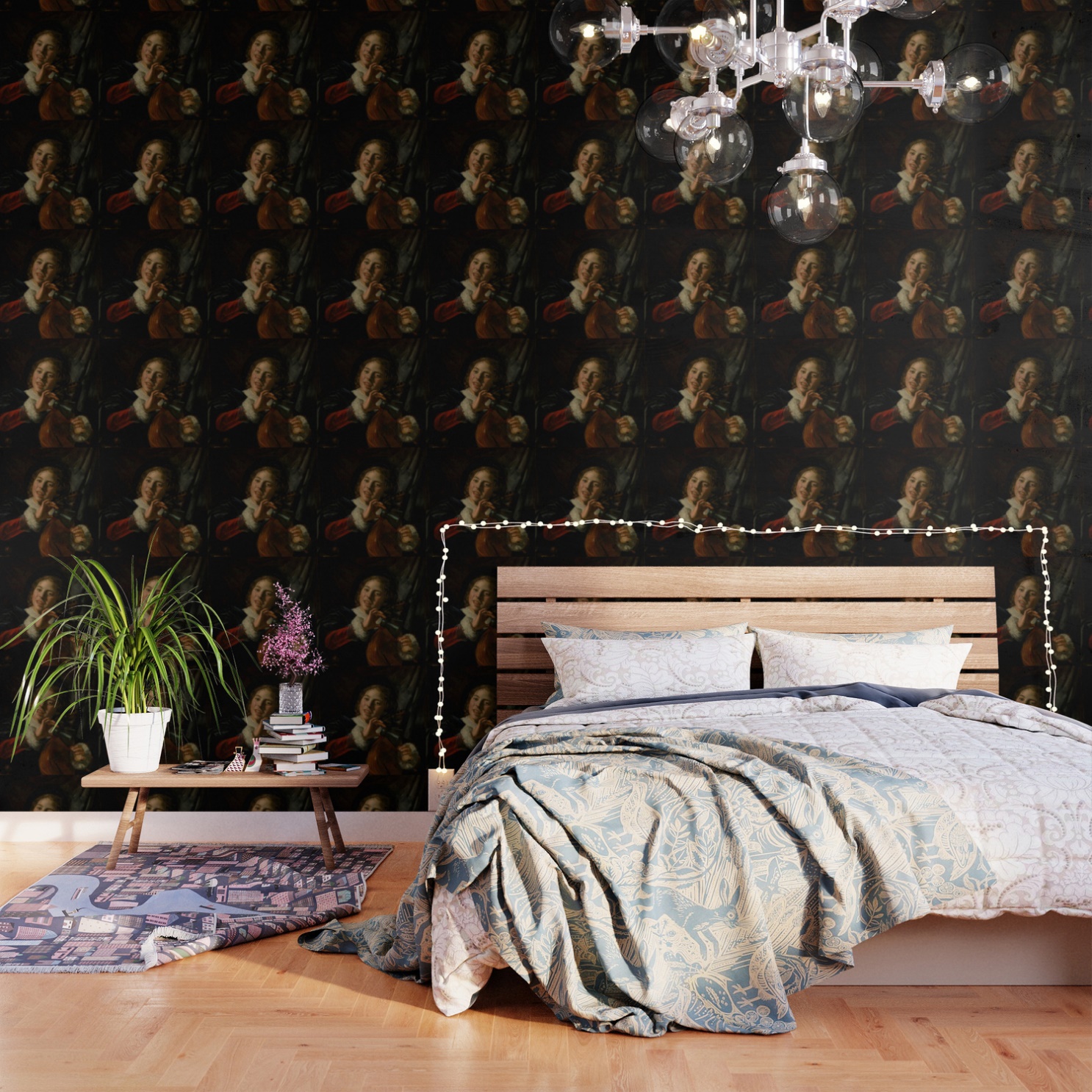 Again, if you want to find the right gothic wallpaper for the bedroom, we offer you another best example. Aside of gallons of paints, rolls of wallpaper are also handy to turn or update your bedroom.
Black is only an option if you're into a gothic style, as you can always choose other colors like purple, blue, royal red, or silver. You also may choose wallpaper with patterns, just like we picked up for you here. Nice, isn't it?
22. Cool Minimalist Bedroom in Gothic Style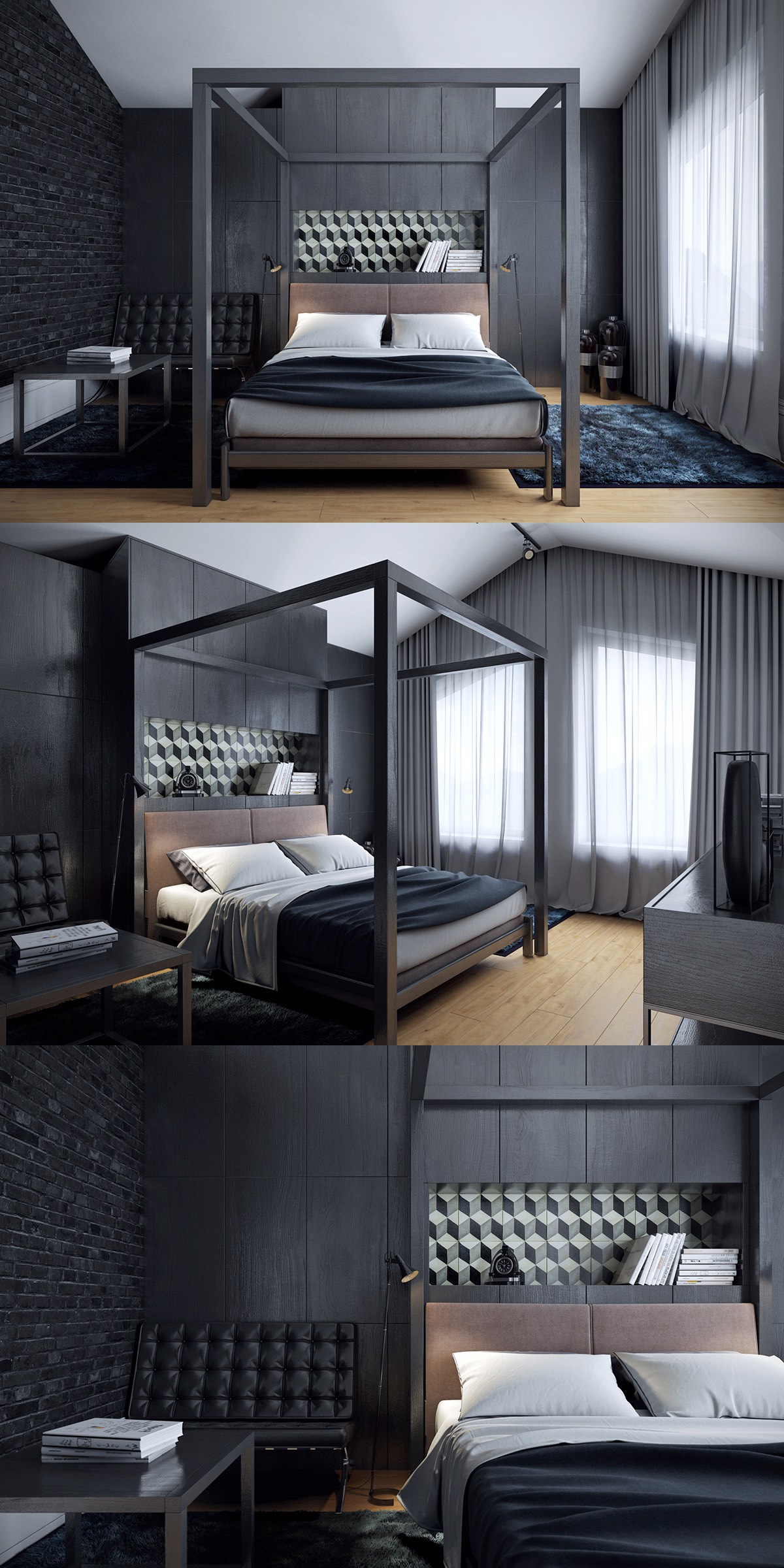 If you find that minimalist styles work well with gothic style, it probably is from the neat gothic character. Just like minimalist styles, gothic styles prefer a clutter-free environments to look great, both for large or small rooms.
This time you have a minimalist bedroom with dark gothic look. As you see here, the simple lines of minimalist style get stronger look with the black finishes, leaving only on the floor and ceiling. The light and transparent drapes soften and warmed the room –making it more inviting.
23. A Classic Modern Bedroom in Gothic Style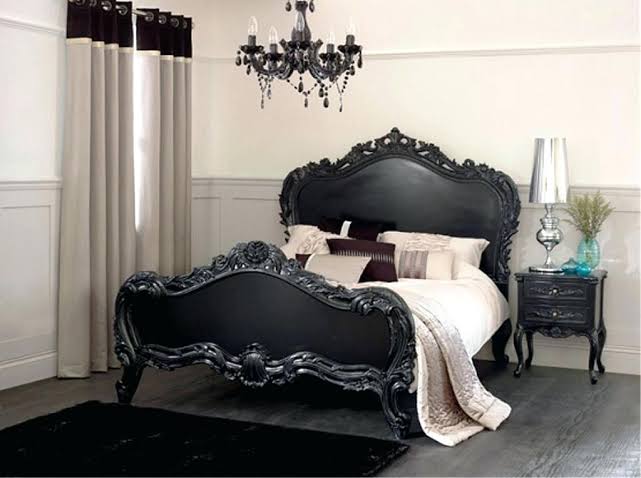 Instead of buying a new furniture for room update, you can recoat the old furniture to make the room fresh again –mainly if you love dark gothic style. In this example, you see a classic elegant bed and its side table. Without the black finishes, they're already has a great look.
But, with s coat of black finish, you may add a wow factor into the room: you have a charming gothic room without having to feel heavy or depressed. As this time you only use the furniture as the main interest of the room –not the room itself.
24. A Cool Large Gothic Bedroom with Living Room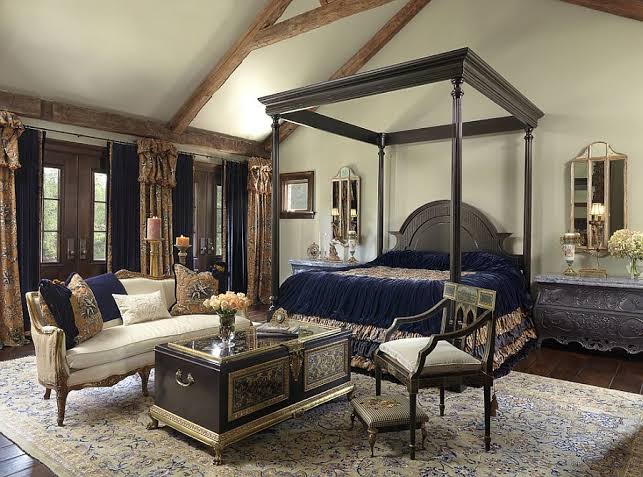 Sometimes you just cannot have only a bed in the bedroom. You also need a place to sit before having a rest. For the purpose, you may want to have a small but cool living room right in your bedroom.
If you have a large bedroom area, surely you can install the living room furniture right away. Don't forget to match up the furniture with the existing bedroom style. In the example you see a set of furniture suits well with the classic gothic bedroom style.
25. Contemporary Minimalist Bedroom with Gothic Accents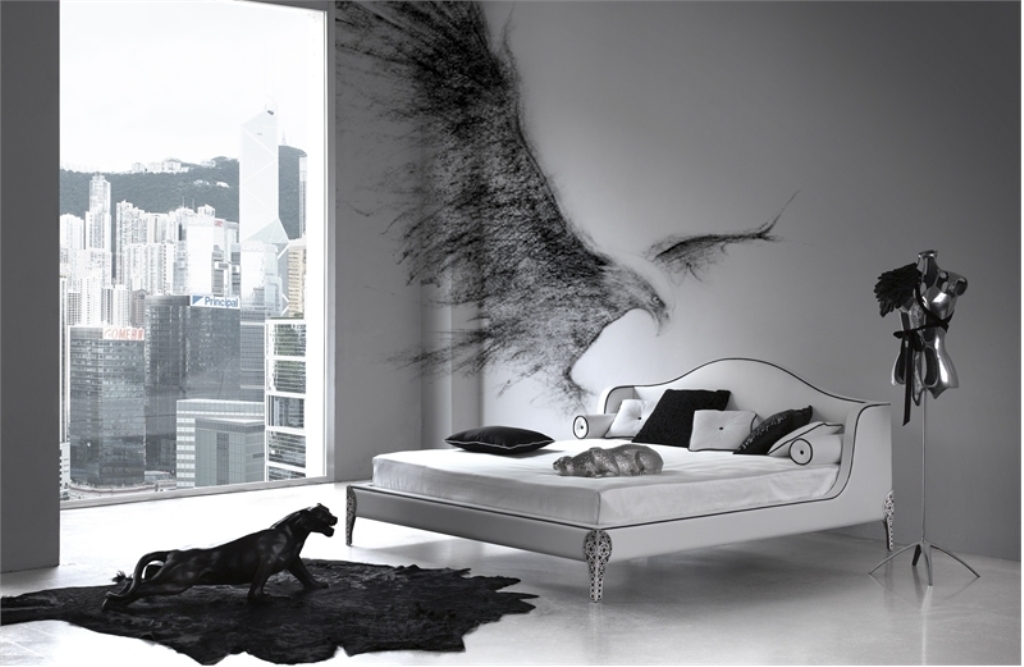 For the last list, we pick you one of the simplest idea to turn your living room into a gothic-themed bedroom. As teh picture depicted here, all you need to do is to combine black and white color. As about which is the more dominant color, it's up to you.
If you want a bedroom with darker mood, then you choose black as the dominant color. On the other hands, if you want it light and fresh, you may use the white as the dominant one, just like the example picture here. The dark color is only for accent but is still able to make the room look stunning.
Read More: 30 Appealing bathroom cabinet ideas to simplify your life
That's it, we have picked you some of the most inspiring gothic bedroom ideas for you. A wide range of bedroom are already here, from the most classic up to the most modern gothic styled set of bedrooms. Along with them, we also offer you tips on selecting the furniture and more.
We won't say that this article is complete enough as a comprehensive guide for you. But, anyway, we do hope you enjoy this short article and even may sparks inspiration for the next room update. Lastly, have a nice day.